Costa Rica's natural beauty, stable democracy, affordable cost of living, and quality of life make it an attractive destination for digital nomads, retirees and those seeking an alternative lifestyle.
*This post may contain affiliate links, as a result, we may receive a small commission (at no extra cost to you) on any bookings/purchases you make through the links in this post. As an Amazon Associate, we earn from qualifying purchases. Read our full disclosure
According to the 2020 Migration Report published by Costa Rica's General Directorate of Immigration and Foreigners, there were over 300,000 foreign residents in the country. While this number includes both temporary and permanent residents, as well as refugees and asylum seekers, the majority of foreigners in Costa Rica are from North America. Many have relocated here permanently and have built comfortable lives here for themselves and their families. .
Having spent many years living and traveling throughout Costa Rica, we can certainly understand the appeal!
Why Many are Choosing to Live in Costa Rica
There are several reasons why so many North Americans are interested in living in Costa Rica:
Quality of Life: Pura Vida, which translates to "pure life" or "simple life," is the term used to describe Costa Rica's way of life. A strong feeling of community, a slower pace of living, and an emphasis on family and friends are characteristics of this laid-back way of life.
Natural Beauty: Costa Rica has spectacular natural beauty, including active volcanoes, tropical rainforests, and beautiful beaches. The nation is also home to a wide variety of animal and plant species, making it a well-liked vacation spot for eco-tourists.
Stable Democracy: Costa Rica is one of the few stable democracies in Latin America. It has a solid commitment to protecting the environment and human rights. The nation made significant investments in healthcare and education after disbanding the army in 1948.
Cheap Cost of Living: Costa Rica has a comparatively inexpensive cost of living when compared to many developed nations. The affordability of housing, food, and transportation make it a desirable alternative for retirees and digital nomads.
Health System: Costa Rica has a well-developed public healthcare system that offers high-quality care at reasonable costs. The availability of private healthcare choices makes it a desirable location for medical tourism.
Climate: Costa Rica experiences year-round warmth and tropical weather. The country does not experience major weather events like hurricanes or tornadoes, while there are regional variations in temperature and rainfall.
Best Places to Live in Costa Rica
If you want to live in Costa Rica but aren't sure what is the best place to retire in Costa Rica, read on! We share information on some popular expat communities and some off the beaten path gems too.
Traveling Soon?

Here is a list of our favourite travel providers and accessories to help get you ready for your upcoming trip!
Central Valley
The Central Valley is a popular choice for many expats living in Costa Rica. The mild and dry climate promises comfortable living year-round without the need for heating or air conditioning. Central Valley is also home to many of the country's international schools, the Central Valley is the best place to live in Costa Rica with a family. On top of that, it has some of the best cities in Costa Rica. It's no surprise that almost 70% of Costa Rica's population chooses to live here!
There are a couple of towns that are particularly popular with American communities in Costa Rica.
Escazú
Province: San José
Population: 14,815
If you want to be close to the capital city, San José, then this is a good choice. Situated just 9 km (5.5 mi) west of downtown San Jose, Escazú is one of Costa Rica's most affluent communities. This upscale suburb is perched on a hillside and has all the modern amenities you would expect to find in a city. Urban conveniences like shopping malls, restaurants, and entertainment are matched with essentials like medical care and international schools.
Some call Escazu Costa Rica's Beverly Hills since it is home to many wealthy American and European expats. It's probably the safest place to live in Costa Rica and has become a major hub for foreigners. It has all the charm of Costa Rica with all of the conveniences of the U.S.
Its central location gives you access to all of San José's city amenities. Living in Escazu is a great option for hosting visitors with its easy access to the airport, city and highway to the coast. If convenience is important to you, it could be one of the best areas in Costa Rica.
You'll find local charm on the narrow streets lined with old churches in Escazú Centro with luxury hotels, many restaurants, and golf courses doted around this area. Moving to Escazu is perfect if you crave a city feel without much culture shock. There are lots of families who call Escazu home and enjoy all the luxuries and entertainment that the city offers.
Alternatively, skip Escazù if you want to trade in North American life for a bit more Pura Vida. Naturally, the cost of living is more expensive here and stores and restaurants are much more Americanized. While many expats love city living, others find the mountains and beaches more suitable.
Atenas
Province: Alajuela
Population: 7,546
Nestled in the lush mountains of the Central Valley is Atenas, a smaller town known for iconic Costa Rican coffee. Atenas is located 45 minutes west of San Jose, the capital city, and about 30 mins from the international airport (SJO) in Alajuela.
For years, oxcarts traveled through Atenas to bring coffee from the Central Valley to ports on the coast. The high altitude makes perfect conditions for growing sugarcane and coffee. It also boasts a temperate climate that's pleasant all year round. High altitude also means no mosquitoes! Unsurprisingly, some describe this as the best climate in the world!
Although it may seem remote, Atenas is only 1 hour from San Jose and 30 minutes to the airport. The main highway also gives quick access to beaches and is a central launch point to everything Costa Rica has to offer, making it one of the best places to live in Costa Rica.
In town, there is a strong expat community filled mostly with retirees and young families. Here you'll find international schools, along with supermarkets, restaurants, and fitness classes. There are pharmacies and health care clinics in town, but you'll need to head to Escazu for hospitals and nightlife.
Atenas is a well-connected mountain town that's accessible by bus and is very safe. It's a great option for a relaxing lifestyle with incredible views without a big city price tag. Some even consider it one of the best places to retire in Costa Rica. Additionally, it's a coffee lover's wonderland!
If your dreams of moving to Costa Rica involve action and nightlife, Atenas probably isn't the best place for you. Most expats settle here for peace and quiet.
Cartago
Province: Cartago
Population: 160,457
Cartago is one of the oldest towns in Costa Rica and actually used to be the former capital. Thanks to an eruption of the country's tallest active volcano, the Irazú Volcano, the town was partially destroyed in 1823. Nowadays, Cartago is a historic town filled with local character that's more populated with Costa Ricans than expatriates.
The town hosts a massive religious pilgrimage each August to Our Lady of the Angels Basilica. Every year, the event attracts people from all over the country. Cartago residents have access to many amenities, without having to go into San José. Things like government offices, museums, and hospitals are all accessible by car or bus. There's also an IMAX Cinema in town. For shopping, Walmart and a few natural organic stores offer lots of selection.
Only an hour away from SJO airport, Cartago has a convenient central location with great weather. The mountain views over the Orosi Valley are stunning and make for cooler temperatures, leading it to be one of the best places to retire in Costa Rica. The mountains in Costa Rica are much more comfortable for those who don't like the heat!
Cartago is a good choice for those who want to be surrounded by nature without sacrificing city life. There are many national parks and botanical gardens around that fit in with the lush green landscape. However, the cooler and rainier days aren't a favourite among expats seeking a sunny escape. If you're comfortable settling into your new Central American life without a big expat community, Cartago might be the place.
Grecia
Province: Alajuela
Population: 17,000
Picture this, a quiet escape in the foothills where every day sits around 80°F/26°C with a cool breeze. Sounds pretty great, doesn't it? This is Grecia, a farming town perched on a volcano surrounded by mountains. Some say it's even the cleanest city in Latin America, so it's no wonder many see it as one of the best cities in Costa Rica!
Known to be the car capital with 63 dealerships, Grecia is a popular choice for expat life in Costa Rica. Just 30 minutes from Alajuela International Airport, Grecia has a small-town feel close to all amenities. There are several communities and neighbourhoods that are particularly popular with the expat community, including El Cajon and San Isidro.
Most expats and ticos (local Costa Ricans) live in the surrounding hills taking advantage of the great real estate value in the area. Some say the real estate costs in Grecia are 30% lower than in other popular towns in Central Valley. Homes in Grecia boast great views and convenient city access. There is a huge feria in town. Other amenities, like health care, shopping malls, pharmacies, and supermarkets can be found just 20-30 mins away.
Grecia is the perfect choice for those seeking a strong expat network but don't want to live in a tourist destination. Because of this, the cost of living is reasonable and tourist pricing isn't an issue.
If the mountains aren't your thing, Grecia might not be the best fit. It's not far from the beaches or city but makes for a quieter life surrounded by hills of coffee and sugarcane.
Santa Ana
Province: San José
Population: 11,320
Living in San Jose, Costa Rica, can be busy and not the life expats picture for their relocation. Similar to Escazu, Santa Ana is an affluent suburb in the foothills. It's just 15 minutes outside of San Jose and makes for the perfect escape. Nicknamed the Valle del Sol, or "Valley of Sun," Santa Ana is a quaint local town near San Jose with modern amenities.
The weather in Santa Ana is warmer and drier than in San Jose and Escazu. This makes it one of the best places to live in Costa Rica for expatriates. Home to all the malls, golf courses, restaurants, and shops you'd want, this suburb is gaining popularity.
The real estate market is very hot in Santa Ana, with many high-end expats and families buying property here. It's great if you're living in Costa Rica as an American that wants to enjoy the fantastic healthcare system. Hospitals are a stone's throw away, and you have easy access to San Jose central if need be.
When it comes to the cost of living, this definitely isn't the place if you're on a shoestring budget. Santa Ana is becoming a hotspot for upscale grocery stores, medical clinics, and private schools. This part of San Jose is a popular pick for families who want a comfortable balance between a Costa Rican experience without a lot of culture shock.
Central Pacific Coast
The beaches of the Central Pacific Coast are popular for locals and expats alike. They're the closest beaches to the city and make up the most developed coastal area in the country.
Jacó
Province: Puntarenas
Population: 11,685
Coined the "Vegas of Costa Rica," Jacó is one of the most energetic beach towns you'll find in the country. If you like excitement, this might be the best place in Costa Rica to live.
It has a great food scene with bustling nightlife and endless water activities. It's developed and laid back at the same time, with all the amenities you need to live comfortably without big centers.
Moving to Jacó is a popular choice for young people who want to live in Costa Rica for sand and surf. It's the perfect experience if you're a solo traveler looking to socialize and enjoy the water. Because of the easy access from San Jose, this is where the locals come for a weekend away.
Despite its reputation as a party town, Jacó also has many family-friendly activities too. Surfing, fishing, and snorkeling are all great ways to enjoy the turquoise waters of the Pacific coast. If you're visiting on a trip, try and catch the weekly surfing competitions on Playa Hermosa (not to be confused with the Playa Hermosa in Guanacaste). This is one of Costa Rica's most famous surf beaches for a reason!
Another great thing about Jacó that could make it one of the best places to live in Costa Rica is that it's home to the largest LGBTQ+ community in the country. The energy in town is lively, exciting, and never boring. Jacó is the best city to live in Costa Rica for fun and parties but it certainly doesn't promise tranquility.
Quepos/Dominical
Province: Puntarenas
Population: 19,858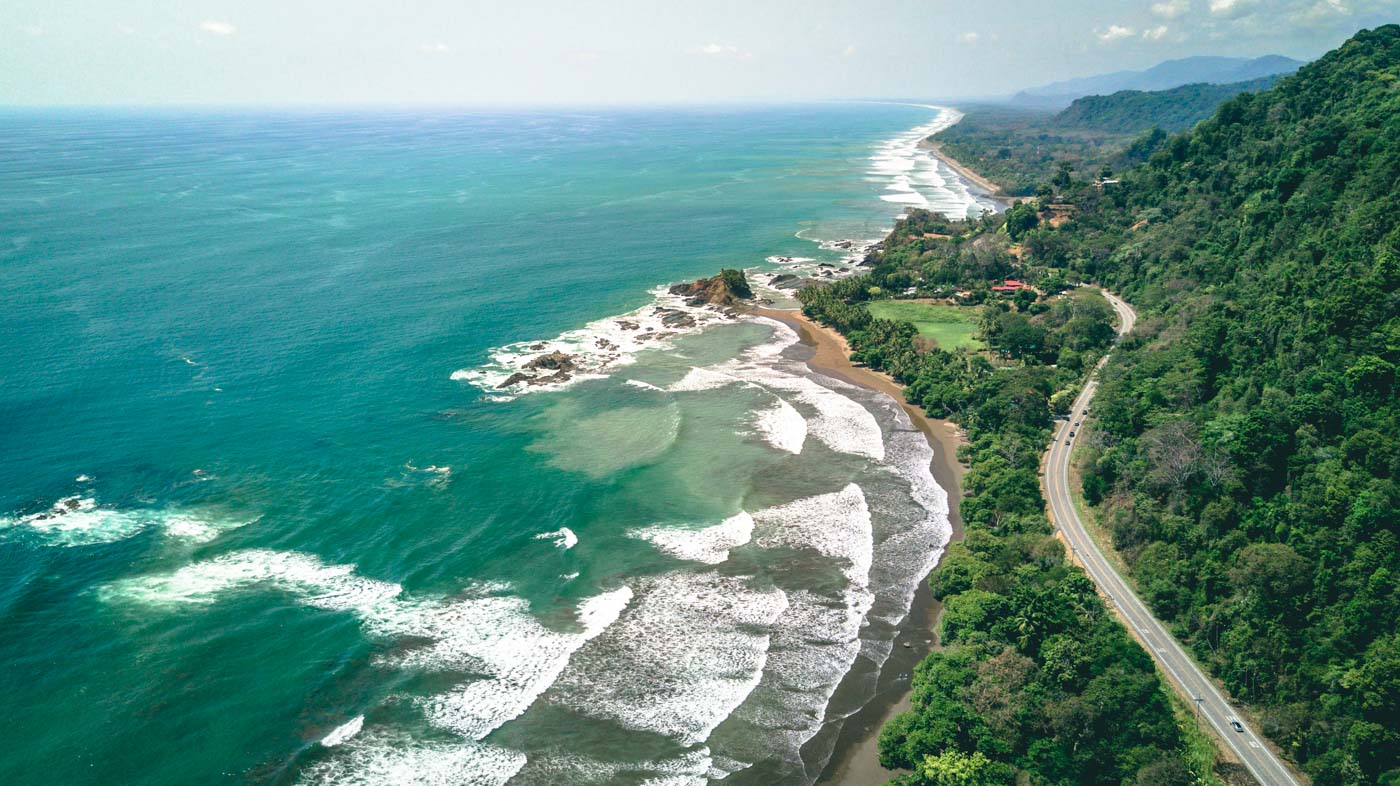 Quepos is a popular tourist destination in Costa Rica and is the gateway to Manuel Antonio National Park. The park is one of the most popular in Costa Rica and is a favourite for travelers of all ages. The area also offers lots of other activities like horseback riding, zip lining and surfing for those seeking a bit of adventure.
The town of Quepos is not an expat hub but more of a small town that serves as a hub for the neighbouring areas of Dominical and Uvita. Quepos is where the locals go to find essential amenities like a bank, a clinic, or a supermarket. There is also a domestic airport nearby.
A 40-minute drive down the coast's Southern Zone will take you to Dominical. This gem is a laid back town with a top surfing beach. Locals and expats love the chill vibe down here because it's not as developed as other places in the country. While Playa Jaco has resorts and hotels, Dominical still has dirt roads with a much more relaxed feeling in the air.
Dominical and the rest of the Southern Zone have a humid climate and is particularly attractive to those who want to play on the beach during the day, but enjoy a cooler climate in the evenings. The hills around Dominical rise sharply from the coast creating dramatic views and offer a breath of fresh air (literally) to residents of this area. The area offers lots of yoga and outdoor activities.
It's one of the more favourable destinations for young foreigners with a free-spirited and organic lifestyle. However, the Southern Zone is probably not the best option if life at a sloth's pace seems a little too slow for you.
North Pacific
The North Pacific earns its title as the Gold Coast because it gets lots of sunshine and barely any rain. It's covered in picturesque beaches and is one of the best places to live in Costa Rica for expats. You'll have to come for a visit and see that the Pura Vida is contagious!
Tamarindo
Province: Guanacaste
Population: 4,000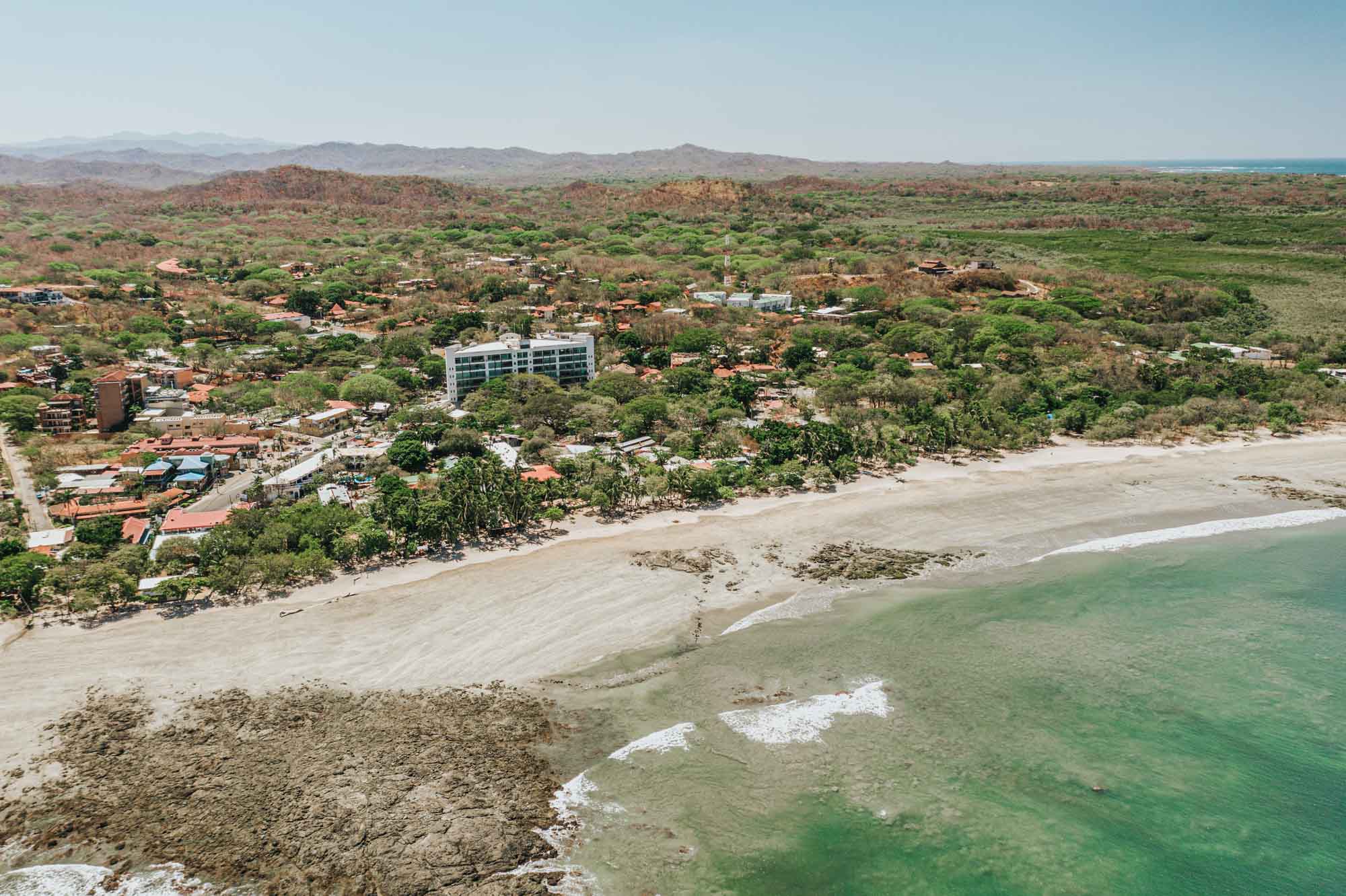 Chances are, if you've ever looked into expat communities in Costa Rica, you've heard of Tamarindo.
A stunning and bustling beach town, Tamarindo has one of the warmest and driest climates in the country. The white sand beaches, like Playa Grande and others, hug the coast with tons of outdoor activities for those searching for an active lifestyle. It's no surprise it's one of the best expat communities in Costa Rica.
Because of its popularity, Tamarindo is quite developed and attracts many tourists. It's 1 hour away from Liberia International Airport and is home to many restaurants and great nightlife.
There are plenty of amenities in town: banks, supermarkets, restaurants, cafes, coworking spaces, salons, and clinics. The nearest private hospital to Tamarindo is located an hour away in Liberia.
Living in Tamarindo, Costa Rica, is all about easy access to the beach. Although no housing is directly on the beach, the town is super walkable. The residents of Tamarindo are a mix of retirees and digital nomads. There are also a lot of families attracted to the area by many international schools.
Naturally, lots of people want to live in Tamarindo, so the cost of living is on the higher side. It's not to say you need a lot of money to live here, but rent and daily expenses are significantly higher than other beach towns. Tamarindo offers options for luxury living and if you're living in Costa Rica as an expat who doesn't speak Spanish, you'll be just fine here.
Tamarindo can be one of the best places for expats in Costa Rica because of the strong community. There's a big American and European influence that can make a new resident feel comfortable in their new country. On the other hand, you might want to move to Costa Rica to soak up an entirely new culture. If that's the case, a less touristy part of the country might be a better match.
Playas Avellanas and Negra
Province: Guanacaste
Population: <1000
Expats looking to live in Costa Rica often congregate in the coastal towns of Guanacaste. While there are lots of different towns along the coast, the beaches of Playa Avellanas and Playa Negra have recently become of particular interest to many.
Located about 30 and 40 minutes away from Tamarindo and about 10 minutes away from each other, Playa Negra and Playa Avellanas are well-known surfing beaches attracting avid surfers and surfer lifestyle enthusiasts to the area. These beaches have long been considered some of the best places to live in Costa Rica, but with the recent developments in the area, their appeal has grown even more.
Playa Avellanas is a bit further away from the bustle of the big city, but you can have all the comforts and luxuries of home. Hacienda Pinilla is a gated resort community located on the Northern end of Playa Avellanas beach, offering secure lots, houses for rent, as well as a shared beach club, pool and restaurant facilities along with trails for hiking, biking and more.
It also has one of the best golf courses in the country, equestrian facilities, a Marriott hotel, and a charming mini-market. Similar, albeit much smaller, gated communities in the area are the Enclave and the Point.
The Enclave is a brand-new gated community in Avellanas, offering pre-construction prices on homes in the area. While The Point is more established and has nature trails, private pools, and ready access to Avellanas and the nearby town of Playa Negra.
Playas del Coco
Province: Guanacaste
Population: <1000
Playas del Coco, or just Cocos as most residents call it, is a popular beach town for expats and locals. It's a much smaller town than Tamarindo, with small neighbourhoods scattered throughout. The beaches here are more suitable for fishing than swimming or surfing like in other parts of Costa Rica.
Cocos has a convenient location just 30 minutes from the Liberia airport and city center. Here, residents have greater access to medical care and affordable housing options. The smaller, more relaxed vibe attracts many retirees seeking that quintessential beauty of beach living.
In town, there are primarily small businesses and souvenir shops. But, residents have access to supermarkets like Auto Mercado if they can't find what they need at a local farmers market. Coco is very family-friendly, and the beach is a go-to for those exploring the beaches in Guanacaste.
In addition to ex-pats, you'll find that many local Costa Ricans live in town too. It has all the beauty, great weather and development as Tamarindo but with much lower costs. It's a great option for living in Guanacaste, Costa Rica if you want a quiet and relaxed life.
If you're craving a bit more action, and more access to expat facilities, restaurants and shops, then Tamarindo might be a better option.
Las Catalinas and Playa Danta
Province: Guanacaste
Population: <1000
Las Catalinas is a developing beach town on Costa Rica's Guanacaste coast, located about 45 minutes north of Tamarindo and 15 minutes north of Playa Flamingo. When it comes to beauty, scenery, and atmosphere, it's one of the best places to live in Costa Rica.
The community is renowned for its pedestrian-friendly architecture, green building techniques, and breathtaking natural beauty. Condominiums, villas, and single-family houses are among the real estate choices available in Las Catalinas, all of which were thoughtfully constructed to blend in with their surroundings. The town offers a wide range of services, including dining establishments, retail establishments, and outdoor pursuits, including kayaking, snorkeling, and mountain biking. Moreover, Las Catalinas has a vibrant sense of community, with many gatherings of locals and guests.
Las Catalinas is a new, still-growing community. With a reputation for being a mini-Europe, it is steadily growing in popularity as a Costa Rica expat community. It isn't the cheapest place to live in Costa Rica, but it has the reputation and amenities to justify the cost.
One of the most visited places in Las Catalinas is Playa Danta, one of the town's beaches. The beach is lovely in the shape of a crescent, with smooth sand and clear water that make it perfect for swimming and tanning. A wide range of eateries and bars can be found at Playa Danta, where guests may savour delectable meals and beverages while admiring the breathtaking scenery. The area's natural beauty is enhanced by the lush green hills that surround the shore. For those considering relocating to Costa Rica, Playa Danta and Las Catalinas specifically offer a fantastic choice because it combines the country's natural beauty with contemporary conveniences.
Nicoya Peninsula
The Nicoya Peninsula is all about embracing the incredible Costa Rica quality of life. The experience here is less about partying or shopping, and more about wellness and healthy living. This philosophy leads to longevity, which is why the Nicoya Peninsula is considered one of the world's five Blue Zones. Residents here live longer than anywhere else due to good eating habits, physical lifestyles, and strong relationships. That's why it's one of our best places to live in Costa Rica.
Nosara
Province: Guanacaste
Population: 5,791
Nosara is a Costa Rican gem where people guide the way to a healthier and more sustainable way of life. The area is largely protected by the national park system so you won't find mega-resorts or condos lining the beach. Instead, it's surrounded by pristine, undeveloped beaches that boast amazing surfing.
In going with the Blue Zone lifestyle, you'll find lots of great restaurants focused on sustainable and nutrient-rich foods. It's also one of the yoga capitals of the country where you'll have no trouble finding a tranquil studio. This attracts expats searching for an organic way of living who are in no hurry about…pretty much anything. If you're biggest concern is being able to take life at your own pace, then this is one of the best places to live in Costa Rica.
Nosara also has good international schools and attracts a family-friendly crowd. The expat network is largely retirees and families, particularly those passionate about preserving the environment. If you're considering moving here, note that there is a much smaller inventory of homes. Because of the demand, housing costs can be more expensive.
The town is quite spread out, so getting around is harder. ATVs and motorcycles are the expats' and locals go-to methods of transportation in Nosara. They have become a part of the Costa Rican culture in this region. Paved roads are a newer concept so you'll have to get used to a bit of dust in smaller communities! In Nosara, you have a small-town vibe with some modern amenities. Think high-speed internet, pharmacies, a health care clinic, and restaurants.
There are clinics and a small airport in town, but you'll have to drive to Nicoya for bigger amenities. Nosara is one of the best places for expats to live in Costa Rica if quality of life is key. Also, it's a much slower-paced lifestyle that might not be as enticing for some.
Santa Teresa
Province: Puntarenas
Population: 2,500
For some, daily life in Costa Rica revolves around catching the best waves and topping it off with yoga. If this sounds tempting to you, you'll probably want to check out Santa Teresa. This beach town is a tourist hotspot where people come for the adventure and never leave.
Santa Teresa living is all about embracing Costa Rica's wildness. Here, you can enjoy the landscape, wildlife, and beaches that make the country so special. The town has only recently started to develop thanks to celebrity investments putting it on the map. Believe it or not, Santa Teresa didn't even have electricity until the 90s!
An expat living in Costa Rica would choose Santa Teresa if they're a health-conscious person who enjoys a bohemian lifestyle. The town is very relaxed. There aren't paved roads so most people travel by ATV or by motorcycle.
There are hostels, pharmacies, and car rentals in town but this isn't a place filled with modern conveniences. That charm, however, makes it one of the best places to live in Costa Rica.
Traveling to Santa Teresa is a bit of a trek (4 hours from Liberia Airport), and because of this, there is a much smaller expat population so knowing Spanish is very helpful. Despite its remoteness, it has many international tourists wanting to see what the hype is about. If you have your own wheels, you can hop over to Mal País for a quieter village away from tourists.
Clearly, Santa Teresa can be a dreamy beach escape and the best area to live in Costa Rica for some but a nightmare for those who prefer city life. So, the lifestyle isn't for everyone.
Caribbean Coast
Costa Rica's Caribbean Coast is a haven for getting away from North American living and into unspoiled nature. The weather is certainly not like Guanacaste because the rainy season lasts most of the year. But, this leads to beautiful shorelines and a vibrant community with Caribbean flair.
Puerto Viejo
Province: Limón
Population: 2,000
Puerto Viejo is a fishing village turned tourist hotspot. The lifestyle here is all about healthy living and enjoying the fresh fruits, vegetables, and fish of Central America. You won't find big resorts or high-end condos, but instead, thatched-roofed huts and bamboo bungalows.
The Caribbean Coast is the most undeveloped area of Costa Rica. This relaxed charm attracts people from all over the world. There's a large Jamaican and European population who want to get away from the urbanization of the Pacific Coast. There are also hotels, restaurants, banks, and small shops in town. But, you'll have to travel to Limón for access to a hospital and airport. It's a 90-minute jaunt with a bus service that operates daily.
Puerto Viejo is another of Costa Rica's yoga destinations where people come seeking spirituality and wellness. Knowing Spanish here isn't essential but always helpful.
Bikes and scooters are also popular in Puerto Viejo, Costa Rica. They are a great way to explore the untouched beaches. Similarly, real estate here is more about blending in with nature and maintaining a very non-commercial presence. The humid, rainy climate really sets the Caribbean Coast apart from other parts of Costa Rica. Some people prefer the cooler cloudy days, but it's definitely not ideal if you're seeking endless sunshine.
The unspoiled atmosphere here attracts many birdwatchers and the nearby wildlife refuge is a highlight of any trip. Puerto Viejo is also home to manyyoung U.S./Canadian nomads and hippies living in Costa Rica for its natural beauty.
Before You Decide to Live in Costa Rica…
If you know you're looking for the best places to live in Costa Rica, then come for a visit and see for yourself! Instead of hopping on Facebook and asking for opinions, test the waters on your own. Of course, there are pros and cons to every destination, and some people's lifestyles jive better in places than others.
If you're considering taking the leap and moving to Costa Rica, take 1-2 months off and come down. Meanwhile, you can rent an Airbnb in a few different places and see how you like it. This way, you can meet the locals and get a feel for the communities. Consider it hands-on research for discovering the best places to live in Costa Rica! If Costa Rica remains a magical place after that, you know it could be the perfect home for you!
Have you spent time visiting or living in Costa Rica? What town did you feel most at home in?