Playa Flamingo is one of the most popular beaches in all of Costa Rica, located in the Guanacaste Province in the northwest corner of the country. The beach is peaceful and idyllic, with crushed shell beaches and mellow seas.
*This post may contain affiliate links, as a result, we may receive a small commission (at no extra cost to you) on any bookings/purchases you make through the links in this post. As an Amazon Associate, we earn from qualifying purchases. Read our full disclosure
Traveling Soon?

Here is a list of our favourite travel providers and accessories to help get you ready for your upcoming trip!
Playa Flamingo refers not only the beach itself but also to the small town located beachside. While there isn't a ton to do in the area, that's probably for the best, as you'll want to spend as much time as possible enjoying the beautiful sand, surf, and sun.
Best Time to Visit Playa Flamingo
The dry season in Costa Rica is from December to April, while the green season is from May to November. Tourists are more populous during the dry season, and costs also tend to soar. One other downside of the dry season is that nothing in the jungles is as lush as it will be during the summer. Vegetation tends to be browner.
For visiting the beach, you may still want to consider coming in the dry season, as it will be the sunniest. During the rainy season, you might be surprised by a few showers, but you'll have lower prices and fewer people to share the beach with.
If you're coming to Costa Rica to enjoy the beach and the lively atmosphere in town, the dry season might be your best bet. If you want to avoid the hustle and bustle, come in the shoulder season or in the green season, as Costa Rica weather is generally nice all year round.

Best Things to do at Playa Flamingo, Costa Rica
Playa Flamingo town itself isn't all that exciting, offering not much more than a few small shops, a couple of restaurants/bars, and other basic services.
Enjoy the Playa Flamingo Beach
The biggest attraction at Playa Flamingo is the beach itself. The area has a couple of all-inclusive hotels and lots of apartment/condo rentals making it one of the busier beaches on the Pacific Coast, especially in the dry season. But the beach itself is long and offers plenty of space for visitors all year 'round.
The sand is extremely soft and waves are generally calm. The beach is part of a sheltered bay, which is protected from large ocean swells. In between catching rays, there are plenty of restaurants and bars right on the beach where you can grab a drink or a bite to eat.
If you are looking for other activities aside from the beach itself, here are a few of our suggestions.
Dive the Catalina Islands
Diving in Costa Rica is not world-class, but a few destinations around the country offer nice dive spots and one of the best places for scuba diving is Catalinas Islands, located just off the coast of Playa Flamingo. These rocky, uninhabited islands have all kinds of life swimming around them below the surface. You'll see lots of colourful fish and, if you're lucky, schools of rays.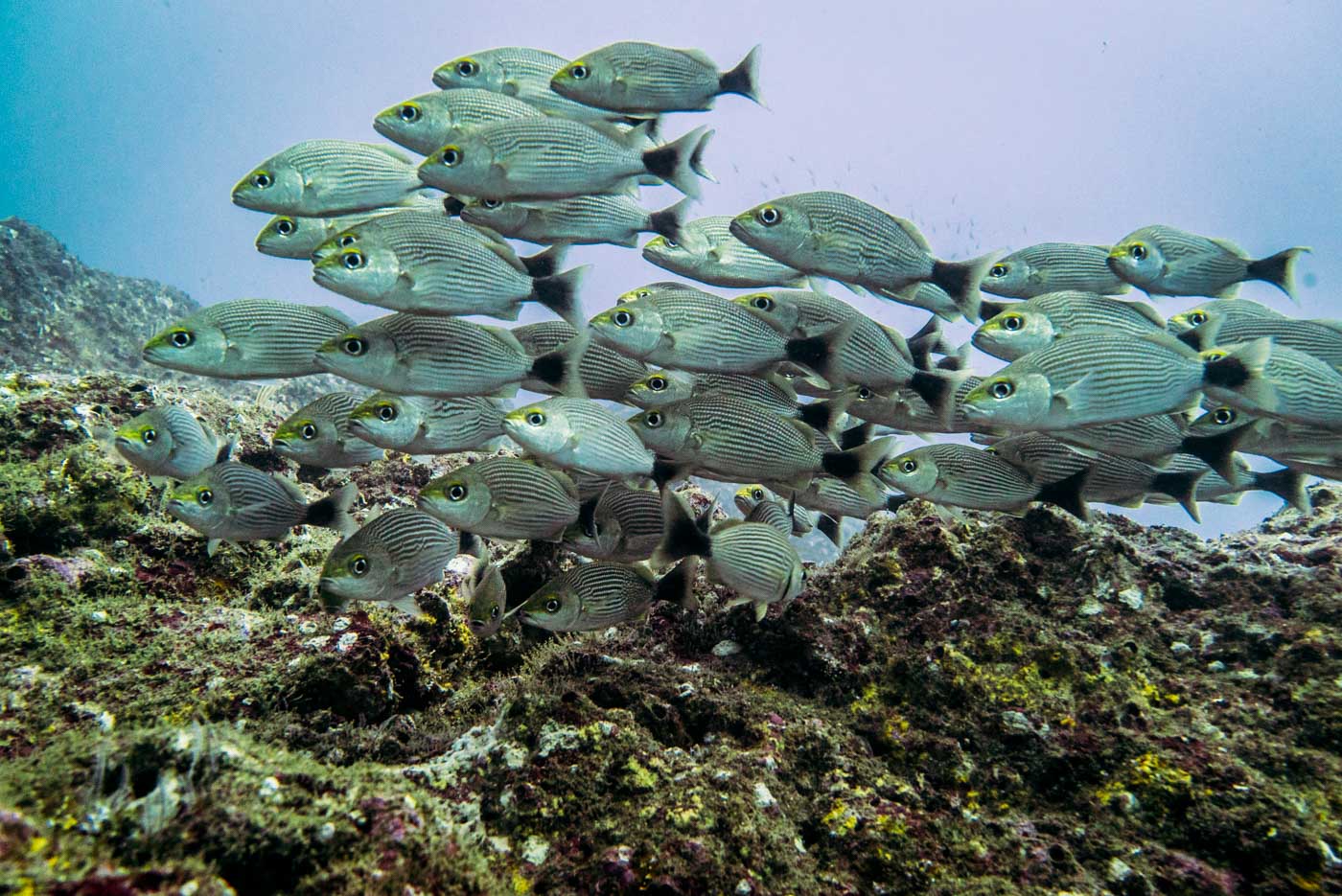 One of the coolest things about the Catalina Islands dive site near Playa Flamingo, Costa Rica is that there are lots of incredible rock formations underwater that you can explore. You'll be able to swim through dark caves and towering arches with your dive buddy. Due to strong currents, diving here is not for beginners!
Dive at Isla Plata
Another great place to dive near Playa Flamingo, Costa Rica is Isla Plata, a small island right offshore. The channel between the island and the mainland is a great place for beginners to dive thanks to the sandy bottom and weak currents.
The outer sides of the island are better for advanced divers. Here you'll have the chance to spot some turtles and even small sharks. While on your way there and back, you'll see some impressive rock formations from the island that juts out into the sea.
Go Sea Kayaking
Another fun ocean activity to do on calm seas is sea kayaking. You should be able to easily rent a kayak right in town or on the beach and take it out to explore the cove. For a bit more of an adventurous route, head northwest around the peninsula.
Go Whitewater Rafting on Rio Tenorio
The nearby Rio Tenorio is a great place to get your adrenaline pumping on a whitewater rafting trip. Not only will the trip be thrilling and exciting, but you'll also get to enjoy the beauty of the river and surrounding jungle from the centre of the waterway. Although it's not exactly next to Playa Flamingo, Costa Rica, it's worth the day trip.
How to get there: You'll need to rent a car nearby and drive to the Rio Tenorio yourself. There are a number of tour providers nearby.
Short on time? Consider taking this organized tour, which is a great option if you're traveling from Arenal to the Guanacaste beaches.
Where to Stay in Playa Flamingo, Costa Rica
Margaritaville Beach Resort:

While it might appear to be your typical Flamingo Beach resort, Costa Rica's Margaritaville

in Playa Flamingo actually has a long list of

environmental practices

that make it a great choice for eco-conscious travelers.

The hotel itself is beautiful, with every amenity you could imagine as well as a diving centre and on-site restaurants.
Bahia del Sol Hotel:

Right around the corner from Playa Flamingo on Playa Potrero, you'll find Bahia del Sol Hotel. It has the

feeling of a boutique beach lodg

e with lots of dark wood, lush greenery, and earthy yet modern decorations. They also have a strong

commitment to sustainability

and can be

classified as a responsible eco-hotel

.
Where to Eat and Drink in Playa Flamingo, Costa Rica
Restaurante Coco Loco:

This is a great choice for

fresh, local seafood

. At Coco Loco, you'll find delicious lobster, shrimp, white fish, and fresh fruits and veggies. Their food is delicious, their cocktails – great, ingredients are fresh and the restaurant is conveniently located right on Flamingo Beach.

Angelina's:

Another awesome spot for sustainable seafood, Angelina's is comparatively upscale for Flamingo Beach, Costa Rica. Aside from seafood, you can also get pizza, pasta, and craft beers.

La Hoja Verde:

For healthy vegetarian food, head to La Hoja Verde. You can order superfood bowls, protein-packed sandwiches, and fresh fruit smoothies.
How Long Do You Need at Playa Flamingo?
If you're running low on time, one day is enough to relax on the Playa Flamingo, Costa Rica and enjoy what the area has to offer. If you plan to go diving or on a whitewater rafting trip you'll need to add days accordingly.
Playa Flamingo, Costa Rica is definitely one of the nicer beaches in Guanacaste. The sand is perfect, the ocean calm, and there are fun activities right nearby to make the time a bit more exciting. If you're in the Guanacaste region, it's worth a visit, although we wouldn't choose to base ourselves in Playa Flamingo for longer than a few days.
There are so many other great places in Guanacaste that are worth a visit!
Have you visited Playa Flamingo before? What other activities in Flamingo Beach twould you recommend to first-time visitors?