The Guanacaste region of Costa Rica is home to world-renowned beaches, unbeatable surf, and unforgettable sunsets. The most visited town in the region is undoubtedly Tamarindo – but with the sharp spike in tourism in recent years, it's become increasingly difficult to enjoy a laid-back beach holiday in this popular town in Guanacaste region.
*This post may contain affiliate links, as a result, we may receive a small commission (at no extra cost to you) on any bookings/purchases you make through the links in this post. As an Amazon Associate, we earn from qualifying purchases. Read our full disclosure
Luckily, you don't have to travel far to find a peaceful escape from the hustle and bustle of Tamarindo.
Just 20kms south of Tamarindo lies a small beachfront neighbourhood of Playa Avellanas Costa Rica – a quaint, up-and-coming area that's still unknown to the masses!
About Playa Avellanas
The beach in Playa Avellanas is known as a beautiful beach destination, but it's nothing like the bustling streets of Tamarindo.
The Playa Avellanas neighbourhood itself is mostly just ocean, coast, and jungle with some vacation rentals sprinkled throughout. There are no shops, only a handful of restaurants, and few tourists. It's the perfect place to unplug and fully embrace the "Pura Vida" lifestyle Costa Rica is so famous for.
If you're flying into San Jose, the capital city, then the cheapest way to get to Playa Avellanas will be by bus. It will take about six hours, but it will only cost $10. The fastest way is to rent a car and drive there, which will probably take four and a half hours, traffic and road conditions permitting. Shuttles are also available.
If you're going to Playa Avellanas from Liberia Airport, renting a car is your best option, as the drive will only be about an hour and a half. There are no direct buses from Liberia Airport, and catching a bus via Santa Cruz will nearly triple the time. You can also book a private shuttle if you prefer not to drive at all.
Driving to and around Playa Avellanas
The town of Playa Avellanas is located about 19 kilometers (12 miles) from the popular destination of Tamarindo. Recently, the municipality has paved roads in the area, so the route to Playa Avellanas is no longer dirt or gravel. This makes for a much more pleasant driving experience, with less dust and no longer any need for a 4×4 vehicle.
Paving work is also underway in other areas, like Playa Negra, Pinilla, and a few other spots in the area. No matter where you are, still be on the lookout for potholes.
Traveling Soon?

Here is a list of our favourite travel providers and accessories to help get you ready for your upcoming trip!
Things To Do in Playa Avellanas
The main reason to visit Playa Avellanas is to enjoy some beach time. Ask any of the locals in the Guanacaste area and many will tell you that Playa Avellanas is their favourite beach on the Pacific Coast.
Relax on the Beach
Getting to Playa Avellanas
The main entrance to Playa Avellanas is at Lola's Restaurant, and there is a dedicated parking lot for visitors. Playa Avellanas now has stricter access to the beach, so visitors must park in designated areas. If you're using GPS navigation, be sure to use Lola's as your destination, and you should have no problem.
Avellanas Beach is long, quiet, and rarely overcrowded. It's known for great surfing but is also a perfect place to lay out and relax. It can get very hot in the dry season, so if laying on the sand in the sunshine is your thing, then check out our guide to the best time to visit Costa Rica and make the most of your beach time!
When you'd like a cold beverage, pop over to Lola's – a restaurant right on the beach. Don't miss the chance to meet their two new pigs, Ava and Ana (the original pig, Lola, is sadly no longer with us).
And if you're looking to get a bit more active with your beach time, you can rent stand-up paddleboards or take surf lessons at the Avellanas Surf School or organize a kayaking tour in the nearby Estero Venado Junquillal.
Facilities at the Beach
There are no public washrooms, showers, or changing rooms here. Including Lola's, there are a couple of restaurants on the beach, but no convenience stores so make sure you bring everything you may need during your visit.
Go Surfing
Whether you are a novice or pro, there are options for surfing in Playa Avellanas for any skill set. There is a reason it's called a surfers' paradise! Beginners can learn during private or group surf lessons at the Avellanas Surf School, while seasoned surfers can try their hand at Playa Avellanas surfing at a more difficult part of the beach dubbed Little Hawaii by locals.
Not to be missed is the nearby beach Playa Negra, which is famous for its right-hand barrel-rolling waves.
Eat at Lola's
When it comes to can't-miss spots in the Avellanas area, Lola's Restaurant tops the list. The beachfront restaurant is a real institution in Playa Avellana with fresh local food and a laid-back atmosphere.
Lola's has been around for 24 years, serving up a menu of smoothies, seafood, tacos, and fabulous cocktails. They're rooted as a local surfing hangout on a beach dotted with hammocks and canopy-lined loungers. It's the perfect spot to grab a drink after a day on the water or settle in for some of Costa Rica's best bites.
What's more, Lola's Restaurant celebrates the local community and has a commitment to sustainable, eco-friendly dining. They've eliminated all single-use containers and are working toward being completely off-grid through solar energy. All while hiring local and supporting community groups and environmental projects. Lola's is a true Avellanas staple!
Go Stand-Up Paddleboarding
If surfing seems a bit too challenging or you are in the mood for something different, stand-up paddleboarding in Playa Avellanas offers the opportunity to explore the ocean or estuaries at your own pace and burn a few calories while you are at it! Boards can be rented through Pargos Adventures or from one of the local tour providers below.
Playa Negra SUP Wave Riders
Playa Negra SUP Wave Riders offer paddle lessons within the Playa Avellanas and Playa Negra areas. Choose from group or private lessons, or sign up for a guided SUP tour through the flat waters of the estuary and river mouth. Or, if you're feeling adventurous, hit the ocean waves and have a crack at SUP surfing.
Pininos Adventures
From kayaking to snorkelling, a tour with Pininos Adventures is a great addition to any Playa Avellanas trip. They offer boat tours and surf lessons and great combo tours blending ATV adventures with sailing or surfing.
Explore by Kayak
The estuaries and ocean mentioned above are easy to explore by single or double kayak. You can relax the day away in the nearby Estero Venado Junquillalas you enjoy a kayaking tour through waters where you may see crocodiles, monkeys, and a variety of birds.
Observe Costa Rican Wildlife
Even if you aren't on a kayak, you can always view wildlife on foot. Unique birds, howler monkeys, and giant iguanas are almost unfazed by visitors who respect their space.
Enjoy Outdoor Adventures
If you're up for some outdoor adventuring, this area's got some awesome options in addition to those mentioned above!
Horseback Riding
There's nothing more picturesque than a horseback ride on the beach at sunset. When it's low tide and the beach is peaceful and calm, it's an ideal way to spend an evening. Try a 2 hour horseback ride with Guti Tours for USD $70.
Zip Lining
Ziplining is one of Costa Rica's top activities and Playa Avellana is a great place to do it. We recommend Pinilla's canopy tour through the jungle with 8 zip lines and a tarzan swing. It's so much fun to cruise through the rainforest high above the trees!
ATVing
There are lots of trails to explore in the Avellanas and Tamarindo area. Hop on an ATV and blast through the jungle to discover remote places you can't reach on foot.
Canyon Tours
Pininos Adventures offers an eight-hour canyon adventure through the Rincon de la Vieja foothills if you're looking for excitement. You'll get to explore the canopy through rock climbing and rappelling, rafting down the Rio Colorado, horseback riding, and relaxing in the hot springs.
Mountain Biking
Mountain biking down the coast boasts stunning views with a touch of adrenaline. Trails around Playa Langosta and Playa Junquillal offer moderate and challenging rides for any cyclist.
Practice Yoga
After all of the outdoor activities to experience, you may be in need of a bit of zen. Start your day by practicing yoga, or take a few days of respite at Peace Retreat or Playa Negra Yoga. Meditating and stretching – whether it's on the beach or in the studio – will definitely calm your mind.
In addition to studios, you can join a yoga class at an eco-lodge or a resort. Many eco-lodges have indoor and outdoor shalas for guests to use during their stay.
Local favourite Lola's also offers yoga classes on their upper deck. Enjoy the peaceful views overlooking Avellanas Beach with Raja Yoga on Tuesdays and Thursdays and Yin Yoga on Sundays. Classes run from 8 AM to 9:30 AM and cost $15 to drop-in or $80 for 10 classes.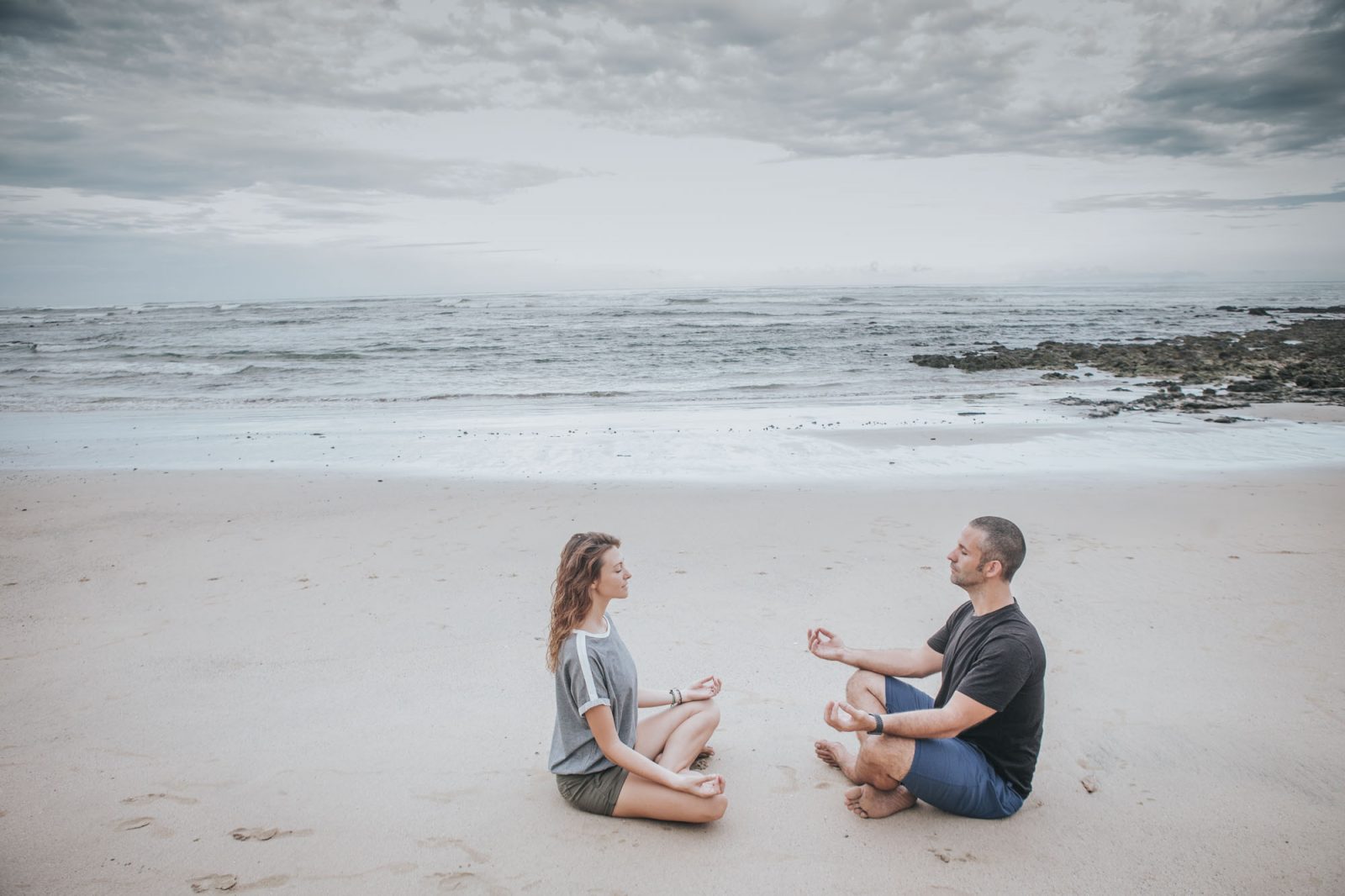 Volunteer
There are a couple of volunteer opportunities in the area that we highly recommend checking out. The Peace Retreat yoga center has great options for anyone staying in the area a bit longer. And if you're visiting during turtle hatching season, you can join the local group, Asociación Vida Verdiazul which monitors the eggs and help them to hatch!
Visit La Esquina de Avellanas
This plaza started as a family project with the goal of providing the community with a gathering place. Conveniently located a few hundred metres back from Playa Avellanas, La Esquina features 5 food truck-style restaurants, shops, and fun classes in yoga, dance, barre, and more.
The amphitheatre hosts live music and theatre performances, movie showings, and other cultural events by and for the community.
Explore Nearby Beaches
Beyond Little Hawaii, the surrounding beaches of Playa Avellana are some of our favourites. Just a few kilometres away from Playa Avellanas you'll find Playa Negra, a stellar surfing beach known for its appearance in a popular surf documentary, "Endless Summer."
Those looking for an even quieter beach experience can enjoy the nearby Playa Lagartillo, located between Playa Avellanas and Playa Negra. This hidden beach is primarily visited by locals, which makes it feel like an exclusive getaway spot.
The surf here is non-existent, but the beach is perfect for swimming and relaxing! Playa Lagartillo is where we tend to spend most of our free time while staying in this area. Consider this our little exclusive tip!
Visit the Community Center
La Esquina de Avellanas started as a family project, and has evolved into the local community center. There are five restaurants and an outdoor food court. There are a number of classes, workshops, and cultural events hosted there. There are three locally owned shops and five artisan kiosks. It's a safe, family-friendly, and fun way to spend some time between larger events.
Day Trips from Playa Avellanas
San Juanillo Beach
To get a true taste of Costa Rica's pura vida, head 1.5 hours south to San Juanillo Beach. It's best to arrive at high tide when the waves are calm and the water is gently rolling onto the shore. It's one of our favourite beaches for swimming and grabbing a bite in the town center.
Playa Ostional for Arribada
The Ostional Wildlife Refuge at Playa Ostional is an amazing place to see "arribada," or sea turtle nesting when staying in Playa Avellana. It's best to visit in the rainy season with major arribadas happening from August-November. It's a very special experience that only happens on a few beaches around the world.
Nosara
If you're in search of world-class waves, Nosara is the ultimate surfer's paradise. The small ex-pat community is located 2 hours south of Avellanas and is a laid-back town with stunning beaches. In Nosara, surf conditions are stellar and yoga classes are aplenty. It's far from the tourist hustle and bustle and surrounded by pristine nature.
Playa Conchal
Playa Conchal gets its name from the millions of crushed-up concha's (shells) that cover the long beach. It's an idyllic place to splash around in the crystal clear water and enjoy the calm seas. It's also a great place to go snorkelling or try scuba diving. Just be sure to visit on a weekday if you want to avoid the crowds.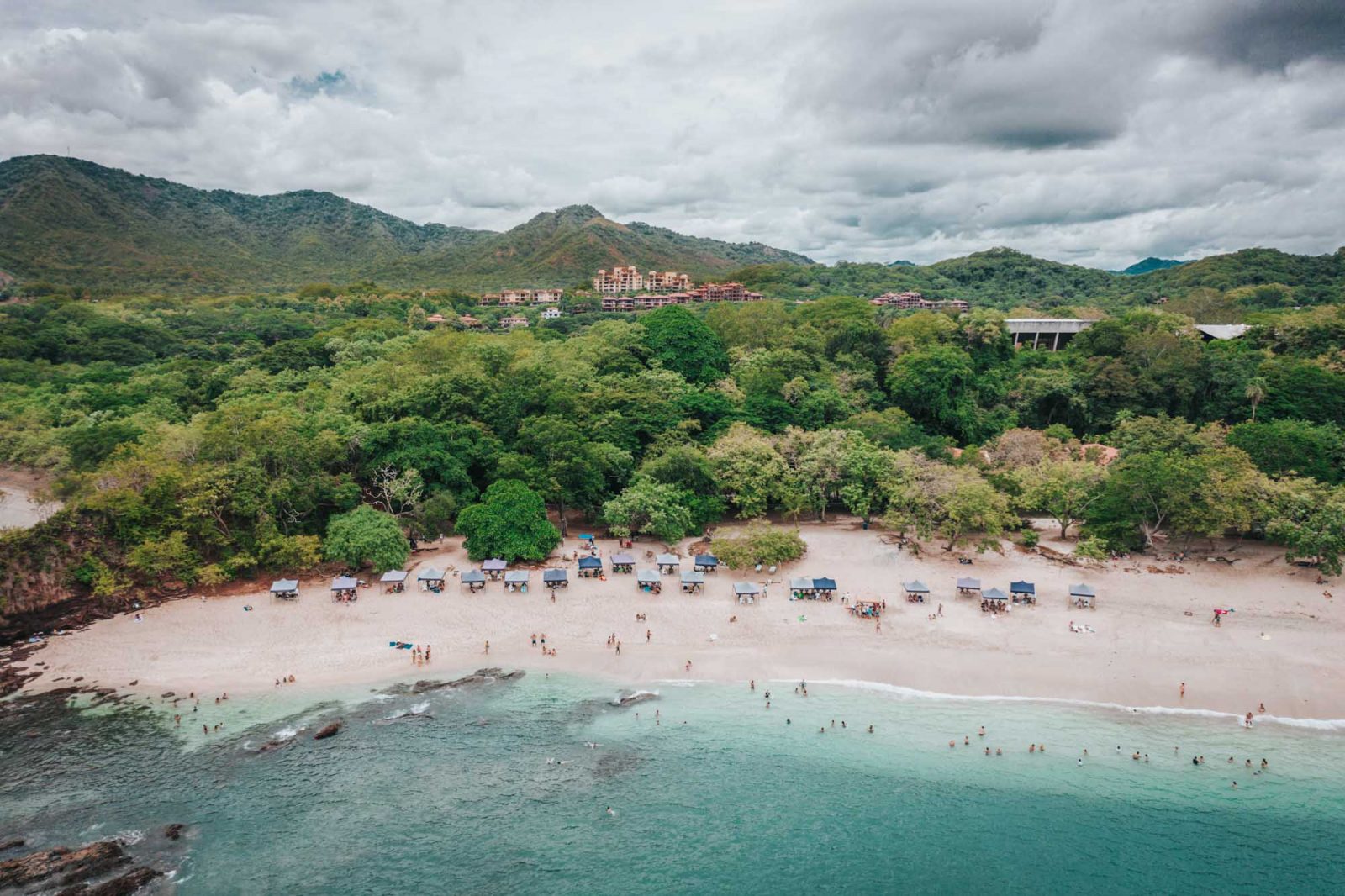 Rincon de la Vieja
For a longer day trip filled with hiking and waterfalls, journey to Rincon de la Vieja National Park. The large park is named for its resident volcano that's surrounded by mud pools and hot springs. It's a 2-3 hour trip from Playa Avellana but the serene landscape is well worth the drive.
Visit Tamarindo
If you choose to stay in Playa Avellanas, you can also easily pop over to Tamarindo for a day trip. Since it is the tourist hub of Guanacaste, there is plenty to do there to keep you busy all day. Regardless of whether you want to shop, learn water sports, drink, or unwind in a spa – Tamarindo's got you covered.
We recommend soaking in the views of the golden North Pacific on the many boat tours from Tamarindo. In Particular, the Marlin del Rey Sunset Sailing and Snorkeling Tour is a fantastic way to spend an afternoon. You'll enjoy a day of swimming and snorkelling with drinks and snacks as the sun sets.
There are also plenty of opportunities for surfing, SUPing, fishing, and kayaking. Just be aware that while the beaches are beautiful, they're much busier than Playa Avellana.
Or, if you're looking to stay on land, spend some time exploring Tamarindo's town center. There are lots of unique shops selling handmade goods and even natural organic products. Be sure to stop by the many great restaurants like Green Papaya Taco Bar or pop into the open-air Mercadito De Tamarindo (Tamarindo Market).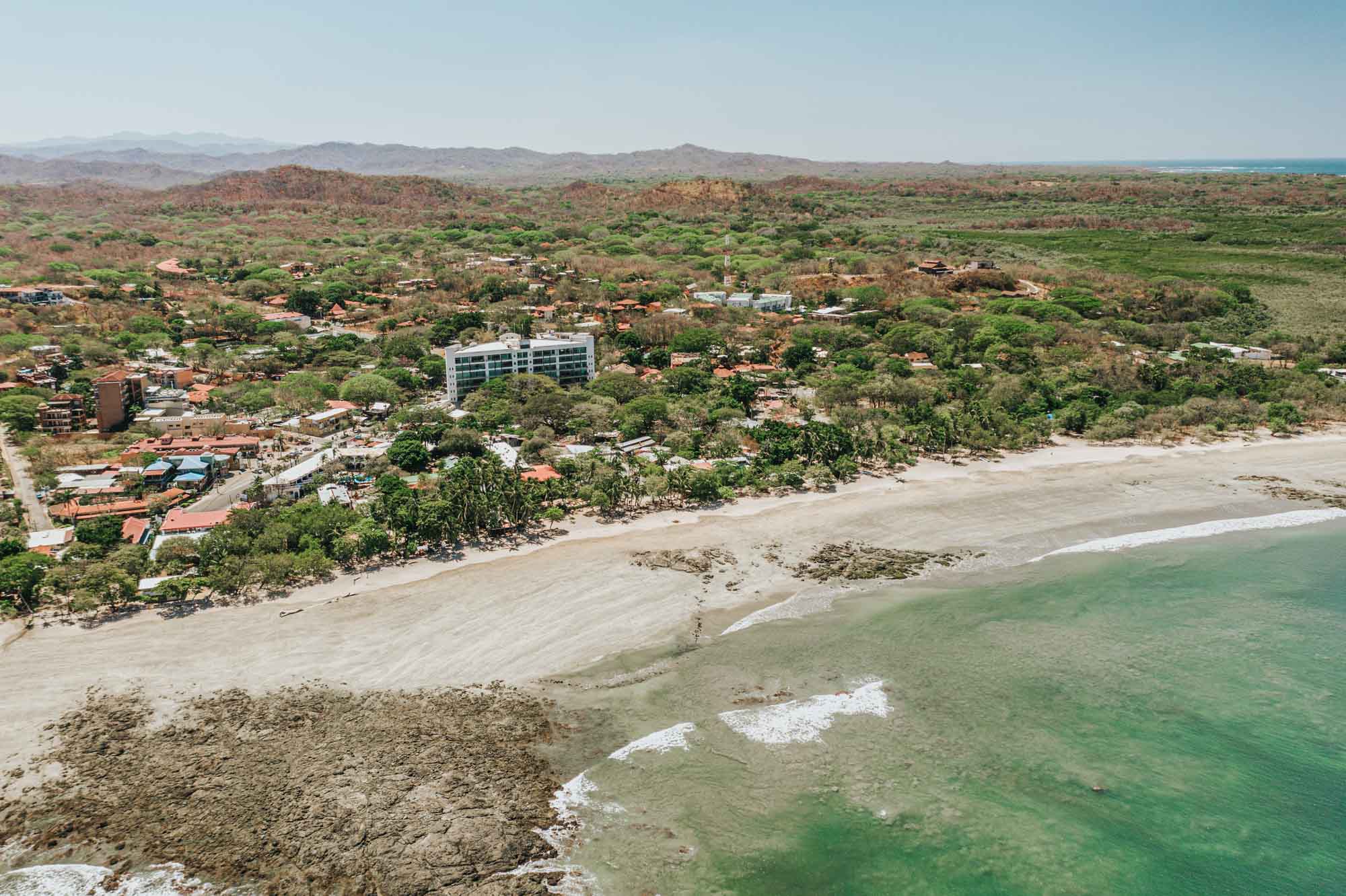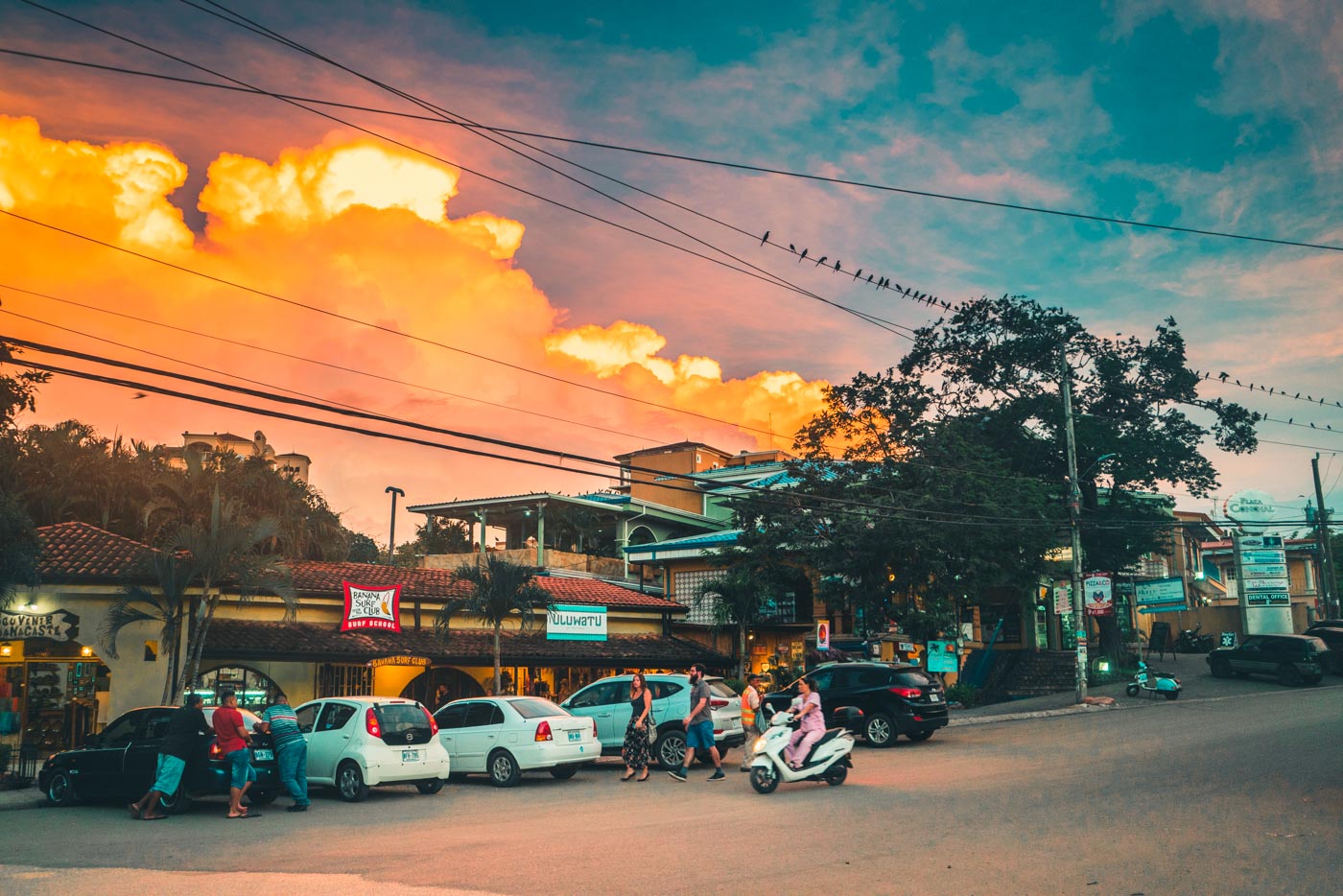 Other activities to do in Playa Avellanas, Guanacaste
Where To Eat in Playa Avellanas
There are a number of great restaurants sprinkled throughout Playa Avellanas/Playa Negra area, so we promise, you'll never go hungry if staying in this area. These are some of our favourites!
Kon-Tiki Pizza: This restaurant has awesome drinks, awesome pizza, and awesome owners. Max has been friends with the family that owns this restaurant since he was 5 years old! Try their specialty Pizza n' Love – you won't be disappointed!
Cafe Playa Negra (Leche de Tigre): They offer "Pura Vida Fusion" dishes – combining Peruvian and Costa Rican cuisine. All of their food is extremely fresh and unique!
Villa Deveena: One of the more elegant restaurant options in the area, but isn't too stuffy. The food is French-inspired, the service is great, and the ambiance is class!
Il Rustico: If you love pizza and Italian food, Il Rustico will take good care of you. They're moderately priced, with some great vegan and vegetarian options!
La Vida Buena: They've got a diverse menu – and rave reviews on everything from the pizza to the seafood! They even deliver for your quiet nights in!
Hotel Playa Negra: Even if you aren't a guest of the hotel, you should definitely stop by for a meal at the onsite restaurant. They've got traditional dishes, light and hearty options, and a delicious drink menu!
Gregorio's: A traditional Costa Rican restaurant right in the heart of Playa Avellanas. You can head there for dinner, drinks, pool and darts.
Jalapenos Taco Grill: Although it is a bit off the beaten track, this is one place you're not going to want to miss. The service is top-notch, and the food will blow your mind!
Cafe Corazón: Located in Los Pargos, this cafe is a great place to fuel up when you visit Playa Negra. Corazón serves their very own sustainably grown coffee, cold-pressed juices, paninis, and more. The coffee here is excellent, and the beans are freshly roasted onsite.
Mycelium:Discover Mycelium, Chef Kamu's culinary gem in Playa Negra, Costa Rica. A fusion of Asian flavors defies the norm, offering a refreshing alternative to the usual coastal cuisine. Amidst Guanacaste's beauty, Mycelium beckons with its inviting ambiance and inventive dishes. A must-visit destination for those craving a unique gastronomic adventure.
Where to Stay in Playa Avellanas
Whether you're looking for hotels or a vacation rental, Playa Avellana has loads of great accommodation options. Here are a few of our top picks.
Cabinas Las Olas: Surrounded by mangrove forest and walking distance to the beach, Cabinas La Olas is a great home base. The hotel has peaceful rooms and an on-site restaurant, bar, and surf shop. Rooms start at USD $115 per night.
SoulShine: This cozy Mediterranean-style resort is a Costa Rican oasis. The grounds at SoulShine are surrounded by lush gardens with a beautiful outdoor pool. There are only 7 rooms for the utmost relaxation and tranquility. Rates start at USD $147 per night.
Mikado Natural Lodge: Nestled among the trees, Mikado Natural Lodge offers 6 private bungalows and a luxe infinity pool. Private terraces and large windows boast panoramic views that feel like you're in a treehouse. There's also a private chef for hire on-site with rooms starting at USD $279 per night.
Little Hawaii Avellanas: Little Hawaii Avellanas is just a short walk from the beach, and offers a swimming pool, parking, Wi-Fi, and sports activities. Pricing starts at USD$128 for a comfortable, easy-going stay.
Have you ever been to Playa Avellanas? What was your favourite thing to do in the area?