Ever since we quit our jobs and left our 9-5 lives, we have semi-based ourselves in Costa Rica, just 20 minutes south of the town of Tamarindo in Guanacaste province.
*This post may contain affiliate links, as a result, we may receive a small commission (at no extra cost to you) on any bookings/purchases you make through the links in this post. As an Amazon Associate, we earn from qualifying purchases. Read our full disclosure
You may be surprised to learn that Tamarindo is one of Costa Rica's younger towns. Just 30 years ago, it was nothing more than a small fishing village with no roads and no tourism infrastructure. With a population of under 7,000, it's not the most populated place in Costa Rica, but it attracts more than its fair share of tourism.
Over the years, Tamarindo area has established itself as a hub of tourism in Guanacaste. The shore of Playa Tamarindo offers great surf and attracts plenty of surfers for the waves, its white sand beaches draw in families, and the vibrant town vibe attracts plenty of solo travelers in search of the Pura Vida lifestyle and a great party town scene. Yes, Tamarindo is a destination loved by all!
For us, Tamarindo is a lifeline. It acts as a central hub for shops, art galleries and activities, so we never run out of things to do in Tamarindo. It's precisely for that reason that we have a love/hate relationship with Tamarindo. In the low season, we love taking a trip out to Tamarindo. We hang out on the beach, stock up on groceries, and treat ourselves to some tacos or sushi while we are there.
But in the busy season, when tourists flock to Tamarindo Beach, our weekly trips become more of a hassle than a treat, as with many popular beach towns. For that exact reason, the locals have nicknamed the town "Tamagringo."
Don't leave your home without Travel Insurance!

From the US? We recommend Allianz Travel Insurance, a world leader in travel protection and our trusted Travel Insurance partner for the last 5 years. Allianz offers Single Trip and Annual Travel Insurance Policies that include medical coverage, trip cancellation, rental car insurance and more! (Benefits vary by state and by plan, so read your policy carefully!)

Not a US resident? Consider Safety Wing, a budget friendly travel insurance provider with travel insurance plans for Digital Nomads and travelers from all around the world.
Is Tamarindo Worth Visiting?
If you are planning a trip to Costa Rica, Tamarindo Beach is likely a stop on your itinerary and for good reasons. While it can be busy and touristy, Tamarindo does offer a convenient way to experience the Guanacaste region and some of its top activities, so you'll never be wondering what to do in Tamarindo.
Tamarindo is known for its gorgeous white sand beaches that are a hotspot for surfers, families, and tourists from all over the globe. People also flock to Tamarindo Beach for the amazing water sports available in the area, like kayaking, SUP and fishing. It's definitely worth visiting if you're looking to soak up the Costa Rican sunshine or try surfing for the first time.
Check out our Featured Video
Is Tamarindo Safe?
Yes! Tamarindo is relatively safe as long as you use good travel sense. After all, leaving your valuables unattended on the beach isn't a good idea anywhere. Out of all of the travel destinations in Costa Rica, Tamarindo is one of the safest. Pickpocketing and other minor tourist area crimes still happen, but anything beyond that is unlikely.
Best Time to Visit Tamarindo, Costa Rica

When it comes to Tamarindo weather, there are 2 seasons in Costa Rica. The dry season, and the green season.
Dry Season
The dry season runs from December until April. Contrary to popular belief, the dry season is not the best time to visit Tamarindo, because it coincides with an influx of tourists. It's hot, really hot… and crowded, which, in our opinion, takes away all of Tamarindo Beach's appeal.
Temperatures hover just shy of 30 degrees Celsius, and keep in mind, it is a dry heat. So drink plenty of water to stay hydrated.
However, in the dry season, Tamarindo Beach is a great place to visit for those looking for a party spot. Tamarindo tourism is busy and buzzing with activities.
Traveling Soon?

Here is a list of our favourite travel providers and accessories to help get you ready for your upcoming trip!
Green Season
The rainy season runs from May to November, and it is also known as the green season because the rain makes the countryside a deep, verdant green.
Don't be afraid to visit Tamarindo in the rainy season. It's quiet, lush, and really laid back. Most mornings are bright and clear, and the rain clouds don't roll in until the afternoon.
It can be a little muggy at this time of year, but temperatures hover in the comfortable mid-twenties.
Shoulder Season
We recommend planning a Tamarindo beach vacation in the shoulder season. The months of November, as well as June/July/August, are much quieter and more pleasant if you want to enjoy the beach and the surroundings.
These months experience less rainfall than during the height of the green season. You will miss the crowds, and won't have to pay premium high-season prices.
How to Get to Tamarindo, Costa Rica
Tamarindo is conveniently located with easy access to Liberia airport in the heart of Guanacaste region in the Pacific Coast of Costa Rica.
By Air: If you want to arrive by air, fly into Daniel Oduber International Airport (LIR) in Liberia. This airport has many flights from major cities in North America, like Toronto, New York, and Miami.
Tamarindo town is located just 1-hour drive from the Liberia airport. You can rent a car, take a taxi or shuttle bus, or take a 2-3 hour ride on the public bus for US$2.50.
By Car: For the most convenience, getting to Tamarindo by car is the best bet. With a car, travel can happen on your own schedule; you won't need to rely on public transportation schedules. You can plan your schedule more carefully, take more day trips, and save on the transfer from the airport. Depending on the year and how packed Tamarindo Beach is, a car also means you can stay farther from town. Because trust us, in the high season when the town swells beyond capacity, staying in the heart of time can be quite exhausting!
The main drawback of renting a car is that parking in Tamarindo is not for the faint of heart. Given that the town was not designed for the tourism numbers, street parking and traffic in Tamarindo can be a real nightmare… even in the low season! So if you do decide to rent a car, we recommend finding a hotel with on-site parking and being prepared for a short walk into town on most days.
Book the Best Car Rental in Costa Rica

Renting a car in Costa Rica can be one of the most challenging parts of your visit! Unfortunately, car rentals in Costa Rica often come with significant hidden insurance fees, result in many frustrations at pick-up. The experience has ruined many trips and ballooned trip budgets for friends, family and followers. After years of not having a good solution, we finally found an honest car rental company that we proudly recommend to our readers.

We recommend booking with Vamos Costa Rica – a local car rental company that offers fantastic service and NO HIDDEN FEES and get 10% of your rental rate plus FREE additional driver, FREE child seat and other perks and benefits when booking through our link below!

Book early as rental car availability all across Costa Rica is currently lower than demand!
By Shuttle Transfer: If you are planning to base yourself in Tamarindo for the duration of your trip or prefer to use shared transport, you'll need to book a shuttle to get to Tamarindo from the airport or from many other destinations. Unfortunately, Tamarindo is not very well connected to other tourism hubs in Costa Rica, so getting around by public busses is quite challenging.
Distance From Tamarindo to Popular Destinations Across Costa Rica
Tamarindo to San Jose, Costa Rica: Driving from San Jose to Tamarindo and vice versa takes 4-5 hours. They are 260 km (160 miles) apart, and the well-paved road makes for a pretty easy drive.
Monteverde to Tamarindo: Expect a 3-4 hour drive from Tamarindo to Monteverde even though they are only 162 km (100 miles) apart.
Tamarindo to Santa Teresa: Heading from Santa Teresa to Tamarindo is a 200 km (124 miles) journey that takes about 5.5 hours each way.
Tamarindo to Manuel Antonio: Getting to Manuel Antonio National Park and the surrounding area takes about 5 hours from Tamarindo. They are just over 300 km (186 miles) apart.
Tamarindo to La Fortuna (Arenal to Tamarindo): It is a 4-hour drive from La Fortuna to Tamarindo (210 km/130 miles). The distance is similar if you're leaving from Arenal.
Liberia to Tamarindo: The distance from Liberia, Costa Rica, to Tamarindo is 80 km (50 miles). It takes 1.5 hours to drive from Liberia city centre and just over 1 hour to drive from the airport.
Nosara to Tamarindo: Getting from Tamarindo to Nosara is a 2-hour drive along Route 160. The two towns are 70 km (44 miles) apart.
Tamarindo to Samara: Traveling between Tamarindo and Samara takes 2 hours on the main highway via Nicoya. For a scenic drive, you can travel along the coast for 2.5 hours but beware of potholes! The coastal route is only 4 km (2.5 miles) longer than the paved highway (94 km/58 miles) but takes much longer due to road conditions.
San Juan to Tamarindo: Costa Rica welcomes many visitors connecting from Puerto Rico and other Latin American countries. The flight from San Juan takes about 6.5 hours over the Caribbean sea.
To compare all transportation options and to book a minivan, car, bus or flight from and to Tamarindo, check out Bookaway.
Top Things to Do in Tamarindo, Costa Rica
Tamarindo is one of Costa Rica's few beach towns that literally offers everything from white sand beaches and snorkelling to horseback riding and hiking.
Visit Best Beaches near Tamarindo
There are a number of beautiful beaches in and around Tamarindo, so if you are coming to Costa Rica for that beach life – Tamarindo will not disappoint!
Playa Tamarindo (Tamarindo Beach)
The main attraction in town is a nice long, sandy white, beautiful beach that stretches for 3.5 km along the main road. The beach is great for swimming, at low tide and high tide, relaxing, and sunbathing, and offers plenty of good waves for beginner surfers looking to give it a try. More experienced surfers will enjoy excellent surf breaks just outside of Tamarindo at Playa Negra and Avellanas (25 mins away by car), Playa Grande (25 mins away by car), or Witch's Rock (1 hour by car and then 30 min by boat).
Tamarindo Beach is also a popular spot for beach volleyball, a casual soccer match and other activities. There are plenty of restaurants on the beach, so you can enjoy ocean views with a cocktail in hand. The beach is also famous for its beautiful sunsets!
Playa Langosta, Costa Rica
Playa Langosta or Langosta Beach is a quieter alternative to the busy shores of Playa Tamarindo. Located just 2 km (1.2 miles) away, Playa Langosta is a beautiful beach with its own share of amazing surfing waves and picturesque shoreline. Langosta is known as one of the more luxurious beaches and even has the only all-inclusive hotel in the area. It's close enough to town that you can do some beach hopping and visit both Playa Tamarindo and Playa Langosta in a day.
Playa Avellanas
Playa Avellanas is a beautiful swimming and surfing beach located a 30-minute drive from Tamarindo that offers a nice break from the hustle and bustle. We might be biased but Playa Avellanas is our favourite Guanacaste beach to relax, surf, and enjoy Costa Rica's wildlife. There are also some great restaurants in the area, including the famous beachside restaurant called, Lola's, home to 2 pigs that just love the beach!
Playa Grande
Playa Grande is another beautiful beach destination north of Tamarindo in Marino Las Baulas National Park. It is one of the best surfing beaches in Costa Rica, known for its great waves among local Guanacaste surfers. But good surf breaks aren't its only attraction—the beach is also famous for being a nesting site for leatherback sea turtles. If you visit from October to May, you might see the nesting turtles during a night walk or tour.
Take a Surfing Lesson
As one of Costa Rica's premier surfing destinations, Tamarindo is teeming with surf shops. Tamarindo surfing is at its best during the green season, between May-November, when the South Pacific brings sizable, long-period swells toward this region. This is the ideal surfing time for experienced wave riders. Surf shops in town will show you the best spots to surf around Tamarindo and take you out to popular surfing spots nearby, like Witches Rock, or Playa Negra – featured in the famous surfing movie, Endless Summer.
Good beginner conditions ideal for small-medium-sized surf can be enjoyed from December – April in Tamarindo. March is known as a particularly great time to visit for Tamarindo surfing. Beginner surf lessons can be arranged at any of the surf shops in town and if you are looking to commit to surfing and are looking for a good surf camp, Tamarindo offers a few great options.
Iguana Surf
Iguana Surf is a surf shop, surf camp, and tour agency combined into one, with simple group lessons, week-long surf camps, and everything in between. For those who don't mind having company while they learn, group lessons start at $45. But surfing isn't all that's on offer. If you aren't sure what you want to do in Tamarindo, they also offer a variety of other tours, including ATV, boat, and diving tours. If you're feeling more adventurous, they also offer zip-lining, snorkeling, horseback riding, and white water rafting, among other things.
Salty Sols Surf School
With lessons for beginners through advanced, in groups or one-on-one, Salty Sols Surf School is a great option for families looking to do something fun with the kids at Playa Tamarindo. The instructor is noted for being great with kids and making newbies feel comfortable, while still providing the fun and great training one would expect. Group classes start at $50 and provide everything you need to catch your first wave in the Pacific Ocean.
Surf Every day Academy
At Surf Every Day Academy, Leandro Van Megroot offers daily group surfing lessons and a variety of classes for those who want to improve their surfing skills or those who want to learn from scratch. Taking a more holistic approach, Surf Every Day Academy encourages students to improve their skills through not just surf practice, but also skateboarding, mindfulness, strength training, and flexibility training. Lessons start at $69.
Take a Sunset Boat Cruise
Numerous sailing trips and boat tours depart daily, taking Tamarindo visitors to beautiful bays and great snorkeling spots. Many run as full-day tours, but there is also an option to do half-day tours or sunset tours. These are two of the most popular sunset sailing Tamarindo tours.
Our Tip: Be sure to book through the links above or directly through the provider. There are a lot of boat ride and tour providers pushing these types of tours in town. They all sort of sound the same, but the comfort level of the boat, the quality of food/drinks and the atmosphere can make a huge difference in your experience, so choose carefully.
Go Kayaking
Kayaking tours are also popular and offer a great way to explore the mangrove ecosystem of Tamarindo Bay and the Tamarindo estuary. From the water, you may see some of Costa Rica's diverse wildlife ranging from howler monkeys, caymans, and iguanas to tropical birds. Tours usually last 2-3 hours and are a great way to explore the natural landscape.
Kayak Club Tamarindo offers estuary tours, snorkeling tours, fishing excursions, and sunset tours. They supply kayaks and equipment and offer brief paddling lessons, so even newcomers can fully appreciate Costa Rica's beauty from a kayak.
Whether it's the 3-hour guided estuary tour through the mangrove forest to get up close with the howler monkeys or the less-structured fishing excursion or sunset tour, you're sure to have a good time. Don't forget to bring a camera with you.
Try SUP in Tamarindo Estuary
Another alternative is to stand up Paddleboard (SUP); it's a bit more unique, where water sports are concerned. The water in the estuary is very calm so even beginners can enjoy a peaceful paddle through the jungle. You'll get a chance to see many of the animals and fish that call this area home.
If you aren't sure where to start, check out Costa Rica Stand Up Paddle Adventures. They offer SUP lessons for beginners or for anyone who's only familiar with paddleboarding in flat water, rather than the ocean. Once you know what you're doing, there are a number of guided SUP tours to other beaches near Tamarindo, ranging from 2-4 hours. Lessons start at $85, while tours start at $135.
Go Snorkeling or Scuba Diving
Another way to explore the Pacific Ocean is through scuba diving or snorkeling tours, both of which can be arranged from Tamarindo. Snorkeling in Tamarindo Bay isn't great, so snorkelling tours are often combined with sailing tours (see above).
Scuba diving trips go to Catalinas Islands or Bat Island, where you can have a chance of spotting bull sharks. A number of scuba diving companies operate in town and offer 2 dives + equipment packages for about $250/person.
Go on a Ziplining Tour
If you want a chance to experience the longest and coolest canopy tour in Costa Rica, you'll have to visit Monteverde. But those that don't plan to travel that far can experience the thrill of zip lining not too far from Tamarindo.
It's important to note that there are no zip-lining courses right in Tamarindo, so no matter what tour provider you choose, be prepared to travel anywhere from 30 mins to 2 hours to get to your final adventure destination.
Most canopy tours in Guanacaste take place in Rincon de la Vieja National Park, located about 1.5 hours from Tamarindo. Here, the canopy is thick, the rivers are flowing, and adventure tours are offered by a number of adventure operators. These Zipline Tamarindo tours offer transfers to Rincon de la Vieja and most include other activities in the package to make it into fun Tamarindo excursions.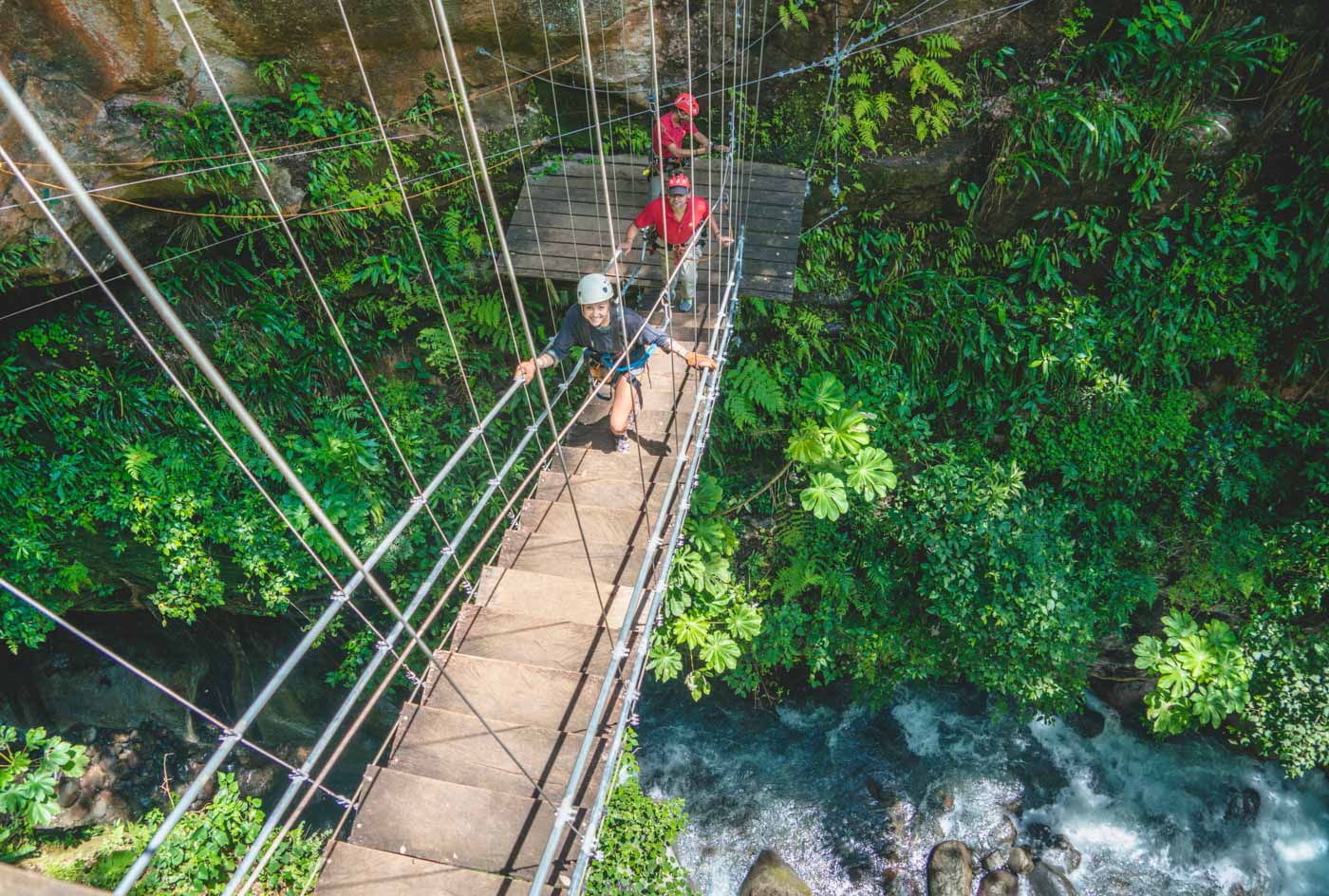 Zip Lining in Rincon de la Vieja
Zip Lining Near Tamarindo, Guanacaste

Go Horseback Riding
Horseback riding is a popular way to discover the back roads of Tamarindo and the surrounding areas. Tours can range from just a few hours to full-day adventures and can be organized in town.
For the best experience – check out Guti Tours in Playa Lagartillo/Playa Avellanas, about half an hour away from Tamarindo. Born and raised in this area, Andrei and his team are true locals with plenty fo great stories to share. They offer morning and afternoon horseback tours of Playa Avellanas and Playa Negra allowing you to get that iconic experience of riding a horse on the beach in Costa Rica. The scenery in this part of Guanacaste is gorgeous, it's not too crowded and truly an escape into nature. The price is reasonable, with tours starting at $70. Sunset tours are also available and are highly recommended!
Go Fishing
Tamarindo is conveniently located close to some of the most productive fishing grounds in the world. Depending on the time of year, Billfish and other large species can be found as close as 3 miles off the shores of Playa Tamarindo. Private Tamarindo fishing charters can be arranged through Tamarindo Charter Company or Tamarindo Sport Fishing.
Most operators have a strict catch-and-release policy for Billfish, but you can usually keep a smaller catch and arrange to have one of the restaurants in town cook it for you for dinner.
See Turtle Nesting on the Beach
Las Baulas National Park, located just a short 25 min drive from Tamarindo in Playa Grande, is a famous destination for Sea Turtles Nesting Tours. It is one of the few places in the world where Giant Leatherback Sea Turtles come to lay their eggs. To witness this unique natural occurrence, you'll need to hop on tour departing from Playa Grande.
The unique tours take place in the evenings, just after dusk, and are led by rangers involved in the conservation projects in the park. The tours are highly regulated thanks to the conservation efforts by the Leatherback Trust in collaboration with Earthwatch.
Visitor interaction with the leatherback sea turtles is very limited (no cameras are allowed), but if you have never seen turtles nesting on the beach before, it's a very cool and educational experience and one of the best things to do in Tamarindo. Leatherback Sea Turtle nesting season is from October to February. Your hotel or a number of agencies in town can help organize Turtle Nesting Tours.
Rent Your Own Gear
If tours aren't your thing and you're wondering what to do in Tamarindo you can also rent some gear to explore the area at your own pace. Bicycles, surfboards, boogie boards, SUP board and other equipment are available for rent from a variety of stores.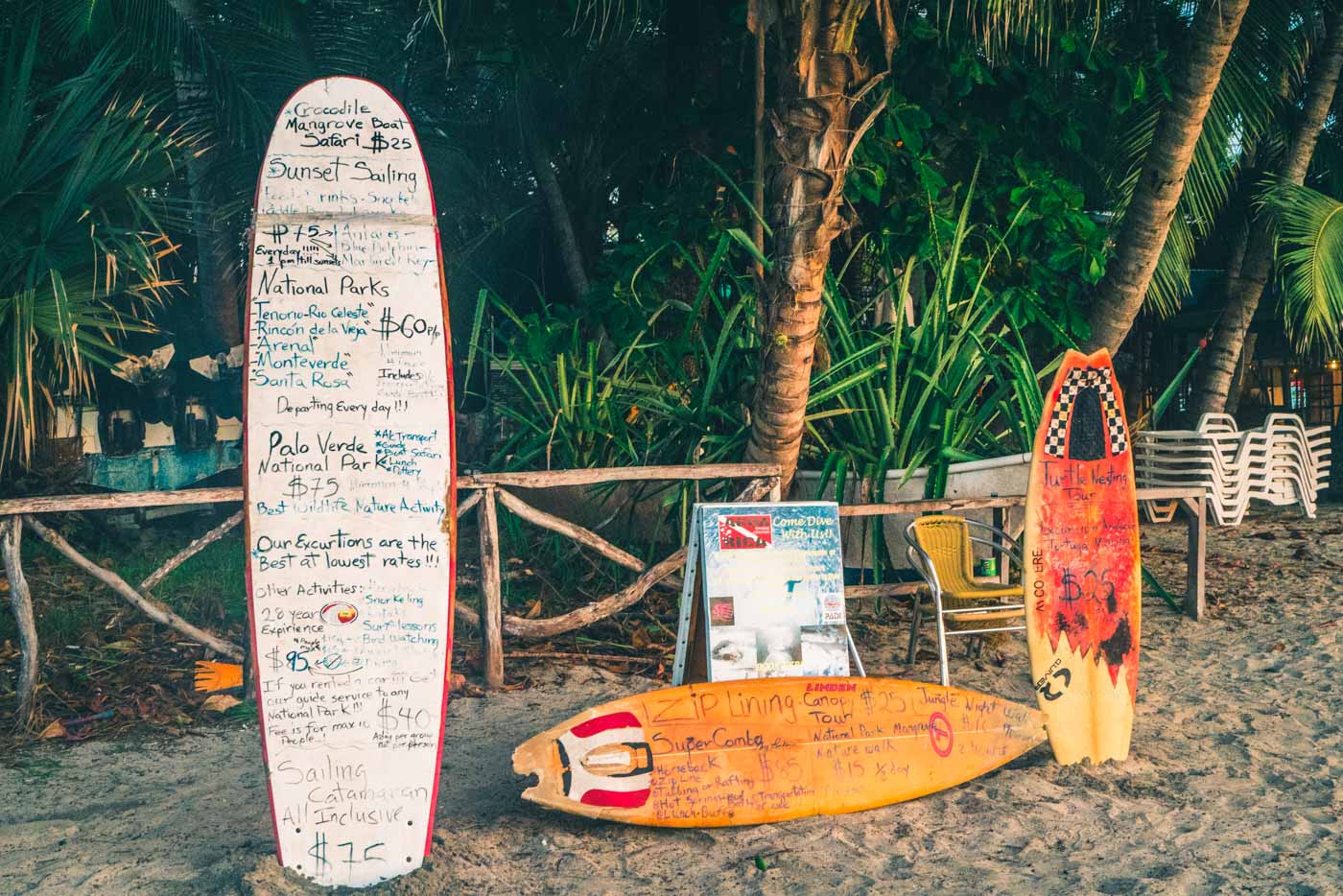 Visit the Tamarindo Night Market
Every Thursday night from 6pm-9pm, the town of Tamarindo comes together at the Tamarindo Night Market. The market has live music performances, fire dancers, and family-friendly fun and features a number of stalls with food, artisan goods and hand-crafted souvenirs made in Costa Rica. There is also a skate park on-site popular with local kids of all ages. It's a fun place to be on a Thursday night and a great way to feel the vibe of the town.
or the…
Tamarindo Farmers Market
Tamarindo Farmers Market is an event not just for the tourists, but for the entire community. It's particularly popular among those living in Tamarindo, Costa Rica. The market takes place every Saturday morning, just beside Oneida Park. Stalls at the market range from fresh produce, ready-to-eat food, snacks, personal care products and souvenirs.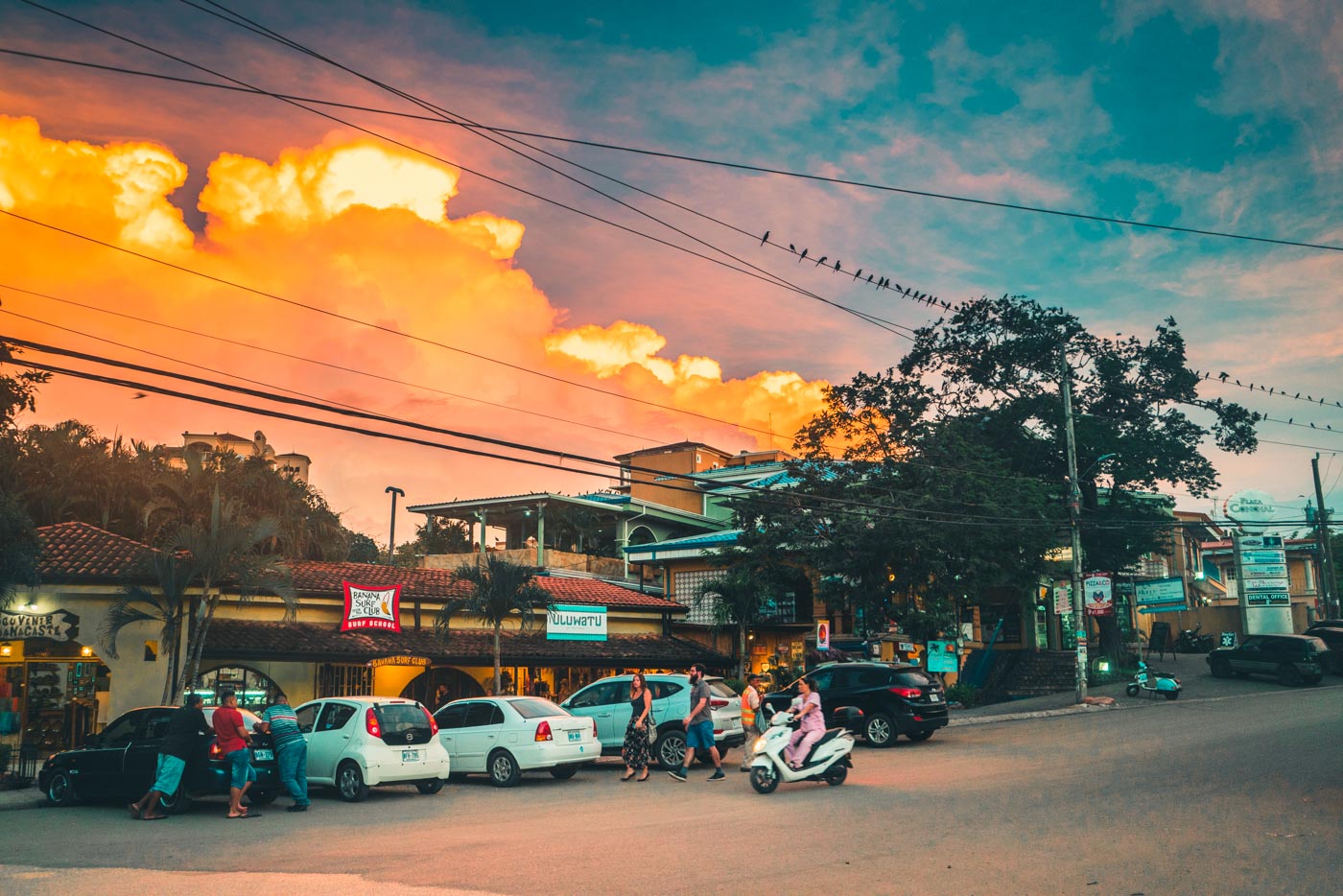 Visit a Spa
Coco Spa Tamarindo is our favourite place to relax and unwind after a day on the waves. It's a full-service spa, offering a number of services ranging from massages to nail treatments and waxing. The spa is professional and has lovely staff, plus they use natural local ingredients, where possible. We frequent the Spa when. we are in town and would highly recommend a stop here on a visit on any Tamarindo trip.
Go Shopping
While not the most cultural of Tamarindo activities, shopping in Tamarindo, Costa Rica can be a fun way to spend an afternoon. After all, Tamarindo is one of the few places in Costa Rica that has unique shops worth exploring.
Aside from the usual souvenir shops that sell $10 tank tops, flip-flops, and sarongs, there are a number of unique boutique-style shops in Tamarindo that are definitely worth a stop while you're visiting Tamarindo.
Clothing & Souvenir Shops
Clothing stores are peppered along the downtown area, along the main street in Tamarindo, so it's easy to pop into a few stores as you make your way around town. The following are the most popular ones:
Organic Products
For natural organic products made in various corners of Costa Rica, head to the Organic Products shop right next to the Coco Spa Tamarindo.
Another great spot for organic goodies is Almacén Orgánico, a bulk shop a few blocks down the street from the spa. They have a great selection of natural foods, bulk goods, specialty items and a lust-worthy list of organically grown teas. Make a stop here for ingredients you won't find in Costa Rican grocery stores. The shop also hosts yoga classes in its on-site studio.
Grocery Shopping
To stock up on groceries (not the most exciting shopping in town, but very necessary), head to the Auto Mercado on Calle Central. There is also another grocery store called Mega Super a bit further out of town. The latter is a more local alternative, but the former is your best bet for any Western ingredients or foods that you might be missing from home.
Not sure about the water safety in Tamarindo? The solution does not have to be buying plastic water bottles. We recommend this great personal filter straw that can be used as a straw on its own or with the included filter bag. It uses carbon media to filter 99.9% of bacteria and other pathogens in water. It's a great eco-friendly alternative to buying bottled water and a perfect way to make sure you never have to worry about water safety again!
Day Trips from Tamarindo
If you plan on spending more than a few days in Tamarindo, it's worth considering taking a few day trips for a change of scenery. Here are a few fun day trips we recommend.
Playa Avellanas
Located about 20 mins south of Tamarindo, it is a beautiful 3km beach popular for swimming and surfing and a place to avoid the crowded beaches in Tamarindo. It's the kind of place you could come to for the whole day, park up in the shade in the hammock or lawn chairs at the beach restaurant Lola's and enjoy a relaxing day. Lola's serves up great food for breakfast and lunch and yummy cocktails are on offer until 5pm.
Note: The road to Avellanas is not paved and is very dusty in the dry season. It is passable for any vehicle and does not require a 4×4, but if you are traveling in a smaller car, the journey can be quite uncomfortable and bumpy.
Rincon de la Vieja National Park
Located about 1.5 hours from Tamarindo, Rincon de la Vieja is the closest National Park to town and a great destination for hikes and adventure activities. The park is named after a dormant volcano, located inside the park. Although this volcano is not quite as impressive as Arenal, the surrounding area still offers a nice change of scenery from the beach and is a must-see for nature lovers.
There are a few trails inside the park, some waterfalls to explore, and the Rio Negro Hot Springs, where you can soak your sore muscles after a day of activities. Lots of adventure centres in the park offer activities like zip lining, tubing, horseback riding and more (see above for tour suggestions).
Rio Celeste in Tenorio National Park
The turquoise waters of Rio Celeste have made this an appealing destination to visit on a day trip from Tamarindo. The famous Rio Celeste waterfall is located inside Tenorio Nationa Park, about 3 hours inland from Tamarindo. The hike to the waterfall is easy to moderate difficulty and should take under 2 hours. However, the journey to Tenorio makes for a long day trip!
If you don't have time to visit Tenorio for an overnight trip, we recommend joining a tour and letting someone else do the driving for you.
Best Restaurants in Tamarindo
When it comes to the best places to eat in Tamarindo, there is no shortage of restaurants. Tamarindo offers something for everyone with a large selection of cuisines and great restaurant options. Here is a list of a few of our favourite food joints.
Bamboo Sushi Club is located in the center of town and is a great spot to have something a little bit different if you are growing tired of rice and beans. The atmosphere is nice and relaxing, and in the evening the restaurant can serve as a good spot for a romantic dinner. This is by far the best sushi spot in Tamarindo and is worth the hype. Try their Tico Roll – it's unlike anything you've ever had before! They are open Monday- Saturday from 11:30 a.m to 3:00 p.m, and 5:30 p.m – 10:00 p.m. Closed on Sundays.
Nogui's Restaurant has been serving Tamarindo since 1974 and is probably the best known local restaurant in town. They offer delicious desserts and a really fresh Tuna Poke right on the main beach! Nogui's Tamarindo is open every day from 6 a.m to 10 p.m.
Latitude Blue is open from 11 to 11 daily. They offer local flavours with a western flare. A good place to catch some nighttime entertainment in a nice setting. Good spot for a romantic dinner in a central location on the main strip in town.
Green Papaya Taco Bar has delicious and healthy tacos, salads and more! They even offer vegan-friendly options. They are closed Mondays but otherwise operate from 11 a.m to 9 p.m daily.
Falafel Bar has the best hummus in Tamarindo! They offer a tasty Mediterranean menu in a laid-back restaurant setting. Falafel Bar is closed Tuesdays but is otherwise open from 7 a.m-10 p.m.
Sprout: Has lunch & dinner made only from fresh, organic, & locally sustainable ingredients Open from Monday-Saturday from 11 a.m-10 p.m. Oh, and it's delicious!
Mercadito De Tamarindo: (Tamarindo Market) is a big hit in Tamarindo. The open-concept market opened in February 2018. It houses trendy food stalls and clothing shops which all face center stage. The food is cheap and cheerful, so don't expect anything too fancy, but it's a nice spot to grab a bite to eat while exploring the town. Live musicians and acts perform regularly. The Tamarindo Market is open every day from 11 a.m to 11 p.m and is located just 25m East of Patagonia Argentinian Grill.
Looking for Bars/Clubs in Tamarindo?
Tamarindo has long been known for its vibrant nightlife. However, over the years, especially since the pandemic, the party scene in Tamarindo has taken a big hit. Lots of places have shut down and the ones still in operation have become increasingly seedy. Here are a few recommendations, but be warned – judge for yourself and proceed with caution.
Best Hotels in Tamarindo, Costa Rica
There are a plethora of Tamarindo hotels and vacation rentals to choose from in town. Options range from cheap hostels, affordable B&Bs, mid-range hotels and luxury resorts.
Our recommendations below include a few of the most sustainable, environmentally friendly options.
If you're visiting Tamarindo on a budget, a stay at the Selina Tamarindo Hostel is the way to go. Popular for digital nomads and backpackers, Selina Hostel is located in the heart of the beach town just steps away from bars, restaurants, and the beach. It's one of the best places to stay in Tamarindo, Costa Rica for backpackers.
Selina Hostels are scattered across Latin America and focus on promoting local culture through activities and community engagement. Those happy to share a room with up to 10 people can snag a bed for just $25 a night or opt for a private suite with a bathroom for $100+. Lots of activities are available on site including yoga classes, surf lessons, and coworking spaces.
This Tamarindo boutique hotel is located about 20 mins outside of the town centre. Sabanero Eco Lodge consists of 15 air-conditioned chalets built from local teak trees, with a porch overlooking the Cañafistula valley.
Their onsite restaurant uses locally grown produce for meals, and the place is run with a commitment to supporting the local community. Daily yoga classes is available.
Diria Tamarindo is one of the oldest Tamarindo resorts and arguably the most iconic hotel in town. Diria has existed in Tamarindo since the town was nothing more than a fishing village. It has continued to keep up its grounds to carry a 4-star certification.
This is a kid-friendly spacious resort, with 240 air conditioning rooms, ocean view accommodations, 3 swimming pools, 5 restaurants, 4 bars, and much more! Despite its size, Diria Resort is working towards being carbon-neutral through eco-friendly practices and the support of ongoing reforestation efforts in Costa Rica.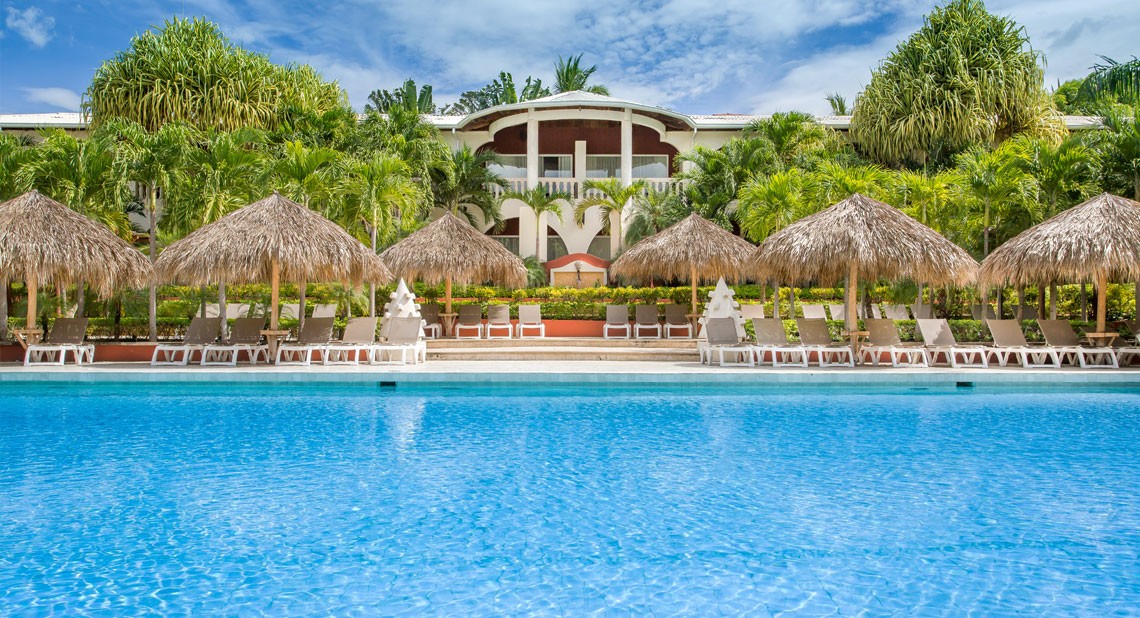 Jardin del Eden, Costa Rica
Located just a few steps away from the beach and surrounded by beautiful tropical gardens. Jardin del Eden Boutique Hotel offers guests a relaxing eco-friendly atmosphere.
The hotel has implemented a long-term sustainability management system committing to using local materials, solar heating, and eco-friendly toiletries. This is another adult-only hotel, with 46 rooms ranging from $180-$450 USD a night.
How Much Time Do You Need in Tamarindo?
Plan to spend at least 2-3 days in Tamarindo to give yourself time to enjoy different beaches and take advantage of some activities and tours in the area.
With that said, though, if you don't like touristy places, overpriced restaurants (because they are not cheap in Tamarindo), and nightlife isn't high on your bucket list, consider skipping a visit to Tamarindo altogether.
There are quieter beaches to enjoy all along the Pacific Coast and towns that come with a lot more Costa Rican flare and cultural vibe than Tamarindo (which basically has zero).
Have questions about visiting Tamarindo? Leave a comment below and we'll be happy to share more advice!