*This post may contain affiliate links, as a result, we may receive a small commission (at no extra cost to you) on any bookings/purchases you make through the links in this post. As an Amazon Associate, I earn from qualifying purchases. Read our full disclosure.
The southern tip of the Nicoya Peninsula in Costa Rica feels like another world compared to the hustle and bustle of the tourist hubs in Costa Rica. This part of the country is known for its rolling green hills and lush surroundings thanks to the abundance of rivers and underground water streams in the area.
It's not an area overcome with mass tourism yet, but in recent years, Santa Teresa, Costa Rica and its neighbours, Mal Pais and Montezuma, have welcomed their fair share of visitors.
At first, it was mostly avid surfers, who needed very little to enjoy life on the shores of the Pacific Ocean. Then followed the backpackers, who played a big role in placing Santa Teresa on the map as an off-the-beaten-path destination in Costa Rica.
With backpackers came hostels, b&bs, restaurants, and shops, and just like that Santa Teresa, Costa Rica, once a little fishing village, had flourished into a destination that visitors now struggle to say goodbye to.
Planning a trip in the time of COVID?

Keep in mind that information found in this article may have been impacted by travel restrictions and other closures. Double check opening hours, tour providers and hotel status before you go.

Don't leave your home without Travel Insurance!

Allianz Global Assistance offers Epidemic Coverage Endorsement on selected plans. Coverage includes Trip Cancellation, Trip Interruption, Travel Delay and more related to COVID-19 or any future epidemic.

Get affordable protection for just one trip or opt for an annual plan that will cover you for all trips for a full 365 days. Terms, conditions and exclusions apply. Get a Quote NOW.
Best Time to Visit Santa Teresa
Dry season (December to April) is probably the most popular time to visit Santa Teresa, which does mean more tourists and higher hotel prices.
In our opinion, the 'green season' is the best time to visit Costa Rica and Santa Teresa, when the rains make the vegetation even more vibrant.
How to Get to Santa Teresa, Costa Rica
Santa Teresa is slightly off the beaten path, but it's not that difficult to get to. It's about 150 km (93 miles) from San Jose International Airport. If you rent a car at the airport, take Route 27 to Puntarenas, where you can take the ferry to Paquera. The ferry schedules vary depending on the season, so be sure to check out the ferry timetable before you go.
You can also take the Transportes Cobano bus, which leaves from Downtown San Jose twice a day and brings you to Mal Pais/Santa Teresa. The bus drops you off at the ferry and you go on as a foot passenger. The bus also goes on the ferry and picks you up on the other side. Just be sure to keep your bus receipt!
There are also private/shared shuttles from most of the major tourist destinations in Costa Rica.
Things to do in Santa Teresa, Costa Rica
At first glance, Santa Teresa may appear to be rather remote and unexciting. That's how we remembered it from our first visit back in 2016. But once we gave Santa Teresa a chance, we found it to be an exciting destination full of activities.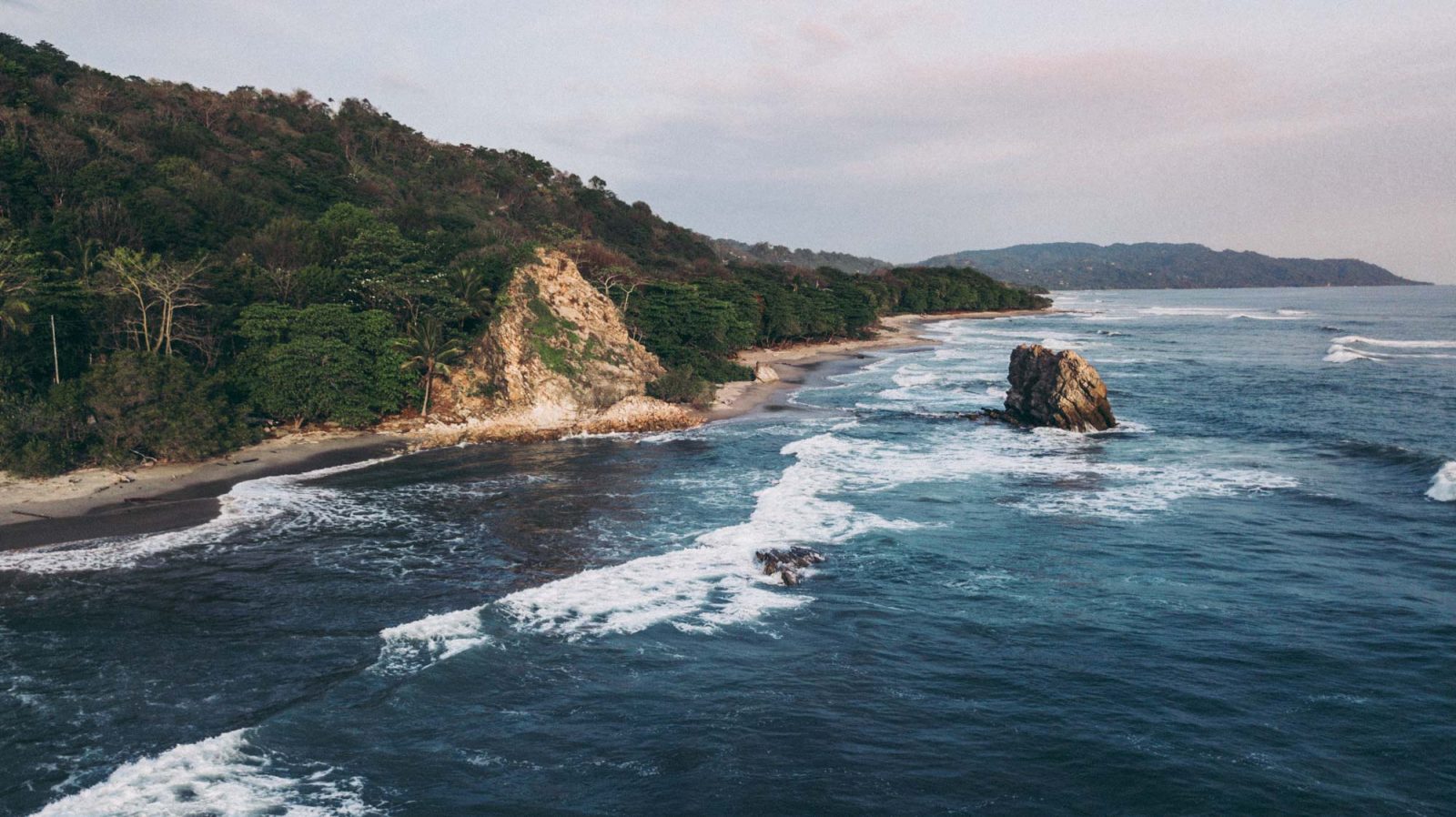 Relax on the Santa Teresa Beaches
Just as you'd expect from a coastal town, there are plenty of beaches to choose from in and around Santa Teresa. Due to rougher seas and lots of surfers, the beaches aren't known to be great for swimming, but there are a few bays and nooks in the shoreline where taking a swim is definitely possible.
Playa Santa Teresa
Playa Santa Teresa is a wide, long beach with soft white sand with the sea on one side and jungle on the other. It's one of the most popular spots in Santa Teresa. Check out the local dive bar "La Lora Amarilla" for dance and music events throughout the year.
Playa Carmen
Playa Carmen lies between Santa Teresa and Malpais. It's wide, sandy beach is great for soaking up the sun or catching a few waves. Bear in mind that swimming on Playa Carmen (and Playa Santa Teresa) is not recommended, as the waves and currents are very strong.
Santa Teresa North
Slightly rockier, but it makes for a very picturesque landscape. Go at low tide and enjoy the large tidepool, which is perfect for bathing and snorkeling.
Playa Hermosa
If you take the road towards Samara and Nosara and turn off to the left, you'll find Playa Hermosa. The name means 'beautiful beach' and it's clear to see why! Wide, sandy, tropical beach lined with palm trees.

Surf in Santa Teresa or Mal Pais
If you are a surfer or someone who wants to take up surfing, you'll find no shortage of things to do in Santa Teresa! This region is known for different breaks and a constant swell all year around. Most hotels and shops dotted along the main road in town offer surfboard rentals and surfing lessons.
Santa Teresa is also home to one of the most legendary surf breaks in Costa Rica known as "Suck Rock," located in front of the Red Palm Villas Resort. Next, to Suck Rock there is "La Lora", known as one of the most consistent beach breaks.
Playa Santa Teresa, Playa Carmen, and the nearby beach in the town of Mal Pais all offer surf opportunities for surfers of all skill levels.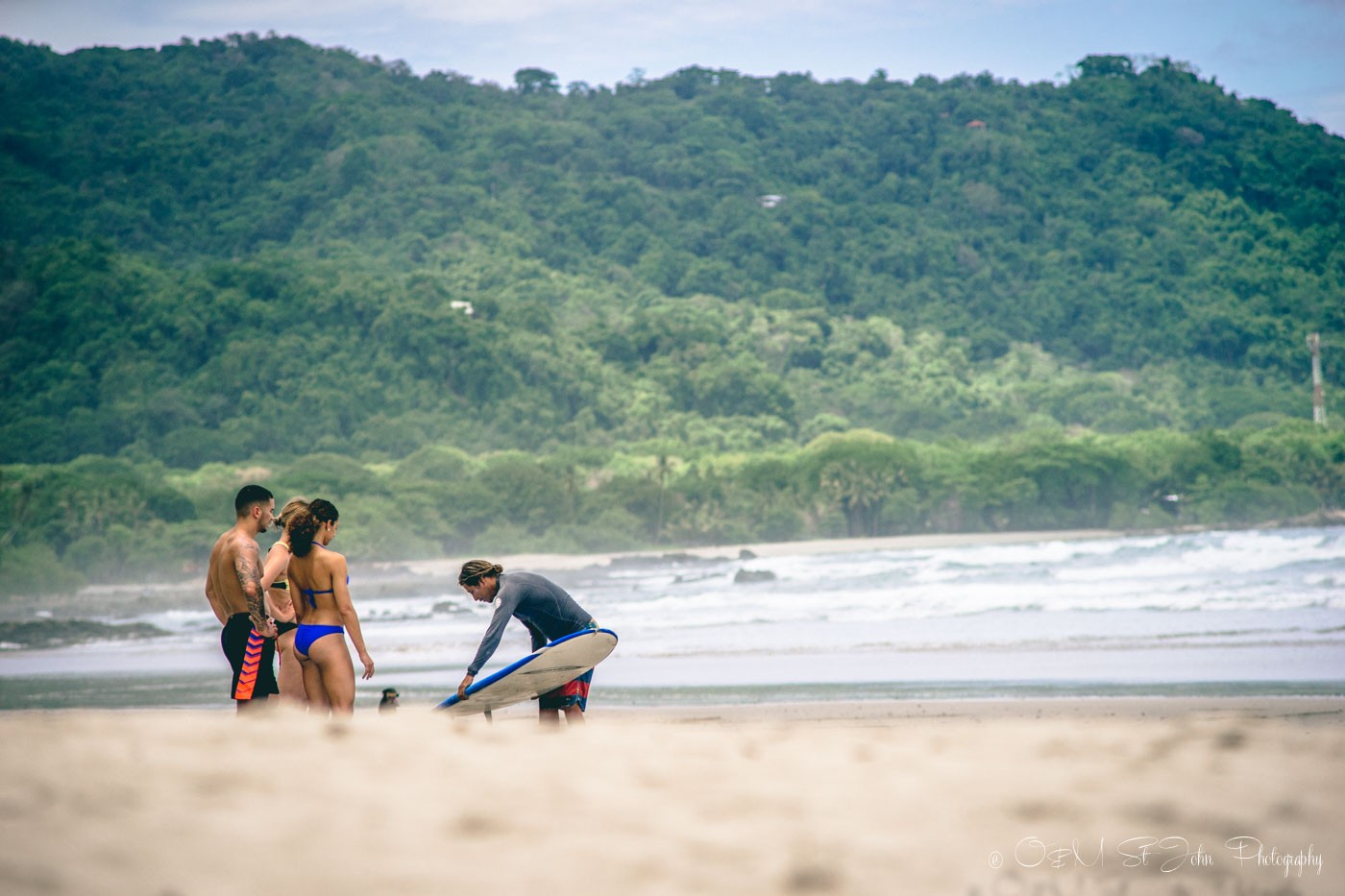 The gentle surf along Playa Hermosa makes it a great spot for teaching surf-newbies. Not into surfing? No problem. There is no shortage of things to do in Santa Teresa, Costa Rica aside from surfing.
Visit Cabo Blanco Nature Reserve
Cabo Blanco Nature Reserve is Costa Rica's first protected area established back in 1963. The reserve encompasses 1,172 hectares of humid tropical forest and a rich jungle and marine ecosystem. The Reserve is also home to many seabirds, including brown pelicans, laughing gulls, and ospreys. If you're lucky, you may also catch glimpses of some of the wildlife, such as white-tailed deer, armadillos, anteaters, howler monkeys, capuchin monkeys, porcupines, and coatis, to name but a few!
Cabo Blanco is located a short drive away from Santa Teresa, Costa Rica and offers a few great hiking trails, ranging from 1km to 8kms. It's an excellent place for a day trip.
Check out Montezuma Waterfalls
Take a short drive (about 40 minutes) to the nearby town of Montezuma and take an easy 1km (0.6 miles) hike to the famous Montezuma waterfalls. There are three waterfalls to visit: the upper falls, middle falls, and lower falls.
The upper falls are actually the smallest, which makes them a great option for those with kids. The middle falls are about 12 meters high and are actually quite hidden between the upper and lower falls, making it feel like a hidden gem when you come upon them. The lower waterfall is the largest and most popular, with its 25 meter drop off and a nice pool suitable for a refreshing dip after a long hike.
Bring a bathing suit and some snacks and you can spend a whole day hanging out by the different waterfalls, cooling off in the waters and just enjoying nature.
Experience Montezuma Canopy Tour
Montezuma Canopy Tour offers an alternative way to see the Montezuma Falls. The Canopy (aka zip line) is owned by SunTrails and consists of 9 cables and 11 platforms suspended high above the rainforest. You can fly high over the rainforest and finish your tour at the upper falls of the Montezuma Waterfall- so be sure to bring your swimming gear so you can take a refreshing dip afterwards!
Zip Line Tour departs daily at 9:00, 13:00, and 15:00.
This activity bears a 4 Leaf Sustainable Certification, so you can be sure that your tour will be responsible.
Visit Curú Wildlife Reserve
Animal lovers cannot miss an opportunity to visit Curu Wildlife Reserve in Santa Teresa, Costa Rica, the country's first private wildlife refuge. This paradise covers about 1,496 hectares of forests, mangroves, beaches, and marine habitats. With its high biodiversity, you are guaranteed to spot monkeys, coatis, scarlet macaws, white-tailed deer, and hundreds of other species of tropical and migratory birds native to this region.
You can visit on your own or organize a guided tour. The reserve is opened from 7 AM to 3 PM.
Practice Yoga in Santa Teresa
Surfing and yoga seem to go hand and hand in most places, and Santa Teresa is no exception. There is no shortage of yoga classes and centers throughout Santa Teresa and the Nicoya Peninsula.
We recommend you partake in Santa Teresa Yoga at Anamaya Resort. We like them for their awesome facilities and patient instructors. They are part retreat center and one of our favourite yoga retreat centers in Costa Rica.
Visit Tortuga Island
Tortuga Island is located off the southeastern shore of the Nicoya Peninsula and has all the hallmarks of a lush, tropical paradise. White sand beaches, green jungles, and calm, crystal clear waters that are ideal for snorkeling.
It is only accessible by boat, but there are plenty of full-day tours leaving from Santa Teresa, Puntarenas, or Montezuma every day. It's not uncommon to see dolphins along the way. Once you are on the island, spend some time lounging on the beach or exploring the island's many trails.
Catch a Sunset
The Pacific Coast boasts some of the world's best sunsets. So, find a beachfront restaurant or nab a patch of sand at Playa Santa Teresa for the daily light show.
You won't be alone either.
Playa Santa Teresa and other beaches in the area start filling up come evening time. Catching a glorious sunset is simply a right of passage for anyone spending time in beautiful Santa Teresa.
Where to Eat in Santa Teresa, Costa Rica
Eating was by far our favourite pastime in Santa Teresa. When it comes to culinary delights this town is small but mighty.
Habanero: Our favourite spot was Habanero, a Mexican Grill and Bar

with amazing food and delicious drinks, located on the beach at Playa Cielo. We took advantage of their 2 for 1 happy hour and indulged in some unique cocktails (tamarind-ginger and mango jalapeño margaritas…yum!) while enjoying a beautiful sunset.
Burger Rancho: A

nother one of our favourites was

Burger Rancho

, offering a great selection of gluten-free dishes, burgers, and seafood specialties.

Olan Pure Foods: Try Olam Pure Foods

for organic, veggie and vegan-friendly food served all day long. Much of the fruit used in their smoothies are sourced from the fruit trees located on their property.

Zula: Curb your Israeli food cravings with Zula

.

They offer the best falafel and hummus in town and sometimes have live music.

Caracolas: Caracolas

serves up traditional and Costa Rican food but is more well-known for their simple and stellar beach-side location.

Kojis: We visited Santa Teresa's iconic Japanese restaurant, Kojis

for dinner one night and were impressed to learn that all their food is locally sourced.
Breakfast in Santa Teresa
For breakfast, we opted to eat at a local soda, because no matter where in Costa Rica we are, we can never say no to a great traditional breakfast of Gallo Pinto, eggs, and fried plantains.
If you are looking for a more American choice, The Bakery across from Playa Carmen and Zwart Cafe offered some great, although slightly overpriced, options.
Snacks
If you happen to be staying somewhere with a kitchen, or just want picnic supplies and snacks, head to Green World Food Store. This gem sources from local farmers, and stocks mostly organic and natural goods.
For helpful tips for travelling Costa Rica as a vegetarian or vegan, click here.
Where to Stay in Santa Teresa, Costa Rica
The Ultimate Eco Hotel in Santa Teresa
We stayed at Latitude 10 just a few miles from the Santa Teresa town center. We were blown away by their great customer service, and 5 acres of lush land right on the beach. Unfortunately, the resort has now closed its doors and is no longer offering accommodation. Below you will find a few other options we would recommend.
Canaima Chill House: The

Canaima Chill House

is an "eco-chic hotel" nestled in the jungle oasis, just 500 meters (547 yards) from the beach. It combines rustic charm, eco-design, and luxury with spacious suites, an outdoor hot tub, swimming pool, bamboo hanging beds, massage services, and a sun terrace.

Ecopacific Lodge Santa Teresa: Located just off Santa Teresa Beach is the

Ecopacific Lodge Santa Teresa

. It's a holiday apartment, fairly basic in terms of decor but it has everything you need and the location is perfect. It's just 300 meters (328 yards) from the beach and located in a quiet section off the main road.
READ NEXT: Best eco-hotels in Santa Teresa
How Much Time do I Need in Santa Teresa?
Should you add Santa Teresa to your Costa Rican itinerary? We'd say do it if you have the time. Come for surfing or surf watching and expect to spend your days relaxing.
Where to go Next?
Nosara
Nosara is another beautiful beach town known as one of the best surf destinations in the world. The best breaks, stunning, wild beaches surrounded by jungle and wildlife, it's easy to see why Nosara has become a bit of a haven for expat surfers.
The area comprises five beaches: Playa Nosara, Playa Garza, Playa Pelada, Playa Ostional, and Playa Guiones–where the majority of the restaurants, yoga studios, surf shops, and hotels are located.
Samara
Off the beaten path somewhat is the beach town of Samara and one which is definitely worth a visit. There's a good selection of restaurants, boutiques, yoga retreats, and plenty of tours and activities to do in the area. It's quieter than other beach towns in Costa Rica and perfect for a bit of R&R. Come to unwind, soak up the sun, laze under the palm trees, and just enjoy the Pura Vida on Playa Sámara.
Manuel Antonio National Park
Take the Puntarenas Ferry to Manuel Antonio National Park. It's one of the top tourist attractions in Costa Rica. Its 1,983 hectares are home to countless creatures, such as sloths, howler and white-faced monkeys, toucans, and iguanas. It's a great place for walking/hiking enthusiasts with 10 different trails to explore. While you don't need one, we do recommend hiring a guide, to really understand the amazing biodiversity of the park and see all there is to see!
Have you been to Santa Teresa? What exciting activities in Santa Teresa, Costa Rica do you recommend?