This post was first published in 2018 but has been updated in 2019 with the most recent information about Nosara, Costa Rica
*This post may contain affiliate links, as a result, we may receive a small commission (at no extra cost to you) on any bookings/purchases you make through the links in this post. As an Amazon Associate, I earn from qualifying purchases. Read our full disclosure.
Nosara, Costa Rica doesn't give a great first impression. Unlike most other beach towns in Costa Rica, Nosara doesn't have a town center with hotels, shops, and restaurants vying for your attention.
So driving down the bumpy narrow dirt road that leads to Nosara's famous Playa Guiones, you never really get the feeling that you have arrived.
After getting lost and running into a few more dead end roads than we would've liked to (beware even Google Maps can send you down roads that are actually impassable by car), we finally made our way to Downtown Guiones, a 500 m road running down to Playa Guiones (also sometimes known as Nosara beach, Costa Rica).
When to Visit Nosara, Costa Rica
The most popular time to visit Nosara is during the dry season. This is during the months of December to April, but traveling to Costa Rica in these months means higher prices and more tourists.
The "green season: – when the vegetation is lusher due to the rains – is the best time to visit Costa Rica and Nosara. Be sure to look at our guide on when to visit Costa Rica.
Our First Impressions of Nosara, Costa Rica
According to booking.com, Nosara Costa Rica was 90% full when we booked our stay, yet walking down Downtown Guiones, it felt like we were there alone.
Overpriced air-conditioned souvenir shops sat behind closed doors, with small "Open" signs serving as the only indication of any type of activity.
Not that we typically enjoy crowds, but where is everyone? Maybe they were all out surfing Nosara's beach? We had yet to find out.
We decided to stop by where we were staying, the Nosara B&B Retreat."Let me introduce you to the area," said the woman at the front desk gesturing towards a large map hanging on the wall behind her desk.
"We are located in Playa Pelada, a smaller quieter part of Nosara, Costa Rica. You'll find a few places to eat in the area, but the majority of shops and restaurants are all in Playa Guiones," she explained tracing circles on the map.
"Everything is kind of tucked away, so you really need to know where you are going or you are bound to miss it from the main road."
We dropped off our bags and hopped back in our car to explore. It felt like a bit of a treasure hunt. There was no denying it, Nosara Costa Rica wasn't deserted, we just had to find its hot spots.
The Playa Guiones town was enjoying their mid-Sunday morning rush. Kids were running around conversing in a peculiar Spanglish dialect, relaxed hippy mothers were cooling their babies in the shade of mango trees, dads with dreadlocks and artistic tattoos were discussing surfing Playa Guiones and latest news while sipping on their coffees.
We ate our gallo pinto and silently observed the Nosara community in action. Everyone looked so zen, so happy, so in their element. Most of them weren't local Ticos, but they weren't visitors either.
This area was their home away from home and we couldn't help but feel a tad bit jealous over their seemingly ideal lifestyle. (We were totally judging every single one of them based on first impressions, but let's be serious, isn't that the whole point of people watching?)
Best Playa Guiones Hotels in Nosara
Nosara B&B Retreat
We were staying in Nosara B&B Retreat, a charming property hidden amidst the lush jungle trails leading towards the secluded beach of Playa Pelada. As we related earlier, the staff was particularly helpful in helping us get our bearings in the area of Playa Guiones Nosara.
The retreat is eco-friendly and uses a gray water irrigation system and biodegradable cleaning products, and each room has a private bathroom with its own bathtub or shower. We were glad we stayed in this one of our recommendations of Playa Guiones Hotels.
Bodhi Tree Yoga Resort
If you are looking for a place to relax your mind and stretch your body, then Bodhi Tree Yoga Resort is a great option. Offering a pool, bright sleeping rooms, and a spa, this location focuses on the health and wellness of its guests. They also have an on-site restaurant and juice bar and offer yoga classes every day.
Green Sanctuary Hotel
Also offering a spa and wellness center, Green Sanctuary Hotel has a garden, terrace, and snack bar and is in the Playa Guiones town not far from the beach. It also has private parking and several restaurants conveniently located nearby.
Harmony Hotel
We visited the Harmony Hotel, a hot spot for yogis, health nuts, and lovers of nature, relaxation, sustainability, and as the owners describe it, low key glamour. Hidden behind an inconspicuous wooden roadside sign, this lush jungle enclave was right up our alley!
We didn't stay at the Harmony Hotel but had a chance to enjoy their daily yoga classes, delicious smoothies at their Juice Bar and a fabulous lunch at their on-site hotel.
Best Restaurants in Nosara Costa Rica
La Luna Restaurant
La Luna Restaurant was not the cheapest spot to dine in town, but we splurged on a great meal with a beautiful view. For a while, the Mediterranean feel of La Luna, the familiar chatter all around us, made us forget that we were in Costa Rica altogether.
La Luna turned out to be another expat hangout in Nosara. This was a gathering place for special events, birthday celebrations, catch-ups with friends, and romantic dates.
Harmony Juice Bar
While we were at Harmony Hotel, we noticed that it was another local hotspot. "I'll have the usual, Maria," we heard again and again as the line at the Harmony Hotel Nosara Juice Bar moved along. The Juice Bar was a place to catch up with friends, and the open-air yoga studio – a place to reconnect with your mind. You couldn't ask for a more ideal setting.
We were mesmerized by Nosara.
Burgers & Beers
Offering exactly what it sounds like, Burgers & Beers is a great place to head for an ale and a juicy burger – even if you are a vegan. They offer options such as burgers made of portobello mushrooms or freshly prepared salads for herbivores. Their beer menu consists of many Costa Rica craft brews to try, too!
El Chivo
El Chivo is a Mexican inspired restaurant that focuses on having a great vibe for its patrons. The owners are originally from Canada but have traveled extensively in Mexico. They eventually landed in Nosara to create fabulous dishes, including vegetarian options.
Go Juice Truck
Later that day, we found ourselves in front of Go Juice Truck, chatting with Nick, as he prepared our Tuna Poke Rice Bowl. Nick was a typical Nosara expat, a surfer who followed his dream of living in surfer's paradise – Nosara.
"Nosara has grown quite a bit over the last few years and there is no sign of stopping," explained one of Nick's customers to me, a woman who's been coming to Nosara for the last 6 years to visit her daughter in law, an owner of another restaurant in town.
"Half of these businesses didn't exist in Nosara just 2 years ago. Guiones is getting too busy now. So my daughter and a lot of her expat friends are moving further away to Playa Pelada and beyond. They didn't come to Nosara to live in a little expat bubble. My daughter and her friends came for the surfer lifestyle, for the Costa Rican attitude, for a chance to let their kids grow up among nature. They came for Pura Vida."
Things to Do in Norasa and Playa Guiones Costa Rica
Enjoy Playa Guiones Beach
After popping into some shops and lingering outside the Nosara Real Estate office on the main street, we were off to check out Nosara's famous surfing beach – Playa Guiones.
Strong winds and low tide made the beach somewhat unappealing for surfing Nosara, especially for a beginner like me. We lingered for a while longer and opted to spend the afternoon at Playa Pelada instead.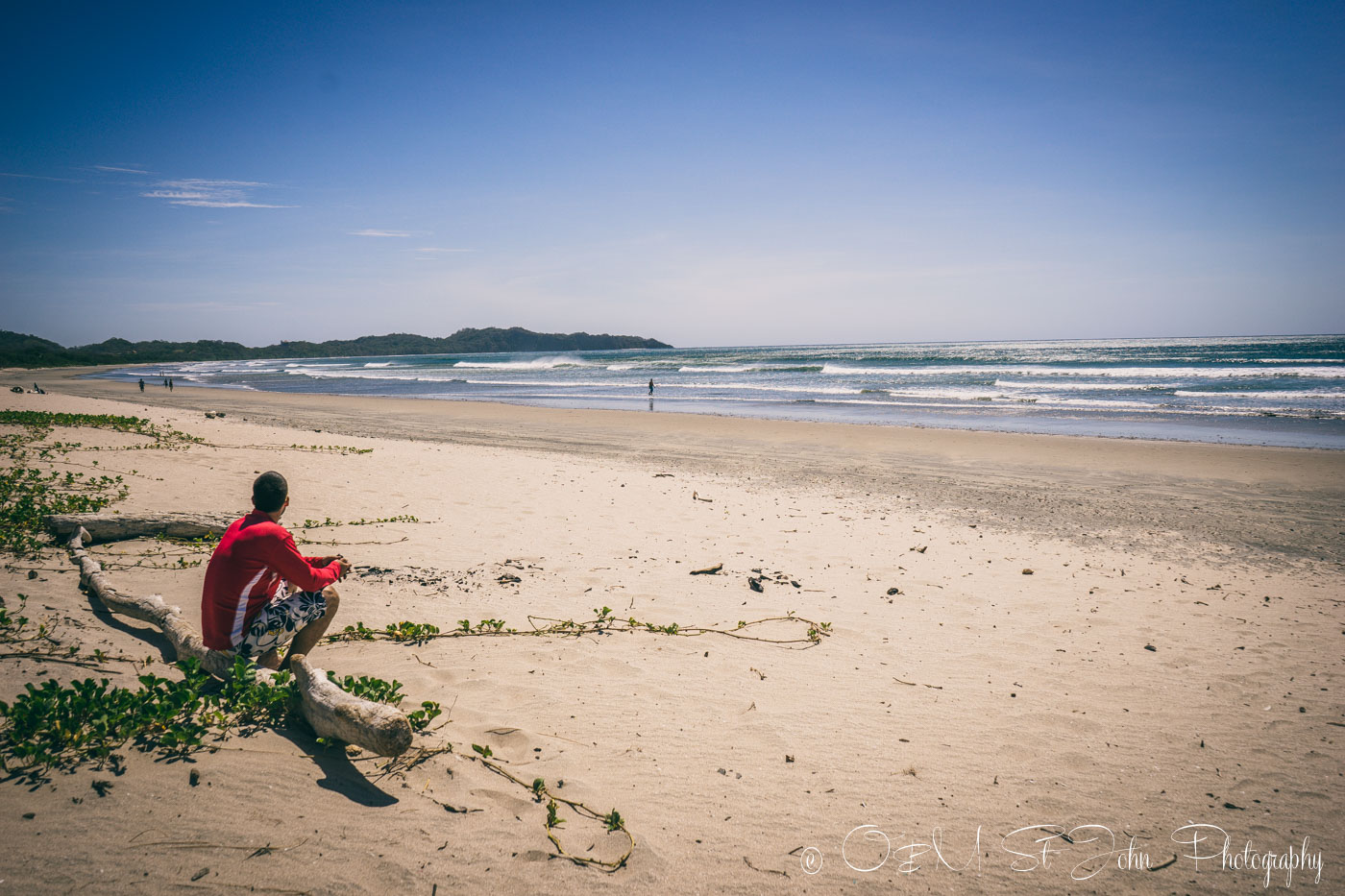 Head to Playa Pelada
Based on the number of locals hanging out at the beach, it was clear that Pelada was more swimmer-friendly than Guiones. Surfing Playa Guiones was also very difficult, so Playa Pelada is a better choice.
The beach was filled with locals fishing at sunset, kids playing football on the shore, and residents perched on their reclining chairs with beers in hand awaiting the perfect sunset. After a quick swim, we found ourselves a perfect spot to catch the sunset.

Visit a Wildlife Sanctuary
Nosara offers a few options for animal lovers, SIBU Wildlife Sanctuary and Nosara Refuge for Wildlife. Both of these locations aid local wildlife and have baby monkeys at various times of the year.
Experience a Kayaking and Birdwatching Tour
See the beauty of nature as you head out on the river on kayaks. This three-hour journey allows you to see birds in their natural habitats as you relax on the water.
Navigate the Nosara River on a Stand Up Paddleboard
This tour navigates the Nosara River by kayak on a paddleboard. You can paddle through the mangrove tunnels and make your way to Playa Nosara as you observe the natural habitat around you.
Explore the Water by Snorkeling
The cove of San Juanillo is perfect for viewing fish and other creatures while you snorkel in the turquoise waters. The beach itself is lovely, and the waters are clear so that guests can fully observe the reef by taking a tour.
Support Sustainable Shops in Nosara
There are many shops in Nosara Costa Rica that showcase the work of local artisans, such as MaderArte Nosara and Nativa Gallery. Organico Deli-Market has gourmet and natural foods along with an extensive selection. There are also a few clothing shops and other stores in town.
And just as Nick, the owner of Go Juice Truck said about the people in Nosara, "They came for Pura Vida." Hell, we can't blame them. It's the same reason why we are here in Costa Rica and not at a 9-5 job in Canada or Australia.
"Nosara isn't so bad after all," I admitted en route back to our home base in Playa Avellanas. "I think it's the kind of place that you just have to get to know…"
Some say Nosara is the epitome of an Americanized town in Costa Rica. But we would argue that it is a unique expat community built around the best of Costa Rica's values and the Pura Vida lifestyle.
Perhaps, you'll just have to experience it for yourself to believe us.
Essential Travel Info
Getting to Nosara, Costa Rica
Nosara is located on the Nicoya Penninsula, about two and a half hours by car from the closest airport in Liberia. You can hire a taxi or take a shuttle for $55 to Nosara from the airport, or opt to take a local bus. Nosara, Costa Rica is about a four-to-five-hour drive from the San Jose Airport.
Getting around Nosara, Costa Rica
Nosara is quite spread out, making it tough to get around from Guiones to Pelada on foot. Consider hiring a car for your time in Nosara or renting a bike/golf cart from one of the shops in town.
Best Resturants in Nosara, Costa Rica
For green smoothies and healthy snacks hit up Harmony Hotel Nosara or Go Juice, go for burgers at Burgers & Beers, get your coffee from Nosara Coffee House. Shop organic at Nosara Organic Market on Saturday afternoon, then go to El Chivo for Mexican and La Luna for the Mediterranean inspired dishes with a great view.
BEFORE YOU GO: Don't forget travel insurance!

We can't stress enough the importance of travel insurance, especially in a country like Costa Rica. Whether you just plan to hang out on the beach, do a little bit of hiking, or go extreme (think surfing, scuba diving, or zip-lining), being protected on your travels is an irreplaceable peace of mind. We learned about the importance of travel insurance the hard way and now we never travel without coverage.

Get a quote through our recommended insurance provider, World Nomads.
Could you see yourself as an expat living in Nosara Costa Rica? Is Nosara the kind of place you'd like to visit on your trip?