*This post may contain affiliate links, as a result, we may receive a small commission (at no extra cost to you) on any bookings/purchases you make through the links in this post. As an Amazon Associate, I earn from qualifying purchases. Read our full disclosure.
Parque Nacional Manuel Antonio or Manuel Antonio National Park is one of the top tourist attractions in Costa Rica. It is located on the central Pacific Coast of Costa Rica, just south of the city of Quepos in Puntarenas.
Manuel Antonio National Park may be the smallest in Costa Rica (it encompassed an area of only 1,983 hectares), but its biodiversity is unsurpassed! The park is home to many endangered species, many of which can be spotted along the trails. Sloths, howler and white-faced monkeys, toucans, and iguanas can all be seen throughout Manuel Antonio National Park.
Don't leave your home without Travel Insurance!

From the US? We recommend Allianz Travel Insurance, a world leader in travel protection and our trusted Travel Insurance partner for the last 5 years. Allianz offers Single Trip and Annual Travel Insurance Policies that include medical coverage, trip cancellation, rental car insurance and more! (Benefits vary by state and by plan, so read your policy carefully!)

Not a US resident? Consider Safety Wing, a budget friendly travel insurance provider with travel insurance plans for Digital Nomads and travelers from all around the world
The majority of visitors come to Manuel Antonio for the sole purpose of visiting the National Park but quickly find out that there are plenty of things to do in Manuel Antonio and the Quepos area. After our recent visit to Manuel Antonio, we have put together a list of essential travel info and tips to help others make the most of their visit to this area!
How to Get There
San Jose to Manuel Antonio
Manuel Antonio National Park is located about 170 km away from the capital, San Jose. From San Jose, Manuel Antonio can be reached by either a 3.45 hr bus or by plane, via the airport located 5 min outside of Quepos.
There are several daily buses leaving San Jose every 2 hours that don't require any transfers. They will drop you off at any hotel in the Manuel Antonio tourist district. Plus, it is the most sustainable, and affordable option at $49 per person. But if you'd prefer to travel by air, Sansa Airline offers daily flights during high season for around $80-140.
Otherwise, your options are renting a car or taxi. A taxi will set you back well over a hundred dollars, and we would not recommend it since there are more eco-friendly options available. However, if you do decide to take this route, please be aware that there are tolls on Route 27. This is the most direct highway to Manuel Antonio so have some cash handy.
Book the Best Car Rental in Costa Rica

Renting a car in Costa Rica can be one of the most challenging parts of your visit! Unfortunately, car rentals in Costa Rica often come with significant hidden insurance fees, result in many frustrations at pick-up. The experience has ruined many trips and ballooned trip budgets for friends, family and followers. After years of not having a good solution, we finally found an honest car rental company that we proudly recommend to our readers.

We recommend booking with Vamos Costa Rica – a local car rental company that offers fantastic service and NO HIDDEN FEES and get 10% of your rental rate plus FREE additional driver, FREE child seat and other perks and benefits when booking through our link below!

Book early as rental car availability all across Costa Rica is currently lower than demand!
Jaco to Manuel Antonio
A day trip to Manuel Antonio from Jaco is a popular activity because it's so close. The 74 km journey is best done by bus or by car. If traveling by car, you will have to make a transfer to Quepos but the bus into the park runs often and the whole journey only costs about $6. There are also lots of Manuel Antonio tours that depart from Jaco.
Guanacaste to Manuel Antonio
The journey from Guanacaste takes a bit longer but is well worth the trek. Manuel Antonio is 260 km away from Liberia so expect a 4-hour drive. If you're in Tamarindo, you can hop on a 2-hour flight to Quepos airport that will give you more time to explore the area.
Best Time to Visit Manuel Antonio, Costa Rica
The Dry Season in Manuel Antonio National Park is between December and March when tourism is at its peak, and Green Season follows from April to November. However, due to the tropical climate, it is not uncommon for it to rain in Manuel Antonio during the dry season.
Year-round the park is fairly humid, and temperatures typically hover around 30°C. September is the wettest month, so animal spotting can be quite difficult during this period.
Ensure that you observe Costa Rican holidays to avoid the crowds. Naturally, the park can get pretty busy on public holidays.
Note that planning ahead and arriving early is critical. In an effort to preserve Manuel Antonio from being overrun by tourism, the government has a limited entrance to the park to only 600 (simultaneous) visitors on weekdays and 800 on weekends. So it's best to arrive at the park early to avoid being stuck in line at the entrance (once the park reaches capacity, entrance permits follow a one-in-one-out rule). And even if you are visiting during the low season, remember that animals inside the park are usually much more active in the mornings than in the heat of the day.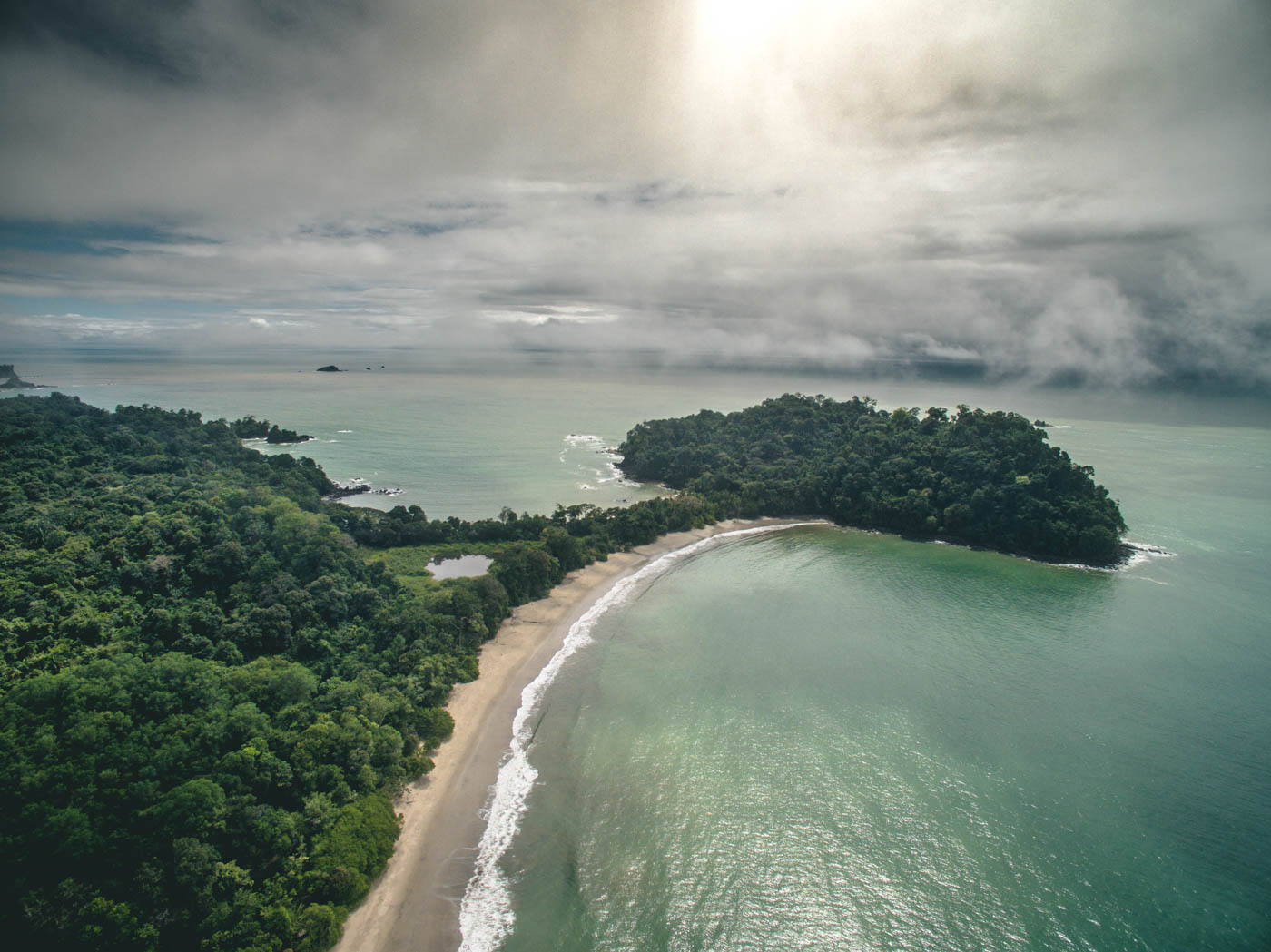 Getting Around Manuel Antonio
The easiest way to get around the Manuel Antonio area is to rent a car. While a car is not necessary to get from your accommodation to the Manuel Antonio National Park (most hotels are located within 1-2 km from the park), it certainly comes in handy if you want to explore the surrounding areas without relying on overpriced tours, shuttles, or taxis to get you from your hotel to other attractions in the area.
However, we would recommend the greener alternative of taking local buses. They are hassle-free, comfortable, and well-connected. There is a local bus that runs up and down the mountain every 30 minutes during the day and costs less than $1.
Best Things to do in Manuel Antonio, Costa Rica
With all of the beautiful beaches, unique wildlife, and outdoor activities to do, it's best to plan a 3-4 day stay in the Manuel Antonio area. And we don't mean 3-4 days inside the park—the truth is, you can see everything there is to see inside the park in one day. There are lots of tours, activities, and nearby towns to explore, and they do deserve extra time.
Visit Manuel Antonio National Park
There are lots of things to do in Manuel Antonio National Park that you can explore on your own. Many hotels and local tour providers will recommend that you hire a guide to take you around the park, but we found it absolutely unnecessary. You won't have any issues spotting big animals like sloths, monkeys, coatis, and iguanas thanks to the crowds of visitors/guides that tend to form along the trail anytime an animal is in sight.
But a guide may help you spot some of the smaller creatures, like snakes, lizards, spiders, and other tiny insects that are hard to see without binoculars or a magnifying glass. If it's your first time visiting a National Park in Costa Rica, you might want to splurge and hire a guide for the day to learn as much as possible about Costa Rican biodiversity.
Manuel Antonio National Park Entrance Fee and Hours
Manuel Antonio National Park is open Tuesday through Sunday from 7:30 am to 4 pm. The park is closed on Mondays. The entrance fee is $16 for foreigners and $3 for nationals (you have to show your cedula).
Hiking in Manuel Antonio National Park
There are 10 different trails to explore within the park, ranging from 287m to 9km in length, and easy to moderate in difficulty. The main trails are the Main Route and the Sloth/Mangrove Routes. These run through the heart of the park leading visitors from the entrance towards the Manuel Antonio National Park Beach. They are the most popular with the park's visitors.
You are bound to spot a few animals along those trails, but we recommend that you also take the time to explore at least 2-3 other routes within the park. The side trails including those leading to the waterfall, to Gemelas Beach, or Puerto Escondido. They are much quieter and offer an opportunity for you to enjoy the peace and quiet of Manuel Antonio's rich wilderness. They also offer a much higher chance of spotting animals.
Main Hiking Trails in Manuel Antonio National Park
Sendero Principal (Main Trail) 2.2 km
This is the park's most popular trail. It leads from the entrance of the park to the white sand of Manuel Antonio beach.
Sendero Punta Catedral (Punta Catedral Trail) 1.4 km
This trail is a loop connecting to the Main Trail. It connected to the Punta Catedral Point lookout and the Turtle Trap.
Sendero Mirador (Lookout Trail) 1.3 km
Mirador Trail is a one-way trail that leads to the lesser-visited Escondido Beach. It is an extension of Sendero Playas Gemelas.
Sendero Playas Gemelas (Gemelas Beach Trail) 1.6 km
This trail connects to the main trail and the Official Road. It leads to lesser-visited Gemelas Beach and the beautiful Escondido Beach Lookout.
Sendero La Tarmpa (The Trap Trail) 0.2km
This tiny trail has good wildlife viewing opportunities, it connects to the Turtle Trap then connects back to Punta Catedral Trail.
Sendero La Catarata (Waterfall Trail) 9 km
This longer trail meets up with a beautiful waterfall, it is just off of the Official Road.
Camino Vehicular (Official Road) 1.3 km
This trail is used by rangers and starts at the entrance to the park. It snakes through the park's jungle and meets up with the Main Trail, and the Gemelas Beach Trail.
Sendero Perezoso (Sloth Trail) 1.2 km
The Sloth Trail runs through the heart of the park, parallel to the Official Road. If you haven't guessed, it's a good place to see two or three-toed sloths and other animals.
Tips for Visiting Manuel Antonio National Park in Costa Rica
With so many trails and beautiful beaches to explore, Manuel Antonio National Park is a great place to spend an entire day. But keep in mind that there are no restaurants or shops inside the park, so packing enough of the right snacks and refreshments is the key to being able to enjoy your day.
That being said, as of April 2016, the list of foods allowed inside the Manuel Antonio National Park is heavily regulated. The general consensus is that nothing sweet will generally be allowed into the park (bag checks are actually in place at the entrance).
This includes candy, chocolates, cookies, and so on, as is anything with a strong smell that might attract the animals to your bags. All prohibited items are confiscated and thrown in the trash.
You are allowed to bring:
Drinks, except for alcohol
Fruits peeled and packaged for individual consumption
Sandwiches and similar, prepared and packaged individually
Items needed as a part of a special diet
Enjoy the Beaches
Within the park, there are a few different beaches to explore. The two most popular are Manuel Antonio Beach and Espadilla Sur. They're both a 30-minute walk away from the entrance and are some of Costa Rica's most beautiful. If you want to avoid the crowds, the best beach in Manuel Antonio is Playa Espadilla Sur.
In terms of beach safety, beaches in Manuel Antonio National Park are some of the safer beaches in the country because of the entrance fee. But for added security, we suggest hanging your backpacks on a tree. This makes it extra challenging for anyone to grab your stuff while you are enjoying yourself in the water.
Outside of the park, Playa Espadilla in Manuel Antonio is a great place to learn how to surf. If you're heading up the coast toward Quepos, check out one of the smaller beaches. Places like Playa La Vaca are off the beaten path but are well worth the trek.
If you're heading south, be sure to stop in Dominical. Dominical Beach and Playa Dominicalito are some of Costa Rica's prime surfing beaches. Travelers from all over the world come to this region to catch a wave on this famous part of the central Pacific.
Go on an Interesting Tour
Discover all the wildlife that comes alive after dark with a Manuel Antonio night tour through the jungle. This Jungle Night Tour includes a guide who will take you through the rainforest to see all of the species of frogs, lizards, and snakes that aren't out during the day.
A Manuel Antonio Catamaran Tour is the perfect way to spend an afternoon or catch a Costa Rican sunset. Many sailings include drinks, lunch, and access to snorkeling and water sports. Prices start at $75 and if your travel plans are at the right time of the year, you might even see a whale.
If you're feeling adventurous, a zipline tour is one of the best ways to explore the jungle from the height of the forest canopy. The El Santuario Canopy Adventure Tour is the longest zipline in Manuel Antonio, spanning almost 4 km with bridges and nature walks in between. Prices are $60-80 depending on the time of year and include lunch at The Falls Resort at Manuel Antonio.
Things to do Near Manuel Antonio
There are a plethora of tours available in Manuel Antonio. You can literally spend two weeks hopping from tour to tour experiencing everything the area has to offer. But we suggest that you focus your time in Manuel Antonio on the National Park itself and on the tours that are unique to this area.
Visit Dominical
You will likely be exhausted the day after your visit to the Manuel Antonio National Park and will want to spend a day relaxing. We recommend taking the opportunity to spend this day checking out Dominical, a little beach town just 45 mins south of Manuel Antonio.
Dominical is home to a few lovely beaches, some great cafes, and restaurants, but most importantly it's the only place in the area where you can get a professional full body massage on the beach for just $35/hr. An absolute must after a long day of walking about the National Park!
Visit Quepos for a Taste of Real Costa Rica
Despite being located just 7km from the entrance to Manuel Antonio National Park, Quepos, a small town of just over 22,000 residents has managed to retain its authentic Tico feel. Quepos is nothing like the touristy Manuel Antonio area.
This is a town where locals go about their daily needs, where they shop, eat, and go out on the weekends. It's well worth a visit, if not for their weekend Farmer's Market then for a day of cultural immersion into Tico life.
Go on a Unique Tour
After a day spent in Manuel Antonio's rainforest, it's nice to see something a little different.
Check out the Nauyaca Waterfalls tours from Dominical for a peek at some of the grandest waterfalls in the country.
Villa Vanilla tour will give you a glimpse into the amazing rainforest spices that make local Costa Rican cuisine so tasty.
If you are visiting at the right time of the year, a Whale Watching Tour is a great way to spend a day. Costa Rica has the largest humpback whale season in the world.

It typically runs from December to March when the whales are migrating south, and then again from July to October when they migrate north again. The areas around Manuel Antonio are some of the best places to see his phenomenon.

Rainmaker Park Tour is your ticket to swim in a rainforest waterfall, Hike through the lush forest of Rainmaker Mountain alongside the many species of flora and fauna that call the rainforest home. You'll cross suspension bridges and end up at a stunning waterfall where you can take a refreshing dip.
Rafting on the Naranjo River:

The Naranjo River is an awesome place to see many species of birds and other wildlife between rapids.

Mangrove Boat Tour

offers a more peaceful boat ride through the mangrove forest. It is one of the best ways to see species native to the region. Think white-faced monkeys, anteaters, boas, and iguanas.
Where to Stay: Best Manuel Antonio Resorts
When it comes to a good base for exploring Manuel Antonio National Park, hotels are a-plenty! We recommend staying within walking distance of the park (no further than 1-2 km from the entrance).
Costa Verde Hotel
Consider staying at the one and only Costa Verde Hotel, where you can score a spacious twin room for just $147/night (in the low season). This wonderful eco-hotel is an attraction in itself, and we fully stand behind their sustainable practices.
The Costa Verde Hotel is a destination in and of itself in Manuel Antonio. The hotel has been hosting visitors in Manuel Antonio for over 25 years in its 70 rooms and bungalows built into the thick jungle overlooking the world famous Manuel Antonio National Park. It is also home to Costa Rica's most unique accommodation, the 727 Fuselage Home (aka the Airplane Hotel).
Other Resorts
Arenas Del Mar is a luxury resort with a serious commitment to eco-friendly practices. Nestled right on the beachfront, they are committed to supporting local supply chains and causing no harm to the area's biodiversity. They offer a complimentary it's Easy Being Green Tour for guests. The resort is within walking distance of Manuel Antonio National Park. Room rates start at $300 USD per night.
Where to Eat: Best Restaurants in Manuel Antonio
There are lots of great places to eat in Manuel Antonio if you're craving local food or something different. Here are some of our favourites.
El Avion
If staying at the Airplane Hotel is not within your budget, don't fret. You can experience being inside an airplane just up the road from Costa Verde's 727 Fuselage Home at the Costa Verde's El Avion Restaurant.
The restaurant has been built in, around, and above an Oliver North cargo plane and offers some of the best views in all of Manuel Antonio. Plus, it's decently priced, has a great menu, and serves delicious iced tea!
El Wagon
El Wagon is the best spot to stop for wood-fired pizza and other casual pub-style foods. The prices are reasonable and the restaurant is located inside of an antique rail car. They keep their decor local and only use fallen wood from the nearby forest in their pizza ovens. Tasty and sustainable!
Baguette
Right next to El Avion, you'll find Baguette, a cute cafe with an amazing view. It's a great stop for breakfast before you travel to the park or for having a midday coffee and pastry while overlooking the ocean.
Manuel Antonio Falafel Bar
The Manuel Antonio Falafel Bar is a street food spot for super fresh Mediterranean bites. They serve classics like homemade hummus, fresh pitas, and of course, falafels. The falafel bar has lots of options for vegans and vegetarians and their homemade popsicles are the best way to cool off on a hot day.
Claro Que Si Seafood Restaurant
Located in the Hotel Si Como No, Claro Que Si Seafood Restaurant serves up fresh local seafood in a beautiful atmosphere. They offer an extensive menu of fish and other tropical dishes using only the freshest ingredients from the region. The restaurant overlooks the lush forest and stunning central Pacific coast for a full Costa Rican experience.
Have you ever visited Manuel Antonio National Park?
What other tips and advice would you give to first-time travelers to this area?