Manuel Antonio is a small town located just south of the city of Quepos on the Pacific coast of Costa Rica, in the province of Puntarenas. Known for beautiful beaches, lush tropical rainforests, and abundant wildlife, Manuel Antonio is one of the top tourist destinations in Costa Rica.
*This post may contain affiliate links, as a result, we may receive a small commission (at no extra cost to you) on any bookings/purchases you make through the links in this post. As an Amazon Associate, we earn from qualifying purchases. Read our full disclosure
The biggest draw of the area is Parque Nacional Manuel Antonio or Manuel Antonio National Park. With an area of just 1,983 hectares, it is one of Costa Rica's smallest National Parks, but its biodiversity is unsurpassed!
The park is home to many endangered species, including three-toed sloths, howler monkeys, squirrel monkeys, scarlet macaws, and many others. A plethora of wildlife can be seen throughout Manuel Antonio National Park
Don't leave your home without Travel Insurance!

From the US? We recommend Allianz Travel Insurance, a world leader in travel protection and our trusted Travel Insurance partner for the last 5 years. Allianz offers Single Trip and Annual Travel Insurance Policies that include medical coverage, trip cancellation, rental car insurance and more! (Benefits vary by state and by plan, so read your policy carefully!)

Not a US resident? Consider Safety Wing, a budget friendly travel insurance provider with travel insurance plans for Digital Nomads and travelers from all around the world
The majority of visitors come to Manuel Antonio for the sole purpose of visiting the National Park but quickly find out that there are many other things to do in Manuel Antonio and the Quepos area.
We've visited Manuel Antonio numerous times. It's one of our favourite destinations in Costa Rica and one we enjoy even more with every visit. Following our visits, we have compiled a list of the best things to do in Manuel Antonio and essential travel info and tips to help others make the most of their visit to this area!
How to Get to Manuel Antonio
San Jose to Manuel Antonio
Manuel Antonio National Park is located about 170 km away from the capital, San Jose. From San Jose, Manuel Antonio can be reached by either by bus, by plane or by car.
By bus: There are several direct daily buses leaving San Jose every 2 hours. They are comfortable and easy and drop you off at any hotel in the Manuel Antonio area. Taking the bus is also the most sustainable and affordable option to get to Manuel Antonio. The journey takes about 3-4hrs.
Shared shuttles offer a slightly more expensive (around $60/person) but perhaps a touch more comfortable journey from San Jose to Manuel Antonio. They can be booked ahead HERE.
By plane: If you are short on time and prefer to travel by air, local airline Sansa Airlines offers daily flights for around USD $100. The flight only takes 30 mins and arrives at the Quepos airport, located about 15 mins drive from Manuel Antonio town.
By car: By far, the most popular way to get to Manuel Antonio is by car. Having a car gives you the flexibility to explore at your own pace and allows you to stay in nicer accommodations slightly further away from the hustle of the main town. It's a particularly great choice if you are traveling in a group and can split the costs of a car rental.
Important note about Tolls!
If you are going to drive to Manuel Antonio from San Jose, make sure you TURN OFF the "Avoid Tolls" setting on your Google Maps. As the fastest and most enjoyable way to get to Manuel Antonio from San Jose is via Route 27 & Route 34. These routes are Toll Routes, but they will only cost you about USD $2-3 (can be paid in cash or by credit card). Well worth the price!
If you choose to avoid the toll roads, you'll have to travel down a windy mountain road (route 301). It adds another 45-60 mins to the drive and is not recommended.
Book the Best Car Rental in Costa Rica

Renting a car in Costa Rica can be one of the most challenging parts of your visit! Unfortunately, car rentals in Costa Rica often come with significant hidden insurance fees, result in many frustrations at pick-up. The experience has ruined many trips and ballooned trip budgets for friends, family and followers. After years of not having a good solution, we finally found an honest car rental company that we proudly recommend to our readers.

We recommend booking with Vamos Costa Rica – a local car rental company that offers fantastic service and NO HIDDEN FEES and get 10% of your rental rate plus FREE additional driver, FREE child seat and other perks and benefits when booking through our link below!

Book early as rental car availability all across Costa Rica is currently lower than demand!
Jaco to Manuel Antonio
If you are staying in Jaco and are looking to come to Manuel Antonio for the day, you can reach the park by bus or by car. The journey is only 74 km and the drive takes
There is a daily bus between Jaco and Quepos town. From Quepos town, you can catch the local bus to Manuel Antonio National Park, which runs often.
If you don't want to travel by bus, you can book a day tour to Manuel Antonio National Park that includes a return transfer. Here is one of the many options you can book online.
Guanacaste to Manuel Antonio
The journey from Guanacaste takes a bit longer but is well worth the trek. Manuel Antonio is located 260 km away from Liberia, so expect a 4-hour drive. If you're departing from Tamarindo, expect the drive to be closer to 6 hours.
Traveling Soon?

Here is a list of our favourite travel providers and accessories to help get you ready for your upcoming trip!
Best Time to Visit Manuel Antonio
The Dry Season in Manuel Antonio National Park is between December and March, when tourism peaks and Green Season follows from April to November. However, due to the tropical climate, it is common for it to rain in Manuel Antonio throughout the year.
The park is fairly humid year-round, and temperatures typically hover around 30°C. September is the wettest month, so animal spotting can be quite difficult during this period.
The park is very busy during the high season and particularly over Christmas Break and Easter when domestic tourists also take their vacations.
Getting Around Manuel Antonio
The easiest way to get around the Manuel Antonio area is by car.
Most hotels in the region are located within 1-2 km from the park and centre of town. The distance is not long, but the road is steep, with over 100m in elevation change, which can make walking a bit more challenging, especially on a sunny day.
Having a car certainly comes in handy if you want to explore the surrounding areas without relying on overpriced tours, shuttles, or taxis.
If you don't want to rent a car, local buses offer a greener alternative. There is a local bus that runs up and down the hill every 30 minutes during the day and costs less than $1.
FAQs
Is Manuel Antonio worth visiting?
In case this post wasn't enough to convince you, let's clear things up! Yes, Manuel Antonio is worth visiting for its stunning beaches, lush rainforest, abundant wildlife, and a variety of outdoor activities.
How many days should I spend in Manuel Antonio?
We recommend you spend at least 3 days in the area to explore the national park, relax on the beaches, and join a few other activities like hiking, surfing, and wildlife watching.
How to enjoy Manuel Antonio?
To make the most of your visit to Manuel Antonio, we recommend to visit the national park early in the morning to avoid crowds, go on a guided hike or wildlife tour, relax on the beaches, try local cuisine, and participate in outdoor activities like zip-lining, horseback riding, or paddleboarding.
Now lett's get to the juicy stuff!
Best Things to do in Manuel Antonio, Costa Rica
Manuel Antonio, Costa Rica is a very unique and beautiful area of the country. While most visitors come here to explore the National Park, there is so much more to do in this region. When we visit this area, we usually come for at least 3-5 days and always find more new and interesting things to do in Manuel Antonio.
So let's dive in! We can't wait to share our favourite Manuel Antonio activities with you!
Visit Manuel Antonio National Park
If you only have time to do one thing in Manuel Antonio, make it a visit to the Manuel Antonio National Park.
The park was established in 1972 to help preserve the biodiversity in the area and is home to an incredible array of wildlife, including sloths, monkeys, toucans, and more. The park's main attractions are the wildlife, the hiking trails and the beautiful Manuel Antonio beach.
Buy Tickets Online. The park is open Wednesday to Monday (closed on Tuesdays) from 7:00 a.m. at 3:00 p.m. We recommend arriving as early as possible to avoid the crowds. 8-10am is probably the busiest time in the park, with big groups and tours.
Park entrance is $16 + tax for adults and $5 + tax for kids and can be purchased online 1 day prior to entry or at the ticket booth on the day. Be warned that due to the popularity of the park, the government has a limited entrance to the park to only 600 (simultaneous) visitors on weekdays and 800 on weekends. So we highly recommend purchasing tickets online to guarantee entry.
Pack Wisely: Aside from water, no food or other beverages are allowed to be brought into the park. This is a fairly new rule established in an attempt to protect wildlife and preserve their natural habitat. Bags are searched vigorously at the entrance.
But don't worry about getting hungry, there is now a little cafeteria inside the park, located at the end of the Main Trail, where you can buy snacks and drinks. The cafeteria is gated, allowing you to enjoy food and drinks safely without the monkeys!
Hire a Guide. When visiting the park, we strongly recommend that you hire a guide to help you spot many of the animals, birds and insects. You can hire a guide on the day, by bargaining with one of the many guides that hang around the National Park entrance. A good rate is $10/person or less. We managed to get a guided tour for just $50 for a group of 6 adults and 2 children. The rate may be more for a group of just 2-3 people. Ensure the guide is certified by the ICT, speaks good English (or another language you can understand) and has a good quality telescope to spot wildlife from far away.
Traveling on a budget? Bring a pair of binoculars and head on a self-guided tour! Don't worry about missing the wildlife – the crowds of other guides and tourists will give them away. You won't get to hear the guide's stories or get a lot of information about the animals, but you'll still get to enjoy the park, see some wildlife and enjoy the beaches!
Explore the Trails inside the Park
There are a few different trails to explore within the park, ranging from 287m to 9km in length, and easy to moderate in difficulty. The main trails are the Main Route and the Sloth/Mangrove Routes. These run through the heart of the park leading visitors from the entrance towards the Manuel Antonio National Park Beach. They are the most popular with the park's visitors.
You are bound to spot a few animals along those trails, but we recommend that you also take the time to explore at least 2-3 other routes within the park. The best side trails are those leading to the waterfall, Gemelas Beach, or Puerto Escondido. They are much quieter and offer an opportunity for you to enjoy the peace and quiet of Manuel Antonio's rich wilderness. They also offer a much higher chance of spotting animals.
Sendero Principal (Main Trail) – 2.2 km: This is the park's most popular trail. It leads from the entrance of the park to the white sand of Manuel Antonio beach.
Sendero Punta Catedral (Punta Catedral Trail) – 1.4 km: This trail is a loop connecting to the Main Trail. It connected to the Punta Catedral Point lookout and the Turtle Trap.
Sendero Mirador (Lookout Trail) – 1.3 km: Mirador Trail is a one-way trail that leads to the lesser-visited Escondido Beach. It is an extension of Sendero Playas Gemelas.
Sendero Playas Gemelas (Gemelas Beach Trail) 1.6 km: This trail connects to the main trail and the Official Road. It leads to lesser-visited Gemelas Beach and the beautiful Escondido Beach Lookout.
Sendero La Tarmpa (The Trap Trail) – 0.2km: This tiny trail has good wildlife viewing opportunities, it connects to the Turtle Trap then connects back to Punta Catedral Trail.
Sendero La Catarata (Waterfall Trail) – 9 km: This longer trail meets up with a small seasonal waterfall, it is just off of the Official Road.
Camino Vehicular (Official Road) – 1.3 km: This trail is used by rangers and starts at the entrance to the park. It snakes through the park's jungle and meets up with the Main Trail, and the Gemelas Beach Trail.
Sendero Perezoso (Sloth Trail) – 1.2 km: The Sloth Trail runs through the heart of the park, parallel to the Official Road. If you haven't guessed, it's a good place to see two or three-toed sloths and other animals.
Enjoy the Beaches in the Park
In addition to the trails, there are also a few Manuel Antonio's beaches to visit inside the park. The two most popular are Manuel Antonio Beach (Playa Manuel Antonio) and Espadilla Sur. They're both located at the end of the Main Trail, about 30-60 min walk from the entrance of the park.
The main beach, Playa Manuel Antonio, is the most popular and the most beautiful, with white sandy shore and clear warm water. It is often regarded as one of the best beaches in all of Costa Rica!
Playa Espadilla Sur is arguably just as nice as Playa Manuel Antonio. The beach is bordered by dense rainforest and is home to a diverse range of wildlife, including monkeys, sloths, and exotic birds.
Beware! Thanks to the entrance fee, the beaches inside the park are pretty safe, but that doesn't mean you should be careless and leave your belongings unattended. Your biggest worry inside the park is probably not people but capuchin monkeys! We've seen them steal bags, rumage through people's belongings and cause total havoc on the beach. So never lose your vigilance.
Enjoy the Beaches Outside the Park
When you are finished with the mandatory visit to Manuel Antonio National Park, spend more time relaxing on the beaches in town.
Playa Espadilla Norte (Espadilla Beach) is the main stretch of beautiful sandy beach running the length of town. The beach is a great spot to hang out at for the day. There are beach umbrellas and chair for rent, otherwise, bring your own towel and enjoy. There are a number of activities on offer at the beach, including surf lessons, parasailing, jet skis and more. We'll get into the details on these later in the article.
Playa Biesanz (Biesanz Beach) is one of the more secluded beaches in the area. The beach is nestled in a cove and is surrounded by lush tropical vegetation, which provides shade and a natural backdrop to its crystal-clear waters. Biesanz Beach is smaller than the park's beaches, but its calm waters and peaceful atmosphere make it a popular spot for swimming, snorkeling, and kayaking. One of the unique features of Biesanz Beach is its calm waters, which are shielded from the waves and currents of the open ocean by the surrounding cliffs.
If you're heading up the coast toward Quepos, check out one of the smaller beaches. Places like Playa La Vaca are off the beaten path but are well worth the trek.
If you're heading south, be sure to stop in Dominical. Dominical Beach and Playa Dominicalito are some of Costa Rica's prime surfing beaches. Travelers from all over the world come to this region to catch a wave in this famous part of the Central Pacific.
Visit Rainmaker Conservation Park
Rainmaker Conservation Park is another beautiful park worth visiting while in Manuel Antonio.
The park offers a glimpse into a lush rainforest ecosystem and is a completely different experience from the visit to Manuel Antonio National Park. For us, it's definitel one of the best things to do in Manuel Antonio!
This Rainmaker Park is located just 30 mins drive from Manuel Antonio. The last 5km to the park is unpaved but passable with a 2WD. Drive slowly and watch out for kicked up rocks if you're following another car. The gravel eventually turns back into paved road, leading you to the entrance of the park. The entrance fee is $23/pp, and kids under 6 are free.
The park boasts a well-maintained trail system that winds through the lush green rainforest and follows the river bed. The main trail is about 2-2.5km long with about 100m in elevation. The park is easily explored on a self-guided tour, following the trail. There are walking sticks available, but as long as you are fit enough to climb a few sets of stair, they are not necessary.
One of the unique features of Rainmaker Conservation Park is the 8 hanging bridges that offer breathtaking views of the surrounding forest canopy. The lower part of the trail features several beautiful waterfalls, including one with a lovely swimming pool. Although the water is clear, it's important to watch out for rocks on the bottom. The water is cold an refreshing.
Lunch is also available at the park, featuring a typical casado meal for only $7/pp.
Go on a Night Tour
If you want a different king of experience at Rainmaker Park, consider joining a Jungle Night Tour. This guided tour offers a chance to discover wildlife that comes alive after dark. Expect to see species of frogs, lizards, and snakes that aren't out during the day.
Go Zip Lining
If you're feeling adventurous, a zipline tour is one of the best ways to explore the jungle from the height of the forest canopy. The El Santuario Canopy Adventure Tour is the longest zipline in Manuel Antonio, spanning almost 4 km with bridges and nature walks in between.
Prices are $60-80 depending on the time of year and include lunch at The Falls Resort at Manuel Antonio.
Go Horseback Riding
Horseback riding is a popular activity in the area and a great way to explore the beautiful surroundings of the Central Pacific region. There are a number of companies offering horseback riding tours in town. Some of the tours offer horseback ride through the jungle and to beautiful scenic viewpoints, while others take you to the beach for a leisurely ride at sunset.
Visit a Wildlife Sanctuary
Kids Saving the Rainforest (KSTR) is a non-profit organization that was founded in 1999 by two young girls, who wanted to save the rainforest surrounding Manuel Antonio. The organization is based about 25 mins drive from Manuel Antonio, Costa Rica and offers a unique tour at their wildlife sanctuary.
You can visit Kids Saving the Rainforest's wildlife sanctuary for a 1.5-hour tour to learn about the diverse wildlife of Costa Rica's Pacific Coast. The tour costs $60 for adults and $45 for children under 12 (children under 3 are free). The tour includes viewing sloths, spider monkeys, kinkajous, and other animals. You will also learn about the organization's conservation projects and hear stories about unique animals and the care they receive from dedicated staff.
Go on a Sunset Cruise
A sunset cruise is a perfect way to spend an afternoon or a great way to end a day in Manuel Antonio. There are a number of companies operating sailing trips in Manuel Antonio. Sailings include drinks, lunch, and access to snorkeling and water sports. Prices start at $75.
Note that some trips depart from Marina Pez Vela in Quepos. But, pick up/drop off to hotels in Manuel Antonio area are usually on offer.
Visit Quepos Farmers Market
Visiting the Quepos Farmers Market is a great way to immerse oneself in the local culture and experience the vibrant colors, sounds, and flavours of Costa Rica.
Held every Friday evening and Saturday morning, the market offers a variety of fresh produce, handmade crafts, and delicious street food. You can find everything from exotic fruits and vegetables to freshly baked bread and homemade cheese. The atmosphere is lively, with music adding to the festive vibe. The market is a great place to meet locals and get a taste of local life. Don't forget to bring some cash and a reusable bag to stock up on goodies and souvenirs.
Join a Chocolate Tour
Learn about the history of chocolate and its production. You can also taste different types of chocolate made from locally-sourced cacao. Some chocolate tours also include a visit to a cacao plantation where you can see the process of harvesting and processing the cacao beans.
Explore the Mangroves
If you are looking to visit another unique ecosystem, consider a trip to the mangroves in Manuel Antonio. You can go sea kayaking in the mangroves or join this Mangrove Boat Tour offers a peaceful boat ride through the mangrove forest and an opportunity to see wildlife up close. You'll have a chance of spotting white-faced monkeys, anteaters, boas, iguanas and other creatures native to the area.
Day Trips from Manuel Antonio
There are a plethora of tours available in Manuel Antonio. You can literally spend two weeks hopping from tour to tour, experiencing everything the area has to offer.
But if you have a few more days to spare in the region, there are a few other day trips worth adding to your list of things to do in Manuel Antonio.
Visit Dominical
If you have the time, take the opportunity to spend this day in Dominical, a little beach town just 45 mins south of Manuel Antonio. Dominical is home to a few lovely beaches, some great cafes, and restaurants. Most importantly, home to cheap massages on the beach! An absolute must after a long day of walking about the National Park!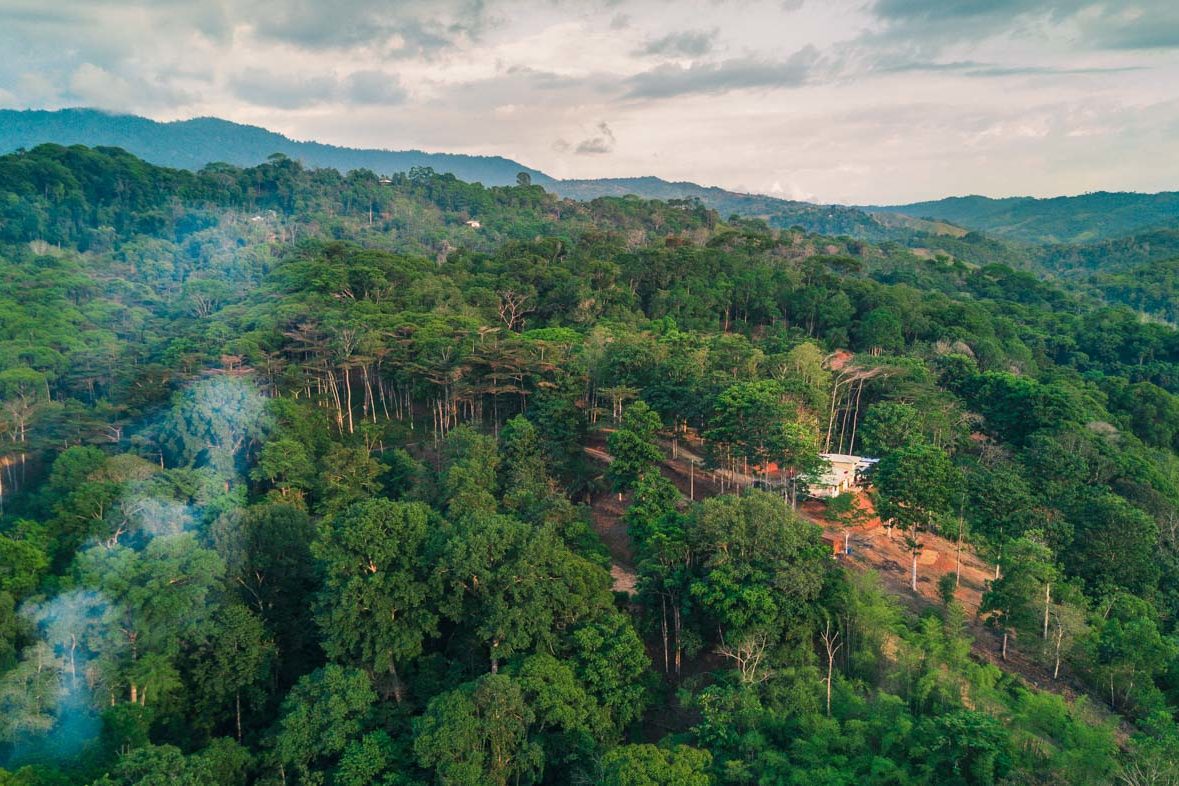 Visit Quepos
Despite being located just 7km from the entrance to Manuel Antonio National Park, Quepos, a small town of just over 22,000 residents, has managed to retain its authentic Tico feel. Quepos is nothing like the touristy Manuel Antonio area.
This is a town where locals go about their daily needs, where they shop, eat, and go out on the weekends. It's well worth a visit for a day of cultural immersion into Tico life.
Visit Nauyaca Waterfalls
Located about 45 minutes from Manuel Antonio, Nauyaca Waterfalls is a must-visit destination for any nature lover. These majestic waterfalls are some fo the most beautiful in the country.
You can hike through lush rainforest, take a horseback ride or book a pick up transfer to arrive at the falls. Once there, you can take a refreshing dip in the natural pools. You can also relax on the rocks and take in the beauty of the surrounding rainforest.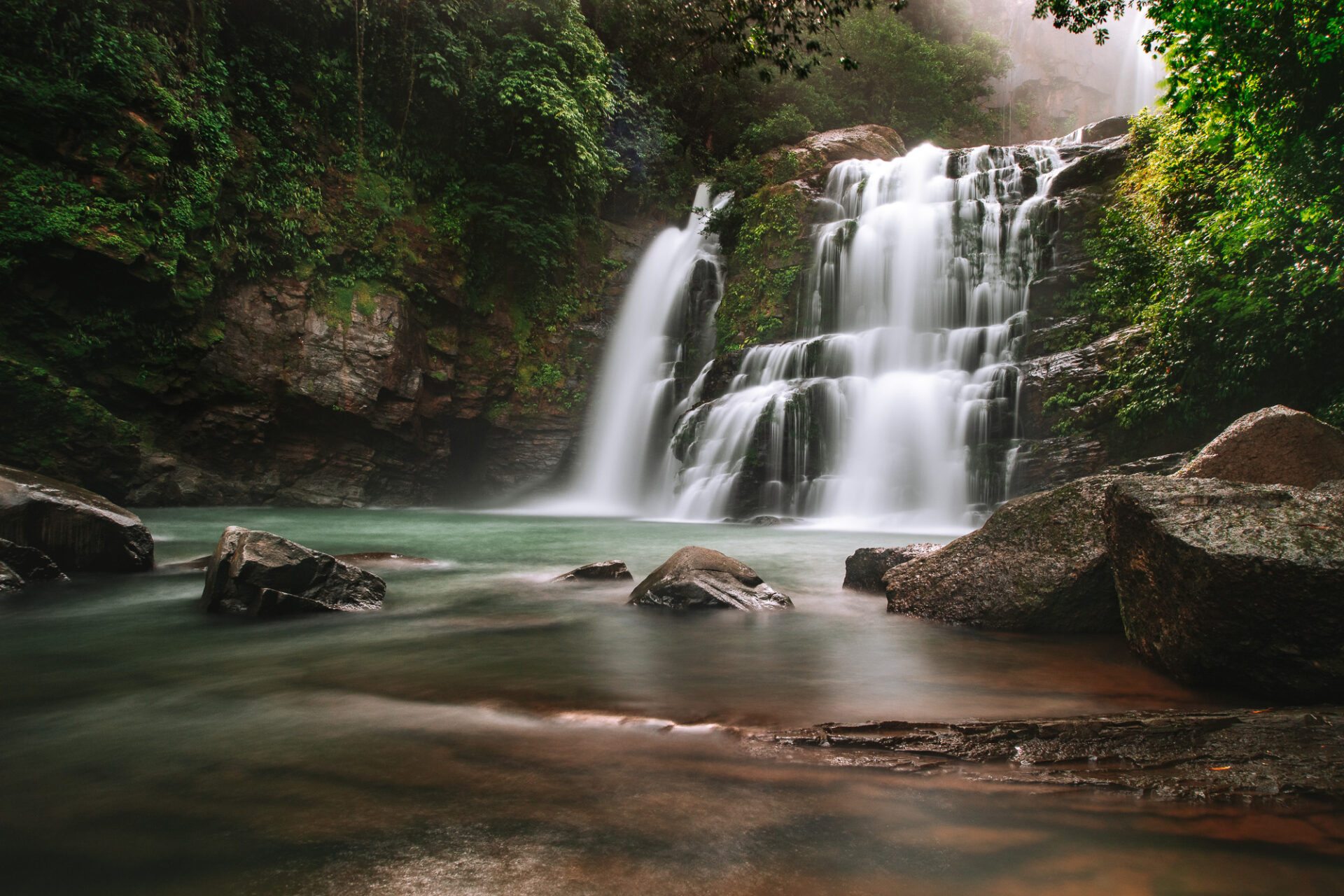 Best Hotels in Manuel Antonio
There are plenty of accommodation options in Manuel Antonio, ranging from hostels to luxury hotels and vacation rentals. We recommend staying within walking distance of the park (no further than 1-2 km from the entrance). This makes it easier to get around the area on foot.
Here are some of our favourite spots to stay in the area!
Costa Verde Hotel is a destination in and of itself in Manuel Antonio. The hotel has been hosting visitors in Manuel Antonio for over 25 years. It has 70 rooms and bungalows built into the thick jungle overlooking the world-famous Manuel Antonio National Park.
It is also home to Costa Rica's most unique accommodation, the 727 Fuselage Home (aka the Airplane Hotel). The suite is located within a refurbished vintage airplane perched on a 50-foot pedestal in the jungle canopy. It offers stunning views of the Pacific Ocean and surrounding rainforest. The interior of the suite has been redesigned into a cozy and comfortable living space. It features two air-conditioned bedrooms, a private terrace, and a spacious living room.
Arenas Del Mar is a luxury hotel with a serious commitment to eco-friendly practices. Nestled right on the beachfront. It features beautiful ocean views, private beach access, and an on-site rainforest nature reserve. The rooms and suites are spacious and elegantly designed, and the hotel offers a variety of eco-friendly activities and tours.
Selina Manuel Antonio: Selina is a trendy and eco-friendly hostel and hotel located in the vibrant town of Manuel Antonio. It's also just a short walk from the beach and the national park. This hotel offers a range of accommodations. From shared dorms to private rooms and apartments, it features stylish decor and comfortable amenities. Selina also features a variety of communal spaces. This includes a pool, a bar, a restaurant, and a co-working space, as well as a wide range of activities and events. It's a perfect place for budget-conscious travelers and digital nomads looking for a fun and social atmosphere
Best Restaurants in Manuel Antonio
There are lots of great places to eat in Manuel Antonio if you're craving local food or something different. Here are some of our favourites.
El Avion: If staying at the Airplane Hotel is not within your budget, don't fret. You can experience being inside an airplane up the road from Costa Verde's 727 Fuselage at the El Avion Restaurant.
The restaurant has been built in, around, and above an Oliver North cargo plane. It offers some of the best views in all of Manuel Antonio. Plus, it's decently priced, has a great menu, and serves delicious iced tea!
El Wagon: El Wagon is the best spot to stop for wood-fired pizza and other casual pub-style foods. The prices are reasonable and the restaurant is located inside of an antique rail car. They keep their decor local and only use fallen wood from the nearby forest in their pizza ovens. Tasty and sustainable!
Baguette: Right next to El Avion, you'll find Baguette, a cute cafe with an amazing view. It's a great stop for breakfast before you travel to the park or for midday tea (or coffee) and pastry overlooking the ocean.
Manuel Antonio Falafel Bar: The Manuel Antonio Falafel Bar is one of our favourite casual restaurants in town. It has the best fresh Mediterranean dishes, like homemade hummus, fresh pitas, and of course, falafels. The best part of the restaurant is their all-you-can-eat salad bar. Just purchase a falafel or shawarma plate and help yourself to a colourful selection of salad with home made tahini dressing. Feel free to go back for seconds.. Or thirds!
Claro Que Si Seafood Restaurant: Located in the Hotel Si Como No, Claro Que Si Seafood Restaurant serves up fresh local seafood in a beautiful atmosphere. They offer an extensive menu of fish and other tropical dishes using only the freshest ingredients from the region. The restaurant overlooks the lush forest and stunning central Pacific coast for a full Costa Rican experience.
Emilio's Cafe: This owner-run restaurant is known for its hardworking staff and good food, particularly their sirloin steak. The restaurant has a cozy atmosphere and is a great place to grab a delicious meal after a long day of exploring the area.
Océano Seafood: A local favourite for seafood, Océano offers a wide selection of fresh seafood dishes in a casual setting. The restaurant overlooks the beautiful Manuel Antonio beach and offers great views of the ocean while you dine.
Casa Planta Restaurant: Located inside the trendy Ingloo Hotel, Casa Planta offers a fun, hip vibe with a creative menu that features poke bowls, seafood, ceviche, salads, and smoothies. Try their tuna tartar and ceviche – they were our favourite dishes!
Azul Restaurant: Located inside the Teva Hotel, Azul is a new Moroccan-inspired restaurant that offers brunch specials on weekends with bottomless mimosas or sangria for an hour for only 8500 CRC. The restaurant's menu includes a variety of creative dishes such as bowls, shakshuka, skillets, wraps, and toast.
Ronny's Place: This rustic restaurant was once again recommended to us by a few locals. Ronny's Place is situated on a hillside with breathtaking views of the ocean and surrounding jungle. The restaurant is known for its fresh seafood dishes and generous portions.
Have you ever visited Manuel Antonio National Park? What other tips and advice would you give to first-time travelers to this area?