One of the most popular beaches and destinations in Costa Rica is undoubtedly Playa del Coco. Costa Rica has many relaxing and tranquil beaches, but this is not one of them.
*This post may contain affiliate links, as a result, we may receive a small commission (at no extra cost to you) on any bookings/purchases you make through the links in this post. As an Amazon Associate, we earn from qualifying purchases. Read our full disclosure
Playas del Coco is all about action and fun, be it water sports, diving, fishing, or upbeat nightlife. Affectionately called "El Coco" by locals, the area is bustling with activities from sunrise to sunset. If you want to experience a beach vacation in one of the most popular expat destinations in Costa Rica, then Playas del Coco is for you
Traveling Soon?

Here is a list of our favourite travel providers and accessories to help get you ready for your upcoming trip!
When to Visit Playas del Coco, Costa Rica
The weather in Costa Rica is generally good all year-round. If you want to enjoy fewer tourists, lower prices, and green, lush scenery, the rainy season from May to November is your best bet. The dry season lasts from December to April, and while the prices will be higher and crowds will be thicker, the weather will be nearly perfect.
Most of the activities on offer at Playa del Coco, Costa Rica are possible all year-round. However, if you plan on going fishing, make sure to visit between the months of May and September for the best chances of catching something good. Check our month-by-month breakdown of the best time to visit Costa Rica to help plan your trip.
How to Get to Playas del Coco, Costa Rica
Part of what makes Playas del Coco such a popular destination is how easy it is to get to. The former fishing village is just 30 minutes away from Liberia International Airport. You can rent a car at Liberia Airport, book a private shuttle, or potentially even catch an Uber.
Meanwhile, if you're coming from San Jose, the drive is a little longer. It takes 4-5 hours to get to Coco from San Jose but there is a bus service that runs 3 times a day. It costs about CRC 5,000 ($8 USD) each way so it's very friendly on the wallet.
Book the Best Car Rental in Costa Rica

Renting a car in Costa Rica can be one of the most challenging parts of your visit! Unfortunately, car rentals in Costa Rica often come with significant hidden insurance fees, result in many frustrations at pick-up. The experience has ruined many trips and ballooned trip budgets for friends, family and followers. After years of not having a good solution, we finally found an honest car rental company that we proudly recommend to our readers.

We recommend booking with Vamos Costa Rica – a local car rental company that offers fantastic service and NO HIDDEN FEES and get 10% of your rental rate plus FREE additional driver, FREE child seat and other perks and benefits when booking through our link below!

Book early as rental car availability all across Costa Rica is currently lower than demand!
How to Get Around Playas del Coco
Playas del Coco is relatively small so you can explore most of it on foot. And there are plenty of taxis floating around town if you need a lift to a restaurant. We recommend renting a car so you can make the most of your El Coco trip and explore the surrounding area as well.
Best Things to do at Playas del Coco, Costa Rica
Enjoy Coco Beach, Costa Rica
Playas del Coco (Coco Beach) itself is a great place to sunbathe and swim. Although the waves aren't quite as impressive as they are on neighbouring beaches, it's still a nice beach to catch a few hours of sunshine.
Keep in mind that the sand on Coco Beach is slightly darker colour to what you might find elsewhere in Guanacaste. Some will find this less appealing, but the colour of the sand has no impact on the experience.
Dive the Pelonas Islands
The Pelonas Islands, located just off the coast of Playas del Coco, are a popular spot with local dive shops and offer some good scuba diving sites, like Tortuga, Virador, and the Palmares Wall. If you're lucky, you'll see lots of marine wildlife like turtles, manta rays, groupers, and sharks. You can book a scuba diving trip here.
If you're willing to go a bit farther, you can also dive at the more famous Catalinas Islands and Bat Islands, famous for its healthy bull shark population.
Take a Snorkeling Tour
If you don't know how to dive or would rather stay near the surface, taking a Playas del Coco snorkeling tour is a great idea. You'll get the experience of sailing in the Bay of Papagayo and seeing the undersea world while close to your boat. You'll swim around many impressive rock formations and even a few ocean caves.
Take a Sunset Cruise
Enjoy a sunset cruise on a catamaran where you can jump in and scan the waters for dolphins, sea turtles, and fish. The boat anchors at a secluded beach where you can snorkel or sunbathe before a delicious homemade lunch. The area has rich marine life so you're likely to see the calm waters come alive as you sip on a cocktail during sunset.
Try Sport Fishing
Playas del Coco is perhaps best known for its excellent sport fishing opportunities. There have been around 40 world records in fishing set on Costa Rica's Pacific coast, and at Playas del Coco in particular, the fishing is excellent. The area is best known for dorados, sailfish, and marlins.
Since it's so popular in the area, it's very easy to find a sport fishing tour in Playas del Coco. Most of the fishing is catch-and-release, but make sure to ask before you book your tour.
Go Tubing on the Blue River
Spend a full day splashing through the azure-coloured waters of the Blue River on a Playas Del Coco Tubing Tour. You'll have to hold on tight as you pass through canyons and soar through jungle-lined waterfalls. A rafting tour is sure to get your adrenaline pumping!
Enjoy the Spa and Hot Springs
A full-day tour at the Blue River Resort is the perfect way to relax and enjoy peaceful botanical gardens. You'll spend the first half of the day exploring hiking trails and forests that are home to over 700 plant species and 15 types of butterflies. After refuelling with some lunch, end the day by soaking in mineral springs and enjoying the mud baths.
Explore the Town of Coco
Due to the popularity of Playas del Coco, the town of Coco, Costa Rica that surrounds it has been built up over time to accommodate more visitors. The town was once a small fishing village but now has lots to offer as a bustling expat destination.
There are plenty of great restaurants and bars in downtown Coco, as well as some fun nightlife. The main street makes for a great place to sit and people watch while listening to live music as it booms in the background. Make sure not to miss Sunset Point, a small eco-park with great views.
Day Trips from Coco, CR
Tamarindo
Tamarindo is a haven of outdoor activities that you can easily access within 1.5 hrs of Playas del Coco. The town has gorgeous white sand beaches that are always full of international visitors and Costa Ricans alike. Spend the day on the water kayaking, SUPing, or taking a surf lesson. There are loads of great restaurants and souvenir shops in town to end a sun-filled day.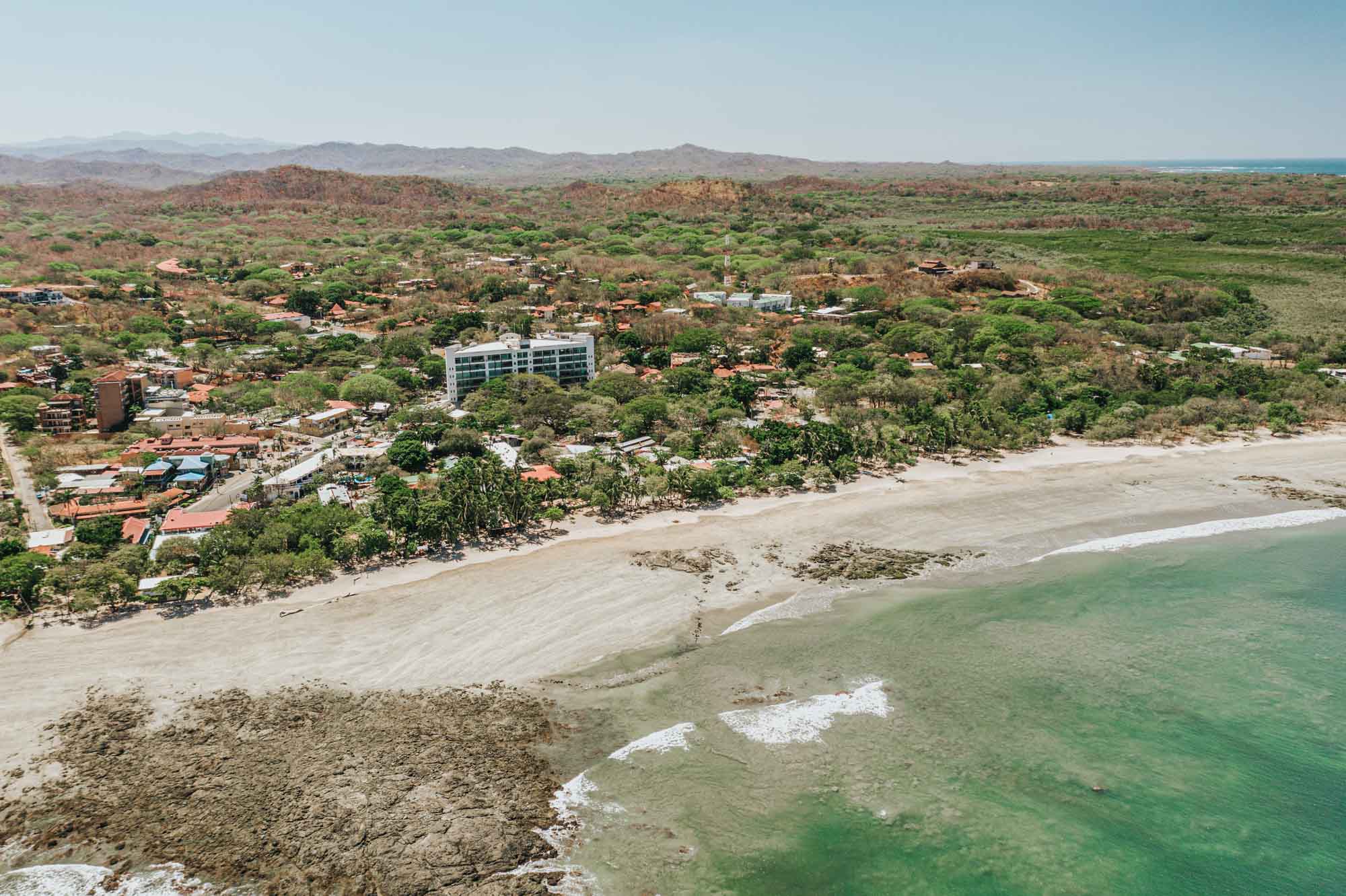 Rincón de la Vieja
While other national parks are bursting with tourists, Rincon de la Vieja is a peaceful hideaway. Less than 1.5 hours from Coco, Rincon is a great destination for hiking, waterfalls, and hot springs. The park has several adventure centres nearby to enjoy activities like ziplining, horseback riding, and tubing. All while in the shadow of a massive dormant volcano!
Playa Grande
Just over an hour south of Playa Coco, Playa Grande is an incredible destination to see sea turtles nesting in person. The beach is home to hundreds of leatherback turtles that lay their eggs from May-October. You'll need to hire a local tour guide to see them, but the experience is very special. And if turtles aren't your thing, Playa Grande is an excellent place to hit the waves and go surfing.
Playa Flamingo
Playa Flamingo is well known for its pristine sun-soaked beaches and idyllic mellow waters. It's only 45 minutes away from Coco, making it a perfect afternoon excursion or last-minute day trip. You'll want to spend most of your time enjoying the beach or sport fishing for marlin, mahi-mahi, or yellowfin tuna.
Playa Conchal
As the name implies, Playa Conchal is covered in millions of crushed-up conchas—or, seashells. It's one of the most beautiful beaches in the country and only an hour away from Playas del Coco. It's no surprise that it's always quite busy, thanks to the perfect swimming conditions and year-round sunshine. There are lots of boat tours and the waters are crystal clear, which offers fantastic snorkeling.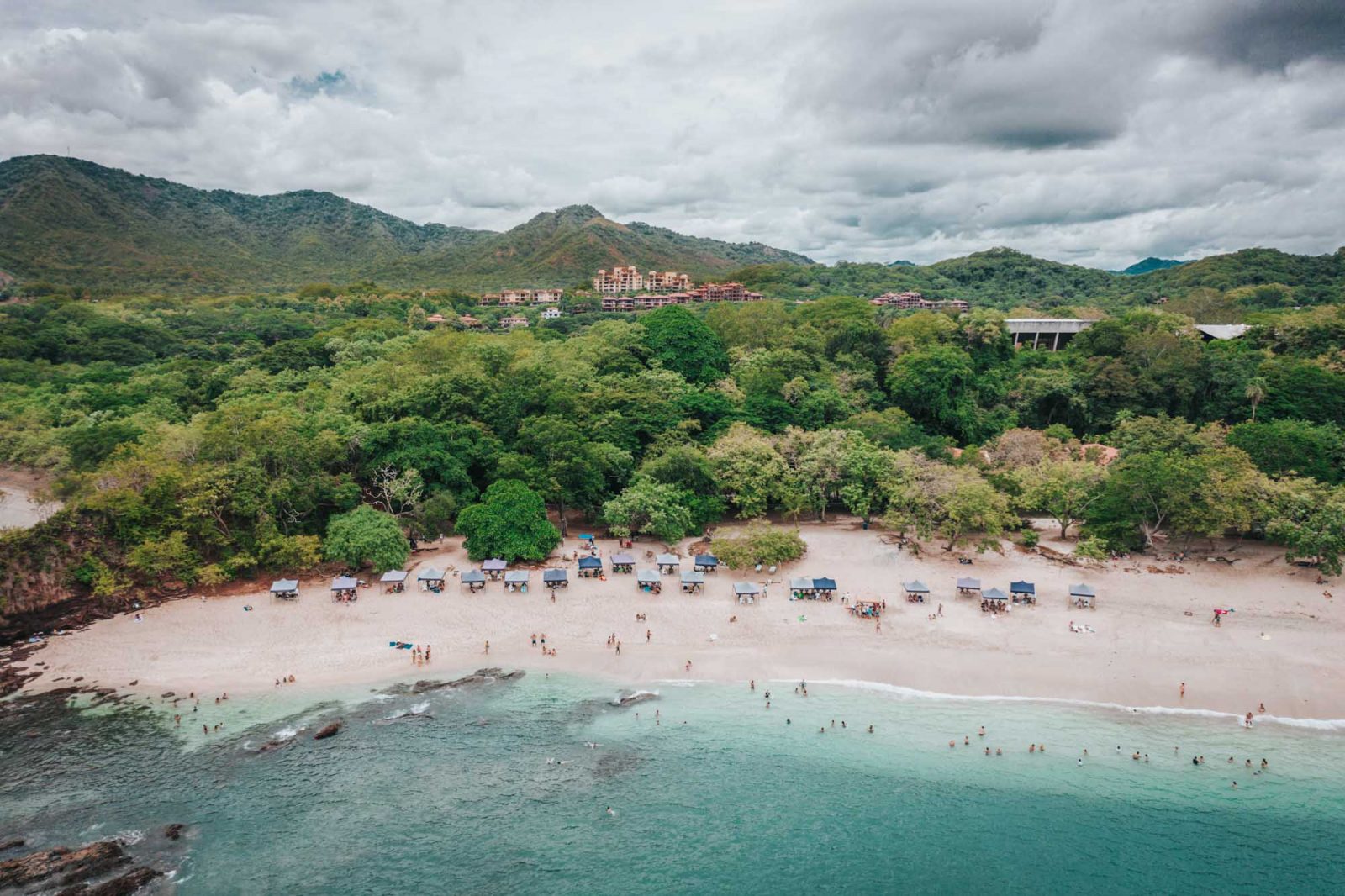 Diamante Eco Adventure Park
If you're looking for a great day trip, head to the Diamante Eco Adventure Park about half an hour to the southwest. You'll have the chance to try a number of different exciting activities all in one day, such as horseback riding, nature walks, ziplining, kayaking, stand up paddleboarding, and visiting an animal sanctuary.
Diamante is considered one of the best adventure parks in Costa Rica, so if you want an exciting day close to Playas del Coco, this is an awesome choice.
Best Restaurants in Playa del Coco, CR
Toucanoos: Toucanoos is a bright, fun eatery right next to the beach. They have great happy hour deals and some delicious cocktails on offer, and vegetarian options are also available. In addition, they use eco-friendly takeout containers and have a giving back program that benefits the local community.
The Lookout Restaurant: For some delicious, sustainable seafood, head to The Lookout Restaurant, where you can order things like fresh oysters, fish tacos, locally brewed beers, and ceviches. As the name implies, the restaurant is on a hill, offering amazing views of the beach below.
Restaurante La Pescadería Mar Azul: With fishing boats in such close proximity, Mar Azul sources the freshest Papagayo seafood around. They pair their catch of the day with a dose of Costa Rican culture to serve delicious homemade dishes. What's more, the restaurant offers indoor and outdoor dining around a beautiful swimming pool.
Soda La Teresita: For a casual bite right on the beach, Soda La Teresita is an excellent spot for some of Costa Rica's favourites. You'll find ceviche, salads, rice dishes, and plenty of fresh fish. All in a relaxed waterfront atmosphere.
Villa Italia: If you're looking for a special meal that's not full-on fine dining, Villa Italia is your destination for authentic Italian food. From fresh homemade pasta to locally sourced beef and chef-crafted pastries, the menu has something for everyone. They even have vegan chocolate cake!
Where to Stay at Playa del Coco
Hotel M&M Beach House: For a casual and affordable option, stay at the Hotel M&M Beach House. It's right on the water and offers clean, comfy rooms in a traditional lodge-like building.
Villa Del Sol: An eco-sensitive boutique hotel, Villa Del Sol is just on the outskirts of town. It has a massive garden area complete with a patio and swimming pool. It is locally owned and operated.
The Palms At Coco Beach: A 2 minute stroll to Coco Beach, The Palms offers bright, modern rooms overlooking a swimming pool. There's a restaurant and poolside snack bar with all the makings for a dream vacation.
Hotel Bosque del Mar: Just north of town in Playa Hermosa, Hotel Bosque del Mar offers 35 luxurious suites nestled among tropical gardens. The boutique hotel is a minute away from the beach with a pool, hot tub, and on-site restaurant. Plus, they have several sustainable initiatives like wastewater reduction, solar energy, and community engagement.
Villa Buena Onda: One of the best Playas del Coco hotels, Villa Buena Onda is really something special. With a breathtaking infinity pool overlooking the ocean and elegant suites, Villa Buena Onda is the place to stay if you want a bit of a luxury escape in Playas del Coco.
How Long Do You Need at Playas del Coco, Costa Rica
We recommend at least two days at Playas del Coco: one for simply relaxing on the beach, and another for a more active adventure, such as a fishing or diving trip. However, many visitors spend upwards of 4-5 days in Playas del Coco simply because the town makes for a convenient base to explore the other parts of Guanacaste.
Have you been to Playa del Coco in Costa Rica? What would you recommend that visitors do while here?