More and more people from the U.S. and Canada are trading winter boots for sandy toes and sunshine. The turquoise water and lush mountains of Costa Rica have a magical effect on foreigners looking to start a new life. It may start as just visiting Costa Rica, but many decide to make it more permanent. If you're considering moving to the tropical paradise of Costa Rica from a foreign country, this guide has everything you need to know.
*This post may contain affiliate links, as a result, we may receive a small commission (at no extra cost to you) on any bookings/purchases you make through the links in this post. As an Amazon Associate, we earn from qualifying purchases. Read our full disclosure
Traveling Soon?

Here is a list of our favourite travel providers and accessories to help get you ready for your upcoming trip!
The Basics
Costa Rica has over 5 million people, with nearly half a million expats. The country is split into seven regions, called provinces, and most people live in the Central Valley surrounding the capital, San Jose.
Unlike some other Central American countries, Costa Rica has a very high literacy rate of 97.8%. The country has an excellent education system, no army, and stable democracy that makes it the peaceful nation that it is.
The incredible biodiversity of Costa Rica is something we never get sick of. Every area has its own unique landscape and lifestyle to go with it. The country aims to protect this as much as possible with its focus on sustainability and environmental awareness. Costa Rica is on a path to becoming carbon-neutral and shows other countries that a greener future is possible.
Tourists, retirees, and families all agree that Costa Rica is a little piece of paradise, and we definitely concur! We love the laid-back lifestyle and can see why it's one of the happiest places in the world.
The Weather
The temperate climate in Costa Rica makes it one of the most comfortable year-round destinations in the world. Residents of the Central Valley rarely have to worry about heating or air conditioning, thanks to the high altitude of the Costa Rican mountains.
The golden beaches of Guanacaste, the Central Pacific, and the Southern Zone are always hot with a distinct rainy season. Costa Ricans don't call the rainy season their "winter" because it's a far cry from what most American and Canadian expats are used to!
On the west coast, the warm and calm waters off the Pacific Coast mean that hurricanes aren't an issue. The Caribbean coast is more susceptible to hurricanes, but they're still uncommon—the country has only had 18 recorded hurricanes to date.
Cost of Living
How much does it cost to live in Costa Rica long term? While the cost of living in Costa Rica is affordable, it's not the cheapest country in Latin America. Depending on your lifestyle, you can live comfortably on US$2,000 per month. Things like meat and special products are pretty comparable to costs in the United States. But, you can always keep your grocery bill low by buying fresh local produce and fish from a market.
Rent prices vary from the capital city to smaller communities but are generally much lower than in the U.S. For instance, you can rent a small apartment in Costa Rica's Central Valley, such as in San Jose, for US$500 (US$119,000 to buy it outright) or land a pretty nice house on the beach for US$700 (or US$165,000 to buy it).
One thing is for sure, healthcare and dental work are significantly less expensive. Having access to affordable healthcare is a main driving factor for many American expats in Costa Rica. Combined with the stable government, the tropical weather, and the relatively hassle-free residence programs for other expats, it's no wonder the country is as popular as it is.
Looking for more information on Costa Rica budget planning? Check out our full breakdown of the cost of living in Costa Rica
Working on the porch of our house in Playa Avellanas, Guanacaste, Costa Rica
Safety
An important question is, 'is Costa Rica safe to live?' In our travels, we've been to many places where safety is constantly on the mind when exploring a city or landmark. In Costa Rica, with a bit of common sense and awareness, things are impressively safe. Outside of the capital city of San José, crime is rare and is usually petty, even in popular tourist destinations. In fact, Costa Rica is considered to be the most peaceful nation in all of Central America.
Costa Rica has no army and focuses its federal funding on healthcare and education. Despite being a developing country, Costa Rica is an inspiring example of a forward-thinking and politically stable nation.
However, if you are in San Jose, you need to be more careful. Crime has increased in recent years, and U.S. citizens and expats are frequent targets. Most of the crime has been related to theft or other petty crime, and little of it has been violent, but it never hurts to be practical. Avoid leaving valuables in your car, don't go walking at night if you don't have to, and only change money in financial institutions.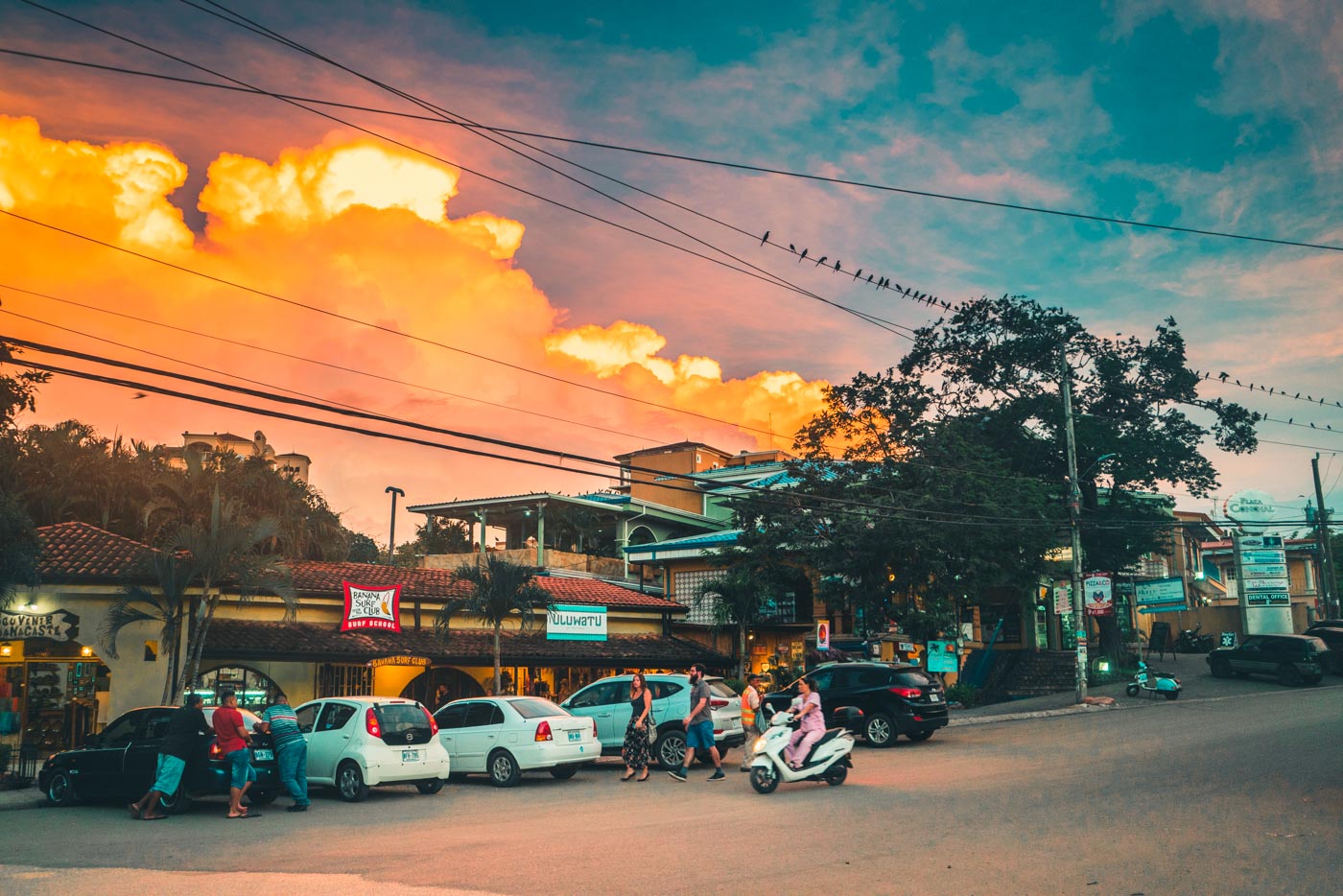 Culture
If you've ever read anything about Costa Rica, you've encountered the term pura vida, or 'pure life.' It's hard to describe exactly what the pura vida lifestyle means until you come here and experience it for yourself. We've done our best to sum it up, but what you really need to grasp is that the local culture is very laid back. Things move slowly here and quite frankly, that pace is what makes Costa Rica so special.
Pura Vida isn't just a relaxed lifestyle, though. It means enjoying life, finding joy and beauty in the small things, and staying optimistic about what the future holds. It's an expression, but it's also an attitude and a way of life. Costa Rica's people are warm, welcoming, and friendly.
Connectedness and Internet
Like other amenities, internet speeds vary across the country and can range from sloth-speed to 100mbps. Overall, Costa Rica is a well-connected place with accessible internet and 4G cell networks that many expats rely on for work.
Naturally, there are more options—including fiber internet—around major cities like San José and large beach towns like Jaco and Tamarindo. Some mountain and remote towns by the ocean still struggle, but things are progressing, and stable internet is becoming more common, whether you're in a city or a beach town.
Healthcare System
Costa Rica's healthcare system is considered to be one of the best low-cost systems in the world. The universal healthcare system (Caja or CCSS) is accessible to all permanent residents with small monthly Caja payments based on income. This gives residents access to medical care at any of the 30 hospitals and 250 clinics throughout Costa Rica. However, the public healthcare system is stretched pretty thin, so long wait times and understaffed clinics are common.
Considering that, in our opinion, private health care is still much better. We learned this first hand after breaking my leg in a freak surfing accident (don't worry, no sharks or riptides were involved). My experience at the private hospital was much more comfortable than at the public one. Of course, private facilities come at a price so it's important to not make the mistake we did and have private health insurance while in Costa Rica! Many expats go with companies like Blue Cross, but we recommend Safety Wing!
As an expat living in Costa Rica, you'll find that dental care is very good here too. Prices are reasonable, and dentists are very well trained. If you do decide to relocate to Costa Rica, you can buy private insurance specifically for expats that include medical and dental care.
Costa Rica is also generally up-to-date on vaccinations. There are several that are strongly recommended, but not many that are strictly required. If you're coming from South America or sub-Saharan Africa, then you'll be required to have a yellow fever vaccine. Otherwise, vaccinations for hepatitis A and B, influenza, typhoid, rabies, measles, mumps, and rubella are all strongly encouraged.
Quality of Life
Living in Costa Rica boasts a life expectancy of 80 years, one of the highest in the world! The Nicoya Peninsula in particular is one of the world's five Blue Zones (and the only one in Central America) and is home to 44 centenarians. A balanced diet, active lifestyle, and strong relationships are attributed to this revered quality of life.
A Blue Zone is an area where the residents live uncommonly long lives, so people live past the age of 100 more frequently. In Costa Rica, the Blue Zone includes the cantons of Hojancho, Nandayure, Carrillo, Santa Cruz, and Nicoya. These include many well-known beach towns, such as Tamarindo and Samara on the Pacific coast, but most of the oldest residents are from rural or mountain communities.
The diet is mostly natural and unprocessed, with high amounts of calcium and magnesium in the water. The lifestyle is one that encourages hard work, exercise, time outdoors, and spending time with friends and family.
Visas
The requirements to move to Costa Rica make for various ways for expats to get a visa. Most people start with a tourist visa and apply for residency once they've settled on where they want to live.
Tourist Visas
With tourist visas, expats have to do border runs every 90 days to exit the country and re-enter Costa Rica. Even though thousands of people have made this part of their routine, it can be a bit inconvenient, so they're more convenient if you only plan to visit Costa Rica. If you move to Costa Rica and decide you want to stay more than 90 days, consider becoming a legal resident through one of the following ways.
Permanent Residency
Pensionado
Expats who retire to Costa Rica can obtain temporary residency with a pension of at least US$1000 per month. The money must be converted to Costa Rican Colones and your temporary residency will last three years. After 3 years, you can apply for permanent residency.
Rentista
With a Rentista visa, expats must prove that they will have US$2,500 per month in income for 2 years. Often, an expat will deposit the lump sum of US$60,000 into a Costa Rican bank account. The bank will then write a letter stating that this total covers the $2,500 for all 24 months. Alternatively, you can submit a letter from your employer stating that you'll earn at least US$2,500 monthly for the next 2 years.
Inversionista
If you plan to buy a property or a business when you move to Costa Rica, the Inversioista visa might be your best option. Expats who invest US$200,000 in a business or in real estate will get temporary residency for 3 years. After 3 years, you can apply to be a permanent resident.
Digital Nomad
A Digital Nomad visa lets you extend a 90-day tourist visa up to a full year, with the option to renew it yearly, as long as you can show proof of a stable net monthly income of US$3,000. Strong, reliable fiber optic internet is even becoming more common in smaller communities and beach towns like Playa Avellanas. Even if you live off the beaten path, it's possible for you to have high-speed internet with a stable connection. Because of this growing connectedness, Costa Rica is becoming a more and more viable destination for digital nomads.
Having a Child in Costa Rica
In addition to the above methods, having a child in Costa Rica is also an avenue for residency. This means that once you receive a birth certificate, the parents can become residents along with the child. It's one of the easiest and cheapest way to obtain Costa Rican residency and a VERY popular choice with expat families residing in the country.
Buying Property in Costa Rica
After moving to Costa Rica, you'll probably fall in love with the tropical beaches and rainforests like we did and want to buy property. The good news is that foreigners and locals have the same property rights so you can even buy land with a tourist visa, whether you plan being a temporary resident or a permanent one.
People of Costa Rica
Because there are so many Europeans and Americans living in Costa Rica, there is a unique mix of people. In fact, only 2.4% of the population are Indigenous Costa Ricans. There are lots of expats, predominantly from North America, who call Costa Rica home alongside the local ticos. Most Canadians and Americans moving to Costa Rica are retirees, but the international schools attract many families too.
And, of course, the healthy lifestyle and world-class surfing invite young adventurous types from across the globe.
Schools
Unlike other tourist destinations, the education system in Costa Rica makes it an attractive choice for expat families. The country has some of the best schools in Latin America and puts a large focus on education and human development. The biggest concentration of private and international schools is in the Central Valley around San Jose.
If you're moving to Costa Rica with family, the proximity to schools will be an important factor when choosing where to live. The American International School and Country Day School are two popular international schools for children north of San Jose. Outside of the Central Valley, there are many English-speaking private schools scattered around the country.
Language
Thanks to all the expats and the strong tourism industry, Costa Rica has tons of English speakers. In most bigger towns, you don't need to know Spanish, but you should still try to learn. Speaking Spanish is a great way to integrate into the local community and make life easier.
Getting a Job as an Expat
Jobs in Costa Rica for expats aren't plentiful. Don't expect to arrive and pick up an expat job right away. There is plenty of local talent and it's best to leave the jobs for them. So, if you are wondering, can I move to Costa Rica and still make money? Of course!
Expats moving to Costa Rica should find ways to earn money online, live off retirement, or start a business here. One of the reasons that Costa Rica is such an expat hotspot is because you can start a business on a tourist visa. This opens up the potential for plenty of non-residential Costa Rica pros to work in tourism or open a hotel or restaurant.
When we opened up our hotel in Guanacaste in 2018, we got first-hand experience of what it's like to open a business outside of your home country. Even with the many challenges and headaches, it's been an amazing journey!
Lastly, it's important to note that work permits can be hard to qualify for. Foreigners must prove that they are filling a position that a Costa Rican is not qualified for or is incapable of doing. To receive the work permit, your employer must sponsor you, and the process is slow and filled with paperwork!
Buying a Car
While public transportation is an option in San José and other big cities in the country, it's not always reliable. Plus, you'll surely want to explore all of the wild places where buses don't go. So, if you decide to move to Costa Rica, you'll probably want to buy a car.
Buying a used car here will be expensive and not a great deal. Import duties are high. For example, vehicles brought in from the U.S. are taxed at 50-80% of the car's value. Most expats buy a used, undervalued car in the US and ship it down to Costa Rica. Older cars in good condition have a lower "black book" value and thus pay lower import tax.
Importing an electric car is a win-win. There are no import taxes, there's a country-wide network of charging stations, and you'll be helping to contribute to Costa Rica's carbon-free vision for the future!
Book the Best Car Rental in Costa Rica

Renting a car in Costa Rica can be one of the most challenging parts of your visit! Unfortunately, car rentals in Costa Rica often come with significant hidden insurance fees, result in many frustrations at pick-up. The experience has ruined many trips and ballooned trip budgets for friends, family and followers. After years of not having a good solution, we finally found an honest car rental company that we proudly recommend to our readers.

We recommend booking with Vamos Costa Rica – a local car rental company that offers fantastic service and NO HIDDEN FEES and get 10% of your rental rate plus FREE additional driver, FREE child seat and other perks and benefits when booking through our link below!

Book early as rental car availability all across Costa Rica is currently lower than demand!
Deciding Where to Live in Costa Rica
The beauty of moving to Costa Rica from Canada or the U.S. is that you don't need to decide where to live right away. You can make your way around the country by staying in different areas for a few months at a time. Why not try out beach town living or see if a mountain town is calling your name.
A great way to start your relocation is with a research trip. You can visit lots of different areas, from cities to beaches—and beach cities too. See where you feel most comfortable and use this as a guide to planning your move. Based on your budget, the activities you like to do, and which conveniences are important to you, each area will make its own impression.
There's no one best place for expats to live in Costa Rica because there are so many amazing options! But, keep in mind that every location has its own vibe and unique housing market. Some towns have booming expat communities while others are further off the beaten path.
To help narrow down the choices, we put together a guide to the best places to live in Costa Rica. It's filled with helpful information for expats seeking some guidance on what Costa Rica's towns are all about.
Moving with Your Pets
It's pretty likely that you and your family have a pet, and of course you want to bring them with you when you move. Don't you worry. It will take some preparation, but you won't have to leave them behind. For pets other than dogs and cats, they'll have to be considered on a case by case basis, and an import permit will be required.
For cats and dogs, you can travel with up to five of them without an import permit, so long as they are not unaccompanied. Unaccompanied pets require import permits regardless. Within two weeks of arrival, any pets will require an examination by a licensed veterinarian, who will fill out the Veterinary Certificate for Costa Rica.
Dogs and cats will need to be vaccinated for rabies. Dogs will also need vaccines for distemper, hepatitis, leptospirosis, and parvovirus. Cats require vaccines for viral rhinotracheitis, calicivirus, feline leukemia, and panleukopenia.
Moving to Costa Rica
Moving doesn't have to be complicated. You can just pack a few bags and fly down! Let's face it, all you'll really need is a few bathing suits and some personal items anyway. Just rent a house or an Airbnb and start living. You really don't need all the furniture and household goods from back home to start your new Latin American life.
There are plenty of shops and other city amenities where you can find everything you'd need for your apartment or house. Shopping in town is a great way to integrate the styles and materials of Costa Rica into your living space while supporting local businesses. But, if you do decide to bring things down, you can load a container from your home country and ship it. Just keep in mind that import taxes for some items can be quite high.
If you're traveling with furry friends, there's no need to worry about quarantine periods for pets. Dogs and cats just need a valid rabies vaccine within 30 days of your departure. Likewise, getting a travel letter from your vet stating that your pet is in good health is always a good idea.
Advice on How to Move to Costa Rica
If you've decided, "I want to move to Costa Rica!" and aren't sure how to go about it, just start with a trip. Once you spend time in the local communities, you'll get a feel for the pura vida lifestyle and see if it's for you. Tourists flock to Costa Rica from all over the world but living here is a decision that only you can make. Things move slowly here and you'll soon find out that pura vida is not just a saying!
Have unanswered questions about moving to Costa Rica? Let us know in the comments and we'll fill you in