There are some places in Costa Rica that are easy to figure out. You turn off the highway, and within minutes you sense the vibe of the destination. You feel its spirit all around you. Samara, Costa Rica isn't one of those places.
*This post may contain affiliate links, as a result, we may receive a small commission (at no extra cost to you) on any bookings/purchases you make through the links in this post. As an Amazon Associate, we earn from qualifying purchases. Read our full disclosure
"Ah, we loved Sámara," gushed Max's grandma after spending a week in Samara, following our wedding. "It's very quiet and lovely. But I don't think it's a place for young people," she noted to us as we were researching Samara Beach for our upcoming trip.
"Ah, yes, I remember partying in Sámara in the 90s," Max's Mom reminisced in the meantime. "Fun little town".
We were perplexed. So is it a party town? A sleepy village? Or something in between?
Traveling Soon?

Here is a list of our favourite travel providers and accessories to help get you ready for your upcoming trip!
Planning a Visit to Sámara, Costa Rica
Sámara is not a town that often graces the pages of glossy magazines and travel sites. And it isn't one frequently featured in typical Costa Rican travel itineraries. It is somewhat off-the-beaten-path, and as we soon found out, one that offers a laid-back vibe and beautiful beach setting appealing to just about anyone.
For us, Sámara was a perfect backdrop for an idyllic getaway. It wasn't crowded, it wasn't loud, it wasn't in your face, but it had all the comforts that one might enjoy while on holidays.
There was a good selection of restaurants (albeit somewhat overpriced even for Costa Rica), cute boutiques, yoga retreats, and no shortage of tours and activities. Despite its compact size and lack of big hotel chains, the area of Playa Samara has been welcoming tourists and locals for what seemed like decades.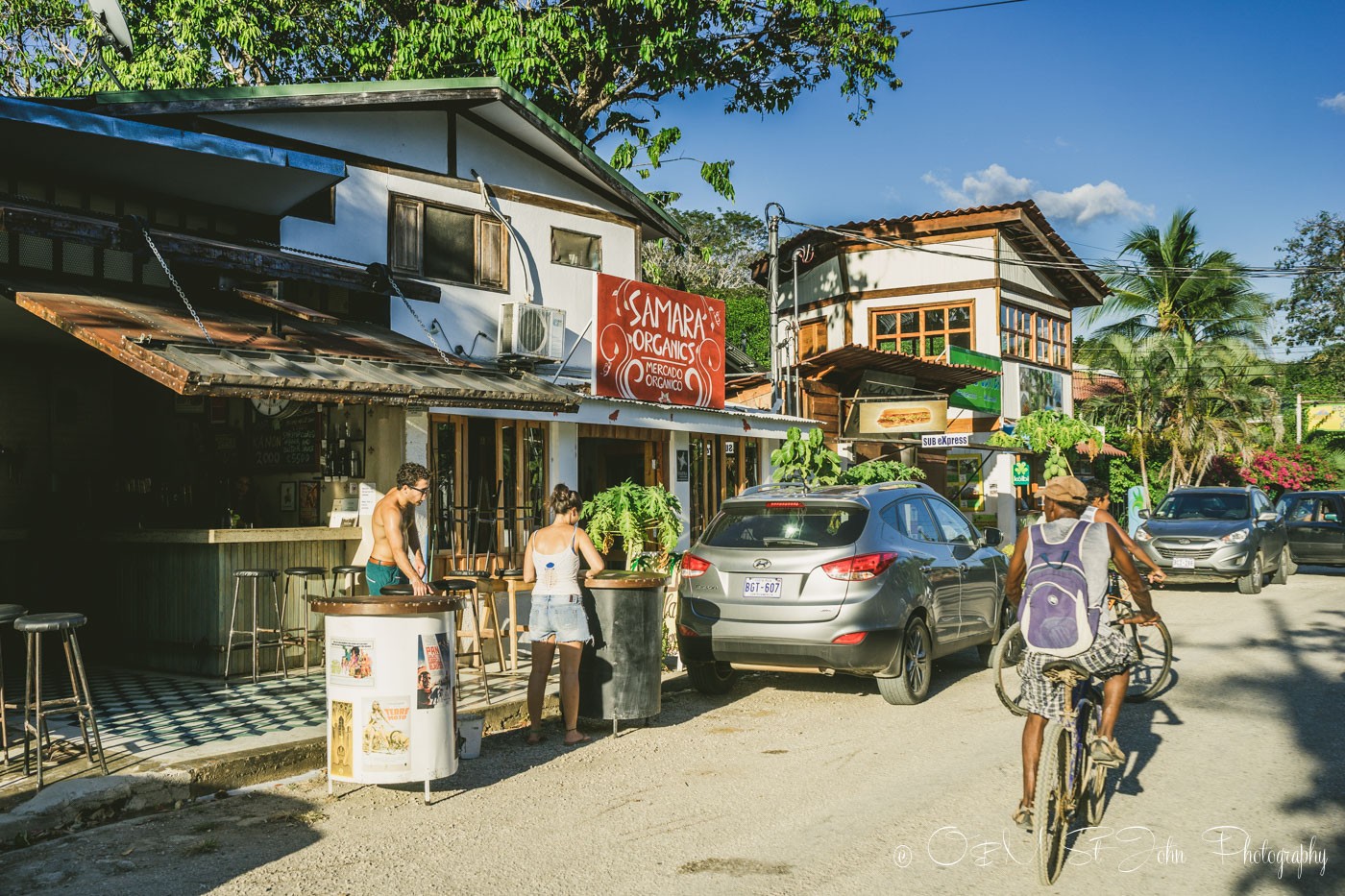 Don't leave your home without Travel Insurance!

From the US? We recommend Allianz Travel Insurance, a world leader in travel protection and our trusted Travel Insurance partner for the last 5 years. Allianz offers Single Trip and Annual Travel Insurance Policies that include medical coverage, trip cancellation, rental car insurance and more! (Benefits vary by state and by plan, so read your policy carefully!)

Not a US resident? Consider Safety Wing, a budget friendly travel insurance provider with travel insurance plans for Digital Nomads and travelers from all around the world
Essential Travel Info for Sámara Beach Costa Rica
Getting There
Playa Sámara is located on the Nicoya Peninsula, in Guanacaste Province of Costa Rica. Sámara is located about 2-2.5 hours by car from Liberia Airport, which is the closest airport. Samara is located about 3.5 hours from the capital of San Jose by car.
Book the Best Car Rental in Costa Rica

Renting a car in Costa Rica can be one of the most challenging parts of your visit! Unfortunately, car rentals in Costa Rica often come with significant hidden insurance fees, result in many frustrations at pick-up. The experience has ruined many trips and ballooned trip budgets for friends, family and followers. After years of not having a good solution, we finally found an honest car rental company that we proudly recommend to our readers.

We recommend booking with Vamos Costa Rica – a local car rental company that offers fantastic service and NO HIDDEN FEES and get 10% of your rental rate plus FREE additional driver, FREE child seat and other perks and benefits when booking through our link below!

Book early as rental car availability all across Costa Rica is currently lower than demand!
Taxi
A taxi from Liberia Airport to Sámara will cost no less than $115 and should take roughly 2-2.5 hours.
Shuttle
A twice-daily shuttle bus leaves Liberia Airport to Sámara every day at 8:30 am and 3 pm, which costs $45/pp. A private shuttle bus will cost $145 USD in total.
Public Bus
Those travelling on a budget can get to Playa Sámara Costa Rica by bus from Liberia via Nicoya (3-hr journey). Buses depart Liberia at 8:30 am and 2 pm. Bus schedules can be found here.
Getting Around
Samara Beach, Costa Rica is a small beach town, so the best way to get around is on foot. ATV rentals and taxi services are also available in town.
Best Time to Visit Samara, Costa Rica
In Costa Rica, there are two seasons rather than four. There's the rainy season and the dry season. Considering that, the best time to visit Samara Beach depends on what you're looking for.
The rainy season, from May to November, is very wet, as it rains much more often and is more humid, though Guanacaste does tend to be drier than other provinces. Runoff, flooding, and mud can be a bit unpredictable during this season, but it will also be much less crowded.
The dry season, from December to April, doesn't have nearly as much rain and the weather is more predictable, but parts of the country begin struggling for water as the dry season progresses. It will be much more crowded, and prices will be higher. The dry season is the high season when it comes to tourists.
Things to do in Sámara, Costa Rica
Despite the abundance of activity options to fill our days, we really didn't do much in Sámara. For once, we really took the time to relax and unwind, spending our waking hours soaking up the sun, lazing in the palm tree shades, and splashing in the waves on Playa Sámara, Playa Buena Vista, and Playa Carrillo.
Enjoy the Beautiful Beaches in Sámara
Playa Sámara
This beautiful, sandy beach is the town's main draw. Swaying coconut trees line the horseshoe-shaped bay, and the water is gentle and shallow which makes it suitable for swimmers or newbie surfers. Make some time to watch the sunset at Playa Samara with an ice-cold beer in hand.
Playa Buena Vista
Head to Playa Buena Vista for its moderate surf or for a picturesque walk along the beach. It is located a short 5 minutes drive or 30-minute walk from Samara. There are 3 surf shops in town that offer board rentals, and lessons.
Playa Carrillo
This gorgeous, empty beach is located 8 km (5 miles) south of Sámara. It makes for a great day of sunbathing and swimming. It has been awarded one of the cleanest beaches in Costa Rica, and it is our absolute favourite, but bring drinks, snacks, and a hammock as there is not much infrastructure around the beach.
Playa Barrigona
Playa Barrigona is a small, crescent-shaped beach close to Samara, with large rock formations on either end. It's a relatively private area. In comparison to Samara, there tend not to be many people in it. Getting there can be complicated, as the road leading to the beach is unpaved and incredibly bumpy, and it's not the best beach for swimming. However, if you're looking to surf or just to escape from the crowds, it's a great place to be.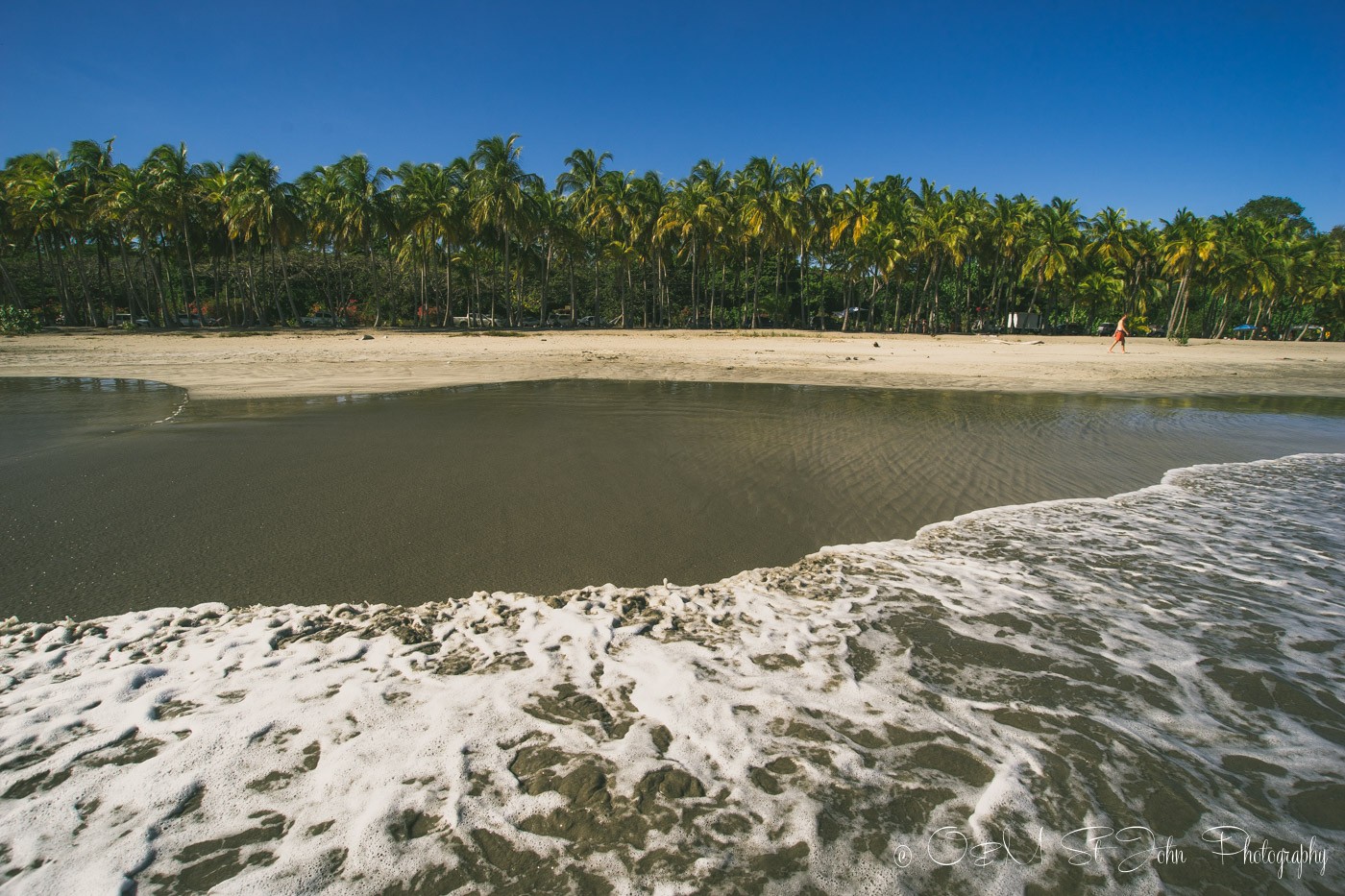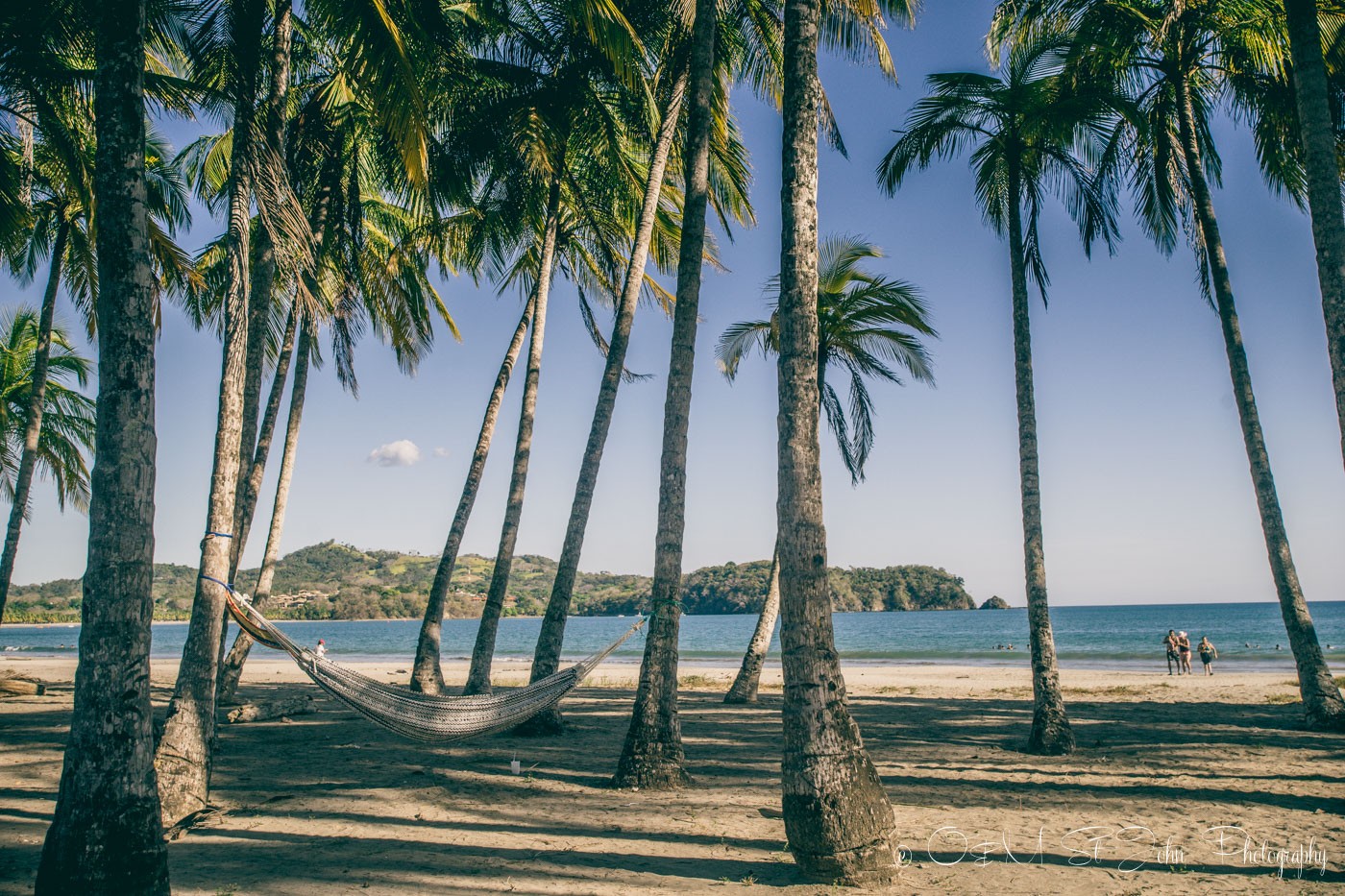 Visit the Werner-Sauter Biological Reserve
The Werner-Sauter Biological Reserve is one of the country's few private reserves and is blanketed in a rare, dry, tropical forest.
The area was used as a farm until the 1990s when the family who owned the farm decided to revert it back to its natural state. Their inspiration is from the governmental protection of other precious ecosystems like the cloud forest during this time. Today, the natural terrain has rebounded impressively and become a refuge for wildlife.
The grandson of the founder of the reserve created Sámara Trails. He takes groups on informative tours to the Werner-Sauter Bio Reserve twice daily. The tour starts at the farm's former cattle pasture, weaves through an active mango plantation and then onto the reserve.
Morning tours start at 6:30 am, and the afternoon tour starts at 2:30 pm daily. Both tours are 2.5 hours and cost $39 USD/pp.
Take Part in a Turtle Tour
Playa Camaronal and Playa Ostional are both popular sites for turtle hatching and nesting tours about a half hour from Samara.
At Camaronal Beach, endangered turtles can be seen nesting all year round with increased numbers from June- January. While at Ostional, you might be lucky enough to be in town for an "Arribada"- a rare occasion when hundreds of turtles come to nest from July to December.
If you want the best chance of seeing turtles, then a guided turtle tour will increase those odds. A knowledgeable guide will know what to look for. Samara Adventures offers one such tour.
Snorkel around Isla Chora
Located a hop, skip, and jump from Samara Beach, this secluded island is great for snorkelling, and exploring. Colourful fish, octopus, eels and more teem below the water's surface.
Snorkelling on Isla Chora is a popular stop-off for many ocean kayaking tours and dolphin-watching tours offered in town.
Samara Adventures offers a half-day combination dolphin-watching and snorkelling trip. You'll get the chance to see spotted and bottlenose dolphins, and possibly even humpback whales, depending on the time of year.
Take Surf Lessons
Playa Samara is a great beach for new surfers, as the waves tend to stay pretty mild, and some of the nearby beaches are great for more experienced surfers, like Carrillo and Barrigona. Whether you're completely new to surfing or just hoping to bone up on your skills, a surf lesson could be a good way to spend an afternoon.
C & C Surf School offers lessons for a variety of skill levels, along with rentals, tours, and other options. You can take a solo lesson or a group lesson, depending on your preference, from beginner all the way up to advanced.
Go Horseback Riding
While appreciating the beauty of the beach and the local scenery on foot is amazing, nothing quite compares to seeing it all from the saddle. Even if you've never been on a horse before, a horseback ride could be a perfect way to start, as trail horses in general are patient, docile, and prone to sticking together with the rest of the group. With a good horse and a guide who knows what they're doing, you can see the plants and the wildlife in a way you won't be able to in any other way.
Horse Jungle specializes in horseback-riding trips in and around Samara, whether you're a pro at riding or have never even seen a horse before. Their horses are well cared for, locations for rides are carefully picked, and their guides are well trained. Even small children are welcome.
Go on a Kayaking Tour
While the beaches are an obvious draw to the Samara area, there is also the River Ora and the mangrove forests, and there is Chora Island. In both cases, the best way to appreciate them is by kayak. You can get an up-close look at the mangroves and the wildlife from the river, and there are parts of Chora Island that are otherwise very difficult to reach.
Carrillo Tours offers a kayak tour of the River Ora and mangroves, with all equipment included. Book With Maria offers a combination kayak and snorkelling trip to Chora Island, open to advanced kayakers and newcomers alike.
Other things to do in Samara, Costa Rica
Where to Eat in Sámara, Costa Rica
We enjoyed delicious smoothies from Sámara's pop-up organic farmer's market, which takes place every Tuesday morning and Friday afternoon. We stuffed ourselves with falafel wraps from the Falafel Cafe, and yummy organic burgers alongside a delicious yogi bowl from Luv Burger.
Ahori Si was Sámara's first all-vegetarian restaurant and has lots of yummy vegan options. So we recommend you give it a try too.
But the highlight of our food escapades in Sámara was the dinners we had at Lo Que Hay, a Mexican-inspired beach-side restaurant with killer cocktails (ask them for their Guaro special), great food, and a great atmosphere. We loved it there so much and we ate there more than once.
On our last night in Sámara, instead of going out and having yet another meal at Lo Que Hay (because, let's be serious, we couldn't get enough of the delicious food there), we decided to stay in and spend an evening with our Airbnb hosts at Villa Mariola. We were treated to a delicious home-cooked meal and great company of fellow Canadian travellers and our lovely French hosts, Michele and Carine.
If you're in the mood for an Italian restaurant, Gusto Beach is open for brunch, lunch, and dinner, and they also have a cocktail bar. They're reasonably priced, and while they're known primarily for seafood and pizza, they also have vegan, vegetarian, and gluten-free options available. Located right on the beach, this is a great spot for a romantic dinner.
Or, if you're just looking for something quick and tasty, then Bohemia Cafe will probably hit the spot, open for breakfast, brunch, and lunch. The prices are low, the staff is friendly, and the menu is healthy and has vegetarian, vegan, and gluten-free options.
Nightlife in Sámara
Nightlife in Sámara is a hit and miss. Sámara was never bumping at night when we were there, but between night-time entertainment at Lo Que Hay, a few other bars along the beach, and Microbar Samara, there was enough to keep us entertained.
If you're keen to hit the dance floor, check out Club Arriba on weekends.
FAQ About Playa Samara, Costa Rica
What is Samara, Costa Rica known for?
Samara is famous as a surfing destination, but as you can see there is much more to do if surfing isn't your thing!
Is Samara Beach good for swimming?
Yes, thanks to a coral reef just off the shore, the waters of Samara Beach are calm, with no rip current to worry about. The waves are gentle, so it's safe for the whole family.
How long should I stay in Sámara, Costa Rica?
We planned on spending just 2 days in Sámara, but after getting a feel for the vibe of this laid-back town, we decided to extend our stay for another few days. And we were so happy that we did!
Stay as long as you feel like relaxing and soaking in the laid-back Tico lifestyle.
How do I get around Samara, Costa Rica?
Since Samara is a small beach town, you can easily get around on foot. If you'd rather not walk, there are shops that rent e-bikes and golf carts.
Things to do in Samara, Costa Rica
Surfing, snorkelling, ecotours, or just relaxing on the beautiful beaches and embracing the Pura Vida!
How to get to Samara, Costa Rica
If you have more destinations on your itinerary, it's probably easiest to rent a car and drive to Samara. It's a 3.5-hour drive from San Jose and about 2 – 2.5 hours from Liberia Airport. Or, if you're on a budget and would rather keep things simple, both San Jose and Liberia have bus routes running to Samara.
Where to Stay in Sámara, Costa Rica
There is not a ton of accommodation options in town, so book in advance if you are travelling in high season.
Eco Hotels in Samara, Costa Rica
Hotel Giada is a moderately priced, fully carbon-neutral hotel. They are located just 200 meters from the Samara beach.
Hotel Punta Islita's gorgeous, luxury beachfront accommodation is located just down the road from Sámara. It's their commitment to become one of the most eco-friendly beachfront hotels in Costa Rica.
Tico Adventure Lodge is a good, affordable option for anyone travelling alone, as single rooms start as low as $20. It's especially a good option if you want easy access to the water. Playa Samara is just a short walk from the lodge, and there's an outdoor swimming pool that's open year-round.
Between rooms and guest houses, there are 14 options, and even the most expensive guest house is fairly reasonable. Shops and restaurants are easy to get to, and the lodge strives for sustainability and comfort.
Beach Front Bahia is a relatively new hotel, having only opened in late 2021. It's great for guests who are feeling adventurous, as the staff can organize outdoor adventures and tours for the guests.
They have only a few rooms, and each one has a patio. It's the staff's dedication to provide the best service they can while simultaneously taking as many sustainable steps as possible. There is a restaurant on-site, primarily serving American, Belgian, and French food, and the hotel is just a few steps from Samara Beach.
Inner Light Yoga Lodge, as the name might imply, is more of a resort than a hotel. They have four lodges, each with a bathroom, kitchen, and patio, and they offer free beginner yoga lessons to guests. There are massages and reiki sessions available, and there is a shop on-site where they sell natural soap and hand-made accessories. The resort is plastic-free and very health conscious.
Have you ever heard of Playa Sámara, Costa Rica? Does it sound like a town you'd like to visit on your trip to Costa Rica?