Aside from being an incredible destination for eco-conscious travelers, there is a multitude of adventure activities in Costa Rica to satisfy even the most adventurous of travelers.
*This post may contain affiliate links, as a result, we may receive a small commission (at no extra cost to you) on any bookings/purchases you make through the links in this post. As an Amazon Associate, we earn from qualifying purchases. Read our full disclosure
Costa Rica truly has something for everyone. Its pristine beaches, lush green jungles, countless waterfalls and beautiful culture offer the perfect combo for anyone looking for an awesome holiday, relaxation or adrenaline-pumped.
Traveling Soon?

Here is a list of our favourite travel providers and accessories to help get you ready for your upcoming trip!
If you are wondering what you can get up to while you're here, here are 8 of our favourite activities in Costa Rica:
1. Zip Lining
Zip lining in Costa Rica is the most popular type of adventure for travelers coming to the country, no matter the age! It's one of those activities in Costa Rica that gives you an amazing buzz and stunning scenery at the same time. Most zip-lining companies offer multi-line experiences through the jungle, aptly named canopy tours! Canopy tours are offered all across Costa Rica, but there are our favourites.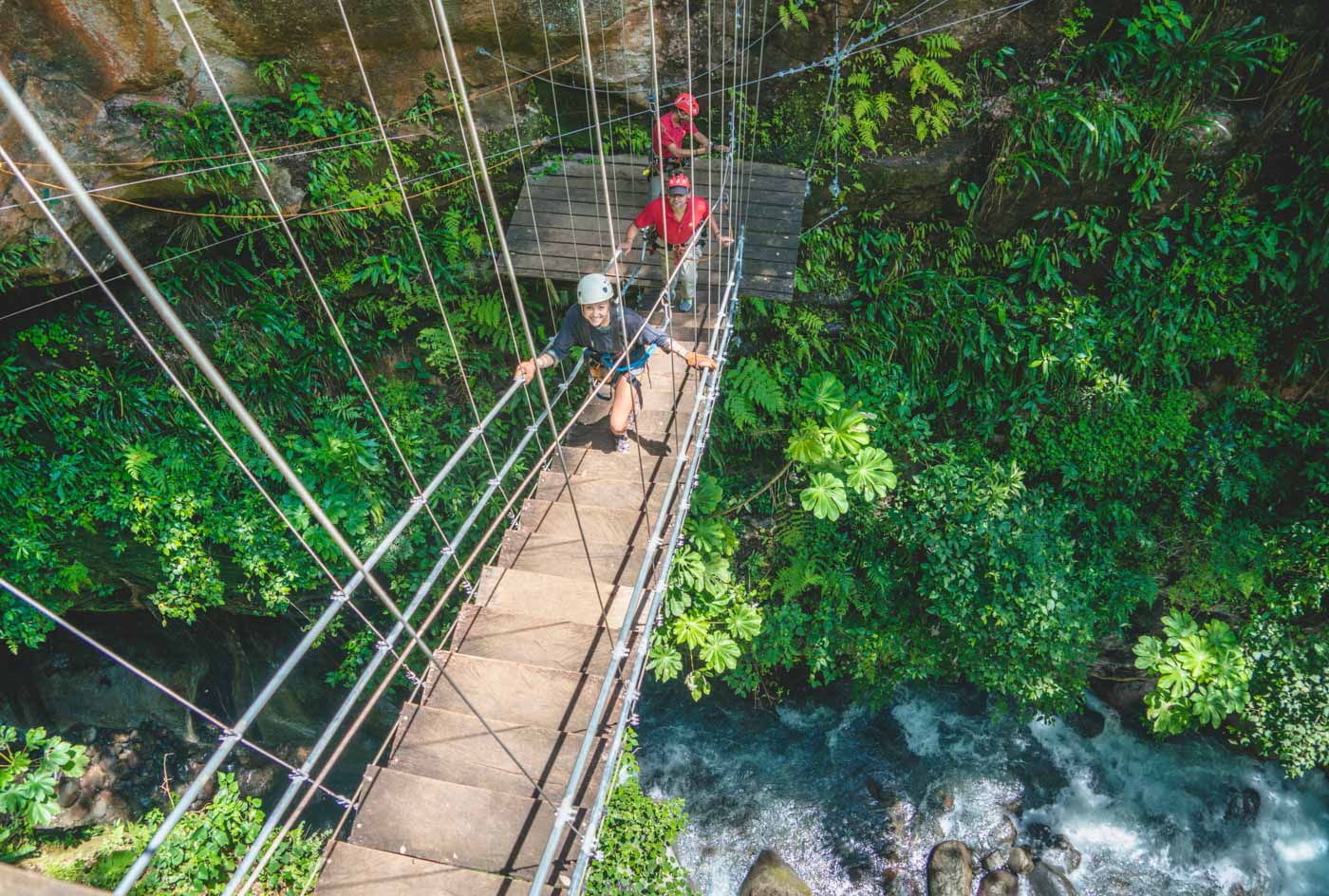 Arenal
With views of the Arenal Volcano way better than any you're going to see from the ground, it's hard to pass up a chance to fly above the canopy in this part of the country! Sky Adventures offers a 2.5-hour canopy tour for about $80.
Tamarindo
Though the Guanacaste region boasts a dry forest instead of the jungle, there is still a great canopy tour option just outside of Tamarindo, called the Diamante Superman Canopy Zipline. Prices range depending on what package you buy (the adventure company has a bunch of other fun stuff you can do) from $40USD to $120USD. We suggest opting for the Discovery Pass if you're looking to try out zip lining, hanging bridges, learn more about Costa Rica's biodiversity, and relax on a hammock on the beach after all's said and done.
Monteverde
Hands down one of the coolest places for zip lining in Costa Rica and the world! Aventura Canopy Tours boasts the longest zip line in Latin America for only about $50USD. The tour consists of 11 zip lines, a swinging rope bridge, an exciting rappel, 2 thrilling superman cables and a MEGA Tarzan Swing! It's definitely the funniest and scariest zip line adventure we've ever been on!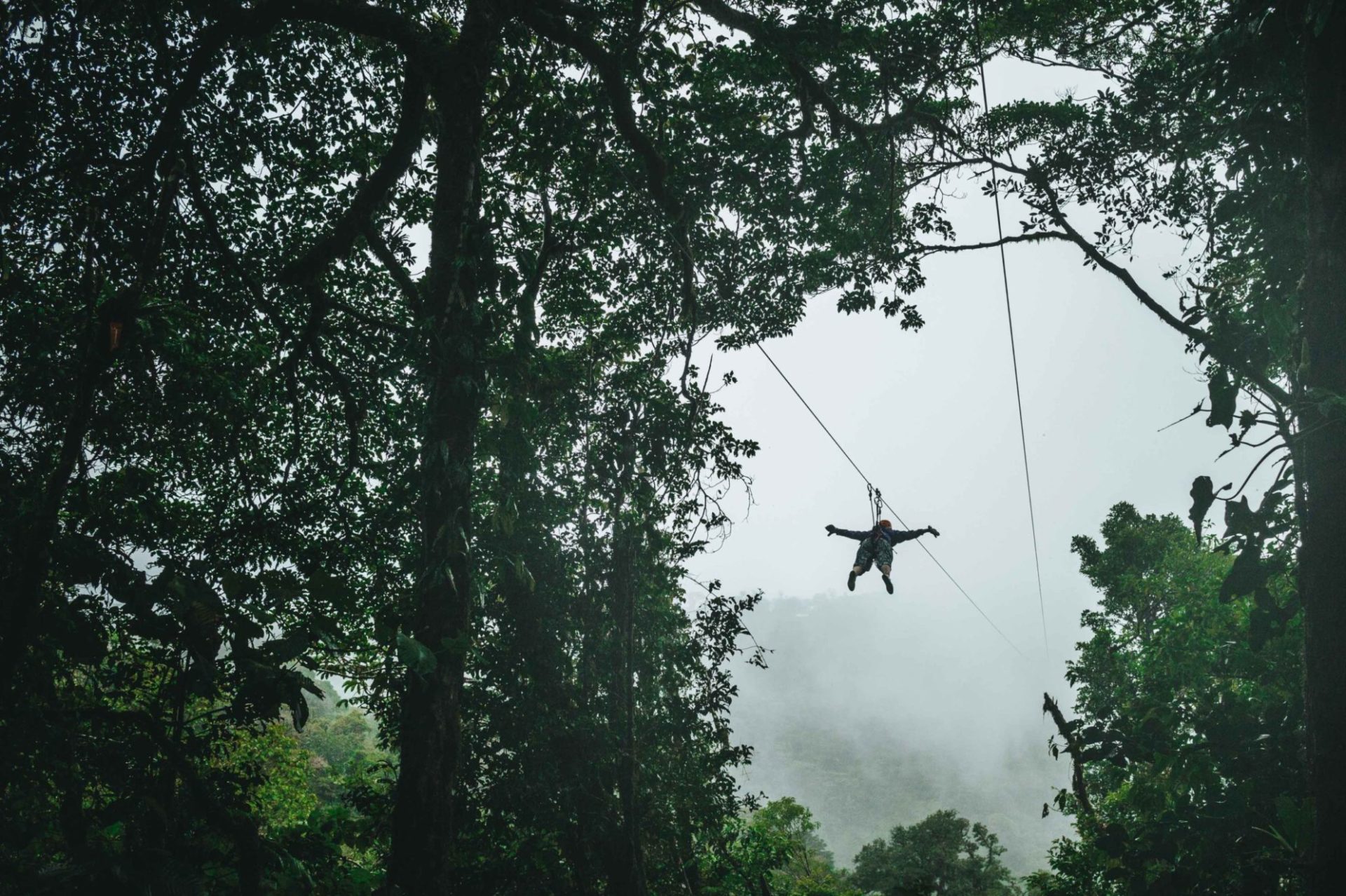 2. Horseback Riding in Costa Rica
Whether you want to trot along the beach at sunset, follow a trail through the rainforest, or ride into the mountains above San Jose, almost every popular tourist destination in Costa Rica offers visitors a chance to try horseback riding. If the canopy tours are little too adventurous for you, then you can opt for a softer adventure while horseback riding.
Horseback riding tours can be organized through your hotel or directly with one of these suppliers.
El Pinto Expeditions is the perfect choice for horseback riding in Costa Rica. They offer packages suitable for individuals or families with any level of experience horseback riding. Located in the Montezuma

region, this company does horseback rides on both oceanic beaches and inland. Each ride is about 4 hours long and costs $40/per person

Hacienda Guachipelin

offers a bunch of different horseback packages to explore the

Rincon De La Vieja National Park

all within the $40USD-$60USD range. A number of their tours also include a pass to natural Hot Springs… talk about a perfect end to a long day of adventure!

Caribe Horse offers horsebacks rides along the Caribbean coastline of Costa Rica. They offer everything from short 1.5 hour rides (about $50USD) to multi-day horseback adventures (upwards of $400USD).
3. Scuba Diving in Costa Rica
With two breathtaking coastlines, scuba diving in Costa Rica is an experience like no other! Whether you're a beginner or a pro, there are lots of diving options to explore. The best time to go scuba diving in Costa Rica is between December and May – Costa Rica's dry season. This ensures that the waters will be calm, clear and an abundance of marine life will be inhabiting the dive sites.
These are Costa Rica's best diving destinations:
Cocos Island
Cocos Island National Park is, hands down, the best place to dive in Costa Rica and one of the only places in the world where you can dive with hammerhead sharks! Located 543 km off the coast of Costa Rica, Cocos Island island takes approximately a day and a half to get to and can only be reached on a liveaboard. The trip is pricey, a 7-day liveaboard costs around $5,000/person, but the experience is well worth the money and the time.
Cano Island, Osa Peninsula
Cano Island is the second best spot for diving in Costa Rica. The island is located off the coast of Osa Peninsula in South Pacific and is home to some incredible dive including a sunken ship and a pinnacle. Cano Divers Costa Rica offers packages ranging from $140USD to $200USD depending on the number of dives you do.
Catalina Islands
Catalina Islands are one of the easier to get to dive locations in Costa Rica. The islands are easily accessible with a 30-minute boat ride from Playa del Coco, in North Guanacaste. Here, you'll have the opportunity to swim with Mantas, sharks, turtles, eels and huge schools of fish – without breaking the bank. Two dives at Catalinas with our recommended provider, Deep Blue Diving, will set you back by $115/person.
Bat Islands
Located off the coast of Playas del Coco inside the Santa Rosa National Park, Bat Islands offer another set of dive sites along the Pacific Coast. Unlike the other dive sites, Bat Islands are best later in the year, specifically between May-October. The highlight of this area is a chance to come face-to-face with bull sharks. Due to surges, rough surface conditions and strong currents, the sites are best suited for advanced divers! Deep Blue Diving offers dive packages starting from $155USD to $185USD.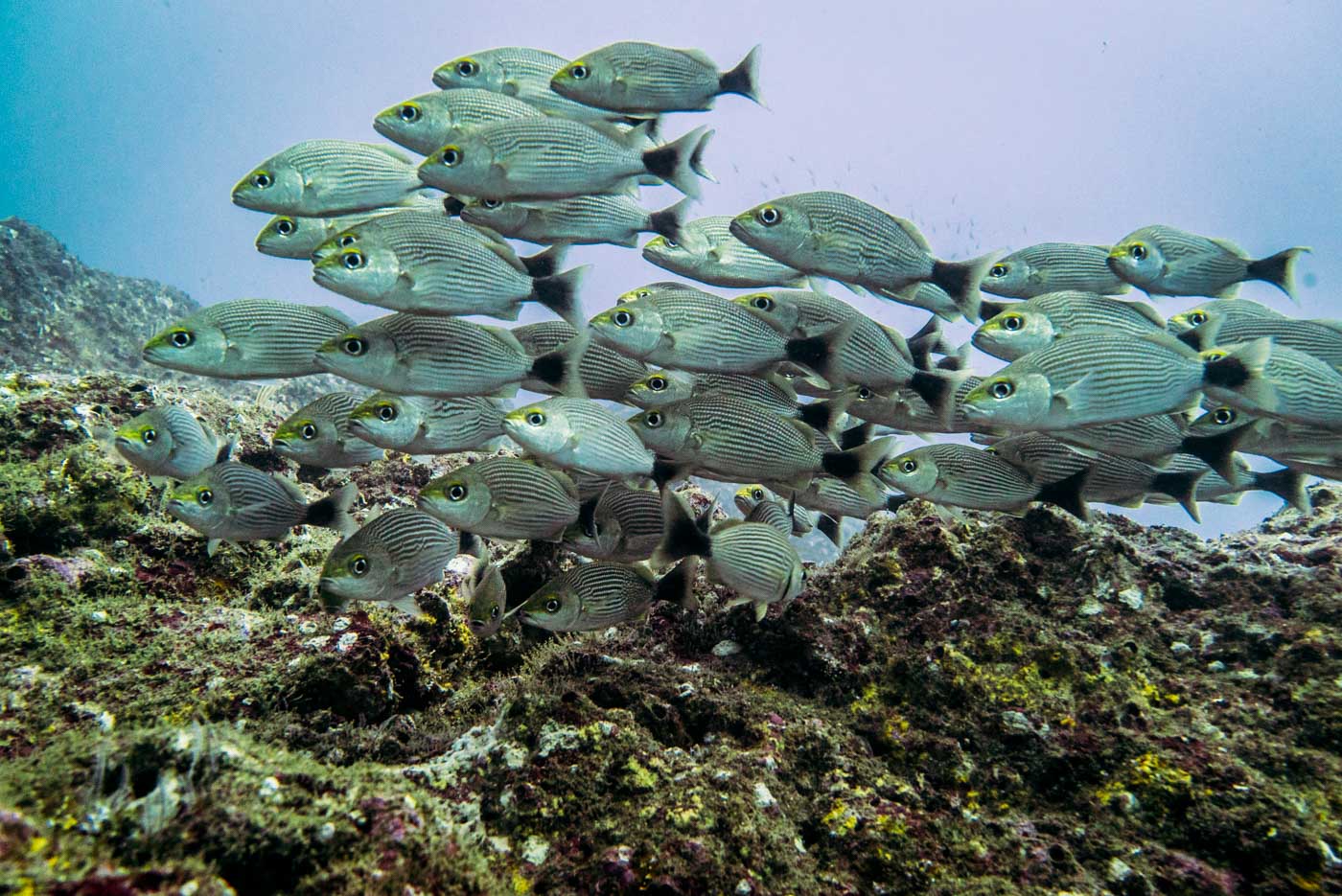 4. Whitewater Rafting in Costa Rica
Whitewater rafting can seem like a pretty extreme adventure activity, but there are options available all over Costa Rica for every level of experience. Desafio Adventure Company is one of the premier providers of whitewater rafting in Costa Rica that offers trips to multiple rivers across the country.
Rio Balsa (Class II-III)
Rio Balsa is the perfect place for people who have never rafted before and are looking for a safe, exciting experience of white water rafting in Costa Rica! This river is suitable for families with children, newcomers, and experienced rafters alike, and Río Balsa Half-Day Rafting Adventure only costs about $69USD/person!
Rio Balsa, Costa Rica
Rio Sarapiquí (Class II-III)
Sarapiqui is a beautiful river but much less known and visited than the others offers a good trip for beginners. Tours run out of San Jose or the Arenal area, from mid-May thru mid-March. Day trips to Sarapiqui start at $75USD/person.
Rio Naranjo (Class IV+)
The El Chorro section of the Rio Naranjo is a rafting adventure for those who are experienced thrill-seekers. This trip includes 9 technical narrows and navigating the raft through extremely narrow canyon walls. This full-day trip costs about $85USD and runs from June through November.
5. Surfing in Costa Rica
Surfing Costa Rica's Pacific Coast is an unforgettable experience. Whether you're new to surfing or have been riding for years, there's a beach out there for you! Most surfers come during the dry season – December to April.
Beginners
Playa Tamarindo is probably one of the most popular beaches for beginner surfers to get out into the water and learn. There is a range of different instructional options, ranging from single lessons to multi-day surf camps with prices ranging from $40USD to well over $100USD depending on the package. If you don't need a lesson and just want to practice, you can rent a board for hourly rates of as low as $10USD/hr or day rates of $20USD+.
Intermediate/Advanced
Advanced surfers will find a variety of great surfing beaches to choose from. In Guanacaste, Playa Grande, Playa Negra, and Witches Rock, located in Santa Rosa National Park are considered to be some of the best spots. Further along the Nicoya Peninsula, Santa Teresa offers another alternative for surfers, particularly those who are looking to stay for a while. If you're a bit rusty on the board, you can book yourself in for private surf lessons in Santa Teresa.
In Central Pacific, there is Playa Jaco, Playa Hermosa, and Dominical to name just a few. On the Caribbean coast, most surfers gravitate towards Puerto Viejo and Playa Cocles.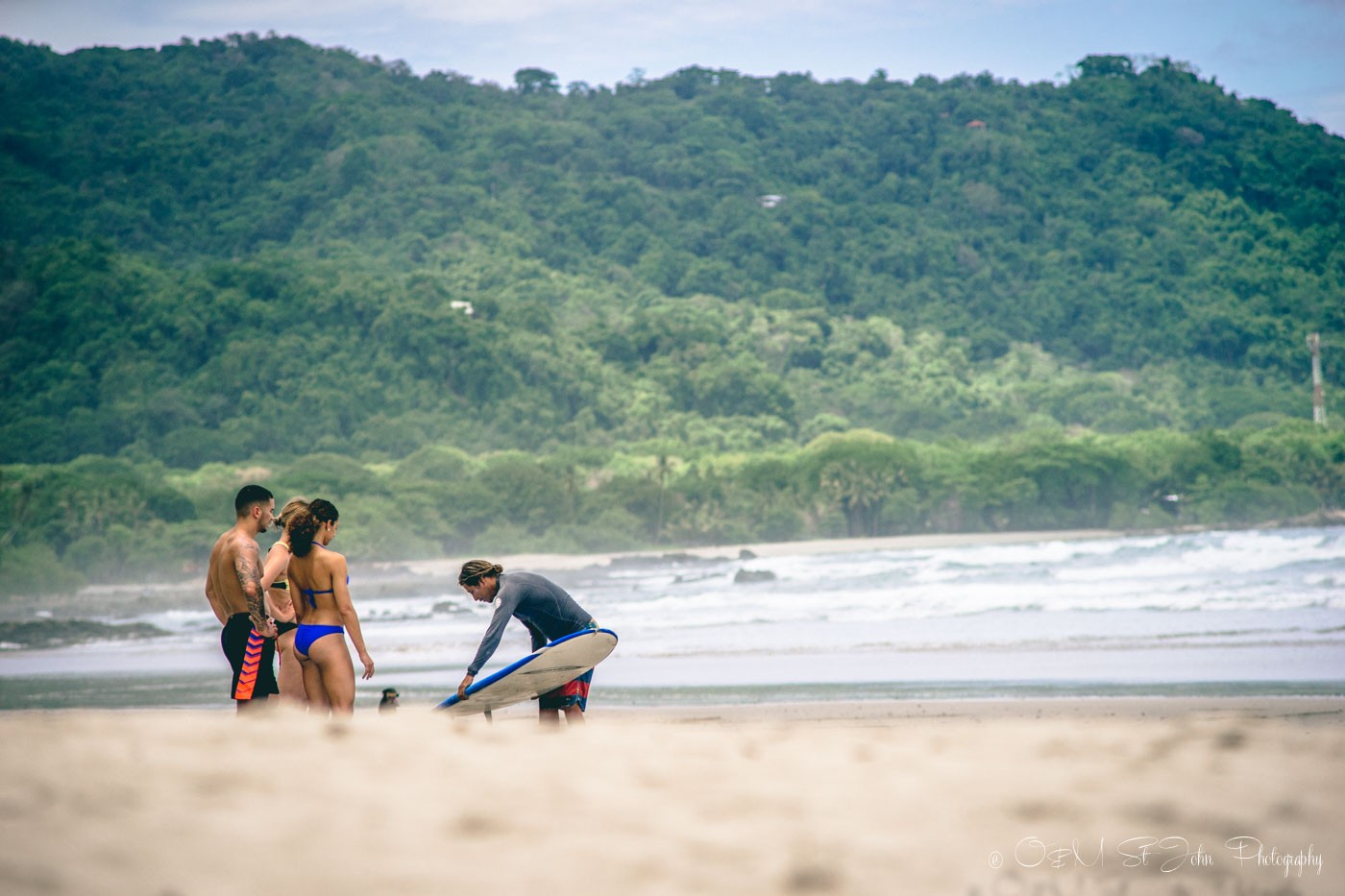 6. Hiking in Costa Rica
There are 27 national parks in Costa Rica, and countless other reserves and protected zones with endless opportunities for hiking in Costa Rica! Hiking should most definitely be on your list of activities to do in Costa Rica.
Manuel Antonio National Park
Manuel Antonio is located along the Central Pacific coast and is best known for as the park where you can hike (or take a leisurely stroll) through the national park and arrive at the beach. But aside from the main trail, there are 10 other trails to explore within the park, ranging from 287m to 1.2km in length, and easy to moderate in difficulty. For the best sunset in Costa Rica, hike from the entrance of the park to Playa Espadilla Sur!
If you would like to learn more about the park as you explore, then a guided full-day hike and wildlife tour of Manuel Antonio National Park would be the perfect choice.
Monteverde Cloud Forest Reserve
Monteverde is one of the most famous destinations in Costa Rica. It's called a cloud forest due to a mixture of elevation and climate. Most of it is still primary rainforest, and you can experience it with the help of a guide or on your own.
Corcovado National Park
Corcovado National Park is our favourite national park in the entire country! It's a beautiful place to spend a day or even stay overnight, but all visitors are required to have an experienced guide with them at all times. This is to ensure that the wilderness of the park remains as wild as possible!
Foreigners have to pay a $15USD/day entry permit plus the price of your tour (ranging from $80 for one night). You can learn more about experiencing Corcovado here!
7. Kayaking in Costa Rica
No matter what kind of scenery you'd like to kayak through, Costa Rica has something to offer!
Manuel Antonio National Park
Within the Manuel Antonio National Park, you can go kayaking at the Damas Island estuary. You'll be able to navigate through mangroves and see a range of monkeys, birds and maybe even a crocodile.
Arenal
If ziplining next to the Arenal Volcano isn't for you – why not do a Lake Arenal kayaking tour instead? You'll have an incredible view of the volcano and beautiful calm waters to navigate.
Tamarindo
Though Tamarindo is best known for being a relaxed beach town, they also have incredible kayaking opportunities through the local mangroves. The Tamarindo Estuary kayaking tour is available year round!
Osa Peninsula
Golfo Dulce – located in the Osa Peninsula – is our favourite place to go kayaking in Costa Rica. Not only do you get to navigate through some of the most breathtaking mangroves in the country – you have a chance to spot dolphins, manatees, sea turtles and so much more (and costs about $45USD for a day trip)! Its location also makes it ideal for beach swimming, so right after your tour, you can go play and relax.
8. Rappelling & Canyoning in Costa Rica
For those of you who want to try their hand at a true adventure sport without having a lot of experience, rappelling and canyoning are the perfect activities in Costa Rica. And what's so special about doing it here is that it's one of the only places in the world where you can go waterfall canyoning.
You can experience family-friendly waterfall rappelling at Arenal Volcano. There are half-day trips available for less than $100USD. Or, head to Rio Colorado for a 2.5hour canyoneering tour with La Victoria Waterfall.
Another one of the many adventures available within the Manuel Antonio National Park is rappelling and canyoning the Nauyaca Waterfalls. You can either hike 12k or come in by horseback to get to these waterfalls, and tours cost around $70USD a day.
In Uvita, you can go on a canyoning tour that includes 6 waterfalls, 4×4 transportation, and a laid-back typical Costa Rican lunch – all for about $100USD.
So many fun activities to do in Costa Rica!
And so little time! It's hard to believe that a small nation like Costa Rica can pack so much adventure into its borders, but the truth is, this isn't even the full list of activities in Costa Rica.
The good news is, that when it comes to adventure activities there is no best time to visit Costa Rica. There is plenty to do all year round. If you love outdoor adventures, the biggest challenge when planning a trip to Costa Rica is going to be choosing which activities you want to do first!
Have you got more tips for activities in Costa Rica? Share your ideas with us below!