Monteverde, Costa Rica is a world away from the country's hot beaches and all-inclusive resorts but has its own unique charm. It is a prime ecotourism destination in Central America famous for its lush rainforests and impressive assortment of flora and fauna.
*This post may contain affiliate links, as a result, we may receive a small commission (at no extra cost to you) on any bookings/purchases you make through the links in this post. As an Amazon Associate, we earn from qualifying purchases. Read our full disclosure
Located in the heart of the Cordillera de Tilaran mountain range, the famous Monteverde Cloud Forest is one of Costa Rica's biggest attractions. This biological reserve straddles the Continental Divide and hosts 70,000 tourists a year, playing a big part in Monteverde's economy. It is a popular spot for scientists, wildlife lovers and outdoor enthusiasts alike.
Don't leave your home without Travel Insurance!

From the US? We recommend Allianz Travel Insurance, a world leader in travel protection and our trusted Travel Insurance partner for the last 5 years. Allianz offers Single Trip and Annual Travel Insurance Policies that include medical coverage, trip cancellation, rental car insurance and more! (Benefits vary by state and by plan, so read your policy carefully!)

Not a US resident? Consider Safety Wing, a budget friendly travel insurance provider with travel insurance plans for Digital Nomads and travelers from all around the world.
Although the drive-in can be rough, a visit to Monteverde Cloud Forest and the nearby attractions are well worth the trek. Its unique cloud forests consist of fragile ecosystems that are ultra-sensitive to the effects of climate change. These wondrous forests may not be around forever, so definitely plan to visit while you can.
Beyond the cloud forests, you can explore many restaurants, coffee shops, and tours within the communities of Monteverde and Santa Elena, Costa Rica. Much like the rest of the country, Monteverde is a safe area that makes for a worthy stop on any Costa Rica adventure.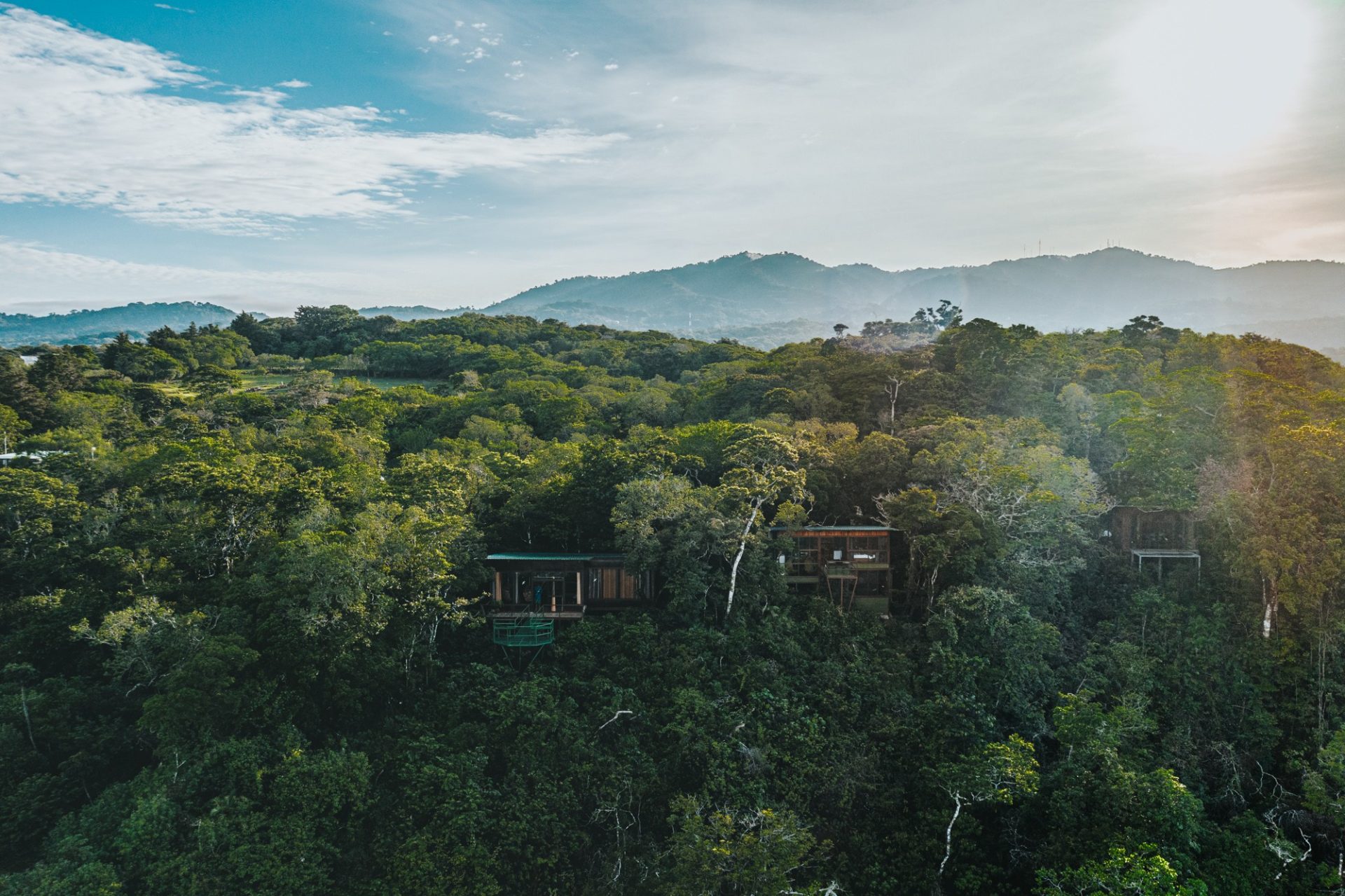 Traveling Soon?

Here is a list of our favourite travel providers and accessories to help get you ready for your upcoming trip!
About Monteverde Cloud Forest
The Monteverde Cloud Forest, the main attraction of this area, stretches over a protective area of 35,089 acres together with its younger and lesser-known cousin, the Santa Elena Cloud Forest.
The Monteverde Cloud Forest Biological Reserve was established in 1972 by the Tropical Science Center. It initially covered only 810 acres of forest land, but today, this rich ecosystem extends far beyond (to 35,000 acres, to be exact). It encompasses 8 microclimates and houses over 100 species of mammals, 400 species of birds, and 1,200 species of amphibians and reptiles within its region.
Nestled in between the two cloud forests, some 140 km (87 miles) from San Jose, is the town of Santa Elena, a Quaker settlement dating back to the 1950s. Because Costa Rica is such a peaceful nation, Quakers left the politics of the US behind to settle the rich soils of the area. They began dairy farming and built a thriving industry in the lush tropical forests. They aimed to cut down as few trees as possible and conserve natural beauty by establishing one of the country's first private reserves.
Monteverde Cloud Forest has been a popular tourist destination in Costa Rica for over 30 years, made especially popular by the 1983 National Geographic article that labelled it the mecca for bird and wildlife watchers. Today, the crowds continue to flock to the Monteverde Cloud Forest Reserve and the area that surrounds it.
The cloud forest attracts everyone from budding photographers with tripods and telephoto lenses to families looking to immerse themselves in nature and adventurous backpackers hoping to find adrenaline-filled activities.
Best Time to Visit Monteverde, Costa Rica
The only downside to the region has got to be the weather. No matter what time of the year you are visiting, be prepared for cold nights, and chilly, windy, and misty days.
Similar to the rest of Costa Rica, the Monteverde area and the Monteverde Cloud Forest see two seasons: the rainy and dry seasons.
The rainy season is technically from June to October, but don't expect blue skies and sunshine during the dry season either. In fact, Monteverde gets about 102 inches of rain every year—that's 8 feet! Temperatures do not vary much throughout the year, they hover around 24 degrees (75°F) year-round. It cools down significantly overnight, so be sure to layer up and pack warmer clothes for your visit.
Interestingly, the mist that often descends on the area is called 'pello de gato' by the locals which means "cat fur". It is present sometimes, even when the sun is shining, which means the area does get some fabulous rainbows. Pack the right gear, and you'll be able to enjoy a lovely visit to the area.
How to Get To Monteverde, Costa Rica
By car
Monteverde is located just 2.5-3 hrs drive from San Jose, roughly halfway between San José and Liberia airports. If you are driving, take Highway 1 towards San Ramon and then Liberia, past Esparza and Puntarenas. Take the exit to Sardinal and follow signs to Monteverde. Similarly, if you're travelling from Tamarindo, the drive takes about 3.5 hours.
Be prepared for a windy adventurous ride up the mountain at the end of the route! Because of the elevation and nature of the cloud forest, Monteverde is no stranger to strong winds. These winds are particularly intense from November to March. Be sure to read up on and follow our Costa Rica driving tips for a smooth ride.
We always recommend renting a car in Costa Rica but if you don't have wheels, private shuttles are available too.
Book the Best Car Rental in Costa Rica

Renting a car in Costa Rica can be one of the most challenging parts of your visit! Unfortunately, car rentals in Costa Rica often come with significant hidden insurance fees, result in many frustrations at pick-up. The experience has ruined many trips and ballooned trip budgets for friends, family and followers. After years of not having a good solution, we finally found an honest car rental company that we proudly recommend to our readers.

We recommend booking with Vamos Costa Rica – a local car rental company that offers fantastic service and NO HIDDEN FEES and get 10% of your rental rate plus FREE additional driver, FREE child seat and other perks and benefits when booking through our link below!

Book early as rental car availability all across Costa Rica is currently lower than demand!
By Shuttle Bus
Several shuttle buses also operate daily along the San José-Monteverde, or Monteverde-Arenal route with one-way ticket costs starting at USD $45/person from San Jose or USD $35/person to Arenal (La Fortuna).
Shuttle buses leave San Jose to Monteverde every day at 7:00 am and 2:00 pm.
Interbus is a reputable shuttle-bus company that also does airport shuttle pick-ups. You can book directly on the Interbus website.
The Interbuses are comfortable coach buses with A/C or heat and reclining seats.
Local Buses
We would recommend the very green alternative of taking local buses. They are hassle-free, comfortable and well-connected. If you are taking the bus from San Jose, there are two direct buses in operation by Transmonteverde. They leave at 6:30 am and 2:30 pm every day and the trip takes approximately 4.5 hours.
The Bus Schedule is a great resource for checking up-to-date bus schedules for destinations nationwide. However, you cannot buy tickets online but in person upon boarding the bus. The cost is approximately $6/USD in Costa Rican Colones.
Getting Around Monteverde Costa Rica
The town of Santa Elena and Monteverde, Costa Rica is easily explored on foot. However, all the major activities, as well as the Cloud Forest Reserves and hiking trails, are all further away and are best accessed by car. Some hotels in town provide free transportation for tours and into the park, but having a car will certainly give you more freedom to explore the area at your own pace.
Things to do in Monteverde Costa Rica
1. Explore the Monteverde Cloud Forest Reserve
It is no surprise that the list of things to do in Monteverde Costa Rica begins with the Monteverde Cloud Forest Reserve itself. After all, this is what makes this area one of the seven natural wonders of Costa Rica.
The park is home to lots of unique wildlife with over 1,200 species of amphibians and 400 species of birds. Monteverde is one of the best places to spot a resplendent quetzal, a unique and colourful bird that migrates to the park during mating season. Within the reserve, you'll also find monkeys, an occasional tapir, and of course, Costa Rica's famous sloths.
Only 3% of the Biological Reserve is accessible to visitors. But, even that is enough to spend a whole day exploring some 13 km network of trails that lie within the cloud forest. The trails are in order and easy enough to navigate on your own. Although, we highly recommend that you splurge on a guide.
Our local guide was not only instrumental in helping us spot the amazing inhabitants of the forest, but also served as an insightful source of information about the flora, unique habitat, and history of the area.
Hiking Trails in Monteverde Reserve
There are 6 main trails to explore beneath the forest canopy. Some trails are short and only take about 10 minutes to complete but still boast amazing views of the trees. Longer trails range from 1-2 km (0.6-1.2 miles) and wind around swamps and waterfalls with glimpses of flowers and butterflies throughout. You'll quickly see why the area is called Monteverde, which is Spanish for "green mountain."
The most popular trail is the Sendero Camino (2 km / 1.2 miles), which leads to the hanging bridge. Suspension bridges in the Reserve give you an incredible view of the treetops from the height of the rainforest canopy.
The next longest and most popular trail is Sendero Bosque Nuboso (1.9 km / 1.2 miles). It boasts a spectacular viewpoint of the Continental Divide with unique strangler fig plants along the way.
For another route to the hanging bridge, follow Sendero Chomogo (1.8 km / 1.1 miles) and Sendero Roble (0.6 km / 0.4 miles). This route sits 5,510 feet (1,680 m) above sea level with beautiful oak and heliconia plants.
From the bridge, you can follow Sendero Wilford Guindon (0.9 km / 0.5 mile) and Sendero George Powell (0.2 km / 0.1 mile) for a different walk on your return. Nature lovers will love the towering ficus tree and incredible flora along the way.
And finally, walk along the Sendero Tosi (0.5 km / 0.3 mile) and Quebrada Cuecha (0.5 km / 0.3 mile) to reach the waterfall. It may not be the biggest waterfall in the world, but it's a lovely treat surrounded by birds at the end of the hike.
Entry Fees and Hours
Entry into the Monteverde Cloud Forest Reserve is USD $20 per person (Gringo price, Costa Ricans pay only USD $7) plus an additional USD $20 for a half-day guided tour which includes transportation to and from the reserve.
2. Go Ziplining
If you have ever read through any type of "Top travel experiences to have in your 20s/30s/etc" list, you'll know that zip lining in Costa Rica is an experience like no other. And the Aventura Canopy Tour experience in Monteverde Cloud Forest was well and truly breathtaking and worth it.
The tour started with 2 simple zip-lines but quickly progressed to pulse-racing, breath-taking stuff. First is the 1590m (1738 yards) superman zip-line, the longest zip-line in Latin America, following a 148 ft fall on the Tarzan swing. Our heart rates must've climbed to 190bps, but the incredible adrenaline rush and the bragging rights that followed were completely worth it. The Aventura Canopy Tour cost us USD $54/pp.
Selvatura Park is another popular provider of the Monteverde Costa Rica zip line experience and charges the same rate of USD $73 for their version of the Canopy Tour package. If you happen to be staying in La Fortuna, there is also a day trip package available.
3. Learn about Coffee, Costa Rica's Biggest Export
Instead of investigating this popular activity for ourselves, we sent in Oksana's mom, one of the biggest coffee drinkers we have ever known. And if you ask Oksana's mom, the Don Juan Coffee Tour definitely topped her list of things to do in Monteverde, Costa Rica.
The Costa Rican culture, traditions, and history are closely intertwined with the production of coffee. So for Oksana's mom, getting immersed in the Costa Rican way of life and learning all the intricacies of the coffee-making process was an eye-opening and unforgettable experience!
The price of a Don Juan Tour is $35 USD per person. They have a Certificate of Sustainable Tourism and offer four tours daily. Recently they expanded to include chocolate and sugar cane demonstrations on the coffee plantations tour as well.
4. Discover the Orchid Garden
It is said that Costa Rica has over 1,300 species of orchids and the Monteverde Orchid Garden is home to 425 of them, being the largest collection of orchids in all of the country. The 35-40 min guided tour of the Orchid Garden is bound to squash your perceptions of orchids and teach you the truth about these often tiny and endangered flowers.
The biggest shocker for us – the orchids that you think you know and love are not naturally grown, but rather cross-pollinated hybrids created in a lab. Cue sad music… The cost of the Orchid Garden tour in Monteverde, Costa Rica is just USD $14. The Monteverde Orchid Garden is open every day from 8 am to 5 pm.
5. Explore the Town of Santa Elena
Santa Elena itself is worth the trip up the curvy mountain dirt road. It's a burst of civilization among the tranquillity of the Santa Elena Cloud Forest and the Monteverde Cloud Forest, Costa Rica.
Despite being one of the most touristy destinations in Costa Rica, it is still just a snug little town with a quiet and peaceful atmosphere. It's a place where you can choose to kick back and relax and unwind, or just as easily fill your day with one of the countless things to do in Monteverde.
The town has a great selection of accommodation, restaurants, bars, shops, and attractions that make it a great place to spend a few days while exploring Costa Rica.
Other Things to do in Monteverde Costa Rica
There are a plethora of outdoor activities and tours to fill more than a few days in Monteverde, so if you are rich on time check out any of the following.
6. Go Canyoning
Finca Modelo puts on an amazing Canyoning Tour just 10 minutes away from Santa Elena. You'll rappel down 6 different waterfalls up to 131 feet tall! It's a fun way to see the cloud forest from a different perspective and get your adrenaline flowing. A 2-hour tour is USD $55 and includes transport to and from Monteverde. Tours are available at 8:00 am, 11:00 am, and 2:00 pm daily.
7. Explore the Forest at Night
Once the sun sets, a whole new world of nocturnal animals emerges in the cloud forest. Observe these hidden wonders on a Hidden Valley Trail Night Walk through the Valle Escondido Nature Reserve. Keep your eyes peeled for bats, armadillos, lizards, and glasswing butterflies. Tours are 2 hours long from 5:30 pm to 7:30 pm and are USD $35/pp.
8. Try Bird Watching
Monteverde is spoiled with over 400 species of uniquely beautiful birds and a Bird Watching Tour is the best way to see them. Monteverde Tours hosts a 4-hour tour that winds through a lower-elevation cloud forest that's brimming with birds. You'll need to be up bright and early at 5:30 am but the wildlife viewing is well worth it. Rates start at USD $50/pp.
9. Go Horseback Riding
If you're keen to saddle up and explore Monteverde like the locals do, add Horseback Riding to your itinerary. Horse Trek offers short and multi-day horseback riding tours through hidden pockets of the cloud forest that you wouldn't see on foot. Try a Mountain & Farm View Ride (2.5 hrs) for USD $49 to explore the peaceful countryside. Or if you're feeling adventurous, buckle in for a 3-day trek from Monteverde to Arenal for USD $399.
10. Walk the Hanging Bridges
Walking along the top of the cloud forest canopy is the best way to see Costa Rica's monkeys and birds. A Hanging Bridges Tour offers incredible views of the cloud forest landscape and all the wildlife that call it home. Plus, this tour includes transportation from San José, a stop at a fruit stand, and a delicious Costa Rican lunch. This full-day tour starts at USD $165/pp
11. Ride the Sky Tram in Costa Rica Sky Adventures Monteverde Park
For the best of both worlds, try pairing the hanging bridges Sky Walk with panoramic views from high up in the Sky Tram at Sky Adventures Monteverde Park. This Full-Day Sky Tram Tour takes you up in a cable car for sweeping views like no other. The tour also includes transportation to and from San José, lunch, and a visit to a popular monkey hangout. Rates start at USD $172/pp.
12. Be a Little Amphibious
In addition to the park's thrilling adventures, there are lots of other smaller local activities available too. For instance, a visit to the Frog Pond is a fun way to observe the many frog species in the area. You'll be amazed at the bright colours and variety of amphibians nestled in the leaves. The entrance fee is USD $20 and includes daytime and night tour admission.
13. Explore the Bat Jungle
Similarly, the Bat Jungle offers a unique exhibit where bats fly through a simulated jungle environment. There are 85 live bats that eat, sleep, and socialize right before your eyes. The exhibit costs USD $11 to enter and is run by a well-known bat biologist who has tons of insight to share on the nocturnal species.
The exhibit was deliberately designed to look like the cloud forest at night (bats are nocturnal, after all). But rather than just wandering around blindly, follow a guide on a 45-minute tour to see the bats and the interpretive exhibits. It's fun and educational, so it's a great choice for families looking for a good way to keep the kids entertained for part of the afternoon.
14. See the Butterfly Garden
For a dose of peaceful nature, visit the Butterfly Garden which is home to 30 species of butterflies and 20 species of insects. The Butterfly Garden is a lovely way to spend an afternoon and learn all about Costa Rica's bug life. There are in-person tours daily from 9 a.m. to 3 p.m. that cost USD $18 per adult.
15. Indulge Your Inner Cheese Lover
Lastly, who doesn't love cheese?! Visit the Monteverde Cheese Factory to see the amazing local dairy industry up close. It was started by Quakers and now employs hundreds of local Costa Ricans. Tours are no longer available but you can still visit to see cheese being made and buy some to take home.
16. Appreciate Nature and Wildlife
Curi Cancha Reserve focuses on conserving the environment and the native species, and they educate visitors by offering historical and nature tours. The nature trails are beautiful, the guides are experienced and there are a variety of tour options. The prices are reasonable, starting at USD $33, and the money goes back into preserving the area's natural biodiversity.
The Hidden Valley Permaculture Farm offers a tour of the organic farm, including a brief lesson on the ethics and principles of permacultures. Throughout the tour, you'll learn about the various systems in place on the farm and how they function.
The Reserva Bosque Nuboso Santa Elena is a nonprofit project near Monteverde, founded in 1992. Tour prices start around USD $30, and all the proceeds from tours, walks, and the reserve's other services in reinvested back into the business. While it does get busy, it's noted for being less crowded than some of the more popular tourist destinations. You can go on a self-guided walk, or get a tour from a professional guide, who can help you spot some more elusive wildlife.
17. Explore Valle Escondido Nature Reserve
The Valle Escondido Nature Reserve has tons of opportunities to see the plentiful species of birds and plants in the area, on their walking trails and platforms. The trails are gorgeous and, notably, this is the only nature reserve that is wheelchair accessible. Regular admission is USD $18, while tours start at $35.
18. Walk Above the Canopy at Santa Elena Skywalk
The Santa Elena Skywalk is another popular activity in Monteverde, Costa Rica. Using a number of trails and suspension bridges, the walk takes you from the ground up to the canopy of the Cloud Forest, to let you see it from a new and incredible angle with a guide. If you're feeling brave, you can even do the Skywalk at night. Adults can experience it for $41.
19. Experience Culinary Traditions
The Ecological Sanctuary in Santa Elena offers nature walks and wildlife spotting opportunities in the cloud forest, but what you might not know is that they also offer a cool coffee experience. Learn about the region's history with coffee, get some hands-on experience, and finish the tour with a coffee tasting. Traditional cooking lessons are also on offer, where you can learn how to make several authentic Costa Rican dishes.
Best Restaurants in Monteverde, Costa Rica
Bar Amigos
Bar Amigos is the Creme de la Creme of Monteverde Costa Rica restaurants. If you are searching for an authentic Costa Rican evening experience, look no further than Bar Amigos. Nestled at the end of a small alleyway just off the main street in Santa Elena, this place is as local as it gets. On the menu, you can find a fine selection of Tico dishes, like Chicharrones, Ceviche, Fish Tacos and Trés Leches cake, in the fridge – cold local beers for just 1,300 Colones (USD $2.10), and on TVs – local football matches or bull riding.
For those looking for entertainment at night, Bar Amigos has a great dance floor and sometimes even salsa lessons. But if the steps of merengue and salsa are still too complex for you to grasp, there is always good fun to watch the locals dance their hearts out until the wee hours of the morning.
Restaurante Celajes
Located at Hotel Belmar in Monteverde, Restaurante Celajes has true farm-to-table cuisine. The property overlooks the ocean and gathers food from its farm and garden to ensure freshness. They are open for breakfast (7-10 am), lunch (12-3 pm), and dinner (6-8:30 pm), and reservations are suggested in the evening as it is a popular place to dine. The restaurant also offers vegan and vegetarian options.
Tree House Restaurant & Cafe
Have you ever had a meal in a tree? The experience at Tree House Restaurant & Cafe in Santa Elena is close enough! Instead of cutting down a massive tree, the restaurant was built to include it as part of the structure. It is a different concept. Also, the restaurant is owned by and employs locals for a truly Costa Rican feel. They serve Costa Rican cuisine but also offer other options with a Latin American and Peruvian flair.
San Lucas Treetop Dining Experience
The San Lucas Treetop Dining Experience is a unique dining experience in Monteverde, Costa Rica. The dining rooms consist of a number of platforms in the canopy of the trees, literally close enough to reach out and touch them. It's considered one of the best fine dining experiences in Monteverde and the prices reflect that, and it's not a great idea if you need to feed a big group, but it's perfect nice restaurant for a romantic evening.
El Sapo Restaurant & Bar
If you're looking for something that tastes great but won't break the bank, El Sapo Restaurant & Bar is it. They serve Costa Rican food prepared with organic ingredients, and offer vegetarian, vegan, and gluten-free options. Ranked as one of the the top 5 restaurants in Monteverde by Trip Advisor, El Sapo is a visitor favourite!
Farm to Table Escondido
As the name implies, Farm to Table Escondido is the restaurant attached to the Valle Escondido Nature Reserve, and it's the top-ranked restaurant in Santa Elena, according to Trip Advisor. They serve a mix of pizza and contemporary Costa Rican dishes, and despite the impressive pedigree, offer a reasonably priced menu.
The Green Restaurant
The Green Restaurant contributes to the local economy by using foods grown in the local area. It's a smaller restaurant. But, the few dishes they make are done with excellence. Served in the "Pura Vida" Costa Rican way.
Taco Taco
Who doesn't love tacos? And Taco Taco serves them up in a delicious way. This family-owned restaurant focuses on fresh, sustainable, local ingredients to create a wide range of Mexican-inspired dishes and drinks.
Best Hotels in Monteverde, Costa Rica
Those looking for accommodation in Monteverde, Costa Rica will have a few great options for Monteverde hotels to choose from.
Cabinas El Pueblo B&B
Cabinas El Pueblo B&B is a fantastic family-run bed & breakfast perfect for travellers on a budget. The property is peaceful and follows several sustainable practices like no single-use plastics, LED lighting, and community-driven initiatives. Cozy rooms start at USD $45 and include breakfast.
Calathea Lodge
Calathea Lodge is another great bed & breakfast that's close to many Monteverde activities. The rooms have private terraces overlooking the garden with organic and vegan breakfast options included. Rooms start at USD $65 per night.
Cloud Forest Lodge
Cloud Forest Lodge is committed to the responsible use of resources. They have a stellar hotel and property just ten minutes from Monteverde Cloud Forest Reserve. Rooms start at USD $110 per night.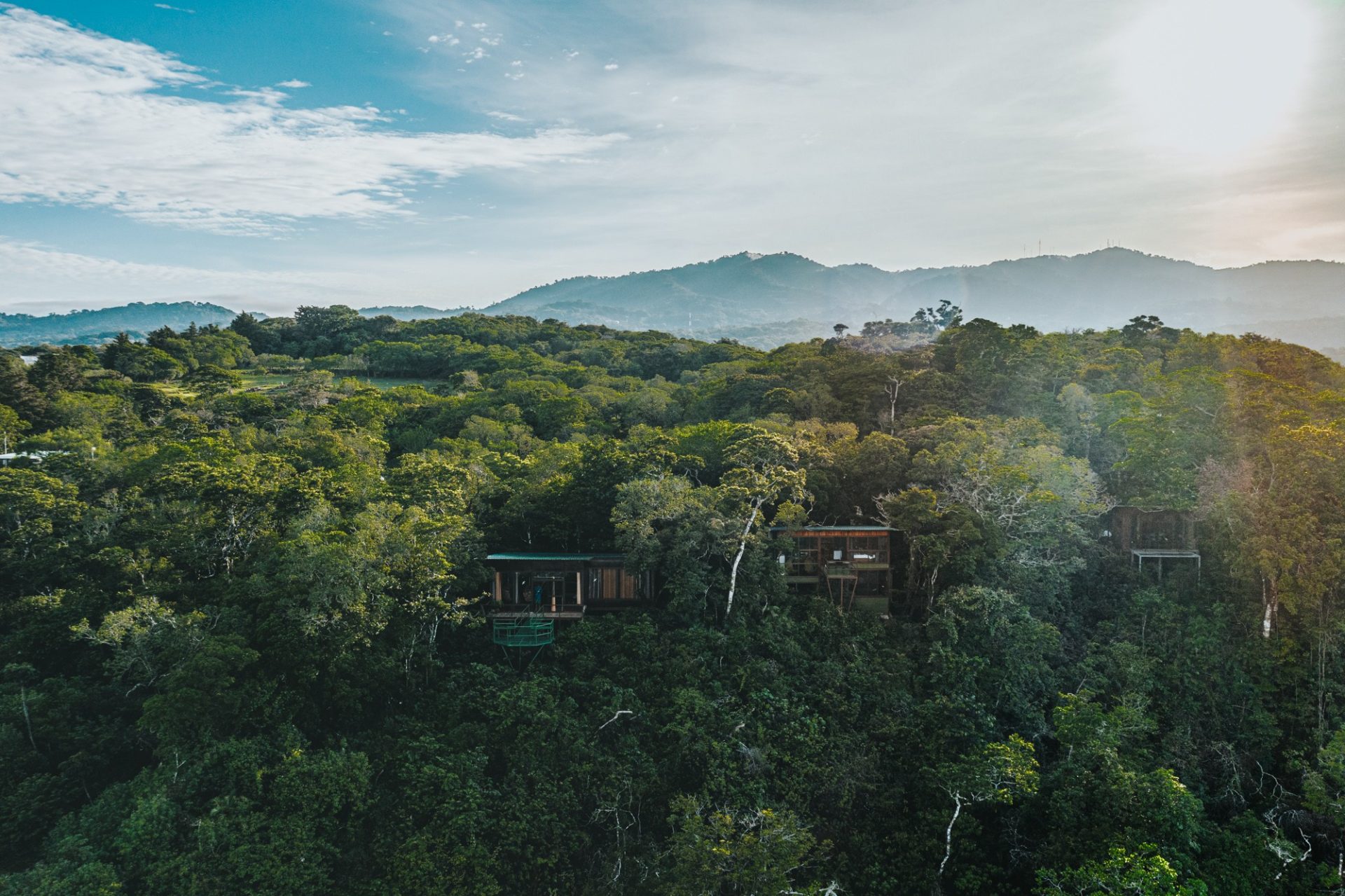 Rancho De Lelo Ecolodge and Sustainable Farm
Rancho De Lelo Ecolodge and Sustainable Farm is a rustic Monteverde Costa Rica hotel tucked in the mountains just 20 minutes from town. They have a sustainable, socially responsible, and largely organic farm on-site which guests are free to explore. Rooms start at USD $160 per night.
Monteverde Lodge & Gardens
Monteverde Lodge & Gardens is one of the best hotels in Monteverde for sustainable, eco-conscious luxury. The lush property has beautiful gardens, an outdoor pool, and 28 modern guest rooms. They are committed to environmental and social responsibility and heat the pool through solar energy. Rooms start at USD $255 per night.
How many days do you need in Monteverde Costa Rica?
The adventures never have to stop in Monteverde. There are certainly enough reasons to visit this beautiful area of Monteverde Costa Rica. However, the length of time you decide to stay in Monteverde should be a reflection of how much time you have in Costa Rica.
A two-week nature and wildlife itinerary in Costa Rica would give you 3 days in Monteverde but then you would have to be selective in which activities you choose to partake in. If you were wondering what to do in Monteverde, Costa Rica, we hope we inspired you with our choices!
Have you had the experience of visiting Monteverde Cloud Forest? Can you suggest any other things to do in the Monteverde area? Let us know!?