Costa Rica and zip lining have become somewhat synonymous over the past few years. The very first zip line in Costa Rica opened to tourists in 1997 in Monteverde and since then, the popularity of zip lining in Costa Rica has truly exploded. Whether you're a pro or just looking to have your first experience zip lining, Costa Rica is your best choice.
*This post may contain affiliate links, as a result, we may receive a small commission (at no extra cost to you) on any bookings/purchases you make through the links in this post. As an Amazon Associate, we earn from qualifying purchases. Read our full disclosure
Costa Rica is a fantastic destination for zip lining due to its lush rainforests, stunning vistas, and high canopies over which to zip. It's also one of those activities you can enjoy no matter what time of year you choose to visit Costa Rica.
There are a wide variety of different locations for zip lining in Costa Rica, and they all have something different to offer. You can find zip lines in national parks, by waterfalls, next to volcanoes, or even over the ocean.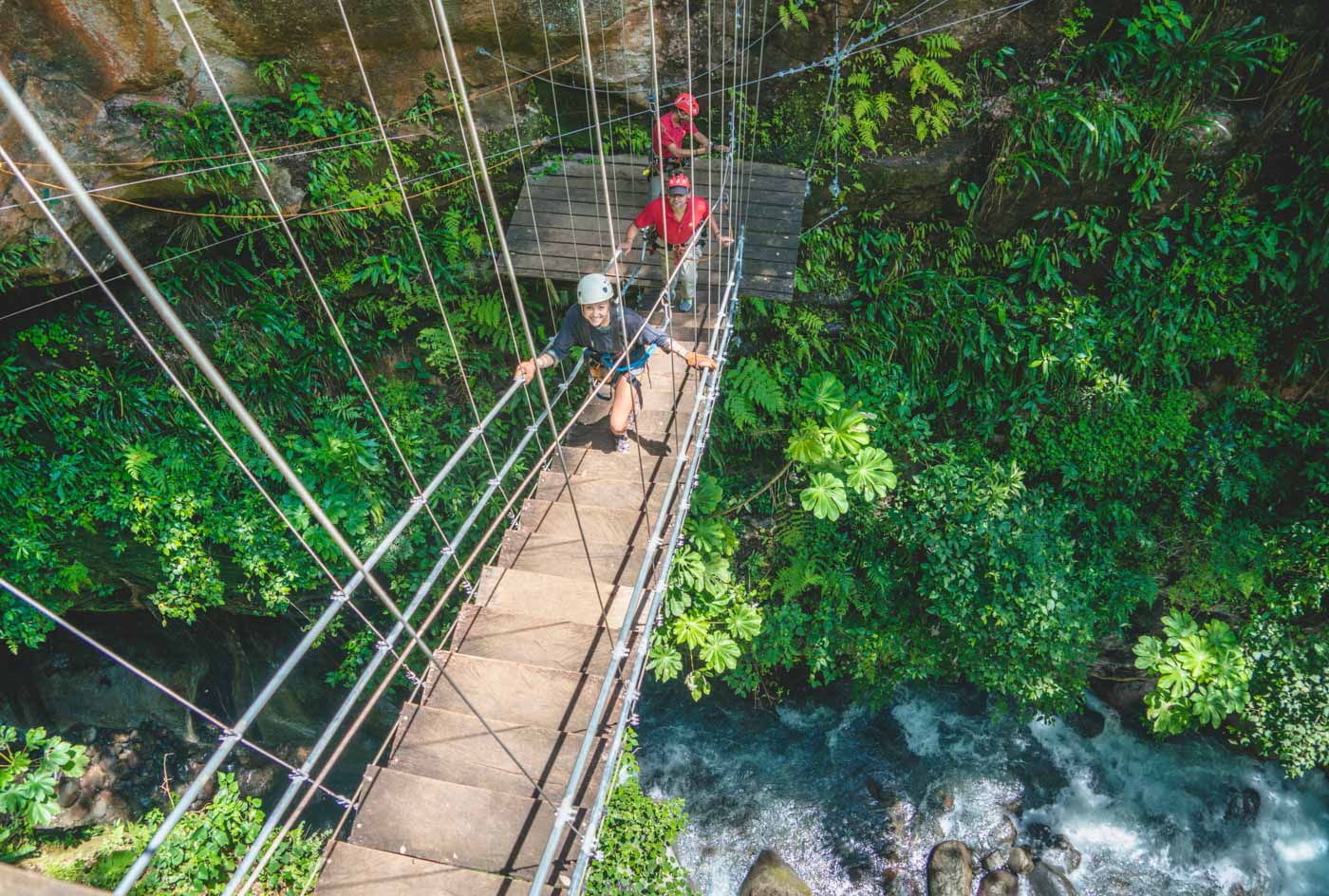 Traveling Soon?

Here is a list of our favourite travel providers and accessories to help get you ready for your upcoming trip!
At most of these Costa Rica zip lines, you'll also have the chance to experience hanging bridges, aerial walkways, bungee jumps, canyon swings, and all sorts of other thrills for adrenaline junkies.
Costa Rica is an adventure travel destination and zip lining is the highlight of its adventure activities. Even if you aren't a thrill seeker, going zip lining is an absolute must in Costa Rica.
Read on to discover the best zip lining in Costa Rica.
Zip Lining in Arenal
The area around Arenal Volcano is a very popular destination in Costa Rica and is largely considered the adventure capital of the country. Located in the northwest corner, Arenal Volcano National Park offers plenty of zip lining opportunities. The vast majority of these provide views of the impressive Arenal Volcano.
Various tour operators offer zipline adventures, but for many people Sky Adventures offers the best zipline in Costa Rica. You can book a single zip line adventure, or combine it with a skywalk and aerial tram. Sky Adventures also has a location for zip lining in Monteverde, Costa Rica as well.
After zip lining in Arenal, pay a visit to the rest of the Arenal Volcano National Park. Once one of the most active volcanoes in the world, the Arenal Volcano has not made any threat of eruption since 2010. The national park features many hiking trails, lava fields, and hot springs. The largest lake in the country, Lake Arenal, is right nearby as well.
There is a big focus on sustainability in ecotourism in Arenal National Park, and this is reflected in the majority of tour providers.
Ziplining in Monteverde, Costa Rica
Monteverde is quite a well-known location in the zip lining world. Its famous zip line is not only the longest zip line in Costa Rica but also the longest in all of Latin America at 1590 meters.
You can ride this Costa Rica zip line at the 100% Aventura Canopy where you'll also have the chance to do some "superman" zip lines (going head first.)
Monteverde is nestled in the mountains of North West Costa Rica, not so far from Arenal. Its claim-to-fame is the Monteverde Cloud Forest Reserve. The reserve was established in 1972 and now covers 35,000 acres of land. Here, you can see a great variety of wildlife including beautiful orchids and jungle jaguars. Cloud forests are particularly moist and lush, sporting huge amounts of biodiversity.
While hikes are a great way to see this part of Costa Rica, a Monteverde zip line through the cloud forest is a particularly unique experience. As the name implies, the mountains are often covered in clouds and you can actually zip through these clouds for a close-up experience of the weather elements that give the park its name.
Zip Lining in Manuel Antonio
The Manuel Antonio National Park is a huge coastal nature reserve on the Pacific side of the country. Located in the approximate center of the coastline, this national park covers 1680 acres of dense rainforests, coral reefs, beautiful beaches, and mountains.
The park is laced with hiking trails in which you can see lots of wildlife, including some endangered species if you're lucky.
The park offers a number of excellent zip line providers but if you're looking for something extremely unique, head to the Manuel Antonio Adventure Park. Here you can ride a special zip line called "El Avatar" which is a combination of a roller coaster and a zip line. It's some of the best ziplining in Costa Rica.
This "zip coaster" features a thin metal track that the rider hangs down from. The track twists and turns through the forest, adding additional dips and rises that a traditional zipline can't provide. It's not a long ride, but at only $12 a person, it's a great option if you're on a budget. Zip lining in Manuel Antonio is certainly a one-of-a-kind experience.
Zip lining in Guanacaste
The northwest province of Guanacaste is a favourite among tourists. The region sports dry tropical forests (a very rare type of equatorial ecosystem) and is especially well known for its water sports, beaches, and zip lines. If you've planned a Costa Rica zip lining trip, there's nowhere better.
One very special zip line in Guanacaste can be found at the Hacienda Guachipelin hotel. It involves seven different zip lines over the canyon of the Rio Blanco river. A full tour with them will also include a Tarzan swing, some hanging bridges, and a 20-meter rappel down a rock wall. All of this takes place in the shadows of the magnificent Rincón de la Vieja Volcano.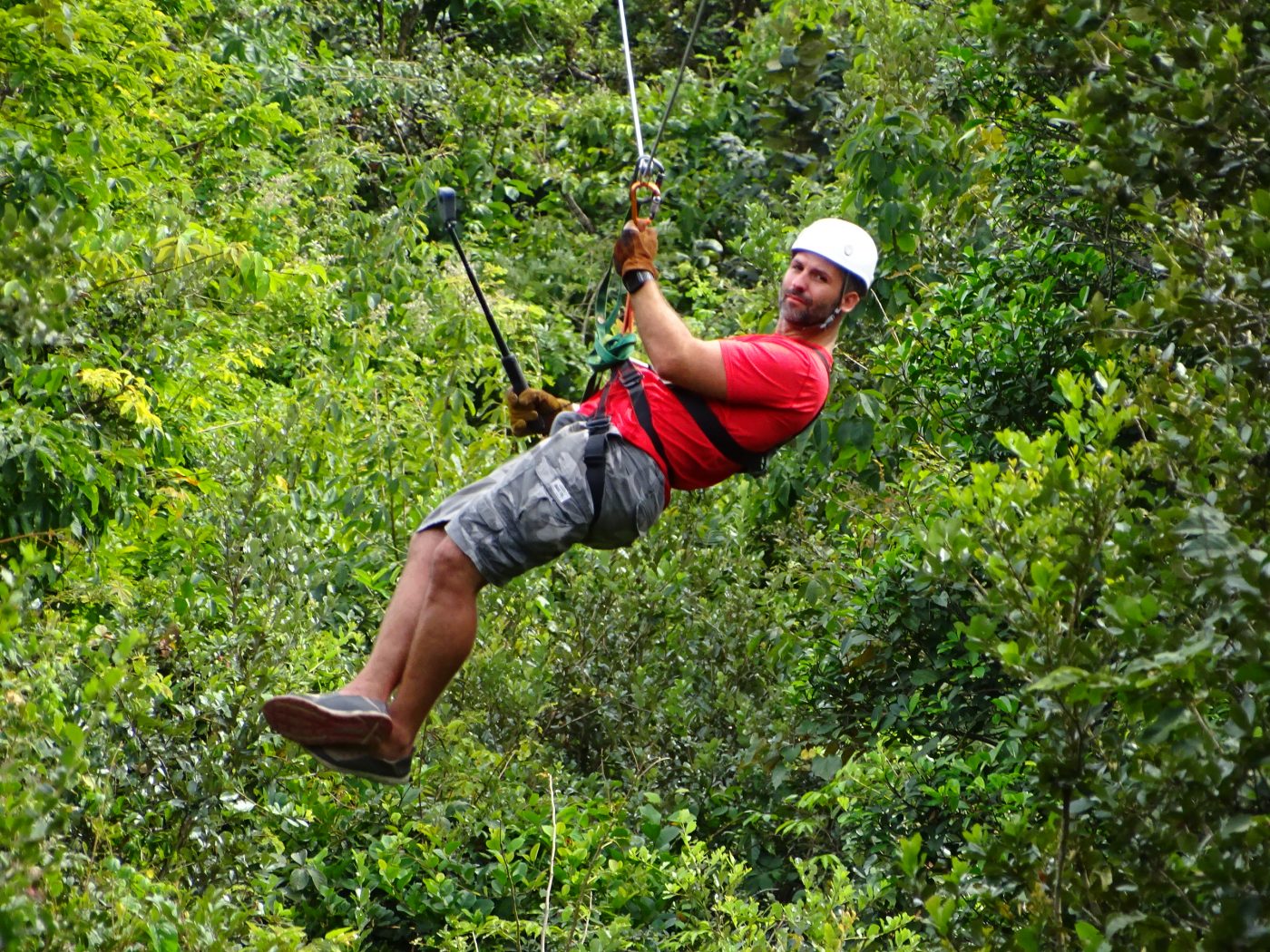 It's not an exaggeration to say that when it comes to trying a zip line, Costa Rica is the best place in the world to go. These four locations are all awesome in their own right, but there are quite literally hundreds of other locations within the country where you can also go zip lining as well.
When choosing a provider, it's always important to make sure you read the reviews and safety records of your chosen company and go with a provider that has a well-outlined sustainability agenda. After all, if you are going to be exploring the canopy, you'll want to do it with a company that cares about nature!
Have you ever been zip lining in Costa Rica? What do you consider the best zip line in Costa Rica?