Costa Rica has solidified its spot on the surfers' map back in the 90s, when "Endless Summer II", a sequel to a popular surf movie from the 60s, featured Costa Rica as one of the best-surfing destinations in the world.
*This post may contain affiliate links, as a result, we may receive a small commission (at no extra cost to you) on any bookings/purchases you make through the links in this post. As an Amazon Associate, we earn from qualifying purchases. Read our full disclosure
Today, surf tourism is an established industry in Costa Rica with hundreds of surf camps and surf schools scattered all around the country. Whether you have never surfed before, or you are a seasoned surfer looking to take your skills to another level, there is a surf school or surf resort in Costa Rica that's right for you.
Best Surf Camps in Costa Rica
Witch's Rock Surf Camp, Tamarindo, Guanacaste
Located in Tamarindo, on the Pacific side of Costa Rica, Witch's Rock Surf Camp is well known as one of the best surf resorts in Costa Rica. Surf lessons at Witch's Rock are available to surfers of all skill levels. Beginners start out with learning basic skills on dry land, and intermediate surfers can build upon their skills while in the water. The school also organizes advanced surfer trips to Witch's Rock (hence the school name), one of the best surf spots in the country, located just a short boat ride away from Tamarindo.
A 7-night Costa Rica beginner surf package at Witch's Rock costs $1141 for the week and includes beachfront lodging, the use of a surfboard, and daily breakfast. Intermediate and advanced surfing packages start at $1260 for the week and offer the same inclusions.
Witch's Rock has a microbrewery, a surf shop, 3 bars, and 2 restaurants, making it a well-established institution in Tamarindo.
Traveling Soon?

Here is a list of our favourite travel providers and accessories to help get you ready for your upcoming trip!
One fabulous aspect of Witch's Rock is that they are invested in the local community, and travelers can bring school supplies, hygiene products, and clothing for the kids in the area. As an extra perk (pun intended!) the resort has unlimited free coffee for those that need a pick me up at the start of their day!
Avellanas Surf School, Playa Avellanas, Guanacaste
Avellanas Surf School is another great surf school on the Pacific Coast, located at a popular surfing beach, Playa Avellanas. The school is run by our friends, Mauricio & Dia and offers customized surf classes and surf resort accommodation through hotels in the area.
Weekly Surf & Stay Packages start at $559 per person and include a 6-night stay, daily breakfast, and daily 90-minute group surf lessons at Avellanas Surf School.
7 different surf spots can be found in the region between Playa Avellanas and the nearby Playa Negra, so there are plenty of waves to ride in this area. Those looking to combine their surfing holiday with some other activities will be pleased to know that horseback riding, zip-lining, sailing and other activities can be easily arranged.
Del Mar Surf Camp, Nosara, Guanacaste
Nosara is considered to be one of the best surfing spots in Costa Rica and Del Mar Surf Camp offers a good alternative for those looking to take a few surfing lessons but not commit to a week-long surf camp schedule. the camp offers individual surf lessons as well as surf and yoga packages, which include accommodations, airport transfers, daily surf lessons, daily yoga sessions, equipment, and most meals. Other activities in the area include horseback riding, paddle boarding, and zip-lining.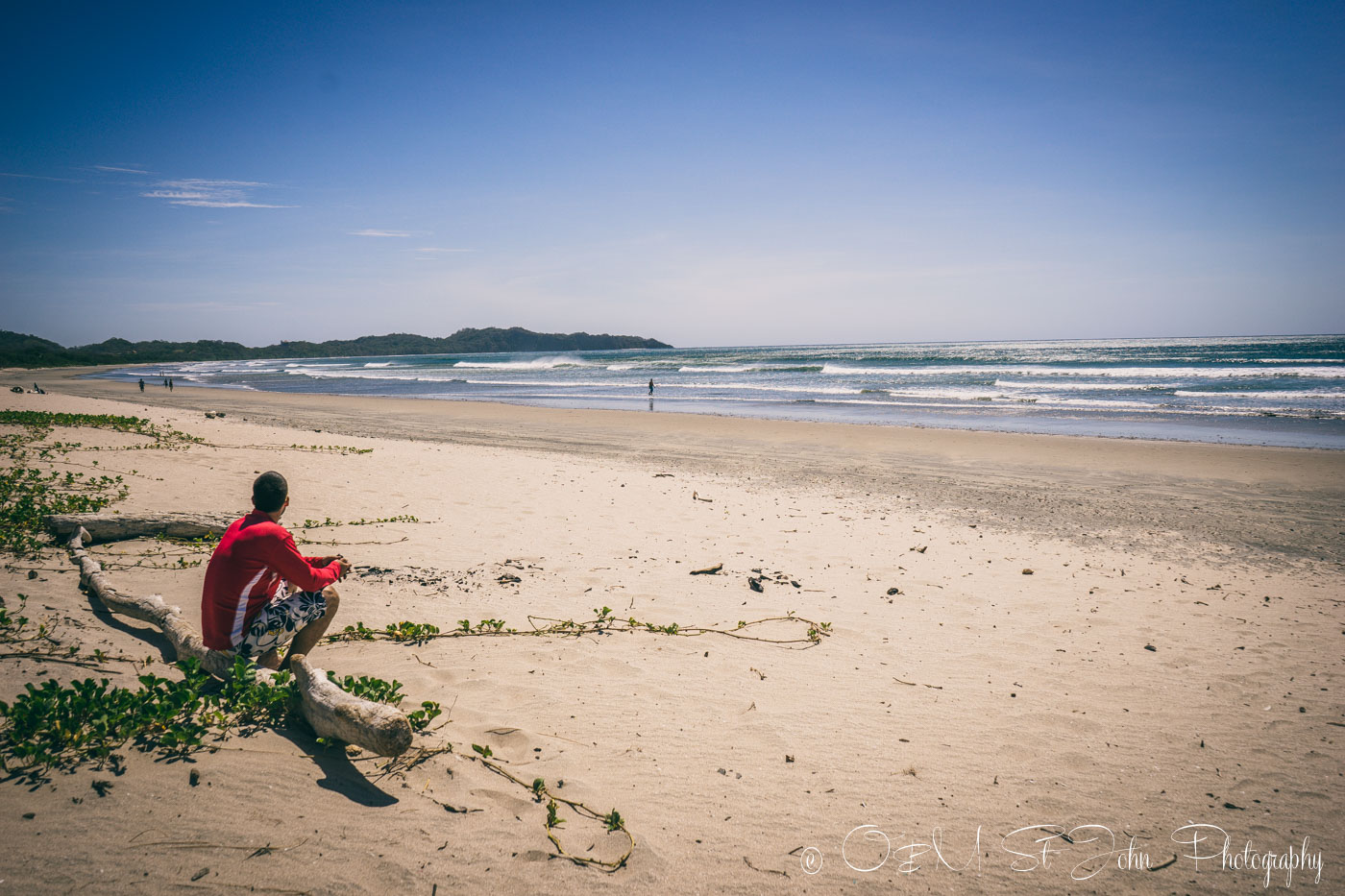 7-night surf packages are available starting at $2580, and 5-night packages starting at $2160 per person.
When it comes to sustainability, this Nosara Costa Rica surf camp is top-notch. Del Mar is dedicated to responsible tourism and consider their environmental impact in everything they do. They also employ locals and educate their guests about the heritage of Costa Rica.
Tortuga Surf Camp, Jaco, Puntarenas
If you are flying into San Jose, you may want to find a surf camp closer to the capital city. Tortuga Surf Camp, located just 3 hours from San Jose in Jaco is a great choice.
Full Surf Camp includes surfing, lodging, and video reviews of your time in the water so you can learn from your mistakes. You can choose from their 7, 14, or 22-day packages.
The resort itself is more of a cozy camp vs a luxury surf resort. Amenities here include AC and Wi-Fi, airport transfers, core power workshops, and a sunset hike so that you can see the beauty of Costa Rica. Surf resort prices vary as Tortuga enjoys creating a highly customized experience for their guests.
Surf the Jungle, Limon
Although the majority of Costa Rica surf spots are on the Pacific side, the best surf camp Costa Rica has to offer on the Caribbean side is Surf the Jungle.
Their amenities make it feel like a luxury surf resort and their Saturday to Saturday surf camp includes 7-night accommodations, surf coaching, meals, yoga, area tours, and documentation of your experience through photos and video. Rates at this surf camp in Costa Rica start at $1900 per person.
Kalon Luxury Surf Resort, Osa Penninsula
For those who have a bit more to spend, you may want to consider Kalon as an option for your surf camp in Costa Rica. The resort features an infinity pool, luxurious ocean view room, and boasts uncrowded beaches. Their farm-to-table style meals is another perk of this luxury surf resort. Surf coaches are available to instruct those of any skill level during on-site surf lessons.
Saturday to Saturday surf camps include airport transfers, lodging, 5 days of surf coaching, all gourmet meals and drinks (including beer and wine), a massage, and pilates to gear your body in top shape for surfing. Rates start at $2490 per person at this luxury surf camp in Costa Rica.
Kalon also makes efforts to be environmentally conscious, and they try to reduce their environmental footprint as much as possible. Guests are invited to participate in programs that provide shoes, clothing, and school supplies for the children of Costa Rica.
Have you ever been to a surf camp in Costa Rica? Which one would you recommend?