When it comes to keeping it cool in a van, there are a number of solutions ranging from good air circulation to affordable fans and more expensive elaborate cooling setups.
*This post may contain affiliate links, as a result, we may receive a small commission (at no extra cost to you) on any bookings/purchases you make through the links in this post. As an Amazon Associate, we earn from qualifying purchases. Read our full disclosure
At the end of the day, every camper, van lifer and RV'er wants to know, Is it possible to have AC in a campervan? And if so, do you need electricity to power a camping air conditioner? Is there such thing as a tent air conditioner? The short answer is – Yes! With new battery-powered technology and clever cooling solutions, portable AC units for camping or van life offer some great solutions!
In an attempt to find the best portable air conditioner for our summer camping trip with Benji, the van, we did some extensive research to find the best portable air conditioners on the market.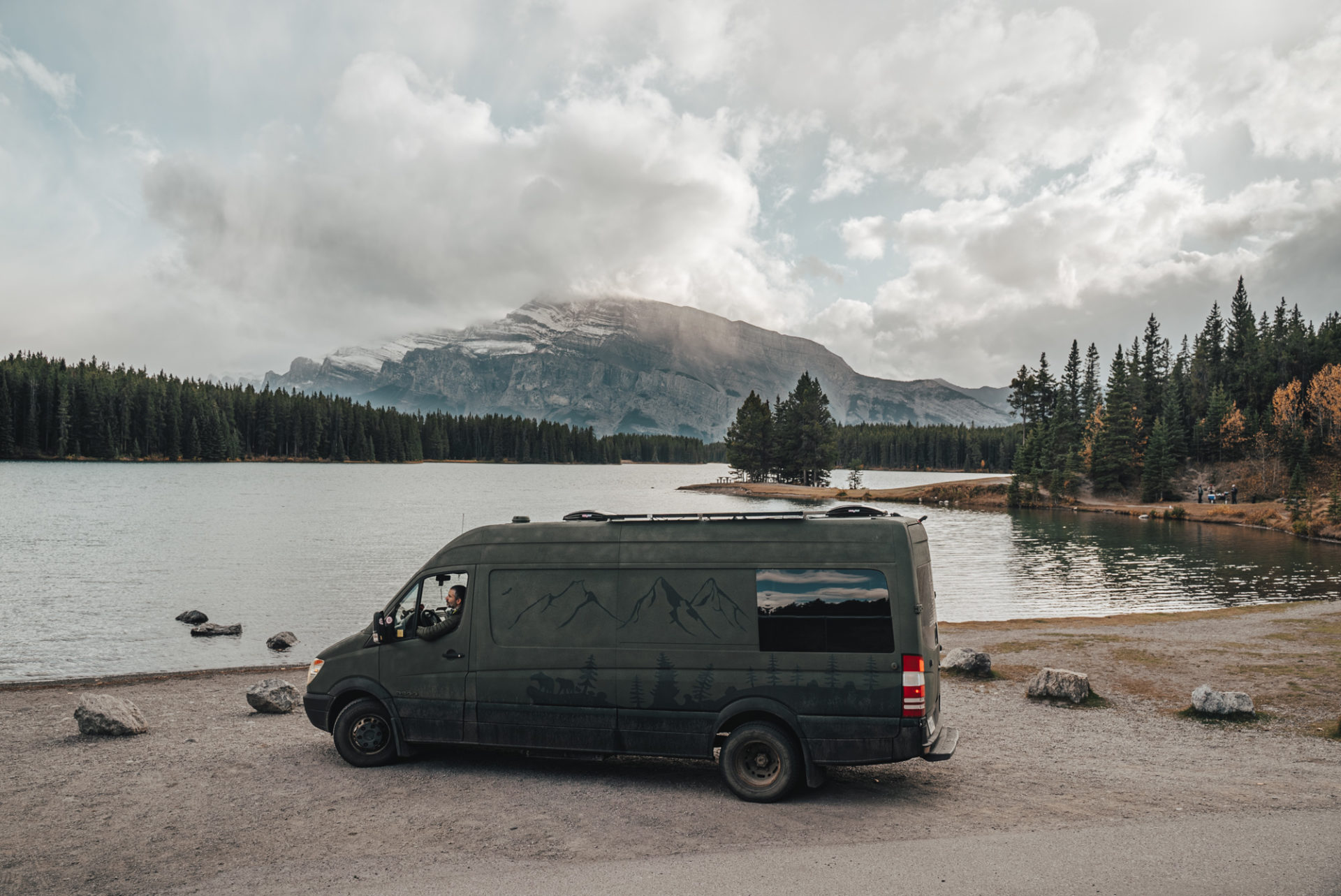 Traveling Soon?

Here is a list of our favourite travel providers and accessories to help get you ready for your upcoming trip!
If you're considering adding an air conditioner to your next camping trip, check out our top picks.
Choosing the Best Air Conditioner for Your Van or RV
Finding the right air conditioning unit for your tent, van or RV can be a bit of a challenge. Traditionally when we think of air conditioners, we think of a window air conditioner or permanently mounted roof unit.
Many RVs and professionally converted camper vans come equipped with a bulky rooftop AC unit. These air conditioners have great cooling power but they draw a lot of power and add unnecessary height to your van.
Portable air conditioners for camper vans can make life a lot easier. These units are light(er), less bulky and can even be used for tent camping.
What to Consider When Choosing an Air Conditioner for your Van/RV
The main factors to consider when choosing a camping air conditioner are:
Power draw –

Air conditioners are known to be power hogs, so power consideration should be top of mind when choosing the best AC unit. Consider if you'll have enough power from solar for camping with AC or if you'll have regular access to shore power.

Size –

Permanently mounted AC units save on space but are not portable. Portable air conditioners need to be stored when they're not in use, so if you plan on traveling with a portable AC unit, consider if you have the space in your vehicle to store the unit when it's not in use.

Noise –

Quiet operation is key—especially if stealth is a factor.

Price –

Portable air conditioners for camping can get quite expensive. You'll need to weigh out if it's worth it or if you can find other ways to boost air circulation and stay cool.
Best Portable Air Conditioners for Camping and RVs
Looking for a portable AC unit to use in your van or as a tent air conditioner? We rounded up the top choices for a compact unit with low power consumption in mind.
Zero Breeze Mark II
Brand: Zero Breeze
Price: $$ (approx US $1,500)
If a truly portable air conditioner is what you're after, the Zero Breeze Mark II is definitely the winner. This is the AC unit we decided to get for our summer road trip and one we would recommend to others.
ZeroBreeze Mark II is one of the best air conditioners for camping because it only uses ⅕ of the energy of a normal air conditioner. It draws 240 watts and can run off of your battery bank or on its own lithium-ion rechargeable battery for 3-5 hours.
At 2,300 BTU, its cooling effect is surprisingly powerful. This AC unit can lower the ambient temperature in your van/RV or tent by up to 10-15°C or 30°F in just 10 minutes.
The AC unit weighs less than 20 lbs and measures 20″L x 10″W x 11″H so it's light and compact enough to easily transport and store when not in use. The unit uses refrigerants to cool the air, so it does require venting and comes with a small exhaust hose. We found an easy way to set it up in our vent to vent through our existing fan opening. The portability and minimal set-up definitely make it the best portable air conditioner for camping fans.
Pros
True portable solution

Doesn't require a robust power supply. Can run off of its built-in battery power

Compact and lightweight
Cons
Pricey

Requires venting

Louder than other units
Watch the Full Review of ZeroBreeze Mark II below:
Honeywell Evaporative Air Cooler
Brand: Honeywell
Price: $ (approx US $400)
The Honeywell Evaporative Air Cooler doesn't use high power or refrigeration gases to provide a cooling effect. Instead, it cools the air by evaporating water. These units are often called "swamp coolers" since they create a humid environment through water-cooled air.
Though this isn't a true air conditioner, it does work to effectively cool the air and make things more comfortable. Evaporative coolers rely on water or ice for cooling power so you'll have to factor in having extra water for it to function. Room temperature water will help a bit, but this Honeywell evaporative cooler has a specific compartment for ice.
Evaporative coolers are best used in low-humidity climates like the desert where you can afford to create a bit of extra moisture. In humid coastal areas, this can create a dangerous amount of excess moisture, leading to mould and mildew. For us, traveling around Canada, this was not a viable option as the relative humidity in parts of Canada during the summer can easily reach 70-80%.
All in all, Honeywell Evaporative Air Cooler is a handy low-cost and low-power solution to have for emergencies. This portable AC unit is fairly compact and only draws around 100 watts.
Pros
Cost-effective portable air conditioner that's handy to have around

Low power draw

Compact and easy to store

Eco-friendly solution that doesn't require refrigerant chemicals
Cons
Not reliable for powerful daily cooling

Doesn't work in humid climates

Can create moisture issues
Dometic RTX 2000
Brand: Dometic
Price: $$$ (approx US $3,000)
Battery-powered portable AC units can be hard to come by but Dometic has finally brought their version to North America. The Dometic RTX 2000 is a great portable air conditioner for camping because it's super quiet and very efficient, requiring little power to operate.
The AC unit mounts onto your roof and has its own power source. It's fully self-contained, meaning it doesn't need to be hooked up to an electrical outlet or power bank. This makes it very handy for cooling on the go. This AC unit has proven to be popular amongst truck and Jeep owners.
The Dometic RTX 2000 can pump out 6,824 BTU and only use 19 amps on eco mode. The battery-operated unit can last 12 hours before needing to be charged, which is impressive battery life. This unit is focused on providing air conditioning power while you're parked so there's no need to idle your engine. It's become an eco-friendly choice for truck drivers and carries over as one of the best portable air conditioners for van life as well.
This is the type of AC unit used in professionally built luxury campervans and RVs. It's not a true portable AC for camping or tent AC.
Pros
Self-contained unit that doesn't require wiring or electricity

Eco-friendly solution with low power draw

Super quiet

Low profile and easy to install

Comes with a remote control
Cons
Expensive

Not as powerful as other units – low power draw is a trade-off for cooling power

Needs to be recharged
Evapolar evaSMART
Brand: Evapolar
Price: $ (approx US $300)
The EvaSMART from Evapolar is a small portable air conditioner for camping or light individual cooling. It's a true portable air conditioner that runs off of USB power from your battery bank, laptop, or electrical outlet.
The EvaSMART is an evaporative cooler with a small built-in water tank that turns it into an energy-efficient portable cooler. Like the Honeywell evaporative cooler, it does add moisture to the fresh air, which can be a pro or a con depending on your climate. This type of portable air conditioner is not going to drastically cool hot air. You can compare it to placing a wet towel in front of a fan.
Though this unit isn't as powerful as others, it might be the best tent air conditioner for budget-conscious camping thanks to its size and affordable price point.
Tents usually have good ventilation so adding in some extra coolness can make tent camping a lot more comfortable. The unit doesn't use any refrigerant chemicals and only draws 12.5 watts of power. It also has a built-in LED light that you can control from your smartphone and use for ambience or as a night light.
Pros
Small, lightweight, and very portable

Minimal power draw

App-controlled with extra features

No refrigerant chemicals
Cons
Expensive compared to other evaporative coolers

Water tank only lasts up to nine hours before needing to be refilled

Creates humidity and moisture

Not very powerful

Need cartridge replacements every 3-6 months
IcyBreeze V2 Pro Portable Air Conditioner & Cooler
Brand: IcyBreeze
Price: $ (approx US $300)
This portable air conditioner is a well-packaged version of what many folks put together as DIY air conditioners. It's essentially a super-insulated cooler that blows cold air from its ice and beverage compartment through a tube.
The IcyBreeze doesn't create cool air as other units do but instead shares the cool air that's already formed inside. The main perk to this is that it doubles as an actual beverage cooler so you can kill two birds with one stone.
The IcyBreeze has three fan speeds, which can last up to 6 hours on low. Keep in mind, that's running off of its own lithium-ion rechargeable battery so you can hook it up to solar for continuous use. You will need to replenish the ice as it melts but as far as coolers go, the insulation on this unit is pretty good.
We do like that the IcyBreeze doesn't use Freon or other refrigerants so it is an environmentally friendly solution. It's actually capable of cooling the air by about 35°F, which is not bad for a souped-up cooler. Storing it when not in use would be the biggest drawback, unless you choose to use it as your van fridge.
It's perfect for weekend trips where you might be parked for a few hours in the hot sun but isn't really a viable long-term solution.
Pros
Doubles as a food and beverage cooler

Has wheels for portability and a flexible hose to direct cool air

Doesn't require refrigerants

Battery-powered and energy-efficient
Cons
Doesn't have the cooling power of proper air conditioners

Large and bulky to store when not in use

Ice needs to be refilled and the compartment needs to be drained as it melts
Black + Decker BPACT10WT Portable RV Air Conditioner
Brand: Black + Decker
Price: $ (approx US $400)
This portable AC unit is similar to what you would use in a regular home setting. It's quite powerful with 10,000 BTU that can quickly cool a 150 sq ft space. The unit itself is bigger than some of the other portable air conditioners for camping on this list but still smaller than a traditional AC.
The Black + Decker portable air conditioner sits upright and has wheels on the bottom so you can move it around if needed. It does require venting and comes with a hefty exhaust hose that needs to feed out your window. This AC unit has a lot more features including sleep mode, dehumidifier mode, and handy remote control.
In our opinion, this portable air conditioner would work great in an RV or van that's mostly stationary. It's quite big to store and the built-in wheels make it challenging to keep in place in a van or RV. Plus, the exhaust hose needs to stay secure so you probably wouldn't want to leave it mounted while driving. This is probably not the best air conditioner for camping but it would really shine in a tiny house or a stationary RV.
Pros
Impressive cooling power

Adjustable fan speed with different modes

Remote control

Quiet

Affordable for how powerful and quiet it is
Cons
Big, bulky, and hard to store when not in use

Needs a relatively permanent set up for venting

Requires electricity and is best suited for shore power
Bonus: Dometic Penguin II Rooftop Air Conditioner
Brand: Dometic
Price: $$ (approx US $2,000)
This is a more traditional camping air conditioner that's permanently mounted to the roof of your van or RV. These types of AC units are portable in the sense that they can be mobile, but aren't as portable as the above options.
Most rooftop campervan air conditioners are bulky and can add an extra foot of height to your already tall van. This can pose big problems at certain bridges, ferries, or underground parking when you have to account for the extra height. The beauty of the Dometic Penguin II is that it's ultra-low-profile and aerodynamic.
Permanent camper van air conditioners are a worthwhile option for those that spend most of their time in hot places. If you're relying on it daily, it's worth investing in a van life AC unit that can handle constant use. The Penguin II is extremely powerful, outputting 13,500 BTU of cooling power. Naturally, it draws much more electricity and carries a hefty price tag.
Pros
Low profile and aerodynamic design

Excellent cooling power

Permanently mounted for daily use

Can hook up to an in-house thermostat
Cons
Expensive

Permanent mounting makes it not a true portable AC for van life

Draws a lot of power that works best with shore power

Requires more in-depth installation
Final Thoughts on Portable Camping Air Conditioners
While window air conditioners and stand-up units work great in a tiny home, van life air conditioning requires a bit more portability. In our opinion, the best portable air conditioner for van life is the Zero Breeze Mark II. This camper van AC unit can work in many settings and can e used as a tent air conditioner. It's compact and easy to use while creating impressive cooling power on a low power draw.
Have you used a portable air conditioner in your van or while camping?