*This post may contain affiliate links, as a result, we may receive a small commission (at no extra cost to you) on any bookings/purchases you make through the links in this post. As an Amazon Associate, I earn from qualifying purchases. Read our full disclosure.
A visit to the
Galápagos Islands
is truly a
trip of a lifetime.
Whether you are heading to the Galapagos for just a few days or plan on spending 2 or more weeks exploring this unique part of the world, you are likely to spend your time doing a vast variety of activities.
Planning a Trip in the time of COVID?

Keep in mind that information found in this article may have been impacted by travel restrictions and other closures. Double check opening hours, tour providers and hotel status before you go. And don't leave your home without travel insurance! If you are looking for an insurance provider that covers COVID-19, we recommend SafetyWing. Get Medical and Travel Insurance starting at just $40/month and you can sign up even if your trip has already started!
This past April, we spent 11-days exploring the Galapagos on an adventure land-based tour with Galakiwi. Our days were filled with activities, ranging from hiking and biking to paddle boarding and snorkeling. In preparation for our trip, we learned first hand that figuring out what to pack for a trip to the Galapagos can be tricky, so allow us to share some advice based on our own experience.
Prepare for Hot Weather…
The Galápagos Islands experience a subtropical climate and thus the average temperature on land doesn't vary much through the year. So no matter when you are visiting the Islands, it will be hot.
If you happen to come during the shoulder season (March – May), the weather can get quite extreme, with daily highs reaching 30+C.
… And Cold Water
Despite the high land temperatures the Humboldt currents keep water in the Galápagos colder than you might expect.
In the cool/dry season (June to December), the temperature often drops below 18C and even in the warmest months it rarely goes beyond 22-23C.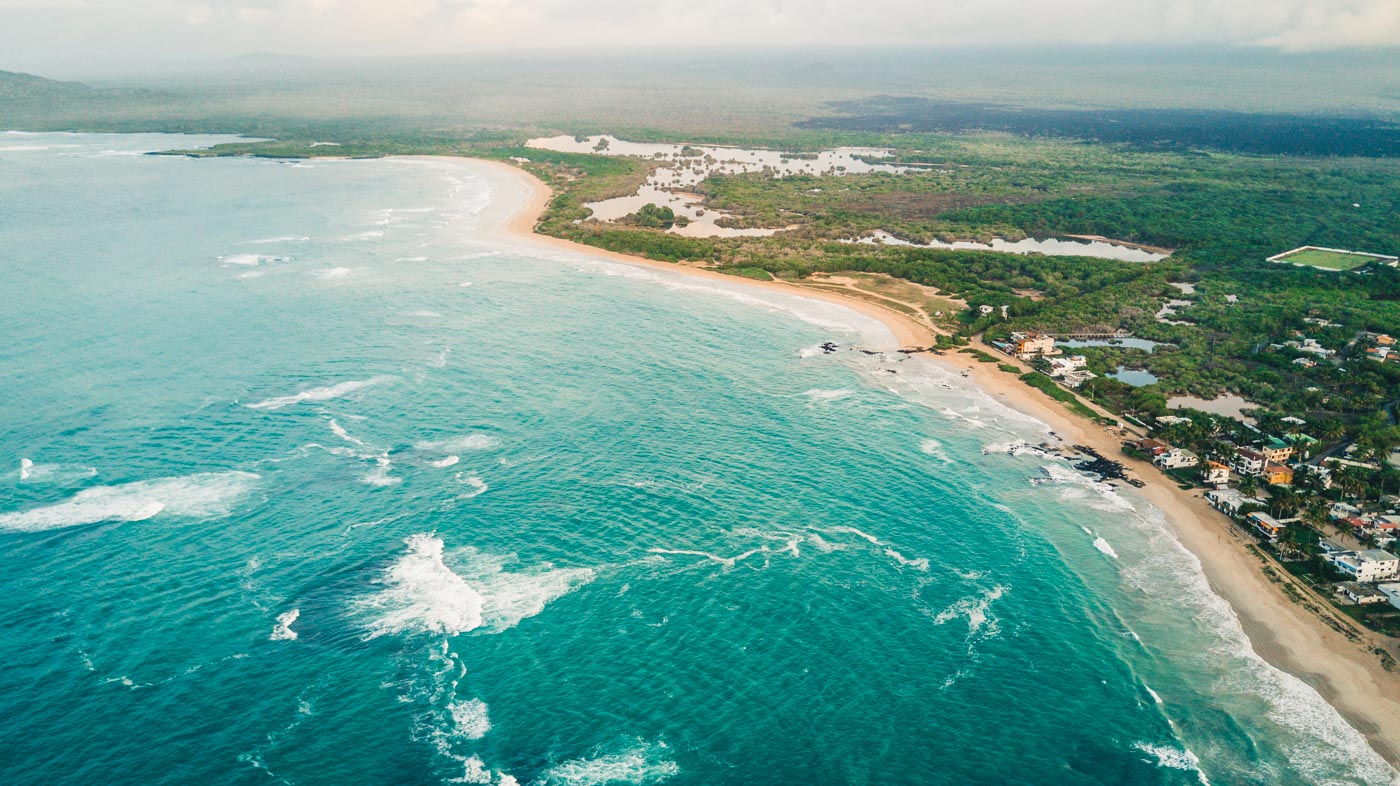 Pack Light
There is a lot to see and do in the Galapagos, and unless you are traveling around the Islands on a cruise (PS. don't!), you'll likely be moving from island to island every few days.
Packing light will help minimize the hassle of unpacking and repacking and also lighten the load when you have to carry your bags onto the ferry or to a private transfer boat. You don't need much for exploring the islands, so a carry on size backpack/bag should be more than enough.
Our Suggested Galápagos Packing List
Unlike many other destinations, shopping options in the Galápagos are very limited and can only be found on Santa Cruz island, so it's extra important to think through what you need to bring before departure.
2 x Bathing Suits/Swim Shorts – you'll be in and out of the water daily, often multiple times a day, so a few good pairs of bathing suits are definitely needed for this type of trip. You'll want to invest in a style that's practical for activities like kayaking, diving, snorkeling, and paddle boarding.
Ladies, you'll want to leave those string bikinis at home and bring a sportier design. Oksana traveled to the Galapagos with this cute number from Eco Peace and found it to be a perfect mix of style and functionality for our Galapagos adventures.
1 x Rash Guard – another must for those sunny days and water-based activities. Invest in an ethical piece made from sustainable materials, so you don't have to resort to cheap alternatives upon arrival. Patagonia and Prana have some good options.
2 x Active Shorts – pack a few pairs of light, breathable, quick to dry and easy to wash shorts for activities like biking, hiking, and general island exploring. Lululemon has some great options for women and men.
2-3 Active Tops – quick dry fabric is a must! Another important feature is odour protection, to help you stink less even after a long day of activities on the islands. Look for fabrics that incorporate Silver into their blends, like Lululemon's Silverscent Technology or YAthletic's SilverAir. Remember that water is a precious resource in the Galápagos, so you'll want to try and keep washing to a minimum while there.
1-2 Long Sleeve Tops – the sun is unforgiving in the Galápagos and while you can slather yourself with sunscreen, nothing beats covering up! Look for lightweight fabrics and designs that offer UV protection. Patagonia and Prana offer some great options.
1-2 Evening Outfits – for night time activities and/or dinners. Fashion isn't a top priority for those living in the Galapagos, so don't pack anything that belongs on a runway. A simple light dress or a pair of casual shorts with a nicer top will do the job.
1 x Rain Coat – it didn't rain much during our time in the Galápagos, but when it did, our Packable Rain Jackets definitely came in handy. Look for styles that offer minimum 5,000 mm of rain protection.
Alternatively, consider packing a water repelling t-shirt/hoodie from Ably Apparel. Ours kept us dry without a jacket during light rains. We recommend Pamela Long Sleeve for women and Douglas Long Sleeve for men.
Hiking shoes/sandals – you won't need these on a daily basis, but they'll come in handy if you plan to hike the Cerro Negro volcano on Isabella, or head into the highlands on San Cristobal. We recommend Chaco or Keen.
Flip flops – An absolute must for any beach/boat activities
Sarong/beach towel – Sarong is a perfect beach accessory that can be worn as a cover-up, top, skirt, or used as a beach mat. We traveled to the Galapagos with both a sarong and these quick-dry microfiber towels that doubled as our bath towels and beach towels.
Scrubba Wash Bag/Dry Bag – great for quick and efficient hand washing but also doubles as a dry bag, to keep your electronics safe on boats/kayaks/paddle boards, etc.
Hydro Flask – this double wall vacuum insulated reusable water bottle will be your best friend when it comes to staying hydrated in the Galapagos heat. Many of the hotels we stayed at in the Galapagos offered free water refills, helping us further reduce our consumption of plastic while on the islands.
Toiletries – Take only the essentials, leaving the majority of your make up at home. Small convenience stores with basics are available on all the big islands, but we recommend bringing everything you need from home, as the selection, even of basic shampoo/conditioner/lotion products was limited. Keep the environment in mind and grab eco-friendly options from Lush Cosmetics.
Sunscreen – as mentioned before, sun in the Galapagos is VERY harsh, so pack some extra. Consider the environment when making your choice and opt for an eco-friendly alternative. We recommend this Raw Organic Sunscreen by Raw Elements
Electronics – cameras (we recommend Sony A6500 or Sony Rx100 and a GoPro or GoPro Session ), spare batteries, charging cables, power adapters, etc. Internet in the Galapagos was practically nonexistent so leave your laptop at home and prepare to disconnect. Electricity was not an issue, but we still brought this Portable RavPower Power Bank to keep things charged during long days.
Day Pack – you'll be out and about most days, so a good day pack is necessary to carry your water, snacks, towels, cameras and other day trip essentials. If your electronic equipment includes a camera body and a few lenses, you'll want a camera bag that doubles as a day pack. We use Mindshift Gear Rotation180° 38L pack and love how it protects all of our camera equipment no matter where the day takes us. If you are not packing a lot of camera gear and just need a pack for everyday essentials, we recommend Gregory Sula 28 or equivalent.
And last, but definitely not least…
Pack a Sense of Adventure!
The Galapagos Islands offer a plethora of activities and ways to interact with wildlife, so be sure to pack a sense of adventure and a "let's give it a try" attitude and get ready for one of the most memorable trips of your life!
READ NEXT:
Disclaimer: This post contains affiliate links which means that we receive a small commission on your purchases at no additional cost to you. If you find the information in this article useful, consider purchasing a few things you need for your upcoming trip through our links to help us offset the costs of running this site.