If you're visiting Costa Rica, you'll inevitably begin your trip in the nation's capital city, San José. While many people simply stop over in the city on their way to the rainforests, the city deserves a visit on its own.
*This post may contain affiliate links, as a result, we may receive a small commission (at no extra cost to you) on any bookings/purchases you make through the links in this post. As an Amazon Associate, we earn from qualifying purchases. Read our full disclosure
Since the capital city of Costa Rica is an up-and-coming tourist destination, you can find plenty of attractions and points of interest that make it worth a visit.
In our opinion, there are so many underrated things to do in San José, Costa Rica that are well worth your time! With lots of museums, churches, parks, and good eats, San José really has something for everyone. Costa Rica is one of our favourite countries and one that we've been able to explore at length.
While it's common that people don't know all the things to do in San José, Costa Rica, this guide should get you started with planning some fun-filled days in the city.
Traveling Soon?

Here is a list of our favourite travel providers and accessories to help get you ready for your upcoming trip!
Best Time to Visit San José
Like most places in the tropics, San Jose, Costa Rica experiences two seasons, a dry and a wet season.
Generally, the dry season in Central America is between December and April is a much better time to visit in terms of weather. However, in that time, the heat can be oppressive in San José, and vegetation dry and parched. You'll also find more tourists in the city and prices will be higher.
May to November is the wet season which is a bit cooler and more humid. Prices are lower and the rainforests are at their most beautiful shades of green. To meet in the middle and find a balance between price, crowds, and weather, we suggest visiting in the shoulder season, either November/ December or June/ July.
The shoulder season is also the ideal time period to see some of Costa Rica's beautiful national parks and reserves, like Arenal Volcano National Park in La Fortuna, Manuel Antonio National Park, and the Monteverde Cloud Forest Reserve, home to the famous hanging bridges.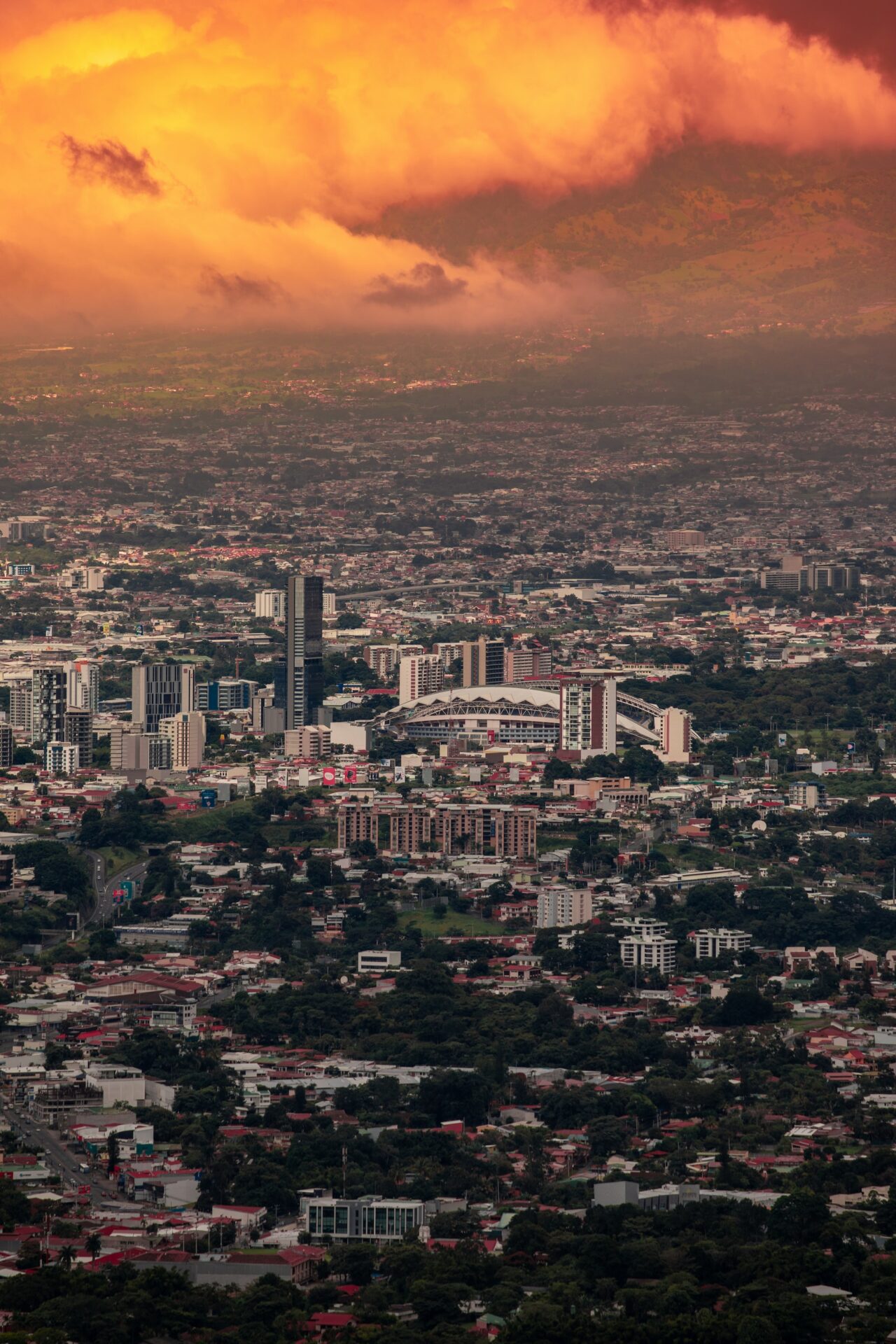 Best Things to Do in San José, Costa Rica
Visit the National Theater
First opened in 1897, the Teatro Nacional or National Theater is a landmark of not just San Jose, but Costa Rica as a whole. While the exterior may appear ornate, it's nothing compared to the lavish interior designs and decorations. It's part of Costa Rican culture.
Seeing a show at the Teatro Nacional is a real treat but if you aren't interested or able to do that, definitely don't miss a guided tour of the building which is included with the price of admission.
Tour the Metropolitan Cathedral
As the most significant religious building in the city, this is one of the best things to do in San José, Costa Rica.
Although it's a bit unimpressive from the outside, the church's interior is stunning. It is the second cathedral on the site, as the first was destroyed by an earthquake and later rebuilt.
Take a tour inside to get the historical and cultural scoop from a local guide. For history buffs, it's one of the best things to do in San Jose, Costa Rica.
The cathedral, in downtown San Jose, is built in a neo-classical style, offering a quiet respite from the noise of the city outside. It has required a lot of work throughout its 140-year history, but it has become an important part of Costa Rica's history. Just make sure you're respectful if you stop in. It is still an active church, and you don't want to interrupt a service.
Stroll Through the Mercado Centrale
Of all the things to do this might be our favourite. The Mercado Centrale, or central market, is a feast for the senses with its long aisles of fruit stands, knick-knack and gadget vendors, and displays of Costa Rican souvenirs.
In the San José central market, you can buy things like cigars, coffee, and cacao or simply wander the central market, taking in the sights and sounds. This is a great way to support artisans and local shop owners during your trip.
Go to the Museums
National Museum of Costa Rica
There are many San Jose, Costa Rica museums, and for many visitors to San Jose (especially the history buffs), the National Museum of Costa Rica is a major highlight. The National Museum welcomes visitors in a colourful way, as the first exhibit guests walkthrough is the butterfly garden.
The museum building is actually that of an old Costa Rican army military fortress, with cannons and bullet holes still visible along the walls. It is truly a piece of San Jose's history. Inside, you'll find displays organized by different topics, including colonial history, religion, and geology.
San Jose's National Museum catalogs the history of Costa Rica from the 16th century to now, including ongoing anthropological research and documentation of the country's natural history. Ticket rates for the National Museum are reasonable, as tickets for adults are about $11 and $6 for students. If you are traveling as a family, children can attend free, and entry is free on Sundays.
The Pre-Columbian Gold Museum
This underground gold museum is one of the main San Jose, Costa Rica points of interest. Inside, you'll find hundreds of gold artifacts preserved from Pre-Columbian times, including Costa Rica's first-ever coin. For history and goldsmithing enthusiasts, this is definitely one of the best things to do in San Jose.
Close to 700 pieces of gold are on display in the Pre-Columbian Gold Museum, along with various ceramic and lithic pre-Columbian artifacts. You can learn about the evolving metalworking and goldsmithing techniques of the region, as well as how these customs were changed by contact with other cultures. A ticket will cost you $12 or $16, depending on if you're a student or not, and also includes access to the Numismatic Museum.
Plaza de la Democracia
While you're visiting the museums in San Jose, it's worth checking out the Plaza de la Democracia, a monument built by the Costa Rican government to commemorate 100 years of Costa Rican democracy. It is between the National Museum of Costa Rica and the Jade Museum, with beautiful views of the mountains around San Jose.
There are some sculptures and benches in the plaza, and not much else, but it's a great place to sit and relax between museum visits.
The Jade Museum
If you're a fan of gems or geology, you'll love San Jose's Jade Museum. The Museo del Jade houses the largest jade collection in the world and operates with the mission of preserving Costa Rica's archeological heritage. They offer a number of educational resources, as well as guided tours aimed at teaching children.
The Jade Museum in San Jose houses five permanent exhibits, as well as temporary exhibits that periodically change. It's another great idea if you're traveling with your family. Children younger than twelve can enter the Jade Museum for just $2, and children five years old or younger get in for free.
Children's Museum of Costa Rica
Of the many San Jose museums, the Museo de Los Ninos, or Children's Museum, is among the most unique. It aims to encourage learning and experimentation amongst children, and it does this with over 40 interactive exhibits. The exhibits cover history, art, sciences, and technology, so you can find something that your little one will be interested in, no matter what they prefer. A ticket costs about $5.
Museum of Costa Rican Art
With over 6,000 works spanning many different artistic mediums, the Costa Rican Art Museum is one of San Jose's top attractions for those interested in contemporary art.
Built in the 1930s, the Museum of Costa Rican Art is housed in a neo-colonial building that was once Costa Rica's first international airport. The building is an interesting part of Costa Rican history and now holds contemporary art from both guest artists and Costa Rican artists.
It's open every day except Monday, and admission is free to the public.
Attend the La Feria Verde
If you happen to be in town on a Saturday, don't miss La Feria Verde, one of the best things to do in San Jose if you're an eco-conscious traveler.
This market is full of sustainable crafts, produce, and other products, making it an awesome shopping spot. You can also find delicious and locally sourced food here, making it one of the most unique activities in San Jose, Costa Rica.
La Sabana Metropolitan Park
Costa Rica is known for its national park system, but of course, that isn't the only sort of park in the county. While the old airport terminal of La Sabana International Airport currently houses the Museum of Costa Rican art, the rest of the land surrounding La Sabana has been repurposed into La Sabana Metropolitan Park. La Sabana Park is a public space, and it's a beautiful area to walk, sit and take a breather between activities, or get in a game of football.
The park includes a lake with a fountain and several sports fields and also houses the national stadium. It's located in downtown San Jose, and it offers a much-appreciated bit of recreational green space in the middle of the hustle and bustle.
Plaza de la Cultura
The Plaza de la Cultura is the main plaza in downtown San Jose, and it often hosts demonstrations, performances, and celebrations. The plaza is where you'll find the National Theatre, the Pre-Columbian Gold Museum, and other historic buildings, and it's a good place to sit down, take a break, and get in a bit of people-watching. If you're looking to get some lunch, it also has multiple cafes and restaurants.
Also, if you stop by the plaza on an ordinary day, then you can likely see all that it has to offer in about twenty minutes. If you stop by while an event is going on, though, then the Plaza de la Cultura can be incredibly fun.
Take a Food Tour
If you want to explore San Jose on foot and get some good food, then you'll probably enjoy taking a food tour. The San Jose Bites and Sights Walking Tour is a good one.
Over the course of a few hours, a guide will lead you and your group through the streets of San Jose, offering insights into the local history and culture. You'll start the walking tour with some coffee from a local cafe, proceed to the market to try fresh fruits and veggies and explore the streets as you try empanadas. At the end, you'll finish out the tour with a stop at a coffee and chocolate shop, where you'll learn how to prepare coffee and empanadas while enjoying a tamal.
Try a Coffee Tour
If you love a good cup of coffee, then you'll likely enjoy a tour of the Cafe Britt Plantation. You can learn the history of Costa Rican coffee, and get firsthand knowledge of how coffee beans are grown, harvested, roasted, and turned into the beverage that so many people in the world know and love.
Along with this unique look behind the scenes of a coffee plantation, you'll also get the chance to browse the Britt factory store, order a custom drink from their coffee bar, and enjoy a buffet lunch at the plantation's restaurant. It will take about five hours and cost about $150. The price may be a bit steep for some, but you'll get your money's worth out of it.
La Paz Waterfall Gardens
A day trip from San Jose to the La Paz Waterfall Gardens might be a long day, but it will also be amazing, as long as you've got some good walking shoes for the hiking trails.
You'll get the chance to hike through the rainforest, admire the beauty you won't get to see anywhere else, and see the white water rivers and waterfalls up close. You'll also get the chance to see the local wildlife in their natural habitat and see them at a number of exhibits along the way. There's an aviary, a hummingbird garden, and a jungle cat exhibit, among others. You won't even have to worry about lunch, as there will be a buffet.
Visit a Butterfly Garden
There's nothing quite as magical as a butterfly, and the Spirogyra Butterfly Garden has over 30 species. It's within a ten-minute walk of the center of San Jose, and you're welcome to just sit back, relax, or maybe read a book while surrounded by the beauty of the butterflies at every stage of their lives and the plants that sustain them.
You don't need to go out of your way, as the garden is within the city of San Jose, and some of the paths go all the way to the river. However, ensure you have clear directions, or perhaps take a taxi. The entrance can be difficult to spot if you're new to San Jose.
Go on a Craft Beer Tasting Tour
If you have a few hours free in the evening and are interested in a unique San Jose city tour, why not try a beer-tasting tour from a beer connoisseur who's also a San Jose local? Over three and a half hours, you'll hit up four different pubs, getting a sample of a different craft beer at each pub. While on the walking tour, you'll learn what makes craft beer different from industrialized beer and what beer is, its basic ingredients, its production, and its history. You'll even get some pointers on properly pairing beer with food.
A full meal won't be provided on the tour, but you won't have to worry about going hungry during the walk. You'll get to try various Costa Rican appetizers at the different pubs. You'll finish the walking tour at Craic Irish Pub, which is also a good place to keep the fun of the evening going.
Try Out a Chocolate Workshop
While it is also a restaurant and candy shop, La Casa del Cacao offers an hour-long chocolate workshop. Over the course of an hour, a chocolate expert will walk you through the process of turning cacao into chocolate, starting from grinding the beans. The shop is in the center of San Jose, so it's easy to get to. If you have a gap between events that you would like to fill, scheduling a chocolate workshop will be a great way to do so.
For chocolate lovers looking for things to do in San Jose, Costa Rica, this is a great way to enjoy high-quality chocolate while learning about the process.
Take a Day Trip to Braulio Carrillo National Park
Just a 45-minute drive north of San Jose, Braulio Carrillo National Park is a great destination if you need to get out of the city for the day. One of the biggest and most diverse of Costa Rica's national parks, Braulio Carrillo, is home to over 500 species of birds and 150 species of mammals. It is adjacent to La Selva Biological Station, which hosts scientists who research and promote initiatives in conservation.
Braulio Carrillo National Park has some spectacular hiking trails and attractions, including the Barva Volcano and San Fernando Waterfall. If you'd rather not attempt a challenging hike, there are aerial tram tours on the eastern side of the park that offer wonderful views of the rainforest canopy.
Where to Stay in San José
Adventure Inn
Located a bit outside the city to the northwest, the Adventure Inn is one of the best places to stay in San Jose, Costa Rica if you're looking for a little peace and quiet.
During your stay, you'll enjoy a lovely pool, gourmet food, and warm hospitality. The inn plants their own local garden tracks their energy use, and composts food waste, making it a TripAdvisor GreenLeader certified property on the silver level.
A hotel concierge offers shuttles from San Jose to Arenal Volcano National Park in La Fortuna, La Paz Waterfall Gardens, Poas Volcano National Park, and several more attractions.
Hotel Aranjuez
Along with its affordability and great location, this hotel is perhaps the greenest hotel in San Jose. They are currently one of the very few hotels in town with the GreenLeader Platinum Level status, using rainwater harvesting, solar panels, and completely banning plastic on the property.
At Hotel Aranjuez in San Jose, you'll find quirky decorations, a lovely sun deck, and some seriously delicious food including a breakfast buffet.
Costa Verde Inn
The Costa Verde Inn in San José is a great choice if you're looking for more of a guesthouse experience. Accommodations here are simple but charming. You'll feel like you're tucked into the jungle at this hotel, providing the perfect amount of ambiance.
Chillout Otoya Downtown
Chillout Otoya Downtown is a fun and comfortable hotel just a couple of miles from La Sabana park in San Jose. There is a shared lounge and a restaurant, the Cafe Otoya. The rooms come with private bathrooms with showers and free toiletries. Non-smoking rooms are available.
There is free Wi-Fi and a free airport shuttle. It's also within walking distance of a number of restaurants, parks, and local San Jose attractions, including the Pre-Columbian Gold Museum and the Museo de Los Niños.
Urban Green Hotel & Suites
Urban Green Hotel & Suites is a San Jose hotel that's good for active guests. It has a fitness center, a sauna, and a casino on the property, and it's within walking distance of over a dozen restaurants, local attractions, and parks, including San Jose's Central Park and Teatro Nacional.
Rooms include private bathrooms, a mini-bar, a safety deposit box, and a flatscreen TV, among other amenities. An a la carte breakfast is available each morning, and room service is available for guests.
Luz de Luna Boutique Hotel
When you're visiting San Jose, Luz de Luna Boutique Hotel is a great hotel if you want to sit back and relax after a long day of exploring the city. There's a restaurant and a bar on the property, room service is available, and a garden terrace. There's free parking and free Wi-Fi, non-smoking rooms are available, and there are facilities for disabled guests.
The hotel is also within less than 50 feet of the restaurants Puro Peru, Sofia, and Luna Roja. The hotel has its own travel agency that can arrange an excursion to a national park and recommend other things to do. It's easy to get dinner at the end of a long day and then call it a night, and be able to relax in style back at the hotel.
Nativus Art-Hostel
Nativus Art-Hostel is a great place to stay in San Jose, Costa Rica, but it's best for people who don't mind having a bit of company. Only some of the rooms have kitchens in them. For everyone else, there is a shared kitchen. However, there is room service, free parking and free wi-fi, facilities for disabled guests, a terrace, and many breakfast options. If you want to wind down at the end of the day, you can play darts with other guests.
An airport shuttle is available, and the hostel is within walking distance of multiple parks, San Jose attractions, and restaurants.
Hotel Villa Los Candiles
Hotel Villa Los Candiles is an elegant hotel in San Jose, with many benefits. There is a bistro, a bar, gardens, and a swimming pool. There are facilities for disabled guests available, select rooms have kitchens, and there are bilingual staff members available for most of the day. If you're looking to relax, there's a golf course within a couple of miles of the hotel.
There is free wi-fi, free parking, and room service. It's also within a couple of miles of multiple parks, San Jose attractions, and restaurants. It is just a few miles from both the Tobias Bolanos International Airport and the Juan Santamaria International Airport.
This is a great hotel if you're looking for a quiet area, but still want to be close to San José, Costa Rica.
Where to Eat and Drink
While there are many great places to eat and drink in downtown San José , Escazu is our favourite neighbourhood in the Costa Rican capital for dining. It's the most forward-thinking area in the entire city and consequently, you can find lots of vegan and vegetarian restaurants here to make your visit all the more sustainable.
Raw Co Juicery & Food
This is a great place to stop for a healthy lunch or fresh juice drink on a hot day in San José. Raw Co Juicery & Food has a number of sandwiches, toasts, and superfood bowls to choose from, along with coffee and baked goods.
Árbol de Seda
Árbol de Seda is another great healthy choice for either lunch or dinner in San José. This restaurant is mostly vegetarian and can be vegan upon request. They serve a mix of dishes from Latin America and fusion cuisine.
Mirador Tiquicia
For dinner with a view, head to Mirador Tiquicia, an upscale restaurant on a hill overlooking downtown San Jose, Costa Rica. With a long list of cocktails and traditional Costa Rican dishes, this restaurant is both authentic and classy.
They also regularly host performances on weekend nights, making a visit to this restaurant one of the best things to do in San José, Costa Rica.
Cocina Eclectica
This quirky restaurant is actually a lot more like the living room of a Costa Rica native. Joanna Stein calls this place home and opens up her doors to visitors to try her fresh, homemade cooking and often customizes dishes to her guests' desires.
For a truly unique food experience, don't miss the Cocina Eclectica while in San José.
Maxi's By Ricky
If you're looking for authentic Caribbean food, head to Maxi's By Ricky in San José. Although a little way out of the city center, it is worth the journey for the excellent rondón soup and other traditional dishes.
Mantras Veggie Cafe and Tea House
As one of the best vegetarian restaurants in all of San José, Mantras serves up soups, salads, pasta, and more, all completely meat free. In addition to their regular offerings, they also have a great weekend brunch.
Cafe Rojo
With great food and reasonable prices, Cafe Rojo is ranked number three of San Jose, Costa Rica's restaurants. They are a healthy cafe serving Asian and fusion dishes and coffee, in the central San Jose. They're open for lunch and dinner, with vegetarian, vegan, and gluten-free options.
Apotecario
If you're looking for a good drink in San Jose, then Apotecario can help you. It's a family-owned pub serving several different locally-produced brews and Costa Rican food. They're open for lunch and dinner and offer vegan, vegetarian, and gluten-free options on the menu.
Restaurante Silvestre
If you're looking for a way to truly make a meal an experience in San Jose, then Restaurante Silvestre is the right choice for you. The prices are a bit steep, but they've earned the price tag, as they're Michelin starred. They're only open for dinner, and they have a full bar. They serve dishes from across Central America, including vegetarian, vegan, and gluten-free options.
How Much Time do you Need in San José?
San Jose is not a huge city and is easily digestible in a couple of days. To properly experience San Jose and see all the main highlights, we recommend between 1-3 days.
However, there are a number of day trips and San José, Costa Rica activities that you might want to try. For example, a trip to the Waterfall Park and Wildlife Sanctuary or a Rafting Adventure Tour on the Sarapiqui River will take more of your time. If you want to do some of these day trips, give yourself closer to 5 days in the city.
A Note About Safety
San José is sadly not known for being a particularly safe city. During the day, the city is often crowded and pickpocketing is quite common, especially in touristy areas. It can be especially dangerous in downtown San Jose at night, so avoid walking in the dark if possible.
That being said, you can minimize your risk if you exercise caution and use common sense. With so many places to visit in San José, Costa Rica, it would be a shame to miss them in lieu of the rest of the country. Having been multiple times, we still highly recommend a trip to San José and hope you add it to your Costa Rica itinerary as well.
Have you ever been to Costa Rica? Did you visit the cities or the rainforests?