Costa Rica is a country absolutely covered with incredible waterfalls. Rushing rivers and towering cascades dot the landscape and are some of Costa Rica's most prominent claims to fame.
*This post may contain affiliate links, as a result, we may receive a small commission (at no extra cost to you) on any bookings/purchases you make through the links in this post. As an Amazon Associate, we earn from qualifying purchases. Read our full disclosure
For many visitors, visiting a few is an absolute must, but with so many to choose from, which should you visit? In this post, we've narrowed down 10 of Costa Rica's best waterfalls on your next trip.
Traveling Soon?

Here is a list of our favourite travel providers and accessories to help get you ready for your upcoming trip!
Best Costa Rica Waterfalls to Visit on Your Trip
Best Waterfalls in Guanacaste, Costa Rica
Llanos de Cortez Waterfall, Bagaces
Although Guanacaste is one of the driest regions of Costa Rica, there are still a number of amazing waterfalls to visit here. One that stands out is the Llanos de Cortez Waterfall, a multi-tiered, spectacular waterfall just to the north of Palo Verde National Park.
It's a great one to visit if you want to swim in the lake and stick your head under the falls on a hot day. There's even a sandy area where you can sunbathe, too. Make sure not to forget your swimsuit.
Reaching the Llanos de Cortez Waterfall is a very easy 5-minute walk down some stairs in the forest. The trail is steep in some places, but generally well-kept, and there are some other paths near the waterfall on which you can explore the surrounding area.
There is no entrance fee, but a small donation is requested to help the local community.
Rio Celeste Waterfall, Tenorio Volcano National Park
The Rio Celeste is a stunning blue river in the northwest region of Guanacaste, Costa Rica. This beautiful flume is located inside Tenorio Volcano National Park and is best known for its brilliant turquoise blue water, which comes from a chemical reaction of volcanic minerals. It is located just to the northeast of the Tenorio Volcano.
The trail is quite easy, and there are stairs to help you get down to the lower waterfall area, and it will take you about 20 minutes of hiking to reach the waterfall. When you arrive, although you can't swim, you'll be able to watch the waterfall from the observation deck.
Since this is one of the most well-known Costa Rica waterfalls, there is an entrance fee of around $12 USD to get in.
Best Waterfalls in the Puntarenas Province
Montezuma Waterfall, Nicoya Peninsula
The Montezuma Waterfall is actually a set of three different waterfalls right near each other on the Rio Montezuma, right next to the sea. Starting right at the mouth of the river near the beach, you can hike to the falls, which will take about 20 minutes and is a moderately difficult route.
There is a small parking fee of about $2 USD, but admission to the falls is free. There is one trail owned by SunTrails that requires a small entry fee, and it is not as challenging as the free trail.
The Montezuma Waterfalls themselves are breathtaking, with thin streams of water flowing over high rocks. This is another waterfall where you are allowed to swim in the pool below. Make sure to hike beyond the lower pool to see the upper falls too.
Uvita Waterfall
This part of Costa Rica is famous for its wild, natural beauty. Due to the lush rainforests and mountain valleys in this region, there are many hidden waterfalls that are difficult to reach. Uvita Waterfall is the exception, as this gorgeous waterfall is easy to access and very affordable to visit.
If Uvita Beach is on your itinerary, this waterfall is a must-see. Just a 15-minute drive from the beach, Uvita Waterfall is right off of a main road. You can access the waterfall by way of a trail that starts at a restaurant, and the hike takes about 10-15 minutes.
The waterfall pools are great for swimming, and there is a diving platform and a natural water slide that visitors can use. There aren't many amenities like bathrooms or changing rooms at the waterfall, but the restaurant at the entrance has a bathroom.
Admission to Uvita Waterfall is about $4 USD, and parking is free.
Best Waterfalls in Alajuela Province, Costa Rica
La Fortuna Waterfall
Perhaps the most famous and well-loved waterfall in Costa Rica, La Fortuna Waterfall is one that you can't miss. The 70-metre high flume is surrounded by leafy green jungle most of the year and, all things combined, is one of the most scenic Costa Rica waterfalls not just in Alajuela, but in the entire country.
The waterfall can easily be reached from the town of La Fortuna, near Arenal Volcano National Park. From the trailhead, you'll walk down hundreds of well-kept stairs to reach the flume. La Fortuna Waterfall is a very popular place to visit, so make sure to arrive early if you want to miss the crowds. Once again, you can swim at this waterfall, so bring a swimsuit.
At the entrance, there are changing rooms, bathrooms, and lockers where you can store personal belongings. There is also a restaurant by the entrance, but make sure to take bring water and snacks with you for your waterfall visit.
You'll have to pay $18 USD per person in order to enter, and all proceeds are contributed to local conservation efforts.
Best Waterfalls Near San José, Costa Rica
La Paz Waterfall
Right on the border of the Alajuela and Heredia Provinces is the La Paz Waterfall, an incredible natural wonder and a famous Costa Rica waterfall. Located in a privately owned ecological park, the huge waterfall is easily reachable on paved trails in the rainforest. After you visit La Paz, you'll also have the chance to see the other four waterfalls that line the trail and go for a nature walk through the park.
La Paz is the most popular of the five waterfalls, but the others are well worth the rainforest hike. The waterfall trail begins at Templo Waterfall and ends at La Paz; then, you can either double back or visit the wildlife preserve that includes butterfly garden, aviary, and several other observatories created by La Paz Waterfall Gardens.
There are excellent amenities for visitors, including bathrooms, gift shops, and a buffet restaurant offering traditional Costa Rican dishes.
The La Paz Waterfall is an easy day trip from San José, or easily combined with a trip to Braulio Carrillo National Park or Poás Volcano National Park.
Admission to the La Paz Waterfall Gardens is free for those staying at the Peace Lodge or $50 USD for visitors. The entrance fee is considerably higher than other waterfalls, but you can easily spend an entire day exploring the many trails and attractions.
Bajos del Toro Waterfall
Right on the outskirts of Juan Castro Blanco National Park, you'll find the Catarata del Toro Waterfall. At 82 meters (269 feet) high, it really is a beauty, and the land around it seems to rise up, forming a bowl-like shape that the waterfall then empties into.
This is certainly one of the most gorgeous Costa Rica waterfalls and it really flies under the radar of most visitors.
The cascade is a bit more off the tourist trail than some of the others, mainly because it is a little harder to reach inside an extinct volcano crater. The trail is steep and oftentimes very muddy, so take your time on the descent. Swimming is not possible at the Catarata del Toro Waterfall. The entrance costs $14 USD.
Catarata del Toro is part of a privately owned ecological preserve, and there is another waterfall on the property. The hike to Blue Falls is about 4.5 km and easy to moderate. You can see both waterfalls for $25 USD.
There are restrooms and a cafe that offers Costa Rican coffee, cold drinks, and treats like homemade cakes and ice creams. Make sure to plan ahead, as the preserve is closed on Sundays.
The Bajos del Toro and La Paz waterfalls are within an hour of each other, so it's possible to visit them both if you're in the area.
Los Chorros Waterfalls
This is another beautiful natural area that's off the beaten path and well worth the trip. Located in Los Chorros Municipal Recreative Park, these waterfalls are about an 1.5 hours from either San Jose or La Paz Waterfall Gardens
There are two falls in this park, and the trail is well-marked and easy to hike. It takes about 15-20 minutes to hike down to the first waterfall; then you can walk across the river to another trail that leads to the second waterfall. The hike to the second waterfall is a bit steep in some areas, so it may not be suitable for everyone, especially during the rainy season.
The waterfall pool is wonderful for swimming, and there are picnic tables and changing rooms available. Great place to swim, just bring water shoes because of the sharp rocks.
There are picnic tables and changing rooms just before you get to the first waterfall.
There is no fee to access the Los Chorros Waterfalls and parking costs about $4 USD.
Best Waterfalls Near Manuel Antonio, Costa Rica
Nauyaca Waterfalls
Near the mouth of the Río Barú in the Puntarenas Province, you'll find the spectacular Nauyaca Waterfalls. These falls are most famous for their many tiers and for being perhaps the best swimming waterfall.
It's a 4km (2.5 miles) hike into the rainforest to reach the falls, but you can also take a tour to get there.
There are two different levels of the Nauyaca Waterfalls: the upper and lower sections. The upper section is more rocky and jagged but with impressive plumes. The lower falls are more tame and relaxed, and this is the part where you can swim, so most people spend the majority of their time here.
The Nauyaca Falls are located on private property owned by Don Lulo and Doña Ruth. Visitors can buy tickets at Don Lulo's office, which is located in a pulperia (shop) on Route 243 heading towards San Isidro.
To hike in, the waterfall entrance fee is $10 USD, and Don Lulo also offers horseback tours or pick-up truck trips to the falls for an extra fee. If you're interested in the horseback or truck option, be sure to make reservations ahead of time.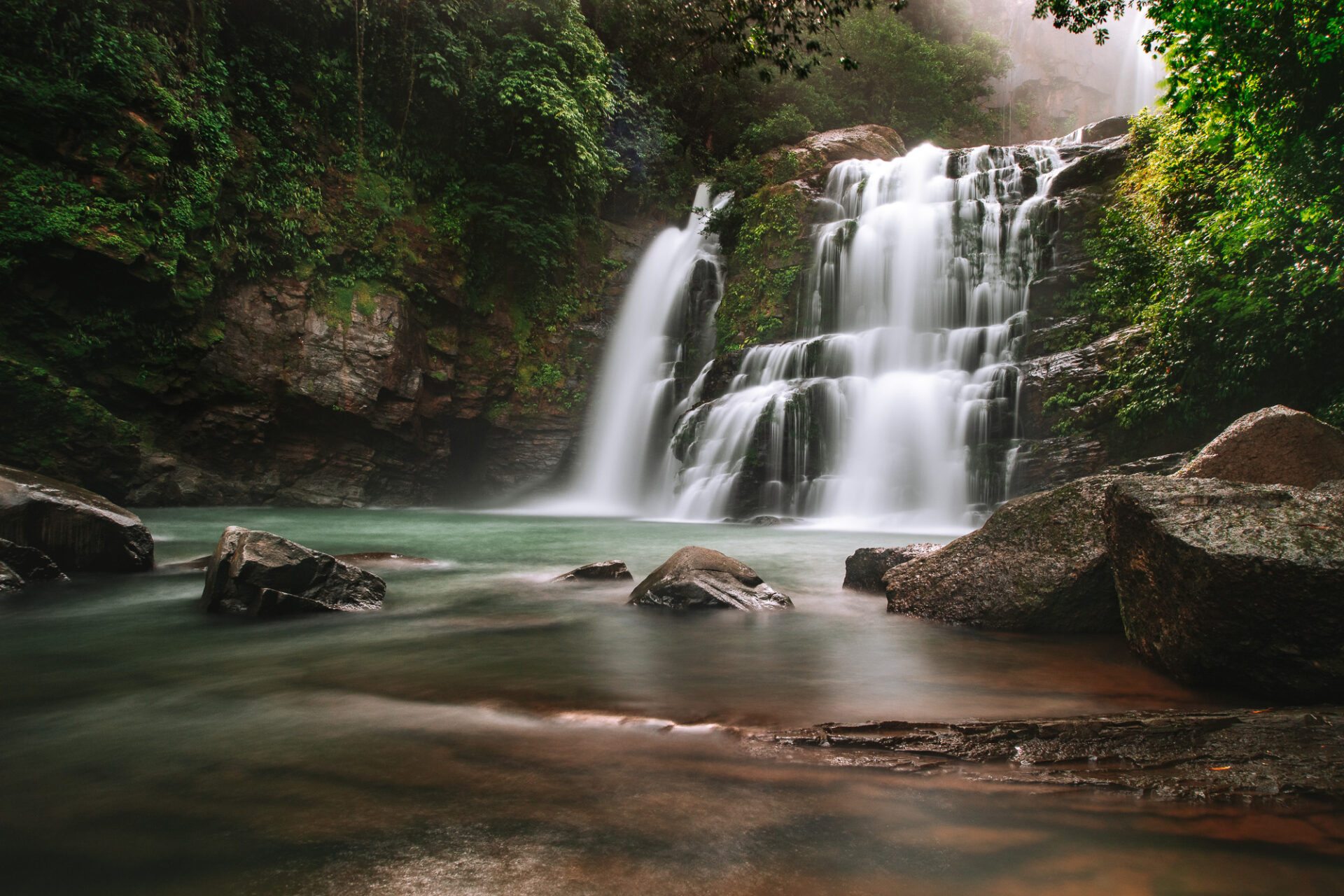 Best Waterfall near Monteverde, Costa Rica
San Luis Waterfall
San Luis Waterfall is located inside the Monteverde Cloud Forest Reserve, so it's quite off the beaten path. To get there, you'll need to hike about four miles to reach the cascade.
The Rio San Luis is one of the cleanest waterfalls in all of Costa Rica, which makes the San Luis Waterfalls an awesome place for swimming. The reserve prohibits any single-use plastics, so make sure you don't bring in any plastic water bottles, plastic bags, or any other single-use plastic product.
The entrance fee to the Monteverde Cloud Forest Reserve will cost you $25 USD.
There's no doubt that if you love chasing waterfalls, you're in for a real treat in Costa Rica. In addition to the ones listed, there are countless others you can visit as well all over the country. However, these are some of the best Costa Rica waterfalls and they all deserve a spot on your vacation itinerary.
What waterfalls in Costa Rica have you visited during your time in the country?