There is no better way to explore Canada than on a road trip. Being the second-largest country in the world, Canada boasts plenty of space and a variety of beautiful landscapes, making it an ideal destination for a road trip adventure.
*This post may contain affiliate links, as a result, we may receive a small commission (at no extra cost to you) on any bookings/purchases you make through the links in this post. As an Amazon Associate, we earn from qualifying purchases. Read our full disclosure
Over the last few years, we spent many months traversing the country in our self-converted Sprinter Campervan. We spent months at a time on the road, traveling from one corner of the country to the other, following some of the most beautiful road trip itineraries in the country.
You've likely heard of some of Canada's most scenic drives, like the Sea to Sky Highway and Icefields Parkway. However, there are plenty of other Canadian road trips worth embarking on.
We've rounded up the best road trips in Canada, covering all 10 provinces and two of the three territories. Whether you're planning on road-tripping across Canada or looking for a one-week getaway from its major cities, we take a look at the best Canadian road trips you should add to your bucket list!
Traveling Soon?

Here is a list of our favourite travel providers and accessories to help get you ready for your upcoming trip!
Best Road Trips in Every Province
No matter which province you want to explore in Canada, these are some epic road trips to take in every corner of the country. Pack your car and head off-road tripping Canada for one of the most memorable trips you can take in the country.
Here is our pick for the most noteworthy road trips in Canada!
British Columbia
Sea to Sky Highway
From Vancouver to Whistler
Distance: 125kms
One of the best road trips from Vancouver, the Sea to Sky Highway links Vancouver and Whistler. This short Canadian road trip takes in some of the best scenery on the West Coast in a matter of hours on Highway 99. As the name suggests, it offers beautiful views from the coast to the mountain peaks.
There are plenty of wonderful things to see on this western Canada road trip, including Whytecliff Park, Shannon Falls, and the adventure towns of Squamish and Whistler. One of the highlights for us was the Sea to Sky Gondola, just a 45-minute drive from Vancouver. The 10-minute gondola ride takes you up over Howe Sound and offers access to hiking trails, a cafe, and a suspension bridge. You can buy your tickets online, and reservations are not required. To avoid the lines, get there as early as you can.
If you want to get out of the city, this is definitely one of the most popular short road trips from Vancouver. It's a BC road trip that you can take on a leisurely weekend without much planning.
Okanagan Valley
From Osoyoos to Kelowna
Distance: 125km
The Okanagan Valley doesn't have a designated road trip route. But we think the famous wine region in British Columbia is definitely a road trip worth taking. The valley is home to many wineries, farm-to-table restaurants, beautiful towns, and Lake Okanagan.
If you want to take in the best that the region has to offer, we recommend driving from Osoyoos to Kelowna. This 125-km long road trip, just east of Vancouver, is a great way to take in the best of the Okanagan Valley wine regions along the way.
The Okanagan Valley road trip can be a great trip en route from Calgary to Vancouver along the Trans Canada Highway.
Vancouver Island
From Victoria to Port Hardy
Distance: 500kms
Vancouver Island is one of the most beautiful parts of British Columbia. Without a doubt, one of the best ways to get around the huge island is by car. You can take one of the ferries across from Tsawwassen or Horseshoe Bay. Explore the island with your own vehicle at your own pace.
Highway 19 is the main highway on Vancouver Island, connecting Victoria in the south to Port Hardy in the north. The journey spans 500 km and offers plenty of things to see and do along the way. This road trip is best done as a multi-day trip to make the most of each stop.
This Vancouver Island road trip features beautiful gardens, epic hikes, surf and diving spots, sandy beaches, and whale-watching tours in the Pacific Ocean, plus some fun towns like Nanaimo, Campbell River, and Telegraph Cove. This drive is definitely a highlight of any western Canada adventure.
Pacific Rim Highway (Vancouver Island)
From Port Alberni to Tofino
Distance: 160 kms
This scenic road trip stretches along a portion of the island's rugged Pacific Coast, passing through lush rainforests and pristine beaches. Starting in the town of Port Alberni, the Pacific Rim Highway also goes through the Pacific Rim National Park Reserve, home to natural wonders like Kennedy Lake, the Broken Group Islands, and Long Beach.
There are countless things to see and do, starting in Port Alberni, a salmon fishing capital with a growing eco-tourism industry. Historic sites can be found all over town, as well as a vibrant arts culture and cultural centers like the downtown Harbour Quay. From Port Alberni, you'll head south to the Pacific Coast on to Long Beach, then through lush forest to coastal towns like Ucluelet and Tofino.
Cariboo Chilcotin Coast (Great Bear Rainforest Loop)
From Lillooet, BC to Bella Coola, BC
Distance: 720kms
The Cariboo Chilcotin Coast is one of the last frontiers of wilderness in British Columbia, accessible by car. This region is a lesser-travelled part of British Columbia but offers a peak into BC's historic past and a chance to connect with true wilderness.
One of the highlights of the area is the Great Bear Rainforest, 6.4 million hectares of rugged wilderness home to grizzly bears, wolves, and other wildlife. Spend a few days hiking and bear-watching in Tweedsmuir Provincial Park, check out the Farewell Canyon, and try your chance at salmon fishing at Lac la Hache.
From Lillooet, the drive follows Highway 99 and 97 until Williams Lake and then heads west along Highway 20 all the way to Bella Coola. If you want to complete the full Great Bear Rainforest Loop, start your trip in Vancouver, hop on the Chilcotin Coast Ferry in Bella Colla to make your way to Vancouver Island and eventually back to Vancouver. Give yourself at least 1-2 weeks to make the most of this epic road trip in BC.
Alberta
Icefields Parkway
From Lake Louise to Jasper
Distance: 235km
One of the most well-known road trips in Canada, Icefields Parkway is an epic 235-km drive through the Canadian Rockies. Leaving Lake Louise and Banff National Park the drive takes you past incredible glacial lakes and towering peaks of Banff National Park to the town of Jasper, home to Jasper National Park.
It's widely considered to be the ultimate Canada road trip. This road trip offers an opportunity to get a close-up view of the Rocky Mountains and some of its most famous lakes, waterfalls, and other attractions. There are many stops along the way, so this short drive is best done as a 1-2 day adventure. During the summer months, there are a number of accommodation options and campgrounds where you can stay overnight to split up your Banff to Jasper road trip.
Some of the must-see places on the Icefields Parkway include Lake Louise, Bow Lake, Peyto Lake, Columbia Icefield, Sunwapta Falls, and Athabasca Glacier.
Yukon
Dempster Highway
From Dawson City to Inuvik
Distance: 700kms
For a real sense of adventure on your Canada road trip, don't miss a chance to drive the Dempster Highway in Yukon. The extraordinary 700-km long isolated road is known as the only all-weather route that passes the Arctic Circle in Canada.
Traveling from Dawson City to Inuvik, the highway connects Yukon with the Northwest Territories. It's an extremely remote Yukon road trip, with only one service station and accommodation on the entire road at Eagle Pains. This means a great deal of planning and preparation is required. However, those who decide to tackle this road trip, will be rewarded with an incredibly memorable experience.
Northwest Territories
Road to Tuk
From Inuvik to Tuktoyaktuk
Distance: 150kms
The Dempster Highway starts in Yukon and ends in the town of Inuvik in Northwest Territories, but for adventure seekers, the road trip doesn't have to end here.
The Inuvik-Tuktoyaktuk road in Northwest Territories continues farther North into one of the most incredible remote country routes. It is just one stretch of the 2000 kilometres of roads cleared every winter in the Northwest Territories. The 150km-long stretch of road connecting the two communities near the far north shore of the country is the best road trip in Canada for adventure seekers.
You can admire timeless landscapes and even spot Northern Lights as you travel through this remote region until you reach the community of Inuvialuit, hamlet of Tuktoyaktuk. This is a unique place, home to just 900 residents, and one of the few places in the world where you can experience how traditional ways of life blend with modern Arctic living.
The "Road to Tuk" opened in 2017 and is maintained all year round. The highway meanders through the tundra, passing ice hills, clear lakes, and beautiful scenery.
Saskatchewan
Grasslands Scenic Drive
From Val-Marie to Grasslands National Park
Distance: 80kms round trip
The Grasslands Scenic Drive is considered the best way to see the Grasslands National Park. The well-signposted drive takes you from Val-Marie through the national park and Frenchman River Valley on an 80km course. There are several spots to stop at along the way and short walks to complete if you want to explore most of Grasslands National Park.
The drive offers a great opportunity to spot some wildlife, including bison and rare prairie dogs. It's the only place in Canada where the black-tailed prairie dogs still exist in their native habitat.
It's a bit of a detour if you are driving across Canada, but is worth the hassle!
Manitoba
Southern Manitoba Road Trip
From Winnipeg to Riding Mountain National Park to Spruce Woods Provincial Park to Winnipeg
Distance: 612 kms
The best way to explore the varied landscapes of Manitoba is on a road trip not far off the Trans Canada Highway. Starting from the province's capital at Winnipeg, you can head northwest to Riding Mountain National Park and Spruce Woods Provincial Park. The 612-km long round trip road trip takes in country towns, a variety of wildlife, and plenty of outdoor activities, including hiking and horseback riding. It's an easy detour to take on a cross-Canada road trip!
While the two parks are not far off the Trans Canada Highway, the road trip is a great way to get away from the crowds and spend a few days in nature. It's worth staying overnight in the parks. Also, enjoy some of the recreational lakes and trails on an overnight camping trip.
Ontario
Georgian Bay Coastal Route
From Collingwood to Manitoulin Island to Killarney Provincial Park and back to Collingwood
Distance: 700+kms
The Georgian Bay Coastal Route is known as one of the best scenic drives in Ontario. This road trip loops around Georgian Bay, north of Toronto and offers some of the best scenery in the region.
The best stops along the way include Bruce Peninsula, Parry Sound, Killarney Provincial Park, Manitoulin Island and Wasaga Beach/Collingwood. It's widely considered one of the best road trips in Ontario, offering a variety of landscapes and things to do.
The Georgian Bay Coastal route can be extended further by adding on the Chatham-Kent Corridor, southwest of Toronto. This road trip takes in some beautiful lakes, including Lake Erie, Lake St. Clair and the Thames River and can even be combined with a road trip to Niagara Falls too. This way you can combine the best road trips from Toronto into one long adventure.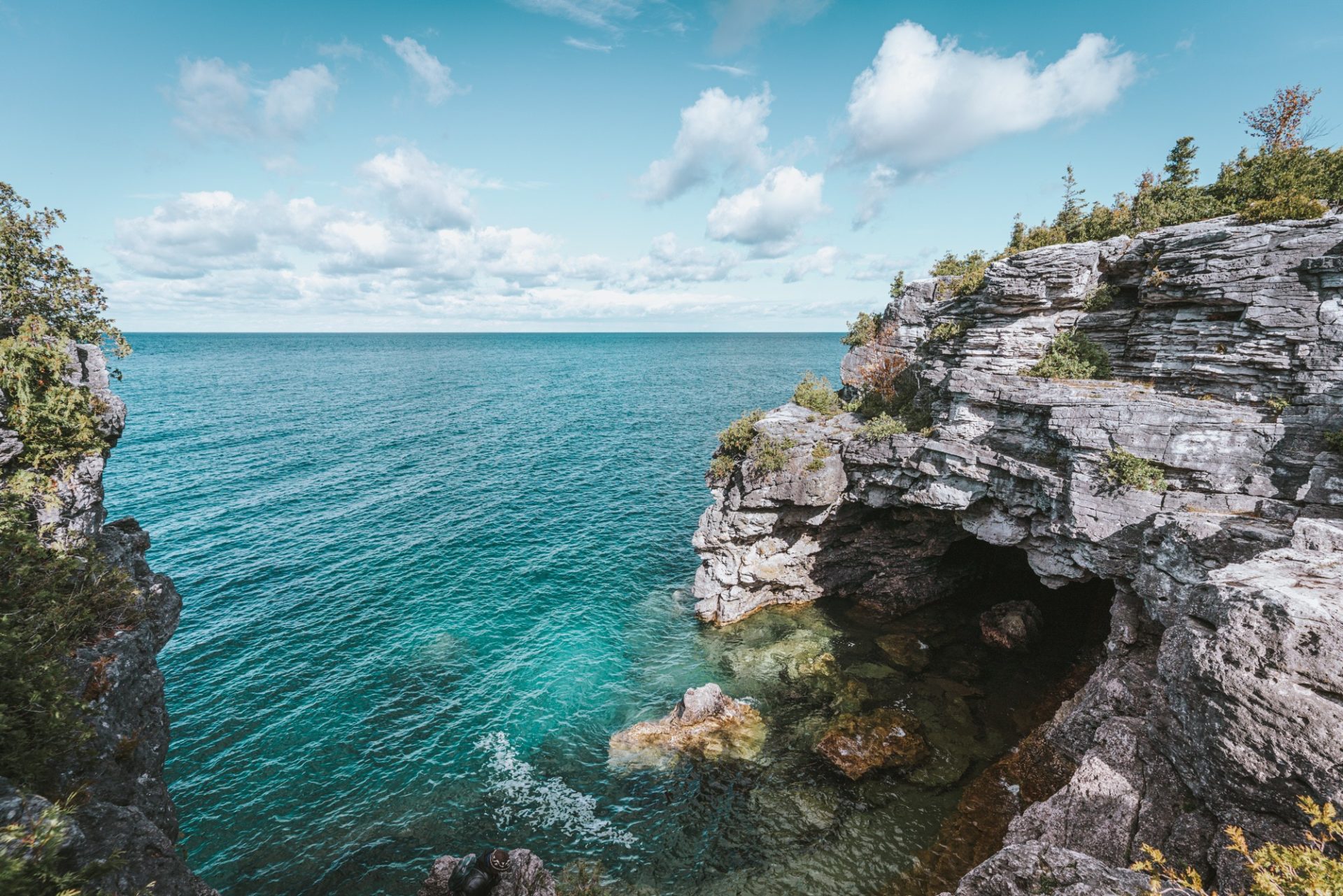 Lake Superior Route
From Sault Ste Marie to Thunder Bay
Distance: 700km
The Lake Superior Route is another great choice if you are looking for top Ontario road trip ideas. It is far less travelled compared to the Georgian Bay Coastal Route. Stretching from Sault Ste Marie to Thunder Bay for over 700km, this road trip offers incredible landscapes and solitude of the central coastal drive in Ontario.
While the entire loop drive crosses from Canada into the USA, this half-circle Lake Superior drive follows the Canadian side of Lake Superior. The lake is huge and almost looks like the ocean as you drive along the shoreline. There are plenty of places to stop en route, including Sault Ste. Marie, Lake Superior Provincial Park, Ruby Lake Provincial Park, Pukaskwa National Park, and Thunder Bay for some hiking and camping.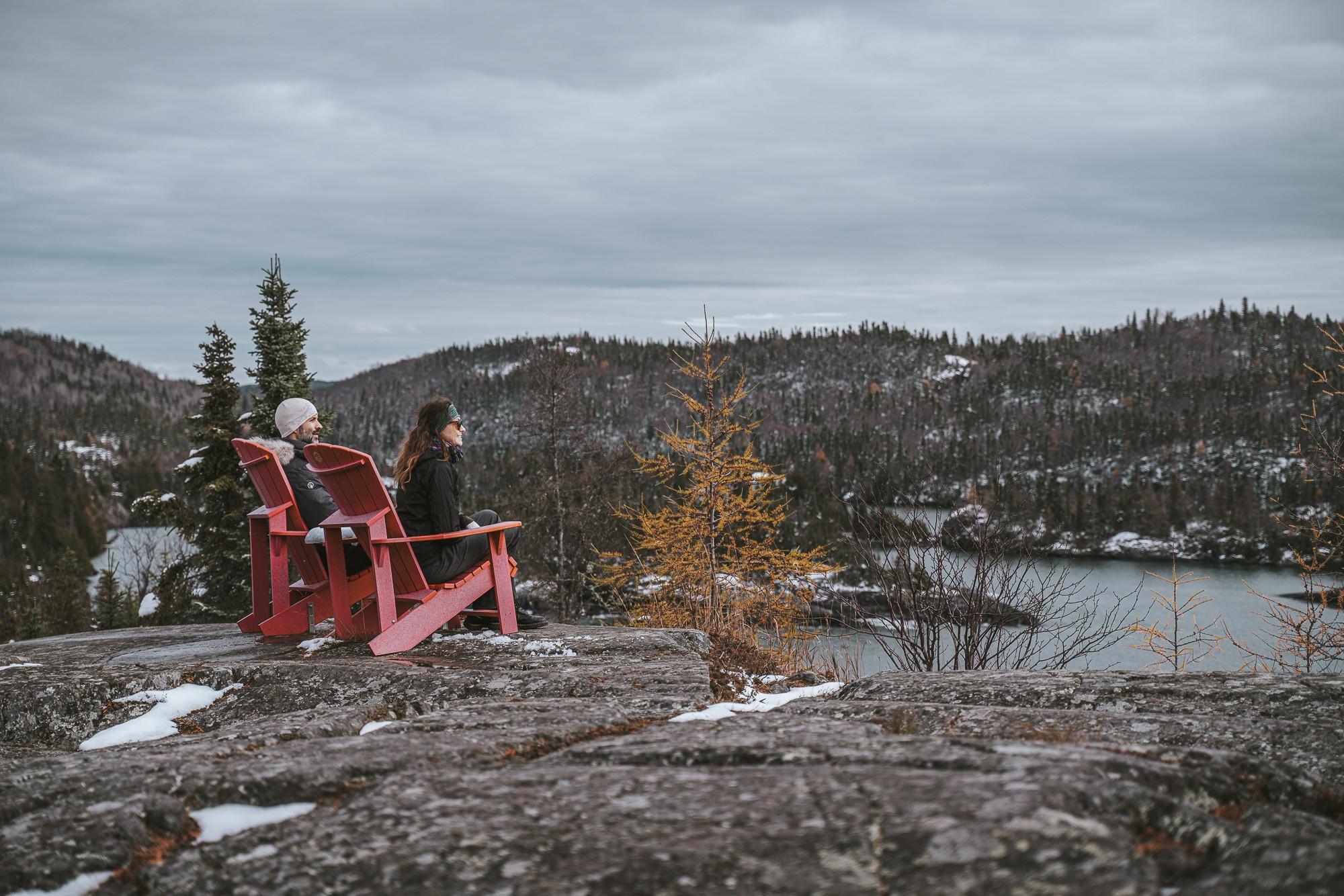 Quebec
Montreal to Gaspe Peninsula
From Montreal to Gaspe Peninsula
Distance: 1000kms
One of the best Canadian road trips, the almost 1000-km long Montreal to Gaspe road trip takes in some of the highlights of Quebec, including some of the country's major cities. On a road trip from Montreal, you can explore both Montreal and Quebec City, before heading northeast along the coast to Gaspe Peninsula.
This Quebec road trip follows the St Lawrence River on the Trans-Canada Highway. It connects these vibrant cities en route to the pine forests and spectacular cliffs. Once you hit the Gaspe Peninsula, make time to visit the pierced rock in Percé, the Parc de la Gaspésie, and take a boat tour to Bonaventure Island.
For a scenic pit stop, you'll have your choice of national parks to choose from. If you're starting in Montreal, you'll first come to the Lac-Temiscouata National Park, then you'll pass by Bic National Park at around the half-way mark. To stay the night and take your time exploring the parks, there are campsites at both of these parks, plus the nearby towns with hotel accommodations.
Nova Scotia
Halifax to Cabot Trail
From Halifax to Cabot Trail
Distance: 300kms
The Cabot Trail is one of the most famous road trips in Canada. It's best to start this road trip in Halifax, the capital of Nova Scotia, and head northeast to Cape Breton Island on the east coast of Canada. Once you reach the island, you can hop on the scenic Cabot Trail. The 300-km highway hugs the coastline and offers stunning scenery across the ocean and rolling mountains.
There are plenty of opportunities to stop on the way and explore on foot with a chance to spot a moose, eagle, and even a whale. A couple of great hikes on the island include the Skyline Tail and the Acadian Trail. If you happen to visit during the fall season, you can register to participate in the annual Hike the Highlands Festival, a 10-day event with guided hikes, evening activities, and presentations focused on sustainability efforts.
To see the many creations that this famous inventor developed while summering in Baddeck, pop into the Alexander Graham Bell National Historic Site. This interactive museum offers a White Glove Tour, where you can touch and look at the inventions up close. If you have time, consider exploring the Good Cheer Trail, Canada's first and only winery, brewery, cidery, distillery, and meadery trail. There are trail stops all over Nova Scotia where you can pop in for a locally-made drink and collect stamps. This Nova Scotia road trip is undoubtedly a must-do road trip in Eastern Canada.
Prince Edward Island
North Cape Coastal Drive
From Summerside to North Cape
Distance: 350 km
Of the three separate scenic drives on Prince Edward Island, North Cape is known to be the best for breathtaking vistas, Mi'kmaq culture and unique stops. The drive begins in Prince Edward Island's second-largest city, Summerside, and continues north, with some wonderful stops on the way.
One of the most unique places to visit on the North Cape Coastal Drive is the Canadian Potato Museum, to learn why Prince Edward Island's potatoes are so famous. Another gastronomic hot spot is Malpeque Oyster Barn, home to some of the best oysters you can taste in the northern hemisphere. Cedar Dunes Provincial Park is a great spot to go for a dip and Kildare Capes is a must to see the red cliff coastline. From nature to culture, breweries to bars, there are plenty of great places to indulge in good food and fascinating discoveries on the North Cape Coastal Drive.
Points East Coastal Drive
From Charlottetown all around the coastline
Distance: 475 km
Connecting over 50 phenomenal beaches with the warmest waters north of the Carolinas, this road trip is perfect for the summer. But don't worry if you can't visit Prince Edward Island during the warmest months – there is so much else to see and do.
Along Northumberland Strait, you'll get to visit three spectacular lighthouses and watch the seals and porpoises play. This coastal drive will take you to Panmure Island, home to one of the most popular white sand beaches on PEI, and to the boardwalk that runs along the Montague waterfront.
For some maritime history, stop at Georgetown, home to the first harbour built on the eastern seaboard and try some amazing PEI seafood at the Georgetown Inn & Restaurant. Another great spot along the drive is the Greenwich section of the PEI National Park, where you'll get to experience one of Canada's unique parabolic dune system.
To explore more of the island's history, stop at the historic sites on the eastern end of the island. The Orwell Corner Historic Village and Roma at Three Rivers National Historic Site.
New Brunswick
Fundy Coast Road Trip
From Moncton to Saint Andrews
Distance: 330 kms
The Bay of Fundy is a top spot for an east coastal drive in Canada. The 330-km trip takes you from Moncton following the coastline down to Fundy National Park and further onto the city of Saint Andrews. The bay is famous for having the world's highest tides. It has an estimated 150 billion tons of water flowing in and out every six hours.
There are some incredibly unique places to stop along the way, including Hopewell Rocks, Fundy National Park, St Martin's sea caves, the city of Saint John and the town of Saint Andrews. While most people think of Cape Breton Island for their eastern Canada road trip, the Bay of Fundy is a very interesting alternative away from the crowds. It's a must-do New Brunswick road trip!
Newfoundland and Labrador
Irish Loop
From Saint John along the south-eastern section of the Avalon Peninsula
Distance: 312 km (one way)
Starting from the capital of Newfoundland in Saint John's, the Irish Loop road trip heads for 300-km around the southern coast of the province. It's jam-packed with some credible coastal scenery and wilderness activities including hiking and wildlife spotting.
Many people head off on a whale-watching tour in Witless Bay and do some hiking along the East Coast Trail. One of the highlights of this east Canada road trip is the historic town of Ferryland, one of the oldest European settlements in North America.
The Viking Trail
From Deer Lake to St. Anthony
Distance: 526kms
The Viking Trail is one of the most famous road trips in Canada hugging the coastline of Newfoundland. The drive starts in the northern part of the province, in the town of Deer Lake and follows the road to Gros Morne National Park and L'Anse aux Meadows National Historic Site, which are both UNESCO World Heritage Sites.
Some of the highlights of the road trip are the fishing village of Woody Point and Rocky Harbour, Gros Morne, as well as L'Anse aux Meadows National Historic Site on the far north shore of the island. If you want to escape the towns and head into nature, there are camping and walking trails in Gros Morne. Gros Morne is an incredible wilderness area covering 1800 square kilometres. It's also recognized as a UNESCO World Heritage Site.
Which of these Road Trips in Canada have you done?