A premier destination for unparalleled outdoor adventures, Vancouver Island is a playground of abundant nature offering some incredible experiences. From sprawling beaches to snow-capped mountains surrounded by lush rainforests, the island has a unique landscape unlike anywhere else. It's a popular destination for hiking, paddling, wildlife viewing, and even surfing.
*This post may contain affiliate links, as a result, we may receive a small commission (at no extra cost to you) on any bookings/purchases you make through the links in this post. As an Amazon Associate, we earn from qualifying purchases. Read our full disclosure
Over the last few years, we've grown very fond of Vancouver Island after spending some time uncovering the mystic beauty the area is known for. The Island is filled with vibrant communities and an impressive roster of restaurants and shops thriving on a hyper-local spirit.
With a rich First Nations heritage, Vancouver Island is a destination with a strong respect for the land and a unique opportunity to learn about indigenous culture from a number of Indigenous communities that call the island home.
If you are planning a visit to this beautiful region, here are some of the best things to do on Vancouver Island.
About Vancouver Island, BC
Vancouver Island is located on the west coast of Canada just off the coast of Vancouver in British Columbia. It actually dips below the Canada-US border and shares many similarities with America's Pacific Northwest. The island is the largest on North America's west coast and is surrounded by over 200 smaller Gulf Islands.
Characterized by temperate rainforest and rugged beaches, Vancouver Island is a haven for nature and wildlife. It's home to a wealth of marine creatures like orcas, sea otters, humpbacks, sea lions, and gray whales. Back on land, black bears, bald eagles, deer, elk, cougars, and hoards of other wildlife can be found across the island. The rugged coastline makes Vancouver Island a popular tourist destination for hiking, kayaking, surfing, and even skiing in the wintertime.
Best Time to Visit Vancouver Island
Like many Canadian destinations, Vancouver Island's high season is during the summer from June to August. With the warm weather and lack of rain, the Island sees thousands of tourists during this short time. To avoid the crowds, we recommend visiting in the shoulder season, either in May or September.
Unlike the rest of Canada, winters on Vancouver Island are mild with temperatures hovering around 5-10°C. What it lacks in snow, it makes up for in rain with many days of grey, rainy drizzle.
Even during winter, many outdoor activities are still accessible and the campgrounds that remain open usually have a reduced rate. Some parks, like Pacific Rim National Park, close their campgrounds for the winter while others, like Strathcona Provincial Park, offer great winter activities.
How to Get to Vancouver Island, Canada
Vancouver Island is easily accessible by air or ferry. The only international airport is in the capital city of Victoria, while Nanaimo and other smaller cities in Vancouver Island offer domestic flights from across Canada. You'll usually have a brief layover in Vancouver before enjoying a short scenic flight across the Strait.
Vancouver Island has several ferry ports with the main hubs in Nanaimo and Victoria. Hop on the stunning 1 hour 40 min boat ride from Tsawwassen or Horseshoe Bay to reach the island from Vancouver. The BC Ferries terminals are serviced by public transit, taxis, and private shuttle buses for easy transfers.
How to Get Around Vancouver Island
Highway 19 is the main highway connecting Victoria in the South to Port Hardy in the north. It starts as the Trans-Canada Highway and spans some 500kms. It takes about 5.5 hours to get from one end of the island to the other. Thanks to this, Vancouver Island is easily drivable by car with almost all major attractions reachable by paved road.
If you don't have your own wheels, there is public transport connecting much of the eastern coast through BC Transit. But, schedules can be sparse and transfers are limited outside of Victoria. So if you're planning a day trip, we recommend a bus service like the Vancouver Island Connector. You can travel to most major centres for CAD $40-90 and connect with the Tofino Bus for CAD $70-105.
Best Things to do on Vancouver Island, BC
Though a Vancouver Island map may look small, the Island is bustling with incredible attractions and outdoor adventures. Here are some of our top Vancouver Island attractions and suggestions for things to do in Vancouver Island.
Visit Victoria
Flanked by historic buildings and charming winding streets, Victoria is a beautiful city on Vancouver Island's south coast. The capital city of British Columbia, Victoria truly offers something for everyone—nature, shopping, dining, and adventure. It's known for its picturesque inner harbour and historic Chinatown.
Did you know that Victoria's Chinatown is the oldest in Canada?
Check out the Royal BC Museum in downtown Victoria for a glimpse of the natural and human history that make Vancouver Island so special. Later, stop by the Fisherman's Wharf at the tip of James Bay to enjoy fresh seafood right off the boat. You'll want to browse the many outdoor markets before choosing from the ever-growing selection of amazing restaurants for dinner.
Be sure to explore Fan Tan Alley, the narrowest street in Canada, and enjoy the endless beauty of Dallas Road. If you are looking to get out on the water, hop into a zodiac boat for an exhilarating Whale Watching tour.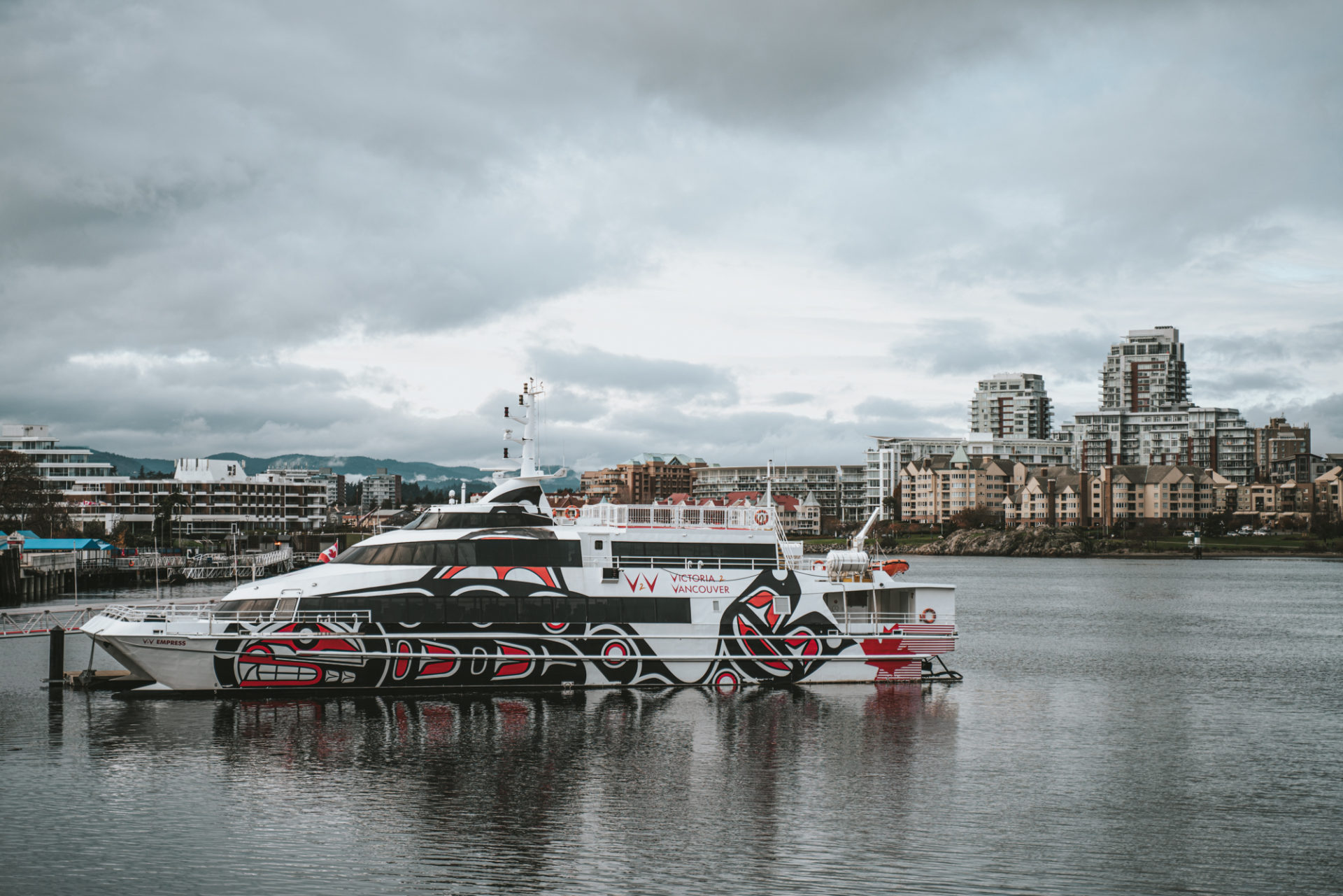 Butchart Gardens
One of the top things to do on Vancouver Island, The Butchart Gardens are a destination not to miss. Deemed a National Historic Site of Canada, the gardens are set on 55 acres just 20km outside of Victoria and are home to over 900 plant varieties.
There is much to discover at Butchart Gardens: from the Sunken Garden to the serene Japanese Garden, the grounds are absolutely stunning and perfectly tranquil. Spend an afternoon after arriving on the Swartz Bay ferry and enjoy high tea at The Dining Room.
Sooke Potholes Provincial Park
Located less than an hour from Victoria, Sooke offers an easy getaway into nature. Sooke Potholes Provincial Park features water-carved potholes filled with flowing water from the Sooke River. It's a popular swimming spot thanks to the refreshing waters that fill the glacier-created rock formations.
The park is a great day trip from Victoria and is worthy of a stop for anyone spending time on Vancouver Island in the summer.
Sheringham Point Lighthouse
Journey along the Lighthouse View Trail for a stunning loop around the historic Sheringham Point Lighthouse. Since 1912, the lighthouse has been guiding vessels into Victoria and Vancouver and is one of the only Vancouver Island lighthouses accessible by land.
Waterfalls at Sandcut Beach
Cascading onto the pebbled beach, the waterfalls at Sandcut Beach are a local favourite. The beach spans 3.5 km and boasts lovely views of the Olympic Mountains. It's reached after a short stroll beneath towering spruce and cedar trees and is a great place for a picnic.
Port Renfrew
On the southern portion of Vancouver Island's west coast, the beaches are teeming with marine life and flora. Port Renfrew is a great launch point for exploring some of the most beautiful places on Vancouver Island. Start at Botanical Beach and make your way around Port San Juan. Port Renfrew also marks the start (or end) of the Juan de Fuca Trail, a multi-day hike along the coast. After a day watching the waves, settle into the Renfrew Pub for a seaside dinner on their cozy patio.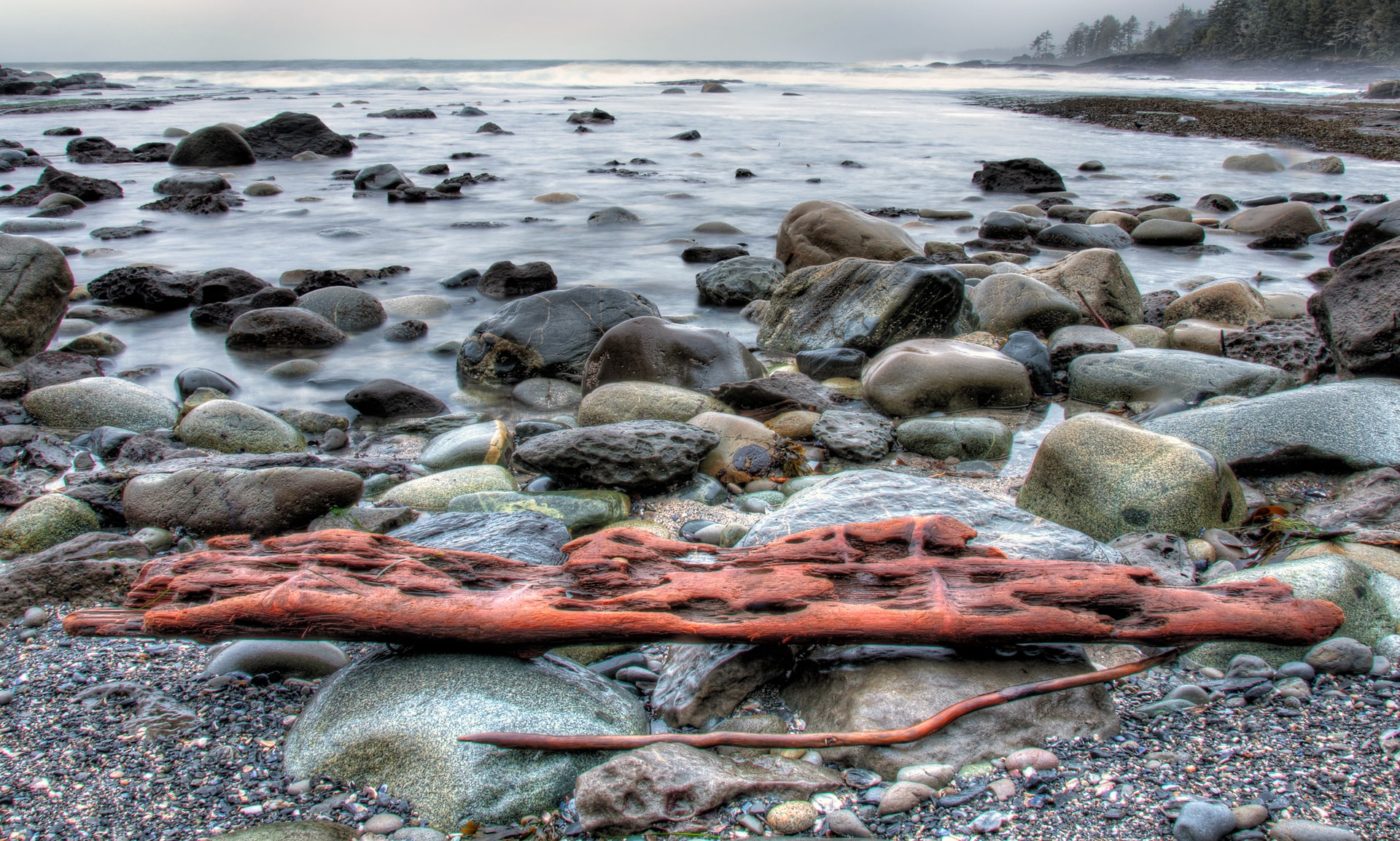 Cowichan Bay
The charming boat-lined marina of Cowichan Bay is like a real-life postcard. Filled with artisan creations and local fare, the streets are an idyllic place to roam on a sunny afternoon. Grab a bite of fish and chips while admiring the many houseboats floating in the harbour. Cowichan Bay also offers fantastic birdwatching with opportunities for whale watching tours and fishing charters.
Totems in Duncan
Located just south of Nanaimo, Duncan is the gateway to the Cowichan Valley. Coined the "City of Totems," Duncan's downtown streets are lined with 38 First Nations' totems. Explore the colourful works of art on a self-guided Totem Tour Walk before a delicious meal at Brunch on 3rd.
Nanaimo
One of the bigger cities on Vancouver Island, Nanaimo offers a range of activities with a blossoming local community. Nanaimo attractions range from hiking to waterfalls to soaring through the forest on a ziplining thrill ride. And in town, the winding streets of Nanaimo are filled with bustling boutiques, cafés, and art galleries.
Make your way along the peaceful east coast while beach hopping at Pipers Lagoon and Departure Bay. After, walk the charming streets of the Old City Quarter before taking a stroll along the harbourfront with gelato in hand. Sit back and watch the float planes land as boats sail in the distance. Then, look out for sea lions frolicking at Dodd Narrows before hopping on the ferry to Protection Island for a drink at a floating pub.
But Nanaimo sightseeing doesn't stop at the coast—head inland for an exhilarating climb up Mount Benson. You'll be rewarded with amazing views of the coast and layers of nearby islands. Or, venture down to Ammonite Falls where ancient fossils envelop a cascading waterfall perfect for a cool dip on a hot day.
Goats on the Roof in Coombs
If you've ever looked up what to do on Vancouver Island, you've probably heard the name "goats on the roof in Coombs." To put it simply, it's exactly what it sounds like—there are goats living on a roof in Coombs. It is definitely one of the most popular attractions on Vancouver Island worth adding to your itinerary.
The building in question is the Old Country Market in Coombs. The roof is covered in grass and during the summer months, you'll find goats hanging out on its rooftop. Snap a pic with the goats and then pop into the market for a wide selection of local and international foods and fresh produce.
Don't miss a stop at Billy G's Dougnuts for the most delicious sugar hit on the island. Their donuts are funky and delicious and we bet you'll be hard-pressed to pick just one.
Port Alberni
Located in the middle of the island, Port Alberni is a worthy stop along Highway 4 en route to Tofino. This former logging town sits on the Alberni Inlet, and is a popular fishing destination, particularly during the salmon run.
Port Alberni is surrounded by thriving nature parks with massive trees and flowing waterfalls.
Start the day at Little Qualicum Falls where you can trek along the powerful waterfall on the loop trail. Then, do one of the best things to do on Vancouver Island: explore the old-growth forests.
Head to MacMillan Provincial Park to walk around towering cedar and fir trees at Cathedral Grove. After Cathedral Grove, treat yourself to a sweeping view of the Alberni Valley on the Alberni Valley Lookout Trail. Recharge with a beer at Dog Mountain Brewing before going for a dip in the sparkling waters at Sproat Lake Provincial Park.
Tofino
Tofino is by far one of the most beloved places to visit in Vancouver Island. This rugged west coast town is a haven for outdoor activities from whale watching to surfing, hiking and kayaking.
The village itself has a buzzing scene of shops and restaurants with a strong emphasis on local fare. Have lunch at Tacofino or settling in for a seaside dinner at 1909 Kitchen at the Tofino Resort & Marina
There is no shortage of surfing beaches in Tofino suitable for surfers with any skill level. So make some time to visit some of the best beaches on Vancouver Island dotted along the coastline in Tofino. Our favourite, the sandy expanse of Long Beach is a great place to ride the waves or relax with a beach picnic.
Tofino also neighbours beautiful Pacific Rim National Park, home to great hikes like the Rainforest Trail or the South Beach Trail.
The area is also a hotspot for wildlife tours like whale watching, bear watching, and even a remote adventure to Hot Springs Cove. Operators like Remote Passages and Tofino Resort & Marina offer a number of wildlife tours throughout the season.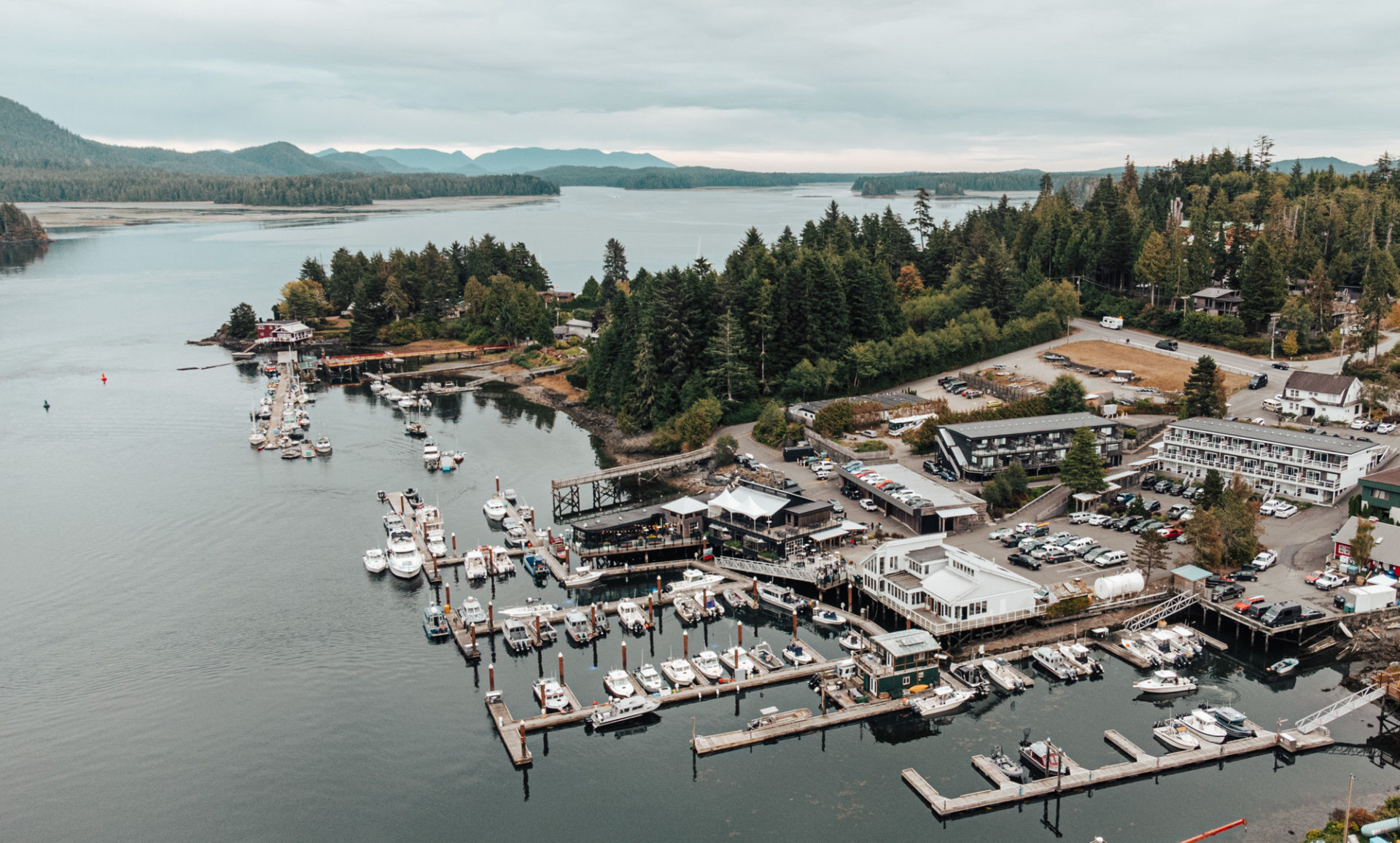 Ucluelet
Away from the tourist-lined streets of Tofino, Ucluelet is a laid back nature-driven community. While many know Ucluelet as a quiet alternative to the busy Tofino, it's also a destination in and of itself. The area is internationally renowned for its kayaking trips to the Broken Group Islands.
Majestic Ocean Kayaking is the top outfitter in the area offering a variety of trips to the islands ranging from a 4.5-hour introductory day trip to a 5-day off-grid kayaking and camping adventure.
Ukee's outdoor expeditions aren't limited to a kayaking tour or two. The town is home to the Wild Pacific Trail, a 9 km journey with stunning panoramic views from every turn. Meanwhile, the town hosts artisan markets, surf shops, and an expansive aquarium perfect for rainy afternoons.
Fanny Bay Oysters
Serving the freshest seafood around, Fanny Bay Oysters is an environmentally-conscious oyster farm on the east coast of Vancouver Island. Visit the Seafood Shop for a variety of clams, mussels, crab, and you guessed it, oysters!
Grab a dozen or 3, take it back to your campground and pop them on the grill for an easy way to enjoy Pacific Oysters without the hassle of shucking!
Campbell River
A true launch point to nature, Campbell River celebrates what tourism Vancouver Island is all about. Campbell River attractions focus on gorgeous scenery, cultural experiences and the wild animals that call the Island home. It's a fantastic place to join whale and bear watching tours, along with immersive cultural tours with Homalco Tours. And if you are visiting during the salmon run, this is by far THE BEST place to go salmon fishing on Vancouver Island.
End the day walking the town and visiting the shops and restaurants. Pop into the Carving Shack before settling in for a beach fire at Dick Murphy Park.
Or, stroll along the sea walk and look out for amazing driftwood art from local artist Alex Whitcombe of Drifted Creations. Whatever you do, be sure to catch the sunset at the Discovery Fishing Pier as the sun blankets the Discovery Islands.
Strathcona Provincial Park
Filled with hiking trails, Strathcona Park was the first Provincial Park in British Columbia. It's home to some of the biggest mountains on Vancouver Island and is a world of natural wonders. Drive 1 hour from Campbell River for the 1km hike to spectacular Lady Falls and extend your stay by visiting Lupin Falls and Lower Myra Falls.
Elk Falls Provincial Park
Venture across the suspension bridge for stunning views of the roaring Elk Falls. The park is just a 5-minute drive from Campbell River and has great wildlife viewing and hiking trails.
Marine Life in Telegraph Cove
Northern Vancouver Island is the ultimate destination for rugged unspoiled nature. Telegraph Cove is a sleepy fishing village with cute and colourful historic houses dotting the coast. It's a fantastic place to visit if you want to see the resident orcas (killer whales) that live in the North Coast waters.
Go on an eco-certified whale watching tour with Prince of Whales or hop in a kayak with their sister company, North Island Kayak, to paddle through the Johnstone Strait. After all, it's one of the best places on the entire island to see whales!
End the day at the Telegraph Cove Resort where you can dine on local seafood and wines or spend the night at the Forest Campground, tucked away just 1 km away from the resort.
Alert Bay
Located on the nearby Cormorant Island, Alert Bay is a harbourside community just 45 minutes from Port McNeill. It's home to the world's tallest totem pole where the 'Namgis people welcome visitors at the U'mista Cultural Centre. It's surrounded by pristine wilderness and is an excellent place to dive into Vancouver Island's cultural history.
Port Hardy
The highway ends in Port Hardy, a small town that acts as a launch point to North Island nature. It's known as a gateway to BC Ferries that venture up the coast to Bella Coola and Prince Rupert.
There are a number of things to do in Port Hardy ranging from wildlife tours to diving. The town is also home to art boutiques and shops. And of course, you can't visit Port Hardy without grabbing a bite of candied smoked salmon—a famed local favourite.
Cape Scott Provincial Park
Cape Scott is one of the best places to visit on Vancouver Island for rugged, untouched nature. The windy northern coast boasts soft, sandy beaches lined with jagged cliffs and dense forest. The park is famous for the challenging North Coast Trail and backcountry camping at spectacular San Josef Bay.
Popular Activities on Vancouver Island, British Columbia
Whale Watching on Vancouver Island
Going on a whale watching tour is a Vancouver Island must-see! The towns below are the best destinations for an unforgettable whale-watching trip.
Victoria
Known for its Southern resident Orcas, Victoria offers year-round whale watching. During March-November, you will also see gray whales and humpback whales as they migrate up the coast. It's one of the busier whale watching destinations in Vancouver Island, but we are happy to report that operators in Victoria still adhere to responsible wildlife viewing practices.
Join a 3-hour whale watching trip on a zodiac with Orca Spirit for CAD $129 per person or hop on one of the tours offered by Prince of Whales Whale Watching.
Tofino
The most common whales to see on Vancouver Island's West Coast are humpbacks and gray whales. You'll find humpbacks in this region all throughout the summer season and gray whales from March-November where they come to feed during this time of the year. It is possible to see transient Orcas in Tofino, but they are much more common on the east coast.
We recommend a zodiac tour with Remote Passages. Their 3-hour whale watching tour costs CAD $129 per person. Boat tours are also available.
Campbell River
Campbell River is a premier whale-watching destination offering full-day tours into remote passages. The area sees year-round transient orcas, along with humpbacks from May-November. Full-day tours seek out the Northern Resident Orcas that live on the north coast.
We recommend a tour with Homalco Tours, an Indigenous-run company that offers wildlife as well as cultural tours. We particularly enjoyed their Whales, Wildlife and Culture tour.
Telegraph Bay
Home to the Northern resident Orcas, Telegraph Cove is one of the best places on Vancouver Island to see whales. Here, you'll see orcas year-round while humpbacks visit from May-September.
Join a 3-hour whale watching tour with Prince of Whales on a zodiac for CAD $152 per person.
Surfing on Vancouver Island
Easily one of the most unique things to do on Vancouver Island is surfing. There aren't many other places in Canada where surf shops and wetsuits fill the streets.
For beginners, the Tofino area has you covered for sandy beaches and beginner breaks. Visit Chesterman Beach or join in on surf lessons at Long Beach.
For advanced surfers, Cox Bay is one of the best Vancouver Island surfing spots. It has consistent swells and always sees good waves. Another spot closer to Ucluelet is Wickaninnish Beach or Sombrio Beach near Port Renfrew.
For experts, check out Jordan River with its distinct three breaks. This spot isn't for beginners, as it's surrounded by jagged rocks and doesn't always have consistent swells.
Hiking on Vancouver Island, British Columbia
Vancouver Island tourism is largely centred on the outdoors. There are world-class hikes worthy of any traveller's bucket list.
Best Multi-Day Treks
The iconic

West Coast Trail

is the main reason many people explore Vancouver Island. It's a gruelling 75 km from Bamfield to Port Renfrew filled with ladders, river crossings, and waterfalls.

The

Juan de Fuca Trail

ventures from Botanical Beach to China Beach and spans 41 km. It's similar to the West Coast Trail and winds through beaches, forests, and grottos.
Best Day Hikes
An

Alberni Valley

favourite,

5040 Peak

is an uphill climb along 9 km of mountain dotted with alpine lakes. It follows challenging terrain but promises stellar views from every angle.

North of

Campbell River,

the 8 km

Ripple Rock Trail

is a great option for a moderate day hike. It opens up to gorgeous views of Seymour Narrows and the Discovery Islands.
Best Short Hikes
The

Wild Pacific Trail Lighthouse Loop

is a beautiful 2.5 km loop easily done in 45 minutes. It's based in Ucluelet and has stunning views of the forest and nearby islands.

Near Duncan, the

Stoney Hill Trail Loop

is an easy 3.7 km loop with many great lookouts. It boasts sweeping views over Sansum Narrows and the Gulf Islands.
Cycling/Mountain Biking on Vancouver Island
There are plenty of opportunities for cycling through the cities and mountain biking on trails in Vancouver Island.
The Galloping Goose Trail spans 60 km but has many entry points for shorter journeys. Similarly, the Crafty Butcher in Cumberland serves as a moderate challenge through the winding forest. Lastly, the Doumont Trails in Nanaimo offer a network of trails ranging in difficulty at the foot of Mount Benson.
Fishing on Vancouver Island
A popular pastime for tourists and locals alike, Vancouver Island has some of the best fishing in all of BC. With over 10,000 lakes and expansive ocean access, the possibilities are endless. Fish for freshwater gems like rainbow trout and steelhead in the lakes all year round or fish for salmon and halibut in the ocean.
In late Summer/early Fall, salmon run brings millions of salmon into the fisheries and rivers all around Vancouver Island, making it a particularly productive time to fish for salmon in non-tidal waters.
If you're wondering where to go on Vancouver Island to fish, the best spots are near Campbell River, Port Alberni, and Ucluelet. The salmon season runs from August – November when coho, chinook, and pink salmon are spawning in rivers. There is year-round fishing on Vancouver Island but late summer into fall is generally the best time to fish.
Where to Stay on Vancouver Island, British Columbia
Campgrounds on Vancouver Island
There are hundreds of private and provincial campgrounds across the Island. These are a few of our favourite sites.
Qualicum Bay Campground
Our favourite RV park on Vancouver Island, Qualicum Bay Campground is a lovely oceanside retreat. There are 120 sites with electricity, water, and bathrooms starting at CAD $42 per night.
Pacific Rim National Park – Green Point Campground
Arguably the best place to stay near Tofino, Green Point Campground offers affordable camping among the trees. There are 94 campsites for tents and campers with access to Long Beach that start at CAD $33/night. Note that it is only open from May-October.
Strathcona Provincial Park –
Lake Campground
Amid the park's snow-capped mountains, Buttle Lake Campground has 85 vehicle-accessible sites with picnic tables and pit toilets. Reservations are CAD $20 per night and the campground has access to lakes, hiking trails, and fishing.
French Beach Provincial Park
Just a short drive from Victoria, French Beach Campground is a gem on the west coast of Vancouver Island. It's open year-round with pit toilets, water, and picnic tables suitable for tents and RVs. Reservations are CAD $26/night and $13/night in the winter.
Unique Accommodation on Vancouver Island
From north to south and east to west, Vancouver Island is spoiled with unique places to stay.
Watch whales right from your bedroom at the colourful Telegraph Cove Resort. Set in a peaceful marina, these cabins start at CAD $145 per night.
Set atop Tofino's beautiful Chesterman Beach, this luxe lodge boasts postcard-worthy views of the rainforest and ocean. It's a splurge at CAD $360 per night but the experience is sure to be unforgettable.
A fixture of Tofino, the Tofino Resort & Marina offers laid-back rooms overlooking the ocean. It's walking distance to Tofino's great shops and restaurants and rooms start at CAD $209/night.
Wake up in nature at Brown's Bay Resort near Campbell River. The resort is oceanside, with a marina and floating restaurant with rooms starting at CAD $175 per night.
Stay in a peaceful farmhouse near Campbell River with a beautiful garden and river view. This charming historic bed & breakfast starts at CAD $110 per night, which includes a tour.
Perched on the moody shores of Port Renfrew, these cozy cabins have stunning ocean views with rugged, coastal luxury. Rent a cabin on the wharf with a seaside fire pit for CAD $249 per night.
How Long to Spend on Vancouver Island?
With so many incredible things to do in Vancouver Island, you should spend at least 3-4 days there. You can easily spend many months exploring the remote coastlines and forests but a 7-10 day trip is ideal.
Have you ever explored Vancouver Island? What were your favourite things to see on Vancouver Island?