Perched upon the granite shore of Lake Superior is Pukaskwa National Park, home to Ontario's Coastal Hiking Trail. Located just south of Marathon, the park has an amazing variety of hiking and paddling routes, a diverse wildlife population, and a rich Anishinaabe First Nations history.
*This post may contain affiliate links, as a result, we may receive a small commission (at no extra cost to you) on any bookings/purchases you make through the links in this post. As an Amazon Associate, we earn from qualifying purchases. Read our full disclosure
You may be wondering, "how do you pronounce Pukaskwa?" The origin of the word Pukaskwa is debated among naturists and historians but is said to reference the process of cooking marrow from animal bones by the Ojibway and Cree people of the area. One thing that we learned during our visit is that the name is pronounced as "Puk-a-Saw".
A trip to Pukaskwa provides endless opportunities for hikers, paddlers, and wildlife viewers and is a worthy stop on any cross-Canada road trip, no matter the time of the year!
Traveling Soon?

Here is a list of our favourite travel providers and accessories to help get you ready for your upcoming trip!
How to Get to Pukaskwa National Park
Getting to Pukaskwa National Park from Toronto or Ottawa takes 12-13 hours. The drive follows the scenic Trans-Canada Highway along the shores of the Great Lakes from Sudbury. The long journey ventures through some of Ontario's most unique landscapes and is anything but boring.
Coming from Southern Ontario, it is a 5-hour drive (413 km) from Sault Ste. Marie to the entrance of the park. If you're coming from Northern Ontario, the park is a 3.5 hour drive from Thunder Bay (317 km) and it is an equally beautiful trip along Ontario's Highway 17.
Don't have your own wheels? You can take a bus from Thunder Bay to Marathon and arrange for a taxi to bring you into the park. But, you will need to do all of your exploring on foot as there are no shuttle services within the park. If you're feeling extra adventurous, you can paddle or sail into Pukaskwa's Hattie Cove from another launch point on the lake.
Because of the distance and the variety of things to do, it's best to plan for a multi-day stay when visiting Pukaskwa National Park.
Best Time to Visit
Pukaskwa is open all year round, but is a particularly popular spot to visit from May-October. It makes for an ideal summer trip or a fantastic opportunity to see the fall colours during the fall months. It's important to note that all opening and closing dates are weather dependent, so it's best to check Parks Canada or contact the park directly when planning your trip, especially if you are traveling outside of the May-October time frame.
Park Fees
There is a daily entrance fee of CAD $5.90 ($2.90 in the Fall) for an individual, or a family/group rate of CAD $12 ($6 in the fall). There is an option for a seasonal pass ($60.20 for a family/group) if you plan to visit often.
If you're thinking of visiting more than one Canadian National Park this year, a Parks Canada Discovery Pass ($139.40 for a family/group pass) is an excellent option for getting unlimited access to over 80 National Parks in Canada and contributing to keeping Canada's National Parks maintained and beautiful! We have one and love the convenience that it brings when visiting National Parks in Ontario and other parts of Canada.
Things to do in Pukaskwa National Park
Northern Ontario is a wilderness playground and Pukaskwa National Park is no exception. From sinking your toes in the sand at Horseshoe Beach to embarking on the rugged White River Suspension Bridge Hiking Trail, Pukaskwa offers plenty of outdoor activities for everyone to enjoy.
Day Hikes
Hiking is one of the most popular activities at Pukaskwa National Park. There are many trails ranging in length and difficulty level and plenty of opportunities for backcountry exploration as well.
Some of the best day hikes Pukaskwa has to offer are all about soaking in the views of Lake Superior and trekking through the trees of Canada's boreal forest.
Southern Headland Trail (2.2 km)
One of the most popular day hikes in Pukaskwa National Park is the 2.2 km Southern Headland Trail that takes just over an hour to complete. On this trail, you'll find yourself on the rugged shore, surrounded by panoramic views of Hattie Cove, Pulpwood Harbour, and Horseshoe Bay.
Hiking the Southern Headland Trail also makes for a great photo opportunity since it is the home of the Parks Canada red chair experience. Launched in 2014, the red chair experience is a Parks Canada initiative created to help connect Canadians with nature at some of the country's coolest and most revered landmarks. The red chair symbolizes a place to sit down for a moment and admire a view. Or, congratulate yourself on completing a hike. Red chairs can be found at National Parks across the country from British Columbia to Newfoundland.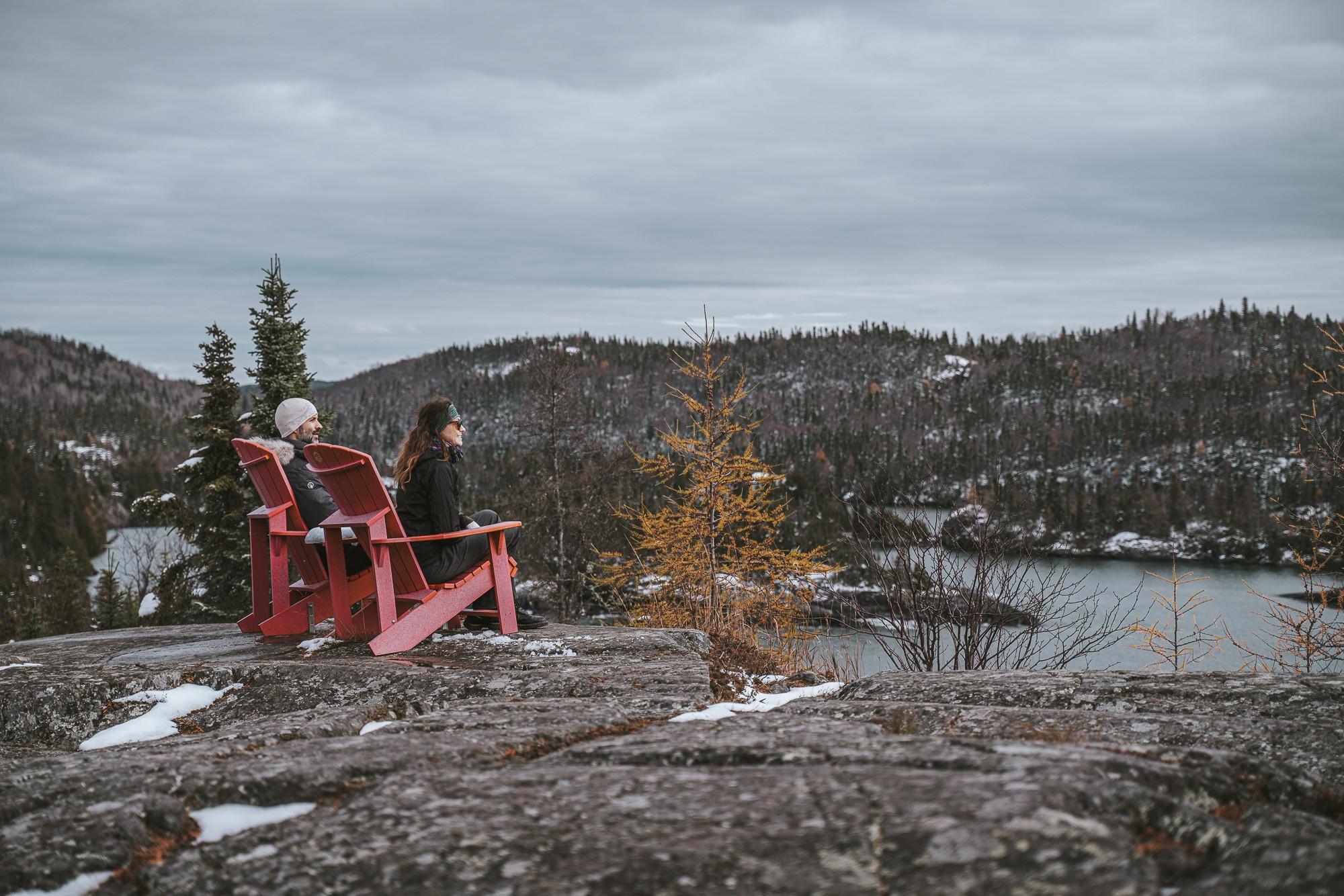 Beach Trail (2 km)
Being one of the largest lakes in the world, Lake Superior creates an ocean-like coast with expansive beaches sprinkled with bleached driftwood. The Beach Trail is an hour-long hike from the visitor centre and the stroll along Middle Beach allows you to enjoy the sand and cool off in the water.
Manito Miikana (2 km)
Deemed "the Spirit Trail," this hour-long hike winds through the rocky terrain on the west side of Horseshoe Bay. A set of stairs brings you to an amazing view of Lake Superior and its surrounding rivers and sand dunes. Complete with viewing decks along the trail to take a pause and soak it all in.
Boardwalk Beach Trail (1.2 km)
This beachside trail is only a 30-minute roundtrip hike from the visitor centre and is the perfect place to catch a sunset over Pukaskwa's famous Horseshoe Bay. The trail is almost entirely flat so it makes for an accessible walk that anyone can enjoy.
Hattie Cove Fire Walk via the Coastal Hiking Trail (0.7 km)
This portion of the Pukaskwa Coastal Trail takes you on a 20-minute roundtrip journey from the visitor centre through the prescribed fire area of Hattie Cove that took place in 2012. Walking the trail is an interesting opportunity to learn about the importance of fire in the boreal forest. And, you can witness how quickly the ecosystem can naturally regenerate.
Full-Day & Multi-Day Hikes
White River Suspension Bridge Trail (18 km)
The longest and most challenging day hike on our list, the White River Suspension Bridge Trail is a 8-9 hour loop from the visitor centre. This trail lies within the Coastal Hiking Trail and offers a unique opportunity to admire the suspension bridge over Chigamiwinigum Falls, which makes for an awesome reward after a long trek.
Coastal Hiking Trail (60 km)
The Coastal Hiking Trail is for those seeking a uniquely Ontario wilderness experience. This 60 km trail will have you trekking over pebble beaches and hugging rocky cliffs. Don't worry, there are lots of rewards for all of the hard work with peaceful beachside campsites and postcard-worthy views of Lake Superior. Be prepared to see wildlife like black bears, moose, and wolves. Most hikers plan their trip on a five-day itinerary using Parks Canada's backcountry hiking planner, but there are options to break this into shorter jaunts as well.
Our friends, Deb and Dave, have a great video highlighting their experience on the Coastal Hiking Trail – check it out HERE!
Other Things to do in Pukaskwa National Park
If you're looking to explore the park in other ways than hiking, Pukaskwa has lots of fun activities. You can assure to make your visit full of unique adventures and memorable experiences.
Paddling
Whether you're a beginner or expert paddler, you can explore the wild waters of Lake Superior. This makes for an extra adventurous visit to this Thunder Bay area National Park.
Hattie Cove
The protected Hattie Cove is the perfect place for a day paddle. This makes them calmer than other areas of Lake Superior. You can paddle around Hattie Cove for an hour or a whole afternoon and explore lots of hidden gems. If you don't have your own boat, you can rent a canoe or paddleboard. Then, enjoy a day on the water.
Coastal Paddling Route
Pukaskwa has a Coastal Paddling Route that's best suited for experienced ocean or large open-water paddlers. This route is sprinkled with pristine campsites and is sure to satisfy your paddling adventure needs. There are over 135 km of coastline to explore! It's wise to prepare for crazy weather and plan your trip accordingly with Parks Canada's backcountry paddling trip planner.
Anishinaabe Camp
At the Anishinaabe Camp, you can join park interpreters to learn about the centuries-old traditional customs of the Anishinaabe people. Hunting, trapping, and fishing are all important parts of the Anishinaabe peoples' lifestyle. Learning about these activities will make you appreciate the park's wilderness even more.
Horseshoe Beach
A soft-sand beach dotted with wave-beaten driftwood might not be something you'd expect from the world's largest freshwater lake. But, Horseshoe Beach is just that. Take the Boardwalk Beach Trail from the visitor centre to enjoy the views and relaxing nature. This beach is the perfect place for a sunset stroll or a picnic on a sunny summer's day. The beach is open from May to mid-October and is busiest in July and August.
Fishing
The clear, fresh waters throughout the park are a fun place to drop your line and fish away an afternoon. There are pike, walleye (pickerel), and trout in the lakes and rivers. It's recommended to consider catch and release fishing to assure sustainability for our future generations. The use of live bait or lead sinkers is not permitted in the park and remember to get your Ontario fishing license online or locally in Marathon before you start angling.
Where to Stay in Pukaskwa National Park
There are a variety of different options for Pukaskwa National Park camping from frontcountry to backcountry. Additionally, even staying in a Parks Canada oTENTik tent.
Hattie Cove Campground
Hattie Cove is located not far off of the Trans-Canada Highway. It has 67 vehicle-accessible campsites for tent and RV camping. The campground is fully operational from May 15 to September 7 with full services like potable water, flush toilets, and showers, and stays open from September 8 to October 15 with pit toilets and a self-registration system.
oTENTik
Want to camp without having to set up a tent and sleep on an air mattress? The oTENTik tents are a perfect option for glamping trips and stress-free camping holidays. They are a cross between an A-frame cabin and a canvas tent. They also have have beds for up to 6 people, electricity, and a wood stove for keeping warm. You can reserve an oTENTik site online.
Traveling in an RV/Campervan?
If you are like us, and are planning to travel to Pukaskwa National Park in an RV or campervan, the Hattie Cove campground will be your best option for accommodation in the park. But if you find yourself there off-season, check iOverlander for wild camping or boondocking options near the park.
Pukaskwa National Park is an outdoor wonderland with hiking, paddling, and camping adventures fit for any outdoor traveler's bucket list. Whether it's crossing the Pukaskwa National Park Suspension Bridge or spending the day at Horseshoe Beach, the park's stunning views and rich history make it a truly special place.
Have you been to Pukaskwa National Park? What were some of your favourite spots in the park?