2020 has hardly been the year any of us expected. In March, when the world suddenly went into full lockdown mode and our international travel plans came to a halt, we found ourselves wondering what the rest of the year had in store for us.
*This post may contain affiliate links, as a result, we may receive a small commission (at no extra cost to you) on any bookings/purchases you make through the links in this post. As an Amazon Associate, we earn from qualifying purchases. Read our full disclosure
After months in self-isolation, our desire for a new project grew stronger than ever. For nomads like us, the idea of "staying home" was challenging on many levels. We haven't had a home in over 5 years and within a few months, we felt like we were beginning to overstay our welcome with family.
As Canadians, we had always talked about traveling around Canada, exploring our own backyard, one that we have effectively ignored while exploring all corners of the world. We felt like if there was going to be an opportunity for us to travel domestically, THIS would be the year to do it. And what a unique experience it would be to explore Canada with our camper van build.
We'd traveled in campervans before. We've taken many trips in Australia, New Zealand, and the USA. We loved the freedom of van life and the opportunities it would offer!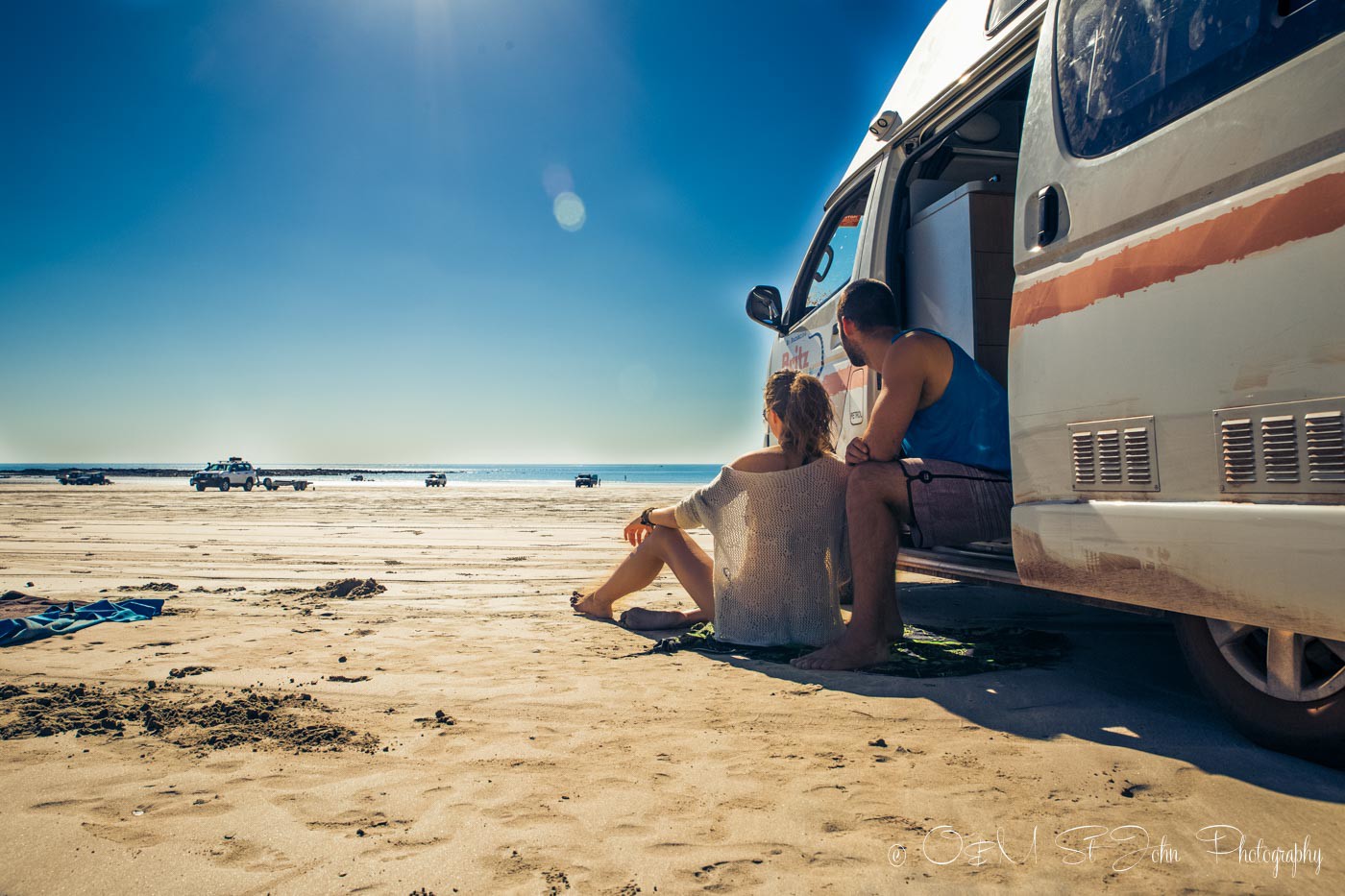 Traveling Soon?

Here is a list of our favourite travel providers and accessories to help get you ready for your upcoming trip!
Originally, we didn't plan on building a van. But after a quick search for campervan rental costs, it became very obvious that building our own would make much better economical sense. Plus, a camper van build conversion sounded like a fun challenge!
So, we jumped into the project head first!
The Prep Work
We spent about a month in research mode for our camper van build project, watching YouTube videos and reading articles in an attempt to find the perfect various van conversion guide. We grabbed ideas from various articles and videos and slowly compiled all the info into our own guide on converting a van into a home.
By the end of our month of research, we had a pretty good understanding of how to convert a van and were ready to start.
Here is what our draft layout looked like before we started this DIY van build. If you read until the end, you'll notice how much the design/layout changed as we started the van conversion.
The Van Purchase
We searched high and low for the van that would fit our needs, considering any Mercedes Sprinter, Ford Transit, RAM ProMasters and even some unique cargo vans that popped up on the marketplace.
We spent 2 weeks evaluating the available vans for camper van build and compiled all the options into a spreadsheet that rated each van based on the following:
Vehicle Type: Ford vs Mercedes vs Other

Size: 144 wheelbase vs 170 wheelbase vs 170 Ext wheelbase

Year

KMs driven

Price

Location: distance from Toronto, where we were based

Condition: rust vs no rust

Extras: navigation cams, extra windows, cruise control, etc

Type of Seller: Dealer vs Private
We assigned a rating (1-5) for each assessment category and tallied the overall score.
We had over 35 van options on the list which we narrowed down to just 5. Only 2 were worthy of a test drive in the end. We bought our van within a few days of test driving it.
Our Van
We ended up with a 2008 Dodge Sprinter 170WB 3500 work van, which we purchased for $15,000 CAD.
The van had a bit more rust than we would have liked. But, it also had $10,000 in recent repairs, which we felt was added value.
Van Build Plan
Van Conversion budget: 25K
Timeline: 50 days
Our goal for this DIY Van Conversion was to build out a high end 4 season campervan, suitable for full-time van life. We set up a budget and a timeline and got to work.
It's worth noting that we spent about a month prior to the van purchase learning as much as we could about the van build process. While we had no previous experience with van conversion, we had watched hundreds of hours of YouTube videos and read dozens of articles on every step of the process.
Before getting to work, we created a day-by-day timeline, compiled an extensive list of materials required for each step of van conversion, and agreed on the van layout.
Van Conversion: The Details
Those that followed our camper van build live on Instagram, already know that we ran into a plethora of issues along the way that extended our timeline well beyond the original 50 days. The good news is that we did manage to stay within our van conversion budget.
The Layout
Time Spent: weeks leading up to the start of the build
We came up with the layout of the interior of the camper van build project well before we even had a van! With Excel Spreadsheet and VanSpace 3D program, we figured out how every element will fit into our tiny 70sq ft space.
We opted for a very unique Van Layout that accommodated all of our needs. We wanted a design that would:
Give us lots of fo storage space

Have a spacious working area

Have a permanent shower/toilet

and a bed that we did not have to set up every evening!
Our final layout included:
10 drawers + 4 cabinets with additional shelves

Pull out kitchen pantry

31"x 31" corner shower/bathroom

15"x 15" sink

80" long couch

80" long desk

Queen Bed
We were pretty pleased with our final layout and although we ran into many issues with making this come to life, we were eventually able to bring this design to life.
Below you'll find all the nitty-gritty details of the process we followed to convert a van to a camper
From Sprinter Van to a Camper: Step by Step
Strip & De-rust
Time Spent: 1 week
The first step of our DIY Sprinter Van conversion was to strip all the existing fixtures of the van, clean and de-rust the inside and outside of the van.
We used a drill bit to grind out rust spots and Rust Buster primer to treat the spots to prepare the spot for anti-rust treatment. After thoroughly washing the van, we applied black POR 15 Rust Preventative Coating to our floor and sides of the where most of the rust was found.
Also, to prevent new rust from forming, we treated and sealed with silicone and fibreglass any existing holes on the inside and outside of the van.
Insulation
Time Spent: 5 days
Floor
We laid 3 layers of floor insulation that provided an overall insulation rating of R7, during our van conversion.
Layer 1: ½" Rigid Insulation

to fill the ridges of the floor and

Great Stuff Spray Foam

in between the rigid insulation to cover the entire floor.

Layer 2: ½" Rigid Insulation

on top of the first layer to increase the R-value of the floor insulation.

Layer 3: 7/16 OSB Plywood Subfloor

attached to the rigid insulation using

rigid board adhesive
Layer 4: EVP Flooring

(more on that below)
Walls/Ceiling
We opted to insulate the walls and ceiling with Havelock Wool, a natural product that offered an insulation rating of R7, had no off-gassing and offered anti-mould, anti-fire, sound-dampening properties.
In addition to Havelock Wool, we added a layer of Killmat Sound Deadening to reduce vibrations and improve soundproofing inside the van.
Windows
Time Spent: 3 days
Our camper van build did not come with any manufacturer-installed windows.So, we installed a few aftermarket windows to help us get a 180-degree view from inside the van.
We added:
– 2 x CR Lawrence T Vent windows for the sides
2 x

CR Lawrence Back windows

for the back
Fans
Time Spent: 1.5 days
To improve airflow and circulation in our van, we installed 3 fans:
Flooring
Time Spent: 1 day
We installed EVP (Engineered Vinyl Planks) flooring in our van and have been very pleased with its durability and look so far. The tongue and groove mechanism was super easy to install and is really easy to take care of on a day to day basis. It's waterproof and scratch resistant.
The only thing we don't love about our flooring is that it does get quite cold in the winter, despite all the insulation we put under it. In hindsight, we should have considered adding heated flooring to the van, but now we made do with wearing socks or slippers.
Ceiling
Time Spent: 4 days
For our ceiling, we used the design inspiration from fellow van lifers, Vanlife Sagas. We used 1" Wood Planks stained with Wood Stain that we attached to a piece of stained Lauan Plywood.
Also, we attached the ceiling to the body of the van using self-tapping screws.
We had to create 2 ceilings. One that was attached to the ceiling of our van and the other one that we attached under our elevator bed. So, the same ceiling style would continue when our elevator bed was up.
Walls
Time Spent: 2 days
We used 7/16" Lauan Plywood to cover the Havelock Wool insulation on the walls and used 7/16" Tongue & Groove Shiplap Slats for the wall decor. We painted the shiplap with Flat White Exterior Paint.
Cabinets
Time Spent: 2 weeks
We built 4 sets of cabinets for our van.
52"x 16" 8-drawer dresser

that lives under our desk and houses most of our clothes and shoes,

60" x 16" kitchen cabinet

that includes 4 drawers, storage cabinets, a pull-out pantry, and 2 dedicated drawers for our electronics

53"x 24" kitchen cabinet

that houses our fridge and sink set up, and

53" x 12" overhead cabinet

that is used for our control centre, our toiletries and other storage
We built all cabinets from the ground up, using 3/8" Baltic Birch plywood, glue and pocket screws. The initial build took only a few days, but the finishing touches took forever.
In hindsight, we should have built the cabinets using ½ " plywood instead of ⅜" plywood, as we were not able to find ⅜" wood screws to match the plywood and working with longer screws proved to be more challenging.
Once the frame was built, Max built 10 individual drawers that would slide into the frame. Also, he built 2 shelves that would sit inside some of the cabinets and cut the fronts for the cabinet doors. I then sanded and painted the frame, the doors, and each individual drawer with Acrylic Semi Gloss White Cabinets Paint. It took 3 coats and a few days of work to get that glossy brilliant white finish we wanted.
The biggest challenge with our cabinets was with the slides for the drawers. We originally wanted to have push-to-open slides that would replace the need for magnets and/or other latches. But after a few days of trying to fit them in, we realized that these slides were simply not suitable for drawers inside a van.
We ended up replacing all the push-to-open slides with regular slides and install cabinet door magnets and latches to help stop the drawers from opening while driving.
We used soft close hinges to attach doors to the cabinets and added 3-3/4″ (96mm) Simple Chamfered Kitchen handles to all drawers and doors.
Also, we installed a headliner shelf above the cab to give us a bit more storage space in the front of the van. We used ½" Pine Plywood and the Vancillary DIY Sprinter Van Headliner Shelf Kit to fit the shelf into the cab. It was one of the easier steps in our van build-out.
Countertops
Time Spent: 5 days
For our countertops, we used live edge black walnut wood that Max picked up at a local lumber yard. There were 3 slabs that we sanded down, cut and shaped into the right size and shape to fit our counters.
We then used clear epoxy resin to fill any gaps, cracks, and tiny holes in the wood. After letting the epoxy harden for 48 hours, we sanded it down and sealed the countertops with Rubio Monocoat Wood Stain Oil. This provided the countertops with excellent protection and waterproofing.
Couch
Time Spent: 2 days
A big couch was one of our camper van build must-haves. We opted for a spacious 80"x24" couch, which we built using the same 3/8" Baltic Birch plywood that we used for the cabinets.
The couch was built to go right overtop of the wheel well and consisted of 2 sections. Additionally, we built a 6"x13" backrest that added a little bit of extra storage space.
For cushions, we cut up a 4" Zinus Memory Foam Mattress (it was cheaper than buying regular foam) and grey outdoor upholstery fabric from a local store called, FabricLand. Oksana's mom then helped us sew the fabric into a cushion cover, for both the bottom of the seat and for the backrest. We used velcro tape to keep the cushions from sliding off the couch.
Elevator Bed
Time Spent: 5 days
Our elevator bed is probably the most unique item in our self converted Sprinter van. We loved the idea of not having to make our bed every night and every morning. So, Max worked hard to come up with a unique bed design that would allow us to do just that.
Our elevator bed is built using a piece of ⅜" lauan plywood and 1" Wood Planks stained with Wood Stain. The bottom of the bed is designed exactly like our ceiling. We attached the plywood and the wood planks to an 80/20 aluminum extrusion frame, put a piece of pegboard on top for good air circulation and laid our 4" Zinus Green Tea Memory Foam Mattress and 100% Natural Latex Mattress Topper on top.
The bed is held up by an ATV winch with synthetic winch rope. The rope is threaded through marine-grade pulleys that are bolted to the ceiling of the van. During the day, the bed hangs just below the ceiling and is held in place by the ATV winch and 2 safety ropes with carabiners.
At night, we lower the bed and have it resting on our counter and the couch backrest.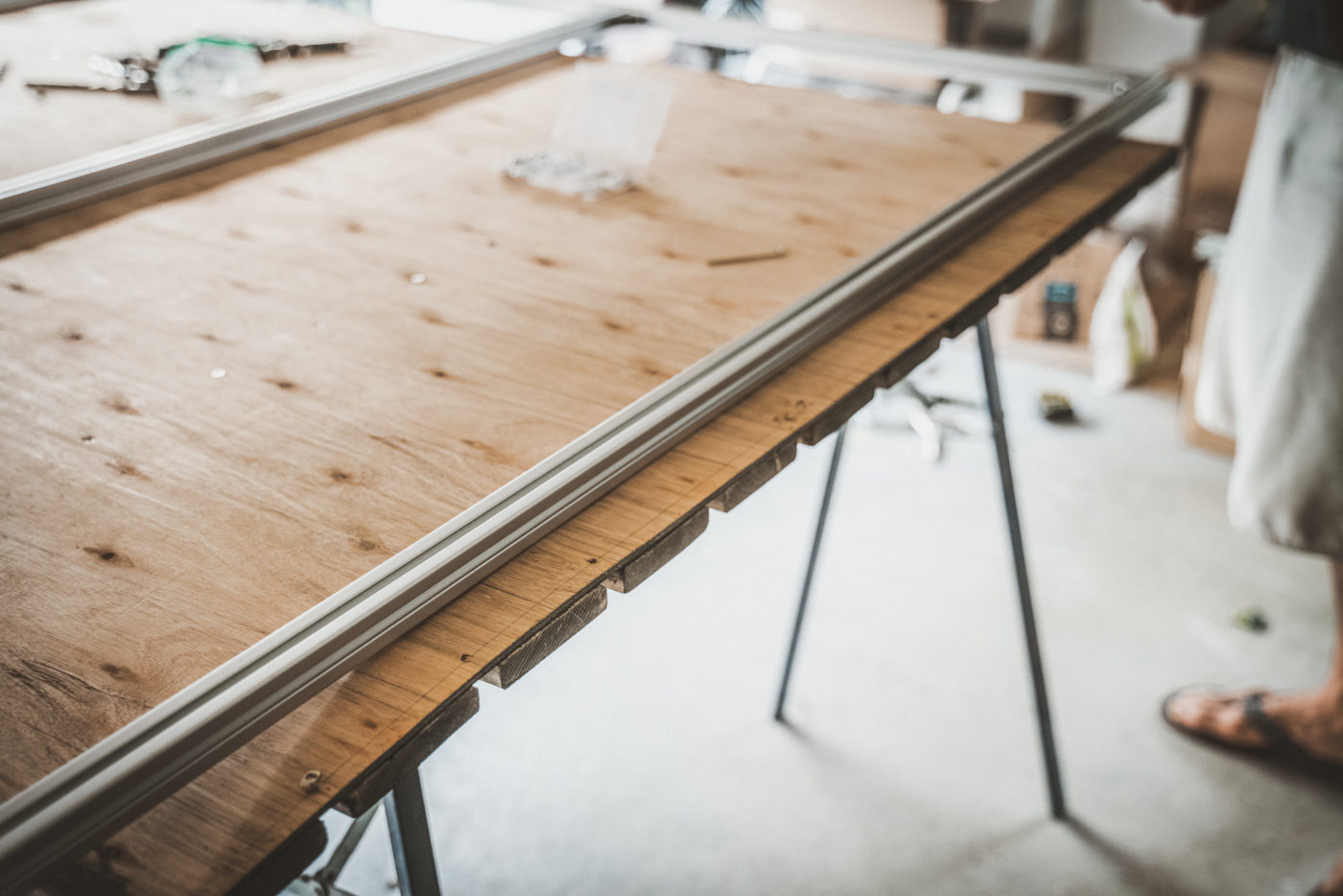 Swivel Seat
To get the most of our space and layout, we also installed a Scopema Swivel Seat on the passenger side. The Swivel Seat rotates the passenger seat and allows the seat to face the inside. of the van … aka our living space when the van is not in motion. Installing a Scopema Swivel Seat in our Sprinter was a GAME CHANGER, as it allowed us to create additional seating space inside the van when our elevator bed was down. We got a passenger-side Scopema swivel seat designed specifically for our 2008 Sprinter from The Swivel Shop. Getting the right swivel for our van made for super easy installation and ease of use.
Shower/Bathroom
Time Spent: 3-4 days
We wanted to have all the comforts of home in our tiny home of wheels. So, installing a full bathroom and shower in our DIY camper van build was a must.
We opted for a unique 31"x31" round corner shower design to maximize the size of our shower and its layout inside the van. Additionally, we purchased the shower pan at a local bathroom shop and built the shower frame using 2 x4 framing wood. We then attached ⅜" lauan plywood to the framing wood and attached waterproof FRP Boards from Home Depot on all sides using Titebond FPR adhesive.
We covered the edges and corners with white PVC Moulding and sealed the cracks using waterproof Kitchen & Bath Silicone.
Instead of a shower door, we installed a flexible shower curtain track and hung a 2-layer waterproof shower curtain.
Electrical Set Up
Time Spent: 1 week
This was by far the most challenging part of converting a van to a campervan. We had no previous experience or knowledge of running electrical or had any understanding of how to set this up for our camper van build.
Power Audit
We started by doing a power audit, using this resource from Nate at Explorist. We talked through all of the appliances we will want to run in the van and discussed our overall needs for the system. Since we decided early on that we did not want to use any propane in our van, we knew that our power needs were going to be higher than the more common Sprinter Van conversion plans.
Through the audit, we identified that we would need a 400 Amp Hour – 600 Watt Camper Van Solar Kit to satisfy all of our power needs in the van.
We then used information in this post and to create our own electrical diagram. Once the diagram is complete, we booked a Wiring Diagram Review call with Nate to make sure that our set up was correct. Since we are far from experts, we felt that it was important to get an expert to check out work.
Our Electrical Diagram
Below you'll find our final electrical diagram, which we then followed to install all the elements of the electrical system in our DIY van camper.
Our set up includes the following:
2 x 300W solar panels

The solar panels are positioned sideways on our roof and attached to the roof slide using

aluminum corner brackets

, bolts and washers.

MPPT 100/50 Solar Charge Controller

by Victron

This charger gathers energy from our solar panels and stores it in our batteries. It is said to maximize the energy-harvest and achieve full charge in the shortest possible time. It works great. So, we won't dive into any more detail on that.

4 x Lithium LiFePO4 Battery 100Ah 12V

These are

Deep Cycle Lithium Iron Phosphate batteries that store all of our power, regardless of whether it's generated through solar, through an alternator charger, or an outside 15amp plug.

Xantrex Freedom XC 2000 Inverter Charger
2000W 12V Pure Sine Wave Battery Converter

Yes, you read that right. We have 2 inverters in our van. This was not intentional, but unfortunately something we had to do. Our Xantrex inverter/charger was damaged during the build and does not function as intended. It still inverts and allows us to use 110W appliances when we are plugged into an outlet. It also charges our batteries, but it does not allow us to use appliances while running off of batteries.

2 x Fuse Panels

Since we have a lot of electronics and appliances, we split our wiring into 2 main fuse centres. One is located at the back of the van and another one, in our control centre above the sink. This allowed us to simplify our wiring and allow for a cleaner and easier setup.
Having now lived in our DIY Sprinter Conversion Van for a few months, we can confidently say that our electrical setup is fantastic. On average, we use about 20% of our batteries power daily. It effectively allows us to be stationary and off-grid for 5 days in a row. But since we are always on the move (and thus charging our batteries), or are usually parked up at campgrounds with power hookups, we have never run out of power or had our battery banks decline to below 40%.
Plumbing
Time Spent: 3-4 days
Our plumbing system is pretty straight forward for our camper van build. Although, the installation included a lot of tinkering to fit everything in such a small space while avoiding any leaks.
We have:
We ran PEX tubes from our fresh water tank to our pump, and onwards to our water heater and tap/shower. Also, used quick connects and valves for all connections.
We built our shower right next to the sink, to simplify the hot and cold water plumbing systems.
Aside from a few leaks during the installation process, and our minor grey water tank freezing incident in the Rockies (when the overnight temp went down to -15°C), we have not encountered any issues with our plumbing. We have found that our water heater uses quite a bit of power (20% of our battery reserve). So, we do not use it daily. Only when we want to take a shower or have a big load of dishes to clean up.
Lighting
Time Spent: 1 day
When converting a van to a camper, we decided on a 2 piece lighting solution. We have installed overhead 12V Dimmable LED Puck Lights on the ceiling of our van and under our bed (which acts as a ceiling during the day). The lights are controlled with a remote. We have one mounted at the entrance in the front. Then, another one at the back of the van for easy access at night.
In addition to the puck lights, we also ran an LED Light Strip around the perimeter of the van. Also, under the overhead cabinets. The strip light gives us additional light over the sink/kitchen area. It gives us more lighting when we are working but also serves as great mood lighting for evening hangouts. It's programmable via an app to turn on and off at certain times of the day. Additionally, it can also be controlled via a remote, which we keep near our control panel.
Heating
Time Spent: 1 day
Thanks to all the insulation, our camper van build stays warm and cozy in temps down to +10°C. We installed a Diesel Air Heater to keep us warm on days when the temp dips below that. The heater taps into our existing van diesel tank and is installed under the passenger seat in our van.
You can control the heater via a control panel located beside the heater or via a remote. It can be programmed to turn on and off at specific times and is super easy to operate.
With the heater on, we can warm up our van to any temperature we want. We've occasionally accidentally let it go above 25°C and made a sauna out of our van. In winter weather, we've been keeping the heater on all day but most of the time. Then, turn it off at night.
Paint Job
Time Spent: 4-5 days
One of the first things people ask about our diy campervan conversion is our beautiful paint job. Since we purchased a slightly older model (2008), our van had quite a bit of surface rust. That made it look a bit old and unappealing. So, in order to spruce him up and protect him from further potential rust, we choose to paint the van with green and black Bully Liner Paint (link to similar product). We painted the top of the van green, and the bottom – black. Bully Liner brand, in particular, offers paint made out of recycled tires, making it a low VOC, environmentally friendly option.
The paint job offered lots of benefits:
abrasion and stain resistance

protection against rust, corrosion, salt, and damp & extreme temperatures

waterproofness and additional sound deadening
We applied the paint with a spray gun, using a 90PSI Air compressor that we borrowed from a neighbour.
The Mural Design
And because painting the van green wasn't enough, we took it to another level. Oksana's brother, a talented artist, created a very cool mural of mountains, forest and wildlife. We applied these on the van using black bed liner paint.
Finishing Touches
The finishing touches we added in the last few weeks of our camper van build. These helped us take it to the next level and make it feel like home. These include:
Tiles

– instead of tiling our kitchen with real tiles, we use this great

White Subway Tiles Peel

as a backsplash behind our sink counter.

Sink/Faucet

– we installed a

Black quartz sink

and a

pull-out sink faucet

in our kitchen to give our kitchen a modern look.

Spice Rack

– we added a metal sheet under the overhead cabinets and attached 12

magnet spice containers

to the sheet. The magnets on these weren't very strong, so we added an extra

rare earth magnet

to each container to keep it in place even during bumpy rides.

Tea Shelf

– we added these

floating storage shelves

to the kitchen wall and used them to store our tea collection. We bought the tins at IKEA.

Plants

– we installed these beautiful

indoor planters

with fresh herbs inside, adding a bit of life and greenery into the van.

Baskets & Other Storage

– we also bought a number of baskets to keep our van organized. We purchased most of them from IKEA. We use them to store our toiletries/Oksana's make up, as well as some electronics, some food, towels, etc. In addition, we have this

3 Drawer Mini Desktop Unit

under our sink that we use as our medicine cabinet, junk drawer and toiletries storage.

Jars & Other Containers

– most of the dry food and pantry items in our van are kept in our pull out pantry and storage cabinets and are organized using glass jars and bottles. As we aim to live a low waste lifestyle, we prefer to shop at bulk grocers like Bulk Barn. It allow us to bring our own containers and reduce our use of plastic bags. Unfortunately, this has been harder to do during the pandemic. However, storing dry goods in jars is still much better than keeping them in disorganized plastic/paper bags. I used a label maker to label all the jars. It makes it easy to keep things organized inside the van.

Hooks

– surprisingly, we only have a couple of hooks in the van. A few for our big winter jackets in the front cab, a few for our kitchen and face towels. And, another big one inside our shower for our big towels.

Mirror

– we have a small mirror at the entrance into the van. It's not full size, but it's enough.

Bedding

– we have a bamboo bedding set which we absolutely love, a warm down duvet that we picked up on Kijiji, and 4 down pillows. Also, we have

this cozy Herringbone Blanket

in grey that we use for lounging on our bed.

Additionally, we have a set of small down pillows on our couch. We picked it up at Value Village and

a beautiful sustainably woven

100% cotton throw

from our friends at

Harlow Henry
Check out the photo gallery to get the feel for the final product of our own camper van build!
What do you think of our DIY campervan conversion? If you have any questions about our van build, leave them in the comments section below!