When it comes to the best road trips in Canada, the Sea to Sky Highway is a drive that can't be missed! Sea to Sky Highway is a 120 kilometer journey from North Vancouver to Whistler that travels along the coast of Howe Sound.
*This post may contain affiliate links, as a result, we may receive a small commission (at no extra cost to you) on any bookings/purchases you make through the links in this post. As an Amazon Associate, we earn from qualifying purchases. Read our full disclosure
Known as one of the most scenic drives in Canada, the Sea to Sky Highway is much more than a commuter route. Sea to Sky road trip offers sweeping views over mountains, fjords, and the beautiful Pacific ocean. There are lots of attractions along the way and stops worth making en route.
While the drive can be done in as little as 2 hours, we recommend taking your time along the Sea to Sky Highway. Don't miss these 11 best Sea to Sky stops!
Traveling Soon?

Here is a list of our favourite travel providers and accessories to help get you ready for your upcoming trip!
About the Sea to Sky Highway in British Columbia
Sea to Sky Highway Driving Directions
BC Highway 99, or more commonly known as the Sea to Sky Highway, runs from West Vancouver to Whistler, passing through the town of Squamish. The distance from Vancouver to Whistler is about 120 km.
From downtown Vancouver, the journey starts across the Lions Gate Bridge into North Vancouver and travels along Highway 99 to Whistler. You'll work your way up Taylor Way to connect with the Trans-Canada Highway, which eventually splits off into the Sea to Sky. Keep to the left to continue on the Sea to Sky Highway section where you'll continue on towards Whistler.
Sea to Sky Highway Map
Sea to Sky Highway Driving Times
If you're driving from Vancouver to Whistler in good weather and traffic conditions with no stops, you can arrive in 1.5 – 2 hours. That said, the Vancouver to Whistler drive time can vary greatly, especially in the winter.
Give yourself at least 2 hours but we highly recommend spending 2-3 days exploring all the great Sea to Sky Highway stops.
Best Stops en Route from Vancouver to Whistler, BC
Sea to Sky Highway attractions offer some of the best viewpoints and scenery in British Columbia. Here are our top spots along Highway 99 Sea to Sky for the ultimate Vancouver to Whistler road trip.
Vancouver
Vancouver is a great place to enjoy the city before heading into the mountains. The city perfectly mixes vibrant neighbourhoods filled with unique shops and amazing restaurants with stunning scenery. There's plenty to do for a few days in Vancouver before hitting the Sea to Sky Highway. We recommend splitting your time between exploring the city and its surrounding attractions.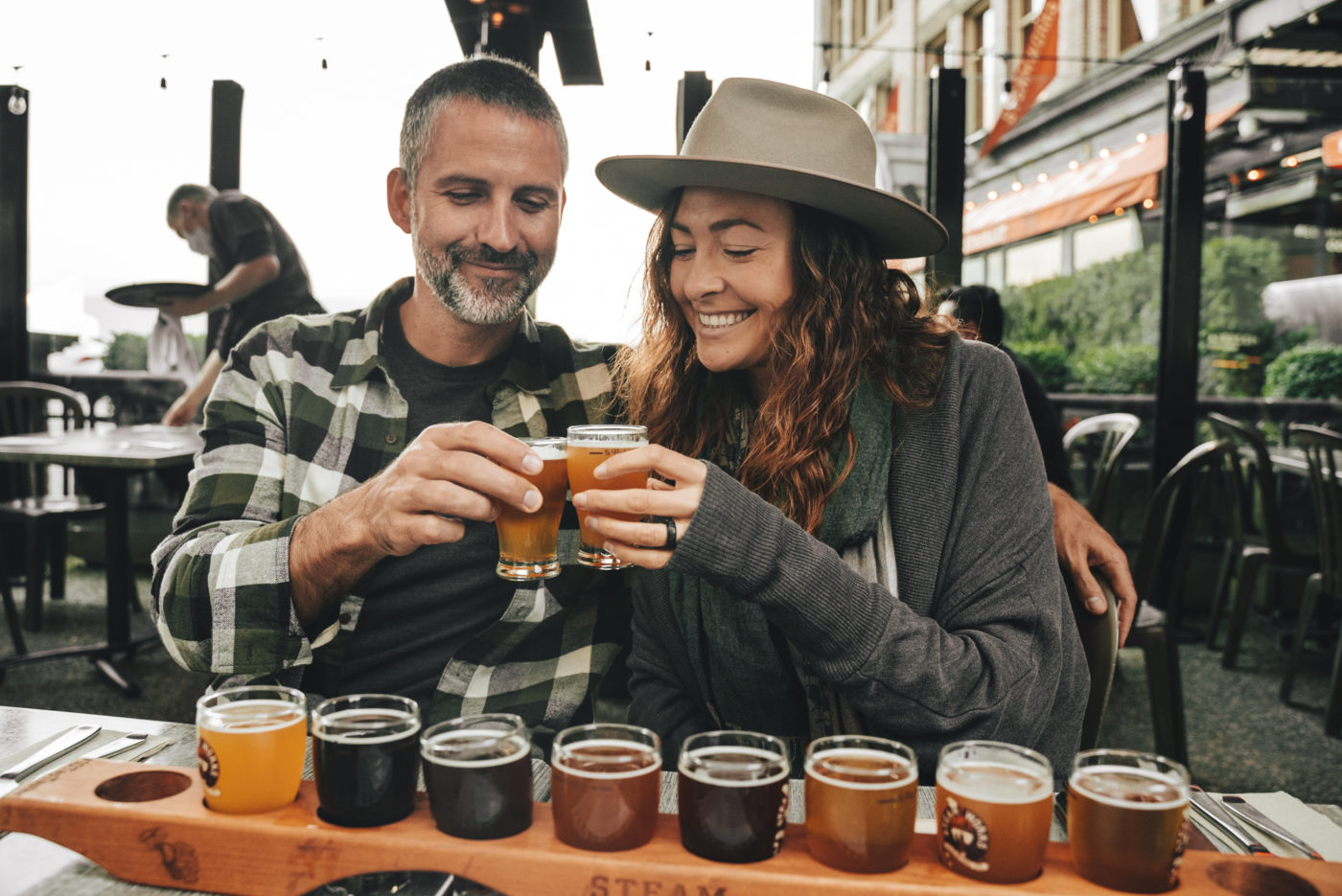 Things to do in Vancouver
Visit Capilano Suspension Bridge Park:

The famed suspension bridge sits 70 metres (230 ft) above the Capilano River spanning 140 m (450 ft) in length. It's a legendary tourist attraction located in North Vancouver that's open year-round. Brace yourself for a wobbly walk across the suspension bridge or journey through the trees on the Cliffwalk.

Climb Grouse Mountain:

The Grouse Grind is a gruelling 2.9 km climb up Grouse Mountain filled with almost 3,000 stairs. You'll soon find out why it's referred to as "Mother Nature's Stairmaster." It takes about 1.5 – 2 hours to complete and isn't for the faint of heart! Alternatively, hop on the Sky Gondola for a 10 min ride to the top with some incredible views of Vancouver!

Walk around Downtown Vancouver:

Explore shops, restaurants, and cafés that line the busy streets. There's an amazing selection of foods from different cultures and historic buildings. Be sure to journey down to the waterfront after to catch a sunset.

Explore Granville Island:

Located under the highway bridge south of downtown, Granville Island is a fun place to spend an afternoon, particuarly on weekends. Visit the

Granville Island Public Market

before setting in with a local brew at

Granville Island Brewery

.
Where to Stay in Vancouver
Fairmont Waterfront Vancouver:

The

Fairmont Waterfront Vancouver

is scenically located on the edge of Vancouver Harbour. Watch boats and seaplanes right from your room through the gorgeous floor-to-ceiling windows. The hotel is located within walking distance to the heart of Vancouver and has a swimming pool, spa, and strong commitment to sustainability.

Hotel BLU:

For an eco-conscious traveler,

Hotel BLU

hits some impressive sustainable practices. They have green roofs, carbon-neutral energy, and low-impact amenities. Plus, it's located downtown just steps from Robson Street and BC Place.
Horseshoe Bay
Vancouver to Horseshoe Bay: 21 km // 25 minutes
Horseshoe Bay is an adorable little village known for its ferry terminal to Vancouver Island. It's a worthy stop on your way from Vancouver to Squamish if you're a fan of scenic views! Walk along the waterfront park to admire the boats sailing into the bay. Then have a feed of fish n' chips.
Just outside of Horseshoe Bay is Whytecliff Park, which offers panoramic coastal views. Visit the lookout points, have a picnic, or just marvel at the beauty of Howe Sound.
Porteau Cove Provincial Park
Horseshoe Bay to Porteau Cove: 25 km // 22 minutes
Back on the Sea to Sky Highway BC, head north past Lions Bay into Porteau Cove. The marine park is a favourite place for scuba divers as a wealth of aquatic life calls the cove home. Even if you're not into scuba diving, walking the beaches and the sprawling pier is a perfect pit stop.
And if you want to end day 1 of your road trip here, Porteau Cove has a great waterfront campground. If you are camping or RV'ing, don't miss a chance to spend the night under the stars on the edge of Howe Sound.
Britannia Beach
Porteau Cove to Britannia Beach: 8.5 km // 9 minutes
Get your dose of history in Britannia Beach with a visit to the Britannia Mine Museum National Historic Site. Once home to the largest copper-producing mine in the British Commonwealth, they now welcome visitors to explore the tunnels. Ride the old mine train deep into history or try panning for gold.
Shannon Falls
Britannia Beach to Shannon Falls: 7.5 km // 7 minutes
A short 10-minute stroll from the parking lot will lead you to the 3rd highest waterfall in British Columbia. Shannon Falls has multiple viewing platforms where you can feel the mist of the water cascading down the mountainside. It's especially roaring in the spring when the snowmelt sends gallons of water down the rocky cliff.
Sea to Sky Gondola
Shannon Falls to the Sea to Sky Gondola: 1 km // 2 minutes
Catch a ride up the Sea to Sky Gondola to admire some of the most epic views on the Sea to Sky Vancouver Highway. The gondola journeys to an incredible viewing platform overlooking Howe Sound. If you're feeling ambitious or want to save some money, try hiking the Sea to Summit Trail instead. It's a 7 km uphill grind but the views are unparalleled. Tickets for the Sea to Sky Gondola are CAD $55-60 per person. If you hike up and want to ride down, the fee is only CAD $14.
Squamish
Sea to Sky Highway Gondola to Squamish: 4.5 km // 6 minutes
Known as Canada's adventure capital, Squamish is an outdoor playground of hiking trails, rock climbing, and more. Plus, downtown Squamish boasts a growing dining scene so you can get a well-deserved meal after an active day.
Spend a night in Squamish to recharge! You can easily fill a couple of days with endless activities. Squamish to Whistler is under an hour's drive, so be sure to enjoy all that this halfway point has to offer.
Things to do in Squamish
Explore downtown Squamish:

Walk the bustling streets filled with coffee shops and breweries. If you're visiting on a Saturday, be sure to check out the

Farmer's Market

for a variety of local art, food, and music.

Go mountain biking:

Squamish has over 600 long and short trails through the forest and mountains. It's an ideal place to hit the dirt and enjoy the beautiful scenery along the way.

Go fishing:

Drop a line into the ocean or one of the many rivers for excellent salmon fishing.

Hike part of the Sea to Sky Trail:

This chunk of the Sea to Sky Squamish to Whistler is part of Canada's Great Trail. Do a portion of the trail from the Squamish waterfront to cross through the forest and through the mountains.
Where to Stay in Squamish
Crash Hotel Squamish

: Located right downtown Squamish, the

Crash Hotel

is a cozy place to spend the night. It offers affordable rooms, great views, and eco-friendly practices.

Howe Sound Inn:

A charming inn paired with an on-site brewery makes for a worthy stopover. The

Howe Sound Inn

is located steps from everything in downtown Squamish and is oozing with local style.
Stawamus Chief Provincial Park
Squamish to Stawamus Chief: 4.5 km // 8 minutes
After resting up in Squamish, it's the perfect time to get your heart pumping on the most popular hike on the Sea to Sky Highway. The Stawamus Chief Trail is a steep hike up the mountain with jaw-dropping views. It's also a popular spot for rock climbing so keep an eye out for other travellers conquering the Chief.
Brackendale
Stawamus Chief to Brackendale: 12 km // 14 minutes
Brackendale is known for its large population of eagles and the Squamish River is the perfect place to see them. Brackendale Eagle Viewing is best from November-February when wildlife tours are in full swing. Float down the river on a Wilderness Eagle Float Tour or set up a telescope on the riverbank.
If you want to spend the night, you can camp at nearby Alice Lake Provincial Park. Follow Alice Lake Road inland and enjoy even more amazing hiking trails in the park.
Brandywine Falls Provincial Park
Brackendale to Brandywine Falls: 34 km // 24 minutes
A pitstop for a majestic waterfall is always worth it for us! Brandywine Falls is 70 m (230 ft) tall and cascades out of a canyon made of volcanic rocks. Leave your car in the parking area and follow the short trail to the lookout point.
On your way to Brandywine Falls, be sure to soak in the sights of Garibaldi Provincial Park across the road. If you have time, it's worth visiting the park to see some of the craziest Sea to Sky Highway viewpoints.
Whistler
Brackendale to Whistler: 17.5 km // 15 minutes
Whistler is known as a world-famous ski town that has lots to offer year-round. Judging by how beautiful the road from Vancouver to Whistler is, you can guess how pretty the village is. Dotted with shops and restaurants, the mountain backdrop makes for postcard-worthy views.
Whether you're visiting in summer or winter, it is a stunning journey to drive Vancouver-to-Whistler. Spend a few days here to relax and unwind before hopping back onto the Sea to Sky Highway Vancouver.
Things to do in Whistler
Go skiing:

This one's a no-brainer! If you're visiting in the winter, hit the slopes at Whistler-Blackcomb on skis or a snowboard.

Ride the Peak 2 Peak Gondola:

A

gondola ride

to the mountaintop is the perfect way to celebrate the Sea to Sky Whistler. It's a little pricey at CAD $79 per person but boasts birds-eye views over the village and mountains.

Try bungee jumping:

Whistler Bungee

is a must-stop for adrenaline junkies. Soar 50 m (160 ft) into the air above the Cheakamus River canyon.

Dine in Whistler Village:

Walk the streets of the pedestrian-only village for local eats and treats. There are many legendary restaurants in Whistler like the

Rimrock Cafe

and

Araxi Oyster Bar.
Where to Stay in Whistler Village
Nitka Lake Lodge

: Surrounded by mountains,

Nitka Lake Lodge

is an idyllic retreat. It has a restaurant, spa, and even rooftop hot tubs.

Fairmont Chateau Whistler:

Why not splash out and do Whistler in style?! The

Fairmont Whistler

is renowned for being a luxurious destination with an eye for sustainability.
Sea to Sky Highway Driving Tips and Advice
How Steep is the Sea to Sky Highway?
There are a lot of steep sections along the Sea to the Sky Highway with grades of around 10%. The total elevation gain is 653 metres so prepare for lots of hills and be sure to obey the Sea to Sky Highway speed limit!
Where to Stay Along the Sea to Sky Highway in British Columbia
There are plenty of options for great places to stay along the road to Whistler from hotels to camping. We recommend spending at least 2 nights to really enjoy the Sea to Sky road trip. Check out some of our top places to stay along the Sea to Sky drive:
Porteau Cove Provincial Park Camping

– A great place to stay on your first night. Enjoy waterfront camping overlooking Howe Sound and the coastal mountains. Camping is $35 per night and reservations are recommended.

Crash Hotel Squamish

– If you don't want to camp, spend your first night in Squamish at the Crash Hotel. It's right in the middle of town and has sustainable initiatives that eliminate single-use plastics, conserve water, and celebrate local artists. Rooms start at $105 per night and can be booked

here

.

Nitka Lake Lodge

– This mountainside retreat is the perfect place to stay in Whistler. It's set in the peaceful mountains and has an organic rooftop garden, chemical-free products, and a recycling program. Rooms start at $179 per night and can be booked

here

.
Other Tips and Advice for the Ultimate Vancouver to Whistler Road Trip
Sea to Sky Highway conditions can change quickly thanks to the surrounding mountains. Be sure to

check Sea to Sky road conditions

before heading out on your drive from Vancouver to Whistler

here

.

The Sea to Sky Highway

winter tires mandate is in effect from October 1 to March 31.

The weather can get dicey so you don't want to be stuck doing the Sea to Sky Highway drive in the snow without winter tires.
Have you done a Sea to Sky Highway road trip? Let us know your favourite stops along Highway 99 to Whistler if we missed any!