Bruce Peninsula, Ontario, is one of the province's most spectacular National Parks in the province. Located close to Tobermory in the Niagara Escarpment World Biosphere Reserve, it is an area known for its turquoise waters, towering cliffs, and great hiking. The Bruce Peninsula is a real gem and a popular destination for a summer getaway from Toronto.
*This post may contain affiliate links, as a result, we may receive a small commission (at no extra cost to you) on any bookings/purchases you make through the links in this post. As an Amazon Associate, we earn from qualifying purchases. Read our full disclosure
Traveling Soon?

Here is a list of our favourite travel providers and accessories to help get you ready for your upcoming trip!
About Bruce Peninsula National Park, Ontario
Bruce Peninsula National Park along with the neighbouring Fathom Five National Marine Park were established in 1987. Nearly 215,000 people visit these National Parks each year. Most visitors come to this region to visit The Grotto, explore the waters of Georgian Bay or take in the beauty of the area by exploring its hiking trails.
Flora and fauna are plentiful in Bruce Peninsula National Park and Fathom Five National Marine Park. You can find everything from big mammals like deer and black bears to smaller animals like raccoons, squirrels, and chipmunks. Keep your eyes peeled for the Dwarf Lake Iris, Lakeside Daisy, and the 34 types of orchids that live within Bruce Peninsula National Park. They thrive in this region's unique environment.
Bruce Peninsula National Park is also a designated Dark-Sky Preserve. These protected areas make a special commitment to eliminate light pollution in all forms. Many plants and wildlife rely on darkness to survive, plus campers get to revel in the star-filled skies they may not get to see at home. If you do decide to camp, make sure to be conservative with light usage when possible.
How To Get To Bruce Peninsula National Park
Where is Bruce Peninsula National Park? The park is located in Bruce Peninsula close to Tobermory in southern Ontario. From Toronto to Tobermory, it is approximately 290 kilometres or 3.5 hours. The most popular way to get to Bruce Peninsula is by self-driving. There are several access points to the park, such as Cypress Lake, Singing Sands, Halfway Log Dump, and the visitors centre, so it's a good idea to map out areas of interest so you can make the appropriate parking reservations.
If you don't have your own wheels, you can also take the Park Bus to Bruce Peninsula National Park from Toronto. The Park Bus costs $147 return and is an express bus service created in partnership with Parks Canada. Ticket holders who want to see Flowerpot Island can get off at the entrance to Fathom Five National Marine Park or at the Grotto. Alternatively, they can stay on the bus to visit the Grotto on the guided hike with the return Park Bus passengers who go to the park on a Tobermory day trip. This is handy because you will not need to worry about booking separate Bruce Peninsula National Park parking.
It is a bit more of a trek to get to Bruce Peninsula National Park from Ottawa. The drive takes approximately 7 and a half hours and covers 675 kilometres. Unfortunately, there is no public transport from Ottawa to Tobermory at this time.
What To Do In Bruce Peninsula National Park
Bruce Peninsula National Park is a haven for outdoor activities. Hiking, swimming, birding, and more can be experienced in this interesting region. The wetlands, forests, and cliffs are just some of the unique features of the parks near Tobermory.
Visit The Bruce Peninsula National Park Grotto
The Bruce Peninsula Grotto is a beautiful sea cave known for its crystal clear, blue waters and picturesque setting. You'll need to hike to get there, but once you do, you can spend some time swimming near the cave or sunbathing on the shore.
The Grotto is by far the most visited and one of the most popular attractions within the park and can get very busy, especially in the summer. Make sure you secure Bruce Peninsula National Park reservations for your group well in advance. You can reserve your space to access the Grotto online with the Canada Parks Reservation Service. In the summer months, visitors are required to book weeks in advance.
We were able to secure our parking and admission a few days in advance. However, bear in mind we traveled to the Bruce Peninsula during the fall, and the Bruce Trail was still very busy. Weekends are booked fully, no matter the season.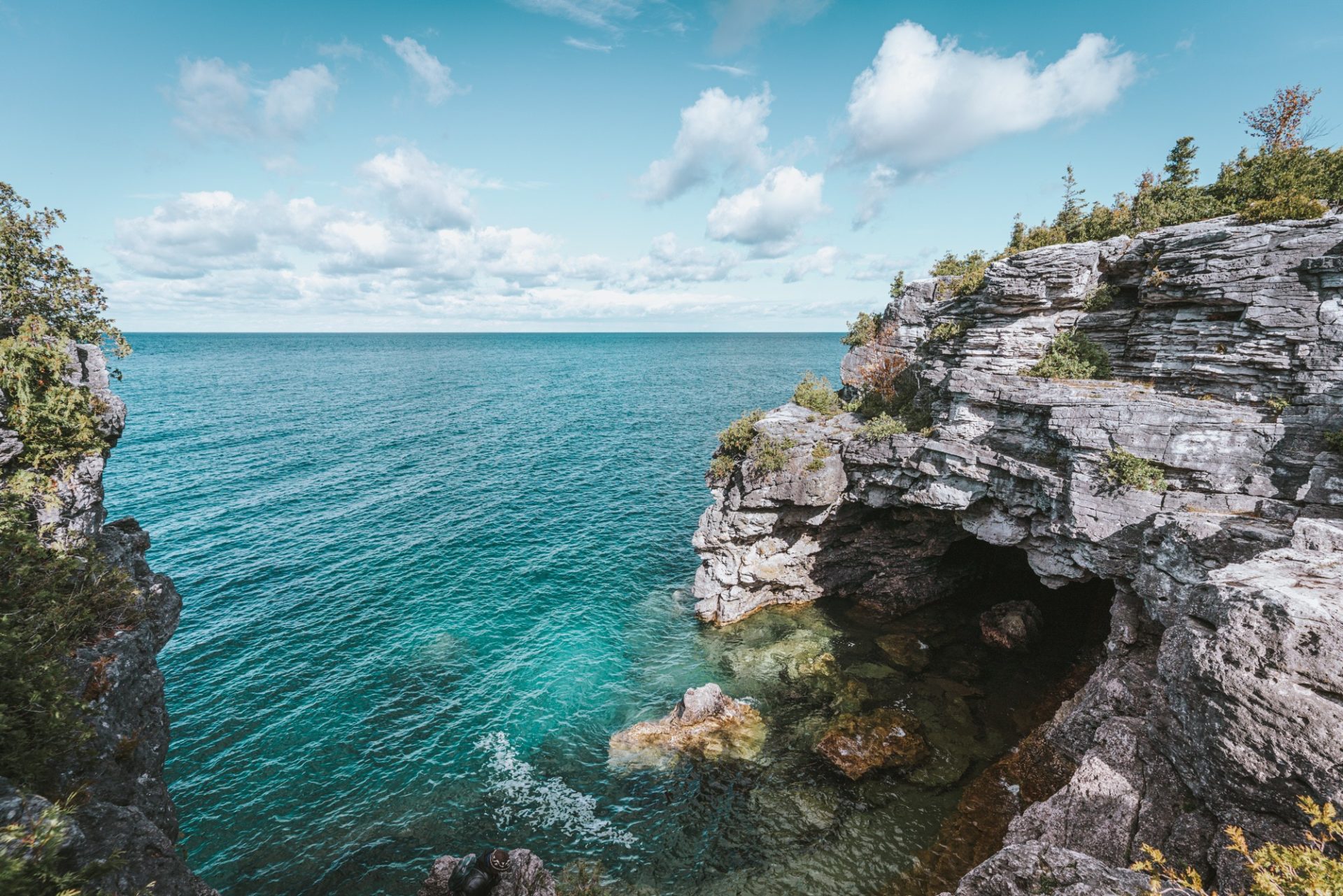 Hiking Trails to the Tobermory Grotto
There are three different trails you can take to the Grotto. They all leave from the Grotto parking lot and connect to the Bruce Trail, which runs along the coastline where the Grotto is located. We took the Horse Lake Trail to the Grotto and followed the Marr Lake Trail back.
The Georgian Bay Trail
Approximately 3.2 kilometres (45 minutes)
This trail is the most popular and direct route to get to the Grotto. It is about 45 minutes in length. The trail is very flat and fairly easy so it is ideal for families looking for a day out. However, it is also the busiest.
Marr Lake Trail
Approximately 3.2 kilometres (45 minutes )
The Marr Lake Trail curves around Marr Lake and passes by Boulder Beach before heading to the Grotto. It is a bit more challenging than The Georgian Bay Trail since you will have to climb over rocks at Boulder Beach, but it offers beautiful scenery and is very enjoyable. Be sure to wear appropriate footwear!
Horse Lake Trail
Approximately 3.6 kilometres (1 hour)
The Horse Lake is one of the more difficult and longer hikes to the Grotto. Before meeting up with the coastline along the Bruce Trail, you will pass by marshes, through woodland and by Horse Lake itself.
Keep in mind: Reservation holders for the Grotto Parking are only permitted 4 hours for the hike. If you want to stay a little longer and take your time along the coastline, we would recommend staying at Cyprus Lake Campground. Campground guests do not need a parking pass and do not have a time limit or a designated time when hiking to the Grotto.
In our opinion, it's the best way to experience the grotto and ends up costing about the same.
Explore Other Hiking Trails In Bruce Peninsula National Park
There are tons of great trails located within Bruce Peninsula National Park. Stop by the Visitor Centre for a map of Bruce Peninsula National Park and to inquire about trail conditions. Just remember there are black bears within the park, so be bear aware at all times.
These are some of the hiking trails not to miss in the Bruce Peninsula.
The Wild Garden Trail
Approximately 3 kilometres (1 hour and 30 minutes)
This moderately busy trail is located near Singing Sands Beach. It passes through forest and by sand dunes which protect it from winds coming off of the lake in the cooler months. You'll find rare flora, orchids, and smaller wildlife along the route, so be sure to stay on the trail.
Little Dunks Lookout
Approximately 800 metres (25 minutes)
Located at the Parks Canada Visitor Centre, you'll have to climb the viewing tower and follow the platform to the viewpoint. You'll be rewarded with incredible scenery made up of views of Georgian Bay and cedar trees as far as the eye can see.
Singing Sands Beach
This beach is a wonderful place to spend a hot summer day sunbathing and swimming in Lake Huron. Whereas in the cooler months, it can make for a nice picnic spot. The beach was named after the sound the wind makes passing through the dunes. There is parking on-site, and a boardwalk that runs along Singing Sands Beach is stroller friendly. However, just like the Tobermory Grotto parking lots, the Singing Sands parking lots fill up fast, and there is a small fee.
Take A Boat Trip To Fathom Five National Marine Park
The best way to explore the marine park is by getting out on a boat. You'll find offers of a glass-bottom boat cruise, kayak rentals, SUP tours along the cliffs, and diving shops leaving from Tobermory. By parking in Tobermory and taking a boat cruise, you can save on the national parks parking fees.
Some of the most popular things to see in the Marine Park are Flowerpot Island, Cove Island, the Big Tub Lighthouse, and various shipwrecks. Those looking to dive in the area will experience some of the best freshwater diving in the world.
There is good visibility (especially in the summer) and various overhangs, rock formations, plus over 20 historical shipwrecks to explore in the underwater world. If you are not a certified PADI diver, consider snorkelling some of the shallow shipwrecks located in the waters of Georgian Bay.
Other Things To Do In Tobermory
Tobermory is the main town closest to Bruce Peninsula National Park and Fathom Five National Marine Park. It is small but has all the amenities you need to have a comfortable stay in the area.
Explore Town
Take some time to walk around town. Tobermory parking can be a bit challenging to find, so it's best if you leave your car at your accommodation and explore on foot. Tobermory has roots as a fishing village but today caters mainly to tourists. You can explore the shops and restaurants in its compact centre.
Wine And Dine
Tobermory is small but mighty when it comes to places to eat and drink. Make sure you stop by the Tobermory Brewing Company and Grill for local craft beer. If you're with the family, you can't go wrong with Shipwreck Lee's of Tobermory. This pirate-themed restaurant is known for excellent all-you-can-eat fish and chips, and there are two locations close to Little Tub Harbour.
Go Shopping
There are lots of unique shops in Tobermory. We really liked the African goods store, Kuku Hut, next to Foodland. Within walking distance are some great art galleries, like Golden Gallery, an independent venue that houses works from several local artists. Here, you can find paintings, handmade jewellery, pottery, and gorgeous stained glass pieces. For vacation reading material head to the Readers Haven. Adventure outfitters are plentiful too.
Where To Stay In Tobermory
There are accommodation options for every style and budget in the Niagara Escarpment and Tobermory.
Cyprus Lake Campground
Located in the heart of the park, close to many of the trailheads, the Cyprus Lake Campground makes for an ideal location to base yourself for a few days while exploring Bruce Peninsula National Park.
The campground offers 232 drive-in campsites in three sections: Birches, Poplars, and Tamarack, and backs onto Cyprus Lake.
If you don't like camping or don't have the right gear, accommodation in yurts is available at Cyprus Lake campground. Staying at the Cyprus Lake Campground will also give you an opportunity to explore the Grotto at your own pace via the Cyprus Lake Trail.
The campground is open from May until the end of October.
Backcountry Camping
For a backcountry experience, Stormhaven is a great campground located on Georgian Bay in the thick of the Niagara Escarpment World Biosphere Reserve. This scenic area is known for world-class hiking along the reserve's cliff edge and through the lush forest full of ferns and orchids. Reservations can be made online, and make sure to check the park regulations when it comes to campfires, pets, and anything else involved with your camping experience.
B&B's And Hotels Near Bruce Peninsula National Park
The Stone Cove Waterfront B&B is a sustainable bed and breakfast that offers adults-only accommodations on a beautiful property overlooking Georgian Bay and Fathom Five Marine Park. Amenities include a/c, private bathrooms, an outdoor living area with a fireplace, and an EV charging station. Guests are also treated to a vegetarian breakfast each morning. Stone Cove is just 2 km from the Tobermory Harbour, and close to restaurants and beaches where you can swim.
Grandview Motel is a family-run establishment located directly on the water. The rooms are clean and comfy with rustic touches. There is a restaurant on-site with gorgeous views of the Georgian Bay, plus an outdoor dining area. The Grandview Motel is just a short walk away from The Bruce Trail, boardwalk, and shops in town.
Whether you decide to stay at a hotel or in the campgrounds at Bruce Peninsula National Park, be sure to book in advance. As a very popular Canada tourist destination, accommodation in Tobermory fills up fast – especially in the summer and on long weekends. You can book campgrounds with Parks Ontario 5 months in advance for camping at Bruce Peninsula National Park.
Where To Next
Be sure to spend at least 3 days to a week within Bruce Peninsula National Park and Tobermory. Then take the ferry to Manitoulin Island for your next adventure!