Although it's tempting to head overseas every time you get a bit of vacation time, taking a road trip around America can be just as eye-opening and exciting! A USA road trip can help you see parts of the country you may not have considered visiting before and will give you a better understanding and appreciation of the beauty of landscapes within the United States.
*This post may contain affiliate links, as a result, we may receive a small commission (at no extra cost to you) on any bookings/purchases you make through the links in this post. As an Amazon Associate, we earn from qualifying purchases. Read our full disclosure
Renting a vehicle for a drive across America (or using your own) and heading out to discover what many consider to be their own backyard can be just as fun as heading to exotic locations.
A cross country road trip is the perfect holiday option when flights are expensive or if you are looking for a more eco-conscious way to explore the country. Whether you only have a few days or want to take a 2-week road trip, USA destinations can really surprise you! There are plenty of road trip ideas and itineraries to explore.
Don't leave your home without Travel Insurance!

From the US? We recommend Allianz Travel Insurance, a world leader in travel protection and our trusted Travel Insurance partner for the last 5 years. Allianz offers Single Trip and Annual Travel Insurance Policies that include medical coverage, trip cancellation, rental car insurance and more! (Benefits vary by state and by plan, so read your policy carefully!)

Not a US resident? Consider Safety Wing, a budget friendly travel insurance provider with travel insurance plans for Digital Nomads and travelers from all around the world
Check out our latest Road Trip

We've had the pleasure of taking a few USA road trips over the years, these are some of our top recommendations for those who want to travel across America by car.
Traveling Soon?

Here is a list of our favourite travel providers and accessories to help get you ready for your upcoming trip!
Best 2 Week Road Trip – USA Routes
You don't need to cram a whole 48-state road trip into 2 weeks. These 2 week road trip ideas highlight the best of different parts of the USA.
West Coast America Road Trip: California, Highway 101
This west coast USA road trip is definitely a classic road trip option as the Californian highway is peppered with lovely towns with views of the Pacific Coast. Typically planning a California 2 week road trip, USA, along Highway 101 calls for driving from San Francisco to San Diego (or the reverse) and has several stops along the way.
Of course, it's your 2 week US road trip so hit whatever stops interest you, but here are a few destinations suggestions for your west coast of USA road trip.
Start your road trip adventures in

San Francisco

and take a

tour of the city highlights along with a stop at Alcatraz

.

Head to

Santa Cruz

and stop at the amusement park,

Beach Boardwalk

.

Don't miss

Monterey

, which has boutiques, bars, and restaurants in converted factories. The area also has

Monterey Bay Aquarium

, which is actively involved in conservation efforts.

Next, the coast highway will take you to

Big Sur

a mountainous area, national park, and one of the most famed places on a 2 week road trip across America. Slightly below is

San Simeon

, where you can view migrating elephant seals.

Pismo Beach

is known for its wineries and beaches, and Monarchs migrate south to this area in the cooler weather.

See the architecture in

Santa Barbara

, California.

Include

Malibu

in your USA road trip planner to see the beach.

Experience Hollywood in

Los Angeles

Finish your trip at the galleries and museums in

San Diego.
A California Highway 1 USA road trip, west coast, offers a huge variety of experiences. There really is a little something for everyone along this route. If you like Pacific coast scenes, this is the best US road trip for you.
READ NEXT: ULTIMATE WEST COAST ROAD TRIP ITINERARY
Chicago to Los Angeles Road Trip, Route 66
This stretch is a historic route and one of the most famous trips around America. Route 66 deserves a try if you want to drive part way across the country on a 2 week cross country RV trip.
Start your USA road trip planning in Chicago (or you could end here if you choose). It allows you to visit one of the many museums, such as the

Art Institute of Chicago

.

Next on your US trip head to see the arch in

St. Louis

Drive through the heartlands of

Oklahoma

with stops in both

Tulsa

and

Oklahoma City,

both of which are known for their architecture.

Route 66 also passes through the

upper tip of Texas

, which takes you through

Amarillo

and also through

Jericho Gap

,

where many cars once got stranded in the mud

on old Route 66 on their road trips of America.

The beautiful views and varied landscapes of the Midwest continue through New Mexico (be sure to stop in

Albuquerque

and

Santa Fe

, New Mexico).

Travel America via Route 66 to Arizona, with

Flagstaff

and

Sedona

taking center stage as points along the two week road trip, USA.

Hollywood and Sunset Boulevard are good points to visit while you are in Los Angeles, California.
Route 66 is one of the most iconic road trips in the US and often listed as one of the best US road trips. If you have more time then consider extending your trip into a 3 week road trip across America. However, if you do extend ensure you consider the additional cost to drive across country.
East Coast Road Trip: New York City to Miami, Route 95
An east coast USA road trip has a lot to do, and being able to take it at your own pace is a good way to go. Add the following places to your US road trip planner to make the most of your America trip.
Start your America road trips in

New York City,

where you can visit the

Statue of Liberty

, attend a Broadway show, or hit all the

major sites in New York with a guided tour

.

From there, head south through

Baltimore

(which is worth a stop!)

Continue down to the nation's capital of

Washington, DC,

where you can

view many of the sites on a "hop on hop off" bus tour

.

This route will also take you through the beautiful states of Virginia (possibly stop in

Richmond

) and

North Carolina

before you hit

Savannah

on your roadtrip. America is full of history and lovely architecture in this area.

Once you hit

Florida

, you will head through

Jacksonville

,

West Palm Beach

, and

Fort Lauderdale.

If you want to veer off of Route 95 just a bit, you can visit the oldest town in the US, which is

St. Augustine.

It's filled with museums, lovely buildings, and a Spanish fort from the 1500s.

Once you end your journey in Miami, you can head to South Beach, visit the Art Deco district, or take an airboat ride to view alligators in their natural habitat.
If you are an American road trip planner who wants a taste of a little bit of everything or if you are history buff then you might consider Route 95 one of the best road trips in USA.
This 2 week road trip across America takes you between two of the nation's biggest cities, gives you a chance to explore the past, and will win you over with the charm of the people you meet along the way. However, if you are going to be indulging in the big cities ensure you include that in your road trip USA budget.
Colorado Road Trip
If you want to experience the beauty of inland United States, Colorado definitely delivers. For this route, consider starting your road trip USA planning in Denver
Visit the

Lookout Mountain

and take a

tour of the Rocky Mountains

.

Spend a day in Boulder

and

take a tour of Rocky Mountain National Park

and experience the trails.

The

Glenwood Springs

area offers some of the most gorgeous views of any American road trips, so have your camera ready!

Grand Junction

is next, which is home to parks, trails, and the

Colorado National Monument

.

You can also stop in

Ouray

, which has lots of hiking options and then be sure to stop for a day in

Mesa Verde National Park,

which is full of history from the Ancestral Pueblo people.

Other stops along the way include Buena Vista – home of the Rio Grande National Park Forest – and Colorado Springs – where you can take a segway tour of the Garden of the Gods.
We think this is one of the USA best road trips for getting close to natural destinations and exploring national parks. If you are self-contained and stay in free camping spots along the way you can really reduce your road trip across America cost too.
READ NEXT: OUR ULTIMATE COLORADO ROAD TRIP ITINERARY
Southern USA Road Trip: Savannah to San Diego
Heading from coast to coast can be one of the USA best road trips as you get a glimpse of what each state offers.
Start your road trip routes in

Savannah

, Georgia, a quintessential southern town with beautiful architecture and trees dripping with Spanish moss.

Then stop

Atlanta

for a

1.5-hour highlight tour of this capital city

.

The route also passes through popular US towns such as

Birmingham

,

Alabama

;

Jackson

,

Mississippi

; and

Shreveport

,

Louisiana

. These towns all showcase America's southern history and sites that were significant in the civil rights movement.

Then you will arrive in

Dallas

,

Texas

, where you can

take a tour to learn about this historic city

.

Continue on to

El, Paso, Texas

on your road trip USA before you get to beautiful

Tuscon, Arizona

, where you can

add a bit of adventure to your trip by exploring history on a scavenger hunt

.

End your trip in San Diego by exploring the historic old town on a narrated trolley tour.
Road trip routes through the Southern United States will give you a taste of Southern charm and will give you a chance to learn about the civil rights movement – exactly where it took place. However, keep in mind that big-city travel can really cut into your cross country road trip cost so be wary of your spending there if you are trying to keep your road trip America cost low.
Road Trip Across America: Cost Considerations
If you have ever considered a road trip across America, you'll have asked yourself "how much does it cost to drive cross country?" and considered the cross country road trip cost.
If you don't have a vehicle at your disposal, you'll need to rent one. It's practically impossible to rent a car in the US for less than $40/day and it's really hard to find a deal for an RV for under $100/night. So this will affect your road trip America cost – but it is a necessary expense.
Add in spending on gas, accommodation, food, etc and your cost of cross country road trip will quickly add up, making what seemed like a great vacation idea seem like a rather expensive getaway.

We're always crunching numbers and asking ourselves, "how much does it cost to travel around the world?" But we really had no idea of the road trip across America cost!
Planning for our trip, we knew that sticking to a small daily budget was going to be tough, but we wanted to see if we could keep our road trip across America cost to $125/day for two people (Spoiler: we almost did!).
How Long Does it Take to Drive Across America?
It is totally up to you to decide how long does it take to drive across the US. Each of the road trip routes we have suggested can be completed comfortably in two weeks. However, there are innumerable things to do along the way and the States is a big country so you can take as long as you like.
We met people who had been on the road for years, making their way slowly across the country. So, as you can imagine, there are no hard and fast rules to answering how long does it take to drive across America – the decision is up to you!
But how long does it take to drive across America non-stop anyway? If you weren't in it for the journey and were just trying to zoom from coast to coast as quickly as possible, you could do it in 35-45 hours. Some people even take it a step further and take on the 48 states in 10 days route. This is a surefire way to check off tons of states on your list but we much prefer to enjoy the journey as much as the end destination.
Is it Safe to Drive Across America?
Of course! Always be sure to educate yourself on state driving laws while following the speed limit and being aware of your surroundings. There are A LOT of large transport trucks on American highways so be mindful of passing etiquette and you'll be good to go.
Cross-Country Road Trip Cost
Here is a detailed breakdown of our cross-country road trip cost to help you answer the question of "how much does it cost to drive across the country?" It is based on our 16 days 3,000 mile/4,500kms road trip from Chicago to Los Angeles.
RV Costs
If you are wondering "How much does it cost to drive across the country?" the first thing to consider is the cost of driving itself.
The cost of driving from Chicago to Los Angeles was by far the biggest percentage of our overall USA road trip budget. We knew that we had to find a cheap way to get around or this USA road trip ideas would quickly be thrown out the window.
RV Rental – $610 ($38/day)
Luckily, we were able to use some of the tips and tricks we learned while traveling around Australia to determine how much it would cost to travel across America. Then apply them to help our 2 week cross country RV trip cost in the US.
We were lucky to have been able to find a GREAT DEAL for a campervan rental at just $39/night.
While it wasn't as good as $1/day, the deal offered us a longer rental, giving us more time on the road, and a brand new (hence the factory relocation) massive RV for our cross-country road trip. It was big enough for 7 people, so having all the space for just 2 of us felt like absolute luxury.
The total for 16 days/15 nights added up to $610 of our cross country road trip cost.
Fuel – $682 ($42/day)
Gas ended up costing a bit more than we would've liked on our 2 week road trip across America, adding up to almost 30% of our total travel budget. With 3,000 miles (around 4,500 km) ahead of us on our 2-week road trip, we knew that we'd need around 6 tanks of gas to get us from Chicago to Los Angeles, but we underestimated the cost of gas across the country and our RV's efficiency on the road. How much does a cross country road trip cost? More than we thought as far as fuel was concerned.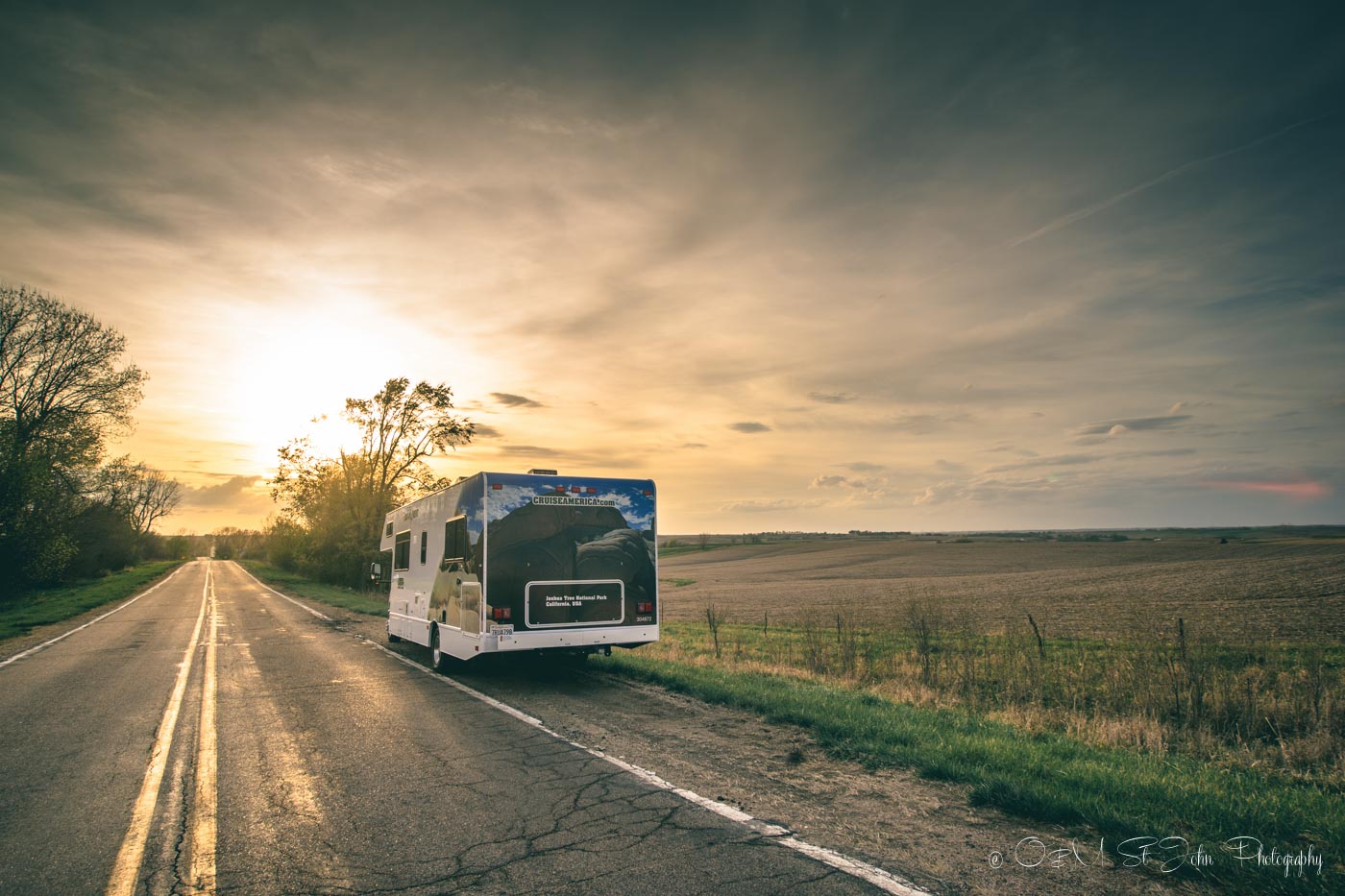 Propane = $60 ($4/day)
When budgeting for our trip, we completely forgot to account for the cost of propane. It didn't add up to a lot, which was surprising considering that the stove, fridge, furnace, and water heater in our RV were all powered by propane. All things considered, it was a small drop in a big bucket but should be accounted for if you're the designated road trip USA planner.
Accommodation Costs = $179 ($12/day)
Despite the fact that our RV was completely self-sustainable (it was equipped with a shower, toilet, and a full-size kitchen), we weren't able to spend more than 2-3 days away from an RV park during our trip.
Our freshwater tank needed to be refilled, our grey and black water tanks needed to be dumped, and even though laptops and phones were largely powered by our DC to AC power converter, we still needed to spend every now and then hooked up to power so we could charge up all of our camera batteries.
To our greatest surprise, RV parks in the US weren't as cheap as we expected. We planned on spending $10-15/night for a powered site, but in reality, we never found anything for less than $30/night. It was yet another thing that added more than we thought to our United States road trip cost.
On nights when we didn't need to be plugged in, we followed seasoned RV'ers advice and parked in Walmart parking lots or enjoyed being away from it all by finding an isolated spot in the middle of a forest road just off of our trip routes.
Food Costs = $339 ($21/day)
To keep our cross country road trip cost down, we choose not to eat out on this trip and cooked most of our meals in the RV. But we didn't deprive ourselves.
We stocked up on fresh fruits and veggies, good quality meats, and nutrient-rich ingredients. Let's face it, American groceries tend to be a bit more expensive than what we had been used to in Costa Rica so we had to keep our food expenses in check. Since our American road trip budget didn't allow for daily meals out, we made sure to cook up a storm and make a big deal out of our meals.
We drank wine, enjoyed some beers, and even splurged on desserts! Needless to say, we weren't starving throughout our trip and our food and drinks expenses reflected that.
Cost of Supplies
RV Supplies – $292 ($18/day)
It cost us a few hundred dollars to stock up on various supplies for the RV. There were a few road trip accessories that we can't believe we didn't think of before our trip and some bedding and kitchen supplies.
Cruise America offers to rent bedding and crockery to guests for their USA road trips but we figured that we could find much better quality stuff if we were to buy it ourselves for our 2 week cross country RV trip. And we did!
At the end of the trip, we took all the supplies up to Oksana's parent's house in Canada. One day, we'll dig them up from storage in the basement and use them for another drive across America!
How much does a road trip cost? A lot less when you already have the supplies from a previous trip!
READ NEXT: 12 ROAD TRIP ACCESSORIES THAT WILL TAKE YOUR TRIP FROM GOOD TO GREAT
Mobile Phone – $60 ($4/day)
To stay connected on the road we purchased a 30-day 10GB mobile data plan from T-Mobile for $60. It was a pricey investment and one that we completely forgot to account for at the beginning of planning a road trip across the States, but being able to stay connected and keep up with our work while on the road warranted the expense.
A great alternative, which we didn't know about it at the time, would have been a Solis Hotspot. Solis Hotspot offers flexible data plans, including Unlimited Data plans for heavy users or a Pay Per Use plan at just $9/1GB ideal for someone who just wants to stay connected and keep up with emails/messages or spends hours on social media while on this trip.
Cost of Activities – $160 ($10/day)
We didn't spend a ton of money on activities throughout our road trip across America. Cost was factored into many of the things we did.
We splurged on a Cog Railway ticket to the top of Pikes Peak, because hiking up the mountain wasn't an option in my condition, and our 30 foot RV wouldn't have made it up the winding roads either. Luckily, it was a great journey and money well spent.
National Parks Pass – $80
Another expense that we incurred on the trip was the cost of a yearly National Parks Pass ($80). We got lucky with our timing as the first week of our trip coincided with the Annual National Parks Week, which gave us access to all National Parks across the country for free.
But by the time we got down to Arizona and California, the deal was off and the steep price at the Grand Canyon and at the Joshua Tree National Park made the $80 we paid for the pass completely worth it.
We think that $80 for an annual park's pass was very reasonable. Especially considering they were some of the highlights of our American road trip. You can pre-purchase your National Park's Pass here.
2 Week Road Trip USA – Total Cost – $2,382 ($149/day)
Our road trip across America cost us $2,382, or an average of $149/day between both of us for a 16-day road trip across the US.
It's more than the $125/day that we planned on for our USA road trip budget, but we're not kicking ourselves for it. Our estimate for how much would it cost to travel across America was a bit off, but we had a great experience despite a bit of increased road trip cost.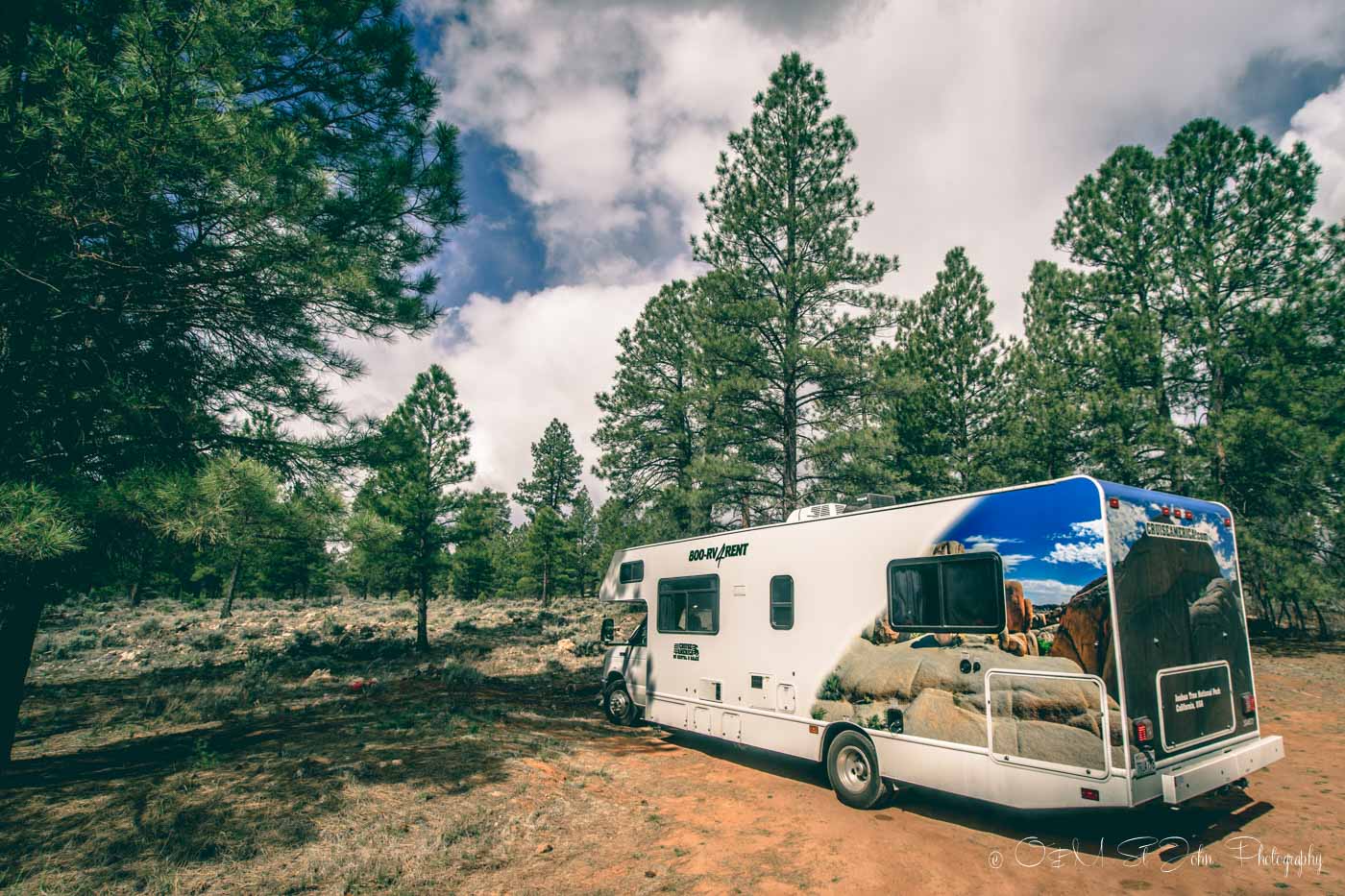 Looking back on our spending patterns, we realized that the biggest cost drivers were RV rental and gas. And while it might be possible to reduce the daily gas costs by staying on the road for longer and spreading the cost of gas over more days, the increase in daily RV rental would probably offset that.
READ NEXT: WE ARE GOING ON A ROAD TRIP ACROSS THE U.S.
How to Save on USA Road Trips
Looking ahead, we are not giving up on our mission to find more cost-effective ways to enjoy USA road trips. Next time, we plan USA road trips we will cover shorter distances (and save on gas in the process), look for even better relocation deals, and use some of our existing supplies to help us save on USA road trips costs.
We are confident that we can make it happen on future road trips, USA! Of course, having now put together this handy cross country road trip cost calculator it will be helpful in estimating all travel costs ahead of the trip.
We hope that this info can also aid you in determining how much your road trips USA may cost.
Road Trips USA – Eco-Friendly Tips
American road trips USA can take its toll on the environment but there are ways to minimize its effects. Not to mention, we tend to find that the more eco-friendly a trip is the more cost-effective trip too!
Choose a hybrid model or energy-efficient vehicle

whenever possible.

If you're driving your own car or an RV get it serviced prior to your USA road trip. Your RV or car rental agency will do this for you but you can still check your oil and tire pressure regularly while you're on the road for better fuel efficiency.
When it's hot out

roll down the windows instead of using A/C

for better fuel economy.

Choose

eco-friendly accommodation options, and restaurants

while on the road. Try camping or staying in national parks like we did, and shopping for food at local farmers markets.

Avoid single-use plastics

and minimize packaging by using

reusable grocery bags

and

collapsible containers

when you need to restock food and refreshments.

Don't forget to invest in a good

reusable water bottle.
Bring your friends! It's always better to travel with a full car or RV. A five-person vehicle is so much more eco-friendly and cost-effective than traveling with a couple of two-seaters.
Your USA Best Road Trips Await
No matter what USA road trip routes you take, one thing reigns true – the United States is filled with variety! From mountainous regions and oceans to historic cities and untouched land, there are so many things to do on a two-week road trip for a variety of tastes.
We hope this article will give you the USA road trip ideas and tools you need to plan your trip. See you on the road
Do you have any questions about an American road trip? Itinerary planning? Road trip suggestions are always welcome!