*This post may contain affiliate links, as a result, we may receive a small commission (at no extra cost to you) on any bookings/purchases you make through the links in this post. As an Amazon Associate, I earn from qualifying purchases. Read our full disclosure.
The big audacious holiday of love is almost here and the world (well, some parts of it) just can't wait to celebrate. If you ask us, it feels like Valentine's Day is losing its relevance. More and more people around us (including Max and I) choose to refrain from celebrating the holiday, yet the statistics are still astounding.
According to the survey results published in Forbes.com earlier this week, 54.8% of consumers will mark the holiday in some way in 2016, spending an average of $147 on gifts for their friends, family and romantic partners. And what's even more surprising is that amount is most commonly spent on candy, flowers, jewelry, clothing or an expensive meal. We just can't help but pipe in with our opinion on the subject.
In short, our advice is, don't do it! There are so many amazing things you can do in the world with your significant other for $300 that will beat that restaurant meal, that bouquet of flowers, and that new watch in a second. Today, we wanted to share just a few of our favourites!
P.S. They are all activities you can do on your next holiday together!
Take a Cooking Class in Thailand
Plan a trip to Thailand and sign up for a full day cooking class in one of Thailand's many cooking schools. Learn your favourite Thai dish recipes and bring the flavours of your Thai holiday back into your kitchen when you return. You can spend next Valentine's Day enjoying a home-cooked Thai meal with your significant other.
Cost: $36/person at the Thai Farm Cooking School in Chiang Mai
Take Surfing Lessons in Australia
Australia is an awesome place to give surfing a try and doing it with your partner means double the fun. Sydney's Bondi Beach and Byron Bay's Main Beach are the ideal spots to ride your first wave, but if you are looking for an all-immersive experience, check out Spot X Surf Camp located just north of Coffs Harbour.
Cost: 2-Day Surf and Stay Packages start at $265/person
Go Island Hopping in Palawan, Philippines
Just you, your loved one, a private boat (ignore the boat driver), crystal clear waters and white sandy beaches. Base yourselves in El Nido and enjoy hundreds of islands ready to be explored right at your doorstep.
Cost: $125 + for an all day island hopping tour with private boat rental
Dive in Indonesia
Discover a whole new world together by diving in one of the most beautiful places in the world – the Komodo National Park in Indonesia. Choose to escape real life for a 4-day liveaboard or go on 3 dives in 1 day.
Cost: Starting at $110 with our friends at UberScuba Komodo.
READ NEXT: 7 BEST DIVE SPOTS TO SCUBA DIVE IN INDONESIA
Relax and Disconnect at an Off the Grid Resort in Malaysia
Turn off your phone, put away your laptop and sink into a hammock on the beach at the Manana Borneo Resort in Sabah, Malaysia and enjoy the surroundings with your special someone.
Cost: Villas at the resort start at just $45/night
Go Zip-Lining in Costa Rica
Don't just sign up for any average canopy tour. If you are going to go zip lining, you've got to do it right! Experience the thrill of the longest zip line in Latin America while flying through 1590mt zipline in Monteverde Cloud Forest.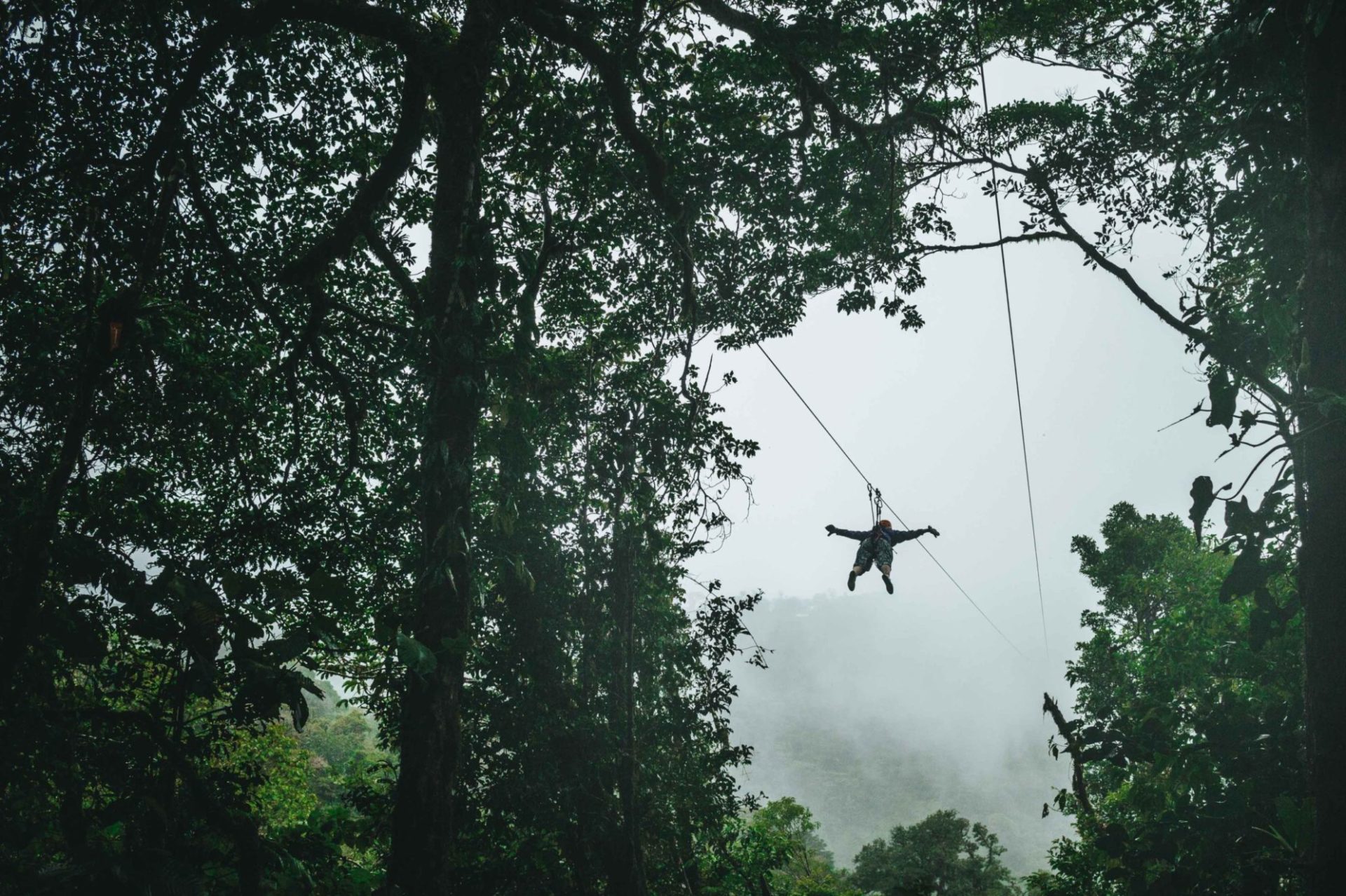 Cost: Just $50/person with Aventura Canopy Tour
Go White Water Rafting in Austria
Tyrol, Austria is considered to be one of the best places for white water rafting in all of Europe. So grab your loved one and sign up for what's bound to be a thrilling ride through deep gorges and foaming waves.
Cost: Starting at $50/person with Tirol Rafting
Take a Yoga Vacation in India
Stay at one of the world's best yoga spots, Sivananda Yoga Vedanta Dhanwantari Ashram in Kerala, India. Connect with your loved one on a much deeper level and take this new healthy practice back home with you!
Cost: Daily rates for Yoga Vacations start at just $16/night. 2-week stays are recommended.
Go on a Desert Safari in Morocco
Ride your camels into the sunset, enjoy authentic Berber tagine and delicious Berber Whiskey, dance the night away to the tunes of traditional Berber music and fall asleep gazing at the millions of stars just outside your tent.
Cost: 1N/2D Camel Trekking Tours start at $45/person
Go Wine Tasting in Napa Valley
We've enjoyed our fair share of wine tasting tours in Australia, but if traveling to the other side of the world for some good wine doesn't sound like a feasible option, why not head to the Napa Valley and enjoy a weekend of wine with your loved one.
Cost: Wine Tasting tours start at $125/person
Inspired yet? We certainly are! So go on, call that fancy restaurant, cancel your dinner reservation, return your chocolates and stuffed bears to Walmart and book you and your special someone a trip to enjoy one of these amazing activities instead!
Like this post? Pin it for later!
So where will you choose to travel to?