If you're looking for an exciting East Coast travel destination, look no further than Nova Scotia. From the stunning coastline of Cape Breton Island with plenty of outdoor adventures and hiking trails, to the vibrant capital of Halifax with plenty of restaurants, bars, and cultural attractions, and the charming towns of Wolfville and Lunenburg, Nova Scotia has something for everyone.
*This post may contain affiliate links, as a result, we may receive a small commission (at no extra cost to you) on any bookings/purchases you make through the links in this post. As an Amazon Associate, we earn from qualifying purchases. Read our full disclosure
We spent 3 weeks exploring Nova Scotia on our recent East Coast Canada road trip and found it to be one of the most diverse Maritime provinces with a range of activities, experiences and destinations for all tastes and travel preferences.
We loved hanging out in Halifax, enjoying great food and local brews, sampling locally made wine in the Annapolis Valley, learning more about Canadian history in Annapolis Royal, hiking the Skyline Trail in Cape Breton Highlands National Park and admiring the views on our road trip along the Cabot Trail.
We've rounded our best experiences and favourite destinations into this comprehensive guide to help others plan their own Nova Scotia travel itinerary.
Traveling Soon?

Here is a list of our favourite travel providers and accessories to help get you ready for your upcoming trip!
About Nova Scotia
Nova Scotia is one of the three Maritimes provinces and is located on the East Coast of Canada. The province has 7500 km (4660 mi) of coastline and is dotted with fishing villages, stunning beaches, rugged coves and headlands and a variety of wildlife. This makes it an especially memorable destination for an epic road trip with spectacular scenery and extremely friendly locals.
Cultural Influence
Originally the home of the Mi'Kmaq people who have called Nova Scotia home for over 10,000 years, the province is a multicultural part of Canada. A unique blend of English, Scottish and French influences can still be seen today, making it a culturally fascinating place to explore.
Fun Facts About Nova Scotia
Nova Scotia is the second smallest province in Canada, after Prince Edward Island.
The capital of Halifax is the largest city in Nova Scotia, with a population of over 400,000 people. The waterfront in Halifax is the most visited destination in all of Nova Scotia.
The Cabot Trail on Cape Breton Island is frequently ranked as one of the most popular scenic drives in Canada. It was named one of the world's top 10 motorcycle rides by National Geographic.
The Annapolis Valley in the western part of the province is known for its wineries and orchards and is a popular destination for cyclists. Tidal Bay wines produced in the region are unique to the area and are said to be shaped by the sea.
Lunenberg, located on the south shore of Nova Scotia, is a UNESCO World Heritage Site and home to some of the most beautiful architecture in Canada.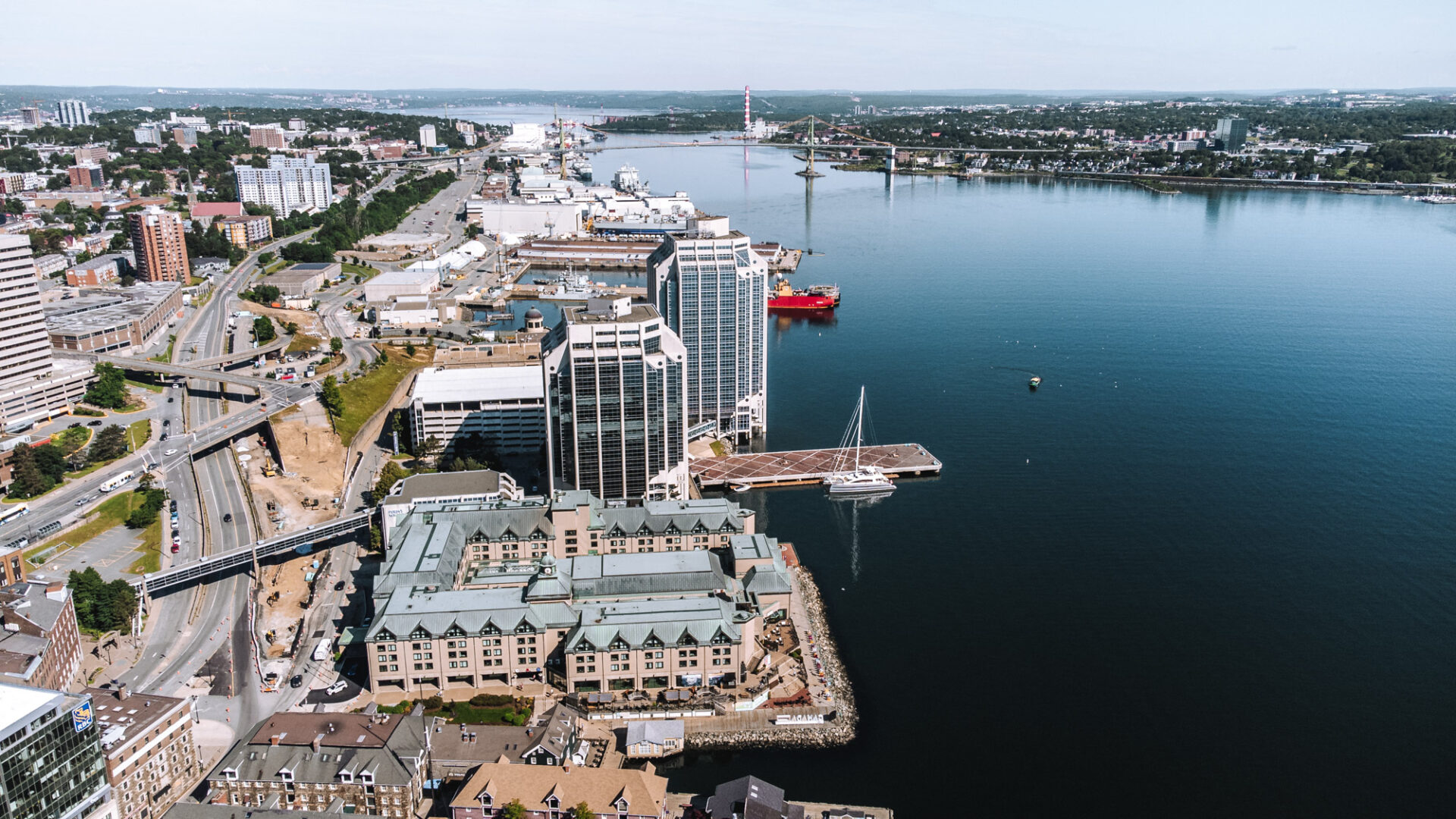 How to Get to Nova Scotia
There are a variety of transport options when travelling to Nova Scotia, depending on how you prefer to travel.
By Car
Trans-Canada Highway connects Nova Scotia to New Brunswick and the rest of Canada. Those coming from Quebec, Ontario and beyond will find the drive to Nova Scotia to be a long one.
The distance between Toronto to Halifax is almost 1800 kms. It takes roughly 14-18 hours to drive to Halifax from Ontario.
From Quebec, the distance is a bit more manageable. Montreal is located 12.5 hours rom Halifax and Quebec City is just over 10 hours away.
By Bus/Rail
There are both train and bus options for reaching Nova Scotia. Long-distance buses by Maritime Bus connect Quebec through New Brunswick to Halifax and also run up to North Sydney.
VIA Rail offers overnight trains from Montreal to Halifax a few times per week. The journey takes up to a full day of travel time.
By Plane
Halifax Stanfield International Airport (YHZ) is Atlantic Canada's largest airport. There are domestic flights to many other parts of Canada, as well as international flights to major US cities like New York, Boston, Chicago and Philadelphia and European capitals including London.
The airport is located around 40 minutes drive from the city center, with a local bus network or taxi service available for getting to and from the airport.
Best Time to Visit Nova Scotia
There are pros and cons to traveling around Nova Scotia any time of the year.
Summer
Summer is definitely the busiest season in Nova Scotia, with the best weather occurring between June and August. Temperatures are generally pretty warm and can exceed 25 degrees C (78 F). You'll find accommodation prices across Nova Scotia to be a bit higher in the summer, although summertime in Nova Scotia is still quieter than other parts of Canada, so it's not a big concern. After all, summer in Nova Scotia is beautiful!
Fall
Fall can be the best time to visit Nova Scotia attractions, with fewer crowds, nice and stable weather and pretty fall colours. If you want to check out peak foliage, plan your trip from September until October. However, it can be difficult to hop on tours late in the season, as much of the tourist industry starts to die down toward the winter months.
Winter
The colder months are pretty cool and wet on the East Coast, with temperatures getting as low as -15 degrees (5 F). It's not the best time for a Nova Scotia tour as many operators and businesses shut down for the winter.
On the flip side, Nova Scotia offers a number of winter-specific adventures and attractions so if you can brave the chilly weather, you can enjoy wintertime in Nova Scotia and experience something very different. If you do visit, be prepared for all conditions and dress in warm layers.
Spring
The Nova Scotia tourism industry starts to come alive in Spring after a long winter. However, it can remain cool until May. Many operators will not resume business until late May, so it's something to be aware of if you are planning a trip to Nova Scotia in late Spring.
With that said, late Spring can be the best time to go to Nova Scotia for the outdoors and to explore some of the stunning natural wonders of the province.
14 Best Things to do in Nova Scotia
If you're planning a trip to the East Coast, then here are the best things to do in Nova Scotia for every type of traveler.
1. Spend Time in Halifax
Home to one of the world's largest harbours, Halifax is a lively and welcoming city that is worth a few days' visit on your Nova Scotia road trip. The province's capital is known for its excellent dining and shopping scene within the very walkable Downtown Halifax area.
There are plenty of things to do in Halifax, from historical and cultural attractions to nearby outdoor activities and coastal scenery. Here are just a few of our favourites!
Top Activities, Destinations and Things to Do in Halifax, NS
Halifax Waterfront: The bustling Halifax harbour area is the heart of the action in the city, with a variety of restaurants, cafes and shops. It's also worth strolling along the Halifax Waterfront Boardwalk which passes by many other attractions in the city.
Halifax Seaport Farmers Market: Running every weekend on the waterfront, this vibrant market is one of the top Nova Scotia tourist spots. It's conveniently located right by the docked fishing boats and cruise port in Halifax Harbour, so it offers a fun way to spend the morning.
Halifax Maritime Museum: This is the largest maritime museum in Canada, with over 30,000 artifacts on display. It has some interesting exhibits on the Halifax Explosion and the Titanic and is one of the true highlights of Nova Scotia for history buffs.
Canadian Museum of Immigration: A fascinating museum to visit, Pier 21 was the immigration point for one million newcomers to Canada between 1928 and 1971. You'll learn about 400 years of immigration history through first-person stories, archival photos, and artifacts.
Halifax Public Gardens: As one of the finest surviving examples of a formal Victorian garden, it's a lovely place to go for a stroll in Downtown Halifax. The garden is home to a variety of plants and flowers, as well as a number of statues and fountains.
Halifax Citadel National Historic Site: The star-shaped citadel commands a hilltop position overlooking the Atlantic Ocean and cityscape. The landmark is worth visiting to learn a bit more about the military history of the area.
Kayak Halifax: For a fun activity, Kayak Halifax offers a range of paddle and kayak tours along Northwest Arm and McNab's Island. There are a variety of tours ranging from sunset excursions to Harbour Highlights to choose from. A great way to see Halifax from another perspective – one of our favourite experiences in Halifax.
Alexander Keith Brewery: Founded in 1820, it's one of the oldest working breweries in North America. They offer an hour-long guided tour of the brewery, which includes a tasting.
2. Visit Peggy's Cove Lighthouse
Located southwest of Halifax, Peggy's Point Lighthouse is one of the most iconic landmarks in Nova Scotia. The lighthouse marks the eastern entrance of St. Margarets Bay and is still operated by the Canadian Coast Guard.
It's become the postcard shot for Tourism Nova Scotia and is recognizable around the world, so it's definitely a must-see in Nova Scotia. You can explore the granite outcrop around the lighthouse, which offers spectacular sea views in all directions.
It's less than an hour's drive from Halifax, but there is also a small village there with a few restaurants, shops and accommodation options.
3. Explore Cape Breton Island
As the northeasternmost island in Nova Scotia, the beautifully rugged island is worth taking some time to explore on any Nova Scotia trip. Cape Breton Island is most well-known for being home to the popular Cabot Trail road trip, but it is equally great for those who enjoy getting out to explore the dramatic scenery on one of the many hiking trails.
The Island is home to plenty of activities and attractions to keep you busy. Here are just a few of the many things you can do while on the island:
Visit Cape Breton Highlands National Park: With stunning landscapes and plenty of trails to explore, this national park is a must-see. You can also enjoy wildlife watching, camping, and picnicking. If you only have time to hike one trail make it the Skyline Trail – and do it at sunset – trust us, the views are incredible!
Bike the Cabot Trail: This world-famous scenic route takes you through some of the most beautiful scenery in Cape Breton. The Cabot Trail is a popular road trip, but it is also a cycling route with lots of stops and lookouts along the way to take in the sweeping views. More on that in the next section.
Visit Fortress of Louisbourg: This historical site is a reconstruction of a French fort originally built in 1720. It's a partial reconstruction of a huge 18th-century French fortress that was built in 1713. It was a pivotal location for two sieges that were turning points in the Anglo-French struggle for Canada. Today, the fortress is open to the public and offers guided tours, exhibits, and performances.
And of course, it goes without saying that Cape Breton Island is one of the best places to go in Nova Scotia for stunning views. The region has a number of small towns worth visiting on your road trip, including the historical capital, Sydney.
If you're looking for jaw-dropping views, a quick trip around this island definitely needs to be high on your Nova Scotia sightseeing itinerary.
4. Drive the Cabot Trail
The Cabot Trail road trip is so good it deserves its own section in this guide.
Widely considered to be one of the most scenic drives in Canada, the Cabot Trail winds its way around Cape Breton Island, following the 300 km (185 mi) road loaded with stunning scenery and plenty of opportunities to get out and enjoy the natural landscape.
If it's beautiful, raw views you're after, a drive around the island on the Cabot Trail is one of the must do things in Nova Scotia.
While you could drive the entire thing in 4-5 hours, we recommend spending at least 3 days to do it justice. There are plenty of things to do on the Cabot Trail, which are worth your time and effort.
Notable Stops along the Cabot Trail
Baddeck: A beautiful small town to start or end the scenic drive, Baddeck has a strong Gaelic heritage and culture that you can experience during your visit. Located on the shores of Bras d'Or Lake, it's a charming place to stop for a day or two to get a sample of Gaelic culture on the Cabot Trail
Cape Breton Highlands National Park: Arguably the biggest attraction of the Cabot Trail, the park is located on the northern end of the island. The park is filled with forests, rugged mountains, and winding rivers and is home to moose, black bears, bald eagles, and other wildlife. There are plenty of hiking and camping spots in the park, so it's definitely a highlight for those who want to hit a hiking trail.
Skyline Trail: As one of the best hikes in the Cape Breton Highlands National Park, it's a 7km (4.3 mi) walk along a trail and boardwalk with steps down the headland which opens up to a birds-eye view of the coast. It's the perfect place to snap some photos and watch the sunset.
Sea kayak in the north: A great way to admire the Cape Breton highlands is by kayak. Cabot Trail Adventures offer half-day guided tours around the underexplored northern coastline.
Ingonish: A popular town on the east coast of the island, known for great hiking, a stunning white sand beach, and the famous Keltic Lodge Resort, which houses the incredible Highlands Links Golf Course.
5. Go Wine Tasting in Wolfville
Located around 100 km (62 mi) northwest of Halifax, Wolfville lies in the beautiful Annapolis Valley. This central city on the eastern end of the valley has both historic and horticultural significance. It's home to several excellent wineries and Acadian historical sites, making it one of the best places to see in Nova Scotia.
The main street is lined with historical buildings and busy restaurants and cafes serving delicious seafood.
The surrounding area makes up Canada's smallest and coolest climate wine region, producing crisp wines that pair well with seafood. The pride of Nova Scotia is the Tidal Bay wine variety, a white wine blend made strictly from Nova Scotia grapes.
There are a number of great wineries to visit in Wolfville, so if you are a wine lover, plan to spend a couple of days wine-tasting.
Our Favourite Wineries in Wolfville
Domaine de Grand Pré: The oldest farm winery in Atlantic Canada. You can sample delicious reds and whites just down the street from The Tangled Garden.
Luckett Vineyards: Visit the beautiful property for a wine tasting, cellar tour, or private barrel room dinner.
Lightfoot & Wolfville Vineyards: Certified organic and biodynamic vineyards offering German-style whites.
6. Witness Rising Tides at Halls Harbour
Hall's Harbour is one of the best places to visit in Nova Scotia. The charming fishing village dates back to the 1770s and is located on the east side of the Bay of Fundy. Known for having some of the highest tides in the world, with a 45-50 foot (13-15 metre) change every 12 hours, this is by far the best place to watch this natural wonder right from town.
Halls Harbour Lobster Pound and Restaurant
The best way to enjoy the magic of the Bay of Fundy tides is to pay a visit to Halls Harbour Lobster Pound and Restaurant, from where you can admire the tides and enjoy a delicious lobster meal in outdoor seating. They have their own lobster pound from where you can make your selection before sitting down to enjoy the views over the bay.
Plan your visit for a few hours after low or high tide and plan to stay for at least 3-4 hours to see the tides change right in front of your eyes.
7. Eat Scallops in Digby
On the western side of Nova Scotia's Annapolis Valley, Digby is a small town known as the scallop capital of Nova Scotia. For foodie travelers, it's definitely considered one of the cool places in Nova Scotia.
The active fishing community is well-known for its wildlife spotting and mouth-watering seafood.
Other things to do in Digby
Digby Pines Golf Resort and Spa: A beautiful resort where you can play golf at the on-site 18-hole golf course, visit the spa, or dine on famous Digby scallops at their on-site restaurant.
Brier Island: In the summer, Whale Watching Tours depart from Brier Island, not too far from Digby.You'll have the chance to spot endangered or rare species of whales like the Humpback, Finback and Right Whales, and seabirds.
8. Explore National Historic Sites in Annapolis Royal
Annapolis Royal is a historic town filled with plenty of incredible things to see and do. There are a number of Historic Sites in Annapolis Royal itself and a few more across the bay near the town of Granville Ferry.
In town, you'll also find waterfront shopping, heritage lodging, arts scene, and outdoor activities to explore. Despite being small, it's one of the top Nova Scotia destinations for history buffs.
Must see Nova Scotia sites around Annapolis Royal
Fort Anne National Historic Site: This is the oldest National Historic Site in Canada, so it's certainly a must do in Nova Scotia. The historic grounds feature a 17th-century fortress and museum. Guided tours are available
Port-Royal National Historic Site: Across the bay you'll find a reconstruction of the Port-Royal National Historic Site – another popular attraction in the region. You can admire costumed interpreters as they put on demonstrations to recreate one of North America's earliest settlements.
Annapolis Royal Historic Gardens: Just east of Fort Anne, the gardens are known for the beautiful rose garden and historic homes.
9. Hike Cape Split Trailhead
If you want to enjoy some more stunning Nova Scotia scenery in Annapolis Valley, then a hike along Cape Split Trail is worthwhile. Overlooking the Bay of Fundy, the challenging 12 km (7.5 mi) hike traverses the headland near Scots Bay.
The pretty walk offers panoramic views of the Blomidon Provincial Park, Minas Basin and Burntcoat Head Park, where the ocean floor becomes visible when the tide is out, while opportunities for some wildlife watching are also abundant.
It's especially scenic in the Fall, when the foliage colours have come out in full, making it a photographer's paradise.
10. Go Tidal Bore Rafting
One of the most fun things to do in Nova Scotia is to go rafting down the Shubenacadie River. The river's rapids are powered by the high tides of the Bay of Fundy, which moves more than 100 billion tons of water twice a day.
Tidal Bore Rafting offers the ultimate adventure for thrill seekers, as the river turns into a raging mass of rapids when the tidal bore temporarily reverses the flow of the river.
The Tidal Bore Rafting Resort is the best place to experience this natural phenomenon, with guided tours for all ages and lengths of time. It's definitely one of the best places to visit in Nova Scotia in summer if you're planning a family vacation.
11. Shubenacadie Provincial Wildlife Park
One of the many reasons for visiting Nova Scotia is to see the incredible wildlife, and there's no better way to do that than at the 40-hectare wildlife park in Shubenacadie. It's one of the best things to do in Nova Scotia with kids, just less than an hour's drive from Halifax.
It's one of the only wildlife park areas in the province being home to an incredible variety of animals, including cougars, black bears, arctic wolves, red deer, moose and bald eagles. There's also a range of educational programs and even night tours available to learn more about wildlife.
12. Visit Lunenburg
Lunenburg is one of the best places in Nova Scotia, known for its charm. It's often regarded as the most picturesque town in Nova Scotia and is just over an hour's drive south of Halifax. The UNESCO World Heritage Site is one of only two urban centres in all of North America to hold that status, making it an incredible historic attraction.
It's characterized by narrow streets and colonial buildings in bright colours. A visit to Lunenburg is like walking through a living history museum with tall ships lining the harbour and an old marine blacksmith shop on the waterfront.
Things to do in Lunenburg
There are plenty of things to do in the town to explore for a couple of days.
Bluenose II Ship: A replica schooner of the original boat that's featured on the Canadian dime can be found docked in Lunenburg. It's a historically significant ship, for being undefeated in her 18-year run as a fishing and racer boat.
Lunenburg Waterfront: A stroll around the waterfront area and UNESCO World Heritage Site is a must. It's one of the most well-known Nova Scotia tourist attractions, with fishing boats sitting in the harbour and colourful buildings lining the waterway.
Fisheries Museum of the Atlantic: A maritime history museum that takes a look at the local fishing history, with an aquarium, historic boats and interactive displays.
13. Go Whale Watching
One of the best Nova Scotia activities in summer is whale watching. There are plenty of places where you can go to see whales. But, a few of the best spots are on Cape Breton Island and near Digby in Annapolis Valley.
Catching a glimpse of whales breaching off the coast is definitely one of the best things to see in Nova Scotia. So, it's worth planning your trip around it. The best months are from May until October, so it's definitely a Summer and Fall activity.
Best Spots for Whale Watching in Nova Scotia
Cape Breton Island
One of the best things to do in Nova Scotia in July is to go whale watching on Cape Breton Island. There are a couple of operators offering whale-watching tours in Cheticamp and Pleasant Bay.
Around Chéticamp, you can find humpbacks, finbacks, minke, and pilot whales. Chéticamp Adventure Co and Captain Zodiac Whale Cruise in Cheticamp are two reputable local operators offering Whale Watching Tours.
Annapolis Valley
Near Digby and around St Marys Bay is another good spot for whale watching in Nova Scotia. The waters of the Bay of Fundy are essential feeding grounds for whales, as well as several species of sea birds. During the summer, whale-watching tours depart from Brier Island
14. Explore Kejimkujik National Park
For outdoor lovers, Kejimkujik National Park is one of the best things to do in Nova Scotia, Canada. It's a beautiful park just over an hour's drive inland from Lunenburg. Here you'll find ancient rock carvings, large swathes of wilderness areas with canoe routes and sandy beaches, as well as a variety of wildlife.
It's a Nova Scotia must see for anyone wanting to learn more about the Mi'kmaw people who traditionally called the park area of Nova Scotia home. There are storytelling and petroglyph tours available for getting to know the history of Nova Scotia.
Have you ever visited Nova Scotia? What other things to do in Nova Scotia would you add to this list?