From towering cliffs, beautiful beaches, and colourful cities to welcoming locals and delicious food, there's nothing quite like Canadian East Coast. It's a prime region for an epic road trip in Canada!
*This post may contain affiliate links, as a result, we may receive a small commission (at no extra cost to you) on any bookings/purchases you make through the links in this post. As an Amazon Associate, we earn from qualifying purchases. Read our full disclosure
Located along the wild Atlantic Coast, the region comprises the four East Coast provinces of Canada: the remote Newfoundland & Labrador and the three Maritime Provinces of Nova Scotia, Prince Edward Island and New Brunswick.
Each province has its own charm and attractions, with an endless amount of things to see and do. We'd heard so much about this region, and in 2022, we finally set off on a 2 months East Coast Canada road trip to see the best this region has to offer.
While we were lucky enough to spend 8 weeks on the East Coast, we know that most people won't have that kind of time to explore the region. But don't fret! It is definitely possible to see the main sights and attractions of the region on a 4-week or even 2-week East Coast Canada Road trip. We hope this guide will help you plan the ultimate East Coast Canada road trip no matter how much time you have!
Traveling Soon?

Here is a list of our favourite travel providers and accessories to help get you ready for your upcoming trip!
How Long Do You Need to Visit the East Coast
As mentioned before, we spent eight weeks on our East Canada road trip, which was just enough time to see most of the region. While it may look small and compact on a map, East Coast Canada is vast with long distances, so it's best to allow plenty of time to get from one province to the next.
---
To see the highlights of each province on a road trip, you'll need at least 5-6 weeks.
---
However, if you don't have that much time to spare, you could spend 2-4 weeks in the Maritimes, visiting Nova Scotia, PEI and New Brunswick (excluding Newfoundland). This would give you enough time to see the main highlights of those three provinces, which are easily combined on an Eastern Canada road trip itinerary.
Best Time to Go on an East Coast Canada Road Trip
The best time to explore East Canada is in the summer, with the shoulder season starting as early as April and ending as late as October.
Eastern Canada is at its best in summer. This is when you'll experience the best weather, with pleasantly warm days and not-too-cold nights. However, you may want to try and avoid the high season between mid-June and August, when the region can be extremely crowded, and prices tend to go up.
If you want to avoid the summer crowds, the best time to plan your East Coast Canada itinerary is for fall. It's far less crowded, and you'll also get to enjoy the pretty fall foliage colours. Try to plan your Eastern Canada road trip for September/October for the best colours, but be prepared as the temperatures, particularly at night, can drop quite significantly this late in the year.
In winter, temperatures on the East Coast are freezing, and many businesses, tours and small towns almost completely shut down to visitors. There is still fun to be had on the East Coast in the winter, but it would be a very different adventure – one that we have yet to experience!
When is the Best Time for Whale Watching?
The Eastern Coast is known as one of the best places in Canada and in the world for whale watching. The Atlantic Ocean is home to several whale species that migrate through the region from April until October.
New Brunswick is a top spot for seeing humpback, fin and right whales. Newfoundland and Labrador offer visitors the chance to see humpback, fin and minke whales, while Novia Scotia is ideal for sightings of humpback, fin, right and long-filled pilot whales.
When Are the Most Popular East Coast Festivals?
Matching the glorious weather, most of the liveliest festivals on the east coast of Canada take place in summer. There are several great festivals, including TD Halifax Jazz Festival, Nova Scotia Summer Fest, Newfoundland & Labrador Folk Festival, Halifax Busker Festival, Nova Scotia International Tattoo, Festival Acadien and Halifax Seaport Beerfest, all during the summer months.
How to Get to East Coast Canada
Whether you're on an extended road trip from western Canada or arriving from international destinations, there are plenty of ways to get to the East Coast.
By car from within Canada
Both Newfoundland & Labrador and New Brunswick provinces border Quebec. The French-speaking province acts as the only gateway to the region on any Eastern Canada road trip itinerary. If you are traveling by car from the West Coast or from Ontario, your route will have you passing both Montreal and Quebec City.
Once you hit Quebec, you can start to get excited – the East Coast is not too far away!.
From Quebec City to Fredericton in New Brunswick is 590 km or 6-hour drive.
Another popular starting point for an Eastern Canada travel itinerary is Ontario. While an Eastern Canada road trip from Toronto to reach the coastal provinces is quite lengthy, there are plenty of places to stop on the way. Keep in mind that Toronto to Halifax road trip distance is nearly 1800 km, so you'll need to add a few days of driving the journey.
By car from the US
If you're coming from the US, you could easily extend your North American East Coast trip into the Maritime provinces of Canada. A road trip from Boston to St John in New Brunswick is a 650 km or 7-hour drive via Portland in Maine on the main highway.
Arriving by Plane
Halifax, Nova Scotia, has the region's major air hub. Halifax Stanfield International Airport has frequent flights in and out of the region to both domestic and international locations.
Other major airports include Saint John, New Brunswick, Charlottetown, Prince Edward Island and St. John's, Newfoundland.
Air Canada is the main carrier that flies in and out of the region, but you'll also find ​​Delta Connection, Porter Airlines, United Airlines, and WestJet offering flights too.
Renting a car
If you're planning on flying into the region, we recommend arriving into Halifax, as it's the most central city. From there, you can easily rent a car for your Maritimes road trip. We highly recommend having your own car for the entire trip around the region, as it makes getting around to all the destinations much easier.
Alternatively, renting a campervan would also be a great option for those looking to camp out and explore more of the national parks. You can check out Canadream or Adventure Touring Canada for RV rental.
We did our East Coast Canada Road Trip in our self-converted Sprinter Campervan, Benji, a trusty home on wheels that we built during the pandemic. We loved exploring the East Coast in a campervan and think that road-tripping in an RV is the best possible way to experience this region. Our campervan was comfortable to drive and offered a lot more flexibility than getting around by car. We had a chance to experience camping in some of the East Coast's best national parks and had an amazing time going off the beaten path!
Ok. Now let's get to that itinerary!
Ultimate East Coast Road Trip Itineraries
An East Coast Canada road trip deserves as much of your time as you can possibly spare. We recommend at least 4 weeks to make this road trip around Atlantic Canada.
Assuming that you're beginning your trip in Halifax, you can divide your time between Nova Scotia, Newfoundland, Prince Edward Island and New Brunswick quite easily.
4 weeks will allow you to see the main highlights of the east coast in Canada without compromising too much. If you're building your own East Coast Canada road trip itinerary, here are our suggestions for how you spend your time in the region.
4 Week East Coast Road Trip Itinerary
Here's an example of a 4-week Eastern Canada itinerary to help you start planning your road trip!
Start in Nova Scotia: 1 Week
As one of the Maritime provinces, Nova Scotia has a beautiful coastline filled with dramatic views, historic lighthouses, delicious seafood and local vineyards. It's also home to the Cabot Trail, one of the most beautiful road trips in Canada. A week is a minimum time you need to see the highlights of Nova Scotia. Here's how.
Halifax – 2-3 days
Halifax is the charming capital city of Nova Scotia. Home to one of the world's largest harbours, the city has a relaxing atmosphere and plenty of cultural and historical attractions to explore over at least a couple of days.
Things to do in Halifax:
Halifax Waterfront:

The bustling working port is one of the most visited attractions in the area. It's home to a number of restaurants, cafes, and bars, as well as a few shops.

Halifax Maritime Museum:

This is Canada's largest maritime museum, home to over 30,000 artifacts relating to maritime history, with a large collection of ship models, navigation tools, and wreck relics.

Peggy's Cove Lighthouse:

No East Coast of Canada road trip is complete without visiting Peggy's Cove Lighthouse. Located less than an hour southwest of Halifax, Peggy's Point is one of the most iconic landmarks in Nova Scotia with the lighthouse being one of the most recognized around the world.
Wolfville – 1-2 days
Halifax to Wolfville: 92 km or 57 miles or 1 hour 10-minute drive
Wolfville lies in the beautiful Annapolis Valley. As the main city on the eastern end of the valley, it has both historic and horticultural significance as it's home to several amazing wineries and nearby Acadian historical sites.
Things to do in Wolfville:
Wine tasting:

Wolfville is located at the heart of Canada's smallest and coolest wine region, producing crisp wines that pair particularly well with seafood. Lots of wineries offer wine tastings in the region, but our favourites were

Luckett Vineyards

and

Lightfoot and Wolfville Vineyards.
Grand-Pré National Historic Site:

The Grand-Pré National Historic Site commemorates Acadian history and is a designated UNESCO World Heritage Site. The interpretive centre at Grand-Pré is surrounded by walkways and beautiful gardens.

Domaine de Grand Pré:

The oldest farm winery in Atlantic Canada. You can sample delicious reds and whites just down the street from the national historic site.
Tidal Bore Rafting – Stop
Wolfville to Tidal Bore Rafting Resort: 105 km or 65 miles or 1 hour 20 minute drive
One of the most unique things to do in Nova Scotia is to go rafting down the Shubenacadie River. The river's rapids are powered by the dramatic tides of the Bay of Fundy, which moves more than 100 billion tons of water twice a day.
We went Tidal Bore Rafting with Tidal Bore Rafting Resort and highly recommend it as a stop on any East Coast Canada Road Trip itinerary. They offer guided tours for all ages ranging from 2 hours to full-day adventures.
Cape Breton Island – 2-3 days
Halifax to Baddeck: 351 km or 217 miles or 4 hours
Take a few days to explore Cape Breton Island. Located at the northeastern end of Nova Scotia, it is known for its beautiful landscapes, great hiking trails and scenic route known as the Cabot Trail.
Things to do on Cape Breton Island:
Cabot Trail:

Widely considered to be one of the most scenic drives in the world, the 300km (185 miles) drive winds its way around Cape Breton National Park on the north cape of the island. We recommend spending at least 2-3 days taking in the sights of the Cabot Trail, including scenic lookouts and walking trails.

Skyline Trail:

One of the best hikes in the Cape Breton Highlands National Park is this 7km (4.3 mi) walk with steps down to the headland, which opens up to a birds-eye view of the coast. We recommend going at sunset to witness one of the most beautiful sunsets on the East Coast.

Baddeck:

The start or finish of the Cabot Trail drive, this beautiful small town is home to a strong Gaelic heritage and culture. Located on the shores of Bras d'Or Lake, it's a charming place for cultural immersion.

Ingonish:

A popular town on the east coast of the island, it's known for great hiking, and a stunning white sand beach.
Newfoundland – 10 days
To get to Newfoundland from Nova Scotia, take a ferry from North Sydney to Port Aux Basque with Marine Atlantic. The crossing takes about 7 hours and costs just over CAD $200 for a vehicle and two passengers. (Be prepared to pay a few hundred dollars more if you are crossing with a campervan)
This wild and rugged province is known for its unspoiled wilderness and stunning landscapes. Favoured by outdoor enthusiasts, it has plenty of activities to do and places to explore. If you're planning to visit Newfoundland, allow at least 10 days to explore the region.
Gros Morne National Park 2-3 days
Located in western Newfoundland, Gros Morne National Park is a UNESCO World Heritage Site and is an absolute must-visit. The vast landscape of the park was formed over hundreds of millions of years. It boasts a variety of landscapes, including barren Tablelands, moody fjords and Newfoundland's second-highest peak – Gros Morne Mountain.
Things to do in Gros Morne National Park:
Hike the Tableland Trail (4 km / 2.5 mi)

: This easy loop follows the famous red rocky Gros Morne Tablelands landscape and is a must for hikers.

Hike to Gros Morne Mountain (17km/10.5 miles return)

: You can hike this trail just to the base of the mountain (first 4.5km) or all the way to the top with 500m in elevation gain. The difficult hike is through the beautiful Arctic-alpine terrain with rewarding views of the mountains.
Fogo Island – 2 days
Take a Farewell Ferry to Fogo Island: 75-minute sailing time
Fogo Island is definitely one of the most special places to see in Newfoundland. A small community rejuvenated by Fogo Island Inn, this island is as rich in culture and stories as it is in its beautiful scenery.
Things to do on Fogo Island:
Hike Brimstone Head

: Take the 2 km (1.2 mi) trail up the stairs to a gorgeous lookout that is known as one of the four corners of the earth. It's particularly beautiful at sunset.

Stay at Fogo Island Inn:

This beautiful luxury hotel operates as a social enterprise. It

plays a huge role in the overall economic development of this small community. They offer an all-inclusive package with dining, tours and accommodation. A stay here is a very special experience, but be sure to book ahead. Despite the high price tags, it sells out almost every summer.
Twillingate – 1-2 days
Gros Morne to Twillingate: 420 km or 261 miles or 4.5-hour drive
You can experience the magic of icebergs in Twillingate, known as the iceberg capital of Newfoundland. The colourful fishing town is one of the quintessential Newfoundland points of interest, with rocky shores and stunning scenery.
Things to do in Twillingate:
Long Point Lighthouse:

The lighthouse looks over Notre Dame Bay and is an amazing lookout point for icebergs and whales.

Iceberg boat tour

: Seeing icebergs from the water is even better than seeing them from land. Get up close and personal on a boat tour from town.
Bonavista Peninsula – 2 days
Twillingate to Bonavista: 351 km or 217 miles or 4.5 hours
Located towards Eastern Newfoundland, the Bonavista Peninsula is worth a couple of days of your time. It is the site of the historic landing in 1497 by John Cabot. The peninsula is home to colourful small towns, photogenic streets and historic buildings.
Things to do on Bonavista Peninsula:
Stay in Trinity:

The historic seaside village is one of the most picturesque in Newfoundland and the kind of place you want to enjoy for a while. Stay in town, enjoy the atmosphere and the food, and take some time to walk the streets. There are plenty of opportunities for photographs.

Visit Bonavista:

Walk along Church Street, visit Cape Bonavista Lighthouse, and explore Dungeon Provincial Park.

See Puffins at the Elliston Puffin Viewing Site:

The puffins nest on a rock very close to shore, making this one of the best places to see puffins from land. For the best experience, bring binoculars and a zoom lens.

Hike the Skerwink Trail in Port Rexton

: This incredible trail is a 5.3-km coastal loop offering incredible views. It's often considered one of the top walks in North America.
St John's and around – 2 days
Bonavista to St John's: 300 km or 186.5 miles or 3.5-hour drive
St John's is an undeniably Newfoundland top travel destination. The city's colourful jelly bean houses, winding streets, and historic harbour boast a history and culture that's older than any other city in Canada.
Things to do in St Johns:
Signal Hill National Historic Site

: Once home to military battles, Signal Hill celebrates the rich communication and military history and offers a gorgeous vantage point over the city.

Cape Spear Lighthouse

: A National Historic Site and Newfoundland's oldest surviving lighthouse. It's an iconic symbol of marine history located at North America's most easterly point.
Ferry back from Argentia
From Argentia on the Avalon Peninsula, you can take the ferry back to North Sydney in Nova Scotia. This crossing runs from June to September and is a much longer journey of 16 hours on a good day. It costs about double, around CAD $470 for a vehicle and two passengers but spares the long drive across the island.
Alt tag: east coast vacations canada
Prince Edward Island – 4 days
While it may be the smallest province, it's worth visiting on your East Coast Canada road trip. PEI is known for its stunning coastal scenery, red sand beaches, rolling farmlands and fantastic food. There are plenty of things to do at this underrated destination.
The island is connected to New Brunswick by the 13-kilometre Confederation Bridge, which is the longest bridge over ice-covered waters in the world.
Charlottetown – 2 days
The province's capital city is a vibrant destination home to a variety of cultural attractions. This includes art galleries, museums, and theatres. In addition, Charlottetown offers a great selection of restaurants and cafes, as well as plenty of shopping options.
Things to do in Charlottetown:
Victoria Row:

This is a pedestrian-only street in the heart of Charlottetown's historic district. Lined with charming Victorian-era buildings, this popular spot has a variety of restaurants, cafes, and boutiques.

Confederation Centre of the Arts:

Home to a variety of cultural attractions, including an art gallery, a museum, and a theatre. In addition, its most popular attraction is the annual production of Anne of Green Gables, the Musical.
Green Gables – 1 day
Charlottetown to Green Gables: 40 km or 24.8 miles or 40-minute drive
For lovers of Anne of Green Gables, this place is a dream come true on the Canadian east coast. The area around Cavendish is home to white sand beaches and plenty of historical attractions.
Things to do in Green Gables:
Visit Anne of Green Gables Museum:

Dedicated to the life and work of Lucy Maud Montgomery, who wrote the series of novels. The museum contains exhibits on Montgomery's life, as well as on the history of Prince Edward Island.

Visit Green Gables Heritage Place

: Used as inspiration for the fictional home of Anne Shirley, the house is open for tours from May to October.

Spend a day on Cavendish Beach:

This was our favourite beach in the area. It's the perfect place to spend the day relaxing on the sand and swimming in the water.
North Point – 1 day
Cavendish to North Point: 130 km or 80 miles or 1 hour 40-minute drive
If you head north on the island, we recommend taking the North Cape Coastal Drive to North Point Lighthouse. Offering stunning views at the very northern tip of the province, the lighthouse and walking trail is one of the highlights of the region.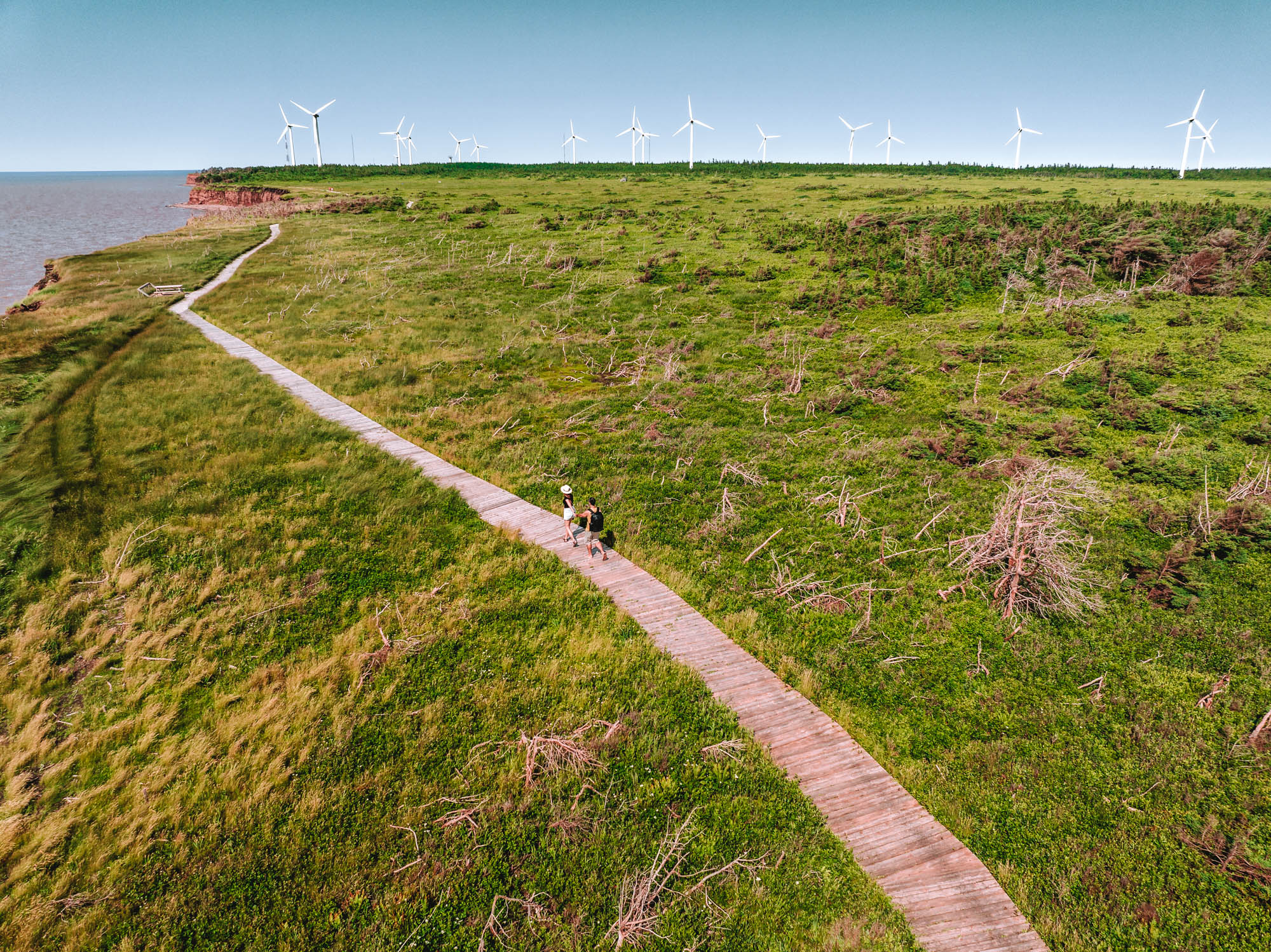 New Brunswick – 1 week
For nature lovers, New Brunswick is a dream come true. The scenic province is home to incredible beaches, lush forests and the famous Bay of Fundy coast. With vibrant cities, you'll also get a balance of culture and history.
Plan to spend at least a few days in New Brunswick. If you have time, it's worth hanging around for at least a week.
Moncton – 2 days
Moncton offers a true taste of Atlantic Canada, combining the amenities of the big city with a small-town atmosphere. Surrounded by nature and the Bay of Fundy, Moncton is one of the best places to visit in Eastern Canada. It's a great base for exploring further afield, with much to do in the area.
Things to do in and around Moncton:
Witness the Tidal Bore:

Head to the Bore Park in Downtown Moncton to witness the rise and fall of the world's highest tides, occurring twice a day. It's a chance to see one of the most unique natural phenomena.

Shediac:

Located just 30 mins outside of Moncton, Shediac is known as the

lobster capital of New Brunswick

. It's a charming town best known for its lobster festival, which takes place every summer.

Parlee Beach Provincial Park:

The warm, calm waters make Parlee Beach a great spot to spend a day with the family. The beach is busy in summer, but it has plenty of picnic areas and a long sandy beach.

Kouchibouguac National Park:

About an hour north of Moncton, this coastal area offers year-round recreation. This includes camping, canoeing, skiing, hiking and biking.
Hopewell Rocks – day trip from Moncton
Located about an hour south of Moncton, Hopewell Rocks Provincial Park is home to a series of tidal rock formations along the coast of the Bay of Fundy. They can be reached by walking on the ocean floor at low tide. So, it's best to time your visit and plan to stay for a few hours and appreciate the changing scenery.
Fundy National Park & Fundy Trail Parkway – 1 day
Located just an hour outside of Moncton, this national park is filled with hiking trails, historical sites, beaches and campsites. There's a lot to do. But, you can try to fit in as much as possible in one long day. Otherwise, a couple of days is ideal.
Things to do in Fundy National Park:
Fundy Trail Parkway:

The road between the towns of St Martins and Alma, known as Fundy Trail Parkway, offers amazing scenery. There are plenty of

stops on the way

, so it's best to take your time to soak it all in. It is not an all-seasons attraction, though; it is open from mid-May to mid-October only.

Dickson Falls:

Walk the moderate 1.5 km loop (0.9 miles) to the most photographed waterfall in the park.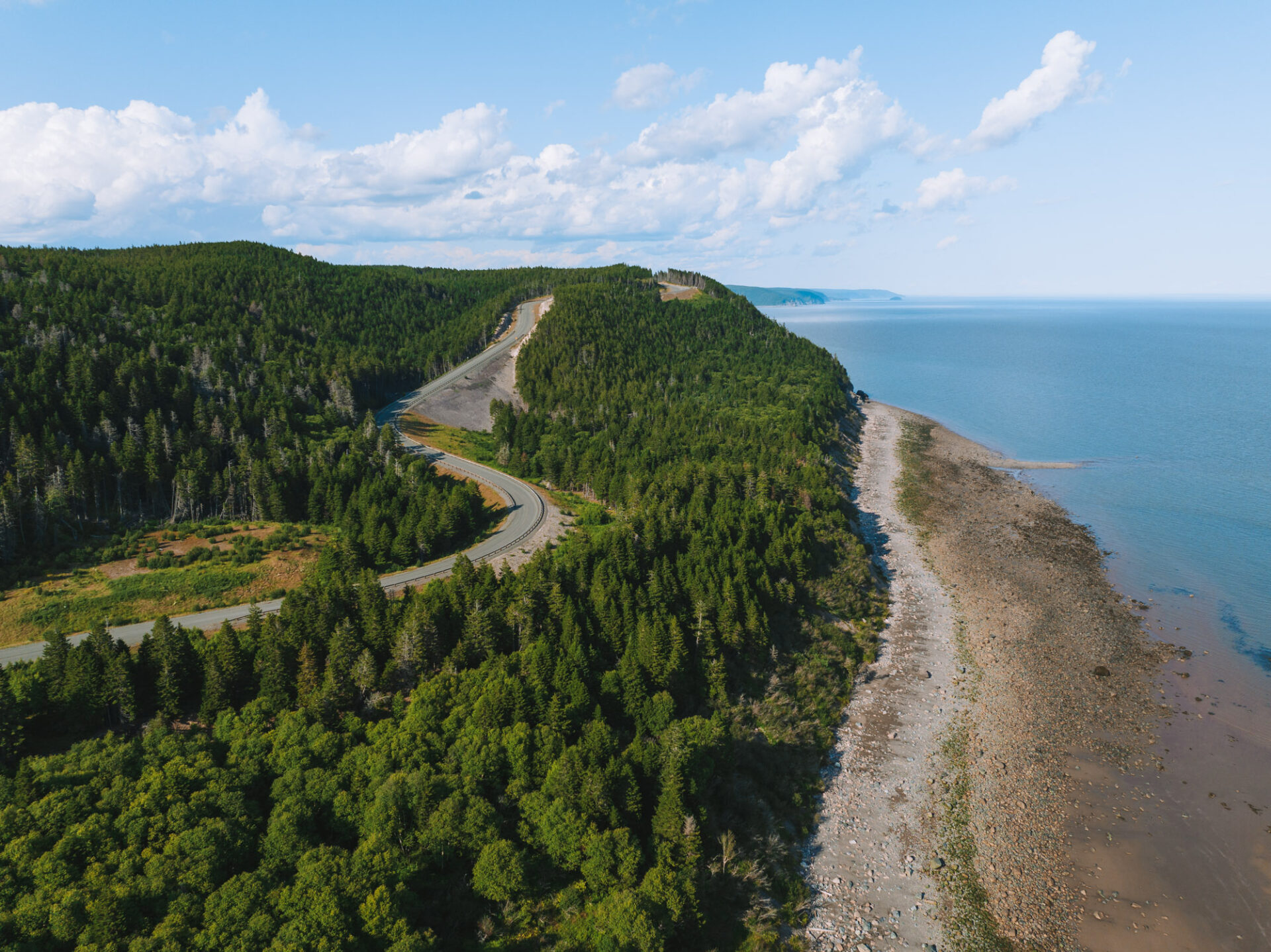 Saint John – 1-2 days
Situated where the Saint John River meets the sea, the large city is known for its Reversing Falls or Rapids. The historic city is also home to some of the best Victorian-era architecture in Canada. Saint John also features plenty of streets, bars and restaurants to explore.
Things to do in Saint John:
Area 506 Waterfront Container Village:

The container village is the newest addition to the Saint John waterfront. It's a vibrant spot with dozens of colourful shipping containers stacked up with a variety of restaurants and shops inside.

Rockwood Park:

Rockwood Park is one of the largest urban parks in Canada. It features extensive hiking and biking trails, lakes for swimming and fishing, rock climbing, kayaking, and hydro-bikes and a restaurant with a fantastic patio right on Lily Lake.

Saint John City Market:

Known as Canada's oldest continuous farmer's market, it houses local vendors selling fresh produce, seafood, crafts and art. It's open every day except Sunday.
2 Week East Coast Canada Road Trip Itinerary
If you only have 2 weeks for an East Coast Canada Road trip, you'll have to make a different choice and narrow down the destinations you can visit.
Option 1: You can cut out Newfoundland and follow the above-suggested itinerary to spend roughly 2 weeks in Nova Scotia, Prince Edward Island and New Brunswick. This is the most common choice for East Coast travelers as it allows them to get the most variety in their 2-week road trip. Plus, Newfoundland makes for an excellent destination to visit on another trip.
Option 2: Focus your East Coast Canada road trip itinerary on Newfoundland and Nova Scotia, leaving PEI and New Brunswick for another time
Option 3: Ditch the car and fly to Newfoundland. Spend 1 week split between Gros Mourne National Park, Bonavista Peninsula and St Johns (You can use regional flights to get from Gross Morne to St John's). Then fly to Nova Scotia, pick up a rental car and spend a few days in Halifax and the Cabot Trail. Continue the road trip for a day or two in PEI and 3-4 days in New Brunswick, focusing on Moncton, Parlee Beach, and Hopewell Rocks over 2-3 days and then Fundy National Park over one long day.
Have More Time?
If you have 6 weeks or more for your East Coast Canada trip itinerary, consider adding the following destinations to your list for each province.
Nova Scotia
Spend a few more days on

Cape Breton Island

, so you can hike more, see more sights and slow down a little.

Add some extra time in the

Annapolis Valley

, including visiting the National Historic Sites in Annapolis Royal, trying the delicious scallops in Digby and going whale watching off Brier Island.

Add a stop in

Lunenburg

, on Nova Scotia's south shore just 100 km southwest of Halifax. The UNESCO World Heritage Site is known as one of the prettiest towns in the world. It is also home to the outstanding Fisheries Museum of the Atlantic.

You could also add a short trip to nearby

Blue Rocks

, one of the hidden gems just down the coast.
Newfoundland
Terra Nova National Park

is often overshadowed by Gros Morne but is still worth a visit if you have extra time. Hiking and kayaking are popular activities to do in the forested area.

Head to

St Anthony and L'Anse aux Meadows National Historic Site

in the north, particularly if your visit coincides with iceberg season, to explore the Viking settlement and stunning views of icebergs.

Spend more time on the

Avalon Peninsula,

not

far from St John's. Follow the Irish Loop to check out Berry Head Arch, Ferryland Lighthouse and the cliffs at Mistaken Point.
Prince Edward Island
Add a few more days to your East Canada itinerary to explore beaches along the

Points East Coast Drive

, including the Basin Head Provincial Park, known for its unique "singing sands" beach.

Spend a couple of days in

Summerside

, the second-largest city on the island. It's home to some delicious restaurants and trendy bars, as well as a nice stroll out to Indian Head Lighthouse.
New Brunswick
You can add a couple of days to your East Coast Canada road trip by enjoying a visit to

St Andrew's

. A pretty seaside town is a popular place for vacations, with relaxing resorts and an old market square.

We would also highly recommend a couple of days in

St Martins

. It was our favourite destination in New Brunswick with a laid-back vibe, a beautiful beach adorned by impressive sea caves, two covered bridges, great hiking and fresh seafood.
No matter how much time you have to spend on the East Coast, we can guarantee you that you'll love your experience. We found the region to be so different from other parts of Canada. We loved East Coast Canada's laid-back vibe, great beaches, amazing lobster and incredible scenery all along the coast.
An East Coast Canada Road Trip is a bucket list item for every Canadian and a highly recommended trip for any traveler visiting Canada.