Guanacaste Province is one of the most popular destinations in Costa Rica. Known for its spectacular beaches along the pristine Pacific shoreline, it draws beach lovers from around the country and overseas.
*This post may contain affiliate links, as a result, we may receive a small commission (at no extra cost to you) on any bookings/purchases you make through the links in this post. As an Amazon Associate, we earn from qualifying purchases. Read our full disclosure
Situated in the far northwest corner of Costa Rica, Guanacaste is bordered by Nicaragua to the north and the Nicoya Peninsula to the south, with its long coastline often referred to as the "Gold Coast."
With a sunny climate almost all year round, it's the ultimate beach destination in Costa Rica for those searching for sunshine and good beach vibes. The province is also home to a number of volcanoes, including UNESCO World Heritage Sites, like Rincon de la Vieja National Park.
---
We've called the province of Guanacaste our second home for many years. Max has grown up here, and we've spent the last 10 years visiting the destination frequently. We've explored all corners of Guanacaste, Costa Rica and have plenty of knowledge to share!
---
There are plenty of things to do in Guanacaste, with beach-related activities ranging from snorkeling to kayaking, surfing and sunset cruise sailing. On land, you can enjoy horseback riding, yoga, ziplining and soaking in hot springs. There really is an endless variety of things to see and do in Guanacaste.
We can't wait to share our take on the best things to do in Guanacaste, Costa Rica.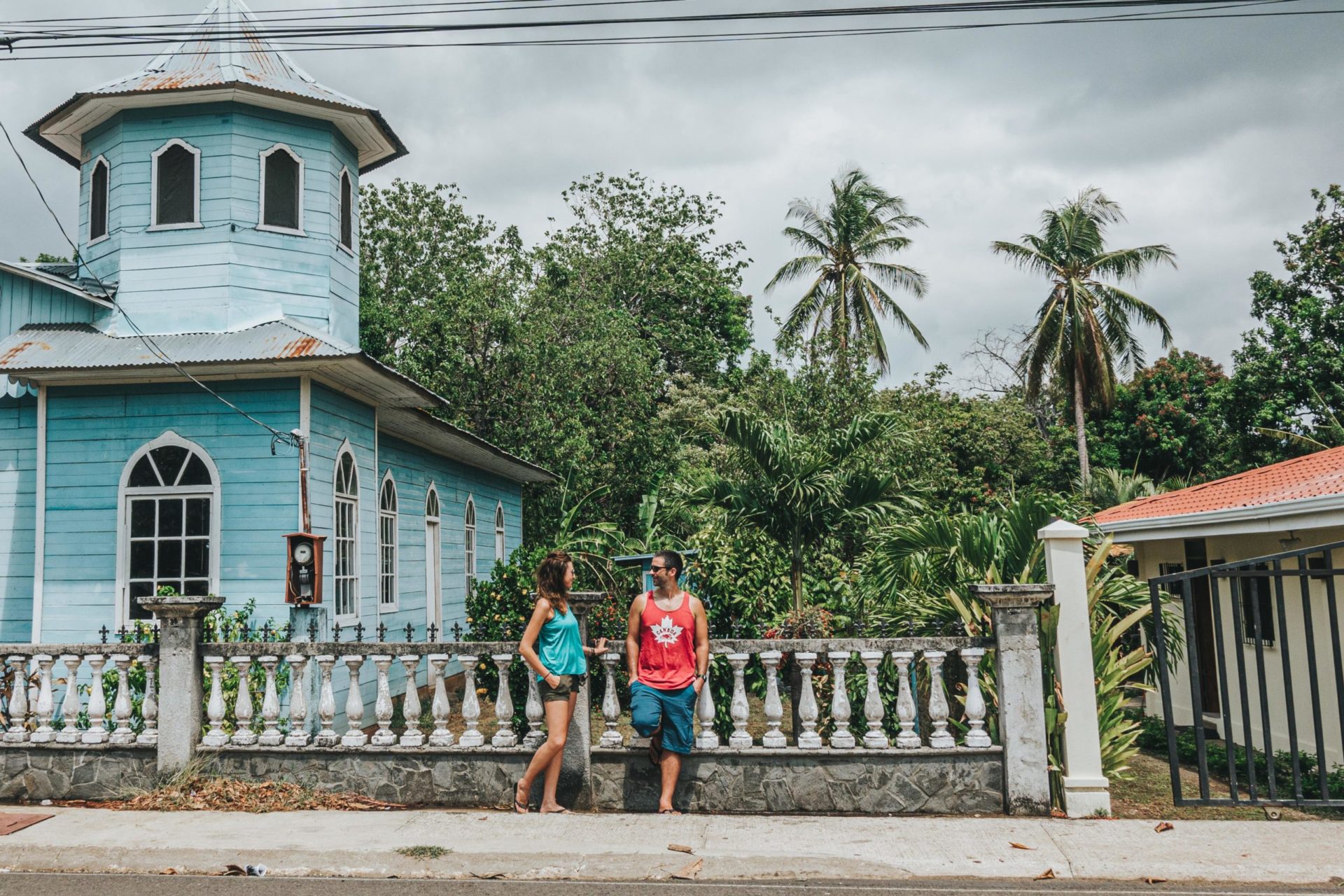 Traveling Soon?

Here is a list of our favourite travel providers and accessories to help get you ready for your upcoming trip!
But first, a few logistical questions…
Best Time to Visit Guanacaste, Costa Rica
Of all the provinces in Costa Rica, Guanacaste has one of the driest climates, with plenty of sunshine all year round. When you visit will highly depend on what you want to see and do there.
Dry Season
Most tourists visit during the typical "dry season", which runs from December until April. From May until November, it's technically considered the rainy season in most of the country, but in Guanacaste, showers are mostly limited and only in the late afternoon and evening.
The months from August until March are considered the best time for viewing sea turtles, especially when they come ashore for nesting and hatching.
Green Season
The rainy or green season from May until November is also considered some of the best diving months, as nutrient swells attract bigger marine life. It's also a lot quieter at this time, so you'll likely have the water to yourself. Otherwise, diving can be experienced all year round, with relatively good visibility at places like Playa Flamingo.
Best Things to do in Guanacaste, Costa Rica
1. Explore Rincon de la Vieja National Park
While not as commonly visited as other national parks in Costa Rica, Rincon de la Vieja National Park is among the most underrated. Home to an active volcano about an hour northeast of Liberia, it forms part of the UNESCO World Heritage Site known as the Guanacaste Conservation Area.
Rincon de la Vieja is one of Costa Rica's only dry tropical forests, and it's filled with hiking trails, natural hot springs, mud pools, and waterfalls. With so many things to do in Rincon de la Vieja, we recommend spending more than a day there.
We also recommend a hot springs day trip to Rio Negro Hot Springs, which is technically just outside of the national park. You can stay at the famous Hotel Hacienda Guachipelin, which is right next to the hot springs and close enough to the national park for day trips.
2. Go Sports Fishing in Playa Flamingo
Playa Flamingo is one of the best beaches in Guanacaste. Located close to Tamarindo, the beach is characterized by pure white sand and the bluest of water. While most people simply head to Playa Flamingo to relax on the sand and explore the beach town, we highly recommend a trip to do some sports fishing.
Whether you go for inshore fishing or a deep-sea fishing charter, Playa Flamingo Marina is a popular starting point for fishing trips in Guanacaste. From the shore, you can look out for lots of Tuna, Mackerel, Jacks, Snapper, Rooster fish, Snook, and Sea bass. Whereas, for an offshore adventure, you'll have the chance to catch bigger species, including Wahoo, Sailfish, Mahi Mahi, Marlin, and Yellowfin Tuna.
3. View Sea Turtles in Playa Grande
As one of the largest nesting sites for leatherback sea turtles in the world, Playa Grande is one of the most incredible ecological protection stories in Costa Rica. Locals of the area called for the beach to be named a National Park in 1991 and have taken great pride in protecting the endangered turtles ever since. Now, the beach is part of the Marino Las Baulas National Park, and it's one of the best places to see turtles in Central America.
Nesting season runs from October until March, when the gentle giants weighing up to 700 kilos (1,540 lbs) come in to nest and lay their eggs. Hatching then occurs around April through May. To help protect the endangered turtles, the beach is only accessible in the daytime so that the turtles are not disturbed overnight. You can join turtle-watching tours which allow for a safer and more insightful option.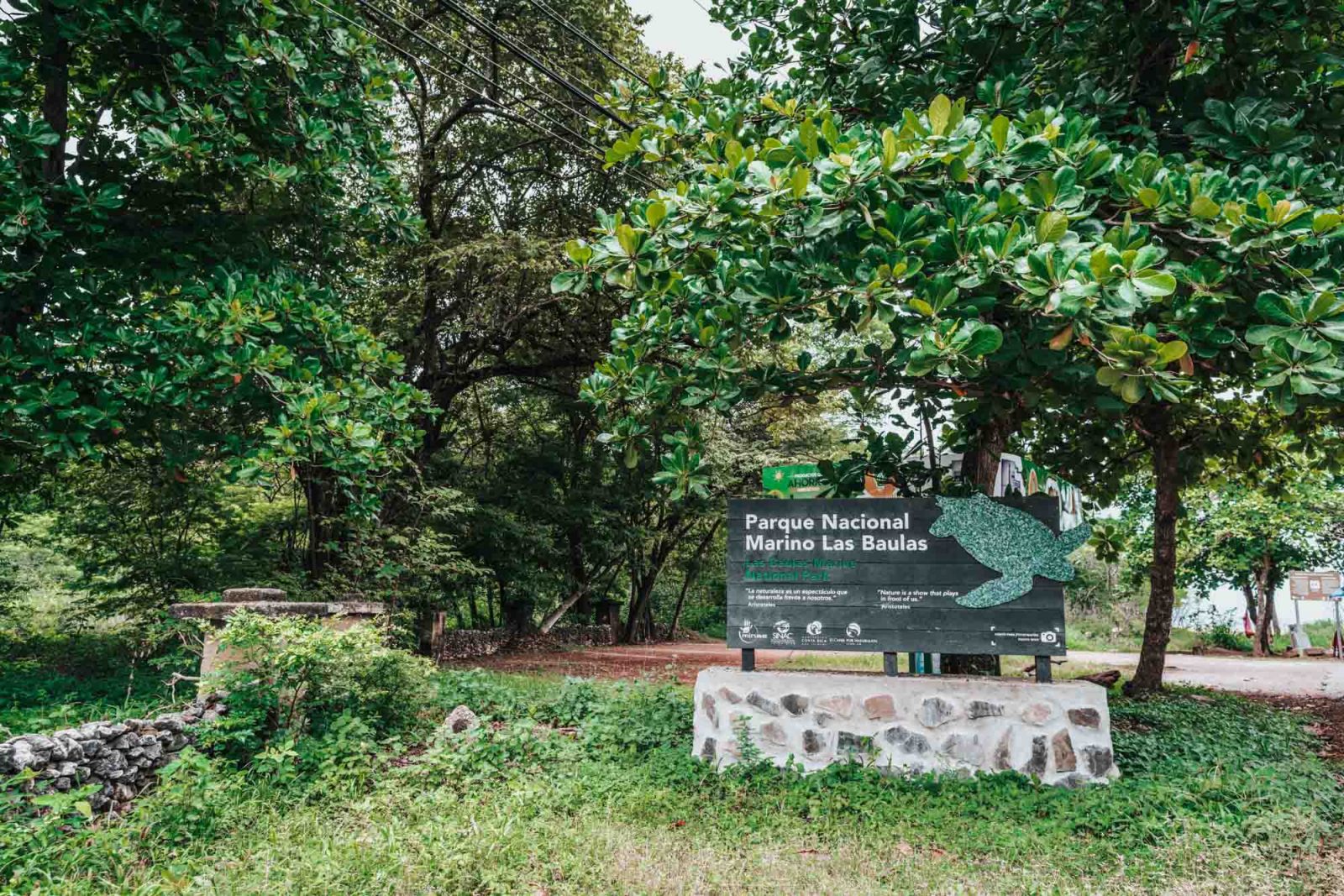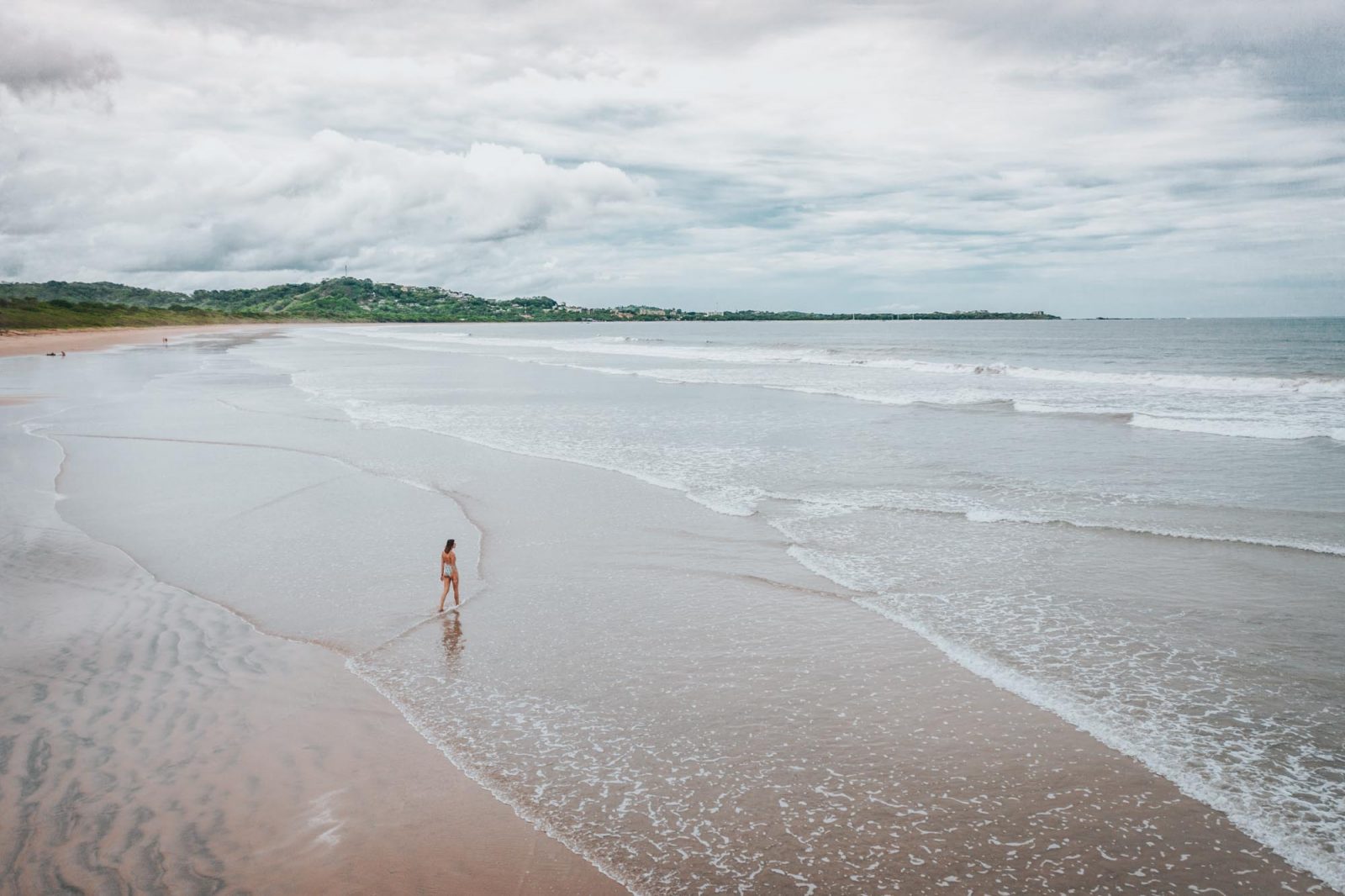 4. Go Scuba Diving in Las Catalinas Islands (from Playas del Coco)
Costa Rica is home to some of the best diving in Central America. You can dive both in the Pacific and Caribbean parts of the country, but out of all the diving spots in Costa Rica, we loved our time scuba diving in Las Catalinas off the coast of Papagayo Peninsula.
This island chain consists of small rocky islands that are completely uninhabited, aside from the incredible marine life. While diving there, you'll find many underwater rock formations, such as caves and arches. Plus, a special resident of the Catalina Islands is the giant Manta Ray, which can grow up to 3,000 lbs and have a wingspan of 23 ft. You might also spot eagle rays, turtles, dolphins, and moray eels.
A few years ago, we spent a day scuba diving with Deep Blue Diving, from Playas del Coco. The boat took just 45 minutes to reach the islands. As there are strong currents, we'd say this is definitely not for beginners, and is the most suitable for divers with previous scuba diving experience.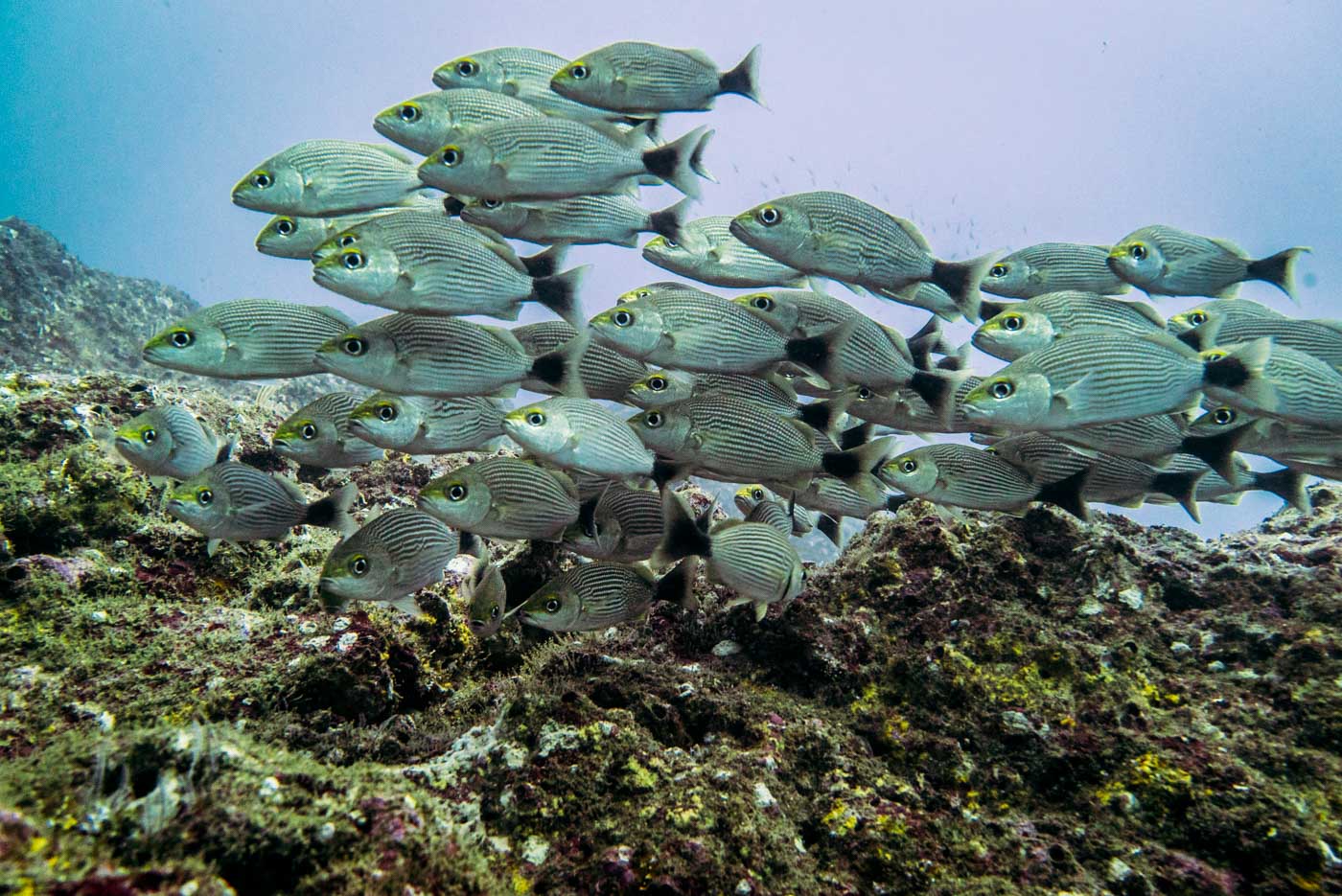 5. Hit the Surf
Surfing is one of the best things to do in Guanacaste, Costa Rica. While it's a popular pastime across the country, Guanacaste's access to so many beautiful beaches makes it a hotspot for surfing. Tamarindo on the Pacific Coast is perhaps the most popular spot of them all.
You can find most of the best surfing spots just north and south of Tamarindo. This makes the town the best place to base yourself for a surfing trip. North of town, you have Playa Grande, a beach-breaking wave, offering rights and lefts to surfers of all levels. Further north, you have Playa Hermosa, one of the only official World Surfing Reserves in Central America.
South of Playa Tamarindo, Playa Avellana and Playa Negra, both offer a more low-key surf spot for both beginners and experts. However, if you want to go where all the locals head, then a trip up to Witches Rock of Playa Naranjo in Santa Rosa National Park is a must. It's known for consistently strong breaks and a large rock formation just off of the coastline that the locals have dubbed "Witch's Rock".
6. Visit Playa Conchal
Located just a stone's throw from Flamingo Beach, Playa Conchal is separated from Playa Brasilito by a rocky headland. The beach gets its name from the millions of tiny shells that make up the coastline instead of sand. While not as easily accessible as other beaches, it's worth making the walk down to the beach from Playa Brasilito, to enjoy the shell beach and its crystal clear waters.
If you're looking for the perfect romantic splurge, then it's also home to Reserva Conchal, a luxury 5-Star Marriott Resort Hotel that offers private access to Playa Conchal.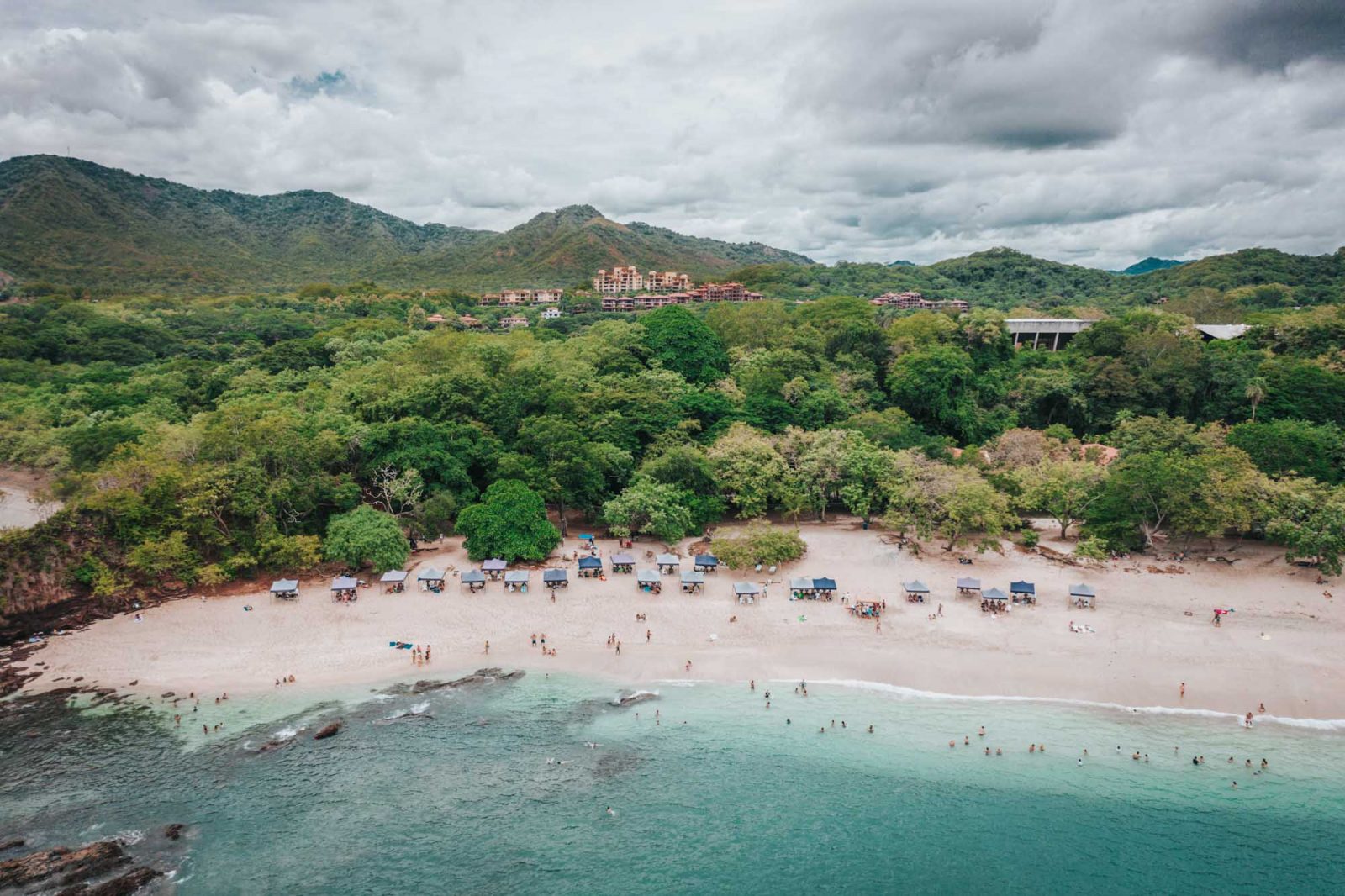 7. Go Ziplining at Diamante Eco Adventure Park
One of the best day trips from Playa del Coco is to head to Diamante Eco Adventure Park. Located just half an hour south of Playa del Coco Beach, this huge adventure park is a fun way to explore the natural attractions along the coast. They offer several exciting activities all in one day, such as horseback riding, nature walks, ziplining, kayaking, stand-up paddleboarding, and an animal sanctuary.
The zipline in particular is a must-do, offering the longest ride times and featuring a nearly mile-long ocean view line Superman-style. Also included is a 30-foot free fall Quick Jump. The dual lines mean you can choose to share the experience with your friends, riding side by side.
8. Hang out in Tamarindo
Tamarindo is probably one of the most popular beach towns on the Pacific Coast of Costa Rica. It's ideally located right in the center of the Guanacaste Coast, making it a perfect place to explore and use as a base for getting around to nearby beaches.
There's plenty of things to do in Tamarindo. Tamarindo Beach itself is a popular spot for kayaking, SUPing, taking a surf lesson or joining a sunset cruise. There are also loads of great restaurants, hotels, and shops, so you can easily chill out and spend your time resting in between excursions.
It's definitely one of the most visited spots in Guanacaste, Costa Rica, so it can get really buzzing during the high season over December until April.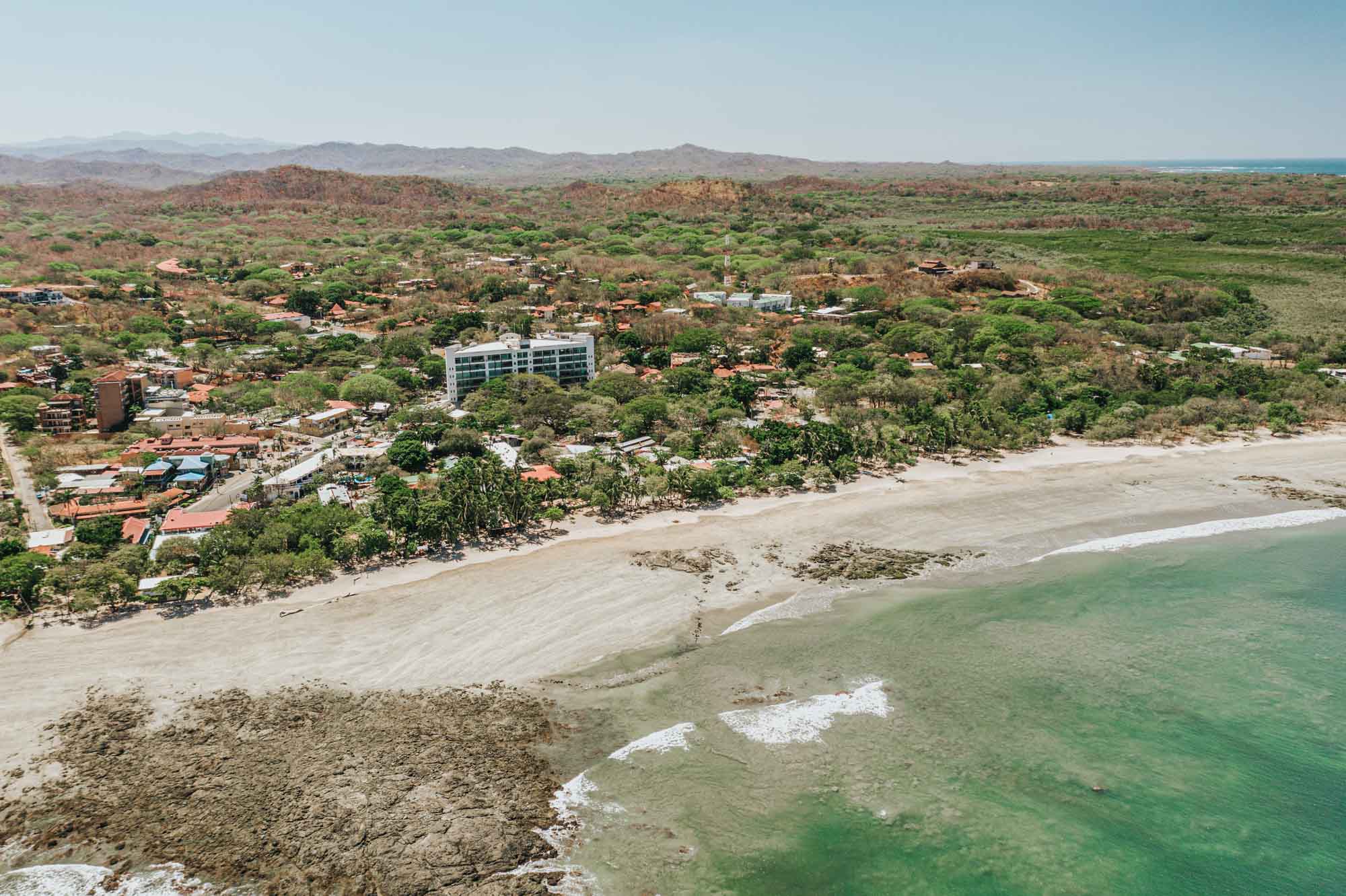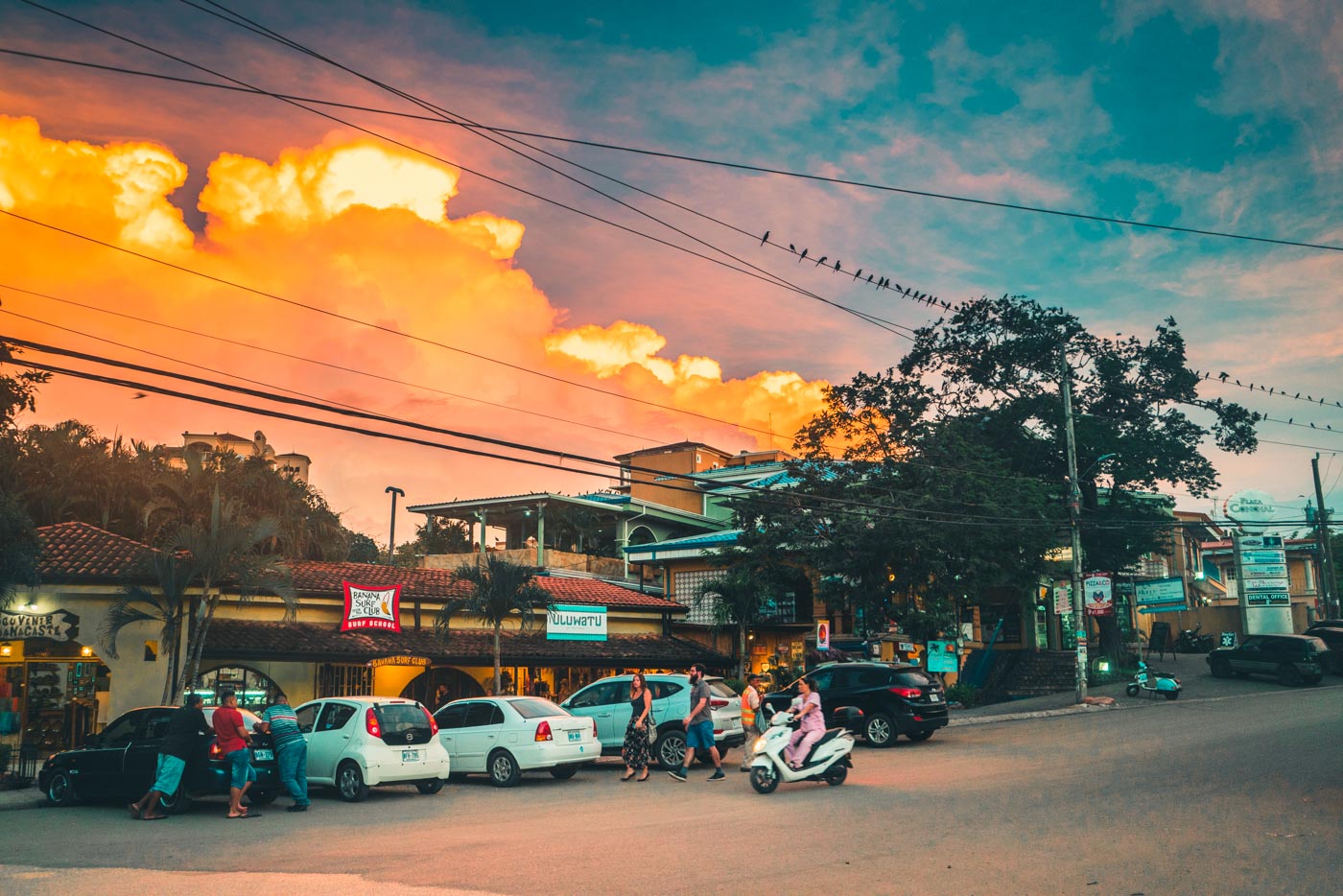 9. Escape the Crowds in Playa Avellanas
If you're ready to escape the crowds of Tamarindo, then we recommend heading to Playa Avellanas. This laidback town is located just 20km south of Tamarindo Beach, but is home to its very own beautiful beach, which many local Costa Ricans' often declare as their favourite.
It's a little off the radar from tourists, which means there's not much going on in the small beachfront village. You'll find just a handful of restaurants and vacation rentals, so it's the perfect place to unwind for a few days away from the hustle and bustle. It's also a great surf sport, but there are plenty of other great things to do in Playa Avellanas too, such as SUPing, kayaking, and venturing out to nearby wildlife reserves.
10. Take a Yoga Class in Playa Negra or Nosara
Just south of Playa Avellanas, you'll find another laidback spot at Playa Negra. This beach town is only accessible through dirt roads, making it ideal for a dry season visit, but it also means that it's far less busy than other towns in the province.
One of our favourite things to do in Playa Negra is enjoy the wellness activities on offer. One of the best yoga retreats in Costa Rica is hosted by the Peace Retreat Center in Playa Negra. And even if you don't want to join their retreats, you can pop into their drop-in daily yoga classes.
Playa Negra Yoga is another option for drop-in classes. They offer barre yoga in their studio in town and vinyasa yoga on Playa Negra beach. Another big yoga hub in Guanacaste is Nosara Beach. The town started out as a quiet fishing village, it's now home to some of the best yoga retreats in Guanacaste.
11. Witness the Arribada in Playa Ostional
One of the most incredible natural phenomena to see with your own eyes when you visit Guanacaste is the arribada. Meaning "arrival" in Spanish, the arribada is when hundreds (sometimes thousands) of Olive Ridley sea turtles come to shore to lay their eggs.
You can witness these gentle giants crawl onto land and leave their future baby turtles behind every month at Playa Ostional. This event occurs in greater numbers during the nesting season, which runs through the rainy season between August – December.
Visitors to the Ostional Wildlife Refuge can witness the arribada and get a chance to snap close up photos of a sea turtle, with guided tours available. Witnessing the arribada was definitely one of the highlights of our time to Guanacaste.
12. Visit Tenorio Volcano National Park & Rio Celeste
One of the best things to do in Guanacaste, Costa Rica, is to visit a volcano. Whether you head to Rincon de la Vieja volcano (mentioned above) or Tenorio Volcano National Park, you'll be amazed at the incredible and diverse scenery in these parks.
We were pleasantly surprised by our visit to Tenorio Volcano National Park, an alternative to the more famous Monteverde Cloud Forest. Located about 2 hours away from Liberia International Airport, we traveled to Bijagua, just on the border with Alajuela Province.
From there we explored Rio Celeste Waterfall, La Laguna Azul and the hot springs at Los Borbollones, mostly on foot on various hiking trails. The incredible natural wonders in the park make it worth the decent drive to get there. With the light blue river and volcanic hot springs, this spot has recently become Insta-famous!
13. Explore Caves in Barra Honda National Park
Barra Honda National Park forms part of the Tempisque Conservation Area, located about 12 km from the Tempisque River. Just northeast of Nicoya, this National Park is characterized by an underground system of caves with stalactite and stalagmite formations. Above ground, you'll find a dry tropical forest, uniquely different from the rain forest and cloud forests around most of Costa Rica.
The caves of Barra Honda can be visited year-round, ideally with a caving tour. For this, you should be at the ranger station between 8 am and 1 pm for the 3-4 hour hiking and caving tour. Otherwise, there's also a great network of trails to explore the tropical dry forests on foot, with maps available at the ranger station.
14. Go Horseback Riding in Nosara or Rincon de la Vieja
One of the most iconic things to do in Guanacaste, Costa Rica, is to go horseback riding either on the beach or in the jungle. Small towns in Guanacaste, like Nosara, or Playa Avellanas, are some of the best spots for a horseback riding adventure.
Another popular spot for a horseback ride is in Rincon de la Vieja National Park. Here you'll ride through forest trails to Oropendola Waterfall and visit hot springs.
15. Take a Boat Tour in Palo Verde National Park
Located along the banks of the Tempisque River, the Palo Verde National Park is another popular destination to visit in Guanacaste. Most of the park is covered by interesting wetlands, housing many different bird species, including migratory birds, such as the scarlet macaw (Ara macao), jabiru (Jabiru mycteria), long-tailed manakin (Criroxiphia liniaris), caracaras (Polyborus plancus), grey herons (Casmerodis albus) and great curassow (Crax rubra). There are also over 750 species of plants found inside the park.
The best way to visit the park is on a boat tour through the wetlands and mangroves. Palo Verde Boat Tours run 90-minute boat trips, with a traditional local lunch, from Ortega Village.
16. Explore Santa Rosa National Park
One of the largest national parks in Costa Rica, Santa Rosa National Park spans across the far north of the province, just north of Liberia airport. Located right next door to Guanacaste National Park, together it protects some of the last remaining tropical dry forest in the world. Filled with plenty of natural beauty and wildlife, the national park is home to monkeys, peccaries, coyotes, coatimundis, tapirs, jaguars, ocelots, armadillo, deer, and different varieties of land and sea turtles.
There are two important Olive Ridley sea turtles nesting beaches in Santa Rosa, Naranjo and Nancite, making it a great place to see them nesting and hatching. Naranjo is also a famous surfing spot, as mentioned above, with a campground there to service all the locals and visitors alike who come searching for big waves.
Guanacaste is where we spend the majority of our time when we visit Costa Rica. The region has so much to offer visitors – from beautiful beaches to scuba diving off the Pacific coast and hiking amongst active volcanoes, there are plenty of things to see and do.