New Brunswick is one of the four Atlantic Provinces located on the East Coast of Canada. It is one of the largest Canadian provinces, yet is far less visited than its neighbours, Quebec, Nova Scotia, Prince Edward Island and the US State of Maine.
*This post may contain affiliate links, as a result, we may receive a small commission (at no extra cost to you) on any bookings/purchases you make through the links in this post. As an Amazon Associate, we earn from qualifying purchases. Read our full disclosure
The province is well-known for its natural beauty and boasts lush forests, incredible beaches and the famous Bay of Fundy coastline. There are also plenty of things to do in New Brunswick's cities, like Fredericton, Saint John, Moncton and St Andrews.
If you're a nature and outdoor lover, then there are so many things to do in New Brunswick, Canada to keep you busy for days or weeks. We spent 2 weeks exploring New Brunswick on our recent East Coast Canada road trip, visiting many of New Brunswick's popular towns and cities and road tripping along the stunning Bay of Fundy. Of all the provinces we've visited in Canada, New Brunswick surprised us the most – it surpassed all of our expectations!
If you are planning a visit to the East Coast, here are our top recommendations for the best things to do in New Brunswick!
Traveling Soon?

Here is a list of our favourite travel providers and accessories to help get you ready for your upcoming trip!
Things to do in New Brunswick
New Brunswick offers a wonderful mix of natural attractions, outdoor adventures and fun towns. The cities of Fredericton, Saint John and Moncton have plenty to offer in terms of things to do. This includes great restaurants and nightlife. New Brunswick is also a nature lover's paradise, with plenty of things to do outdoors including hiking and camping.
Here is a list of our favourite destinations and things to do in NB!
Fredericton
The capital of New Brunswick, Fredericton is one of the largest cities in the province. It's located on the banks of the Saint John River and is home to a population of around 60,000 people. The city is a great base for exploring the rest of New Brunswick and has plenty to offer visitors, including the Historic Garrison District, farmers' markets, walking and cycling paths, nightlife, and attractions.
For foodies, the city is also a great place to indulge in good food. You should also check out the breweries and bars, which are always buzzing with activity.
Things to do in Fredericton
Garrison District
Located between Queens Street and Saint John River in Downtown, this historic district was originally a British Garrison from 1784 until 1869. Today, you can explore old buildings and museums which tell the story of the city. Time your visit correctly and you can catch the Changing of the Guard ceremony which happens every day at 10:00am in the summer.
Beaverbrook Art Gallery
Located right on the riverfront in Downtown, this world-class gallery is a must-visit New Brunswick tourism attraction for art lovers. It features British, Canadian and First Nations artists, plus a sculpture garden.
Taproom Trail
Explore the breweries at your own pace on the Fredericton Taproom trail with 11 taprooms in the city. Grab your passport-style map and take yourself on a tour around the breweries, collecting stamps every time you drink a beer or cider at one of the taprooms.
Fredericton Boyce Farmer's Market
The perfect place to pick up fresh produce and unique New Brunswick food items the, Fredericton Boyce Farmer's Market runs every Saturday morning from 7am to 1pm in Downtown Fredericton. It's definitely one of the best free things to do in New Brunswick on a weekend.
Hit the Riverside Trails
There is over 120km (74.5 miles) of riverside trails, so you can easily explore the city on two wheels or by walking at your own pace.
Where to Stay in Fredericton
Located on a bustling street right by the river, the Hilton Garden Inn hotel is ideally located in the heart of the city within walking distance from many of the best things to do in Fredericton, NB. The rooms are spacious with modern facilities. The hotel has a number of eco-friendly initiatives in place, like using LED lighting and low-flow toilets, and offers guests the option to offset their carbon footprint.
Hopewell Rocks Provincial Park
Hopewell Rocks Provincial Park is a must-see New Brunswick attraction. The park is home to some of the most impressive rock formations in the province, made all the more amazing by the fact that they are constantly changing and evolving.
The unique feature of Hopewell Rocks is that it looks completely different at high and low tides.
At the highest tides, the rocks appear more like islands which you can view from platforms. Whereas at low tide, they become sea stacks on the beach and you can reach them by descending the stairs to the ocean floor.
Plan your visit according to tide times so you can maximize your experience in the park. Give yourself a few hours to enjoy the scenery, so you can walk among the sea stacks at low tide, take plenty of photos and stick around long enough to watch the tide rise up and turn the sea stacks into rocky islands at high tide.
Cape Enrage
Located between Hopewell Rocks and Fundy National Park, Cape Enrage is an incredible spot and one of the true hidden gems in New Brunswick. Thanks to its position above towering cliffs, it provides one of the most spectacular views of the incredible tides along the coast and is definitely one of the best places to see in New Brunswick.
The cape is home to the historic Cape Enrage Lighthouse, which was opened in 1838 and is still operational and in use today. It's a great spot for a picnic or to just take in the natural beauty of the area. For something fun for the kids, you'll also find a 183 meter (600 ft) long zip line, which provides a whole new perspective of the bay.
Fundy National Park
Head further down the coast from Hopewell Rocks to arrive at Fundy National Park, located on the Bay of Fundy near the town of Alma. It's part of the UNESCO Fundy Biosphere Reserve and is famous for having the highest tides in the world, measuring up to 19 meters (62 feet) Over time, the tides have carved out dramatic sea cliffs, sea caves, rock formations and more than 25 waterfalls.
It's by far one of the must-visit New Brunswick tourist attractions and there are quite a few sights to see within the park. Whether you choose to stay in Alma town or camp inside the national park, plan to spend a few days exploring the park.
Things to do in Fundy National Park
Dickson Falls
Walk the moderate 1.5 km loop (0.9 miles) to the most photographed Fundy National Park waterfall. It's the most popular of the walking trails in the park and is perfect for families.
Third Vault Falls
This 16-meter-high waterfall is a stunning spot to walk through the forest. The 7 km (4.4 mile) return trail is a moderately challenging walk if you have the time.
Laverty Falls
Another beautiful waterfall to check out on a 5 km (3.1 miles) return trail. For a longer day hike, loop back to your vehicle through the Upper Salmon river valley via the 4.8 km Moosehorn trail.
Point Wolfe Beach
This beautiful beach is located at the river estuary on the coast. You can also stay in the campground there in the summer months and check out the Point Wolfe Covered Bridge on the way.
Where to stay in Fundy National Park
Camping
There are five front country campgrounds inside the national park, each providing washrooms, showers, electrical and water hookups. The main Headquarters Campground is the only one open all year round, with the others open during the limited summer months. Find out more on the official site here.
Alma town
If you don't want to camp inside the park, there are accommodation options in Alma town, just outside the boundary.
Fundy Trail Parkway
The Fundy Trail Parkway is a relatively new attraction in New Brunswick but it's one you simply can not miss! The trail begins in Alma and travels for 30km (19 miles) to the town of St Martin's, featuring a coastal road with stunning views in every direction.
The scenic drive is definitely one of the top things to do in New Brunswick! It's worth dedicating a few hours to this drive or even better, planning to spend an entire day en route.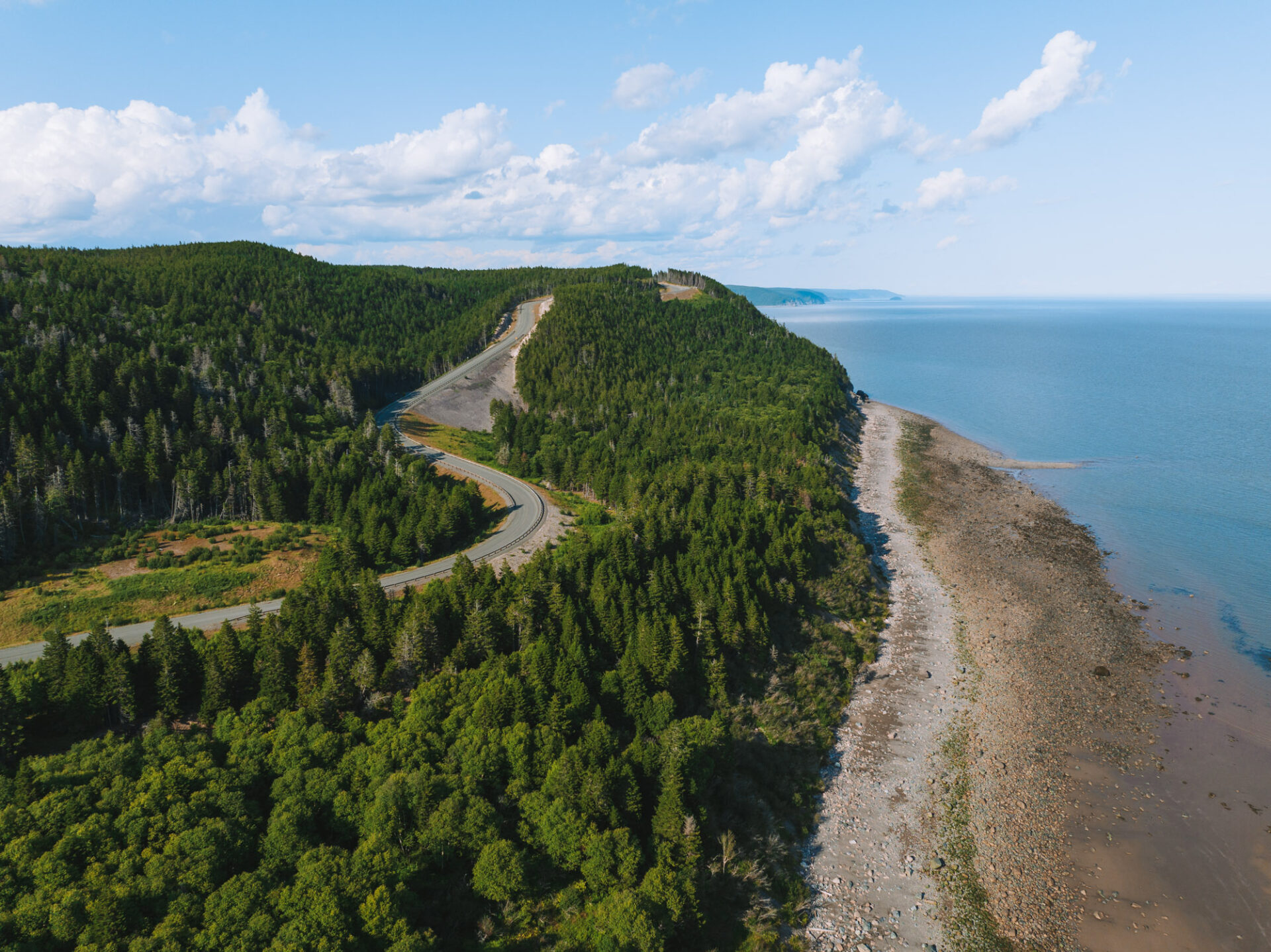 Stops on the Fundy Trail Parkway
Walton Glen Gorge
Known as the Grand Canyon of New Brunswick, this gorge is the first stop from the East Gate near Alma and a great introduction to the beauty of Fundy Trail Parkway. From the reception center, walk to the observation deck from where you can sneak a peak at the Walton Glen Gorge Waterfall and admire the views of the gorge down below.
Long Beach
A popular sandy beach not far from Salmon River. It's a great stop for a walk and to dip your feet in the sea.
Big Salmon River Suspension Bridge
On the Fundy Trail, this 84-meter (275-foot) bridge is a popular tourist attraction, which leads to various lookouts and the interpretive center.
Flowerpot Rock Scenic Footpath
The trail is a moderate-difficulty hiking trail of 1.5 km (0.9 miles) starting from the Fownes Head Lookout, featuring beautiful rock formations and impressive cliffs.
Over 20 lookouts
There are over 20 lookouts to stop at on the way from Alma to St Martin's to admire the views. These are the perfect spots to stop and get some photos of the incredible coastline.
St Martins
St Martin's town on the Bay of Fundy was our favourite destination in New Brunswick. We loved its laid-back vibe, beautiful beach adorned by impressive sea caves, two covered bridges, great hiking and fresh seafood. It's a must-stop on any Bay of Fundy road trip!
Things to do in St Martin's
St Martins Sea Caves
The series of sandstone caves, located along the coast of the Bay of Fundy in St Martin's are the highlight of this small town. The saves are impressive and are fun to explore. They're best reached on foot by walking at low tide when it's safe to explore the caves on the ocean floor. Otherwise, you can also explore them by kayak at high tide.
Hike to Brown's Beach
Ask any local for the best hike in town and many will suggest a trail that begins at Quaco Head Lighthouse and follows the cliff edge to Brown's Beach. The trail is beautiful, especially in the summer and leads to a quiet secluded beach where you can enjoy a few hours on a hot day.
Where to Stay in St Martin's
Beach Street Inn is a bed and breakfast that offers guests a friendly coastal experience. The Inn is located in the heart of St. Martin's in a historic 1900 mansion and offers 14 freshly renovated ensuite rooms. We loved the cute farmhouse decor of the Inn, the comfy beds, plush pillows and delicious meals at Periwinkles Restaurant on site. The owners were full of local knowledge with great stories, tips for things to do on the Bay of Fundy and lots of other advice for visiting the area.
Shediac
Located on the eastern coast of the province, Shediac is an Acadian town, known as the Lobster Capital of the World. The town is home to a giant lobster statue and the Shediac Lobster Festival, an annual event that celebrates the region's rich lobster fishing history.
Aside from lobster, Shediac offers plenty of walking, camping and sightseeing opportunities with pretty beaches and provincial parks to explore.
Other Things to do in Shediac
Parlee Beach Provincial Park
This family-friendly beach park is one of the best places to go in New Brunswick with kids. It features a sandy beach, perfect for swimming and plenty of facilities. It's said to boast the warmest salt water in Canada and has also been awarded the international Blue Flag eco-certification.
Pointe-du-Chene wharf
Located near Parlee Beach, the Pointe-du-Chene wharf is a great place to be for sunset. It features seafood restaurants and ice cream parlors and is a great place to hang out at sunset.
Kouchibouguac National Park
If you have some extra time, head north for a day to this national park in New Brunswick. The popular destination is a coastal natural area offering recreation all year, including camping, canoeing, hiking & skiing.
Where to Stay in Shediac
Maplebrook Retreat Nestled just outside of Shediac, the Maplebrook Retreat might just be the most unique glamping accommodation in New Brunswick. The retreat offers 8 exclusive glamping-style bubble rooms positioned on wooden decks in the middle of the forest. Bathrooms are shared but each bubble is equipped with a comfortable double bed, 2 night stands and a little closet. There's also an outdoor hot tub and sauna, plus an on-site restaurant, serving locally sourced breakfast.
Moncton
Located inland from Shediac, Moncton is a historic city with plenty of fun things to see and do. It's the largest city in New Brunswick known for its vibrant cultural scene and a number of attractions including the Tidal Bore, Magnetic Hill, and the Capitol Theatre. The city hosts a number of annual events including the Moncton Arts & Culture Showcase and the Moncton Jazz Festival.
There are also plenty of historic houses, museums and parks to explore for a couple of days. It's definitely one of the best places to visit in NB.
Other Things to do in Moncton, NB
Watch the Tidal Bore
The tidal bore is a phenomenon that occurs when the Bay of Fundy's high tides cause a large wave to travel up the Petitcodiac River. It occurs roughly every 12 hours in the river by the surging waters from the Bay of Fundy. The wave can often be seen travelling up the river at speeds of up to 30 kilometres per hour. It's an amazing sight to see and attracts people from all over the world.
Admire Moncton's Street Art
The city has a number of murals and graffiti walls that are worth checking out. One of the best places to see them is along Main Street where you'll find a number of different pieces by local and international artists.
Magnetic Hill
One of the most popular Moncton attractions is Magnetic Hill, a place where cars are said to travel backwards thanks to the gravitational pull of the earth. The truth is, the phenomenon is just an optical illusion caused by the land's gradient, but that doesn't stop visitors from all over Canada and beyond from driving up the hill to test out the crazy occurrence firsthand. If the Hill itself is not enticing enough, this area is worth visiting for a stop at Magnetic Hill Winery. The Tasting Room is open daily from 12 to 10pm with delicious award-winning wines on offer.
Irishtown Nature Park
Located in the city's north side, this 890-hectare Nature Park provides nature lovers with forested areas to explore year-round. It's one of the largest urban parks in Canada and is one of the most peaceful places to visit in Moncton.
Saint John
Saint John is a large city on the Bay of Fundy coast where the Saint John River empties into the sea. It's well-known for its Reversing Rapids or Reversing Falls, caused by unique bay tides colliding with the Saint John River. This is definitely one of the most unique things to see in New Brunswick.
The historic city is also considered to have some of the best Victorian-era architecture in Canada. So, it's worth spending some time wandering the streets on your Saint John adventures. There are over 90 bars and restaurants located within the 10-block radius of uptown Saint John and plenty of spots to choose from whether you are looking for a great patio, cozy lunch cafe, or an intimate restaurant for dinner.
Other Things to do in Saint John
Stroll along Prince William Street
This street is a designated National Historic Site of Canada for its historically distinguished buildings. It's the perfect place to admire some of the incredible architecture of the city.
Check out Area 506 Waterfront Container Village
The container village is the newest addition to the Saint John waterfront. It's a really cool and vibrant spot in the city and an impressive sight to see, with dozens of colourful shipping containers stacked up to create a mini area within the city. There are a variety of restaurants and shops inside. Plus, lots of hang-out space, making it the perfect place to spend a few hours.
Visit Saint John City Market
Known as Canada's oldest continuous farmer's market, Saint John City Market houses local vendors selling fresh produce, seafood, crafts and art. It's open every day except Sunday.
Relax at Rockwood Park
Designed by the team behind Central Park in New You City, Rockwood Park is one of the largest urban parks in Canada. It features extensive hiking and biking trails, lakes for swimming and fishing, rock climbing, kayaking, hydro-bikes and a restaurant with a fantastic patio right on Lily Lake.
Take a day trip to Irving Nature Park
This 600-acre coastal park lies just outside of Saint John. With plenty of boardwalks, lookouts and picnic tables, it's the perfect place to relax amongst the natural beauty of the coast with your family.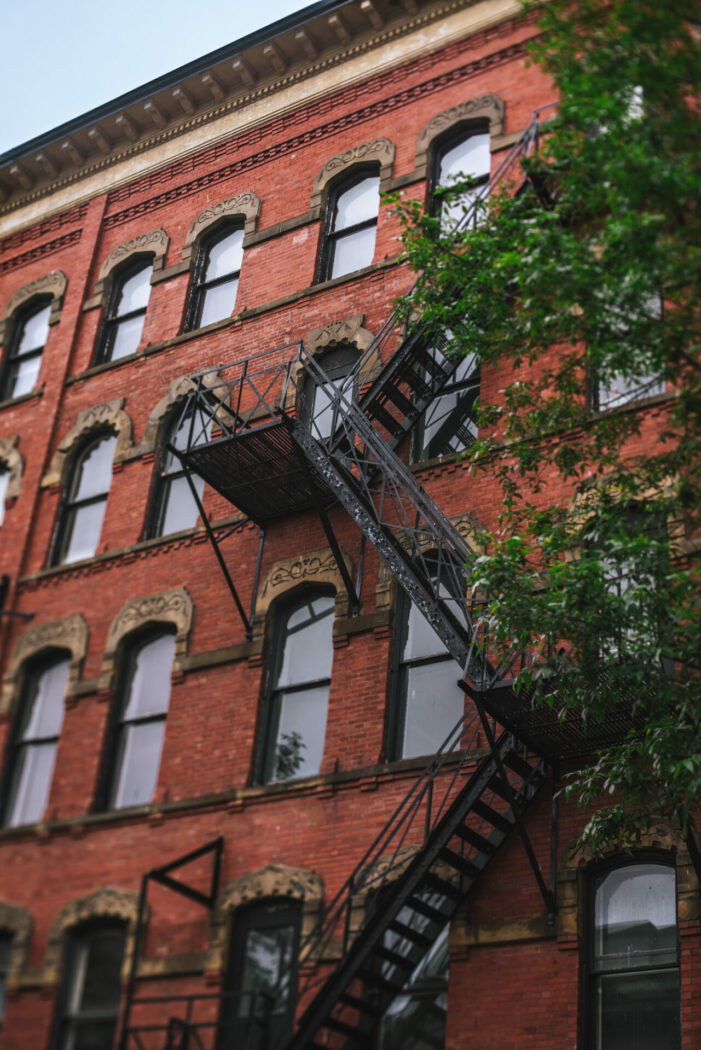 Where to Stay in Saint John
Delta Hotel by Marriott: Located just a 2-minute walk from the city center, this modern hotel sits above Brunswick Square mall. It features classic rooms with upgraded options offering city views. The hotel has an indoor pool, whirlpool, exercise room and contemporary restaurant. It also has a number of sustainability initiatives. This includes guest room recycling and an elaborate program that tracks the carbon and water imprint of a typical stay.
Saint Andrews
Saint Andrews or St Andrews By The Sea, is one of the main vacation towns of New Brunswick. The charming seaside town located just a stone's throw from the US border is a national historic site in itself. Thanks to its typical 18th-century British colonial architecture and old market square.
The town is home to a population of just over 2,000 people and offers a number of things to do in Saint Andrews. This includes whale watching, St Andrews Lighthouse and St Andrews Botanical Gardens.
Other Things to do in Saint Andrews
St Andrews Lighthouse
St Andrews Lighthouse is a historic lighthouse that was built in 1876. The lighthouse is open to visitors year-round and offers stunning views of the bay.
Whale Watching
St Andrews is known for seasonable dolphin and whale watching opportunities. In the summer, you can jump aboard the historic Jolly Breeze Tall Ship for a beautiful couple of hours at sea on a whale-watching tour.
Kingsbrae Garden
Known as one of the top ten public gardens in Canada, this botanical garden is one of the top things to do in St Andrews NB. It's located just outside of the town center near Katys Cove.
St Andrews Botanical Gardens
St Andrews Botanical Gardens is another popular spot for spending a day outdoors. The gardens feature a number of different sections including a rose garden, herb garden, and Japanese garden.
Where to stay in St Andrew's
There are plenty of accommodation choices from upscale resorts to cozy B&Bs, with a very friendly atmosphere around town to match.
Algonquin Resort: This iconic grand hotel is located just outside of the town center in Saint Andrews. It features refined rooms with comfortable beds, some with balconies, fireplaces and kitchenettes. The onsite restaurant has a beautiful terrace, and you can also try out the spa, hot tub, pools and gym. The resort is home to the Algonquin Golf Course and Braxton's Restaurant and Bar.
Bay of Fundy islands
From a couple of ports near Saint Andrews, you can easily head off and explore a few of the islands in Bay of Fundy. If you have extra time, it's worth adding some of these New Brunswick day trips to your itinerary.
Ministers Island
Located off the coast of Saint Andrews, this island offers the perfect day trip. The historic destination is perfect for hiking, picnics and birdwatching around the 19th century summer estate. It's definitely a place to add to your New Brunswick bucket list.
Grand Manan Island
Located towards the middle of the Bay of Fundy, it's the largest island in the bay. From Blacks Harbour, you can take one of the frequent 90-min ferries across to the island. You can either explore for the day or overnight. There are stunning views, plenty of marine life, hiking trails and historic lighthouses and buildings to explore.
Deer Island and Campobello Island
You can take a short ferry from L'Etete to Deer Island and another ferry across to Campobello Island. The latter is known for being home to the Roosevelt Campobello International Park, a former summer home and now museum amongst a beautiful nature park.
Hartland Covered Bridge
Located just over an hour's drive from Fredericton, the Hartland Covered Bridge is one of the most unique NB tourist attractions. Built in 1901, the bridge is 1,282 feet (391 m) long and is the world's longest covered bridge in the world.
It is open to pedestrians and cyclists and offers stunning views of the Saint John River. It's a popular spot for taking photos and is a must-see attraction when visiting Hartland.
Mount Carleton Provincial Park
If you have extra time up your sleeve to head to rural New Brunswick, you should definitely head north to explore this provincial park home to rugged lookouts, lots of hiking trails and even snowshoeing in winter. It's about 300km (186 miles) north of Fredericton.
There are plenty of things to do in New Brunswick, from whale watching and hiking to exploring the province's beautiful parks. Whether you only have a week or plan to spend a month exploring New Brunswick, we hope that this travel guide offered you plenty of ideas and a long list of things to do in New Brunswick for outdoor enthusiasts and those looking to explore New Brunswick's beautiful cities.
Disclaimer: We visited New Brunswick as guests of Tourism New Brunswick, but, as always, all opinions expressed in this article are our own.