*This post may contain affiliate links, as a result, we may receive a small commission (at no extra cost to you) on any bookings/purchases you make through the links in this post. As an Amazon Associate, I earn from qualifying purchases. Read our full disclosure.
Andorra is a tiny landlocked principality nestled in the Pyrenees mountains between Spain and France. There are many things to do in Andorra but some of the most well known are the breathtaking alpine mountain landscapes, well-known ski slopes and tax-free shopping.
Two princes rule the principality of Andorra: the Bishop of Urgell in the Catalonia region of Spain and France's president. Their official language is Catalan and Spanish but French and English are also widely spoken. They are not in the European Unit but use the Euro as their currency.
When to Visit Andorra
Andorra has an alpine and continental climate. During the summer season, it is ideal for hiking and warm temperatures. During winter snow covers most of the country and winter sports are perfect. Andorra can be visited all year long but you should time it depending on your main interests (or visit multiple times!)
Best Things to Do in Andorra During Summer
Explore the Parish of Ordino
One of the most highly recommended activities in Andorra is the hike to visit the Tristaina lakes. It is a stunning area in Parish of Ordino comprising of three lakes (the low, middle and top ones). It is a popular spot during the main summer month of August, with both locals and visitors getting their hiking shoes on to check it out.
Another great hike is the Creusans lake, accessible from the Carretera d'Arcalís. If you are looking for another longer hike head to the end of the Ctra d'Arcalís and then get to the mountain ridge. From there you will be able to access Port del Rat, Arcalís Peaks, Cataperdís. You can also visit the Angonella lakes which are accessible from this point.
The Sorteny valley is beautiful with varied flora from May-June, when it flourishes. You can drive around the valley and stop at your favourite spots. If you want to do another hike you can go to Estany de l'estanyó, an easy route with many different landscapes. From the lake you can get to the Escanyó peak as well. Another summit, this one quite challenging, is the Serrara peak.
If you want to have a 180º view of the parish you have to go up to Casamanya peak which has the best views without a doubt. After the first leg of the hike there is not shade coverage so during summer one has to start very early in the day.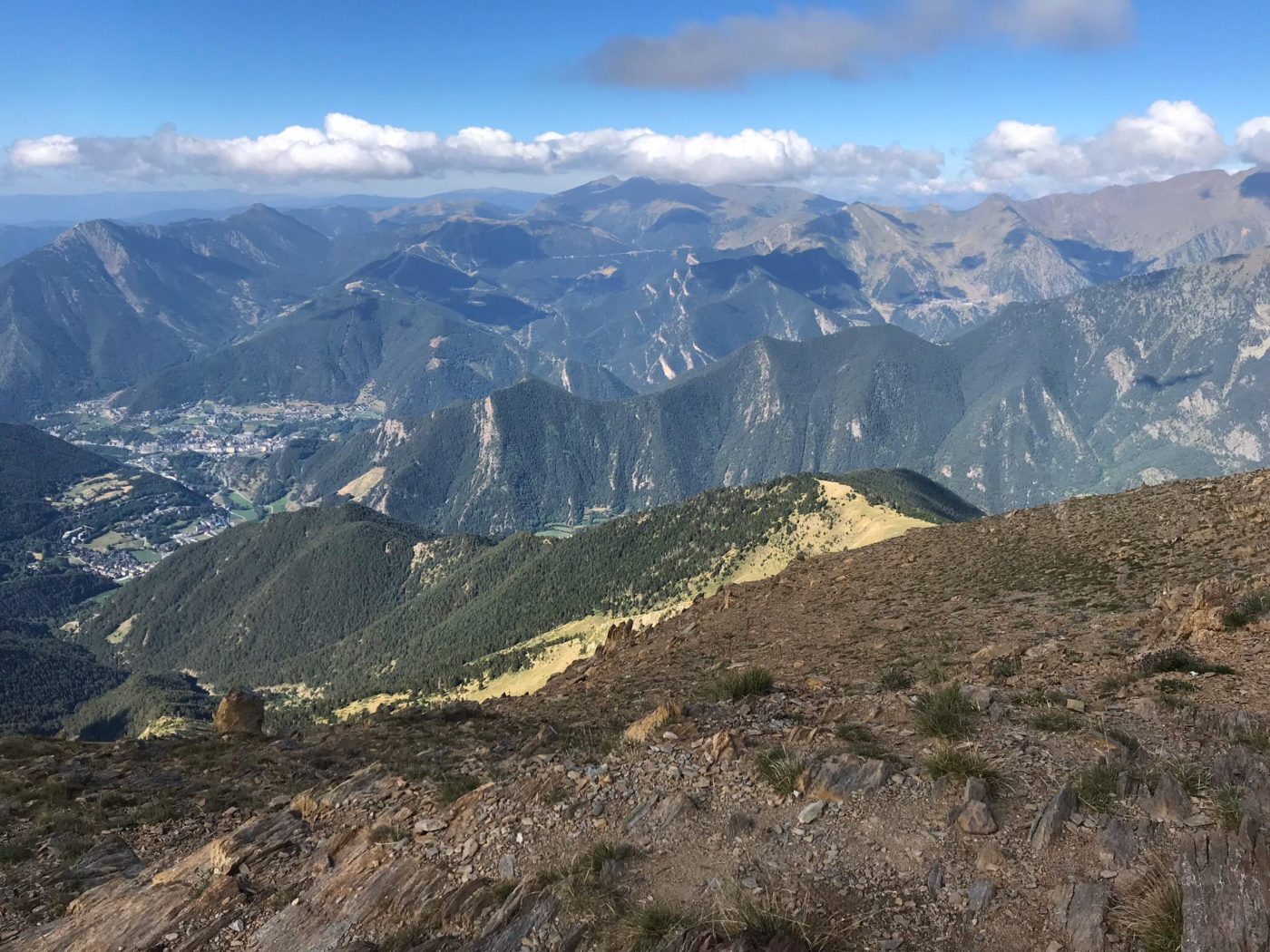 You can visit different areas of the parish doing the marked strolls. Some chilled ones are the Iron path (camí del ferro), Santa Barbara bath, Turer path and the Gonarda loop. They are all fairly simple but the landscapes and views are pretty cool.
Visit the Parish of La Massana
From the church of La Massana you are in the Comapedrosa National Park. The park has a high peak named Comapedrosa that can be done in two days, sleeping in a guarded refugee in the mountains (only open during summer). In the national park, there are numerous other hikes and paths to do.
Visit the Valleys of the Parish of Escaldes Engordany
Visit the extraordinary valley of Madriu which is on the UNESCO world heritage list for showcasing the way resources have been harvested on the area for millennia. There are numerous trails that can be explored for hiking and climbing, as well as some fishing.
The Valley of Incles is another valley full to the brim with trails, one of its most memorable being the Estanys de la Font d'argent, once you arrive at the ridge you will be on the border with France.
Best Things to Do in Andorra in Winter
Go Skiing
Andorra is a well-known destination for skiers. It has 3 different resorts: Grandvalira, Ordino Arcalís and Pal Arinsal – Vallnord.
Grandvalira: Grandvalira is the widest skiing slope in the Pyrenees mountains and covers 210km of slopes! Crazy huh? Their 19 – 20 forfait prices for 1 adult per day are 51€ online and 52€ if bought on the slopes.
Pal Arinsal – Vallnord: The 19 – 20 1 day forfeit for an adult is 38€.
Ordino Arcalís: Ordino Arcalís: They are mostly in the shade which makes them have great conditions of snow often. On the 19-20 season a 1 day forfeit for an adult starts at 35.50€.
You can decide to do randone or long-distance ski or snowshoes. In the last few years they have been organizing an airstream trailer in the middle of Arcalís slopes that you can rent for a night or two. You are carried up with a track machine (the vehicles that flatten the slopes every night and morning) and sleep in the mountains with all the comforts of a little trailer. You even get to have a couple of gin & tonics and a fondue.
Visit Caldea Thermal Centre
Caldea is a thermal centre in Escaldes Estany. Built to use the natural hot springs of the area, the wellness centre offers different circuits with hot and cold water for the visitors to enjoy. They offer a long list of massages and treatments too.
Things to Do in Andorra All Year Long
Go Shopping
Andorra is a tax-free country on purchases, which means any goods that you buy in the country won't have VAT. That is a huge saving, if you are planning on buying anything from clothes to electronics.
The best places to go shopping in Andorra are Avinguda Meritxell d'Andorra la vella and Avinguda Carlemany d'Escaldes. Both avenues are pedestrian and full to the brim with shops and shopping centres.
Visit the Romanesque Churches
Often not getting all the attention they deserve, visiting the Romanesque churches is one of the best things to do in Andorra. There are a number of them but the must-visit ones are:
Sant Joan de Caselles in Canillo Parish: Dated between the 11th and 12th centuries. On the inside, there are pictorial representations of the crucifixion.
Nostra Senyora de Meritxell in Canillo: This is a different type of church. It combines contemporary design with the Romanesque church architecture. The more modern parts were added after a fire.
Santa Coloma Church: Located in Andorra la Vella, this church is believed to be one of the oldest buildings in the country, dating back to the 8th century. The original frescos aren't visible in the church but there is a projection of them using video mapping (a technique that is also used in the Romanesque churches of la Vall de Boi, in Catalunya).
Santa Eulalia Church in Encamp: Known for the incredible bell tower which is the oldest preserved part of the building.
Explore the Old Towns
The villages and cities forming Andorra are generally small but have very interesting old quarters with cobblestone streets that take you back in time. My favourite one is Ordino where you can also visit Casa Areny Plandolit. Another pretty old town is in Llorts, where you can see the church, Sant Serni de Llorts, from the 17th century.
Where to Eat: Best Restaurants in Andorra
Long ago a "Borda" was a rural house made of wood and stone used to keep the animals inside and their food on the second floor. There are now a number of restored bordas that are restaurants or hotels (or both).
Andorra's food is very seasonal, mostly dependant on local goods with influences from both Catalan and French cuisine.
La Borda de l'Avi (The Borda of the grandfather): This popular restaurant serves traditional food and has an extensive menu to choose from. There are vegetarian options.
La Borda Xixerella: This restaurant serves everything but has vegan and vegetarian plates.
Veggie's World: As an energetic restaurant-pub with vegetarian and vegan tapas.
Can Pere: This typical restaurant serves everything typical from Andorra. Some items are vegetarian.
Where to Stay: Best Hotels in Andorra
Hotel Guillem is a family-run hotel in Encamp. They have the "Andorran Green Compromise". They've installed water collectors for rainwater to be used for gardening and have a biomass boiler for heating and hot water.
During the last 4 years, the hotel has been refurbished to include eco-friendly measures like better isolation in the building, they've swapped the use of petrol for "ecotèrmia" a more eco-friendly energy that comes from natural gas and emits fewer gases.
There are also electric vehicle charging points. They only use km0 water that comes in glass and actively participate in an Andorran government plan to encourage and get better at recycling countrywide.
How Much Time Do You Need in Andorra
You can see all the "must-see" things in Andorra over two or three days. Three days giving you a bigger time window to do and try different activities. If you are short on time you can visit the most important sites in two days.
About The Author: Anna is from Barcelona and currently living in Cape Town. She obsesses over sleeping in unique places (treehouses, anyone?) and is an extreme planning nerd: you can find her planning trips often. She lives a low waste & mostly plastic-free lifestyle and her travel style shows it! You can learn more about her on the blog or connect with her on Instagram.
Which season would you like to visit Andorra La Vella?