If you're planning on going backpacking, Costa Rica is a great place to visit. Its natural beauty, outdoor activities, affordability, and safety make it a destination particularly appealing for budget travelers.
*This post may contain affiliate links, as a result, we may receive a small commission (at no extra cost to you) on any bookings/purchases you make through the links in this post. As an Amazon Associate, we earn from qualifying purchases. Read our full disclosure
Backpackers in Costa Rica can explore the National Parks, jungles, and beaches, providing opportunities for outdoor activities like hiking, wildlife viewing, surfing, and more. Costa Rica boasts a network of backpacker-friendly hostels and low-cost hotels, making it simple to get fairly affordable lodging. And finally, the country's positive reputation for being safe and hospitable to tourists can reassure travelers going alone or in small groups.
When you're backpacking, Costa Rica has plenty to offer!
Backpacking in Costa Rica is a great way to not only save on your travels, but also to experience the country in a more local and authentic way.
Given our expensive experience traveling around Costa Rica, we wanted to share some tips and advice for those planning a backpacking Costa Rica holiday.
There is much to learn and lots to keep in mind, so without further ado, let's dive straight in!
Ultimate Costa Rica Backpacking Route
If you don't have a lot of time or money and wish to spend 2 weeks or less backpacking in Costa Rica, then this Costa Rica backpacking guide is for you. This is the best backpacking route in Costa Rica:
Traveling Soon?

Here is a list of our favourite travel providers and accessories to help get you ready for your upcoming trip!
Since most flights arrive at Juan Santamaria International Airport (SJO), San José makes for a perfect starting point for any backpacker entering Costa Rica. From there, backpackers usually follow this route clockwise, visiting selected destinations along the way.
If you're planning on backpacking in Costa Rica for a longer period, let's say one or two months, you can still follow this Costa Rica travel guide. However, you can take your time and visit a couple more sites around the country.
In addition to hitting the main Costa Rica backpacker hot spots like Tamarindo and Santa Teresa, you can add destinations like Tortuguero and Monteverde or even travel to the Caribbean coast to check out Cahuita and Puerto Viejo.
Popular Destinations for Backpacking in Costa Rica
If you plan to spend 2 weeks in Costa Rica, seeing about five different places will make for a fast-paced experience, but you'll fill every day with epic adventures and great memories.
San Jose
If you land in San Jose's Juans Santamaria International Airport, you can begin your backpacking trip here.
San Jose is a big city with lots to offer. It is home to over 2 million residents and roughly 70% of Costa Rican population. San Jose is broken up into many different neighbourhoods, but the majority of backpackers stay in Downtown San Jose, close to the main transportation hub.
Downtown San Jose is a great destination to experience the culture and history of the country. The city has many museums and art galleries, which offer insight into the country's indigenous history and colonial past.
The Jade Museum and the San Jose Artisan Market are both great ways to occupy your time and learn something new at the same time.
The Jade Museum is a pre-Columbian archaeology site, and it offers plenty of insight into Costa Rican culture. It has five permanent exhibition rooms covering the ancient history of Costa Rica, and two temporary exhibition rooms. It also has a virtual tour option.
The San Jose Artisan Market showcases local artists. It is easy to spot, as the entrance is liberally decorated. It's a great place to find unique clothes, toys, jewelry, artwork, decorations, or furniture, with the artisans typically available right there at the stall. The entrance and the aisles are wide enough to accommodate wheelchairs and strollers, and the market is indoors, so it's a great way to get out of the heat or the rain with the family.
San Jose has a vibrant food scene, with many local restaurants serving traditional Costa Rican dishes such as gallo pinto and ceviche. Visitors can also enjoy the city's lively nightlife, which includes a variety of bars and clubs.
In addition, San Jose serves as a hub for transportation to other parts of the country, making it a convenient starting point for exploring Costa Rica.
Day Trip to Poas Volcano National Park
Costa Rica has no shortage of amazing national parks, and Poas Volcano National Park is no exception. Located just an hour and a half north of San Jose, Poas Volcano National Park is one of the most popular active volcanoes in Costa Rica.
Poas Volcano is renowned for both its regular eruptions and its sizable acidic crater lake. Since the 1820s, the volcano has erupted more than 40 times, with the most recent eruption taking place in 2017.
A number of hiking routes snake through the surrounding cloud forest in the park and provide stunning views of the crater and the surroundings. Visitors can also hike to the crater's edge and see the seething, steamy lake below.
The Poás Volcano National Park is home to a wide variety of flora and wildlife, including many kinds of birds and mammals, in addition to its volcanic activity.
Day Trip to La Paz Waterfall Gardens
La Paz Waterfall Gardens is a famous nature and wildlife destination in the Costa Rican province of Alajuela. Located just 31 kilometers (19 miles) north of San Jose downtown, the gardens, cover an area of 70 acres and are home to numerous magnificent waterfalls, a lush tropical rainforest, and a variety of fauna.
The group of five waterfalls that can be seen from several pathways and viewing platforms is one of La Paz Waterfall Gardens' main draws. The falls, which have heights between 120 and 37 meters, provide breathtaking views of the surroundings.
The gardens also include several displays and animal habitats, such as a frog exhibit, a serpentarium, a hummingbird garden, and a butterfly observatory.
The Hummingbird Garden has 24 species of hummingbirds, the orchid pond has a frog pond with poison dart frogs, the serpentarium has over 30 species of snakes, and the butterfly garden is the size of a football field and looks like a scene straight out of a fairytale.
One of the best accessories for backpacking is this great personal filter straw. Using carbon media, the straw filters out 99.9% of bacteria and other pathogens in the water, eliminating the need to buy bottles water. The Filter Straw can be used as a straw on its own or with the included filter bag – a perfect way to make sure you never have to worry about water safety again!
Jaco
Jaco Beach, Costa Rica's popular resort town is the next stop for backpackers in Costa Rica. Here you'll find lots of waterfalls, great beaches for surfing, and even some Nature Reserves where you can spot lots of unique animals, including the Scarlet Macaws, as well as other creatures like monkeys, frogs, and snakes.
Jaco also has lots of party venues, bars, clubs, and even a casino. You can party all night if that's what you want to do.
Day Trip to Manuel Antonio National Park
It is possible to organize a day trip to Manuel Antonio, if you're hoping to add some amazing scenery into your trip. Manuel Antonio National Park is one of Costa Rica's most popular National Parks, where you can enjoy beautiful beaches with coral reefs, bordered by abundant vegetation, and experience a true tropical forest.
From Jaco, backpackers work their way up the coast. You can head to Barranca, which is another city in the Province of Puntarenas.
Barranca butts up against the shoreline. Here you'll have access to brown sand beaches. You'll also get a sense of how the locals live. You'll learn about the local culture, and you'll see nature in forms of rock formations, trees galore, and white-faced monkeys,to name a few.
Manuel Antonio Beach, Costa Rica
Day Trip to Isla Tortuga
If you keep going up the coast from Barranca, you'll eventually arrive in a small sandbar called Puntarenas (just like the province). This cute port town is about four blocks wide at its widest point. There are several restaurants on the beach, but it mostly consists of local houses as well as cheap accommodations.
This small sandbar acts as a vital link offering ferry transfers to the Nicoya Peninsula, where most backpackers head next.
The ferries departing from Punta Arenas will take you to Ferry Paquera. From there you need to take a cab ride over to Curu Wildlife Refuge. Taxis line up at the Ferry terminal. They'll drop you off on a field of cows. Walkthrough the fields of cows until you get to the beach. Don't be alarmed. You might be the only person at this beach.
There you'll find a shack where you can buy snacks and ask about the boat to Isla Tortuga or Turtle Island. The boat only holds a couple of people. You can spend the entire day at Isla Tortuga. It's incredibly picturesque. The water is clear as daylight. It will be everything you've imagined a Costa Rican island to be!
Isla Tortuga is a remote and deserted island with absolutely no accommodation or restaurants. It's entirely uninhabited and kept as natural as possible. People love coming here because it reminds them of what Earth would look like if left to its own devices.
If organizing a trip to Isla Tortuga on your own sounds a bit too difficult, consider joining an organized tour to Isla Tortuga.
The tour will allow you to remain on the island for approximately four hours and to enjoy different activities such as the Canopy tour, kayaking, snorkelling, swimming, or simply relaxing on the beach while the crew prepares an exquisite buffet lunch.
Montezuma
A popular stop for backpacking in Costa Rica is Montezuma, a small hippy town with a long stretch of beautiful white-sand beaches. The town is located near Romelia Wildlife Reserve and is home to some great waterfalls, including the Montezuma Falls and El Chorro Waterfall.
Montezuma is an essential beach in Costa Rica because it is one of the spots on Nicoya Peninsula that is known for turtle nesting. You can volunteer at the Sea Turtle Volunteer ASVO and help keep these cute sea turtles from becoming extinct or poached.
Santa Teresa
Santa Teresa is another popular backpacking destination that can be easily reached from Montezuma. Santa Teresa is known for great surfing and a laid-back hippy vibe. Popular day trips from Santa Teresa include Cabo Blanco Nature Reserve and Curú Wildlife Reserve.
Santa Teresa is easy to explore on foot and has lots of great restaurants and laid-back bars.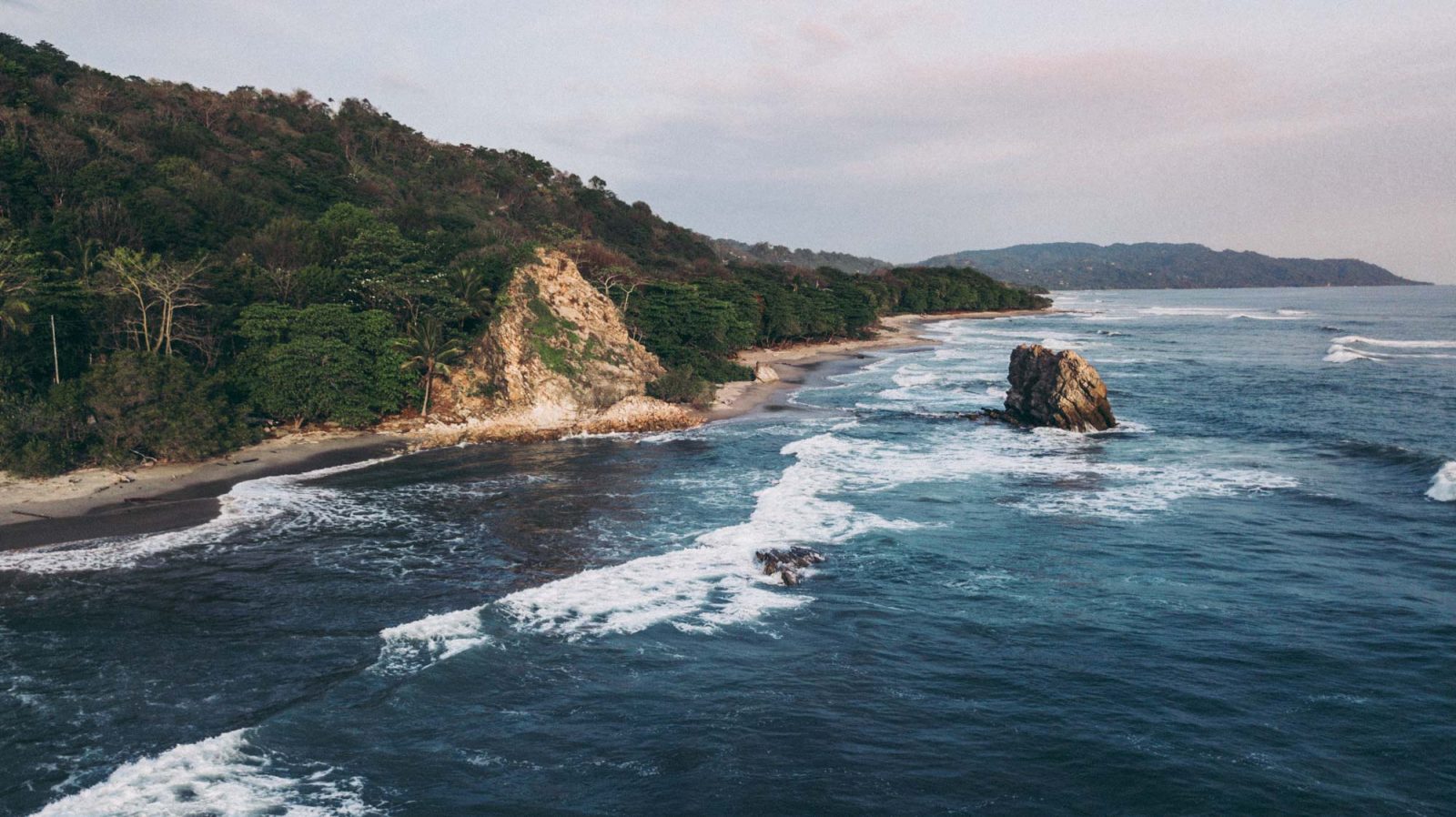 Tamarindo
The last stop on the Pacific Coast is Tamarindo, a popular backpacker town known for its incredible beach, great vibes, and tons of nearby activities.
Tamarindo is much more developed than Santa Teresa, but not nearly as seedy as Jaco, so it strikes the perfect balance between fun and lively while still being quite safe and enjoyable. During the high season, Tamarindo can get VERY busy, making it harder to find affordable accommodation in town. So if you plan to visit between December and April, we recommend booking your accommodation in advance.
Tamarindo is home to a number of stunning beaches, such as Playa Tamarindo and Playa Grande, which are ideal for swimming, tanning, and beach hopping.
Backpackers may go surfing and beach hopping and enjoy wildlife viewing – you can spot howler monkeys, iguanas, and unusual birds without leaving town. There are many bars and restaurants in Tamarindo geared toward backpackers, like Oveja Vieja and many others.
There are many yoga studios and wellness establishments in Tamarindo that provide lessons and workshops for anyone seeking relaxation. All things considered, Tamarindo has something to offer everyone, making it a must-see location for backpackers in Costa Rica.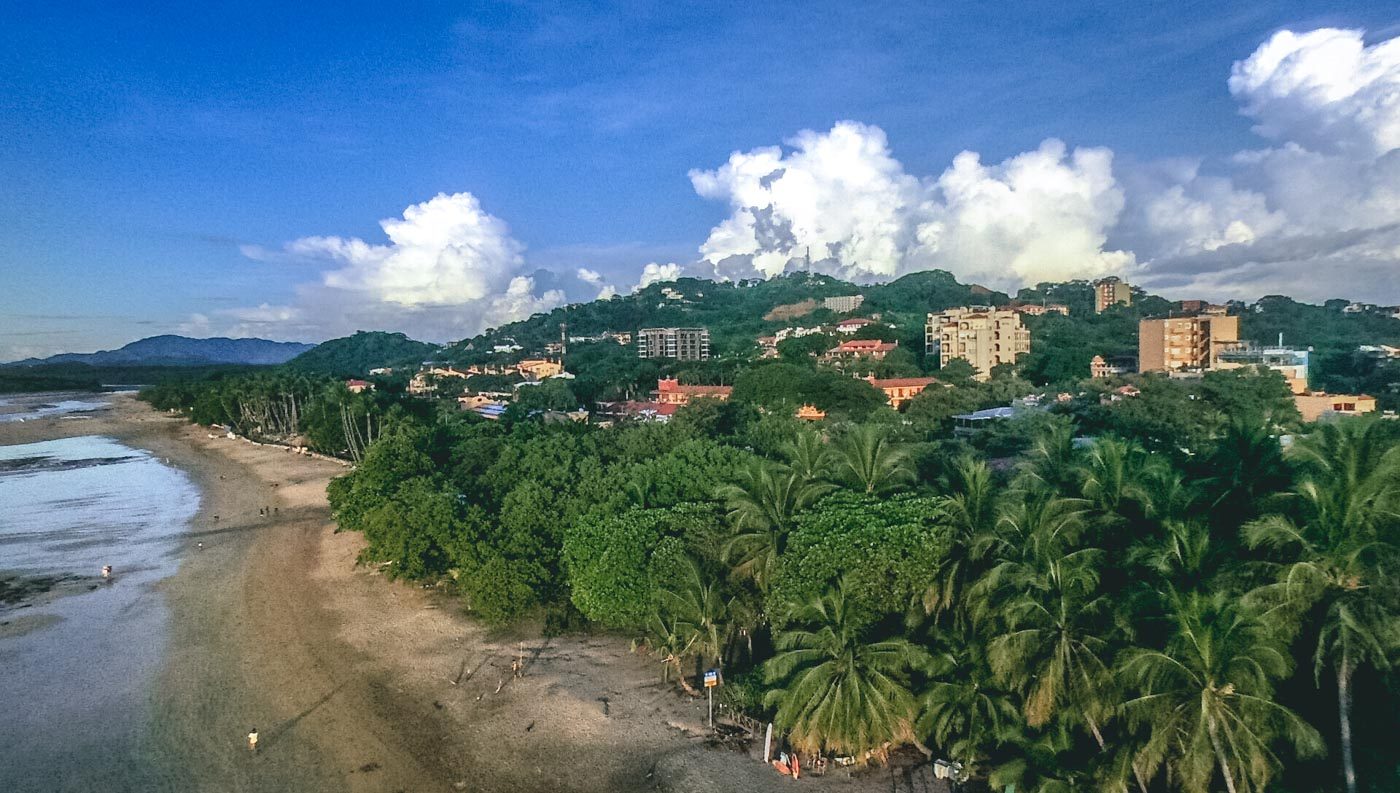 Puerto Viejo
Those with a lot of time to backpack Costa Rica should spend some time on the Caribbean coast. The town of Puerto Viejo is a favourite among backpackers visiting Costa Rica.
Puerto Viejo's breathtaking beaches, like Playa Cocles and Playa Chiquita, which are ideal for swimming, surfing, and sunbathing, are some of its main attractions. A jungle that envelops the town also provides possibilities for trekking and wildlife viewing. Howler monkeys, sloths, toucans, and other exotic species can be spotted along the hiking trails.
With a blend of Latin American, African, and Caribbean influences, Puerto Viejo has a distinct culture that reflects its Afro-Caribbean background. The town is home to a strong artist community, where many stores and galleries sell items manufactured in the area for souvenirs and crafts.
Though Puerto Viejo is small, there is no shortage of things to do, whether you're looking to take a day trip to Cahuita National Park, stop by the Jaguar Rescue Center, take a day trip into the nearby mountains to learn about the Bribri people, or take one of the well-known chocolate tours–Puerto Viejo is well-known for cacao.
Monteverde
Monteverde is not a particularly large town, but it is one of the major ecotourism destinations in the area. Monteverde is home to three wildlife reserves in the highlands.
Hiking, zip lining, night excursions, coffee tours, and animal viewing are among other things to do at Monteverde. The Monteverde Cloud Forest Reserve and the Santa Elena Cloud Forest Reserve, which both offer breathtaking views of the surroundings, are only two of the environmental reserves and parks that tourists can explore. Guided night tours allow backpackers to see nocturnal wildlife, while thrilling zip line rides let guests soar through the treetops.
Many coffee estates with tours and tastings can be found in Monteverde. Renting a bike allows backpackers to get out and see the local wildlife, including howler monkeys, sloths, and rare birds.
Osa Peninsula
Located on the south Pacific Coast, Osa Peninsula is a must-visit destination for wildlife lovers and adventurous backpackers in Costa Rica. The Osa Peninsula is home to over half of Costa Rica's species, and many species are unique to the peninsula; you aren't going to see them anywhere else in Central America.
Osa Peninsula has no shortage of things to do. You can visit Drake Bay or spend time in Puerto Jimenez, but the highlight of any visit is a trip to Corcovado National Park. With more than 500 tree species, 400 bird species, and a vast range of other fauna, it is one of the most biodiverse locations in the nation. Several ecosystems, including lowland rainforest, cloud forest, and mangrove swamps, may be found within the park's more than 100,000 acres of land.
The most challenging thing about Osa Peninsula is getting to it and getting around. The cheapest option to get to Osa Pninsula is by bus from San Jose to Puerto Jimenez, but this is a long journey and can take up to 12 hours, depending on the route and the time of year. Some backpackers also choose to rent a car and drive to the Osa Peninsula, but this can be a difficult and sometimes challenging drive, especially during the rainy season. A 4×4 is essential when traveling to Osa Peninsula, which may not be the most backpacker friendly!
Tortuguero
If the trip to the Osa Peninsula sounds a bit too difficult or pricey, consider taking a trip to Tortuguero instead. Tortuguero is another popular ecotourism destination on Costa Rica's Caribbean coast. Famous for the Tortuguero National Park, located about a 3 hour drive from San José, it's an excellent destination for wildlife sightings.
It's one of the best places in Central America to see turtles, and that alone is a good reason to pencil it into your backpacking Costa Rica itinerary. From June to October each year, green turtles come to Tortuguero's beaches to nest and lay their eggs. Once it's time for the eggs to hatch, you can take a guided tour to see the baby turtles make their way to the water.
Even if you cannot visit Tortuguero during the turtle season, the journey to this unique destination is still worth it.
Arenal
The last stop on our suggested itinerary for backpacking in Costa Rica is Arenal Volcano, located in the town of La Fortuna, about 3.5 hours away from Tamarindo.
Arenal Volcano is the main drawcard of this area, but La Fortuna town offers backpackers lots of other activities and reasons to extend their stay by a few nights.
Aside from go trekking in the Arenal Volcano National Park, backpackers and spend time relaxing in hot springs, zip-lining through the rainforest, exploring the La Fortuna waterfall, and going on wildlife tours to see sloths and monkeys, among other activities, in the Arenal/La Fortuna area. Also, for an exhilarating adventure, backpackers can go white-water rafting on the surrounding rivers or try their hand at waterfall rappelling.
Where to Stay in Costa Rica on a Budget
When you're backpacking, Costa Rica isn't short on accommodations. It's no surprise that you can find tons of hostels in Costa Rica. Every town and every destination recommended above has its fair share of hostels. Most are great, but some are pretty terrible, so be sure to look at reviews before you book.
There are also some pretty unique properties around the country. Here are some of our favourite hostel recommendations:
San Jose
Selina Hostel is a great budget option for a centrally located hostel in San Jose. The hostel is trendy, clean, and is located in the centre of Barrio Otoya's historic neighbourhood, walking distance to some of San Jose's main attractions. The hostel features a sweet rooftop deck where travelers can enjoy yoga in the mornings and music jam sessions in the evenings.
Jaco
Jaco Inn is in downtown Jaco. Surrounded by a lush Costa Rican garden. It's steps from the beach. You can walk to nearby bars, restaurants and nightclubs if you want to party. The hostel has a great open-air yoga studio. It also holds Jaco's only micro-roaster coffee shop, Cafe Bohio. The rooms are modern and clean. It's the perfect location for partiers and yoga aficionados.
Tamarindo
Dreamsea Surf Camp is a budget hostel with a series of elevated yurts. This hostel is within the jungles of Tamarindo. They include breakfast, and it's also pet-friendly. If you've ever been interested in "glamping," now is your chance.
Montezuma
Howler Monkey Hotel is a loft inside a cabin. Each unit has a porch with a hammock. They offer BBQs, bike rentals and tour groups. You can walk to the beach or swing in your hammock and watch the wild howler monkeys come and go.
Barranca
Stay at a local's house in Barranca. The Villa Guarias is located inland, further away from the beach. But, if you're passing through and have a need to stay the night, this cute house is perfect. Not only is the home comfortable, but it's also clean with lots of space. It has an open-air living room and kitchen. The first floor has a view of the garden while on the top floor, you can see far into the distance.
Isla Tortuga
There is no accommodation on Isla Tortuga, but if you need to stay nearby, you can stay in Montezuma or Paquera.
Paquera
If you want to stay in Paquera before heading to Isla Tortuga, Cabinas Naomy Paquera is budget-friendly. It's off the main road, west of the Paquera ferry terminal. Even though Cabinas Naomy Paquera is a traditional hotel, it's budget-friendly prices are good for backpackers. They also have a restaurant on-site, Wi-Fi and shuttle service.
Monteverde
Cabinas Eddy Bed & Breakfast is super affordable and you can't beat the location. The hotel has a tour desk that can arrange tours, and free shuttle services to some attractions. They have on-site Wi-Fi and the largest accommodation sleeps four people.
Tortuguero
Natural Experience House is a highly rated guesthouse just a four-minute walk away from the beach. There is a tour desk, a terrace, free Wi-Fi, and a fully-equipped shared kitchen, and select rooms also have private kitchens. Each room has a patio with a view of the garden, making them the ideal spot to relax after a long day of exploring.
Puerto Viejo
Pagalu Hostel is just a two-minute walk from Playa Negra in Puerto Viejo, so it's the perfect place to stay for anyone looking to experience the sand and surf. It offers both bunk-style accommodations and private rooms, along with a well-equipped shared kitchen and free Wi-Fi. There is a supermarket right next door, so you don't need to worry about access to food.
Osa Viego
Hotel Casa Gitana Corcovado is an affordable hotel in Drake Bay with incredible ratings. It's also about 200 meters away from the beach, so it's perfect for anyone looking to go diving. They offer tour booking services, and Drake Bay has plenty of tours that are worth trying out, such as Corcovado National Park. They also have plenty of free amenities, including parking, breakfast, and Wi-Fi. They offer family-friend activities to keep kids entertained, and you're even welcome to bring your dog with you.
Getting Around Costa Rica on a Budget
Getting from place to place can be complicated when you're backpacking. Costa Rica, unfortunately, doesn't make this easy; the transportation system is one of the biggest downsides of the country.
There is a well-developed bus system across the country, connecting big towns and important hubs across the country. Unfortunately, some of Costa Rica's best backpacking destinations are located far away from these hubs, which makes it a bit of a pain to get around Costa Rica using the public bus system.
Unfortunately, some of Costa Rica's best backpacking destinations are located far away from these hubs, which makes it a bit of a pain to get around Costa Rica using the public bus system.
So if you are planning to navigate the country without a car, consider the following tips:
Plan your backpacking route based on bus schedules. Some destinations that look close may actually require 2-3 bus changes and require an entire day in transit. If you don't have a lot of time. plan your route based on direct bus routes in and out of each city.
Plan for any journey to take 1-2 hours longer than estimated. The roads in Costa Rica are narrow and often have potholes. Many highways only have one lane in each direction, and many times the main road is the only way into a specific part of Costa Rica. In other words, if there's a car accident, traffic jams last for hours.
Keep in mind that shuttle buses can be a great alternative to public buses. Shuttle buses are a lot more expensive ($50 each way compared to $10), but they often run between popular destinations and can cut your travel time/distance in half. You can use Greyline, a carbon-neutral Costa Rican shuttle company to book private and shared shuttle all around Costa Rica.
Costa Rica also has its fair share of ferries. For a schedule of certain ferries check out the Nicoya Penisula Ferry website. You can also check out Montezuma Beach's website for the local bus schedules, ferry schedules and more.
To search all transportation options from local buses and shuttles to ferries, check out Bookaway, a transportation aggregator that can help you find the best and cheapest way to get from one destination to another across Costa Rica.
Getting Around Cities & Towns in Costa Rica
When planning your stay in each destination on your itinerary, consider how you are going to get around town without a car. Some towns, like La Fortuna, are fairly compact and are easy to explore on foot, but others, like Santa Teresa, for example, are spread out along 4-5kms. Here are some helpful tips for getting around towns in Costa Rica.
Book a hostel that offers free bike rental and use the bike to get around town. Alternatively, book your accommodation close to the city centre.
If you end up renting a bike, keep in mind that one of the biggest crimes in Costa Rica is bicycle theft. Make sure you always keep an eye on it or rent a suitable locking mechanism to lock it properly.
Note that pedestrians do not have the right of way in Costa Rica, always be careful when crossing the street or riding a bike.
Inner-city buses and Uber can provide an alternative option for getting around some towns.
Driving in Costa Rica can be stressful and add a lot to your tight budget. If you are traveling alone, avoid renting a car – as the costs will add up.
We don't recommend ATV rentals, although they are popular in many towns in Costa Rica. Not only are they terrible for the environment but they are also known to cause a LOT of accidents. So don't run the risk and opt for a bicycle instead!
Eating on a Budget in Costa Rica
Although it is possible to backpack around Costa Rica on a budget, eating out can really make a dent in your budget, as most restaurants in Costa Rica charge around $10/meal.
The best way to save on food while backpacking in Costa Rica is to buy your own groceries and cook your own food.
Farmers' markets are easy to find all across Costa Rica (after all, that's where many locals shop), and offer cheap prices on fruits, vegetables, and Costa Rican staples like rice and beans. Eating a vegetarian/vegan diet in Costa Rica is not only easy but also VERY affordable!
Making sure you get enough to eat is important while backpacking. Costa Rica, luckily, does have some fabulous restaurants around the country, so if your budget permits, do check out some local spots where local ingredients and flavours are expertly combined with international trends to create an amazing fusion of delicious healthy meals! Our favourite dish was at La Vida Buena restaurant in Playa Avellanas, Costa Rica.
Authentic hole-in-the-wall restaurants, known locally as "sodas," and beach shacks are all pretty inexpensive and very tasty. They are also owned by locals who we love to support when we travel around Costa Rica.
San Jose
Cafe Rojo is a highly rated spot for good-quality Asian-fusion meals–specifically Vietnamese. They offer plenty of vegetarian and vegan options, there are tons of gluten-free options, and you can get brunch on weekends.
Jaco
Soda Jaco Rustico is a cheap spot with comfort food and typical Costa Rican food, and the menu includes vegan and vegetarian options. They open early and serve breakfast, lunch, and dinner, so it's a good place to go if you're looking for a taste of Central America.
Montezuma
Ylang Ylang Restaurant is a beachside restaurant located in a resort, and has decadent and yet very affordable options for breakfast, lunch, and dinner with vegan, gluten-free, and raw options. They also have a sushi menu.
Playa Avellanas
La Purruja Restaurant & Bar has a laid-back atmosphere and is steps from the beach. Considering that proximity, it's no surprise that they're known for fresh seafood dishes, but they also offer plenty of vegetarian options. They primarily serve food from Southern and Central America at very reasonable prices, and they serve breakfast, lunch, and dinner.
Puerto Viejo
Cafe Rico is a great spot for a hearty, cheap breakfast, but that's not all they offer. They have rental bikes, a book exchange, and Wi-Fi. They are famous for their coffee, crepes, and cool atmosphere.
Overall Budget for Backpacking in Costa Rica
If you're planning on backpacking in Costa Rica for a month or more, budget about $50-75 per day.
It's a safe amount of money that will cover all lodging expenses, food, and some tours and activities. That amount will also cover transportation and entrance to nearby National Parks.
Backpacking in Costa Rica is fantastic. You can do it for a couple of weeks or a few months. There are so many different ways of experiencing a country as diverse and beautiful as this one.
Have you ever backpacked in Costa Rica? What other tips would you offer to first-timers planning on backpacking in Costa Rica?