Allow us to let you in on a little secret. Costa Rica is not cheap. OK, maybe it's not a secret, but it certainly isn't a widely known truth.
*This post may contain affiliate links, as a result, we may receive a small commission (at no extra cost to you) on any bookings/purchases you make through the links in this post. As an Amazon Associate, we earn from qualifying purchases. Read our full disclosure
Visitor's expectations of low prices for goods and services in Costa Rica are often shattered the second they step foot into a grocery store, look up accommodation rates, or try to order a meal at a restaurant.
Despite the fact that Costa Rica ranks just 76th in the 2017 GDP rankings, its prices are often comparable to those of developed nations like the US, Canada and parts of Europe. So what's driving Costa Rica's high cost of living?
Some say, the exchange rate is to blame, others attribute it to supply and demand. Costa Rica is a popular travel destination for North Americans and Europeans that are happy to pay a premium for some time in paradise. And the locals are happy to charge it.
But don't let us discourage you. You don't need to spend a fortune on your Costa Rica travel budget. With a few tips and useful advice, you can visit the country on a decent Costa Rica travel budget. And bonus – there are many simple ways to remain environmentally responsible on your trip to Costa Rica without sacrificing luxury or excitement!
Accommodation
Accommodation options vary greatly in Costa Rica. Here, you'll find anything from cheap and cheerful hotels charging $10-15 per night to glamorous 5-star resorts charging well over a few hundred dollars per room.
On average you'll be looking at spending $60-100/night for a hotel room in touristy areas. If there are two of you, that's only $30-50 per person. If you are traveling in a bigger group and are willing to share a room with more than 1 person, it can often be cheaper to get 1 room with 2 double beds to share between 4 people. You'll get the same experience as staying in the hostel but with added privacy and amenities of the hotel.
Expect to pay more if you are visiting in High Season (December-January), especially between Christmas and NYE and be prepared to commit to a 3-5 day stay over NYE.
Top Tip: Read our guide to help you pick the best time of year to visit Costa Rica for your budget
Eco-Friendly Accommodation
We are really passionate about sustainable travel, so eco-friendly accommodation is at the top of our list when we are traveling. Often travelers are required to pay a premium for these types of accommodation but the benefits far out weight the additional cost.
By booking with eco-friendly hotels you are helping to conserve our precious natural resources, and often empowering the local community. Here are a few examples of prices you can expect to pay at Green Hotels across Costa Rica.
Costa Verde, the famous "Airplane Hotel" located in Manuel Antonio charges $100-$150/night for their basic rooms and $300-$525/night for the Fuselage 727 home.
Lapa Rios is the most sustainable hotel in Costa Rica. They offer packages that start at $780/night per bungalow.
Latitude 10 Resort's plastic-free property is located in Santa Teresa. They charge $220-$720/night depending on the room type and season.
The award-winning Harmony Hotel in Guionas Beach, Nosara begins charging $360/night for a basic room and $760/night for a suite.
Finca Bellavista's treehouse community near Piedras Blancas offers their Casa del Sol Cabin for $50-$100/night depending on occupancy, and 300/night for their luxurious Castillo Mastate treehouse.
Money-Saving Costa Rica Travel Budget Tips
Tip #1: Consider traveling to Costa Rica during the shoulder season
(October-November and March-April) You'll save on accommodation and avoid the crowds at parks and along the beaches. There might be a rain or two as you get closer to the rainy season (July-October), but it won't ruin your trip.
Tip #2: Stay in an Airbnb!
There are tons of houses available on Airbnb that are especially suited for those traveling with a family or a bigger group.
Tip #3: Stay for longer.
Hotels and B&Bs are often willing to give you a better rate or give you a discount if you commit to staying for a few weeks.
Tip #4: Go without hot water and AC.
Just like in many other developing countries, hot water is a hot commodity in Costa Rica (pun intended). And AC is even hotter. You'll always be charged extra for these "luxuries". So if you want to save, go without.
After all, who needs to shower in hot water on a hot day anyway? And if it's not a hot day, well then you won't be needing that AC either. Plus, skipping out on the CO2 emissions an AC emits will help preserve the beautiful green landscape that surrounds you in Costa Rica!
Transportation
The most common way to get around Costa Rica is by car. Renting a car for the duration of your stay in Costa Rica will give you the flexibility to explore the country with ease. However, renting a car is definitely not the most eco-friendly to get around Costa Rica. Especially if you are renting the car for just yourself, or with one other person.
Unlike a USA road trip, most people here tend to rent 4×4 jeeps, or SUVs to navigate Costa Rica's treacherous roads, and they are far from fuel efficient. Consider using local transportation instead.
Use Bookaway to book busses, shuttles, ferries and other transportation options in Costa Rica
However, if your itinerary includes going off the beaten path where getting around by local bus and shuttles may not be an option, these are some ways you can save on car rental.
Tip #1: Prebook in advance
If you choose to rent a car, pre-book it well in advance, especially if you plan on traveling during the high season. One week car rental during high season will cost anywhere between $400-$600 per week, depending on the type of car and insurance package you select. It's a great deal if you are traveling with 2-3 others, but an expensive investment if there are just two of you.
Tip #2: Travel in the shoulder season
Car rental outside of high season is significantly cheaper, often as cheap as $15-20 per day plus insurance.
Tip #3: Use a premium credit card
If you own or were thinking of applying for a platinum credit card, check the included benefits, as many premium cards offer complimentary overseas insurance that would help you save lots of car insurance in Costa Rica.
Just remember to be wary while driving, many roads in Costa Rica are paved and are fairly easy to drive on. However, Costa Rica is still a developing country so you will come across unpaved roads, lack of signs, as well as people, cows, horses, lizards, etc in the middle of the road.
Save on Transportation in Costa Rica by Going Green
Tip #1: Use Local Transportation
If you're looking for a greener option than renting a car, use public transportation!
Public buses are the most sustainable way of getting around Costa Rica. Imagine all the emissions saved if everyone jumped on a bus instead of taking their own vehicle!
Local buses aren't quite like chicken buses, especially along the major routes. They can be comfortable, and air-conditioned. A ticket from San Jose to Tamarindo, for example, will only cost $10 for a 4-hour journey. Not a bad deal!
Busses run all across the country, and while you can't reserve seats online, you can do so in person at any bus stop in the country.
If you don't buy a ticket ahead of time, you will simply pay the driver when you board the bus. The price is listed on the bus window or above the driver's seat in Colones.
The destination of the buses are written on the front of the bus but if you are stopping before the final destination ensure you follow your journey using a Navigational app like Waze or Maps.me then pull the string or press the button just before you are planning on jumping out. Otherwise, ask the driver if he would be willing to let you off at your stop.
The Bus Schedule provides up to date information on transportation routes all over the country, including to major tourist destinations. Or get advice on the best route from your hotel or hostel.
Tip #2: Use Bikes or Golf Carts to Get Around the Area
Once you get to your destination, you can use bicycles (sometimes supplied by the hotels) or hire golf carts to get around the area.
FOOD AND DRINK
Costs of food and drinks in Costa Rica will probably be the biggest surprise of all. It's hard to grasp how someone on a $3/day salary (average salary in Costa Rica) could possibly afford to spend $10-20/meal at a restaurant in Costa Rica. But that's exactly what you will find in most touristy spots in Costa Rica.
Food is good and there are lots of great dishes to try, but even something as simple as a local "Casado", a basic dish consisting of rice, beans, a few veggies, and a small piece of meat will cost on average $4-5. Anything more elaborate will set you back by $8-15 per dish. Beer is reasonably cheap at $2-3/can, and cocktails are, of course, more at $4-6.
Saving on Food and Drink in Costa Rica
Tip #1: Eat where the locals eat.
It is absolutely true that locals can not afford to eat in most restaurants suitable for tourists. So instead, they dine in small local spots called "Sodas", which are similar to our fast food restaurants. Soda menus aren't elaborate but they will always have a great Gallo Pinto and Casado on offer for under $3.
Tip #2: Drink Local
Imperial will also be cheaper than Heineken and other imported beer brands. Rum will always be cheaper than vodka and if you want the cheapest way to have a good time try Cacique. This local version of sugarcane liquor is definitely not the best tasting drink on earth, but its cheap as chips and will certainly do the job.
Tip #3: BYOB
Beers at a local grocery store will be half the price or even cheaper than the local bar. Liquor is VERY cheap when purchased at duty-free upon arrival. Enjoy an alcohol-free meal then enjoy cheap drinks on the beach, at home or in the common room of the hostel you are staying in.
ACTIVITIES
Activities in Costa Rica can really break the bank. The thing about activities in Costa Rica is that all of them are either designed for the tourists or charge a tourist price, leaving you with very few options to save.
Here is an example of what you should expect to pay for certain activities in Costa Rica.
Ziplining: $30-$60 for 2-3 hour activity
Horse Back Riding: $50 for a few hours and goes up from there
Surfboard hire: $10/day (some hostels will offer these for free)
Coffee Plantation Tour: $30 for 2-3 hour tour
Bird Watching Tour: 4 hours for USD $38
Monteverde Cloud Forest: $20 entrance fee plus $20 for a guided tour
Night Cloud Forest Tour: $20
Arenal Volcano National Park entrance fee: $15/person
Arenal Hot Springs: $60/per day
Barbilla National Park entrance fee: $5/person.
Barra Honda National Park entrance fee: $12/person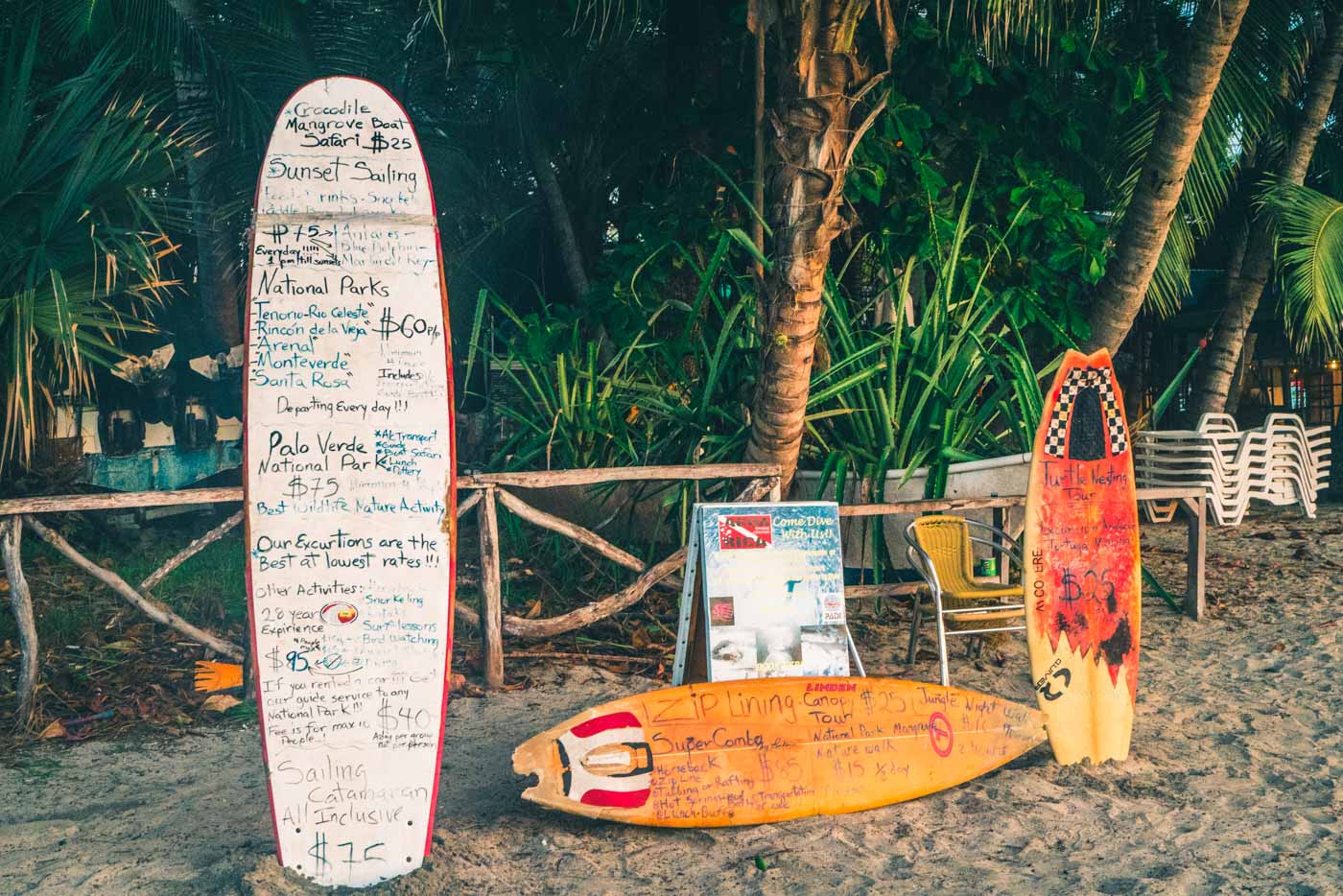 Saving on Activities in Costa Rica
Tip #1: Enjoy the beach!
It's free, it's beautiful and it's one of the best attractions in Costa Rica. Grab a ball, a frisbee, buy some beers from the supermarket, and stick them in a bucket of ice and combine them with the above-mentioned beach games for a day of fun in the sun that doesn't break the bank.
Monteverde Cloud Forest, Arenal Volcano National Park, and Manuel Antonio National Parks are the most famous parks in the country, but they are also the busiest and the most expensive destinations to visit in Costa Rica.
Luckily, there is a long list of other national parks in Costa Rica and many more protected areas that you could visit instead.
Many of them charge less than the $15-17/person entrance fee you'd be paying at Monteverde, Arenal or Manuel Antonio.
Consider these lesser known options:
Entrance Fees $12
Barra Honda National Park entrance fee: $12/person

Braulio Carrillo National Park (Quebrada González and the Barva Volcano)

entrance fee: $12/person

Las Baulas National Park entrance fee: $12/person

Marino Ballena National Park entrance fee: $12/person

Palo Verde National Park entrance fee: $12/person

Tenorio Volcano National Park entrance fee: $12/person

Turrialba Volcano National Park entrance fee: $12/person
Entrance Fees $6-$10
Agua Juan Castro Blanco National Park entrance fee: $10/person

Carara National Park entrance fee: $10/person

La Amistad National Park entrance fee: $10/person

La Cangreja National Park entrance fee: $10/person

Los Quetzales National Park entrance fee: $10/person

Piedras Blancas National Park entrance fee: $10/person

Tapantí National Park (Macizo de la Muerte) entrance fee: $10/person
Entrance Fees $5 and under
Barbilla National Park entrance fee: $5/person

Cahuita National Park entrance fee: $5/person

Diriá National Park entrance fee: $5/person
Tip #3: Take advantage of the free nightly light show.
This is another Costa Rican specialty that costs absolutely nothing. Grab a few beers from the supermarket, head to the nearest beach and enjoy some of the most incredible sunsets you have seen in your life.
BOTTOM LINE: SAMPLE COSTA RICA TRAVEL BUDGET
If you are traveling as a couple or with another friend, choose to stay in mid-range hotels, eat out 2 times a day, get around by car and take part in lots of activities. Your daily budget for Costa Rica may look like this:
Comfortable Costa Rica Travel Budget:
Hotel: $50
Food: $30-40
Transportation: $30-40
Activities: $30-40
Total: $140-170/day
or like this:
Basic Costa Rica Travel Budget:
Hostel: $15-20
Food: $15-20
Transportation: $10
Activities: $0-10
Total: $40-60/day
So the decision is yours. If money is holding you back from traveling to Costa Rica, then I follow some of my money saving tips, try to stick to more of a local way of experiencing Costa Rica and a week-long Costa Rican adventure could end up costing you less than a weekend of partying in North America (plus flights)!
So who's planning a trip to Costa Rica this year?
Like this post? Pint in for later!
** Read Next **