Despite its small size, Costa Rica is a nation full of diversity and interesting places to stay. It is one of the most biodiverse places on the planet. Costa Rica welcomes nature lovers from all over the world who come to see the cloud forests. Especially, the thriving plant and animal populations.
*This post may contain affiliate links, as a result, we may receive a small commission (at no extra cost to you) on any bookings/purchases you make through the links in this post. As an Amazon Associate, we earn from qualifying purchases. Read our full disclosure
Pair that with the nation's cultural attractions, world-class beaches and a plethora of adventurous activities. It's a playground for sun-seekers, nature lovers and adventurous travelers.
Accommodations in Costa Rica
When it comes to accommodation options in Costa Rica, they tend to be just as diverse as the nation's attractions. After traveling Costa Rica extensively, we can tell you that there is no one type of accommodation or best resorts in Costa Rica.
Over the years, we have visited most of Costa Rica's top attractions and have found great places to stay in each destination. These are some of our favorites and, in our opinion, the top places to stay in Costa Rica.
Where to Stay in Costa Rica
San Jose
The nation's vibrant capital of San Jose is the country's main gateway for people entering or exiting Costa Rica. It's a buzzing metropolitan known for its cultural and historical attractions. It is the best city to stay in Costa Rica for a taste of day-to-day life, since over 50% of locals live in the capital.
Top attractions include the National Theater, the National Museum of Costa Rica, Woodworks, and the Museo del Oro Precolombino. To sample local food or to shop like the locals, the Central Market is the place to be.
Where to Stay in San Jose, Costa Rica
The best place to stay in San Jose, Costa Rica, close to top tourist attractions like the National Theater is near the Plaza Del Cultura.
Downtown San Jose can sometimes be intimidating for first-time visitors so if you are not ready to throw yourself into the thick of it all the trendy suburb of Escazu, located 5 km from the CBD, is the best place to stay in San Jose Costa Rica.
Whereas if you would prefer to be close to the international airport, Alajuela is the neighborhood you're most likely to find a quality Costa Rican places to stay.
Traveling Soon?

Here is a list of our favourite travel providers and accessories to help get you ready for your upcoming trip!
Location: Escazu, San Jose
Price: $
Located in Escazu, Costa Verde Inn is one of the most sought-after Costa Rica boutique hotels near San Jose. It is nestled amongst the mountainside, has a lovely garden terrace and a cozy fireplace to curl up next to on those chilly mountain evenings. You can choose from a single, double and triple room or a one-bedroom apartment. A tasty Tico breakfast is included.
Costa Verde Inn is a sister property of Costa Verde, one of our favourite hotels located in Manuel Antonio. We love staying at Costa Verde Inn in San Jose, as this property provides a rainforest vibe that you won't often find in other hotels in San Jose. Costa Verde Inn is a little jungle oasis amid the hustle and bustle of San Jose and is a great place to stay if you want to arrive in Costa Rica and immerse yourself in nature right away.
Location: Alajuela, San Jose
Price: $
Located only 10 minutes from the international airport in Alajuela, Adventure Inn hotel in Costa Rica will put you in vacation mode right away. It has a nice outdoor pool, a jacuzzi, breakfast included, and a bar and restaurant on site. There are two options for rooms, standard rooms and Jacuzzi suites. They are stylish and well equipped.
The hotel offers a free airport shuttle, so it's very convenient if you are not renting your own car. We've stayed here many times when flying in or flying out of Costa Rica.
---
Manuel Antonio
Manuel Antonio is one of the top places to visit in Costa Rica for its lovely beaches, lush jungles, and wildlife. Most people come to see the area's namesake park, Manuel Antonio National Park which is home to a variety of wildlife like sloths, toucans, iguanas, and monkeys.
You can find trails that range from 287m to 9km in length which criss-cross the park and its beaches. If you plan it right you might be able to spot whales from the shore during their migratory route. Otherwise, there are some waterfalls to check out in the area, like our favourite, the Nauyaca Waterfall.
Where to Stay in Manuel Antonio
If you are wondering where to stay in Costa Rica in Manuel Antonio, you'll be happy to hear there are lots of Costa Rica rainforest resorts in the area. However, they are not all made the same.
Many people chose to stay in the town of Quepos, located about 15 minutes by car from the national park. But while the town of Quepos is worth a visit, the best hotels in Manuel Antonio are actually located closer to the beach and the entrance to Manuel Antonio National Park.
We suggest you chose one of the Costa Rica resorts with views overlooking the ocean to make the most out of your stay instead.
Location: Manuel Antonio, Puntarenas
Price: $$
Costa Verde Hotel is considered the best resort in Costa Rica by many. It is the home of the 727 Fuselage Home, a refurbished airplane hotel room, as well as the Cockpit Cottage, located inside another refurbished airplane. Other rooms on site range from regular hotel rooms and larger suites to houses and bungalows, perfect for self-catering stays.
Costa Verde Hotel is located just minutes from the park and set on 20 acres that overlook the Pacific Ocean. It has a long list of sustainable practices in place and prides itself on going well beyond the efforts of a typical eco-resort Costa Rica.
Costa Verde is definitely one of our favourite hotels in Costa Rica. Its lush grounds, beautiful views and spacious rooms make it a great base for exploring the area.
Location: Dominical, Puntarenas
Price: $$
Located in Dominical, the Waterfall Villas is another great accommodation option for those wanting to stay close to the Manuel Antonio area.
The resort was born from the intention to save a piece of the Costa Rican rainforest and has been carefully designed and nourished into a space that serves as so much more than a typical hotel room. There are 6 Balinese-style villas in this beautiful resort. Each one is equipped with a Queen or King bed, a beautiful en-suite bathroom and has a balcony overlooking the forest.
Sustainability programs are implemented at the Waterfall Villas to maintain a very eco-conscious business. But the main reason why we've added Waterfall Villas to our list of best places to stay in Costa Rica is that this resort serves the BEST vegan food in the country. The owner and executive chef, Fateh, serves up delicious gourmet meals with the freshest and purest ingredients. Her meals go well beyond the typical Costa Rican rice and beans to offer creative dishes and unique flavours that will excite even the fussiest meat eaters!
Location: Uvita, Puntarenas
Price: $$
Oxygen Villas is an adult-only 5-star Balinese style hotel that has been featured in Conde Nast and Travel & Leisure as one of the top resorts in Costa Rica. In our opinion, it is the best place to stay in Costa Rica for couples and is certainly the most romantic one!
There are 12 glass-enclosed villas, 4 jungle-view villas and 8 ocean villas offering panoramic views of Marino Ballena National Park. The resort strives to have a minimal impact on the environment and is bound to appease anyone vacationing in Costa Rica.
Arenal
Located in the country's highlands, Arenal has been named the adventure capital of Costa Rica. It is the best location to stay in Costa Rica if you're interested in exploring geothermal and natural wonders like hot springs, waterfalls, volcanoes and jungles.
Some highlights include Arenal Volcano which is a dominant volcano located inside the national park of the same name, where you'll find a plethora of trails to explore.
The nearby La Fortuna rainforest waterfall requires a 15 minutes hike but rewards visitors with its 200 feet single drop and pool to swim in. Whereas Arenal Lake is Costa Rica's largest lake and a great place to get out on the water. For a warmer water experience the geothermal hot springs are one of the most unique Costa Rica destinations.
Arenal Volcano, La Fortuna, Costa Rica
Where to Stay in Arenal
La Fortuna town is the gateway to Arenal National Park. The town is walkable with lots of amenities, gardens, shops and restaurants, and you'll find the most affordable options here. However, for the best Costa Rica hotels in Arenal, head outside the city center.
Outside of town, the properties tend to be bigger, in some cases have views of Arenal Volcano and hot springs on site. They are often places you'll want to enjoy a little bit longer and are more akin to a destination then just somewhere to lay your head at each night.
You will need a car to stay at a hot springs resort since public transport is sparse. So if you don't it's best to stay in La Fortuna town.
Location: La Fortuna, Puntarenas
Price: $$
Located in between La Fortuna and the entrance to the national park, Arenal Springs is among the mid-range luxury hotels in Costa Rica. The hotel has unobstructed views of Arenal Volcano. It offers a gym, yoga deck with classes, a spa, and 3 restaurants on-site.
The rooms are colorful, rustic, and range from Junior Suite to Master Suite. The rooms are scattered throughout the property and often come with views of the volcano.
The highlight of staying at the Arenal Springs Resort & Spa is the four different hot spring pools that guests can enjoy during their stay.
Location: La Fortuna, Puntarenas
Price: $$$
Tabacon is often considered one of the best Costa Rica luxury hotels. If you can afford to spend a few nights at this beautiful resort, it's worth it!
This 5-star hotel has a range of comfortable, modern, and stylish rooms nestled in the thick jungle. There are 2 restaurants, 4 bars, and a private dining area on site. But, the highlight of the stay and the reason that this hotel is worth the splurge is that hotel guests have unlimited access to the beautiful hot springs and Shangri-La Gardens on-site.
Tabacon holds a 5 Leaf Certification for Sustainable Tourism (CST), granted by the Costa Rican Board of Tourism. So you know that this property is committed to sustainable practices through a number of environmental and community initiatives.
Tabacon Hot Springs, Arenal
Osa Peninsula
Thanks to many miles of unspoiled rainforest and the unique ecosystem that surrounds the peninsula, Osa is often regarded as one of the most environmentally rich and ecologically diverse places in the world. It can be somewhere challenging to reach due to its isolation but that is part of its charm.
If you are looking for the best place to stay in Costa Rica to spot wildlife, Osa Peninsula is that place. Naturalist guides here will tell you that in just a few days on the peninsula, you can spot more wildlife than you would over the course of a few weeks in the Amazon. Everything from jaguars to monkeys to toucans lives here, and Corcovado National Park on the Osa Peninsula is the place to spot them.
Where to Stay on the Osa Peninsula
Corcovado National Park is the main attraction on the Osa Peninsula, so to accommodate travelers there are a number of hotel options in Puerto Jimenez and Drake Bay. Puerto Jimenez is an interesting place to visit for its history as a former gold mining town. However, it wouldn't be considered the best place to vacation in Costa Rica.
Outside of town, there are a number of sustainable lodges which are much preferable since they bring to the forefront what you have come to see – unspoilt nature. Nestled within the jungle, these oases of civilization are frequently visited by scarlet macaws, iguanas, monkeys, and other wildlife.
Location: Puerto Jimenez, Puntarenas
Price: $$$
Lapa Rios Lodge is THE place to stay if you are wondering where to stay in Costa Rica on the Osa Peninsula. Considered the most sustainable eco-lodge Costa Rica has to offer and set on 1000 acres of pristine beachfront rainforest, Lapa Rios is a real standout.
They are part of the National Geographic Unique Lodges of the World and offer 17 beautiful bungalows and great facilities. All meals are included in a stay at Lapa Rios and they offer an abundance of tours and day trips to explore the area in a sustainable way.
As a 5 Leaf Certified Sustainable lodge, their list of environmental and sustainability initiatives is truly impressive. They even run a sustainability tour for guests interested in learning more about their practices.
Tamarindo
When holidaymakers search for where to stay in Costa Rica on the beach, Tamarindo pops up. Of course, for good reason. It has a vibrant holiday feel, an awesome beach, pulsating nightlife, great food, and tons of activities to choose from.
Besides hanging out at the beach, boat tours, snorkeling trips, canopy zip line tours, and turtle nesting tours in Las Baulas National Park are some of the best things to do in Tamarindo. Then, when the day's activities are done, head to the beach to watch the sunset.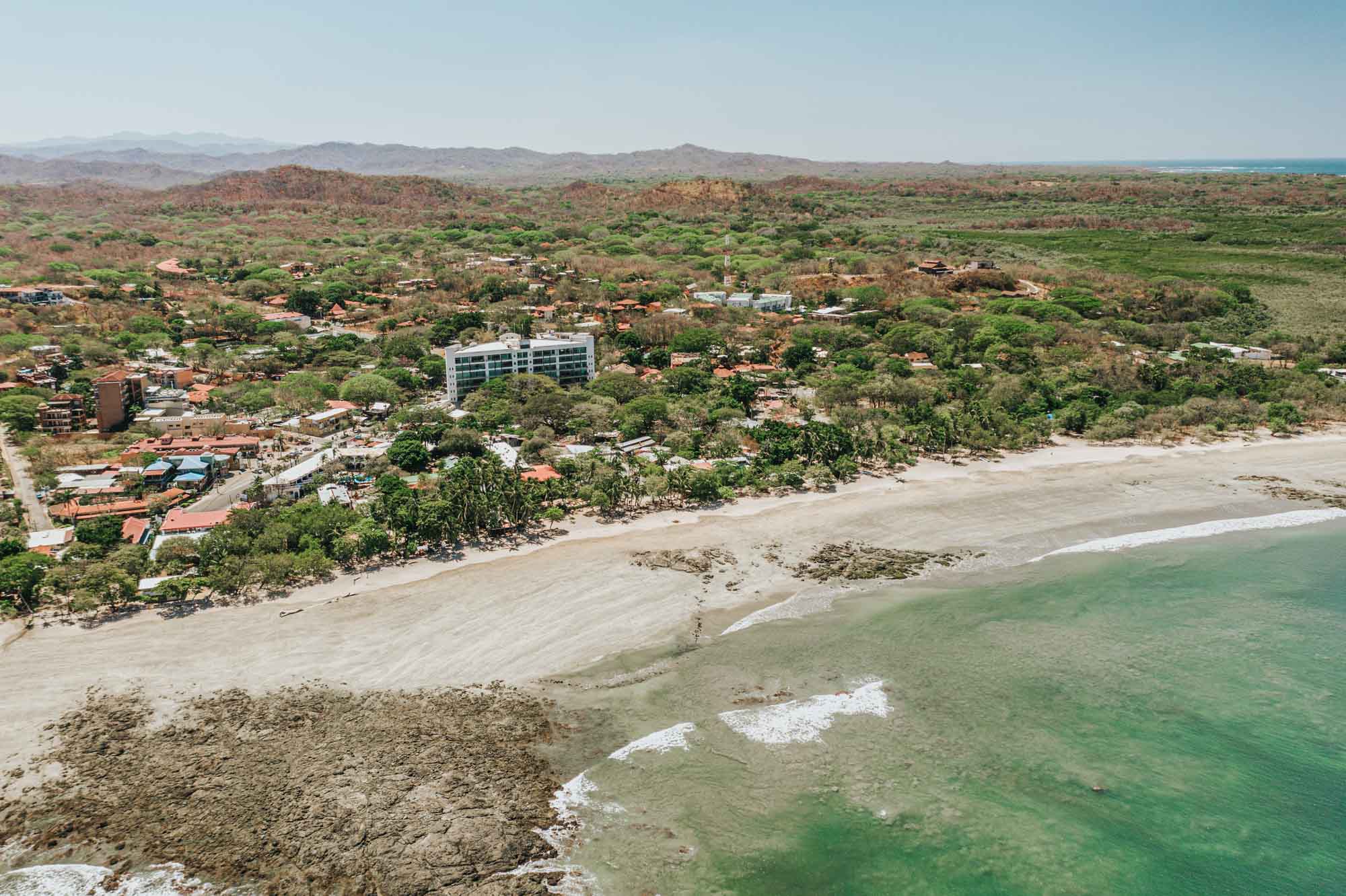 Where to Stay in Tamarindo
There is an overwhelming 500+ accommodation options in Tamarindo. So, it can be difficult to know which Tamarindo, Costa Rica hotels to choose.
To be honest, we only recommend you stay in the town of Tamarindo if you want to be in the thick of the action and are looking to party in the evenings. Since it can get very crowded and busy in the high season.
In which case we prefer to hang out in a quieter area. For example, Playa Langosta or Playa Avellanas, just south of Tamarindo. Staying on the outskirts of Tamarindo, you'll be in a perfect location for the peace and quiet. This is one of the best vacation spots in Costa Rica while still being close to the action of town.
Location: Playa Langonsta, Guanacaste
Price: $$$
Capitan Suizo boutique hotel is often considered one of the best Costa Rica hotels on the beach. Located on the outskirts of Tamarindo, it has a strong sustainable ethos and offers beautiful rooms which open out onto the tropical garden.
There are 34 rooms in total, a spa and a restaurant on-site. But if you don't want to dine at Capitan Suizo, you're in close proximity to many restaurants. There are plenty of restaurants to eat in Tamarindo.
Nosara
Another one of the best places to stay in Costa Rica on the beach – is Nosara. It has a great combination of beachfront and rainforest activities, an unmistakable laid-back vibe, and a burgeoning expat community.
When it comes to beaches, Playa Guiones is one of the best surf beaches in the country, which is a favourite amongst advanced surfers looking for where to stay in Costa Rica.
Playa Pelada is a swimmer-friendly beach perfect for watching the sunset and there are a couple of wildlife sanctuaries in the area which welcome visitors and some great tours to go snorkelling, kayaking or chasing waterfalls.
Where to Stay in Nosara
What we didn't realize when we first visited Nosara is that the town is fairly spread out. The area near Playa Guiones is more developed than its smaller counterpart, Playa Pelada. The latter has a few places to eat and some pockets of goodness. So, the majority of shops and restaurants are all in Playa Guiones.
We suggest you base yourself in a place with walkable access to the beach and other amenities. Playa Pelada is more low key. However, if you are looking to pop into the surf each morning then stay close to Playa Guiones.
Location: Nosara, Guanacaste
Price: $$
Located steps from the beach in Playa Guiones, Harmony Hotel is a great choice for eco-conscious travelers. They have a working farm on site which is the main food source for their juice bar and restaurant. Plus a yoga studio, a favourite among locals and guests.
When it comes to accommodation, there are 10 rooms, 13 bungalows and a handful of villas to choose from. Each stay includes a daily yoga class, a tour of the gardens, and use of the guest pool and hammocks.
Santa Teresa
Santa Teresa is a slightly off-the-beaten-path destination. It gradually made a name for itself as surfers and backpackers have come to discover the area. It has all that you would expect from a small coastal town. There are beaches scattered throughout the area, beachside restaurants and bars but also a strong yoga and surf community and some other great outdoor activities.
Year-round surf can be found around Santa Teresa and Mal Pais, the Montenuza waterfall is a must-see and the Cabo Blanco Nature Reserve and Curú Wildlife Reserve are great Costa Rica places to visit for animal lovers.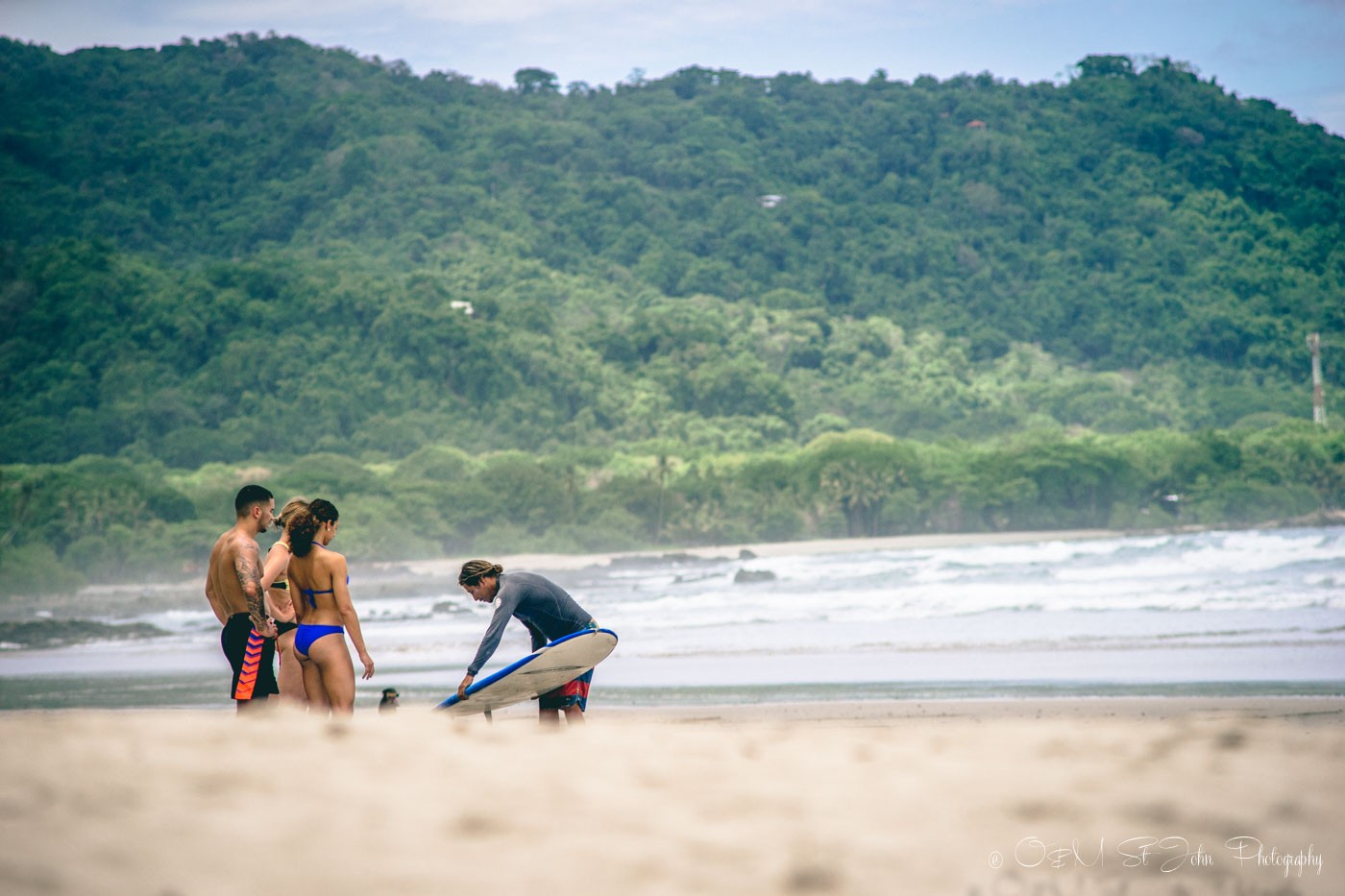 Where to Stay in Santa Teresa
Santa Teresa is a walkable town with lots of great restaurants and shops close to the beach. The culinary delights quickly became one of our favorite past times in Santa Teresa. So we would suggest you stay somewhere on the main street to take advantage of all that the town has to offer.
Alternatively, we suggest you opt for a quality beachside hotel close to town when choosing the best Costa Rica resorts for your stay in Santa Teresa. So, you can still pop into town for lunch if you want. Furthermore, you'll be able to fully relax and unwind at your Pacific Coast hotel.
Location: Santa Teresa, Puntarenas
Price: $$$
Located just a few kilometers from the center of town, Latitude 10 Resort quickly became one of the best places to stay in Costa Rica in our books. Latitude 10 Resort is among the Costa Rica luxury resorts deeply rooted in the idea of sustainable living. Also, sustainability practices that you can see from the front and center's resort design. Additionally, in the amenities of the resort.
Here you can choose from private casitas or cabins with astonishing designs, each of which are steps from the beach. Moreover, set on 5 acres of pristine nature. There is also a pool, beach side yoga classes, and a restaurant on site.
There is no doubt that Costa Rica has something to appease every kind of traveler. However, the best places to visit in Costa Rica will depend on your taste and interests. Whether you are visiting with friends, family, or as a couple choosing where to stay in Costa Rica becomes easier when you know where to go first.
You can't go wrong with staying in any of the above hotels. They have been tried and tested by us. These are the best places in Costa Rica to stay. Especially, if you are heading to some of the best places to go in Costa Rica.
What are some of your favourite hotels in Costa Rica?