This post was first published in 2015 and updated in 2018 with even more ideas for Gold Coast tours.
*This post may contain affiliate links, as a result, we may receive a small commission (at no extra cost to you) on any bookings/purchases you make through the links in this post. As an Amazon Associate, I earn from qualifying purchases. Read our full disclosure.
Surfers Paradise is not just a stop for beach bums and party animals. And while there aren't too many adventure activities right in Surfers Paradise, the beauty of this town is that it is located right in the heart of the Gold Coast, an adventure lovers paradise!
Planning a Trip in the time of COVID?

Keep in mind that information found in this article may have been impacted by travel restrictions and other closures. Double check opening hours, tour providers and hotel status before you go. And don't leave your home without travel insurance! If you are looking for an insurance provider that covers COVID-19, we recommend SafetyWing. Get Medical and Travel Insurance starting at just $40/month and you can sign up even if your trip has already started!
If you are staying in Surfers Paradise you have no end of options for Gold Coast tours. Whether you prefer a swim in a waterfall, sunrise at the top of a mountain, or a hike through the rainforest, the adventure activities on the Gold Coast are all just a short ride away from Surfers Paradise.
Swimming in the Currumbin Rock Pools
The Currumbin Rock Pools are one of the best but not very well-known Gold Coast tours perfect for a hot summer day. Located just 45 mins away from the heart of Surfers Paradise, the Currumbin Rock Pools are tucked away inside the Currumbin Valley, on the border of Queensland and New South Wales.
On one side, the pools are surrounded by large flat rocks and grassy areas, perfect for sunbathing, relaxing, or having a picnic. On the other side, the Currumbin Rock Pools are bordered by steep rock walls and trees that are often used as jumping off points into the pools. The pool's depth varies, with some places being shallow enough to be safe for the whole family.
The Currumbin Rock Pools are popular with the locals and can get quite busy on a hot summer day. Combine your Gold Coast day trip to the Currumbin Rock Pools with a visit to the Currumbin Wildlife Sanctuary. You'll get to explore the natural rainforest, hand-feed kangaroos and cuddle a koala.
If you are looking for an even more secluded spot, check out Cougal's Cascades. One of the lesser knowns day trips from Gold Coast is located just 6 kilometers up the road inside the Mount Cougal National Park (which is actually a part of the Springbrook National Park). This area offers the same (or better!) rock pool fun, but is much less known, much more shaded, and so much more beautiful!
Where to Stay when visiting Currumbin Rock Pools
Of course, a visit to Currumbin Rock Pools can be done as part of a Gold Coast day trip, but if you do want to take it easy, there are a few accommodation options. Top of the list for those passionate about the environment is, The Luxury Eco Rainforest Retreat, set in the Currumbin Valley.
Among their eco-friendly practices are harvesting rainwater, treating and recycling wastewater, and using biodegradable cleaning products.
Hiking to the Top of Mount Warning
Mt Warning is a volcanic plug left over from the Tweed Volcano that erupted in the area millions of years ago. Mt. Warning is located inside the Wollumbin National Park, just an hour away from the most easterly point of Australia – Cape Byron. Due to this close proximity to Cape Byron, and its elevation of 1,156m, a Mt. Warning climb will take you to the spot where the first sun rays of each morning touch the Australian mainland.
Every year over 60,000 people embark on a 8.8 kilometre trek to the top of Mt Warning. You can hike through the night to arrive at the top just in time for sunrise (many do), or do the Mt Warning hike during the day and enjoy the stunning views from the top as a reward for the 5 hour return trip.
Accommodation When Visiting Mt Warning
After a tough Mt Warning climb, treat yourself to a stay at one of the nearby hotels, preferably one with a spa to ease your muscles! The Hillcrest Mountain Retreat has a room with a view of Mt Warning plus your very own spa bath.
If you're looking for something a little different, then Chalet Hotaru, Mt Warning will do the trick. This Japanese inspired B+B accommodation is all about helping visitors reconnect with the self and with nature. They even have their own farm complete with donkeys, llamas, sheep and an assortment of birds!
Trekking Through Springbrook National Park
Springbrook National Park consists of 4 sections: Springbrook Plateau, Mount Cougal, Natural Bridge and Numinbah. Springbrook Plateau offers the most walking tracks, waterfalls, and the amazing 'Best of all Lookout. If you are looking for easy and adventurous day-trips from the Gold Coast, then put a visit to Springbrook National Park on the list!
Check out Wunburra lookout, Canyon lookout, Goomoolahra Falls lookout, and Best of All Lookout. Or you can embark on a 4 kilometer hike along the Twin Falls circuit or the 17 kilometer 5-6 hour hike along the Warrie Circuit.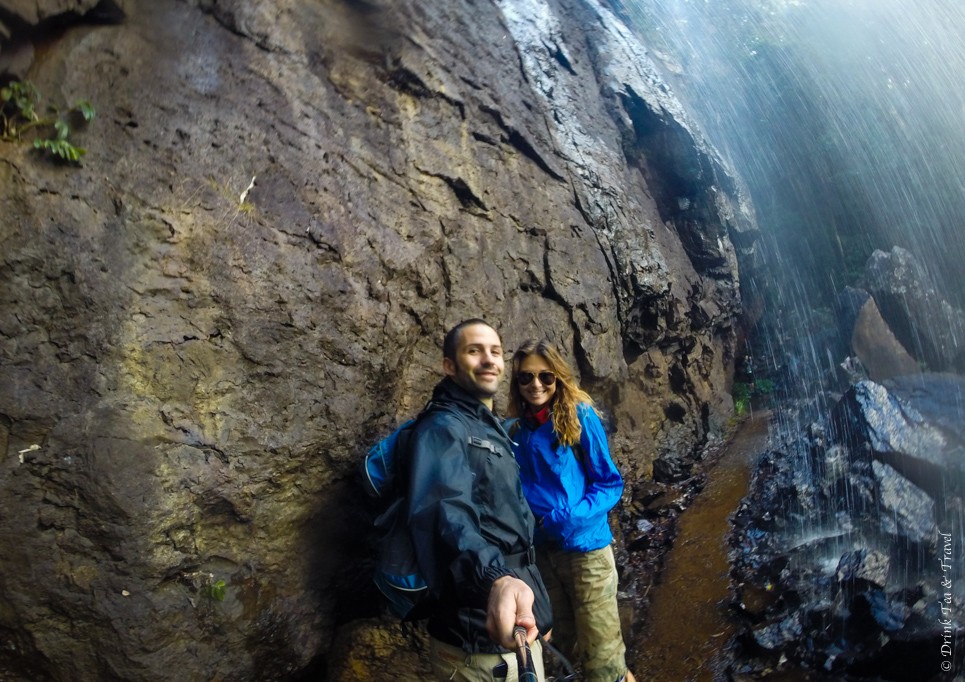 In the evening, take a drive over to the Natural Bridge section of Springbrook National Park, located along Nerang-Murwillumbah Rd, located a short 30 minute drive from the Springbrook Plateau, to witness the glow worms inside the Natural Bridge Cave.
There are plenty of organised Gold Coast tours that cover these attractions. Sign up to the Rainforest and Glow Worm Cave Day Tour and explore the weird and wonderful sights of the Springbrook National Park.
Accommodation Near Springbrook National Park
After all the trekking through Springbrook National Park you might want to spend the night and rest before heading back to Surfers Paradise. Good thing is there are plenty of affordable accommodation options in the area.
Dancing Waters Cottage is a self-contained apartment, perfect for those who like a bit of privacy. For couples on a romantic day trip from the Gold Coast, then check out The Mouses House. This rainforest retreat is nestled in the lush vegetation of the Springbrook National Park and includes a hot tub, sauna and a cold water plunge pool.
Or, for eco-luxury, the Springbrook Lyrebird Retreat is the top choice. They are owned and operated by the Australian Rainforest Conservation Society and all profits from the accommodation go to the Springbrook rainforest conservation.
So Many Options for Gold Coast Tours!
These adventurous activities are fantastic options for anyone looking for an adventurous Gold Coast day tour to explore the beautiful Queensland beyond its major sights and attractions. Loved and admired by locals, these are the gems hidden away from the tourist crowds that truly represent the beauty of the Gold Coast area.
To get the scoop on getting into Surfer's Paradise, info on where to stay and other travel tips, check out my other article on Flying into Surfer's Paradise.
Have you enjoyed day trips from the Gold Coast? Tell us your favorite!