Namibia is a country made for road trips. It's wide-open spaces and barren landscape are part of its undeniable charm. It's also one of the least densely populated countries on earth and is about 3x bigger than the UK.
*This post may contain affiliate links, as a result, we may receive a small commission (at no extra cost to you) on any bookings/purchases you make through the links in this post. As an Amazon Associate, we earn from qualifying purchases. Read our full disclosure
Our 2-week self-drive Namibia road trip followed the most popular route but spending a few hours on the road without seeing another person was still an everyday occurrence.
But, we never got bored driving in Namibia! Each leg of our Namibia road trip offered a new landscape with its own individual highlights like great sand dunes, desolate coastlines, and rare flora and fauna which made our Namibia road trip particularly exciting!
Traveling Soon?

Here is a list of our favourite travel providers and accessories to help get you ready for your upcoming trip!
---
If you are considering renting a car in Namibia and having some doubts, let us clear things up with some helpful tips and things you need to know about renting a car in Namibia.
---
Do You Need a Car in Namibia?
The short answer is yes! Getting around Namibia without a car is no easy feat. Outside of Windhoek, there is poor public transport connecting the country and no easy connections to tourist destinations.
The main tourist destinations in Namibia tend to be off the beaten path in the remote parts of Namibia. You can choose to fly to Swakopmund or smaller airports on chartered flights however that is expensive and an unsustainable option.
The easiest way to get around is by renting a car in Namibia to drive yourself.
However, we know that the thought of driving in Namibia can be daunting for many. So while we think that renting a car in Namibia is a great option for all, we know all too well that some people feel uncomfortable with the idea.
Consider a Tour
If self-driving sounds like a scary feat, consider joining an organized tour. While there are probably lots of tour operators in Namibia, one car that we kept on seeing all throughout our time in Namibia was one of our favourite tour operators in the world – G Adventures.
We visited Jordan on a G Adventures Tour in 2018 and had a great time, so if there was a company we would recommend without hesitation, it's them. Their 14-day Namibia tour from Windhoek hits all the top attractions in Namibia, and offers a great way to see the country in the most sustainable way possible – in a shared vehicle!
---
Think self-driving is right for you? Here are some tips you want to keep in mind!
---
Is it Safe to Drive in Namibia?
Namibia is considered the safest country to visit in Southern Africa. We exercised a degree of caution but always felt safe here. More so than in South Africa.
The roads in Namibia are well tarred and there is not a lot of cars or traffic on the roads in Namibia. So the safety of self-driving in Namibia tends to be up to you. If you follow the speed limits you should be fine.
Self Driving in Namibia: What You Need to Know
Roads Are Well Maintained
The roads are great in Namibia. There are4 types of roads in the country:
B1

– the main highway that cuts across the country from Angola to South Africa and connects Windhoek with the rest of the country. It is a 2-4 lane highway and is in great condition.

C

– most likely paved highways leading to Namibia's major destinations. The majority of these are paved, but there are a couple that are not.

D –

gravel road but usually in good enough condition suitable for a 2WD.
Regardless of what road you take in Namibia, you'll find very little traffic albeit for an animal or two which might cross your path.
You May Need an International Drivers License
You need a valid driving license from your home country to drive in Namibia. If your driver's license is not printed in English, Afrikaans, German or Oshiwamb (the country's official languages) then we suggest you carry an official translation or an international driver's license.
You will be asked to show your valid driving license when renting a car in Namibia. The Namibia car rental company will not let you drive without one.
Speed Limits are Reasonable
Highways are typically 120km/hh, paved roads are 80km/hr and gravel roads are 60km/hr. When in doubt, go slower and enjoy the scenery!
Drive on the Left
When it comes to driving remember that Namibians drive on the left. It may take some getting used to but as long as you pay attention and follow the flow of traffic, you'll be absolutely fine.
Most Cars are Manual
Most cars in Namibia are manual transmission, and it's important that your primary driver is comfortable driving manual. Automatic cars are available for rent, but they are more expensive and have to be reserved well in advance.
Driving in Namibia at Night is a Big No-No!
Most reputable car rental companies in Namibia prohibit driving at night for your own safety. The likelihood of an accident with wildlife is too high. Even when driving at dusk or dawn, it is a good idea to look out for animals and livestock, as this is when animals are most active.
Keep in mind that by choosing to drive at night, your car rental insurance may be voided. In our opinion, it's not a risk worth taking.
Hitchhiking is Common
Hitchhiking is popular in Namibia, you'll see lots of locals waiving a couple of bills and hitchhiking all around the country. While it's common among locals, don't feel pressured to pick anyone up. We have heard about thieves posing as hitchhikers but we didn't meet anyone with first-hand experience of these incidents. If you are not sure, it's always safer to steer clear of hitchhikers while exploring Namibia by car.
Gas Stations are Plentiful
Gas stations are plentiful in Namibia, but fill up when you can and always check ahead. All gas stations are full service, so a gas attendant will fill the car up for you and offer to wash your windows. A small tip of N$10-15 is expected.
Car Robberies Do Happen
Don't leave valuables in the car unattended, as break-ins are common. However, parking attendants working on tips are common and provide that extra bit of assurance. Hotels typically have the same.
Drivers in Namibia are Quite Nice
Drivers are courteous in Namibia. They will flash their lights at you to say thank you, move to the left and to let others pass.
Take Precautions if Driving on Sand
If you are planning to traverse through the Skeleton Coast or head down to Sossusvlei, be prepared to face some sand! It's easy to get stuck on sand, even if you are in a 4×4.
So ensure you adjust your tire pressure (deflate a bit for more grip) before driving on sand. If you have any questions about how to adjust your tire pressure and how much, make sure you talk to your car rental Namibia agency.
Get a Great Map
Download Maps.Me app on your phone. Download the Namibia map and use it when 3G on your phone drops off. This excellent navigation app is one of our favourite travel apps and it offered us excellent advice while self-driving in Namibia.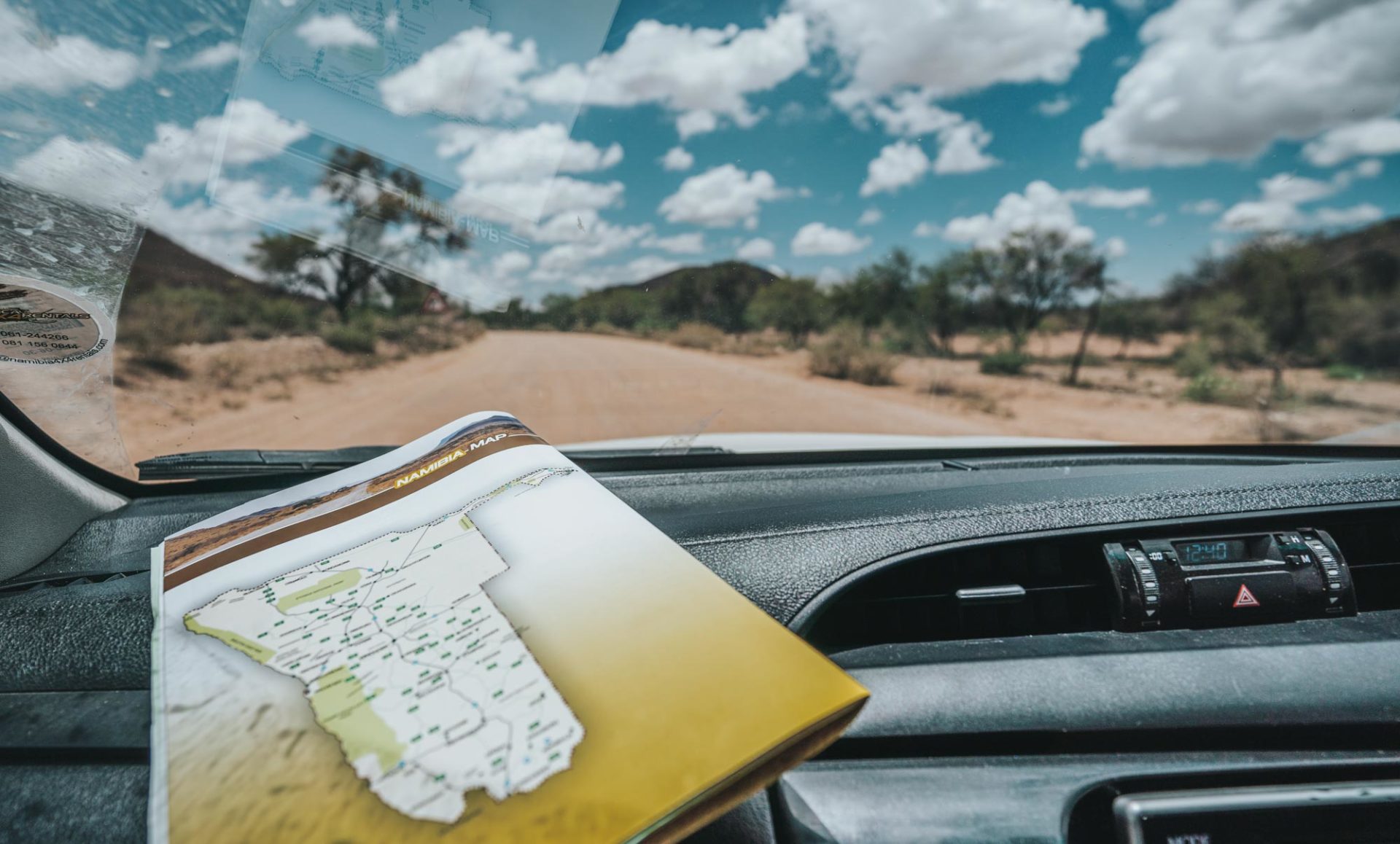 READ NEXT: 11 APPS WE CAN'T TRAVEL WITHOUT
Get a Local SIM card
There are two major networks provided in Namibia: MTC and Telecom Namibia. MTC is the better of the two when it comes to coverage but packages tend to be expensive.
The best combo deal is the 'Aweh Gig', which offers 100 domestic minutes, 700 SMS, and 1 GB of data (plus a bonus 500 MB of WhatsApp data without VoIP calling), for 7 days at N$ 32 (+ 15% taxes).
Coverage is good along the main highway and you'll find 4G in large towns and some villages. However, it starts to wane as you get out into more remote areas.
Be Prepared for Long Drives
The rides are long between towns and attractions, so come prepared with podcasts, music, and other entertainment queued up. Road trip snacks are a must to keep hunger at bay as roadside restaurants are practically non-existent.
Pack an AC/DC Converter
One of our top Namibia tips is to buy an AC/DC Inverter to charge your camera batteries and anything else you might need on long drives. It will allow you to plug in any electronics as well as multiple USBs to keep things charged on long drives. We used ours daily.
READ NEXT: 12 ROAD TRIP ACCESSORIES THAT WILL TAKE YOUR TRIP FROM GOOD TO GREAT
Renting a Car in Namibia: Do I Need a 4×4 in Namibia?
Before we left for our Namibia road trip, we spent hours researching whether or not we needed a 4×4 for our Namibia driving tour and everywhere it said that you do. But after our experience driving in Namibia, we are here to tell you otherwise. The Namibia road conditions are great compared to neighbouring countries.
So you don't NEED a 4×4 to explore Namibia. If you are on a budget, 2WD will do just fine.
Let's take a closer look to give you a better idea
Namibia Road Conditions by Location:
Windhoek

– A 2WD is totally fine. This city is all paved roads.

Etosha

– The main roads are tarred and smaller loops are gravel and are totally fine in a 2WD. Just go slow to avoid kicking up the gravel. If you are nervous go on a

game drive

in a jeep, Namibia has an astonishing diversity of animals in Etosha and you'll spot more animals with a local guide anyway.

Skeleton Coast

– The main highway from Palmwag to Swakopmund is ok for 2WD, however, don't drive on the sand. If you get a 4×4, a drive along the beach can be fun but the risk of getting stuck is high and it burns a lot of fuel which is not very sustainable. So we would not recommend driving in sand it in a 4×4 either.

Cape Cross to Swakopmund

: This stretch is connected via a tarred road so you don't need 4×4 at all.

Grootberg Pass

– Ok in 2WD. We did stay at Grootberg Lodge on our trip that requires 4×4 access, which we had. If you don't have a 4×4, Grootberg does offer a free 4×4 transfer to the hotel from the main parking lot down below.

Swakopmund

– A 2WD is ok since you can't go on the sand dunes in your own car, even if it's a 4×4. Visitors are required to take a 4×4 tour if they want to explore the sand dunes. We like this

4×4 dune tour to Sandwich Harbor

or the more eco-friendly option of taking a

scenic bike ride

through the dunes at Swakopmund.

Namib Desert & Sossusvlei

– The main roads connecting Sossusvlei are ok for 2WD. However, to get to the sights inside Sossusvlei you will have to leave your 2WD at the 2WD parking lot and take the shuttle to Deadvlei, Sossusvlei, and the main dunes. If you have a 4×4 you can drive into the 4×4 parking lot yourself, but it's not necessary.

Sossusvlei to Windhoek

– 2WD is ok
If you plan on off-roading or going to other destinations not listed, check with your accommodation for advice. 2WD can handle gravel and tarred roads but off-road and sand driving is a big NO with a 2WD.
Which Car Should You Choose?
Choosing whether to rent a 2WD vs 4×4 depends entirely on your route and budget. A 4×4 is much more comfortable and will give you peace of mind. However, they are slightly less fuel-efficient.
If you are planning on camping, factor that into your Namibia car rental decision. Some Namibia rent a car operators have vehicles with secure rooftop tents. However, if you are going to be using a ground tent then ensure your Namibia rental car has enough space for the tent and other camping supplies inside the car.
If you don't have your own camping gear you can sometimes rent it from your car rental in Namibia or from one of the adventure outfitters like Namibian Camping Solutions. Alternatively, camping gear can also be rented from car companies.
The Best 4×4 for Namibia
It's difficult for us to tell you what the "best 4×4" for Namibia is. We can tell you that the most popular 4×4 on the road is a Toyota Hilux followed by a Toyota Land Cruiser.
If you have decided to embark on a Namibia 4×4 self-drive tour, then it's more than likely you will be set up with a white Toyota Hilux to hit the Namibia roads. White helps reflect the sun rays. So if you get a choice while renting a car in Namibia, even if it's not a 4×4, choose a white vehicle to help you stay cool.
Car Rental Companies
Big worldwide car rental companies operate in Namibia. You'll find trusted names like Hertz, Avis, and Budget. However, we went with a local operator – Namibia 4×4 Rentals.
They made renting a car in Namibia easy. Namibia 4×4 is part of the Africa 4×4 family and they have a big fleet, with great vehicles and good prices. All their vehicles are equipped to a tee and their knowledgeable staff answered all the questions we had about the vehicle and the drive ahead.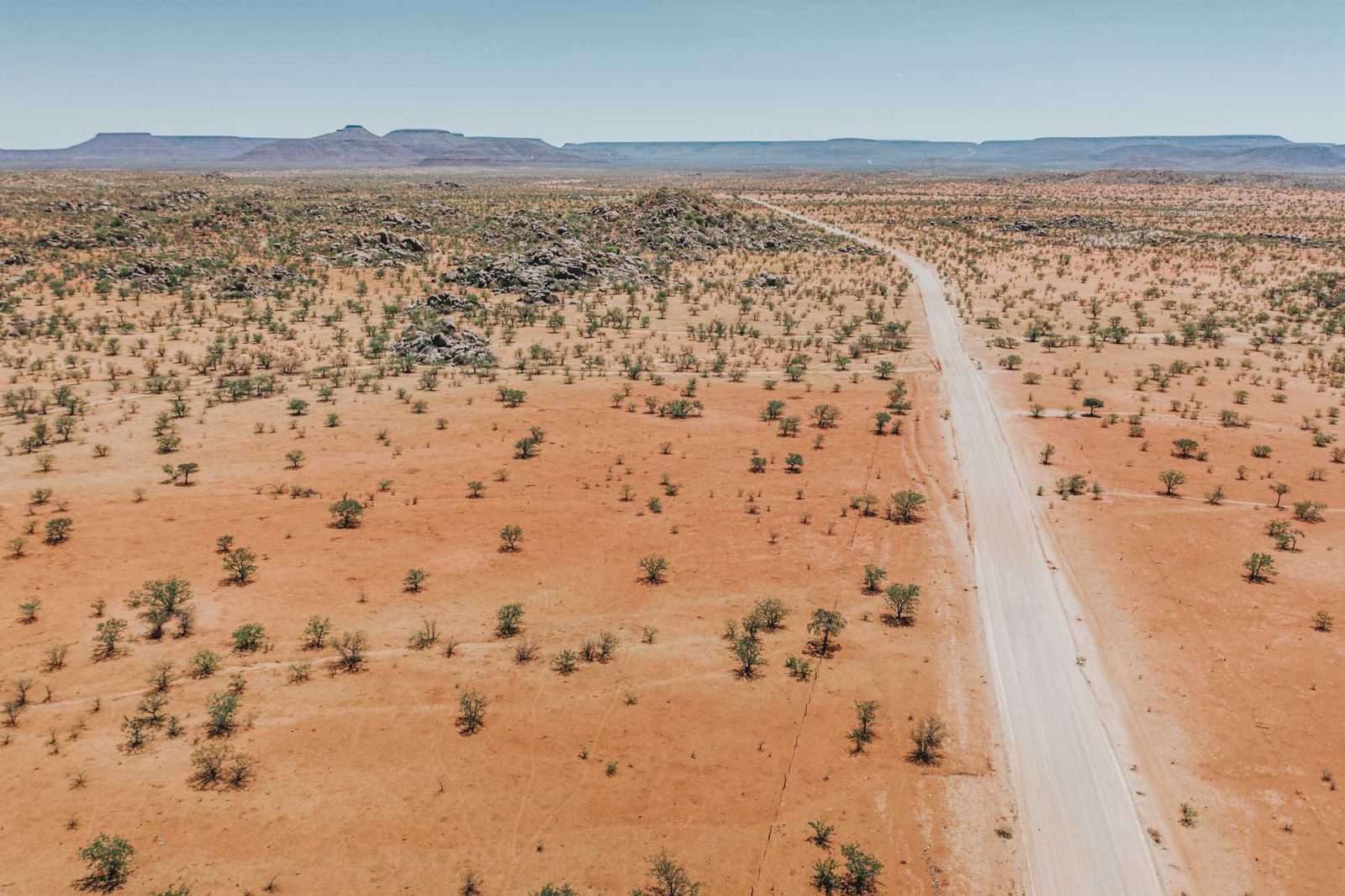 Roundtrip rentals are much more cost-efficient than different pickup and drop off rentals so budget accordingly. If you are crossing borders and travelling from South Africa to Botswana and Namibia we suggest you rent your vehicle in South Africa. It will be less of a hassle and you will find a better deal.
Namibia Car Rental Pick Up Locations
When renting a car in Namibia the most popular pick-up locations are at the Windhoek airport, in Windhoek, Swakopmund and Walvis Bay.
Car Rental Windhoek Airport

– There are 8 car hire Windhoek agencies at the international airport. We would suggest you pick your car up from here if you are bypassing the capital city, short on time, or starting your road trip right away.

Car Hire Windhoek City

– There are over 20 car rentals in Namibia's capital city. If you are going to be exploring the capital for a few days before starting your road trip, hire a vehicle from one of the car rental Windhoek agencies.

Car Hire Walvis Bay

– There are 15 agencies for car hire Walvis Bay. Many people will put up a car here to head into Sossusvlei and the Namib Desert.

Car Rental Swakopmund

– There are 10 agencies for car rental Swakopmund. Due to the fact, Swakopmund has flights back to Windhoek many people drop their vehicles here so they don't have to loop back to Windhoek.
An Important Tip: Get the Right Equipment
Distances between towns and tourist attractions are long in Namibia. So one of our top Namibia tips is to ensure your car is well equipped in case you get a flat or get stuck in the sand. It could be hours before a tow truck or roadside assistance comes, so it's better if you can help yourself.
Make sure your car has the following:
Spare tires – and you know how to change them!

Bull Bar

Snorkel

Tow Rope

Jumper Cables

Air Compressor

First Aid Kit

Extra water and snacks in case your car breaks down and you need to wait for help
All of these and lots of other extras were included in our Namibia 4×4 Rental which gave us peace of mind during the trip.
Car Rental Namibia Insurance
While renting a car in Namibia and going on a road trip is relatively safe, we saw too many examples of flipped cars, stuck cars and damaged windshield to know that things do go wrong!
So, get full car insurance coverage or make sure your credit card can cover you in case of damages. Chipped windows and flat tires are unfortunately the most common occurrence. If no insurance is taken out on your rental car, be prepared for a very big hold to be placed on your credit card by your Namibia car rental.
Our credit cards offered comprehensive car insurance for our rental, but as we did not take out full insurance from the car rental company directly, our temporary hold was $3000. It was a big sum, so we were extra careful not to lose our deposit!
READ NEXT: THE BEST TRAVEL INSURANCE FOR US CITIZENS
Self Drive Namibia Itinerary and Namibia Driving Times
This self-drive Namibia road trip itinerary ticks off the country's top attractions. As you can see, Namibia's driving times can be long, so spend a couple of days in each location before hitting the road again.
Namibia by Car Itinerary
Windhoek to Waterberg:

3 hours and 15 minutes // 307 km

Waterberg to Otjiwarongo

(Cheetah Conservation Fund): 1 hour and 20 minutes // 102 km

Otjiwarongo to Etosha National Park

: 1 hour and 45 minutes // 170 km

Etosha National Park to Grootberg Region

(Rhino Tracking): 3 hours and 30 minutes // 275 km

Grootberg Region to Cape Cross:

4 hours and 30 minutes // 335 km

Cape Cross to Swakopmund:

1 hour 15 minutes // 120 km

Swakopmund to Sossusvlei:

5 hours and 10 minutes // 402 km

Sossusvlei to Luderitz:

6 hours and 25 minutes// 500 km

Luderitz to Fish River Canyon:

4 hours and 40 minutes // 430 km

Fish River Canyon to Windhoek:

6 hours and 50 minutes // 675 km
No Namibia self-drive blog can capture the beauty and adventure of going on a road trip in Namibia. However, we can advocate that renting a car in Namibia is something you won't regret!
A Namibia road trip is a once in a road trip experience you should take advantage of if you ever get the chance.
Have you ever been to Namibia? How did you get around the country?