Vibrant culture, an abundance of historical sights, and truly awe-inspiring natural landmarks have long made Jordan a destination at the top of our travel wish list.
*This post may contain affiliate links, as a result, we may receive a small commission (at no extra cost to you) on any bookings/purchases you make through the links in this post. As an Amazon Associate, we earn from qualifying purchases. Read our full disclosure
And while many tourists flock to this beautiful country with only one goal in mind – to see Petra – we knew there were plenty of other incredible things to do in Jordan. To make sure we didn't miss any of the best Jordan attractions, we opted to experience the country with G Adventures, a responsible tour operator that offered us a unique perspective on the country through their National Geographic Explore Jordan Tour.
Here are the best destinations we visited during our Jordan tour!
Top Things To Do in Jordan
It didn't take long for us to notice that history reverberates through the top Jordan attractions, as the nation plays host to many of the world's oldest and most impressive ruins dating back to before the Roman Empire.
And despite not being history buffs, we still found plenty of interesting things to do in Jordan including hikes and active adventures and unique bucket list experiences!
Places To Visit On A Jordan Tour
Amman
Soak in the sights and sounds of Jordan, in the nation's capital of Amman. This modern, sprawling city is loaded with ancient ruins. The most impressive among them are the Roman Amphitheater and the Amman Citadel.
Traveling Soon?

Here is a list of our favourite travel providers and accessories to help get you ready for your upcoming trip!
Make some time to dine on delicious local cuisines, like falafel and hummus or shwarma along Rainbow Street.
Then shop to your heart's content! Be wary of souks and souvenir shops, many of which sell nothing but cheap Chinese trinkets. For a more responsible shopping experience head to the Wild Jordan Centre, owned by The Royal Society for Conservation of Nature where you can purchase high quality nature-inspired handmade products that benefit artisans across the country.
Jerash
Located just north of Amman, the ruins of the ancient city of Jedash, offer incredible visitors incredible insight into the Roman Empire. The city is known as one of the best-preserved Roman provincial towns in the world and is full of landmarks to explore.
We spent a couple of hours exploring Jerash and particularly enjoyed checking out the Hippodrome, where dramatized gladiator battles and chariots races were performed, Hadrians Arch, the Forum, the Temple of Artemis, and Nymphaeum Fountain.
To get the most of your visit, we recommend exploring Jerash with a local tour guide who will help you to fully understand the historical importance of this ancient site. We were glad to have one our G Adventures guide accompany us throughout the trip to share the historical details and cultural insights with us along the way.
Madaba
Madaba is a city most well-known for its Byzantine mosaics and the holy sites that surround it. In particular, people come from near and far to marvel at The Madaba Map, a famous sixth-century mosaic map of the Middle East, and arguably one of the most unique Jordan attractions.
The Madaba Map is also known as the Map of Jerusalem and the Holy Land and can be found within the Greek Orthodox Church of St.George. Other impressive mosaics can be found covering the floors and walls of the Church of the Virgin and the Apostles and inside many of the Byzantine churches within the sprawling Madaba Archaeological Park and Museum.
Little Petra
Get a taste for what Petra has to offer at her sister site of Siq al-Barid, otherwise known as Little Petra. The small site located about 5km from Petra itself is best described as a suburb of Petra.
Little Petra features a number of temples, houses, tombs, and caves. Plus a chance to see an ancient Nabataean fresco on one of the walls of the caves, that you won't find at Petra. The relative tranquility of Little Petra when compared to Petra itself, makes it worth adding to your list of places to visit in Jordan.
Petra
The famous Lost City of Petra is undoubtedly the highlight of any Jordan tour. It was established and served as the capital of the Nabatean Kingdom from about 300 BC to 100 AD.
Over the years the city was abandoned as earthquakes dissembled much of city but the buildings themselves remained standing, especially those ornately carved in the red sandstone cliffs.
Highlights of Petra include the Treasury, the Monastery, Colonnaded Street, the High Place of Sacrifice, tombs, and the surrounded trails. To get most out of your visit to this wonder of the ancient world invest in a good tour guide or follow our tips for visiting Petra.
Wadi Rum
Wadi Rum is the ultimate place to experience the desert and true Bedouin culture and is a destination worthy any Jordan tour itinerary. The landscape is full of sand dunes, sandstone formations, and deep gorges where the Bedouin nomads have been thriving for thousands of years.
Opt for a desert safari and camping under the stars to immerse yourself in Wadi Rum's glory. Then learn about the rich history of the Wadi Rum area made famous by ancient traders, like Lawerance of Arabia.
Dead Sea
Going for a float in the Dead Sea is definitely a bucket list experience and one of the coolest things to do in Jordan. The Dead Sea is the lowest place on Earth at about 400 meters below sea level and located between Jordan and Isreal.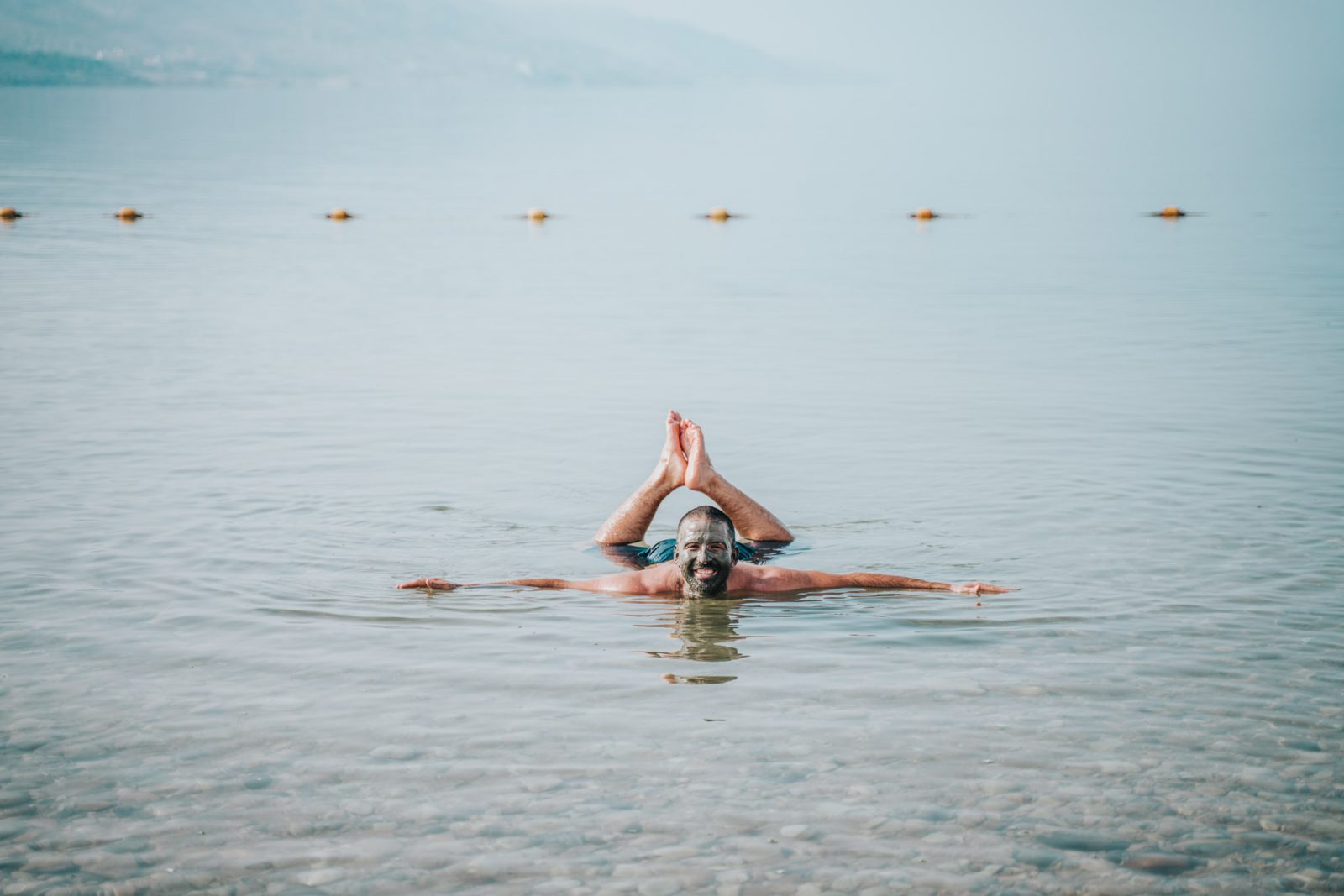 The Dead Sea gets its name from its high salt content. At 25-30% salt content no animals, plant life, or fish can survive in its waters. But despite the lack of life in the sea, the Dead Sea salt and particularly its mud is said to contain lots of minerals, that are small enough to penetrate your skin pores, nourishing your skin, improving blood circulation, and promoting a natural, youthful glow.
There are no public beaches on the Jordanian side of the Dead Sea, but it is still possible to visit the Dead Sea by staying at one of the hotels lining its shores. Each hotel has its own private beach with lounge chairs, lifeguards and other comforts.
Mujib Biosphere Reserve
Mujib Biosphere Reserve is definitely a lesser-known Jordan tourist attraction. However, it was one of our favourite spots in Jordan. If you love a bit of thrill and adventure, you'll love spending an afternoon at the Mujib Biosphere Reserve.
The Mujib Biosphere Reserve is the lowest nature reserve on Earth, but its complex river system enables it to support a rich biodiversity with over 300 species of plants, 10 species of carnivores and numerous species birds The scenery in the reserve is absolutely stunning, resembling that of Petra, and the opportunity to trek, swim and rappel through the water-filled Siq canyon at Mujib is an unforgettable adventure.
The most popular trails through the reserve include the Siq, Malaqi, Ibex, and Canyon trails. Most of these are considered 'wet trails' requiring visitors to pass through natural swimming pools and waterways.
Essential Jordan Travel Information
If you are planning a visit to Jordan, there are a few things to keep in mind:
Visa to Jordan
Citizens of most nationalities require a visa to enter Jordan. However, since most can obtain a visa upon arrival for a period of 2, 3 or 6 months for a fee, the process is rather seamless. A great way to get more for your money is to invest in a Jordan Pass, issued by the Ministry of Tourism. This pass will include both your Visa Fee along with entrance fees to some attractions, like Petra.
Best Time to Visit Jordan
We had a great time on our G Adventures Explore Jordan Tour and were lucky enough to visit Jordan in August when the weather was great for almost all adventures in the country. Since Jordan does have four distinct seasons, it's important to plan your trip to Jordan for the right time of the year to ensure that you don't miss seeing or experiencing anything due to bad weather.
Jordan has four distinct seasons, corresponding to seasons in Northern Hemisphere. Spring is from March to May, summer is from June to September, fall is from October to November and winter is December to March.
Most people agree that the best time to visit Jordan is in Spring from April to May and from late summer to fall during the months of September and October. In the spring and fall, Jordan comes alive with verdant wildflowers and weather is a most comfortable.
The time of the year is particularly important if you plan to spend time in Wadi Rum or in the Mujib Biosphere Reserve. In Fall and Winter, the desert of Wadi Rum can get quite chilly and rather uncomfortable, especially at night, when temperatures can drop below0ºC.
For those looking to visit Mujib Reserve, it's important to keep in mind that the Canyon Trail does not stay open throughout the year and the wet adventure may not be available to those visiting in the months of November-January.
Best Way to Experience Jordan
It is certainly possible to explore Jordan independently. JETT Bus Company (Jordan Express Tourist Transportation Company) operates a comfortable bus service from Amman to Aqaba and Wadi Musa. Minibusses are also a common method of public transport.
Tourists can rent cars in Jordan and since the roads are good, driving yourself around the country is another great transportation option.
However, we do recommend hiring a local guide when visiting most, if not all, destinations in Jordan. With so much history and cultural nuances, there is a lot to learn. Our G Adventures guide was invaluable during our Explore Jordan Tour. He offered a wealth of information and helped us get the most of our time in each destination and was just one of the many reasons why we loved exploring Jordan on a G Adventures tour.
It was important for us to choose not just any tour operator for this trip, but one that was known for its responsible business practices and ethical operations. We were glad to see G Adventures' commitment to sustainable travel in action during our own trip.
Have you ever been to Jordan? What are your favourite sights and attractions in this beautiful country?
Disclaimer: We traveled to Jordan as guests of G Adventures and experienced the country on their 8-Day Explore Jordan Tour, but all opinions expressed in this article are our own. This post also contains affiliate links that allow us to earn a small commission (at no additional cost to you) on purchases you make through links in this article.