The town of Swellendam, located 2 hours outside of Cape Town is a destination that doesn't make it onto every South African itinerary. But we found it to be an ideal stopping point between the wineries of Franschhoek and the start of the Garden Route.
*This post may contain affiliate links, as a result, we may receive a small commission (at no extra cost to you) on any bookings/purchases you make through the links in this post. As an Amazon Associate, we earn from qualifying purchases. Read our full disclosure
It was here, in the countryside of Swellendam, at the Jan Harmsgat Country House that we found a perfect place to relax and enjoy good food, great wine, and lovely company of local hosts.
About the Lodge
Surrounded by mountains, vineyards, and pecan trees, Jan Harmsgat Country House, a historic Country House and Farm, is the perfect place for an idyllic retreat.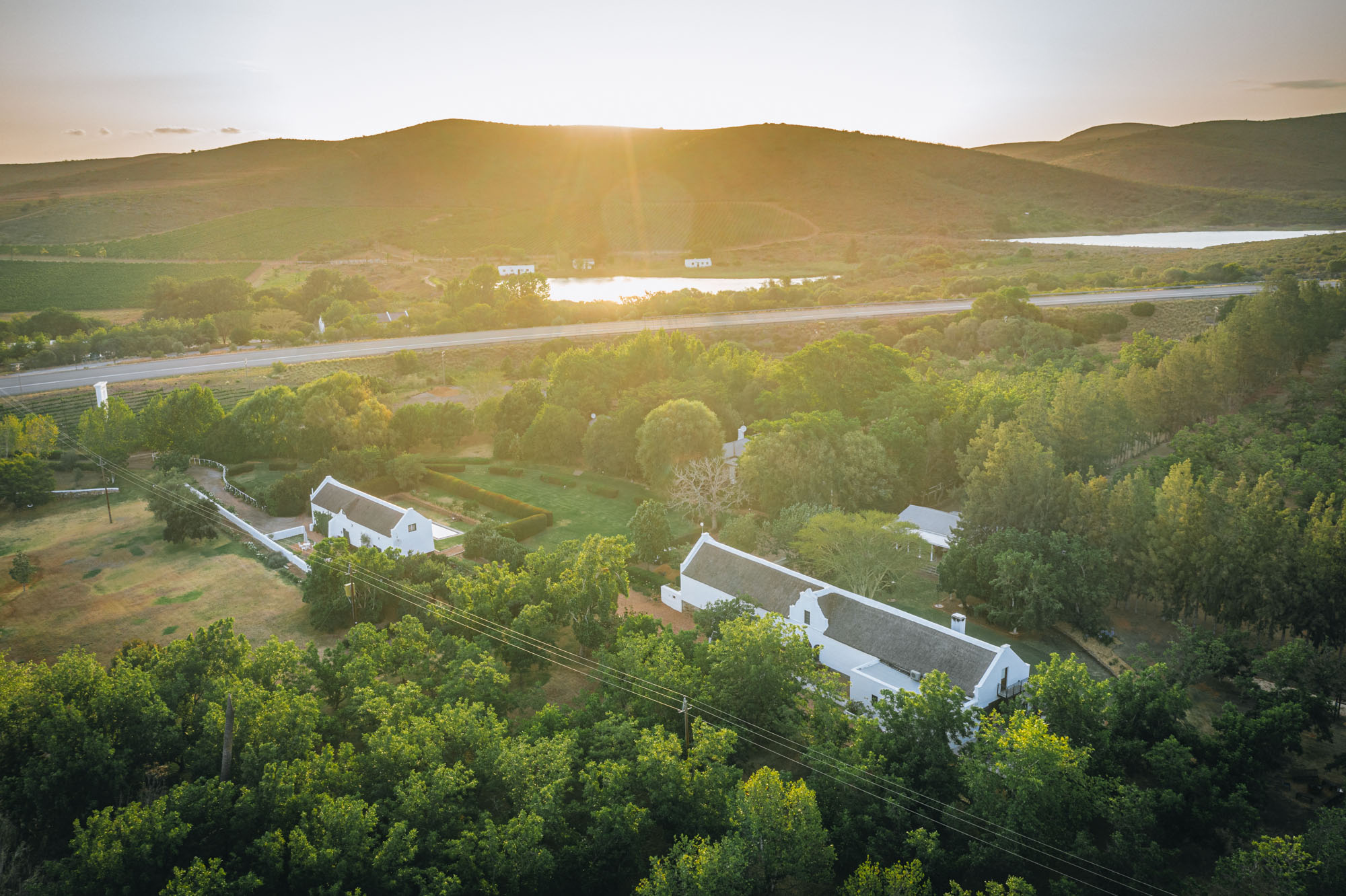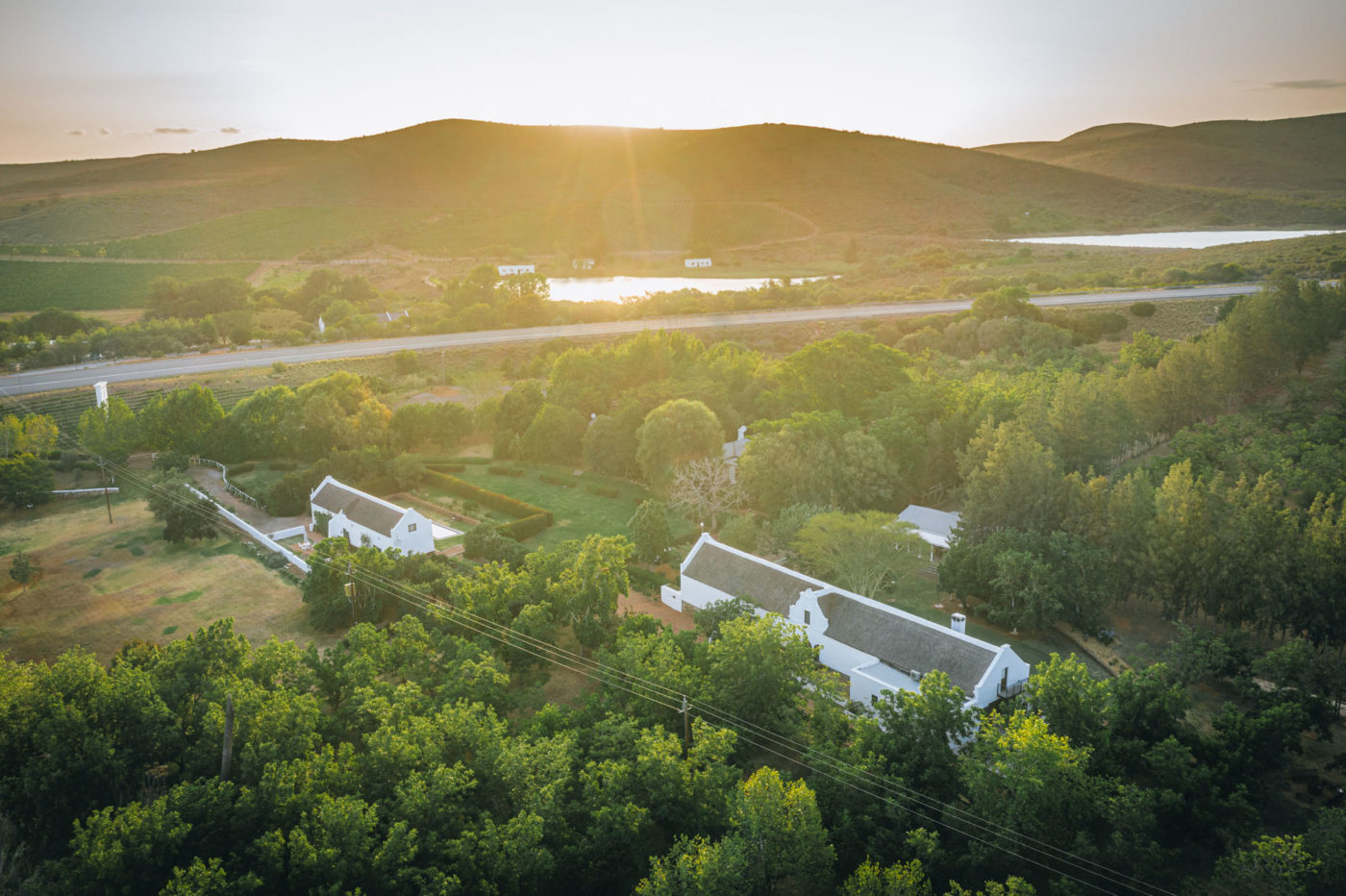 Traveling Soon?

Here is a list of our favourite travel providers and accessories to help get you ready for your upcoming trip!
Their 5-Star guest accommodation, comprised of 10 exclusive rooms, is located on a 680-hectare working farm but features all amenities and conveniences of the modern-day.
The Rooms
The Jan Harmsgat Country House has ten suites in various sizes located in three different buildings. They're cozy, rustic Victorian-style rooms, with modified thatched roofs and open floor plans. Each room has an en suite bathroom, most common amenities, and some even feature heated flooring.
We stayed in their Executive family Suite, which offered plenty of space and a lovely private verandah. We particularly loved the little touches around the room.
Food & Drink
Jan Harmsgat's on-site restaurant, Just Amy, was one of our favourite spots at this country house.
Their menu changes frequently to reflect whatever is seasonal, as all ingredients are fresh and many are grown right on the farm. Produce is harvested daily from the gardens, the pecans for the pecan pie are harvested from the Jam Harmsgat orchard, and all pasta is handmade. Mains included delicious options like the grilled duck breast and slow-roasted lamb shank, but also offered a nice selection of vegetarian dishes.
Surprisingly, our favourite meal at Jan Harmsgat was, actually, breakfast! We loved their eggs benedict and other yummy breakfast choices and didn't miss an opportunity to start our days with freshly squeezed pomegranate juice!
Activities
There aren't a lot of activities on offer at Jan Harmsgat so be prepared to spend the day doing nothing at all! Of course, the pool is a great place to cool off from the heat and their orchard and vineyard offer a few walking trails for those wanting to get outside.
Wine Tasting is another great way activity on the farm, as Jan Harmsgat produces its own highly appraised single-block JHG Wines. 5-6 wine varieties are on the tasting menu and a guided tasting experience can be arranged at any time of the day.
The Backlands Farm Tour was the highlight of our stay! We drove through the vineyards, learning all about Jan Harmsgat's farm and enjoyed an incredible picnic while watching the sun dip beneath the horizon.
Sustainability
We were impressed to learn that the Jan Harmsgat Country House operates a fully functional farm on site. The orchard and the gardens supply much of the hotel's organic produce, and it also acts as a nature reserve for black wildebeest and a number of other native animals.
The staff of Jan Harmsgat all come from local communities and also live on the farm, where the staff is more like an extended family. On top of that, Jan Harmsgat is also Fair Trade Accredited, having been awarded the Fair Trade in Tourism S.A. Trademark.
The Bottom Line
Dating back to the 1600s, the Jan Harmsgat Country House in Swellendam, South Africa oozes charm and long history. It's cozy and warm, with accommodating staff set in beautiful countryside. It's a perfect stopover on the Garden Route and a great destination to spend a couple of days in the region.
Disclaimer: Big thanks to Jan Harmsgat Country House for hosting us here during our time in South Africa. As always, all opinions expressed in this article, are our own.