A charming city of Swakopmund is a seaside resort popular with Namibians and foreign visitors alike. Located on the windswept Atlantic coast, Swakopmund is a popular destination on any Namibia itinerary, but it is especially popular with adventure seekers.
*This post may contain affiliate links, as a result, we may receive a small commission (at no extra cost to you) on any bookings/purchases you make through the links in this post. As an Amazon Associate, we earn from qualifying purchases. Read our full disclosure
This lovely city with German colonial architecture and beautiful beaches is known to offer great sand dune boarding, kitesurfing, hot air ballooning and other activities.
But it's not all about adventure is this city. Those who prefer a more relaxed experience can enjoy the other things. For example, a charming seafront, trip to some top-class cultural institutions, including energetic art galleries and history-rich museums.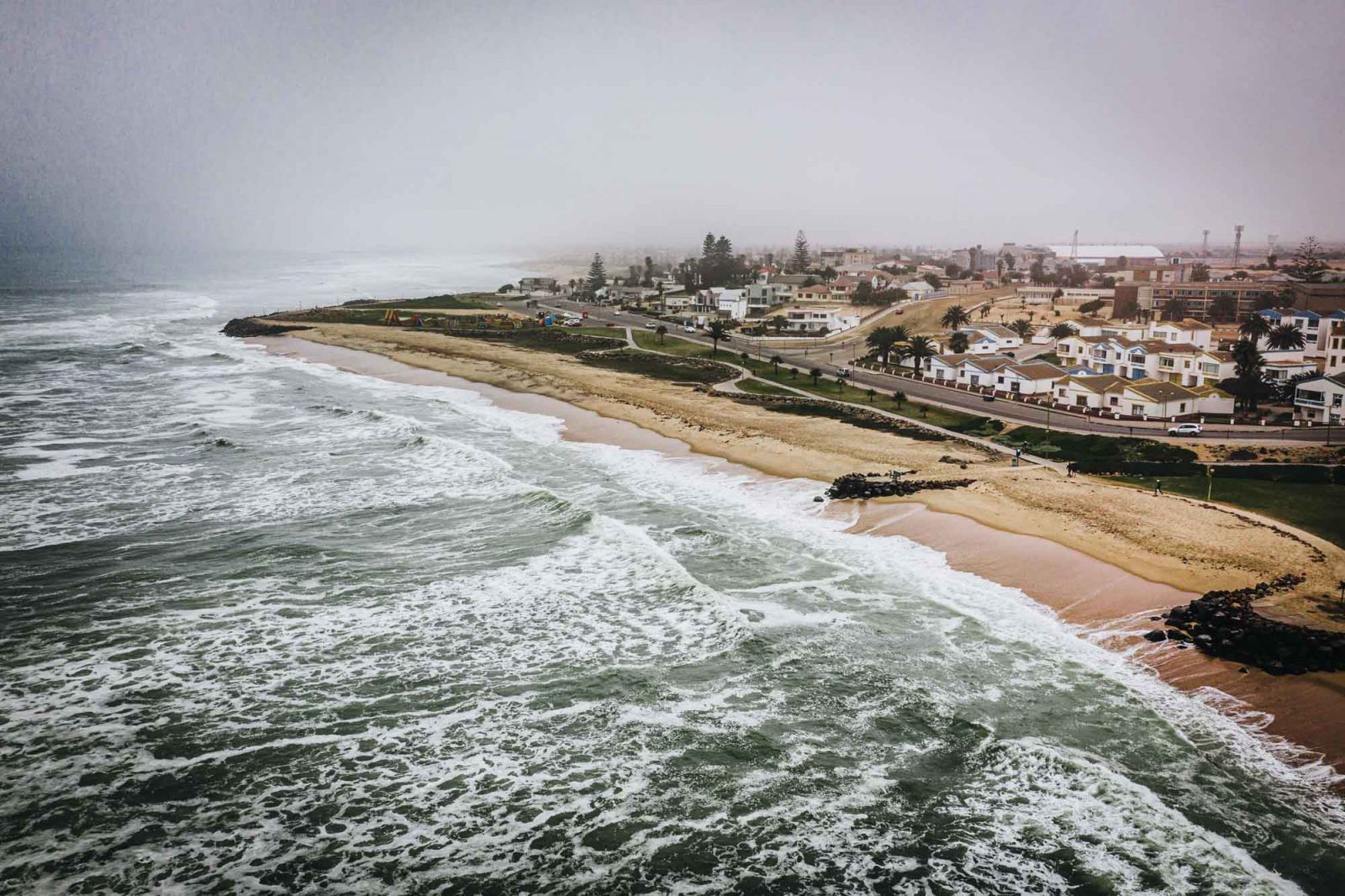 Traveling Soon?

Here is a list of our favourite travel providers and accessories to help get you ready for your upcoming trip!
Regardless of whether you come for the adventure or the architecture, our Swakopmund travel guide showcases some quality places to visit in Swakopmund Namibia that will surely satisfy your desires.
Best Things to do in Swakopmund, Namibia
Sunset at Swakopmund Jetty
It isn't too often that an unfinished structure becomes one of the main attractions in any city, but that is exactly what has happened in the case of the Swakopmund jetty.
Located just south of the lighthouse, the Swakopmund Jetty is a popular gathering point for locals and tourists alike who flock here nightly to enjoy the radiant setting of the sun as it melts into the Atlantic Ocean. The jetty was abandoned in the early 20th century, but this iron pier has stood the test of time.
Luckily, the area around the jetty is filled with cafes, bars and restaurants providing a top vantage point to enjoy the daily show.
Unique Colonial Architecture
Another popular thing to do in Swakopmund is to stroll around town and enjoy the charm of the city's splendid colonial German architecture.
For many, the unique architecture of the city tops the list of Swakopmund attractions. Local landmarks such as the Woermannhaus, a former trading house from the turn of the century, continue to play a major role in the city's cultural identity. Also, be sure to pay a visit to the Bahnhof, once the city's main railway station which today stands as another of its most beautiful colonial remnants.
Down by the ocean, the Swakopmund lighthouse has stood for over a century as a warning beacon for ships traveling along Namibia's notorious Skeleton Coast.
Hit the shops at Brauhaus Arcade
As a major city, drawing people from across Namibia to live and work, it provides a great opportunity to purchase locally handmade items such as leatherwork, textiles as well as art.
If you are looking for fun things to do in Swakopmund, consider visiting the Brauhaus Arcade, a complex of restaurants, cafes and shops with a distinctly German ambiance. For a true Swakopmund shops experience, head for a pint of locally brewed Helles or Weissbier before exploring distinctly African paintings from talented local artists.
Local Cultural Institutions
Swakopmund is renowned as a center of science, culture and the arts not just in Namibia but across southern Africa.
Swakopmund Museum provides an opportunity to gain an insight into the city's rich history. The museum is located next to the Lighthouse and the focus here is on Namibian culture and wildlife, with intriguing exhibitions on the colonial-era, providing an insight into a turbulent past.
The local Fine Art Gallery is the perfect place to admire and purchase local art. The selection is diverse, with traditional and modern examples, yet the running theme here is the fact that everything are local artists' creations.
Another option for local art is African Kirikara, an art gallery and shop specializing in locally woven textiles. If you are lucky, you might just catch one of the artists in the process of weaving, an incredibly intricate process that many find captivating.
Sample Delicious Local Cuisine
Nowhere else in Namibia can foodies enjoy such a wide variety of cuisines, with German-style cafes sitting beside modest locales serving up freshly grilled seafood. The restaurants are as diverse as they are delicious!
For a taste of Swakopmund's German colonial heritage, a trip to Swakopmund Brauhaus is a must. Order a plate of eisbein along with a pint of cold beer brewed locally for a real taste of the city's special version of German culture.
Another great option for German food is Kücki's Pub, which serves traditional Bavarian fare in cozy surroundings.
Sampling the city's famously delicious seafood is a must for anybody visiting the town, with two restaurants especially standing out for their fabulous fish dishes.
The Jetty Swakopmund 1905 is located on the famous pier and serves up refined seafood dishes in slick surroundings whilst nearby The Tug Swakopmund is something of a local institution situated on an old turn of the century tugboat. Whether you choose the mussels, oysters or a piece of freshly grilled fish, everything on the menu here is as fresh as can be and was probably plucked from the ocean that very morning. One of the big benefits of the Tug is that they offer a complimentary shuttle for those guests who do not have their own Swakopmund car hire.
Last but not least, Brewer and Butcher offers a slice of Williamsburg-style hipsterdom in the heart of town, serving up homebrewed beers and a brand of Namibian-German fusion that is as delicious as it is unique.
With a reputation as one of the premier destinations for extreme sports in all of Africa, the adventure activities are plentiful and can quicken the pulse of any enthusiast. These days, the airport is packed with travellers flocking here for an adrenaline fix.
Thanks to the fact that the town is located on the edge of Namib-Naukluft National Park, day trips from Swakopmund include hikes, camel rides, Swakopmund safari, desert trips and more.
Swakopmund Sandboarding
One of the most popular extreme sports opportunities is the chance to go dune boarding or sandboarding in the Namib desert at the famous Swakopmund dunes, just outside of town.
Moreover, the enormous Swakopmund sand dunes soar over the horizon, providing the perfect spot for some serious carving. Operators throughout the city offer day trips to the dunes, providing boards, helmets and goggles so all that you need to focus on is enjoying the thrill that awaits. If you've never been sandboarding before, we highly recommend it. It's probably one of the most fun activities in Swakopmund.
Swakopmund Desert Tours
One of the best desert tours in Swakopmund is a Sandwich Harbour 4×4 Tour that takes you to an incredible place where the giant sand dunes run straight into the ocean. Located just south of Walvis Bay, outside of Swakopmund, Sandwich Harbour is not a destination that can be explored on your own, even if you have a 4×4. The dunes here are so massive and the winds are so strong that expert level navigation and thus a guide, is mandatory!
The tour includes a drive along the beach, some gentle hikes to the top of massive sand dunes and an exhilarating experience driving on sand dunes! The Sandwich Harbour is not frequently visited by travelers from Swakopmund and is still considered a bit off the beaten path, but it was one of our favourite Swakopmund tourist attractions and is one we would definitely recommend adding to your list of things to do!
If you want the thrill of the giant sand dunes, but don't think you can enjoy the ride as a passenger, consider booking a Swakopmund Quad Biking tour. The adventure begins in Swakopmund where an experienced guide will set you up with a quad bike and lead you through the Swakopmund River mouth into the dune belt. These Swakopmund tours range from 45 mins to 6 hours, offering plenty of adventure for every thrill seeker.
If you would like to see the mystical sands of the Namib from an even greater height, skydiving is also a popular option for those seeking adventure and fun things to do in Swakopmund. Take a plane up 3000 meters before free-falling over the stunning landscape and parachuting gently back to earth.
The skydiving experience might be more expensive than other options around town, but the combination of thrills and stunning views on offer make this a true once in a lifetime experience.
Hot Air Ballooning
For those who prefer to take their desert adventures at a slower pace, there are certainly some more laid back things to do in Swakopmund as well. In fact, the town is home to a selection of companies offering hot air balloon expeditions over the rolling dunes of the Namib.
Most of these take place at sunrise when the desert is at its most spellbinding, ensuring that your hot air balloon experience is truly one to remember.
Swakopmund Surfing
Whilst the Namib desert quite rightly gets most of the attention when it comes to adventure sport in and around the city, the area is also a playground for watersports.
Surfing is a popular activity in the region with the cold but powerful swells of the Benguela current making for some incredible opportunities to surf uncrowded, consistent waves.
Close to town, the best spots include Dolfynstrand, Walvis Bay, Namibia and Jorg Henrichsen Park whilst north of town the famous break at Setters should only be attempted by the most hardcore of riders.
For novice surfers looking to learn the ropes, Skeleton Bay offers tamer waves than its haunting name might suggest. Undoubtedly, surfing has become one of the top things to do in Swakopmund for visitors from across the globe.
Kitesurfing in Walvis Bay
In addition to developing a reputation among surfers, the beaches here are also fast gaining respect as a kitesurfing mecca. Walvis Bay is the closest option for kitesurfers in Swakopmund, with the high winds and choppy seas here making ideal conditions for some serious fun on the water.
Another extreme adventure awaits just a few miles northeast of town when the flat plains of the desert give way dramatically to the soaring peaks of Spitzkoppe, a granite outcrop reaching over 1,700 meters in height.
Known to many as the Matterhorn of Africa, Spitzkoppe is a hub for climbing in the nation and its peaks attract professional and amateur climbers alike. An unmissable experience for any climbing enthusiast is camping overnight at the foot of Spitzkoppe, with expeditions available to book throughout the city. Book a tour out to Spitzkoppe in town or grab a Swakopmund car rental to drive there yourself.
Where to Stay in Swakopmund
Swakopmund accommodation options are plentiful, with lots of hotels, B&Bs and even Swakopmund camping options available in town.
The best hotels in Swakopmund are usually found in the southern end of the city, near Palm Beach. If you are looking for cheaper places to stay in Swakopmund, consider the Northern part of the city, the area around Hage Heights, where you can find a room for under $50/night.
We did a lot of research when looking for the best Swakopmund hotels for our visit, so here are a few we recommend.
Strand Hotel Swakopmund

is known as a local favourite and a popular destination resort in the city. Their rooms are spacious and the hotel offers direct access to the main beach in town.

The Dome Swakopmund

(BON Hotel) is an ideal accommodation for those who don't want to skip out on their workouts. Swakopmund's top gym and sports centre, the facilities here are good enough to put even the most experienced exercise fanatic through their paces.

The Delight Swakopmund

– this eco-conscious Gondwana Collection Swakopmund hotel in town is conveniently located within short walking distance of the 'Mole. It consists of 54 rooms with en suite bathrooms, and a great affordable restaurant on site.
No matter what things you choose to do during your time in town, the peculiar charm and warmth of Swakopmund, Namibia are sure to make your stay a memorable one.
Looking for more Namibia destinations? Check out our ultimate Namibia itinerary!
Have you ever visited Swakopmund, Namibia? What other Swakopmund activities would you recommend to fellow travelers?