Located in Southern Africa, Namibia is a land of extremes. It has the largest population of cheetahs on the planet, the highest sand dunes, and the oldest desert. It is one of the least densely populated places on the planet and over half of the country is under conservation management. Yet there are so many amazing things to do in Namibia that many regard it as one of the most adventurous destinations in all of Africa.
*This post may contain affiliate links, as a result, we may receive a small commission (at no extra cost to you) on any bookings/purchases you make through the links in this post. As an Amazon Associate, we earn from qualifying purchases. Read our full disclosure
We spent 2 weeks exploring Namibia in December 2019, following an itinerary full of top attractions and some off the beaten path destinations. We were blown away by the country's vastness and emptiness and fascinated by its rich wildlife (how do they survive in all that heat is still beyond us), the ever-changing landscapes, and the unmissable German/Dutch influence.
---
Here is a recap of our favourite destinations and a few more that we think should make it onto the ultimate list of things to do in Namibia.
---
Architecture & Arts in Windhoek
Most travelers start their Namibia trip at the heart of it all – in the capital city of Windhoek. And we did too! We were short on time so we arrived in the city, rented a car and got on the road. But if you have a bit of time to linger in the capital, consider visiting the following attractions.
Spend your first day exploring this unique city that feels more like a suburb than a capital, but is also considered one of the cleanest cities in Africa.
Traveling Soon?

Here is a list of our favourite travel providers and accessories to help get you ready for your upcoming trip!
Christ Church (or Christuskirche) is perhaps the most well-known attraction in Windhoek. Built during the early 1900s, the church's unique architecture stands out in the city center. Next door is the pretty Parliament Gardens and the bronze statues of Namibian nationalists.
If museums are your thing, visit the National Museum of Namibia, located in a former military fort and the oldest building in the city. Explore the history of the nation and its indigenous peoples and have a look at the impressive rock art collection which is one of the largest in the world.
Don't miss a visit to the Namibia Crafts Centre for local handicrafts. The center sells handicrafts from impoverished communities across the nation. Your purchases here put much-needed money back into rural communities. We recommend saving a visit to this shopping mecca until the last day of your itinerary, so you can stock up on souvenirs before you leave the country!
Where to Stay in Windhoek
Hotel Uhland is a comfortable, family-run hotel located in the city center which should make its way onto your Namibia itinerary. It features an outdoor pool, complimentary breakfast, and has a number of sustainable initiatives in place. It's not the most glamorous place to stay, but we appreciated that it was locally run and the staff were really lovely.
Hiking & Wildlife in Waterberg Wilderness Reserve
Waterberg Wilderness Reserve is known for its rare flora and fauna and impressive geological formations. At the heart of the reserve is Waterberg Plateau, which is often likened to Namibia's "Table Mountain". It rises up over 200 metres and climbing it is a highlight of any trip to the reserve.
We didn't get a chance to fit this into our itinerary but heard so many great stories about this area from other visitors that we regret not making a stop here.
You can go on a guided hike to Table Mountain to discover the area's rare flora and fauna and learn about the history of the local Herrero people. The views from the top are breathtaking and you may even spot buffalo, rhino, and antelope on this Namibia plateau.
Waterberg Wilderness is one of the best safari destinations in Namibia and you can experience safari here on foot or in an open-top jeep. Rhinos, antelope, zebra, giraffe, impala, warthog, jackal, hyaenas and even leopards roam the plains.
Where to Stay in Waterberg Wilderness Reserve
Waterberg Wilderness Lodge is run on solar power and was built on sustainable business practices. There are 10 double rooms and 4 family rooms, food on-site, and beautiful communal areas like the outdoor pool which is surrounded by lush native gardens. It sounds like the perfect spot to stay in the Waterberg Wilderness area.
Learn about Cheetahs at Cheetah Conservation Fund in Otjiwarongo
The Cheetah Conservation Fund is the biggest cheetah conservation project in the world. It was founded in 1990 to save the species whose habitat has been 90% lost in the last 100 years. It is a fascinating place to visit and one of the best Namibia tourist sites for animal lovers. It will give you a deeper appreciation and understanding of the human-wildlife conflict that has been prevalent in Namibia and other parts of South Africa for decades.
The Cheetah Conservation Fund offers four daily activities. Anyone can visit the museum and visitor center at their own pace. However, the walking tour takes guests through the education center, museum, clinic, creamery, and introduces guests to the cheetahs, dogs, and other animals that live on site.
The Cheetah Run is part of a program that trains resident cheetahs to "hunt" and offers an opportunity for guests to see what these cats do best.
A Cheetah Drive takes guests out onto the wider Namibia property to see cheetahs in the field and the Cheetah Feeding program is included as an add-on with all other tours.
The Cheetah Conservation Fund is not a zoo, so while you can get up close to the cats, it is important to remember the critical role that this organization plays in Namibia and in all of Africa. Visit, donate funds, or some of your time and don't forget to learn about some of their incredible breakthrough projects like their Genome Resource Bank.
Where to Stay near the Cheetah Conservation Fund
The Cheetah Ecolodge is located on-site at the CCF and has two accommodation options. Visitors can stay at Babson House, a private luxury guesthouse, or Cheetah View Lodge which has 5 rooms and views of the bush. Proceeds from the lodge and activities at CCF go towards cheetah conservation and efforts to promote ethical farming and coexistence in Namibia.
Safari in Etosha National Park
Visiting Etosha National Park is definitely one of the top things to do in Namibia. This huge national park located in Northern Namibia has a barren otherworldly landscape. The eastern part of the park is comprised of a salt flat and the west is equally desolate. Despite the lack of bush cover and the harsh environment the park continues to be home to an abundance of animals and is often ranked as one of the best safari destinations in the world.
Etosha is home to the Big Five (lion, rhino, elephant leopard, and buffalo) as well as wildebeest, zebra, giraffe, and springbok. In total over 100 types of mammals and nearly 350 species of birds can be found within the park. It is one of the Namibia tourist attractions that is a highlight of any Namibia itinerary!
Self-driving in Etosha is allowed, although visitors must stay on the designated roads, so you don't need a guide or an expensive safari package to visit the park, which makes it more accessible to travelers on any budget. But we found that going with a local guide greatly increases the chances of spotting wildlife, as they are true experts in this environment.
In the dry season, wildlife congregates around a number of watering holes, found within the park. The tracks which criss-cross the massive park connect the waterholes. In the wet season, water is found in many other parts of the park, making it harder to spot wildlife in the open.
Where to Stay in Etosha National Park
For an eco-luxe experience, book Etosha Safari Lodge with 65 comfortable bungalows, a restaurant, and a long list of sustainable initiatives. The veranda and game viewing deck on the main lodge rivals the views encapsulated from the porch of each individual bungalow.
For a more budget-friendly alternative, there is Etosha Safari Camp, another Gondwana property located just 5 km from the park entrance. This friendly safari camp has cozy accommodation in air-conditioned chalets and features a swimming pool, a lush green campsite and a restaurant and shop with lots of character. We stayed in one of their Double Rooms and found it to be really comfortable for our stay while exploring Etosha National Park. Game drives with on-site guides were easy to arrange!
Rhino Tracking in Grootberg
Located between Damaraland and Etosha National Park, the Grootberg area has a stunning natural landscape made up of hills, valleys, and the Kip Valley River. A number of black rhinos live on the floor of the Kip Valley and tracking them on foot is the main draw to the area and the reason why we spent a few days in this area.
The area around Grootberg is one of the best examples of sustainable tourism in Namibia. It is owned and managed by Khoadi //Hoas Conservancy, which means tourism and wildlife are managed by the local people. The guides are members of the local community and have been trained as part of a programme developed by the conservancy to empower the community.
Where to Stay in Grootberg
We stayed in Grootberg Lodge, the premier and one of the few accommodation options in this region. The lodge is 100% owned and managed by Khoadi //Hoas Conservancy and 98% of the staff come from the local community. The lodge has a beautiful natural surrounding and offers double rooms, twin rooms, and family units. There is also a restaurant, and an onsite pool offering breathtaking views of the valley below.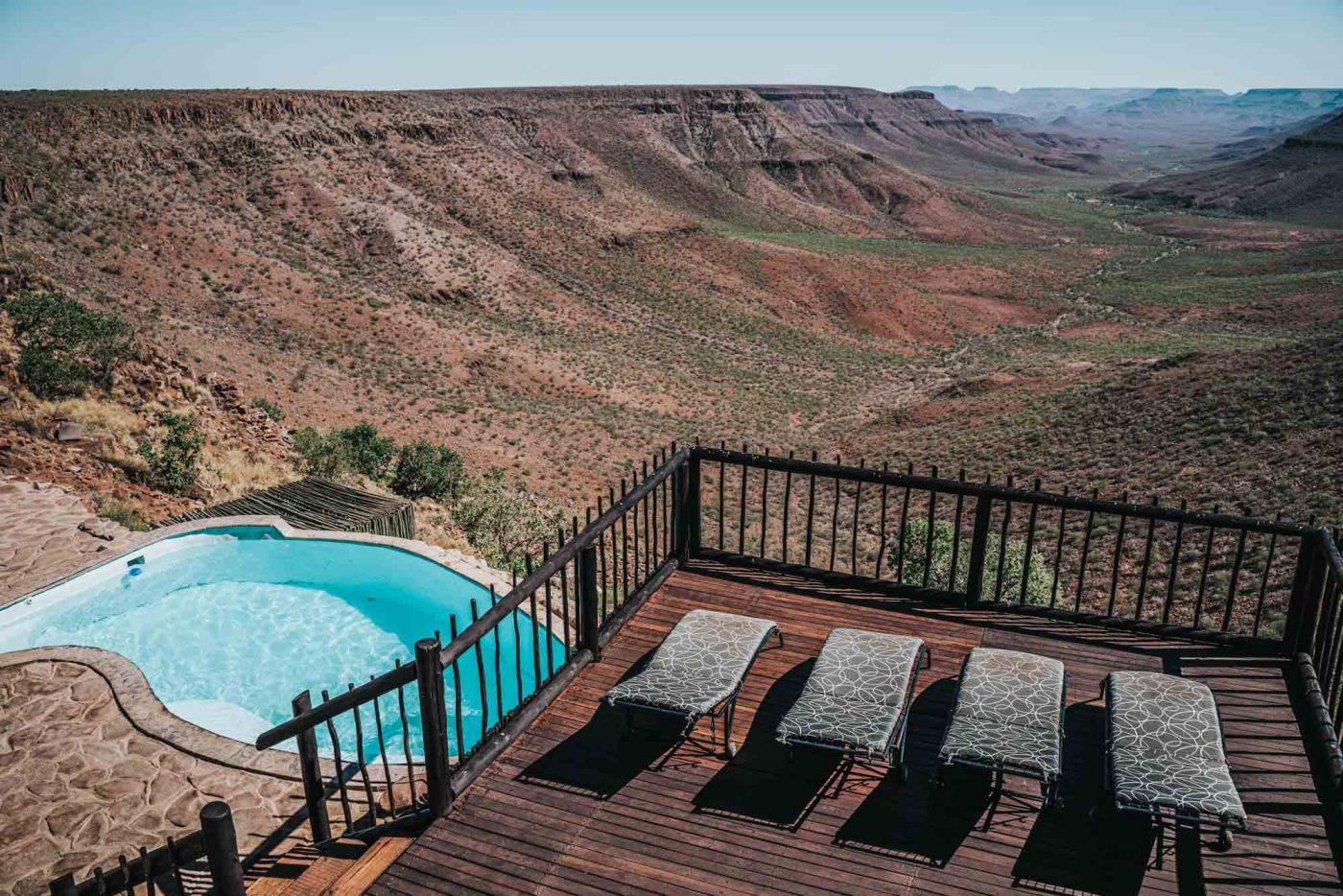 Drive Along the Skeleton Coast
The Skeleton Coast has its name for a reason. This remote stretch of desert along the Atlantic beaches in Namibia is characterized by hundreds of kilometres of "nothingness". It is the final resting place of over 500 ships that were wrecked along its shoreline and which Portuguese sailors used to call the "Gates of Hell".
The isolation and complete desolation is part of the appeal of the Skeleton Coast. You can spot crabs scuttering along the beach, and the remains of seals, whales, and rusty shipwrecks. We spent a day driving along the Skeleton Coast in search of shipwrecks but soon discovered that the trip along this coast is not about any particular destination or a sight, but about the journey itself.
It was an exhilarating ride. We questioned whether our car would survive the treacherous 200k journey, marvelled at the desolate landscape that surrounded us and stopped at every turn off to check out the attractions (hint: there weren't many). Despite a lack of things to do, this journey is a true right of passage and is worth including in any Namibia itinerary.
Where to Stay on the Skeleton Coast
There are few accommodation options along the coast. They include campsites in Torra Bay and Terrence Bay as well as a caravan park at Mile 108. These are only suitable for self-catering campers and offer absolutely no luxuries. We opted to drive along the Skeleton Coast during the day and stayed the night at Cape Cross.
Fur Seals in Cape Cross
Continue south on the highway that stretches along Skeleton Coast and you'll reach Cape Cross, a small headland on highway C34. Cape Cross is a protected area owned and operated by Namibia's government under the name Cape Cross Seal Reserve. The reserve itself is a popular tourist attraction and home of one of the largest colonies of Cape fur seals in the world.
The Cape Cross seal colony might not be the best smelling attraction on your trip to Namibia but sticking around to observe these playful creatures is a must-do. The seals are here all year round, but if you visit from October to December, as we did, you can witness the birthing season at Cape Cross. It's not always a pleasant site (mother nature can be a bit cruel), but there are plenty of lively pups and smelly grown-ups crowding the beach.
There is a designated viewing platform, where you can observe the seals in their natural environment, but during our visit, it was occupied by members of this large colony with the seals spilling out right onto the parking lot. Trust us, you won't have to go far to find them.
Where to Stay in Cape Cross
For us, Cape Cross was a great place to stop on our journey along the Namibian coast. Considering that the seals are best enjoyed during the morning light, we stayed the night at the nearby Cape Cross Lodge. The lodge has 18 sea view suites, 2 semi-sea view suites, and an on-site campsite. Each room was equipped with comfortable beds and featured beautiful decor and balconies with stunning views. There was a cozy restaurant on-site and communal spaces at the main lodge for guests to enjoy.
Adventures in Swakopmund
The coastal town of Swakopmund has strong German influences and is known as the adventure capital of Namibia. If you are an adrenaline junkie and are wondering what to do in Namibia, Swakopmund has you covered. During the school breaks, the town fills up with locals holidaying in Namibia's famous coastal town, otherwise, you'll find the town filled with tourists from all over the world.
Visit the city's historical places like Museum Swakopmund, which delves into the ethnic groups throughout the country. Walk the length of the hundred-year-old jetty which juts out onto the Atlantic Ocean. Stroll along the promenade at sunset enjoying beautiful coastal views along the way or explore the town centre admiring the Germanic architecture of prominent buildings like Hohenzollernhaus and Woermannhaus.
Quad biking, paragliding, skydiving, and sandboarding can all be experienced just outside of Swakopmund. While surfing and fishing are available offshore. Our favourite adventure while in Swakopmund was an exhilarating 4×4 Sandwich Harbour Tour that took us south of Swakopmund and south of Walvis Bay to the dunes that meet the ocean!
We also spent some time in Walvis Bay, checking out the marine life and fur seal colony that lives on the Pelican Point at the end of the bay.
Where to Stay in Swakopmund
We stayed in an Airbnb while in Swakopmund, but didn't love our experience there. Instead, we recommend, the Delight Swakopmund, a mid-tier hotel that has won the highest honour by the Eco Awards Namibia – 5 green flowers, for their commitment to eco-friendly practices. Not to mention, this stylish hotel is centrally located and has everything you need for a comfortable stay.
Desert Landscapes of Sossusvlei & Deadvlei
The Namib Desert is the oldest in the world and a World Heritage Site. It is known for its sea of red sand and lofty sand dunes. Yet its biggest attraction is the landscapes of Sossusvlei and Deadvlei, which have become one of Africa's most iconic landscapes.
Sossusvlei and Dead vlei in Namibia are clay flats with trees rising out them, the same way they did when the flats were a marsh thousands of years. The high red sand dunes of the Namib Desert provide a sharp contrast to the flats and offer up an otherworldly and picture-worthy landscape.
The highest sand dune in the world is located here. It is called Dune 7 and is over 1000 ft high, but most visitors opt to climb Big Daddy dune that sits just under 1000ft or Dune 45. Each climb takes less than an hour and offers amazing views from the top.
Make sure to save time for a detour to Sesriem Canyon that offers a very different landscape from that of the dunes. If you are tossing up where to go in Namibia, this stop is a must on any itinerary.
Where to Stay in Sossusvlei
We stayed in two great hotels while in the Namib Desert:
The Desert Grace

, a modern lodge with unforgettable pink hues and a beautiful and stylish interior overlooking the dunes of the Namib Desert. We loved sipping on cocktails while appreciating the expansive desert scenery from the Desert Grace bar and spending hot days cooling off in our private plunge pool. Good food is available at the on-site restaurant and daily trips to Sossusvlei can be arranged with local guides.
Desert Quiver Camp

was another great spot to stay, as it is located just 5 kilometres from the entrance of Sossusvlei. It has an outdoor pool, two outdoor bomas and a well-stocked bar. Each unit is uniquely designed and is fully self-contained with everything you need to cook your own meals. Desert Quiver Camp didn't have a restaurant on-site, so we only stayed here for one night. The location was ideal for an early start of our day trip to Sossusvlei.
Luderitz
Since we only had 2 weeks in Namibia, we couldn't include a visit to Luderitz in our itinerary, but we heard that it was a worthy stop for anyone heading further south.
Explore the town's Germanic Art Nouveau architecture, then head to Shark Island, a peninsula in Luderitz. This interesting site on your Namibia tourism map has a dark history. It was the site of a concentration camp for Nama and Herero prisoners from 1905 to 1907. Today, seals and bird species like pelicans and cormorants call Shark island home.
One of the top 10 things to see in Namibia is the ghost town of Kolmanskop located on the outskirts of Luderitz. This fascinating Southern Africa town was once the richest in Namibia when diamonds were discovered in 1912.
However, the town was abandoned in the 1930s when the supply ran dry leaving all its lovely homes and public infrastructure to collect sand. You can take a tour of the ghost town from Luderitz. It is one of the Namibia tourist attractions that are definitely worth a visit.
Where to Stay in Luderitz
The Cormorant House is a locally run guest house with friendly staff and stunning views of the coast. Each room is self-catering and there is a communal BBQ area.
Fish River Canyon
Fish River Canyon is the second largest canyon in the world after the Grand Canyon in the USA and Fish River is the longest interior river in Namibia. The natural scenery is the highlight of any trip to Fish River Canyon and it can be enjoyed a couple of ways.
Fish River Canyon is a great hiking destination but any multi-day or long hikes should only be attempted between April – September. As we found out, the temperatures are far too oppressive the rest of the year. The Fish River Canyon hiking trail is 85 kilometres long along the canyon floor and takes 4 days to complete.
A number of viewing platforms are scattered around the park and there are some sections of the canyon where you can walk along the ridge. If you need to relax after a hike or are visiting in the cooler months then check out Ai-Ais Hot Springs Spa to indulge in their natural hot springs.
Where to Stay in Fish River Canyon
Fish River Lodge is a luxury option situated on the ridge of Fish River Canyon. The views from the lodge are fantastic and the rooms are kept cool by the dry stone packed walls.
Essential Travel Info
How to Get to Namibia
Most people arrive in Namibia via the Hose Kutako International Airport (WDH). It is the largest airport in the nation and located about 40 km (25 miles) from Windhoek.
Unfortunately, there are no direct flights from North America. However, visitors can board a layover or direct flight from Frankfurt, Germany, Johannesburg, South Africa or other major African airports. There are several daily flights from Johannesburg but just one from Frankfurt.
Alternatively, you travel to Namibia by bus from the neighbouring South African countries.
How to Get Around Namibia
You can join a tour to explore the top things to do in Namibia or take flights to get around. We found flights to be expensive and of course not sustainable, plus they do not connect all the best places to visit in Namibia. So after much research into public transport (or lack thereof), we opted to rent a car.
We ended up renting a 4×4 with Namibia 4×4 Rentals, as their prices, roadside assistance and car fleet were by far the best! Renting a car gave us the freedom to explore off the beaten path destination and to explore Namibia at our own pace.
Is Namibia Safe?
Of all the countries in Southern Africa, Namibia is considered the safest country to visit. Aside from the mild dangers associated with driving in Namibia (mostly due to speeding) and some petty crime, the country is very safe. We felt much safer in Namibia compared to South Africa, but always exercised a certain degree of caution at all Namibia attractions.
Best Time to Visit Namibia
May to October is the dry season in Namibia and the most pleasant time of year to explore the top things to do in Namibia. It coincides with the high season but crowds never really permeate Namibia's attractions. It is easiest to spot animals in the dry season when water sources become scarce and animals congregate around watering holes.
In the wet season, from October to April, animals scatter around the parks and are much more challenging to spot. Afternoon thunderstorms offer a reprieve from afternoon heat but temperatures remain oppressive in the dry season. November to February cops the worst of it.
How Long Should You Spend in Namibia?
To visit all the destinations highlighted in this article, you'll need no less than 3 weeks and even then, you may feel a bit tight for time and have a few long driving days.
We spent 2 weeks in Namibia, visiting most of the destinations on this list, but due to the time of the year, were unable to visit the most southern part of the country.
If you have all the time in the world and want to travel slowly, give yourself 4-5 weeks to explore the country. This will give you enough time to see the top attractions, head south to see Fish River Canyon and spend some time in the North, visiting the Himba people, Epupa Falls and the Caprivi Strip that connects Namibia with Botswana.
Have you ever been to Namibia? What are some of your favourite things to do in Namibia?