*This post may contain affiliate links, as a result, we may receive a small commission (at no extra cost to you) on any bookings/purchases you make through the links in this post. As an Amazon Associate, I earn from qualifying purchases. Read our full disclosure.
Costa Rica is one of the most popular vacation destinations in the world – and with good reason. It's lush green forests, incredible outdoor adventure opportunities, and pristine beaches can yield the perfect holiday for anyone.
Planning a Trip in the time of COVID?

Keep in mind that information found in this article may have been impacted by travel restrictions and other closures. Double check opening hours, tour providers and hotel status before you go. And don't leave your home without travel insurance! If you are looking for an insurance provider that covers COVID-19, we recommend SafetyWing. Get Medical and Travel Insurance starting at just $40/month and you can sign up even if your trip has already started!
With tourism booming year round, it can feel like you're constantly bumping elbows with other visitors, but luckily that's not the case for every destination in the country!
Rincon de la Vieja National Park is one of the least visited national parks in Costa Rica, but it is also one of the most spectacular.
Every hiking trail within the park offers a unique, breathtaking trek through one of Costa Rica's only dry tropical forest. And if you're more interested in relaxing and (literally) soaking up all that nature has to offer, the park boasts incredible natural mud pools and hot springs!
About Rincon de la Vieja National Park
Rincon de la Vieja is a volcano located about an hour away from Liberia in the northern portion of the Guanacaste region. Though the volcano is considered active, it is safe to visit. The national park encompasses the volcano and surrounding geothermal landscape.
There are two sections of the park – the Las Pailas and the Santa Maria sections. If you're driving in yourself, we recommend entering from the Las Pailas direction, as the roads leading to the Santa Maria entrance are mostly unpaved and require an all-wheel-drive vehicle.
To access the Las Pailas Zone, you enter the park and follow the Interamericana highway north a few miles until Guadalupe. The road then becomes gravel for the rest of your trip in.
Hiking in Rincon de la Vieja Costa Rica
There are seven major trails within the park ranging in difficulty, length, and terrain. Which trails you end up exploring will depend on the section of the park and ranger station that you start at!
Las Pailas Trails
Las Pailas Circular Sector Trail
Length: 3km (2 miles)
Difficulty: High
This trail starts at the Las Pailas ranger station and winds through the extensive geothermal landscape. You'll see mud pots, fumaroles, and if you visit during the rainy season you can see the seasonal waterfall.
Rio Blanco Spring Trail

Length: 800 m (0.5 miles)
Difficulty: Moderate
This is a quick hike to the Poza del Rio Blanco – the river spring! You can swim here, so make sure to pack your bathing suit.
Escondidas Waterfall Trail
Length: 4.3km (3 miles)
Difficulty: High
This is another hike that leads to a swimming hole! This trail leads to 3 beautiful waterfalls, but the hike there will have some steep inclines in both directions.
Rincon de la Vieja Crater Trail (CURRENTLY CLOSED)
Length: 8km (5 miles)
Difficulty: High
If you're a sucker for a good vista point, the hike to the summit of the Volcan Rincon de la Vieja is a must-do. This is the highest point in the park, and the trail can be extremely challenging at times – especially during the rainy season!
Von Seebach Trail (CURRENTLY CLOSED)
Length: 8km (5 miles)
Difficulty: High
Partway through the hike to the Volcan Rincon de la Vieja crater, there is a fork in the trail at the timberline. Left takes you to that volcano's summit, right takes you to the Von Seebach summit. This trail is subject to closing, seeing as this volcano is considered active! It emits steam regularly and sometimes bubbles up.
Santa Maria Trails
Colibri Trail
Length: 500 meters (0.3 miles)
Difficulty: Moderate
This is a short trail, but it's packed with wildlife! It's perfect for people interested in seeing agouti, peacocks and pizotes indigenous to the area. There is also the remnants of a sugarcane mill.
BONUS: Pailas – Santa Maria Trail
Length: 8km (5 miles)
Difficulty: High
If you want to pick just one trail to hike in Rincon de la Vieja, it should be this one! The Pailas – Santa Maria trail connects the two ranger stations within the park and traverses the mountains in between. Along the trail, there will be several opportunities to veer off and experience the untamed beauty of the park – from pristine waterfalls to natural hot springs you can take a dip in.
Waterfall Trails
La Congreja Waterfall Trail
Length: 5km (3 miles)
Difficulty: High
The Escondidas Waterfall Trail and this trail start in the same place for fork a couple kilometres in from the ranger station. While historically this trail has been the more popular of the two because of its' sparkly blue waters (it's been dubbed the "blue lagoon" of Rincon de la Vieja), unfortunately, you can no longer swim here! It's still a beautiful hike and an incredible waterfall, and still very worth the trek in our opinion!
Chorreras Waterfall
Length: 2km (1.25miles)
Difficulty: Moderate
You can start this journey at Hacienda Guachipelín the walk is roughly 25 minutes one way. This cascading waterfall is perfect for those wanting a short walk with impressive views.
Oropéndola Waterfall
Length: 4km (2.5 miles)
Difficulty: Moderate
The sister waterfall to Chorreras. Upon entering the Rincon de la Vieja national park via the Las Pailas section, you will find the trailhead to this impressively high waterfall plunging into the pool below. The trail winds along the River Blanco making for a peaceful walk.
Victoria Waterfall
Length: 4km (2.5 miles)
Difficulty: High
You can reach the crystal blue water of Victoria falls by starting at Hacienda Guachipelín. Be aware there is a steep descent to get down to the falls. It is well worth it but make sure you bring plenty of food and water if you planning on spending some time here. If you hike down, you have hike back up!
Wildlife and Vegetation in Rincon de la Vieja
Because this national park is located within a dry tropical rainforest, you will encounter different kinds of wildlife and vegetation here than you would anywhere else in the country.
Instead of your typical Costa Rican rainforest – full of lush green trees and unfathomable biodiversity – this part of the country is characterized by rolling hills and trees sprouting yellow, red and orange flowers.
This area is also home to unique creatures like the agouti, nine-banded armadillo, white-nose coati and 300 different bird species.
Activities in Rincon de la Vieja
Ziplining
It wouldn't be a Costa Rican holiday without a quick zip through the rainforest! The best way to incorporate this adventure into your vacation is with a Canopy Tour – not only will you have access to multiple zip lines, but you will also be able to rappel, rock climb and walk over hanging bridges.
Not to mention, we think this zip line is one of the best zip lines in Costa Rica!
Tubing
The Rio Negro Tubing Adventure allows you to experience the class 2 & 3 rapids of the Rio Negro safely, so anyone can do it! You float down the river with an experienced guide, stopping in calm pools periodically to take in your beautiful surroundings.
Hot Springs
Due to the area's high levels of geothermal activity, natural hot springs can be found all around Rincon de la Vieja!
In the Santa Maria section of the park, you can hike from the Santa Maria Estate to the hot springs (moderate difficulty, 3km/2 miles) and dip into a number of pools at your leisure.
You can also go on Guachipelin's Horseback Riding to the Rio Negro Hot Springs tour, which includes an hour-long horseback ride to and from both manmade and natural hot springs, and a guide explaining the wildlife and terrain along the way.
Traveling to Rincon de La Vieja
How to Get There
Coming from Liberia Airport, drive into the town of Liberia. At the main intersection, turn left and you will start seeing signs for the Las Pailas sector of the national park. To visit the Las Pailas sector, turn right at the entrance and continue for 20 km (12 miles).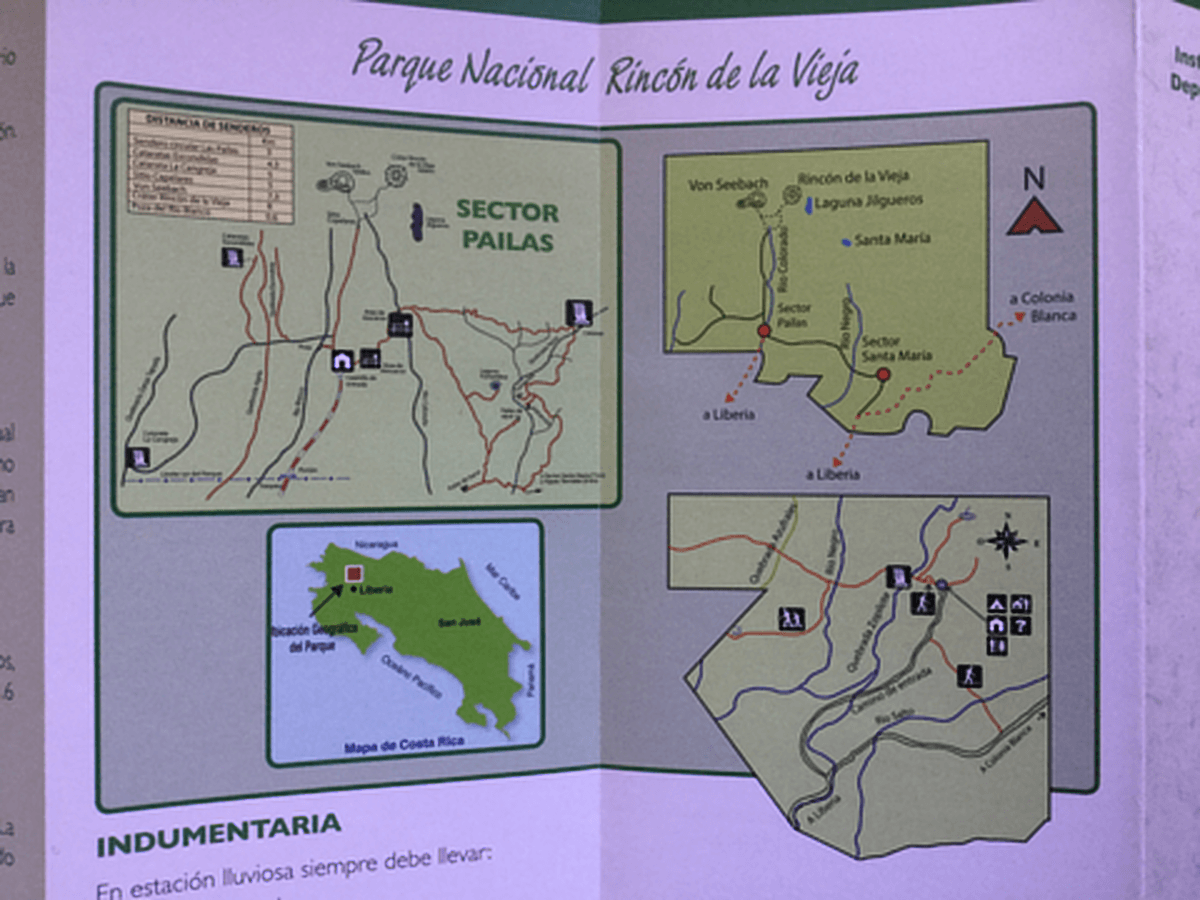 To visit the Santa Maria sector, don't make the turn into the first park entrance – instead, continue along the main road and you will start seeing signs for Santa Maria. (Reminder: the roads to Santa Maria are accessible only with vehicles with 4-wheel drive, as they are mostly unpaved.)
Entrance Fees
The park is open every day of the week from 8 am – 4 pm; the Las Pailas section is closed on Mondays.
Entry for adults is $15, children ages 6-12 is $5.
Where to Stay While Exploring the Park
Hotel Hacienda Guachipelín
Hotel Hacienda Guachipelín is an eco-hotel/ranch is right outside of the park, offers beautiful rooms with complimentary breakfast, and can help you organize any kind of tour you'd like to do in the area.
Borinquen Mountain Resort and Spa
Also located just outside of the park, Borinquen Mountain Resort and Spa is an eco-resort is another great option for all kinds of travelers. Their rooms are beautiful, they offer epic tour packages, and their on-site spa will help you relax and unwind after a long day of adventure.
Other Essential Travel Details
For each day that you're spending in the park, make sure to bring a sizeable water bottle. There is a filling station at the admission office, but not within the park.
Mosquitos aren't a huge problem here – as it is a dry rainforest – so you can wear shorts while hiking.
Make sure to use the toilet at the admission office – there are none inside the park!
Have you visited Rincon de la Vieja National Park? What was your favourite part of the visit?