Just south of Playa Flamingo, you'll find Playa Conchal, one of Costa Rica's most lovely beach escapes on the Gold Coast. This pristine stretch of coastline is known for its year-round spectacular weather and the millions of crushed shells that line the shores, its main claim to fame. On top of that, it's also one of the best swimming beaches in the region.
*This post may contain affiliate links, as a result, we may receive a small commission (at no extra cost to you) on any bookings/purchases you make through the links in this post. As an Amazon Associate, we earn from qualifying purchases. Read our full disclosure
If you're in Guanacaste, Costa Rica, you shouldn't miss Playa Conchal. There are many beautiful beaches in Central America, but this is truly one of the finest.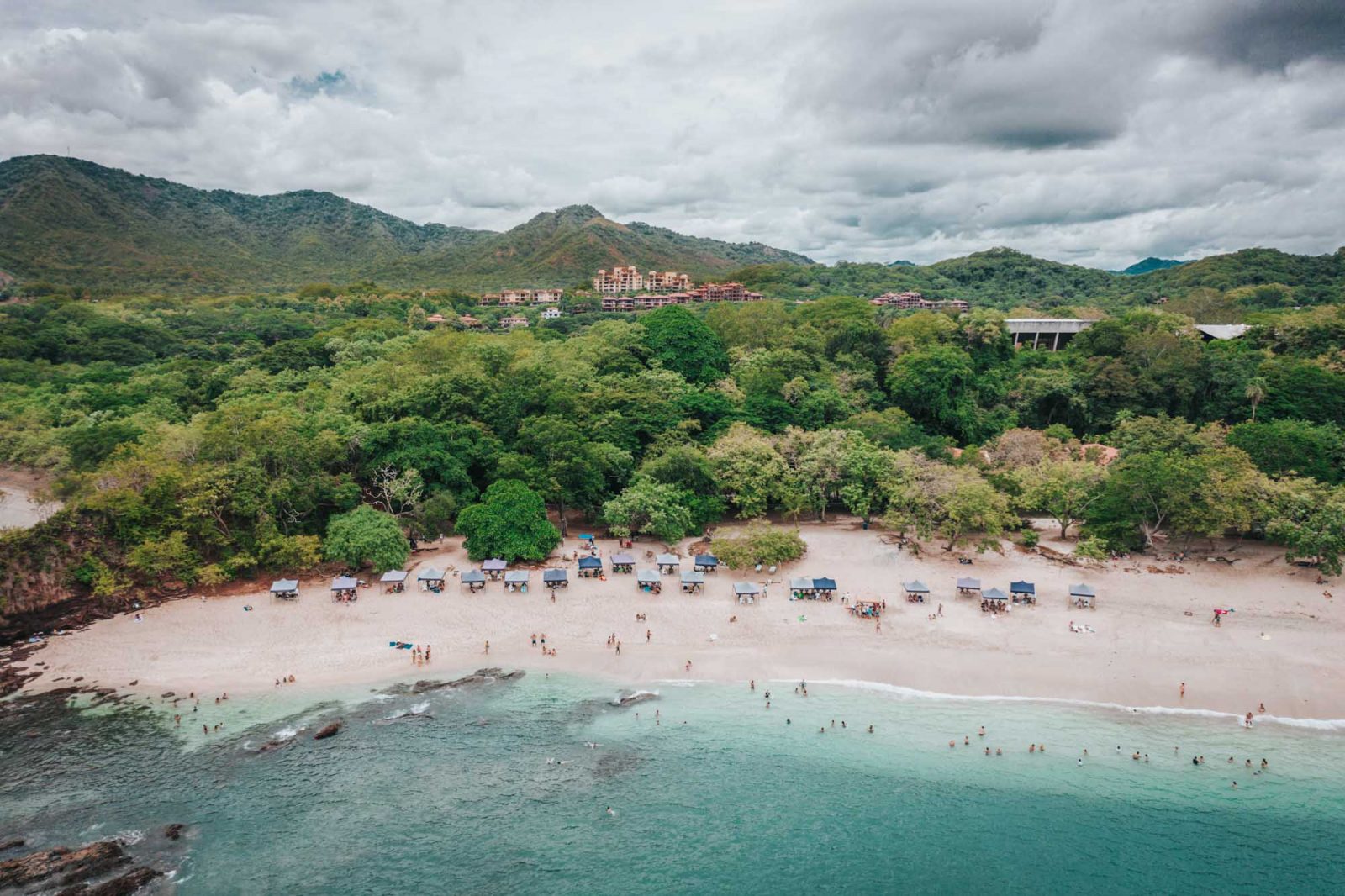 Traveling Soon?

Here is a list of our favourite travel providers and accessories to help get you ready for your upcoming trip!
How to Get to Playa Conchal
Conchal Beach is fairly easy to reach. If you're renting a car, you can make the drive from Liberia, San José, or Costa Rica's other destinations.
It's also possible to fly to an airport near Conchal Beach and take a taxi. The closest airport is in Tamarindo, just 20 minutes to the south of Playa Conchal. If you're not coming in through this airport, you'll likely fly in through Liberia Airport, about an hour to the northeast.
If you're trying to get to Playa Conchal by public transport, things will be a bit more difficult. You can take a bus from Liberia to Playa Flamingo and then a taxi down to Playa Conchal, or you can take a bus through the town of Santa Cruz that finally drops you directly at Playa Conchal. The second option takes a lot longer, but it's less expensive.
In general, we highly recommend renting a car in Costa Rica. Not only will your transportation be a lot quicker, but you'll also have the freedom to drive between different beaches and points of interest in the area as you see fit.
To reach the beach from your accommodation, your methods will differ depending on where you stay. If you're staying at the Westin Playa Conchal, Reserva Conchal, or W Hotel, you'll be able to walk right from the property. If you're staying elsewhere, you must park your car in Brasilito and walk from there.
Best Time to Visit Playa Conchal
Playa Conchal is one of Costa Rica's most famous and beloved beaches among travellers and locals alike. For this reason, timing your visit well is important.
Locals and beach vendors swarm the beach on holidays, so definitely avoid those days. In addition, the weekends can get quite busy, so try to visit during the week if possible.
Other than that, Conchal Beach is truly wonderful at any time of year.
In Playa Conchal, Costa Rica, the weather is sunny and hot pretty much all year. However, it's important to keep the season in mind. While Guanacaste is dry compared to other provinces, it does follow the same dry and rainy pattern as the rest of the country.
There are two seasons: dry and rainy. The dry season is December through April and is, of course, drier, but it's also the busiest tourist season. The rainy season, May through November, isn't as busy, but it's very humid, and the increased rainfall can lead to flooding and runoff.
Things to do in Playa Conchal, Costa Rica
Swim & Enjoy the Conchal Beach
Playa Conchal, Guanacaste, Costa Rica is a great beach for swimming. With moderate waves and crystal clear water, you'll be happy to spend all day in the water here if you wish. Just make sure you're a decent swimmer, as sometimes the waves can get quite strong.
The beach in Playa Conchal has no sand. Rather than sand, there are tiny shell particles, which is a unique attraction in and of itself, especially for nature lovers. Enjoy the beach, play with the shells, but please do not take any home as a souvenir. Remember, if every visitor takes a few Costa Rica sea shells, nothing will be left to admire!
Snorkeling
Conchal Beach is one of the few beaches along the Pacific Coast of Guanacaste, where snorkeling can be pretty good. So grab a snorkel (you can rent snorkel gear from many hotels) and try your luck spotting some fishies in the water near the rocky break. Just make sure to wear water shoes or flippers. Conchal Beach, Costa Rica is rife with sea urchins.
For best results, schedule your Playa Conchal snorkeling trip during the dry season. Runoff from rivers, plantations, and forests during the rainy season can lead to lousy visibility.
Sailing
Sailing is a popular Playa Conchal activity. You'll find a number of sailing tours being offered near the beach, so simply hunt for a good deal and then enjoy your time on the open sea.
For the best results, look for a private tour, and try to find a tour around sunset. Few things can compare to watching the sunset over the Pacific Ocean from a sailboat.
Scuba Diving
The Guanacaste province has incredible marine life. While scuba diving, you could see sharks, turtles, manta rays, dolphins, eels, and tropical fish. You may even spot whales, or at the very least, you'll be able to hear them. You'll also be able to spot schools of tropical fish, like parrotfish and angelfish.
For the best visibility, schedule during the dry season.
Jet Skiing
Jet skiing can be a fun adventure, whether it's just you or an entire group.
If you want to see the best of Conchal Beach, then the jet ski tour by ConchalFun will show you the ins and outs of the coastline while also letting you stop for a bit of snorkeling. If you want something a bit more free-form, then locations offering jet ski rentals are easy to find from the beach.
Horseback Riding
Nothing quite compares to trotting through the shade and surf!
Even if you've never ridden a horse before, taking a ride along Conchal Beach could be a good first experience. Many horseback riding tours don't require you to have any prior experience, as trail riding horses are calm and low-fuss by nature, and some like Pacific Horses even offer lessons.
Visit Playa Brasilito
Just to the north and separated by large rocks, Costa Rica's Playa Brasilito is another beautiful beach worth a visit. Its scenic location next to the fishing village of Brasilito gives it a different atmosphere from the exclusive Playa Conchal. It's also a lot less crowded, making it perfect for those who want a break from all the tourists.
Where to Stay in Playa Conchal
Westin Playa Conchal
Being closest to Playa Conchal, the Westin Playa Conchal is the most eco-friendly of the three all-inclusive hotels.
The Westin golf resort is bright and modern with exclusive access to many luxurious benefits. Along with a spa, a golf course, and an awesome pool where you can swim or lounge in beach chairs, there are also nine restaurants on-site, each one offering a different style of food. There are tennis courts and equipment, a tour desk, and bicycle and car rentals. If you're looking for somewhere luxurious to stay, this all-inclusive resort is it.
Conchal Hotel
If a 5-star resort isn't in your budget, try the Conchal Hotel, a local, family-run establishment with a lovely garden, access to a pool, and charming, rustic decor. They have their own restaurant on-site, the Papaya Restaurant, as well as a lovely pool, clean rooms, and friendly staff that can help you book local tours or find your way down to the beach. They're a short walk away from multiple other restaurants, as well as Brasilito Beach.
Hotel Brasilito
For another more affordable option, check in to the Hotel Brasilito, a "garden-style property" right in front of Brasilito Beach. It also has its own restaurant, as well as airport shuttles and a tour desk. From here, you can easily walk to Playa Conchal or Playa Brasilito. Along with an ocean view, they also have a garden of palm trees and a swimming pool.
Where to Eat in Playa Conchal
Surf Box
Surf Box is a low-cost, charming cafe that serves American dishes for breakfast, lunch, dinner, and brunch. The food is healthy, with gluten-free, vegetarian, and vegan options available.
Papaya Restaurant
The Papaya Restaurant serves a mix of cuisine styles for breakfast, lunch, and dinner, all made from local, seasonal ingredients. Prices are reasonable, the atmosphere is welcoming, and there are options for vegan, vegetarian, or gluten-free meals.
No trip to Guanacaste would be complete without a stop at Playa Conchal.
With its crushed white shells and near-perfect weather, this stunning beach on the Pacific coast of Costa Rica is something special. Make sure to spend at least one full day here enjoying the sunshine and crystal clear seas.
Have you ever been to Playa Conchal in Costa Rica? What's your favourite thing to do there?