Bali is a destination that has absolutely exploded in popularity in recent years and that's not without good reason. The island is sprinkled with incredible beaches, forests, rice terraces, and local towns that charm visitors from around the world. With so much natural beauty and countless things to do, it's no wonder that Bali has become one of the modern world's top tourist destinations.
*This post may contain affiliate links, as a result, we may receive a small commission (at no extra cost to you) on any bookings/purchases you make through the links in this post. As an Amazon Associate, we earn from qualifying purchases. Read our full disclosure
Traveling Soon?

Here is a list of our favourite travel providers and accessories to help get you ready for your upcoming trip!
If it's your first time on the island and you're looking for the perfect Bali itinerary, look no further. This 14-day route will take you around some of Bali's most popular and also most unique and uncovered destinations.
Badung – 4 Days
Canggu
Arguably the most trendy area in all of Badung, Canggu is a haven for backpackers, digital nomads, free spirits, and serial tourists alike. You'll never get bored with endless markets, beaches, and healthy, colourful cafes to eat at, many of which are sustainable and vegan. At least a 2-day stay in Canggu should be included in every Bali itinerary.
Pandawa Beach
Pandawa Beach is one of the best unspoiled beaches on the south tip of Bali. Tucked behind some secluded hills, this beach is perfect for all kinds of water sports as well as simply relaxing in the sun.
Uluwatu
Uluwatu is one of the most well-known tourist areas, but still one of the best places to visit in Bali. On the island's southernmost point, you'll find massive cliff lookout points and popular, idyllic surfer beaches. This is one of the best places to enjoy a drink at a cliff-side bar and catch the sunset in Bali.
Ubud – 3 Days
Tegalalang Rice Terraces
Once heading inland to Ubud on your Bali itinerary, the first thing you must do is visit the magical Rice Terraces of Tegalalang. This lush green wonderland is a popular tourist attraction but is well worth the visit. Make sure you're a responsible visitor and stay on the paths as to not trample the plants. To avoid crowds, visit at sunrise.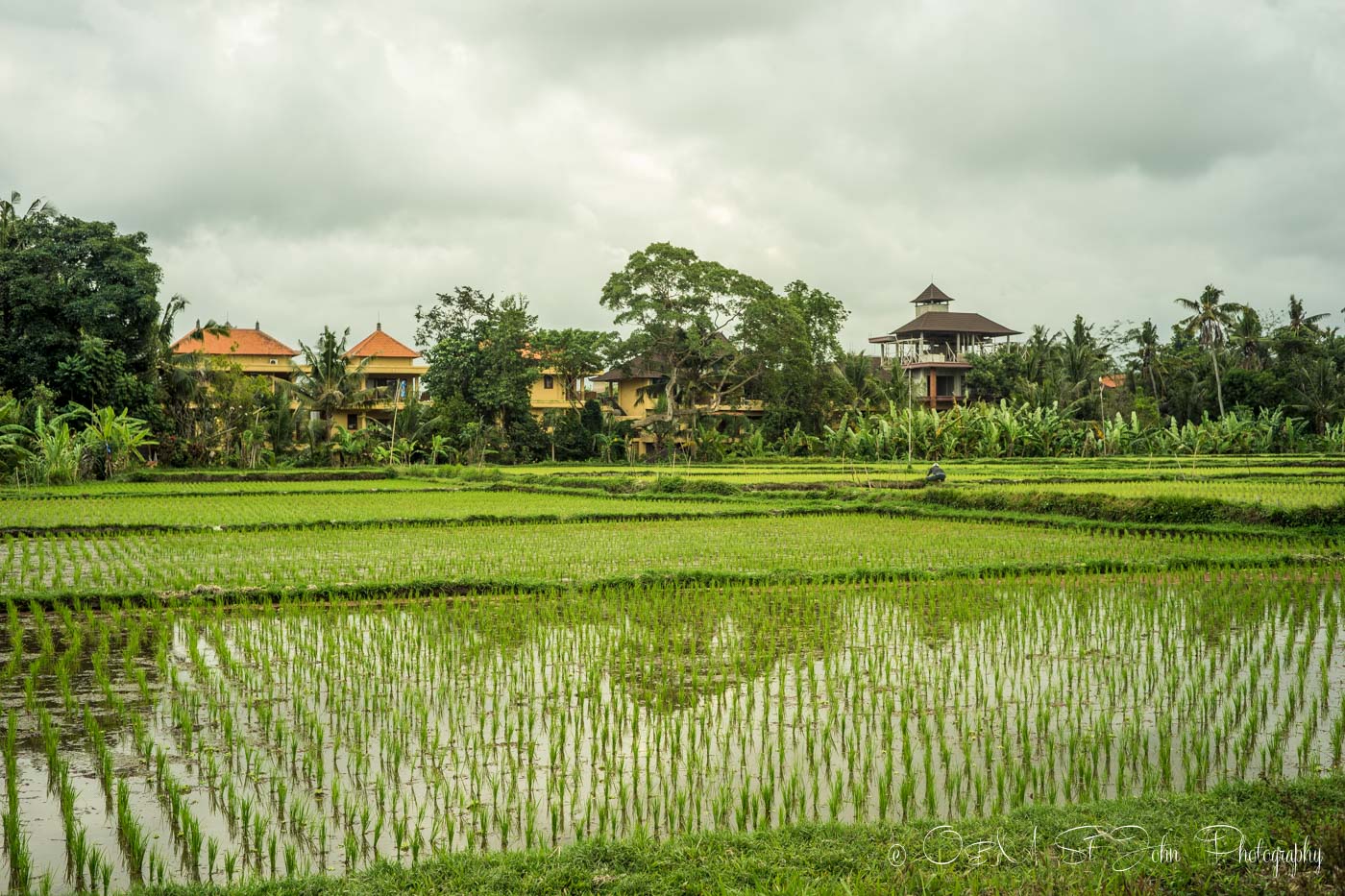 Ride Bikes in Ubud
Ubud is a wide and beautiful area and one of the best ways to get to know it is by riding bikes. Either rent one and go on your own or consider a guided bike tour.
Visit the Green School
The Green School is one of the most unique attractions not only in Ubud but in all of Bali. This wall-less and nearly waste-free school educates young students about sustainability, environmentalism, and creativity. They are supported by well-known altruists such as Ban Ki-moon and Jane Goodall and offer guided tours to visitors who want to learn all about how the facility operates.
Avoid the Monkey Forest
The Ubud Monkey Forest is considered one of the best places to visit in Bali by many. However, because the forest allows human interaction with animals, we consider it to be quite unethical. If you want to be an eco-friendly and responsible traveler, definitely avoid the Monkey Forest.
Buleleng – 4 Days
West Bali National Park
As the only national park on the island, West Bali National Park is the stop for nature lovers. Located in the northwest corner of the island, you'll find the park teeming with weird and wonderful wildlife that seeks refuge in the mangrove forests and open grasslands.
Lovina Beach
Lovina Beach is one of Bali's most beautiful. Best known for its black sands and frequent dolphin sitings, this beach is an excellent place to take a breather from an action-packed Bali itinerary.
Lake Tamblingan and the Nearby Temples
Lake Tamblingan is one of the most well-known tourist spots on the island and deserves a place on every Bali itinerary. This glass-like lake is surrounded by mountain forests and encircled by tall-stacked temples. The entire temple complex, called the Temple Pura Ulun Danu Bratan, deserves a full visit as well.
Waterfalls
Another great thing to do in Buleleng is to visit the many beautiful waterfalls that Bali is so famous for. The Munduk, Git Git, and Banyumala Twin waterfalls are a few of the best places to visit in Bali.
Bangli – 1 Day
Sunrise Trek to Mt. Batur
Mt. Batur is one of Indonesia's most prominent and majestic volcanoes. One very popular activity on many a Bali itinerary is to climb the mountain for sunrise. Although a relatively short hike requiring only about two hours on the way up, the climb is fairly strenuous and can be especially dicey in the dark. Make sure to come prepared with a headlamp, sweatshirt, and hiking boots. Your efforts will be rewarded with mindblowing views of the sun coming up over eastern Bali.
Karangasem – 2 Days
Dive or Snorkel the Liberty Shipwreck Near Tulamben
Diving or snorkelling the Liberty Shipwreck is a very unique thing to add to your Bali 2 week itinerary. Although this US ship was hit by a torpedo and ran ashore during the war, it was actually sunk by the eruption of Mt. Agung. Exploring the underwater world here, you'll have the chance to swim with lots of fish and marine critters that now call this sunken vessel home.
READ NEXT: 7 BEST DIVE SPOTS TO SCUBA DIVE IN INDONESIA
Temple of Lempuyang Luhur
On your second day in the area, make sure to pay a visit to the famous Temple of Lempuyang Luhur. This photogenic temple is very recognizable and appears in countless photos of Bali in guidebooks and across the internet. This beautiful Hindu temple sits in the shadows of Mt. Agung, Bali's highest (and very active) volcano.
7 Days in Bali Itinerary
If you don't have a full Bali 2 week itinerary but still want to experience the best the island has to offer, then give this 7 days in Bali itinerary which is an abridged version of the 2-week option.
Days 1 & 2 – Explore Canggu and Uluwatu. Shop, swim, surf, and enjoy beach life.
Days 3 & 4 – Tour Ubud, visiting the rice terraces and Green School.
Day 5 – Visit Lake Tamblingan and the surrounding temples.
Day 6 – Hike Mt. Batur at sunrise.
Day 7 – Visit the Temple Of Lempuyang Luhur in the morning and dive the Liberty Shipwreck in the afternoon.
Where to Stay in Bali
Badung
One of the best places to stay in Bali is right on Canggu beach at the Ecosfera Hotel, Yoga & Spa. If you're spending more time in Uluwatu, try the Green Escape Eco Resort or Suarga Padang Padang.
Ubud
If you don't know where to stay in Bali in Ubud, rest assured that almost anywhere you choose will be wonderful. In particular, we recommend Swasti Eco Cottages, Bambu Indah, and Blue Karma Ubud.
Buleleng
For a really special stay, book a couple of nights at the Munduk Moding Plantation Nature Resort & Spa. Their infinity pool with towering mountain views makes this hotel one of the best places to stay in Bali. For something a bit more affordable and eco-friendly, stay at the Bukit Kembar Ecotourism. If you're staying near West Bali National Park, the Bajul Eco Lodge Plataran is an excellent choice.
Bangli
If you're looking to stay close to Mt. Batur in Bali, consider staying at the Batur Green Hill or the Desa Saya Eco Luxury Resort & Spa.
Karangasem
Two great places to stay in Bali in the Tulamben area are Matahari Tulamben Resort and Eco Tree House Amed, both right on the beach.
No matter how much time you have on Bali, there's a good chance it will never feel like enough. Even after exploring every attraction on the island, you could easily spend days, weeks, and months just enjoying the laid-back local lifestyle and stunning natural beauty that the island has to offer.
Bali is one of our favourite destinations in Indonesia and although it has been thoroughly discovered by tourists, it is still well worth exploring time and time again.
What activity or place is on the top of your wishlist for a Bali itinerary?
Disclaimer: This post contains affiliate links which means that we receive a small commission on your bookings at no additional cost to you.