While there are many wonderful places to visit in Bali, Ubud is one of the most enticing. Situated in the heart of Bali's lush green jungle, it's hard to resist the cultural charm, stunning nature, and eco-friendliness in comparison to the rest of the island.
*This post may contain affiliate links, as a result, we may receive a small commission (at no extra cost to you) on any bookings/purchases you make through the links in this post. As an Amazon Associate, we earn from qualifying purchases. Read our full disclosure
Ubud is also the spiritual center of Bali and many people come here to reconnect with nature while working on mindfulness practices. Whether you want to chase waterfalls, attend a cultural show, practice yoga, shop for handmade crafts, or eat healthy vegetarian food, Ubud has something for you.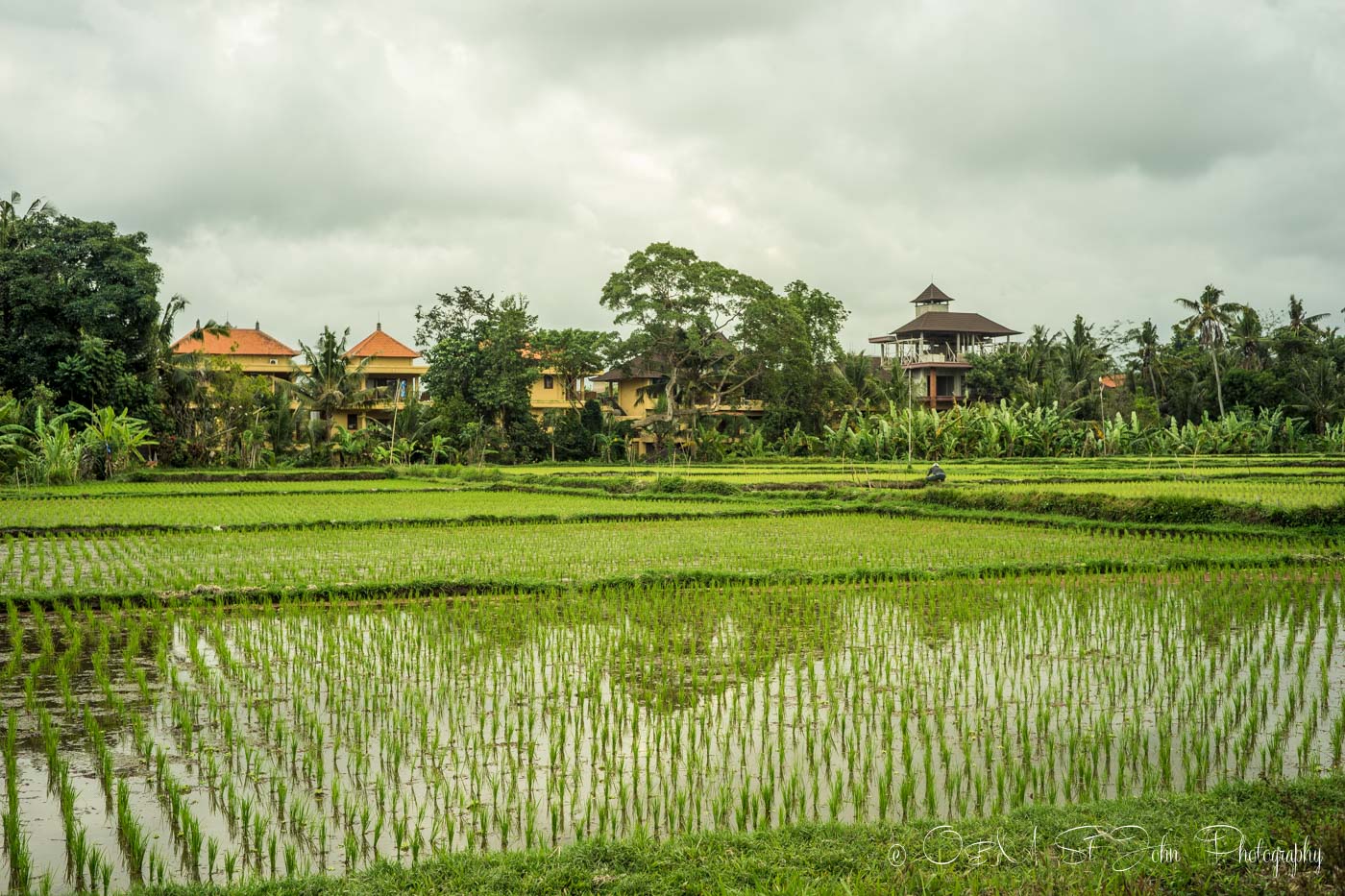 The Best Time to Visit Ubud
You can visit Ubud at any time of year, but as with any tropical town, there are both advantages and disadvantages to the dry and rainy seasons.
From June to September the weather is hot, but so is Ubud's popularity. You'll be fighting crowds during the peak season as well as seeing a surge in price for many things.
During the rainy season, you'll likely see showers daily but will have fewer tourists and a greener jungle to explore.
Best Things to Do in Ubud, Bali
Visit the Ubud Palace and Other Surrounding Temples
Like most places in Southeast Asia, Ubud is full of temples. The Ubud Palace is perhaps the most famous, located right in the middle of town. Besides being a beautiful structure, the palace also has art displays and puts on a number of music and dance shows.
Visiting the Ubud Palace is certainly one of the best things to do in Ubud, but there are plenty of other lovely temples that are worth a visit. Some of the best include the Saraswati Temple, Pura Gunung Lebah, and Pura Dalem.
Explore the Tegalalang Rice Terraces
A trip to the Rice Terraces of Tegalalang is another worthy Ubud activity. Wake up as early as you can to beat the crowds, then meander through the gorgeous green paddies and tall palm trees.
This is one of the best places to go to in Ubud if you love photography, as the terraces are incredibly photogenic.
Ride Bikes Through Ubud
Ubud is a great place to rent a bike and explore the town on two wheels. A bike is a cheap and eco-friendly way to get around and you'll have a lot of fun exploring the secret corners of the town by your own manpower. Or, if electric bikes are more your style, you can even take a group tour.
Work on Your Health and Spirituality
Ubud is the perfect place to attend a retreat focused on health, whether it be physical, mental, or spiritual. There are many health practices here, so regardless of whether you want to focus on yoga, meditation, sound healing, breathwork, or something else, you'll find it in Ubud.
Here are a few places to look in particular.
Titi Batu
Titi Batu is a premier fitness club in Ubud perfect for those who want to stick to their gym regiment even on vacation. They also have classes, sports courts, pools (one for laps and one for relaxing), a skate park, a sauna, and free weekly events.
Yoga Barn
Yoga Barn is one of the most famous yoga studios in Ubud and extremely popular for workshops, retreats, and a lovely spa.
Pyramids Of Chi
For ancient sound healing, head to Pyramids of Chi. You can participate in a variety of yoga and meditation classes, ceremonies, and chanting sessions.
Karma House
If getting a sacred tattoo interests you at all, Karma House is your spot. Here, you can get traditional bamboo or hand poke tattoo.
Visit the Green School
The Green School is an awesome place to visit if you are interested in sustainability and education. You can take a tour of this bamboo school and see how the children in the community are educated to be the eco-warriors of tomorrow.
They are supported by well-known altruists such as Ban Ki-moon and Jane Goodall and offer guided tours to visitors who want to learn all about how the facility operates.
Go Shopping
Ubud Art Market
If you're in the shopping mood, the best place to go is the Ubud Art Market. Here, you can buy local handicrafts and other goods that support the locals. You'll also find the best souvenirs, clothes, and accessories for sale here.
ARTcycleBALI
ARTcycleBALI is a funky fashion accessories store that sells products made from upcycled tyres. Their earings are the best!
New Earth Shop
This boutique store in Ubud is a great place to browse for earth-conscious clothes and accessories.
La Boheme
La Boheme is a sustainable clothing shop where much of the merchandise is hand-dyed and consciously made.
Attend a Festival
BaliSpirit Festival
For the perfect combination of yoga, dance, and music, buy your tickets to the BaliSpirit Festival taking place at the end of each March.
Modern Woman Festival
The Modern Woman Festival is a spiritual gathering centred around female empowerment that takes place each October.
Take Some Day Trips
If you don't plan to explore further north or east of Ubud, then definitely plan to take a day trip or two. Consider visiting some gorgeous waterfalls, the lakes in the north, or one of the towering volcanoes. There are even private tours designed to pack as much of Ubud into one day as possible.
Where to Eat and Drink in Ubud
Sage is a Balinese restaurant serving up vegetarian and vegan fare in a cozy setting.
For awesome vegan food, head to Moksa. Not only is their menu delicious, but they also have cooking classes, a farmer's market, and their own organic garden.
La Pacha Mama: This place is your top pick for Mexican food in Ubud. It's quite upscale and expensive compared to most other places here, but it is worth the splurge.
Alchemy is 100% raw, vegan, and organic. You can get a variety of delicious dishes here, including tempeh and tofu, cold-pressed juices, colourful salads, and yummy desserts.
Sawobali is a great budget-friendly choice for traditional Indonesian food, with lots of vegetarian options as well as scrumptious desserts.
Pulau Kelapa is a traditional Indonesian warung (local restaurant) where you can eat quite cheaply while enjoying delicious satay.
Herb Library: For something extremely healthy, head to the Herb Library, a popular health foods restaurant in Ubud. They serve delicious and colourful vegan and vegetarian food.
Earth Cafe and Market: As a 100% plant-based restaurant, Earth Cafe and Market is just as tasty as it is good for the planet. Here you'll find things like smoothie bowls, salads, buddha bowls, wraps, sandwiches, and more, all completely vegan.
The Elephant: Completely vegetarian and recognized by the Slow Food movement, the Elephant might just be the most eco-friendly restaurant in Ubud. You can check out their ecological philosophy here.
Where to Stay in Ubud
Ubud Green

is an excellent eco-resort complete with lovely villas and an outdoor pool. It's located

right on the outer edges of rice terraces so you'll have the feeling of being out in nature

while still part of Ubud's charm.

Swasti Eco Cottages:

If you want to stay somewhere

very peaceful and private

, the

Swasti Eco Cottages

are a perfect choice. They're tucked into the jungle and have yoga classes, an inviting common area, and an organic, sustainable restaurant right on-site.

Traditional Room: Photo Courtesy by Swatis Eco Cottages

Bambu Indah:

For an intimate and luxurious stay, book yourself into

Bambu Indah

for an

incredible jungle retreat with an emphasis on sustainability

. Choose from a number of stunning private villas with all the amenities of a hotel.
How Much Time Do You Need In Ubud?
A minimum of three days will be enough to see the major sights in Ubud, but you might find that it isn't nearly enough to explore the town's charm to the fullest. It's the kind of place where people often get stuck on their travels and end up staying longer than they originally planned. Give yourself ample time to see all that you want to see, and then add a few days as a buffer if you can.
No matter what you choose of all these things to do in Ubud, it'll be fairly easy to make sure they are eco-friendly. As perhaps the most sustainable destination in Bali, it's one of our favourite places to visit on the island. Ubud is truly a place that is hard not to love.
Have you been to Ubud before? What do you think are some of the best things to do in Ubud?