Often touted as the cultural heart of Bali, Ubud is a popular nature's paradise visited by oodles of tourists every year. And if you are one of those avid nature lovers, then Ubud is the right place to be while vacationing in Bali.
*This post may contain affiliate links, as a result, we may receive a small commission (at no extra cost to you) on any bookings/purchases you make through the links in this post. As an Amazon Associate, we earn from qualifying purchases. Read our full disclosure
The lush greenery, serene ambiance, beautiful surroundings, and, yes, the enthralling waterfalls make this place a wonderland for globetrotters. These are some of the best waterfalls in Ubud that you cannot afford to miss while in the town.
Traveling Soon?

Here is a list of our favourite travel providers and accessories to help get you ready for your upcoming trip!
The Best Time To Visit Ubud Waterfalls
This part of the world is gorgeous no matter the time of year. However, Ubud is a tropical town and there are significant differences in the weather during the wet versus dry seasons. Rain, crowds, and prices can make for a very different experience when visiting popular waterfalls and exploring other beautiful attractions in Ubud, like the Sacred Ubud Monkey Forest.
From June through September, the weather in Ubud is hot and dry. This is the high season, so you'll see a lot of tourists and inflated prices for everything. The rainiest months are November through February. While you won't have to deal with as many crowds or high prices typical of the high season, access might be an issue if roads are washed out or water levels are too high.
The best time for chasing waterfalls in Ubud is right after the wet season but before the dry season. During the months of March, April, and May, the rivers and streams are still full and make for spectacular waterfalls. Plus, you'll be able to take advantage of the lower prices and smaller tourist crowds!
Tibumana Waterfall
One of the most tranquil falls to visit on your Ubud waterfall tour is Tibumana. An easy walk leads you through the lush jungle to this hidden waterfall with a natural pool where tourists can swim and have a fun time with their dear ones.
Tucked away in the jungle, this waterfall is the best spot in the region to beat the summer heat. While you're there, do not forget to capture some amazing clicks for your Instagram. There is a small changing room near the waterfall, and shops at the entrance for drinks or snacks. One needs to pay about $1.30 USD (20,000 IDR) for access to Tibumana Waterfall, and this includes parking.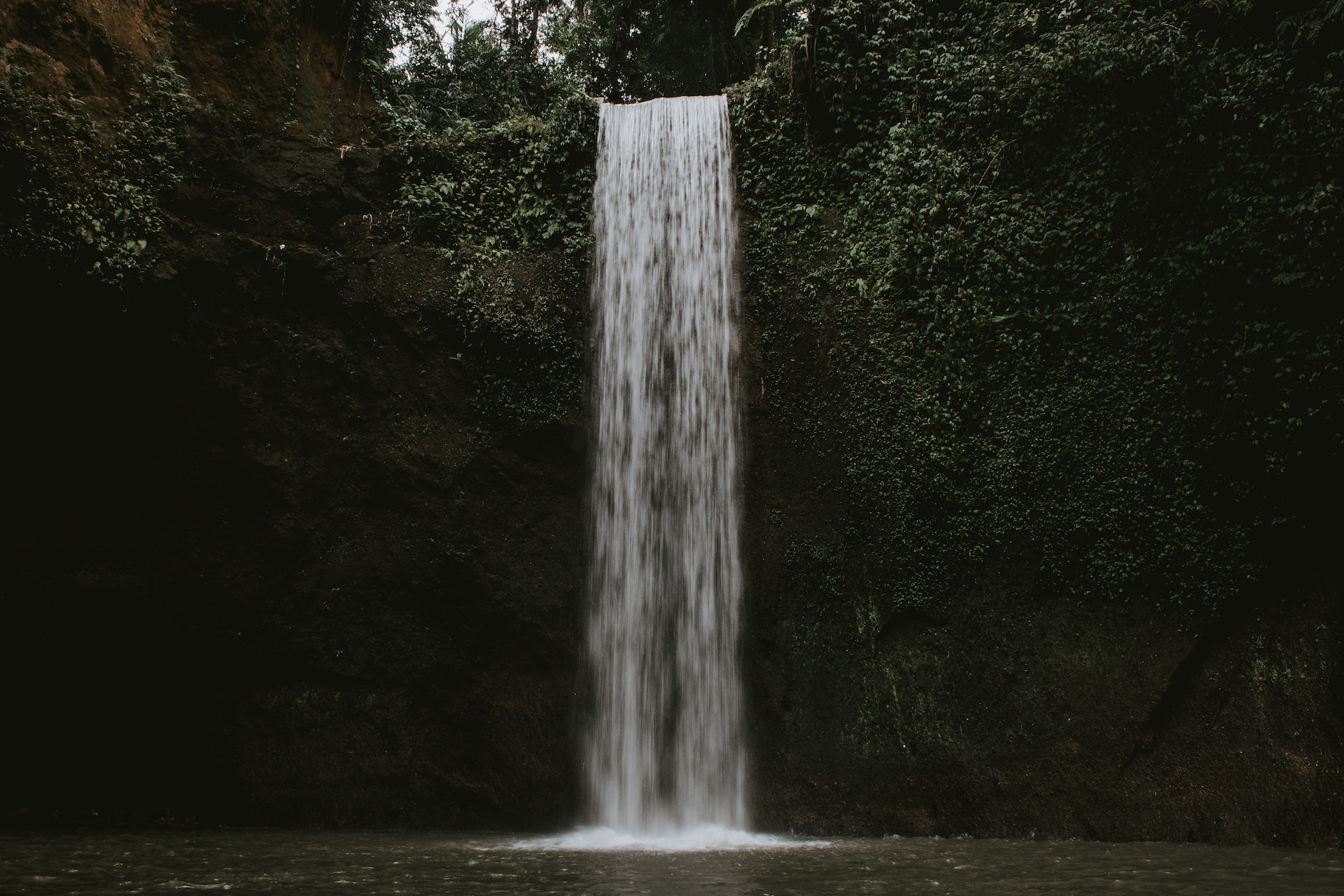 Pengibul Waterfall
Pengibul is located within the same region as Tibumana. It is considered one of the most beautiful hidden gems of Ubud. Unlike other waterfalls near Ubud, Pengibul Waterfall is less crowded. The path to the falls is quite scenic, and a long flight of stairs takes you to the spot.
This multi-tiered waterfall is stunning, and its wild, natural setting makes for wonderful photos or a peaceful reflection spot. While this beautiful waterfall does have a natural pool for swimming, there are no amenities. However, it is one of the ideal places to picnic or to spend some quality time with friends and family. Pengibul is free to visit.
Taman Sari Waterfall
While you're in the area visiting Tibumana and Pengibul, don't miss out on Taman Sari Waterfall. The entrance is just a 15-minute walk from Pengibul, and there's a parking lot if you prefer to drive.
The path down to the waterfall is pretty easy and stops at a couple of awesome viewpoints where you can take some fantastic photos. Taman Sari is a two-tier waterfall with two natural swimming pools, and you can access both. The bottom pool is much bigger and wonderful for swimming. Entrance to Taman Sari Waterfall costs about $1.30 USD (20,000 IDR)
Tukad Cepung Waterfall
30km (18.6 miles) northeast of Ubud lies another stunning waterfall called Tukad Cepung. It is an impressive waterfall near Ubud, as it is located inside a hidden cave. This waterfall is popular among locals and foreigners alike and makes for amazing photo opportunities. Be prepared for a bit of a hike down into the cave; there are lots of stairs to navigate.
Whether you are looking for that perfect Instagram shot with a waterfall backdrop or just want to spend some fun time with dear ones, Tukad Cepung is the place where you should be. In order to make the best of your visit to Tukad Cepung, it is best to visit it in the morning. The entrance fee of Tukad Cepung waterfall is under $1 USD (15,000 IDR).
Goa Rang Reng Waterfall
Another popular waterfall that will leave you awestruck with its exquisite beauty is Goa Rang Reng. While there, you can either climb up to the top of this Gianyar waterfall in Bali with the help of a rope, or you can explore the sacred cave. Remember to be respectful and considerate, as these grounds are considered to be sacred. To be on the safe side, ask before venturing beyond the waterfall, and consider joining a guided tour to explore the beautiful sites in the area.
There is a small pool at the base of this beautiful waterfall where you can spend some fun time plunging into the water. This place is a lot in itself, and it doesn't get quite as busy as a lot of Bali's waterfalls. There is also a temple right at the entrance, which is also a popular attraction in the region. Tourists have to pay an entrance fee of $1 USD (15,000 IDR) to enter Goa Rang Reng.
Dusun Kuning Waterfall
Often known as the Yellow Waterfall, Dusun Kuning is a place for daredevils. Wondering why? The path that leads to the fall is a bit challenging: it's wet and slippery. However, it is worth a stop on your Bali waterfall tour if you don't mind a bit of a trip from your Ubud home base. Dusun Kuning is about a 40-minute drive from Ubud, but you won't have to share this amazing place with a bunch of tourists.
The drive to the waterfall is beautiful in itself-winding through small, picturesque villages perched above rice terraces.
The waterfall is a great place to dive. There are restaurants, cafes, and stores in the village at the top of the waterfall, so you can take your time and enjoy the experience. One needs to pay a sum of $1.30 USD (20,000 IDR) to get access to Dusun Kuning.
Tegenungan Waterfall
When you're here, a visit to Tegenungan Waterfall is one of the best things to do in Ubud. Located just 15 minutes from the centre of Ubud, it is one of the most frequented waterfalls in the region, so you can expect a good amount of people to be enjoying this stunning natural attraction along with you.
Since it is a popular attraction in Ubud, the area surrounding the waterfall has become quite developed in recent years. At the top of the fall, there is a long glass bridge that offers amazing views of the cascade and river below, and there is a popular club overlooking the site. There are countless opportunities for photos taken from the bridge, club, or a rustic jungle swing at the base of the waterfall. You will have to pay $1 USD (15,000 IDR) for an adult under $1 USD (10,000 IDR) for a child as the Tegenungan Waterfall entrance fee.
Sumampan Waterfall
Located just 5 minutes from downtown Ubud, Sumampan Waterfall is another of Bali's hidden waterfalls that shouldn't be missed. Tucked away in the village of Kemenuh, this waterfall has always been popular with the locals and is now starting to draw tourists.
The path to Sumampan Waterfall is beautiful, winding through palm trees and jungle to stairs that lead to the base of the falls. The second half of the trek becomes a bit more challenging as the stairs become more steep and narrow as they curve around the edge of a cliff.
Once you get there, you'll agree that the hike down was worth it. The waterfall flows from a canopy of large, dense trees, and the natural pool is framed by rock carvings that were created by a local artist. There is no Sumampan Waterfall entrance fee, but there is a donation box at the entrance.
Kanto Lampo Waterfall
This picturesque waterfall is located just 20 minutes from downtown Ubud and has become very popular with tourists. It's pretty easy to access and has a few conveniences like shops and lockers to store your belongings.
The photogenic cascade ends in a shallow pool that is open to swimmers, which can get crowded, especially in the high season. Your best bet is to get there early in the day to enjoy the waterfall and then explore the surrounding area. You'll come across intricate carvings in the stone surrounding the falls, a hidden cave, and some fantastic viewpoints over Kanto Lampo Waterfall. The entrance fee to Kanto Lampo is around $1.30 USD (20,000 IDR).
Suwat Waterfall
Another hidden gem in the Gianyar area, Suwat Waterfall, is about a 30-minute drive from Ubud's city centre. This spot hasn't become very popular with tourists quite yet, so it shouldn't be too busy. You can easily spend a few hours here, and there are some conveniences at the entrance, such as lockers and a small restaurant for drinks and snacks.
The path to the waterfall is easy and paved, winding through a photogenic bamboo forest on the way down. The 15-metre cascade flows into a natural pool that can get a bit deep during the wet season, and locals have provided a bamboo raft for visitors to use. Entrance to the waterfall costs about $1 USD (15,000 IDR).
Although it's a difficult task to visit all these beautiful waterfalls at once, it can be managed with a good and well-planned itinerary.
Have you been to these Bali waterfalls? How was your time there?
Author Bio: We are Jimmy & Tah, American and Thai Millennials who left our careers in the military and finance to become full-time travelers.