Asia is full of exotic animal interactions. It is one of the main draws for tourism. The western world is filled with boundaries and limitations, and people often fantasize about visiting Thailand so that they can pet a tiger or ride an elephant. But the truth is – most of the activities that involve animal interactions give little thought to the welfare of the animals involved.
*This post may contain affiliate links, as a result, we may receive a small commission (at no extra cost to you) on any bookings/purchases you make through the links in this post. As an Amazon Associate, we earn from qualifying purchases. Read our full disclosure
Traveling Soon?

Here is a list of our favourite travel providers and accessories to help get you ready for your upcoming trip!
Social media has been a great tool for bringing awareness to the general public about ethical and unethical animal interactions. And as travelers become more educated and pickier about activities they partake in, businesses have had to adapt.
"Sanctuary" is a buzzword often used to portray ethical animal tourism that we are starting to see more and more. But what actually defines a sanctuary and why should we – as travelers – be questioning these places that we visit?
How to Recognize an Ethical Animal Experience?
My experience at the Elephant Valley Project in Cambodia taught me five simple animal freedoms to consider when selecting an ethical animal experience.
Five Freedoms of Animal Welfare:
Do the animals have the freedom to move around?

Do the animals have the freedom to interact with other animals?

Do the animals have the freedom to proper health care and veterinary care?

Do the animals have the freedom to a proper diet?
And most importantly…
Do the animals have the freedom to get away from people if and when they want to?
Other things to consider when choosing animal experiences at home or overseas include the following:
Tours are conducted for educational purposes, not entertainment.

There is limited human contact with the animals unless supervised by a qualified professional.

Hand feeding treats to animals is strictly prohibited

Animals should never be drugged or chained up as a precaution for human safety.

Animals at sanctuaries should be in rehabilitation or there as rescues. They should never be removed from the wild.
Cruelty-Free Ethical Animal interactions in Asia:
If you are looking for an ethical animal experience in Asia, here are a few I can recommend.
A complete hands-off education experience! My boyfriend, Kevin and I signed up for a full day trek (morning and afternoon) to walk alongside these gentle giants at their 1,600-acre forest reserve. We learned about the individual stories of each of their 5 elephants, why they were at EVP, and how long they were staying. Plus, we got to watch them bathe and eat leaves all day.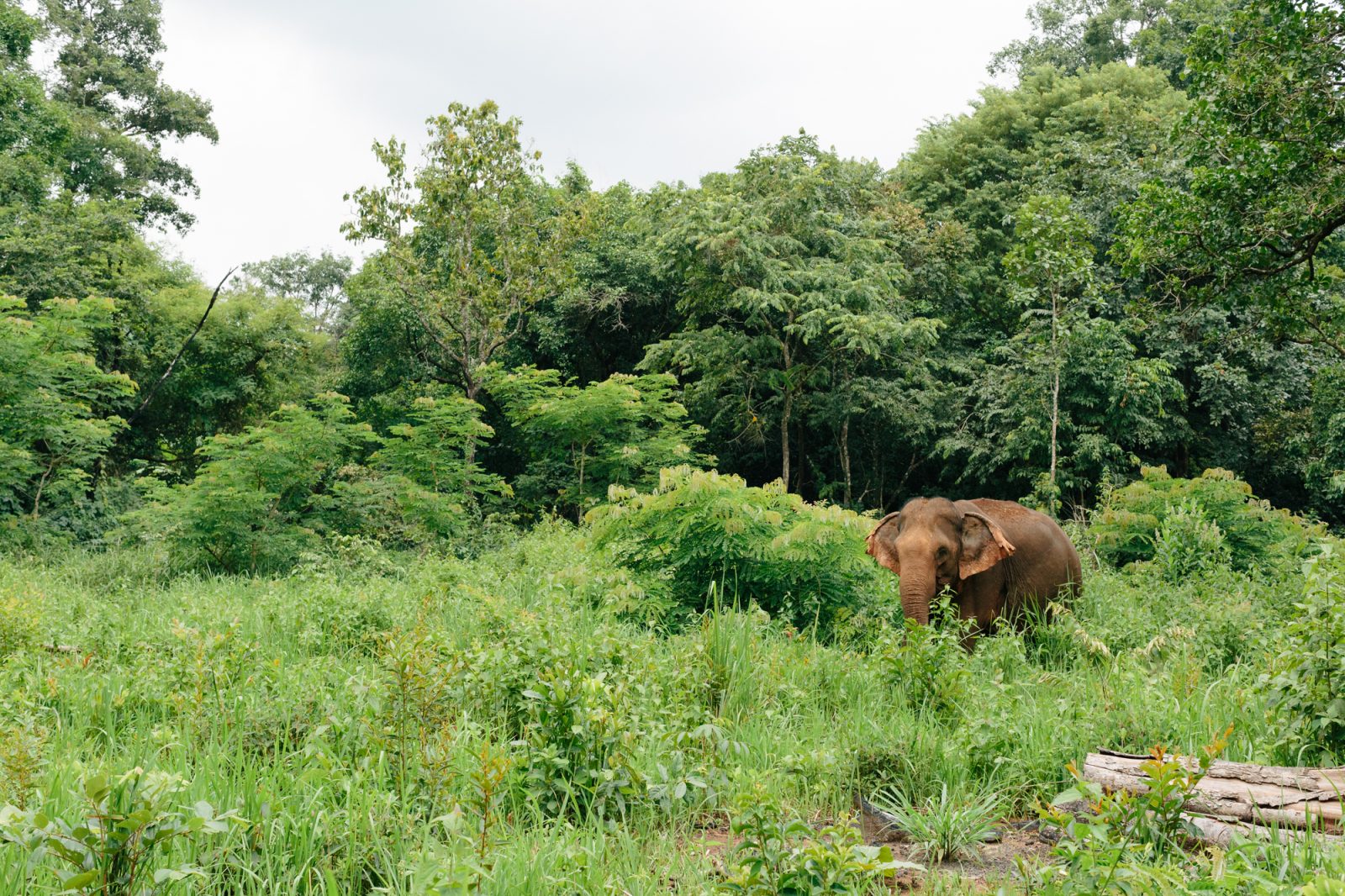 Swimming With Whale Sharks in Donsol – Philippines
There is a more popular whale shark experience in the Philippines that you might have heard of at Oslob, near the coast of Cebu. Unfortunately, the sharks that are locals to Oslob are fed a low nutritional diet of frozen krill to keep them in the bay so that big groups of tourists can snorkel with them. Many of them possess scars from boats lingering too close and being hit by the engine propellers.
After learning about this I did some research to see if there was another whale shark experience that I could visit which put the shark's well-being before tourism in the Philippines. That is when I came across the town of Donsol. The waters off the coast are filled with so much plankton that the sharks come there on their own and do not require any feeding. The program at Donsol is also supervised by marine biologists and people are only allowed to swim with the sharks in groups of 4-5 to prevent causing stress to the animal. They have a completely hands-off policy and touching the sharks could land you with a hefty fine or in jail. Yikes!….but good for the sharks.
I got to swim alongside a nine-meter whale shark for about 20 minutes, it was incredible! I was exhausted from trying to keep up.
Lanta Animal Welfare is a rescue center on Ko Lanta island. Here you can volunteer your time to walk one of their rescue dogs or play with their rescue cats (before 11am).
I also recommend enrolling in a cooking class at Time for Lime. All the proceeds are donated to the animals at Lanta Animal Welfare and you'll learn to make some yummy Thai foods!
Kuta Lombok Dogs – Indonesia
There are many stray dogs all around Asia which can be a pretty sad sight. Kuta Lombok Dogs is a useful resource when you see a dog that just really needs some help. They do not have any set facilities to house injured animals but they have a team that will respond to animal emergencies around Kuta Lombok and tend to dogs in need.
I found out about their program when I found a dog bleeding excessively from his head and out of worry that he wasn't going to be ok, I searched for a dog rescue in Lombok and found Kuta Lombok Dogs. They responded within a few minutes of my reaching out to them on Facebook and sent a veterinarian out to find him. Later that day I got a message from them with a picture to show he was ok!
You can volunteer with them or if you are short on time you can also donate a little bit to help buy medicine and food for the stray dogs around Kuta! I was extremely impressed with their efforts.
Looking for other Ethical Animal Experiences?
A great resource that I often use for checking if there are any ethical animal sanctuaries or volunteer programs in the country that I am visiting is World Animal Sanctuary Protection (WASP). They provide a list of places around the world to visit that check all the right boxes to get you set for your ethical animal adventure.
About the Author:

Sara Uduwela was born in Singapore and has been living between California, Australia, and Singapore for most of her life. She is passionate about wildlife conservation, traveling, and eating all things yummy. In her free time she likes to exercise and cook (mostly Singhalese and Singaporean food). These days she lives in Melbourne and works as a freelance photographer while she saves enough money to hit the road again!

Follow her on Instagram and her photography website.
Have you participated in ethical wildlife tourism? What are some organizations you can add to the list? Let us know in the comment section below!