Indonesia is one of the world's most incredible dive destinations. With coral reefs that are weathering climate change better than most others, abundant marine life, shipwrecks, and fantastic pelagics, travelers come from all over the world to dive in this amazing country.
*This post may contain affiliate links, as a result, we may receive a small commission (at no extra cost to you) on any bookings/purchases you make through the links in this post. As an Amazon Associate, we earn from qualifying purchases. Read our full disclosure
One of the biggest selling points of diving in Indonesia is the staggering diversity of the region. With more than 17,000 islands, you have your choice of thousands of beautiful dive sites.
There are dive sites suited to all levels, so regardless of whether you're a beginner or a serial diver, Indonesia offers plenty of diving opportunities for you.
We've had the chance to try Indonesia diving in many parts of the country and can certainly confirm that Indonesia offers world-class diving spots.
Traveling Soon?

Here is a list of our favourite travel providers and accessories to help get you ready for your upcoming trip!
---
Here are our favorite places to dive in Indonesia to help you find the best dive site in this vast diving destination.
---
Best Places To Dive In Indonesia
Komodo National Park
When to Go: Year-round
Certification Level: Open Water
Water Temperature: 25-30 °C
Depth of Dive Sites: Up to 30 m
Visibility: Excellent
Currents: Strong
Access Point: Labuan Bajo, Flores
Located off the coast of the island of Flores, Komodo National Park is one of the most impressive nature reserves in the world. On land, you'll see the famous Komodo dragons in the flesh, while underneath the surface, you'll see a kaleidoscope of colors and shapes in Komodo National Park.
Compared to other Indonesia dive sites, Komodo National Park boasts great visibility, so you'll have high chances of seeing all the sea life Komodo is so famous for.
This is one of the best places to dive in Indonesia if you want to see large creatures, such as manta rays, turtles, and sharks. There is also a great abundance of tiny creatures that you can see on macro dives. In general, diving here is a bit more advanced due to strong currents, but there are some dive sites that are perfectly suitable for beginners.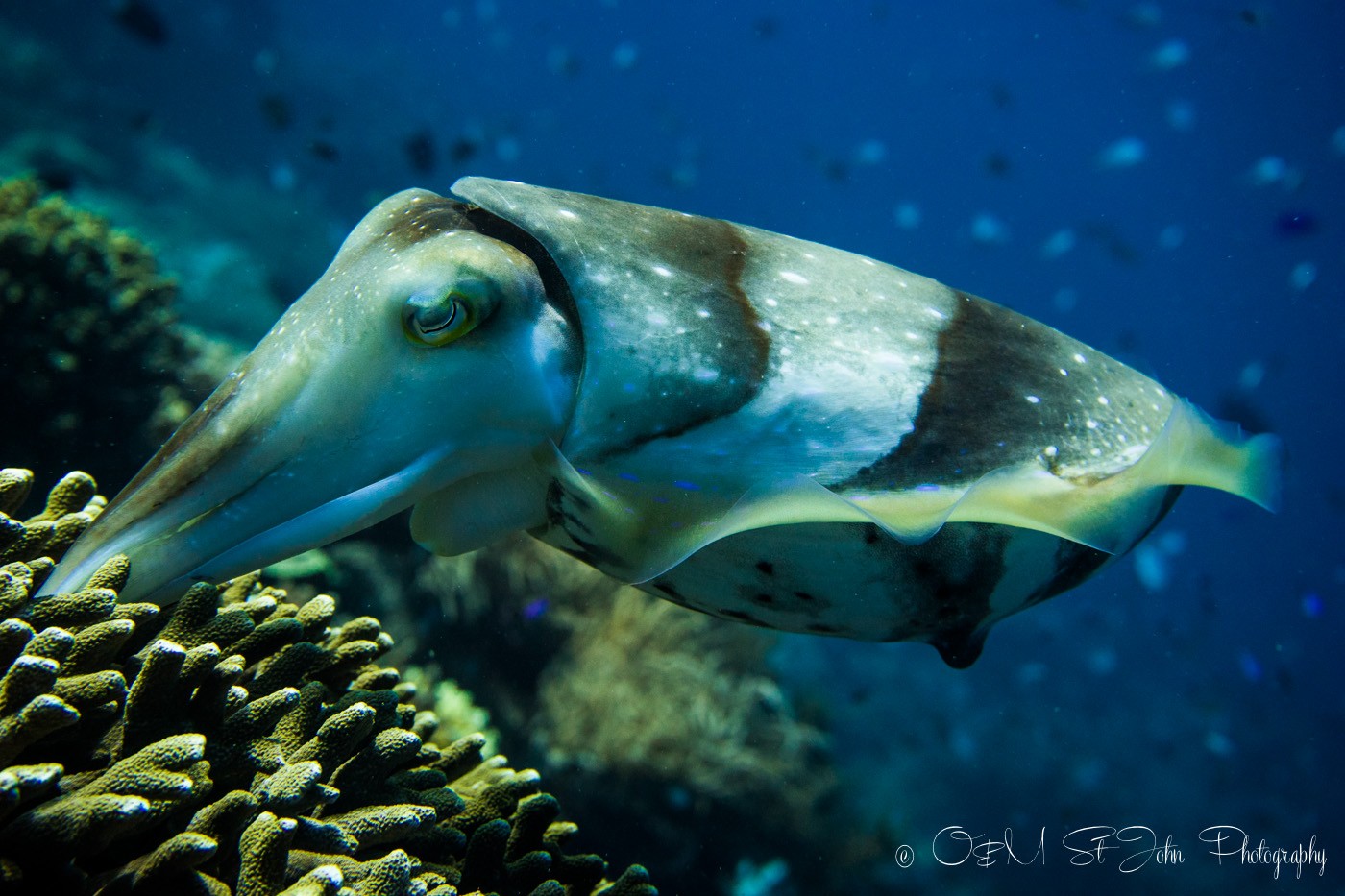 Best Dive Sites In Komodo National Park
Some of the best dive sites in Komodo include
Manta Alley– situated between rocky outcrops, this is the best place in Komodo National Park to see Manta Rays
Batu Bolong– this coral garden is teeming with large fish species, sharks, and other marine life but strong currents exist on the outskirts of this dive site so you must remain in the safety zone.
Cannibal Rock– considered a macro diving highlight in the Komodo Islands
Golden Passage– located in the channel that separates Gili Lawa Darat and Komodo Island, this scuba diving site is known for its bright coral sea garden.
Cauldron– this pristine reef has a strong current that makes it an adventurous dive, but one where you might spot pygmy seahorses.
Where To Stay In Komodo
Eco Tree O'tel: If you prefer to stay on land, you'll have to base yourself in Labuan Bajo, and the Eco Tree O'tel is a great option. The staff here are accommodating and are known for having in-depth knowledge of the best diving in the area. The rooms are attractive and equipped with comfortable beds and en suite bathrooms.
Liveaboard Boat: If you want to spend more time in the water and travel to further away dive sites, we highly recommend staying on a liveaboard. There are over 60 liveaboard options to choose from in Komodo, ranging widely in price, length of stay, and amenities.
Raja Ampat
When to Go: Year-round
Certification Level: Advanced Open Water
Water Temperature: 28 – 30 °C
Depth of Dive Sites: Up to 35m
Visibility: Excellent
Currents: Strong
Access Point: Sorong, West Papua (via Sulawesi)
Raja Ampat is considered by many to be THE BEST scuba diving spot in Indonesia. In Western Papua, you'll find this massive chain of islands that are full of dense jungles and surrounded by some of the most pristine ocean water in the world. Located right in the middle of the coral triangle, Raja Ampat is one place you should not miss while you're scuba diving in Indonesia.
Because it is so remote and expensive, Raja Ampat doesn't see as many tourists as other destinations in Indonesia. The reefs here are very healthy and are teeming with marine diversity. There are also some cool World War II shipwrecks that are popular with history buffs.
Raja Ampat is a marine protected area, meaning fishing is extremely restricted, and the health of the seas is closely monitored. Most scuba divers opt to explore the region on a liveaboard boat in order to cover as many dive sites as possible, however, it is also possible to stay on land at one of the diving resorts as well.
Best Dive Sites In Raja Ampat
Some of our favorite dive sites in Raja Ampat include the following:
One Tree Island– Located in Missol, this Indonesia diving site is known for the large shoals of silversides that grace the waters from October to February
The Passage– this shallow Raja Ampat dive site is located in a saltwater river and is home to diverse marine species, including sharks, crocodiles, and macro marine life.
Melissa's Garden– considered one of the best dive sites in Raja Ampat, Melissa's Garden hosts intensely colored corals and a huge variety of species.
Cape Kri– this is one of the best Indonesia dive sites for its diversity of species. It holds the world record for the most species referenced in a single dive.
Where To Stay In Raja Ampat
Papua Paradise Eco Resort: The resort sits on the beautiful island of Birie, where the flora and fauna are incredible above and below the water. Not only does this resort have an excellent scuba diving shop on site, but it is also one of the most beautiful and luxurious properties in all of Raja Ampat.
Liveaboard: There are more than 60 liveaboards in Raja Ampat, offering a range of itineraries, dive trip lengths, and comfort levels. Due to long distances, liveaboards that last 5-7 days can only visit one region in Raja Ampat and those 14 days and more can allow you to dive in two or more areas.
Lembeh Strait
When to Go: Year-round
Certification Level: Open Water
Water Temperature: 24 – 30 °C
Depth of Dive Sites: Up to 25m (most are less than 15 m)
Visibility: Low (but this means more critters!)
Currents: Weak
Access Point: Bitung, North Sulawesi
The Lembeh Strait is another one of the best places to dive in Indonesia, but not for the reasons most would expect. There are very few corals here and a complete lack of larger marine life. What they do have, however, are microscopic creatures, like nudibranchs, that live on the seafloor and in a number of nearby wrecks.
These fish and small organisms seem like they are from another planet, and dedicated divers make the journey here to swim with them and photograph them up close.
This kind of diving is called muck diving, and the Lembeh Strait is one of the most famous places for it in the world. This unique diving is exactly what makes Lembeh Strait known for some of the best diving in Indonesia. Here are some of the best muck diving sites and areas for wreck diving in the Lembeh Strait.
Best Dive Sites In Lembeh Strait
Nudi Falls– Considered one of the best night diving sites in the world. It's known for its sightings of the blue-ringed octopus, cuttlefish, pygmy seahorse, and colorful nudibranchs.
Angel's Window– Pygmy seahorse and ghost pipefish hide within the sea fans at this diving spot in Indonesia. You may also spot bigger species like schools of Pelagic fish
Mawali Wreck– this wreck of a World War 2 Japanese Freighter is 90 meters long.
Where To Stay In Lembeh Strait
There are two options for staying close to Lembeh Strait. One is to stay on the mainland near the town of Bitung and the other one is to stay on Lembeh Island.
Lembeh Island offers more accommodation options but is a bit more remote, so during our visit, we opted to stay on the mainland.
Cocotinos: We stayed at Cocotinos, a boutique dive resort with an ideal location for diving in Lembeh Strait. The resort has a restaurant on-site, a pool, a garden, and a shared lounge and offers scuba diving lessons and certifications. Rooms are not luxurious but comfortable enough and offer all the necessary amenities.
Lembeh Resort: This lodge is located on Lembeh Island and has made great strides in implementing eco-friendly technology, reducing plastic consumption, and supporting the community through education and employment. Each room has a bungalow with a sea or garden view, and there is a restaurant and scuba diving center on-site.
Bangka Archipelago
When to Go: Year-round
Certification Level: Open water
Water Temperature: 27 – 30 °C
Depth of Dive Sites: Up to 40 m
Visibility: Moderate – excellent
Currents: Weak – moderate
Access Point: Manado, North Sulawesi
If you are looking for a more remote and practically untouched spot for diving in Indonesia, then head to the Bangka Archipelago in Northern Sulawesi. This group of islands includes Bangka, Kinabohutan, Gangga, Talisei, and Tindila and offers over 30 dive sites known for healthy reefs and plenty of marine life.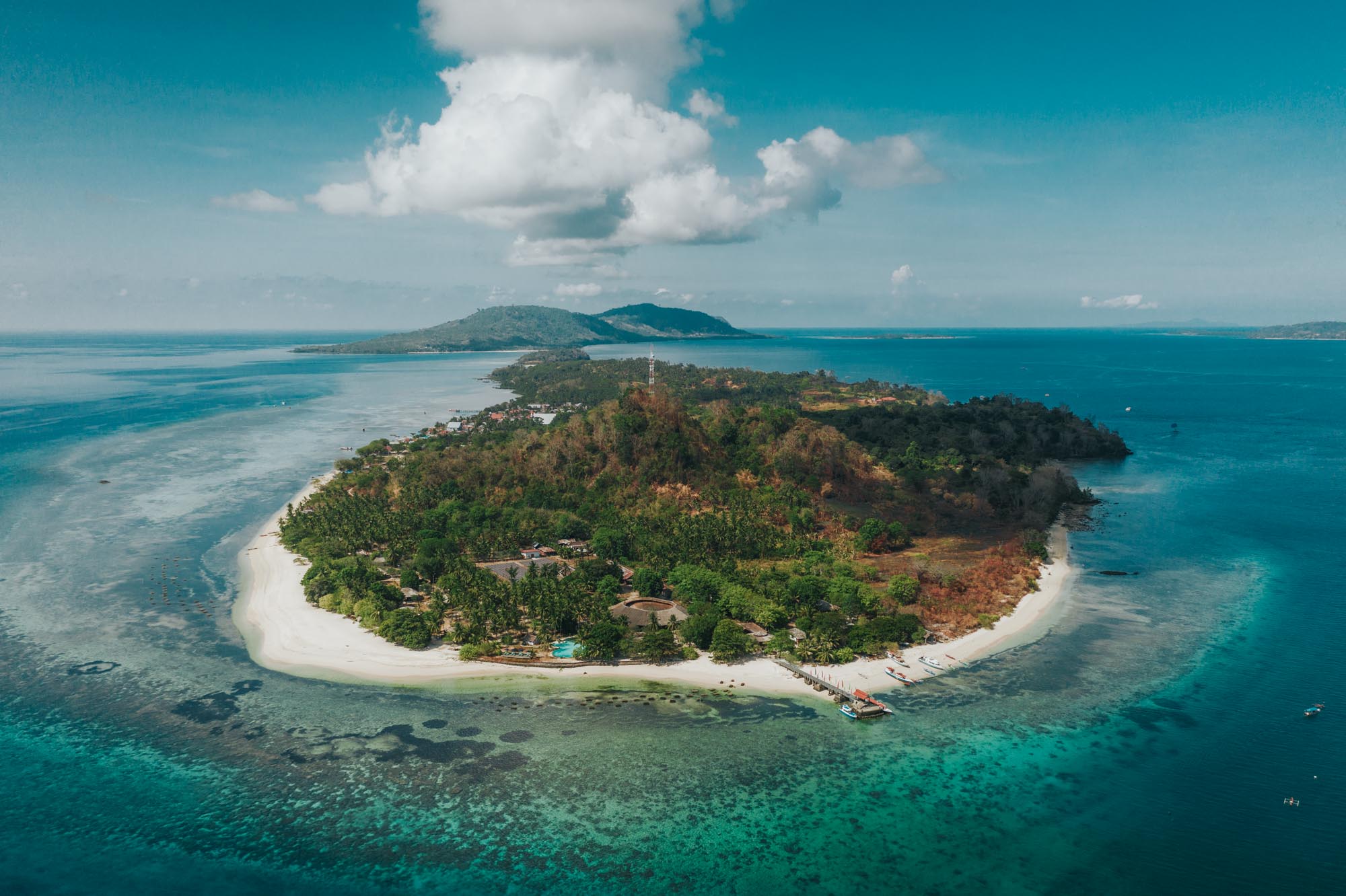 Best Dive Sites In Bangka Archipelago:
North Talisei Pinnacles – a beautiful dive site covered with soft corals, sea fans, and feather stars known for plenty of nudibranchs and many colorful fish.
Lihaga Island – home to the famous mandarin fish
Tanjung Husi – located off the west coast of Bangka Island, this drift dive site is known for frequent sightings of giant frogfish, blue-ribbon eels as well as many other unique creatures. Plus, there is a good chance of spotting white tip reef sharks.
Plane Wreck – the wreck of a World War II B-21 bomber plane rests on the sandy bottom with lots of small critters nearby.
Where To Stay On Bangka Archipelago
Accommodation options within easy reach of Bangka Archipelago are available on Bangka and Gangga Islands. It is also possible to stay on the mainland near the town of Likupang.
During our visit, we stayed at the Gangga Island Resort & Spa, home to the 5-Star PADI dive center, Gangga Divers. The resort offers beautiful air-conditioned bungalows with double beds and a verandah. There is a restaurant on-site and a spa providing you with the ultimate one-stop-shop for a great diving holiday.
Blue Bay Divers: This resort takes environmental protection seriously. They have a number of environmental protection projects in place and do without air conditioning and running water. They use a traditional Indonesian "mandi" in the bathrooms instead. Blue Bay Divers has an onsite dive center, an incredible location, and a restaurant, and their bungalows are built in traditional Sulawesi style on the beach.
Bunaken Islands
When to Go: Year-round
Certification Level: Open water or advanced
Water Temperature: 27 – 29 °C
Depth of Dive Sites: Up to 50m
Visibility: Excellent
Currents: Moderate – strong
Access Point: Manado, North Sulawesi
The Bunaken National Marine Park is made up of three main islands: Bunaken, Manado Tua, and Mantehage islands. The park is just to the southwest of Bangka Island in North Sulawesi and is world renowned for excellent diving.
Bunaken Islands are known for microscopic marine life as well as some larger animals like reef sharks, rays, and tuna. The area is also well known for wall dives and many gently sloping reefs to suit beginner to experienced divers.
Mangrove forests can be found near the shores and add to the biodiversity of this region. This area used to be full of fishing villages, and the local charm can still be felt around the dive centers.
Best Dive Sites In Bunaken Island
Turtle City – a vertical wall that turns into a steep coral-covered slope with many hiding places for turtles of all sizes.
Fukui – the perfect site for introductory dives featuring a colorful reef top, huge gardens of cabbage corals, and big barrel sponges. Known for rays, turtles, as well as a plethora of other marine life.
Ron's Point – known for an abundance of blue tangs (aka Dory from Finding Nemo) and Napoleon wrasse. It also offers a good chance to spot dugongs.
Where To Stay On Bunaken Islands
You can dive on Bunaken Islands while staying at the Gangga Island Resort & Spa on Gangga Island or stay in Manado. Alternatively, you can stay at one of the resorts on the Bunaken Islands.
Kuda Laut Boutique Dive Resort: Located on Siladen Island, this resort offers accommodation in spacious cottages and villas built with attention to detail and style. The majority of staff at the resort are from the local village and the resort was built to be environmentally friendly with minimal impact on the flora and fauna of the island.
Happy Gecko Dive Resort: This boutique resort features a private beach, restaurant, and just six standalone bungalows with sea views. Happy Gecko has its own dive center that offers scuba, snorkeling, and dolphin-watching tours.
Bali
When to Go: Year-round
Certification Level: Open Water
Water Temperature: 27 – 30 °C
Depth of Dive Sites: Up to 30m
Visibility: Good – Excellent
Currents: Moderate (depending on location)
Access Point: Denpasar, Bali
Bali is a big island and features a number of different places that are great for diving. One of the most popular is Manta Point off of Nusa Penida, which is one of the best places to see manta rays in the entire country, as well as the comical Mola Mola ocean sunfish that visits the area during the right season. This dive site offers some of the best diving in Bali and this is the reason why many divers decide to try scuba diving in Indonesia.
There are over 40 dive sites scattered around Bali and the nearby islands. A number of dive sites can be found along the East Coast as well as in the Northwest part of the island. Nusa Penida and the surrounding small islands are particularly famous for their rich marine life and colorful corals.
Bali is also a great place to learn scuba diving since most of the dive sites are appropriate for beginners and currents tend to be moderate. A lot of these dive sites are great for drift diving.
Best Dive Sites In Bali
Manta Point – the dive site is known for cold waters but offers unforgettable encounters with manta rays, blue-spotted rays as well as octopuses.
Toyapakeh – popular drift dive site around Nusa Penida with a steep sloping reef face, beautiful hard and soft corals, and an abundance of fish life.
Liberty Wreck – a World War II ship that lies close to the shore with accessibility for both advanced and open water divers. Fish here are very accustomed to divers and tend to be rather curious and friendly.
Crystal Bay – one of the most famous dive sites in Bali, Crystal Bay is one of the few places where divers can see the oceanic sunfish, otherwise known as the Mola Mola. The red coral plateau adjacent to this site is home to lots of colorful reef fish as well.
Where To Stay In Bali
If you are coming to Bali with the sole purpose of diving, we recommend skipping the major tourist hubs of Kuta, Seminyak, Ubud, and Canggu and basing yourself closer to the port.
Lotus Bungalows: Located in Candidasa, far away from other tourist attractions, Lotus Bungalows offers a peaceful escape ideal for any scuba diver. Accommodation is in bungalows, each with elegant furnishings, a Balinese-style open-air bathroom with hot and cold water, and private verandas. The on-site dive center prides itself in a well-run diving operation and offers daily dive trips to all of Bali's best dive sites.
Hotel Uyah Amed: Affiliated with the Amed Eco Dive Center, Hotel Uyah Amed is a family-run hotel with a strong environmental policy that can be seen in the construction of the hotel and its day-to-day operations. The hotel is located in a remote part of Bali on Amed Beach and has an onsite restaurant and bungalows of varying sizes for rent.
Gili Islands
When to Go: Year-round
Certification Level: All levels
Water Temperature: 28 °C
Depth of Dive Sites: Up to 25m
Visibility: Excellent
Currents: Weak – moderate
Access Point: Gili Trawangan, Lombok
The Islands of Gili Trawangan, Gili Meno, and Gili Air are some of the best places to dive in Indonesia. It's particularly an excellent place for beginners due to mild currents and crystal clear waters.
Many first-time divers choose the Gili Islands to do their Open Water Certification for this reason. With dive sites with names like Turtle Heaven and Shark Point, you'll be sure to see plenty of curious swimmers on your dives and tons of marine life.
In addition, you can dive or snorkel at the famous underwater statues or visit a sea turtle sanctuary on Gili Meno.
Best Dive Sites In Gili Islands
Andy's Reef/Shark Point– this dive site is suitable for all levels of divers and is known for its diversity of marine life. Sharks, turtles, stingrays, and snappers can all be spotted in its waters.
Turtle Point– located just off of Gilli Trawangan, you'll not only be likely to spot green sea turtles but also clownfish and octopus.
Gili Air Wall– known for its colorful soft corals, tropical fish, and macro species.
Where to Stay in Gili Islands
Villa Almarik: Whether you're looking to dive, snorkel, or just relax on the white sand beaches, you'll find yourself feeling at home at Villa Almarik on Gili Trawangan. Rooms are spacious and comfortable, set in a lush tropical garden. The hotel is only a short walk from numerous restaurants and bars. It also has an on-site restaurant known for the best pizza in town.
Lutwala Dive & Bungalows: Located on Gili Trawangan, Lutwala Dive & Bungalows is built on an ethos of zero waste and supports many environmental initiatives around the island. They are located on the beach, offer spacious bungalows, and have a restaurant, bar, pool, and Indonesia diving center on-site.
Wakatobi Islands
When to Go: Year-round
Certification Level: All levels
Water Temperature: 29 °C
Depth of Dive Sites: Up to 30m
Visibility: Excellent
Currents: Mild
Access Point: Wakatobi Regency, Southeastern Sulawesi
This isolated archipelago is quickly becoming a popular scuba destination, famous for its calm, clear waters, wonderfully diverse and colorful marine life, and picture-perfect beaches. These islands have been a marine conservation area since 1996 and are now a National Park.
Best Dive Sites In Wakatobi
Roma Reef– located just off of Tomia Island, this large reef is named for its large formation of potato corals that look a bit like the Coliseum. This easy dive is good for all experience levels and has a wide range of sea life to watch for.
Turkey Beach– situated on the south side of Tolandono Island, Turkey Beach has a gently sloping reef with an amazing variety of corals and reef fish. You can also see blue spotted stingrays, green and hawksbill turtles, and crocodile fish.
Waha Wall– located on the northeastern point of Wangi Wangi Island, Waha Wall is home to eagle rays, barracuda, and tuna.
Where To Stay In The Wakatobi Islands
Wakatobi Dive Resort offers a selection of all-inclusive packages that cover accommodation, dive trips, meals, and spa treatments. This resort even has its own airstrip and operates a daily direct flight from Bali. As the Wakatobi Islands are relatively isolated and largely protected from development, this is an amazing amenity!
Naya Matahora Island Resort is located in Langga, Wangi-Wangi Island, and offers air-conditioned villas and rooms with private terraces and sea views. There is also an onsite infinity pool, restaurant, and diving or snorkeling opportunities right outside the door.
Best Time To Dive In Indonesia
Although Indonesia diving is possible at any time of year, the best time to dive in this region is during the dry season, which ranges from April to October, when visibility is the best.
The rainy season does have its advantages, however. Between November and March, the crowds will be thinner, and depending on the specific location, you may have a better chance at spotting marine life, such as manta rays.
Indonesia is one of the best dive sites in the world. It's not an exaggeration. There is so much to see underwater, from brightly colored coral reefs and fascinating macro life to huge pelagics and rainbow-colored marine life. You could dive at each dive site for years at a time and still not see it all.
We highly suggest diving in this region, as scuba diving in Indonesia rarely disappoints.
Have you ever been diving in Indonesia? What are your favorite destinations?