Bali is becoming more and more popular among tourists these days as travelers from all over the world come to explore the "Island of the Gods." There is so much to do on the island, from surfing on black sand beaches to chasing waterfalls in the north.
*This post may contain affiliate links, as a result, we may receive a small commission (at no extra cost to you) on any bookings/purchases you make through the links in this post. As an Amazon Associate, we earn from qualifying purchases. Read our full disclosure
You can hike volcanoes, scuba dive, and visit cultural landmarks like pagodas and temples. You can also eat some of the best (and healthiest) food in Indonesia. All this and more is what makes Bali such an incredible place to visit.
Traveling Soon?

Here is a list of our favourite travel providers and accessories to help get you ready for your upcoming trip!
Best of all, Bali is an increasingly eco-friendly destination. In certain areas like Ubud and Canggu, much effort is being put into going green, not only for the tourists and the trendiness of it all but to genuinely help the country's sustainability efforts.
Eco-hotels are fairly common in some areas and many of the restaurants use bamboo or metal straws. You'll also be able to find lots of vegan and vegetarian food. True, not every part of Bali is eco-friendly, but it's obvious in many places than an effort is being made.
With so many things to see on the island that are all spread out, it can be very hard to figure out where to stay in Bali. Here's our breakdown of the best towns to stay in on the island and which hotels we like best.
Bali Neighbourhoods: Best Areas to Stay in Bali
Kuta
Kuta is the part of Bali that is closest to the airport to the north. It's quite popular and is very touristy, it can get particularly busy during the high season.
It's a popular destination for nightlife, bachelor parties, and a place where many come to "let loose" in Bali. Kuta is home to many shopping malls and tight busy streets. Kuta can be a polarizing place, as people tend to either love or hate it, but regardless of whether or not it is your choice of where to stay in Bali, Indonesia, it is still worth mentioning.
Seminyak
Seminyak is the next suburb after Kuta and it is probably the most popular place to stay in Bali. Seminyak is a bit more refined compared to Kuta. Hotels and villas here are a bit nicer and the nightlife is not as prevalent here. Restaurants and shops in Seminyak are also a bit nicer, so this part of Bali is a great place to stay for couples and families that are looking for a more relaxing experience.
The biggest downside of Seminyak is that it's located a bit further away from the action, so if you are looking to experience nightlife in Bali and choose to stay in Seminyak, keep in mind that it may take you 30 mins or more to get into Kuta thanks to all the traffic.
As one of the most popular spots for where to stay in Bali, Indonesia, you will find crowds here, but you'll also find plenty of infrastructures perfect for tourists.
Ubud
Ubud is the spiritual and cultural centre of Bali. If you're interested in exploring arts and crafts markets, attending culture shows, or taking a meditation class, book your stay in Ubud. It might not be near the ocean, but it is easily one of the most relaxing areas in Bali. It's perfect for families or couples that want to get away from it all, or for solo travelers who want a bit of peace. Ubud is also one of the more natural areas in Bali. You'll find plenty of places to go on little hikes, explore the rice terraces, or just walk amongst the palm trees.
Ubud has grown and expanded significantly over the last few years and tourism in this little town is booming. If you choose to stay in Ubud, especially in central Ubud, be prepared for crowds and bad traffic. There are tons of restaurants in Ubud, lots of great shops and plenty of activities to keep any traveler busy for weeks.
If you are looking to escape the hustle and bustle of central Ubud, we recommend staying slightly outside of the centre and renting a scooter to get around.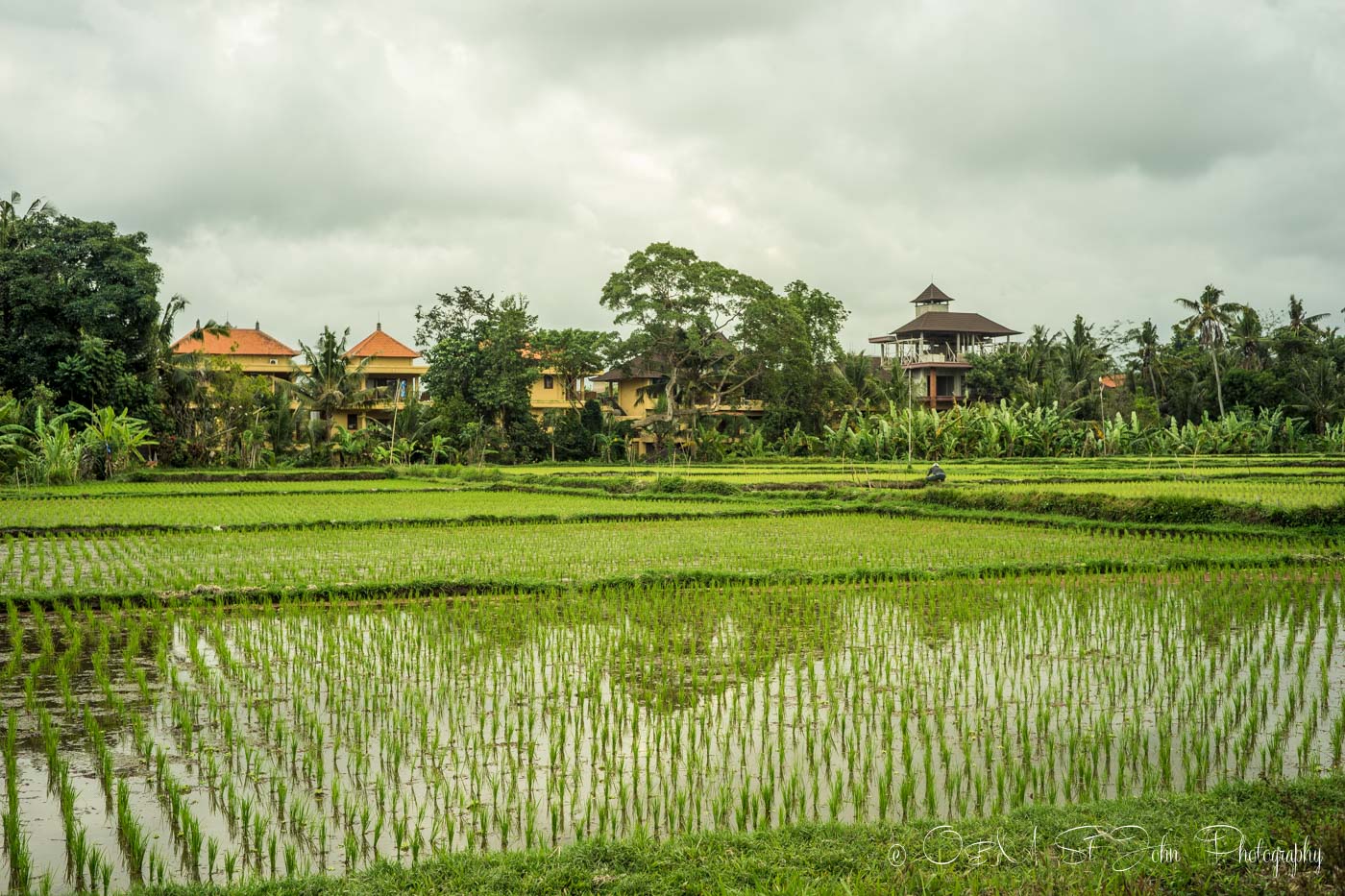 Canggu
Canggu is a surfer's paradise and another popular place to stay in Bali. Although surfing is common all over Bali, many people come to Canggu to take lessons and catch their first-ever waves. With a much less risky ocean compared to Uluwatu to the south, Canggu accommodates all levels.
The town is also known for its amazing cafe culture and, as a result, attracts tons of freelancers and entrepreneurs who are working remotely. In addition to great cafes, you'll find some awesome coworking spaces, trendy boutiques, and superb restaurants. This might be the best area on the island for solo travelers who want to mingle as well as take it easy.
Uluwatu
On the southernmost tip of the island, you'll find Uluwatu. Its majestic scenery, famous culture park, stunning temples, and incredible surf (experts only!) make it a great choice for where to stay in Bali, Indonesia. The beaches here tend to be less crowded and many of them feel quite secret. The cliffs are awesome, especially at sunrise or sunset, and the beach bars are a lot of fun.
Candi Dasa and Panangbai
The two beach towns of Candi Dasa and Panangbai on the east coast of Bali are almost exclusively known as the place to stay in Bali for diving. Dotted with dive resorts, the towns make awesome home bases for dive sites like Pendang, Ped, and Baha. In addition to great diving, there are a number of lovely temples nearby, like Lempuyang and Goa Lawah Temples.
Best Bali Hotels for Every Traveler
The number of accommodation options in Bali is absolutely staggering. Visitors can choose between resorts, villas, hotels, backpacker hostels, guesthouses, apartments, and more.
With so many choices, it can be seriously overwhelming to figure out where to stay in Bali, Indonesia. We've stayed at quite a few places on the island and they are not all created equal.
Where you choose depends a lot on your travel style and your budget. Generally, even fancy Bali resorts are comparatively affordable, and many come with spas, yoga studios, or on-site restaurants. On the other hand, there are many places where you can stay for just a couple of dollars a night if you are really on a tight budget.
Our main piece of advice when choosing where to stay in Bali, Indonesia is to avoid too much hopping around from place to place. It can be tempting to try to see the whole island, but it's rarely realistic. We suggest picking a town that sounds appealing to you and staying for a longer amount of time. Settle in a bit, get to know your way around, and soak in the atmosphere.
Best Places To Stay In Bali For Singles
Swasti Eco Cottages, Ubud:

These peaceful jungle hideaways are perfect for someone looking to have things to do around the hotel while still having their own privacy. At the

Swasti Eco Cottages

in Ubud, you can take a yoga class, eat at the restaurant, or hang out in the inviting common area or by the stunning pool. All the while, you'll have a large private room for yourself with all the luxuries of a hotel. As an added bonus, their restaurant is all organic and sources its food from Swasti's own farm.
The Farm Hostel, Canggu:

If you're traveling solo and are looking to make friends, staying in a hotel or resort can restrict your ability to meet people. Instead, try staying in the nicest hostel in Canggu, The Farm. With two stunning pools, tons of bean bag chairs for sunbathing, and a cafe and restaurant right on-site, you'll have an awesome solo experience while still keeping your costs down.
Best Places To Stay In Bali For Couples
Serenity Eco Guesthouse and Yoga, Canggu:

Bali is a great place for yoga, and staying at a guesthouse that specializes in it is a great experience. At

Serenity

, you can wake up and go to a class with your partner in the morning before cooling off in the pool and taking a walk on the beach in the afternoon.
Theanna Eco Villa and Spa, Canggu:

With a stunning spa and pool,

Theanna Eco Villa and Spa

is an excellent choice for couples who want to relax and reconnect. Situated just a short drive from the beach in Canggu,

the hotel is central and right near all the action

. The open courtyard areas are awesome for lounging and many of the villas have the pool right outside their doors. The decor is clean and stylish, making it the quintessential Bali retreat for couples.
Best Places To Stay In Bali For Families
De Moksha Eco-Friendly Boutique Resort, Canggu:

For something really luxurious but still sustainable, head to

De Moksha

. At this amazing resort, you'll have an absolutely gorgeous pool at your disposal as well as a giant bedroom, restaurant, and spa. It's located outside of Canggu to the northwest, which is a less touristy area. Here, you'll still be a quick drive away from the beach, but you'll have plenty of peace and privacy to enjoy time with your loved ones on your trip.
Ubud Green, Ubud:

Ubud Green

is a luxurious, eco-friendly resort with a green roof that is perfect for all ages. Located right on the outskirts of beautiful rice terraces, the resort has everything you need in a hotel while still being out in nature. There are different activities you can do at the hotel, including cooking classes and visiting their on-site restaurant. Ubud Green also offers family packages.
With so many choices for where to stay in Bali, Indonesia, it can be very confusing to figure out where to book.
Hopefully, this guide has given you some insight into the different towns on the island and what kinds of personalities they attract, as well as some great Bali hotels and resorts.
No matter where you choose to stay in Bali, you can't really make a bad choice. The island is known worldwide for its laid back vibe and charm, as well as for its incredible eco-friendly accommodation options. Regardless of where you stay, you're sure to have a wonderful time.
Where would you most like to visit in Bali?