Costa Rica has something for everyone – from the beautiful beaches to the misty cloud forests to pretty much any adventure sport you could possibly want to try. But those looking to spend some time relaxing with very little effort will be happy to learn that it also has some of the best all inclusive resorts in Costa Rica!
*This post may contain affiliate links, as a result, we may receive a small commission (at no extra cost to you) on any bookings/purchases you make through the links in this post. As an Amazon Associate, we earn from qualifying purchases. Read our full disclosure
We know how hard it can be to find the right all inclusive resorts in Costa Rica, so we've researched you and compiled this list of the best all-inclusive resorts in the country!
Before we jump into our list, it's important to point out that the concept of all-inclusive vacations is not as popular in Costa Rica as it is in, let's say, Mexico, Cuba, or other parts of the Caribbean. And while there are a number of resorts that offer all-inclusive packages in Costa Rica, most of the hotels in Costa Rica are not.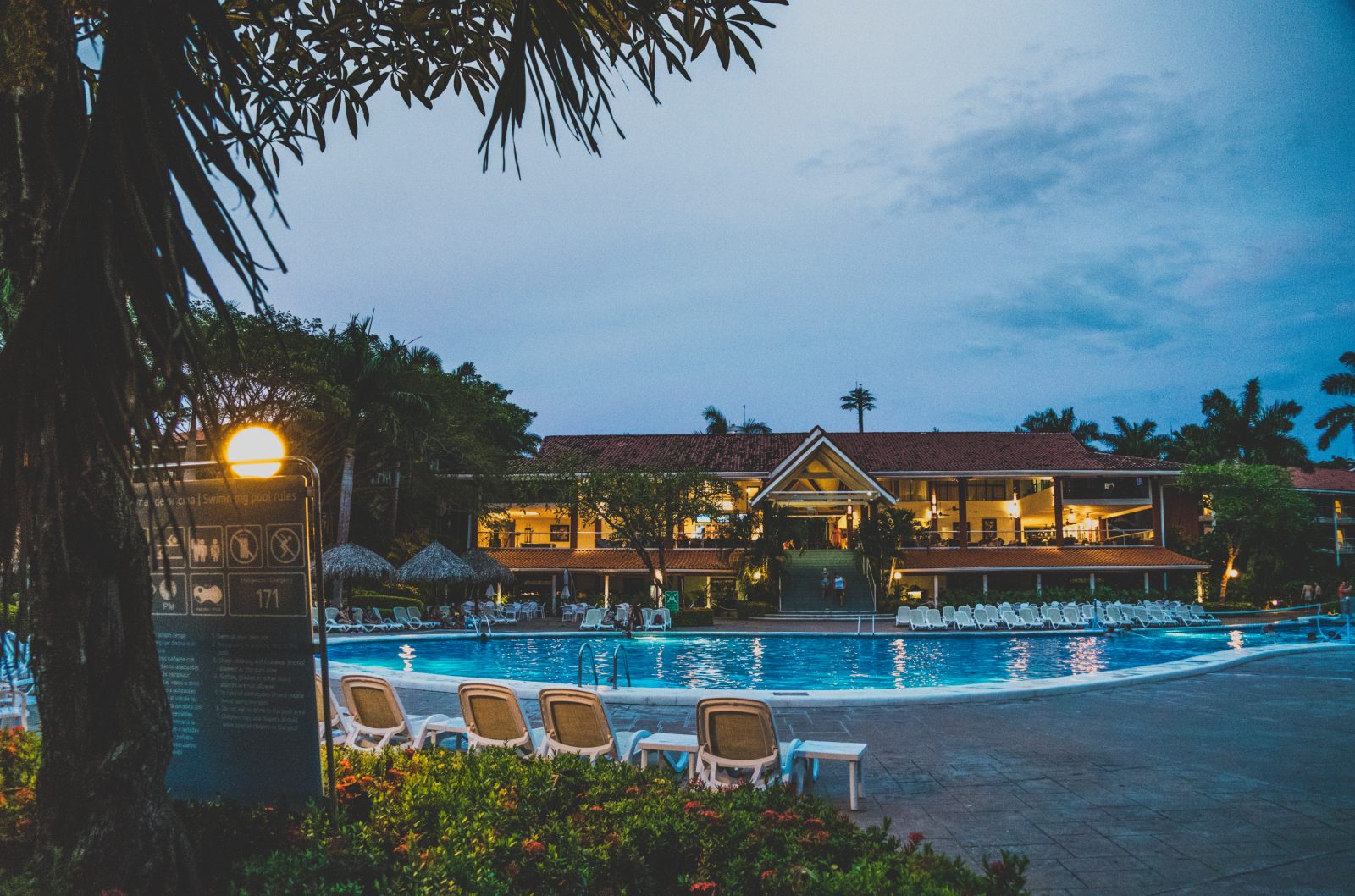 Traveling Soon?

Here is a list of our favourite travel providers and accessories to help get you ready for your upcoming trip!
The Best All Inclusive Resorts in Costa Rica
Westin Golf Resort & Spa, Playa Conchal, Guanacaste
Prices starting at $519/night
The Westin Golf Resort & Spa by Marriott is sprawled out along the beautiful northwest coast right on one of the best beaches in Guanacaste. It is located on Playa Conchal, halfway between Tamarindo and Playa Hermosa, and just 60 kms (37 Miles) from the Liberia Airport.
The Westin is, in our opinion, one of the best all inclusive resorts in Costa Rica and the best golf-resort! It features over 400 rooms, a lagoon-style pool with a whirlpool and a kids' pool, a gym, tennis courts, and a par 71 championship golf course, a diverse range of world-class dining experiences ranging from Latin fare to Asian fusion, and even a kids club!
The resort's all-inclusive package includes 24-hour room service and a well-stocked minibar with sodas, bottled water, liquor, and beer. Breakfast, lunch, and dinner with drinks are also included, and you can dine at any of the resort's many restaurants and bars.
Sustainability Efforts
Not only does the Westin offer a really great all-inclusive experience, but they also do it in an eco-conscious, sustainable manner. The resort has an extensive recycling program and conservation practices in place across the property, boasts a Level 5 Sustainable Tourism Certificate from the Costa Rican Tourism Institute, and has been awarded ecological blue flags in the beach and community. It was also recently certified as carbon positive.
Dreams Las Mareas, La Cruz, Guanacaste
Prices starting at $400/night
The Dreams Las Mareas is another great all-inclusive resort, located in the Northern Guanacaste region on Playa El Jobo, just 20 kms (12 miles) outside of the town of La Cruz. The resort features 447 luxurious suites, and eight dining experiences, including five à la carte restaurants, a buffet, a grill and a cafe, a tropical, infinity pool, or ocean views, and a bunch of on-site activities and tours.
The resort can organize excursions for guests, including an all-day trip to see the Arenal Volcano, a visit to Eco Termales hot springs, and a boat tour of Lake Arenal. Entrance to Arenal Volcano National Park isn't included, but you'll get to explore the Hanging Bridges Rainforest Park. If you'd rather have an outdoor adventure close to the resort, there are hiking trails nearby, and Playa El Jobo is wonderful for snorkeling.
Their "Unlimited-Luxury" package gives you an all-inclusive experience unlike any other. They've got luxurious rooms, not to mention the beach they're located on is perfect for lounging, a quick dip, or a bit of surfing. Dreams Las Mareas is suitable for families but is particularly popular with couples, especially for honeymoons and even weddings.
Sustainability Effort:
The resort has had sustainability in mind since the construction phase, incorporating as much recycled material into the building as possible, and they've got energy-saving practices in place for the entire resort.
Secrets Papagayo Resort, Papagayo Peninsula, Guanacaste
Prices starting at $375/night
The Secrets Papagayo Costa Rica adults-only resort is located in the Papagayo Peninsula in Northern Guanacaste, just 20 minutes from the Liberia airport.
This is one of the few adult-only all inclusive resorts in Costa Rica. Similar to the Dreams La Maeres Resort, Secrets Papagayo (owned by the same parent company, AM Resorts) also features an "Unlimited Luxury" package available for those looking to experience total relaxation, meals, and entertainment without a hassle for the duration of their holiday.
The resort has 202 rooms, four à la carte restaurants, a buffet venue, a grill, a café, as well as two swimming pools and a fitness center on-site. Guests can relax and receive massage, body, and facial treatments at the resort's world-class spa or book a session at the full-service salon.
If you get the itch for an outdoor adventure, the resort is pretty close to several national parks, with Palo Verde National Park about an hour's drive away. You can organize excursions through the resort, like a white water rafting trip down the Tenorio River! For something a bit closer, the beach is just 400 meters away.
Travelers can expect similar amenities and inclusions as the Dreams La Maeres Resort mentioned above, with the only exception being that this resort is putting couples first with their Adult-Only policy. Because of this policy, Secrets Papagayo Resort is perfect for a romantic getaway.
Sustainability Effort
Eco-conscious travelers will be happy to hear that Secrets Papagayo, just like All Secrets resorts, is Rainforest Alliance Certified and Travelife Gold Certified – meaning that the resort is dedicated to its sustainability practices (recycling, water conservation, and waste management) and to minimize their carbon footprint.
Hotel Riu Palace, Playa Matapalo, Guanacaste
Prices starting at $460/night (check for special offers on the resort's website)
Hotel Riu Palace Resort is one of the biggest all inclusive resorts in Costa Rica. It is located on the Matapalo beach, just south of Playas del Coco, in the Guanacaste region, about 40 mins away from Liberia Airport.
The resort features 538 rooms, four pools – one of which includes a swim-up bar, as well as a gym, tennis and volleyball courts, a golf course, equipment for all kinds of water activities and sports, four themed restaurants, and one buffet restaurant on site, and a world-class spa.
All guest rooms feature private balconies or terraces with garden or Pacific Ocean views. Suites also include minibars, satellite tv, and hydromassage bathtubs. Larger suites feature lounge areas complete with a couch plus a private jacuzzi on the terrace.
Sustainability Effort:
Since it's located right on the beach, you have easy access to top-notch water activities like scuba diving with experienced hotel staff. They can also help you arrange ecotourism outings – whether you'd like to visit local volcanoes or try your hand at extreme sports. The resort itself has been awarded the Gold Travelife Award, showcasing its 3-pronged approach to sustainability – environment, society, and human resources.
Occidental Tamarindo, Playa Langosta, Guanacaste
Prices starting at $325/night
The Occidental Tamarindo is the only all-inclusive resort located on Playa Langosta in Tamarindo, one of the most famous tourist towns in Costa Rica. Operated by the Barceló Hotel Group, the resort offers an all-inclusive program that allows its guests to do a variety of activities and enjoy the hotel's restaurants without having to worry about anything.
The resort features close to 200 rooms, an outdoor pool, and a wellness center offering massages on a tranquil beach, a wide range of body and facial treatments, and a fully functional salon. Rooms feature minibars, balconies or terraces with views of Las Baulas National Marine Park.
The dining options at Occidental include three restaurants that feature different cuisines, a hotel bar, and a snack bar located between the resort's pool and the beach. For more variety, there are plenty of restaurants and bars within a short walking distance from the resort.
This resort itself is ideal for any kind of traveler – especially those who love surfing and are interested in venturing outside of the resort to experience the town of Tamarindo. For those who would rather stay close to the resort, Occidental is surrounded by natural beauty, and you can request accommodations with ocean views.
Sustainability Efforts:
Despite being one of the cheapest all inclusive resorts in Costa Rica, the Occidental Tamarindo is also a great choice for a sustainable-minded traveler. The resort boasts a Level 5 Sustainable Tourism Certificate, awarded by the Certification of Sustainable Tourism by the Institute of Tourism in Costa Rica.
JW Marriott Resort & Spa, Hacienda Pinilla, Guanacaste
Prices starting at $600/night
The JW Marriott Guanacaste Resort & Spa is a great property located in Hacienda Pinilla gated community in Guanacaste, Costa Rica. The resort has a very local hacienda-style feel, and while the resort does offer an opportunity to enjoy an all-inclusive vacation in Costa Rica, most of their packages include only breakfast.
Whether you choose to sunbathe by the pool, play a round of golf on their course, get pampered in their spa, or venture out into the nearby towns, beaches, or jungles, this hacienda-style resort is jam-packed with things to do. With the all-inclusive package, you get 3 delicious meals a day, all activities held at the resort, and more!
There are four restaurants at the resort that feature different cuisines, a lounge that offers pub fare, and a pool bar that offers a big variety to choose from. For excellent Costa Rican coffee or Italian ice cream any time of day, there is also a coffee house in the resort.
The resort's spa is a special feature, with outdoor treatment rooms and services that use locally made, natural products. Services include massage, skin treatments, and hydrotherapy. If you are ready for an outdoor adventure, kayaks and bikes are available for rent at the resort, and guided tours can be arranged.
Sustainability Effort:
While not eco-certified yet, JW Marriott is currently in the process of making their hotel more sustainable and is hoping to receive the Covenant Certification for Sustainable Tourism in the near future.
Barcelo Tambor Hotel, Playa Tambor, Nicoya Peninsula
Prices starting at $220/night
Located on the tip of the Nicoya Peninsula along the Pacific Coast of Costa Rica, the Barceló Tambor Hotel is one of the cheapest all inclusive resorts in Costa Rica, offering rooms starting at just $220/night.
This resort is perfect for couples and families interested in a beach-front, colonial-style resort and is a popular destination with domestic tourists. Located on Playa Tambor, Barcelo Tambor Hotel offers spectacular views of Bahia Ballena Bay.
There are a total of 402 rooms, and all feature a terrace or balcony with ocean, rainforest, or garden views. The resort has three restaurants, one open-air trattoria serving Italian cuisine, and three different bars to choose from.
What makes this beautiful resort unique is its on-site facilities: two beautiful pools, a complimentary round of 18-hole golf for every night of your stay, an archery area, a climbing wall, water sports equipment, a nightclub, dance classes, and so much more! You will never run out of things to do here, and when you'd like to venture out into the local area, they can help you arrange tours and activities there.
Sustainability Effort:
Barcelo Tambor is in the process of making the resort as sustainable as possible and has been awarded the Tourism Sustainability Certificate and the Crystal Certificate.
Is All Inclusive Resort the Best Way to Experience Costa Rica?
If you are looking for a perfect way to unwind and truly relax without jam-packing your days with activities or worrying about meals and entertainment, an all-inclusive resort stay may seem like the only option. But luckily, it's not!
We think it's a perfect way to give back on your holiday while also enjoying an amazing all-inclusive vacation in Costa Rica!
So whether you're coming to this beautiful tropical country to relax on the beach for a week or explore the jungles and volcanoes, there are lots of all-inclusive resorts in Costa Rica to suit any type of traveler!