Guanacaste is known as the "sunny side of Costa Rica", due to the fact that is sunny most of the year. For those in search of sunny skies and for a sandy vacation, head to the best beaches in Guanacaste to get your fix.
*This post may contain affiliate links, as a result, we may receive a small commission (at no extra cost to you) on any bookings/purchases you make through the links in this post. As an Amazon Associate, we earn from qualifying purchases. Read our full disclosure
The province of Guanacaste really has it all, which makes it so popular with tourists and locals. Not only are Guanacaste beaches some of the best in Costa Rica but they offer plenty of activities, ranging from snorkelling, diving safaris, kayaking, jet skiing, fishing, surfing and sailing.
Dozens of beaches span along the Pacific Coast of Guanacaste and these are the best of them!
Playa Hermosa
Playa Hermosa is one of the more popular beaches in the North of Guanacaste. This is the type of beach to escape to if all you want to do is get some much needed R&R.
Hermosa means 'beautiful' in Spanish, which is a no-brainer to describe the beauty of this aquatic gem. Although located between Playa del Coco and Playa Panama, Hermosa doesn't see as many crowds as its close neighbours. Stretching 2 km (1.25 miles) wide, Hermosa boasts plenty of trees for optimal shade.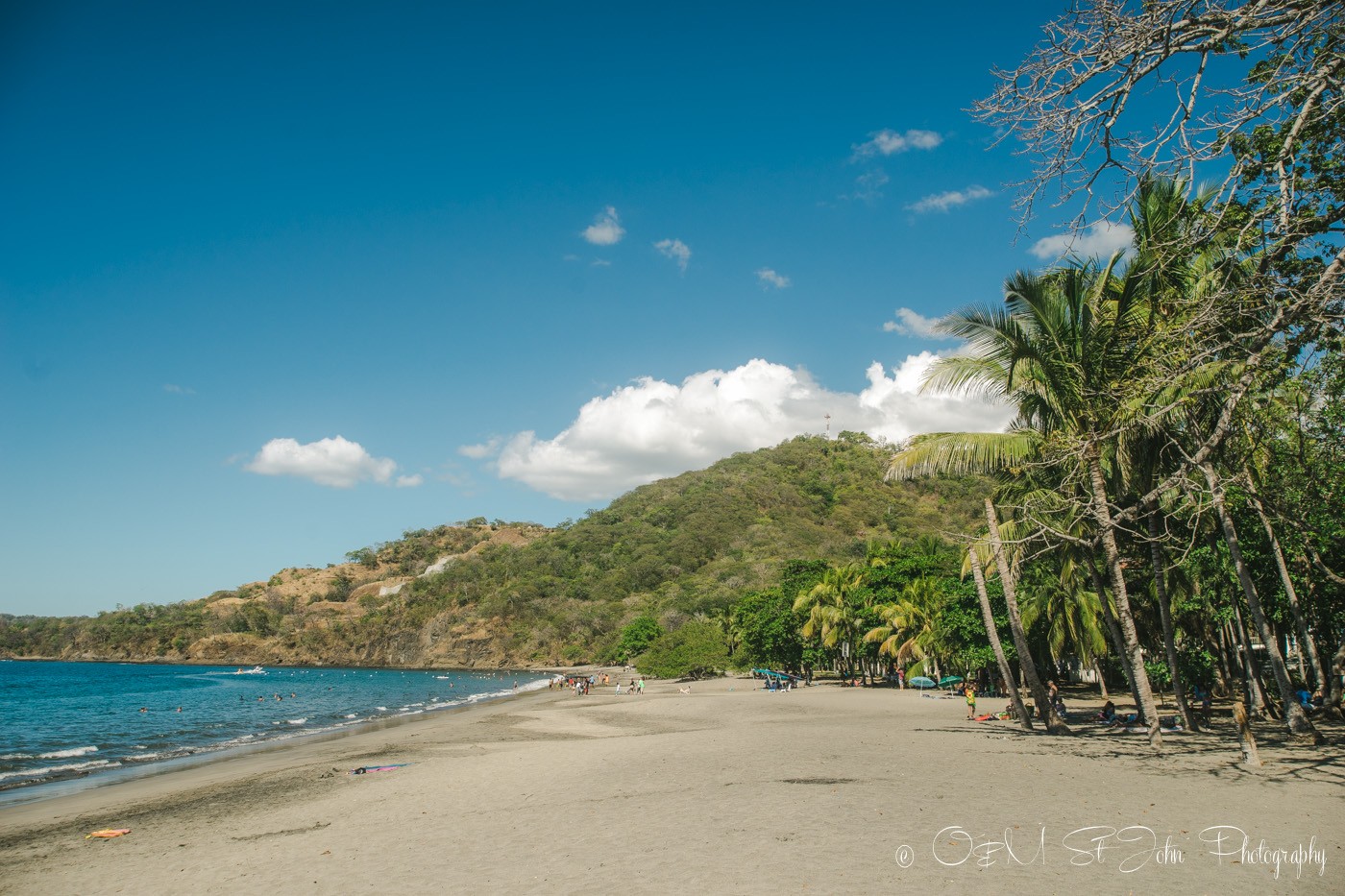 There is lots to do on Playa Hermosa – including swimming, snorkelling and diving safaris, kayaking, jet skiing and more – but the main activity to do on this beautiful beach is relaxing! However, if you are looking for some adventure in the area, you'll find it just 1 hour away in Rincon de la Vieja National Park.
When it comes to sustainability, Playa Hermosa demonstrates high environmental standards and excellent safety facilities, making it a winner of the Bandera Azul or Blue Flag award.
Hermosa has a small selection of dining options for you to choose from, which tend to do be on the higher end in comparison to other spots in Costa Rica.
Playa del Coco
As one of the oldest of Guanacaste beaches, Playa del Coco is known for drawing in visitors – foreign and local – to seek some fun in the sun. The region in which the beach was built has become a popular tourist locale, so Playa del Coco is usually packed most weekends.
Playa del Coco is easily accessible to many amenities. There are plenty of hotels, restaurants, markets and shops are close by.
Despite the fact Costa Rica's Pacific Coast is known for great surfing beaches, you won't be able to find waves at Playa del Coco. But other water activities, like sports fishing, kayaking, sailing and more are available in Playa del Coco.
Playa Ocotal
3 km (1.85 miles) south of Playa del Coco lies Playa Ocotal, which is known to be one of the cleanest and quietest of Guanacaste beaches.
What's special about Ocotal is the misty air which has been said to be rich in negative ions, which in turn have positive benefits on the people, animals and plants.
If you're looking for a great snorkelling location, Playa Ocotal is it. Because of cleanliness of the beach and the crystal clear waters, Ocotal offers great swimming and snorkelling. Here you will most likely be able to spot schools of fish, giant manta rays, turtles and even sharks.
Close by you can explore the Catalina Islands which offer amazing scuba diving sites for the avid diver.
Playa Grande
Environmental enthusiasts will love exploring Playa Grande – a key area of the Marino Las Baulas National Park. Playa Grande is only accessible in the daytime to help preserve the natural habitats of leatherback turtles that come ashore to build nesting sites and lay their eggs here between May and October.
The locals take pride in preserving this beach to its most natural state and it is shown with its pristine sand and crystal clear waters. It creates a safe haven for the turtles to lay their eggs properly.
The beach offers excellent surfing conditions, however, the tough currents and steep sea bottom make it difficult for swimming.
Another popular activity for nature lovers is to visit the Rio Matapalo Estuary for bird watching and to explore wildlife.
Playa Flamingo
Close to the town of Tamarindo, Playa Flamingo is the epitome of bliss. The beach truly deserves a spot on the best beaches in Guanacaste. Lying on Costa Rica's popular Gold Coast (which makes up the trio of beaches that include Flamingo, Conchal and Brasilito beaches) Flamingo's white sands and crystal clear waters sees most of its visitors during December and Easter holiday.
If you're looking for an incredible sunset, Flamingo can provide you with the most serene, fiery sunsets on the Gold Coast.
Those who love sportfishing will fall in love with Playa Flamingo. Every July, Flamingo hosts an annual sailfish tournament where you'll find tuna, snapper, sailfish and more!
For those who partake in aquatic activities, Playa Flamingo can provide a variety of ocean excursions for you to enjoy. Scuba diving is offered year-round where the shores are packed with marine life – starfish, coral reef, eels and reef sharks galore.
For the nature lovers, check out Santa Rosa National Park, the country's first national park and home to 115 mammal species, 100 amphibian and reptiles, and 250 bird species.
You won't find many amenities near Playa Flamingo as it has no village center. So those wanting a variety of restaurants and nightlife should check out the nearby town of Brasilito.
Playa Conchal
Known as one of the most exotic of the Gold Coast's beaches in Costa Rica. Playa Conchal sees some of the best weather all year round.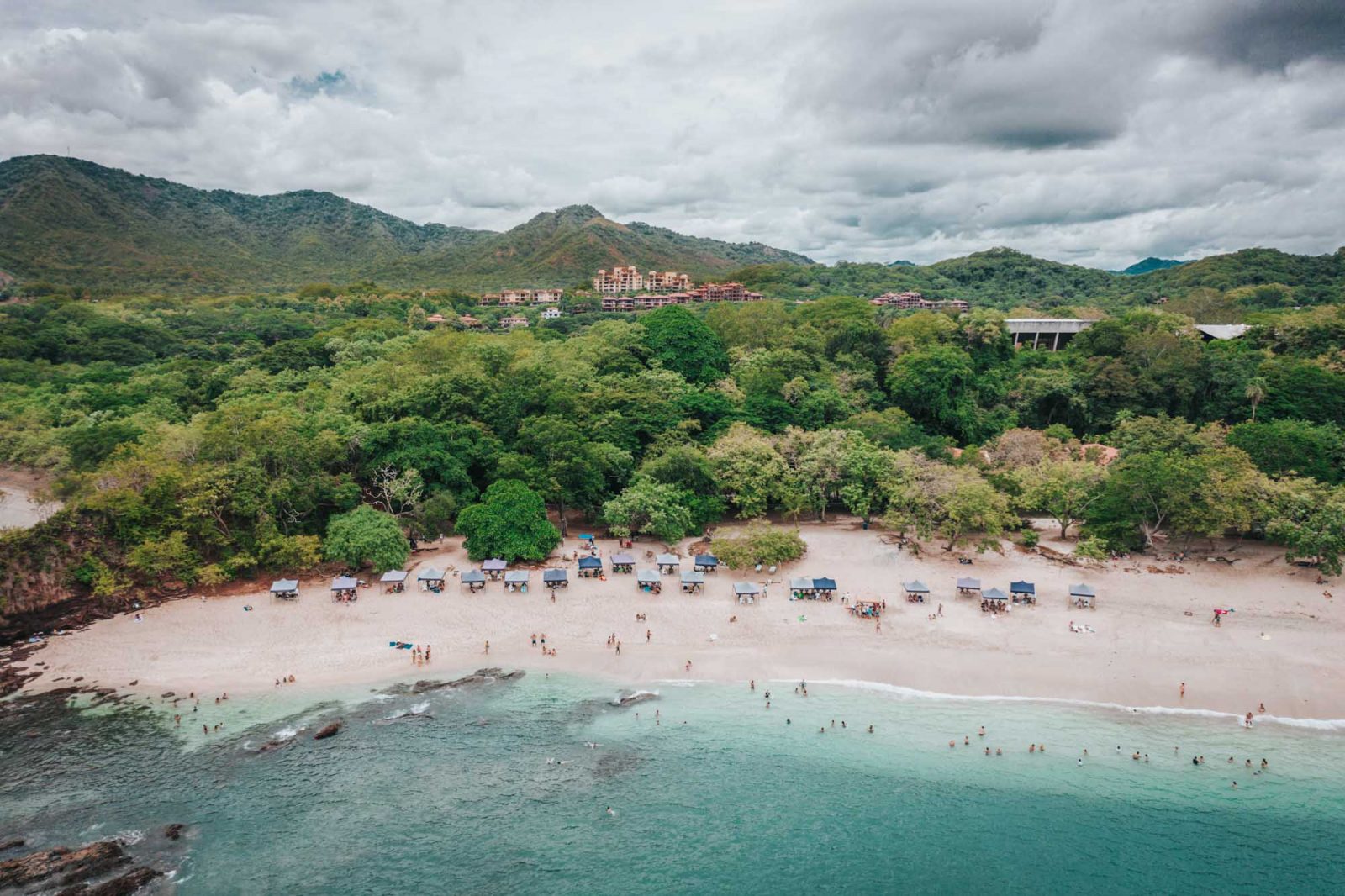 Unlike other beaches along the Pacific Coast, Playa Conchal is not a sand beach, but rather a beach that consists of millions of tiny crushed shells. The beach is not accessible by car, so if you want to spend a day enjoying its beautiful shores, plan to park at Playa Brasilito and walk for about 1km to reach the beautiful Playa Conchal!
Playa Conchal is home to Reserva Conchal, a luxury 5 Start Marriott Resort Hotel that offers private access to Playa Conchal.
Playa Brasilito
Unlike its neighbouring beaches of the Gold Coast trio, Playa Brasilito provides an authentic local vibe without the hustle and bustle of tourists. Located just a short distance from the town of the same name, Playa Brasilito provides local charm and an ideal getaway for those seeking a quiet and relaxing vacation.
Playa Tamarindo
With the same name as the popular tourist town, his Guanacaste beach offers more than just endless partying and surfing. It's a great place to meet like-minded travelers who usually start their adventure in Tamarindo.
Although Playa Tamarindo is a great place to surf – or learn how to surf – be aware of the strong currents which usually post swimming advisories. Playa Tamarindo also provides other awesome water activities as well as a bustling nightlife, so there's really never a dull moment!
Playa Langosta
Located just south of Tamarindo, Playa Langosta is one of the best beaches in Guanacaste to relax and unwind. Do some surfing, beach walking or boogie boarding; or simply lay on the sand with a good book and the sun shining down. There are only a few palm trees which make for quality suntanning time.
Here at Playa Langosta, you'll find plenty of small bed and breakfasts and rental homes dotted along the shore. There are a few restaurants in Langosta but more variety can be found in Tamarindo.
Playa Avellanas
Surfers get your boards ready and head to Playa Avellanas also referred to locals as "little Hawaii". Playa Avellanas packs waves that reach up to eighteen feet high, making it the spot to check out for surfers of all experience levels (however, if you're a novice, we'd recommend you do the smaller waves)!
Playa Avellanas is a beautiful beach suitable not just for surfers, but for anyone looking to spend a day on the beach. The beach stretches for over 3 kms offering plenty of space to relax and catch some sun rays during the day. The beachside restaurant, Lola's offers plenty of great food and drinks to keep you happily parked on this beach for hours of end!
You may be lucky enough to see "Lola", the 800-lb resident pig and local celebrity to Playa Avellanas who you'll find lounging on the beach or greeting visitors to her humble abode.
Playa Negra
Another surfer's paradise awaits at Playa Negra, a relaxed dark-coloured sand beach known for its world-class waves.
But not only that, Playa Negra provides something for everyone, especially those who are looking for a laid-back lifestyle and to escape the bustle of the other surfing communities in Costa Rica.
Playa Junquillal
Looking for adventure? Look no further than Playa Junquillal, located south of Tamarindo, is one of the best beaches in Guanacaste to fill your adventure needs. Aside from surfing – which we should add has some of the best waves to catch – the area offers activities including kayaking, snorkelling and deep-sea fishing.
On land, you can partake in activities such as mountain bike riding, horseback riding and sightseeing.
Playa Junquillal offers some of the most stunning sunsets in this part of Costa Rica so make sure you take a moment while you stroll along the shores.
There is no shortage of accommodations at Playa Junquillal where you will find lodging that suits your style and budget including villas and eco-lodges.
We can't forget to mention that Playa Junquillal boasts the ecological Blue Flag status, making it one of the most environmentally-friendly beaches in Costa Rica to visit.
Playa San Juanillo
For those looking for a"'true" Costa Rican experience should add Playa San Juanillo to their itinerary. Travelers from around the world visit this small, albeit culturally rich tropical destination. Time goes slowly, which is part of the beach life that is typical for the traditional daily life of a "Tico".
Whether you want to cram your day with fun activities, or just lay in a hammock with a book all day, the choice is yours at Playa San Juanillo.
The waves on Playa San Juanillo are moderate so it's easy to swim around. And although the water is clear, it's not the best beaches in Guanacaste to go snorkelling.
Foodie travelers will love visiting Playa San Juanillo as there are plenty of dining options, including delicious seafood and vegetarian cuisine.
Playa Pelada
Playa Pelada is the perfect place for those looking to unwind and spend the day relaxing. After swimming in the crystal clear waters, Playa Pelada will leave you feeling relaxed and rejuvenated (and will probably have you wanting to live the beach life forever)! If you're looking for surf, you probably won't find it here at this very chill white sand beach.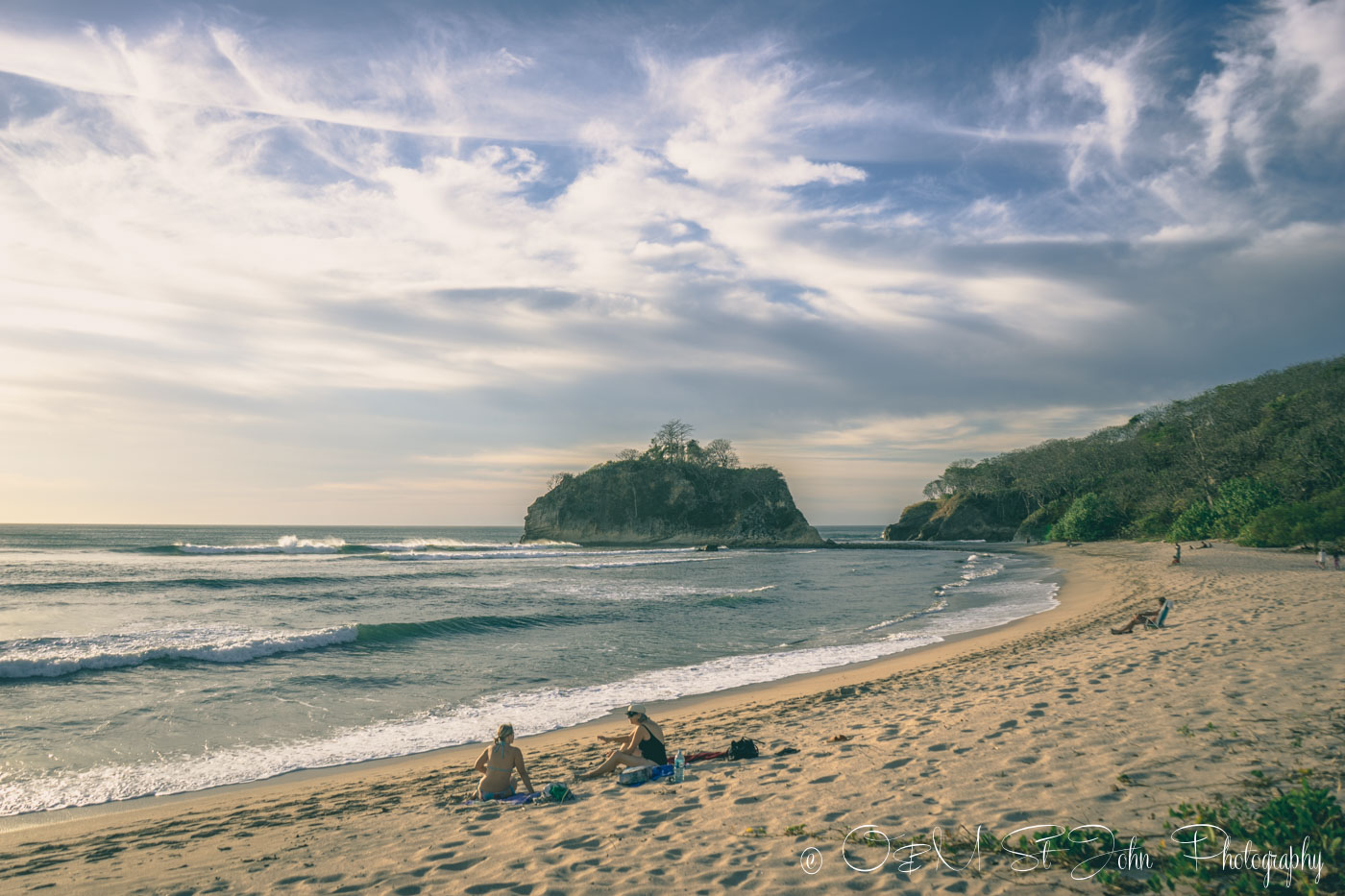 You'll really get a sense of community at Playa Pelada – where locals, expats and travelers get together and watch the sunsets or gather to play a round of soccer on the sand. You'll also find locals here for a quick weekend getaway.
Playa Guiones
There's something about Playa Guiones that usually draws hundreds of tourists to its shores. It could be its beautiful powder-white sands. Or maybe it's the water perfect for surfers – both beginner and expert – to catch a wave.
Or perhaps it's because some of the shorelines received a Blue Flag for its pristine, eco-friendly and well-maintained beaches. Making this one of the cleanest Guanacaste beaches.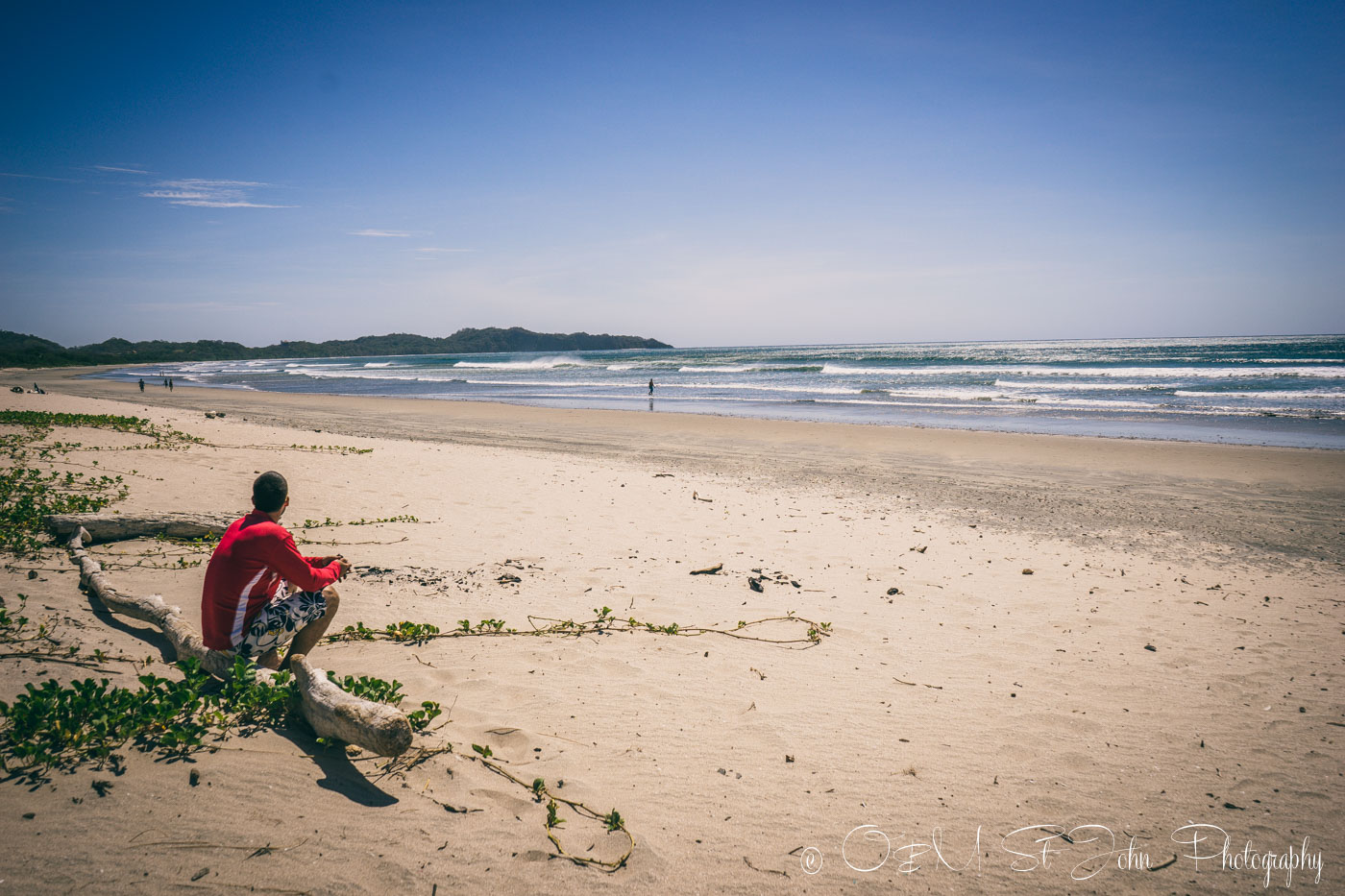 Whatever your reasoning, Playa Guiones is the beach paradise everyone needs and deserves. Take a dip in the spectacular tide pools, they make a great location for snorkelling and relaxing with the water at your feet.
When the tide is low, consider trekking the entire 7 km (4.34 miles) of the beach by foot or by vehicle. And, if timed correctly with the tides, you can visit nearby Playa Rosada (Pink Beach).
For beginners wanting a taste of the surf life, there are many surf schools in Playa Guiones and it's a great place to learn how to surf.
Playa Samara
As one of the safest beaches in Costa Rica, Playa Samara is a prime destination for families and easy-going travelers. Located in the sunny town of Samara, Playa Samara boasts exotic plants, spectacular wildlife and stunning coral reef.
In town, you will find many amenities such as markets, souvenir shops, restaurants and nightclubs.
On the beach, you can take your pick of many activities like horseback riding, stand up paddleboarding, yoga, kayaking and more.
Playa Carillo
Just a short distance away from Playa Samara is Playa Carillo. Similar to its sister town, Carillo offers the same rest and relaxation, but on a much smaller scale. Meaning hotel, restaurant and nightlife options are limited in this town.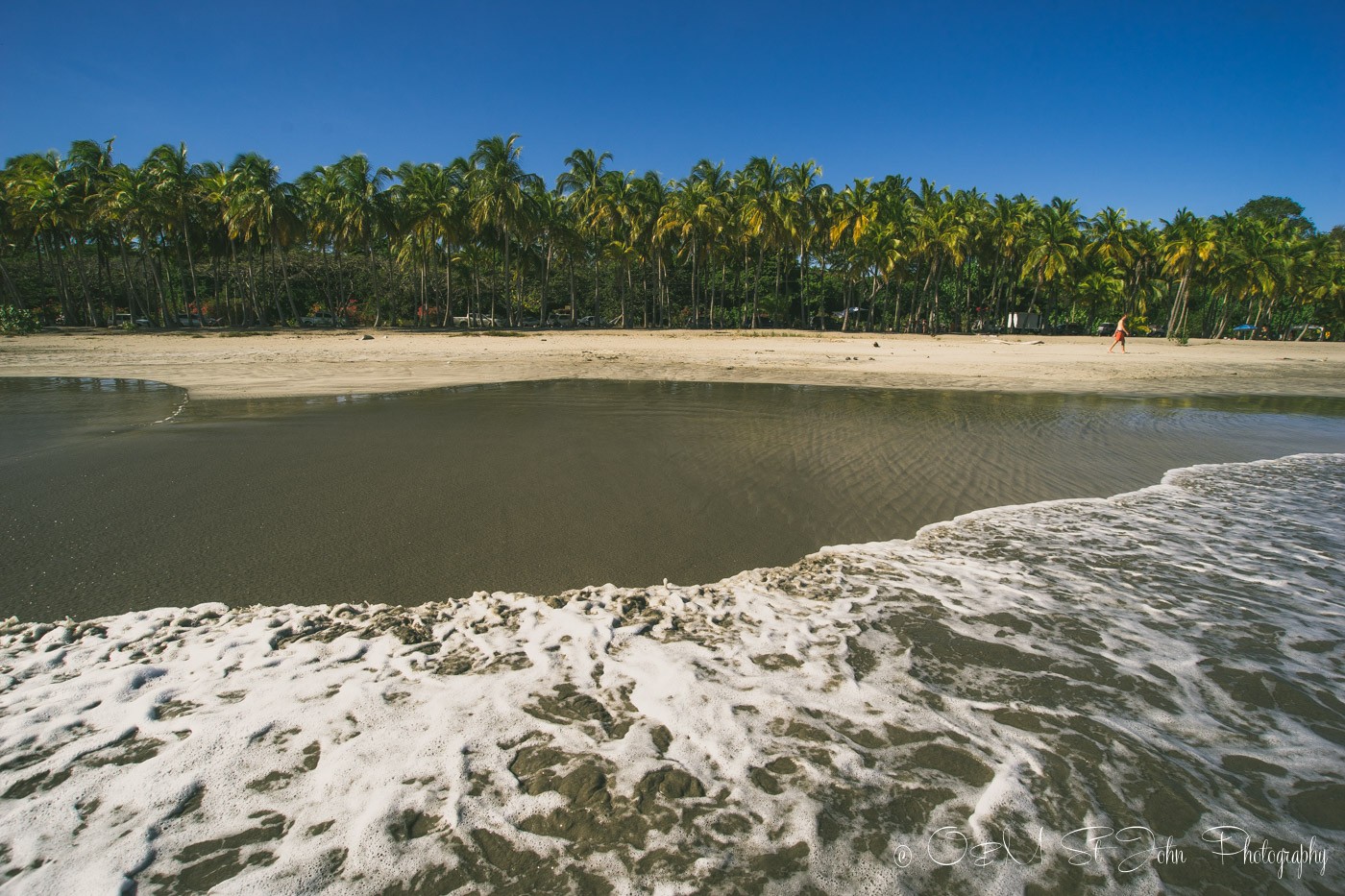 Many palm trees dot the shores of Playa Carillo. Making it one of Guanacaste beaches perfectly suited for travelers who want the warm weather mixed with shade to cool off.
Carillo is quite rugged and only becoming more developed after the expansion of a paved road running south between Samara and Carillo.
Despite its rugged appeal, Carillo remains one of the most untouched and cleanest beaches in Costa Rica (thus rewarding it the Blue Flag award), and still makes a great location for activities like swimming and snorkelling.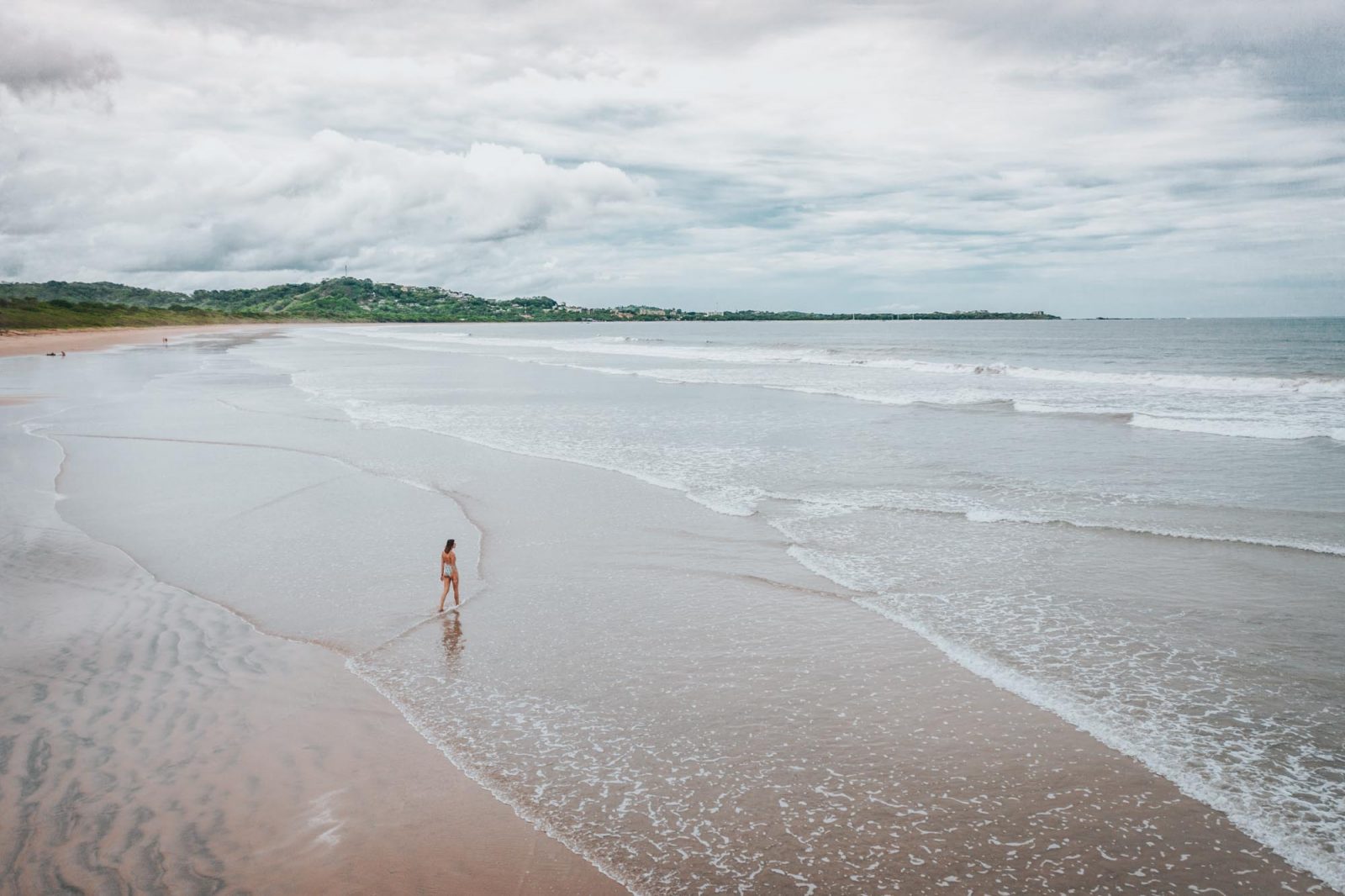 Each offers something different to everyone but it is safe to say you can not go wrong in choosing which of the best beaches in Guanacaste to visit. Whether you're looking for some adventure, a great surfing beach or a relaxing beach for the family, Guanacaste beaches have got you sorted.
Planning to travel around Costa Rica by car? We recommend renting your car from Hertz. CLICK HERE and use our promo code DTT-HERTZ to get 20% off your Hertz Car Rental!
Are you looking for some adventure or something more relaxing? What Guanacaste beaches are you most excited to visit?